Many homeowners and renters tend to decorate their abode with a bare minimum aesthetic–with nothing but furniture and the occasional generic artwork acquired at Target to cover their vast wall space.
Others, however, are usually collectors who proudly display their prized possessions that serve as conversation pieces for visitors.
What others think is trash could literally be treasures to their owners.
Curious to hear examples of what these might be, Redditor Maggo6452 asked:

"What's the rarest object you own?"
People share their celebrity autographs as their rare possessions.
Comic Book Fan
"I have a copy of Avenging Spiderman #1 blank cover variant, with a hand drawn picture of Spiderman on the cover by Ken Hauser. It is #28 of 499."
"Years later I had it signed by Stan Lee at FanExpo Toronto."
– LodgedSpade

Valued Reply
"A handwritten letter from David Attenborough, he replied to a love letter I sent him years ago 😂"
– Wannyfoo

The Late Musician's Instrument
"A show used, signed bass by Cliff Burton and the rest of Metallica from the Solnahallen show in Sweden. This was Cliffs last show before he passed away."
– Slackley

These are one-of-a-kind items that Redditors are proud owners of.
Worldwide Possessions
"Found a gold tooth and a few thousand really old stamps from all over the world in a really old Jewish ladies house in NYC that had died and we were clearing out. No idea how to figure out if they're worth anything but some are super old like pre world war 2 and from weird corners if the world."
– Loud-Vacation-711

Vintage Copy
"I have a (incomplete) hardback collection of Edgar Allan Poe's writings that was bound in 1919."
– crucifix_peen

Keeping Time
"A 1775 mantle clock made in London."
"It's in pristine condition, all-original, gets wound once per week, and keeps accurate time."
– Back2Bach

Perpetually Rare
"I have an uncooked steak in the freezer."
– rumhee

Outdated gadgets get the shout-out treatment as rare objects.
Electronic Relic
"An original Microsoft Explorer 3.0 mouse signed by Bill Gates and Steven Fisher, the designer of the mouse. Microsoft Hardware gave it to me as a gift for helping them plan a research trip for gaming to Korea. One of only two I am aware of."
– sbrooks84
Spare Copy

"Unopened copy of FFVII (Final Fantasy VII). Black label, sticker and cellophane still intact."
"I got 2 copies for my birthday when i was a kid because my parents were divorced and didn't communicate what they intended to get me. Weirdly I was a smart kid and only opened one so I'd have an extra just in case I scratched a disk."
– Pineapple_Spenstar

The First Version
"First iPhone released given specifically to Apple Employees."
– Kimchi_Cowboy
Digital Pet
"An unopened Tagagotchi I bought in 1997. Probably not worth anything, come to think of it."
– holden-caulfied

My treasure is a family acquisition. It's a vintage steamer trunk that my great uncle used to transport his and his wife's belongings when they were forced out of their home–along with many other Japanese-Americans at the time–and relocated to the Heart Mountain Japanese internment camps in northwest WY during World War II.
After my great uncle died, my father brought the trunk home and stored it in our garage for decades.
When it came time to sell our house, my brother and I almost threw the trunk out. Thank goodness our neighbor across the street saw it left out on the curb for anyone to pick up and advised us against doing that.
With some research and finding out more details about the trunk, I've decided to hold onto it, and it now serves as a side table in my current home.
I can't believe this stunning piece was once headed for the dumpster or into a stranger's home. It is priceless.

At one point in time, we've misplaced things that we've considered priceless possessions.

It's hard to imagine how to go on without the lost object–whatever it may be–but over time, it becomes a distant memory and we move on.

That is until we magically find ourselves presented with this opportunity proposed by Redditor mikehotel288, who asked:

"You find yourself in a room with everything you've ever lost in your life. What do you look for first?"
There are necessities people cannot do without.

No More Dry Lips Ever Again
"Gonna be a lot of chapstick in that room."
– camefromxbox

There are things that bring us comfort and are irreplaceable.
Safety Blanket
"My baby blanket. It became tattered over the years—to the point where I couldn't reasonably wash it anymore—so I had to throw it away a little while back."
"I have heavily regretted that decision. I was really attached to it (hence it being in tatters), but I really wish that I kept what was left of it instead of throwing it away. Just knowing that I'd still have it would be a huge comfort to me."
– Uearie
Sentimental Heirloom
"The pendant my dad had made for me with my grandmother's engagement diamond. It was 2 carats. It disappeared from a Las Vegas hotel room 20 years ago. It was hidden deep in a suitcase where it would not have been easy to find. It was just GONE. Cops didn't do anything. Didn't even come to take my statement. Cleaning lady said she thought she saw an elderly man enter my room. The guy I was with was not sympathetic in the least. Entire situation was f**ked. I'm still so upset about it."
– MaritimeDisaster

Lone Shark
"My plastic shark toy I lost when I was 10. Ain't no f'king way it just VANISHED."
– Guilty_As_Charged__

Not everything lost is tangible.
Tick Tock
"The time I wasted."
– shinyfennec
It Holds Value

"My private key with 6 BTC in it."
– Significant_Mirror19
"I didn't lose one, but I'll check my room for yours just in case."
– Smodphan

Finding Purpose
"The reason I walked into the room."
– Lloyd_lyle
Lost Opportunity
"That one girl i spoke to on omegle lol"
– h-amishh

If only we get to reunite with those we've lost.
The Loved Family Member
"My grandpa."
– Splatty_boi_420
Grieving Parent

"My daughter. She'll be in my brother's arms. So I'll find both things I care to look for."
– SeeTheFence
Missing Mom
"My mom. She died of cancer in 2017. She never got to meet my daughter. I miss the hell out of her and wish she was still part of my family's life."
– X-Arkturis-X

The Animals That Come Into Our Lives

"My pets that have passed: especially my horse, Blue. It's been 4 years, but it feels like just yesterday."
– Baciandrio

While many of these scenarios are unlikely, the thread gave people an opportunity to reflect on the things that made a strong impression on their lives.
Sometimes, the memories of the things we've lost–whether they are random objects or sources of love–is all we have.
Want to "know" more?
Sign up for the Knowable newsletter here.

Never miss another big, odd, funny or heartbreaking moment again.
Sentimental value is a real thing. The certain objects we keep are like time capsules that harbor our nostalgia. So it can be very difficult to part ways with "things" that have meaning. So they live in boxes and closets for decades and it can be a cute anecdote. And then there are the items we hang onto that make us perfect for A&E's "Hoarders." For instance, if you're hanging onto hundreds of table clothes and you've only ever had one dining room table, you may want to take a minute and think. And "just in case" is not a reasonable answer for holding onto anything.
Redditor
u/Malgaras
was wondering what treasures and objects many of us are not prepared to part with "just in case" by asking....
What's the strangest thing you keep just because "you might need it some day"?
Tunes Forever....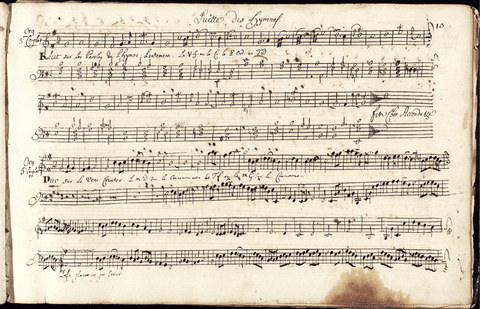 Giphy
The sheet music from sixth grade band.
I've found sheet music from when my mom was in high school. It's amazing what doesn't get thrown out.
The Wired....
I'm a cord guy.
There's an entire suitcase full of old cords and various other outdated electronic accessories in our spare room.
Funny part is my wife learned to love my habit after she picked up some old game consoles at a yard sale and I had enough parts to complete all of them.
Sweater material....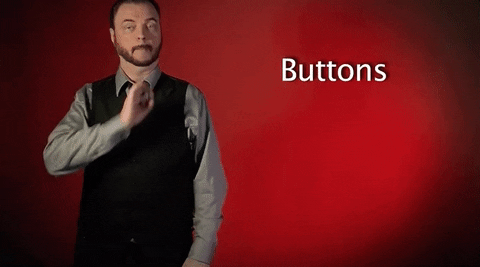 sign language buttons GIF by Sign with Robert
Giphy
The extra buttons that come with certain clothing.
They belong in a shortbread cookie tin so you will be a successful grandparent one day.
The Switch....
I, until very recently, had a KVM switch on stand-by. 1-3, VGA, PS/2, USB. Not mint in package but still functional and lovingly cared for.
I couldn't imagine a possible use for it now, even in the post-apocalypse world we're currently sprinting face first into.
Still, tossing it felt like putting a childhood pet down. That wound will never fully heal. Only time my wife has seen me cry.
Lock & Key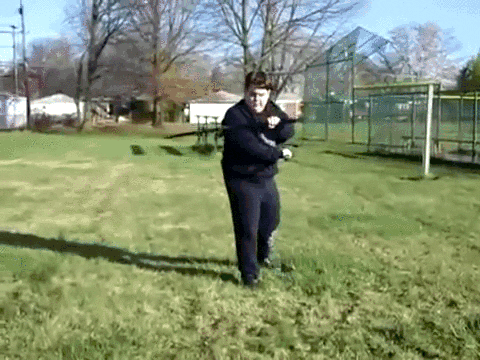 swinging martial arts GIF
Giphy
A sword shaped key that no longer fits any existing lock. But I might want it later, right?
Sexy Straps....
I have a deep love for audio, video and coaxial cables. I have no idea why. It started about 20+ years ago. I now have a big bin full of random cables that I like to sit and sift through once in a while. There is something oddly arousing about the potential of these cables that just send my ovaries into a frenzy.
Some days I just want to wrap them all around my naked body and roll around on the floor. They give me a sense of security and satisfaction no man can fulfill. Typing this post is making me feel all warm and fuzzy inside. I hope you all have a wonderful weekend!
The Backup....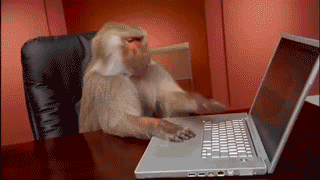 Computer Working GIF
Giphy
An extra, old laptop. It still runs but it's just old, you know? Still.... I can't bring myself to toss it because what if I need an emergency backup someday?
Clothes for Everyone....
Sweatshirts, in various sizes. I imagine that one day, a bunch of people will be at my house, except they'll be outside, like, in the yard. It will suddenly get very cold, and I will graciously hand out sweatshirts to everyone. The biggest person will say "Oh, I'm sure you don't have my size" and I'll go "Hm. Let's see" and toss them one in their size. Instant hero.
Pet Portraits....
A painted rock with dogs on them. I moved where I used to live many years ago and the previous owner forgot a stone that they painted (I assume) their pets on. They did a very good job so I can't throw it away. If for some strange reason I run into them I want to give it back to them. It's been years since I lived there but I still have it and I have no idea who these dogs are.
"travel plunger"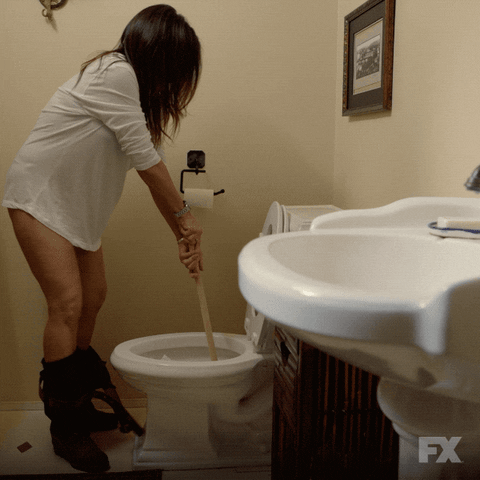 fx networks toilet GIF by Better Things
Giphy
I have at least five (unused) toilet brushes in my basement.
I did travel nursing last year and I bought a bulk package of them for $6 instead of spending $5-$10 every three months on a new one each time I moved (because I'm not toting a dirty toilet brush across the country). Still haven't used all of them.
I also have my emergency "travel plunger" tucked in the back of my closet, also unused. And a spare toaster and microwave.
Want to "know" more? Never miss another big, odd, funny, or heartbreaking moment again. Sign up for the Knowable newsletter here.

Retail therapy is a thing for a reason. In a capitalistic culture, we get used to using money as a means for comfort. So we think, let me buy some "comfort" food. Let me buy this new video game, because I deserve it. Ooh, this hat is cute. Buying this will make everything better.
But sometimes the usefulness of a purchase actually outlasts the simple thrill of just buying it.
There are so many little things, day to day, that we take for granted. Those things make our lives so much easier.
For example, lights. Or keys and locks. Little things that keep us safe, that keep us healthy.
But do we give them enough credit?