When we're in the throes of a mental health crisis, or even just a very rough day, it's hard to zoom out. In that mental space, every negative thought is convincing, even alluring to cling to.
We grow so used to those defined grooves of anxiety and sadness that we forget there's another version of thinking, feeling, and interpreting all that happens within and around us.
So an outsider's perspective is huge.
Even the smallest piece of advice from a compassionate, intentional person can be enough to lurch us out of the funk--or at least get us started on the climb out.
Redditor sushi4vendetta asked:
"What is the best mental health advice you were ever given?"
Many shared the advice they've received that helped them remember the problems with the word "should." They realized that they needed to accept that, yes, they're not feeling so good.
But it doesn't last forever.
Temper Expectations
"Happiness isn't meant to be a constant state. The aim is contentment/comfortability, not constant unwavering happiness."
A Different Way of Looking Forward
"You don't have to be hopeful about tomorrow. Just curious about what's to come."
"Changed my outlook completely on life when it's going poorly."
Accept and Understand First
"allow yourself to feel how you're feeling."
"I get caught up in how I want to feel or how I think I should be feeling that I never really processed my emotions properly and dragged out grief etc longer than I needed to. I now remind myself that I shouldn't think I'm stupid or pathetic for still being upset about something."
-- lillyko_i
Would Anyone Else Be So Mean?
"If your best friend came to you saying they were having trouble in the same circumstances you're dealing with, would you be as hard on them as you are on yourself?"
"Would you stay friends with someone who treated you the way you treat yourself? What would it be like if you treated yourself with the same kindness and consideration as you would your best friend. Why not actually do that?"
Some discussed the importance of taking care of themselves. Sometimes we get too used to destroying ourselves to avoid upsetting the apple cart.
Only You Can Stick Your Neck Out
"You have to advocate for yourself, nobody is going to do the work for you." -- Shad0wD0gg
"Friend of mine says that you gotta have Pom poms out for yourself all the time- and for the people you care about. I liked this a lot." -- Impossible_Fold5059
Know Your Limits
"Set healthy boundaries and stick to them." -- tomographer
"thank you for saying this. Every time I used to set a boundary with my ex, he'd be like 'why are you giving me an ultimatum???' "
"A**hole, it's because I need to." -- FlurriesofFleuryFury
And others shared advice of a more pragmatic flavor.
Accepting the Context
"Me 'I don't want special tests or meds. I want to be on the same playing field as everyone else.' "
"Counselor 'you already are not on the same playing field' "
-- emscurtis
The Depression Zone
"I stopped watching the news because current world events just don't mix well with my anxiety. Like, at all. I'm sick of humanity's petty politics, and I'd rather tend to my own life." -- JoshuaSlowpoke777

Mental is Physical is Mental
"Simply to see a doctor about it when necessary."
"I was a competitive figure skater growing up and my coach was in the 2002 olympics and she said to me 'if you break your leg you go to the doctor right? So why would you not take care of your mind like any other part of your body' that sticks with me today"
Hopefully the next time you find yourself in a funk, one of these fires across your thoughts and it's at least enough to help you start to regroup.
Want to "know" more? Never miss another big, odd, funny, or heartbreaking moment again. Sign up for the Knowable newsletter here.
Keep reading...
Show less
We go to a therapist with clear expectations. We want to be listened to, we want to be supported unconditionally, and we hope to be guided toward a clearer understanding of ourselves and the internal states that drive us.
So it can be jarring when our therapist cuts against those expectations. It feels like the rug has been pulled out from the place that, by definition, ought to be a safe space in a world that doesn't always feel like that.
Unfortunately, as a recent Reddit thread illustrated, those moments of poor therapy are all too common.
Redditor Eesah_adams asked:
"What's the most annoying thing you've heard from a therapist?"
Many people talked about the times a therapist trivialized the issues that were significantly impacting their lives. There's nothing worse than feeling the need to justify your feelings to the professional who is supposed to believe them.
The Power of Baths
" 'you're a child you have nothing to be upset about' and also a common one within like 'have you tried to cure your depression with tea or a hot bath?' in the most condescending tone ever" -- bigfrogbi***
"How about a HOT BATH in TEA?" -- Karam2468
Oh I Hadn't Thought of That
" 'Have you ever tried not drinking?' I had been struggling with alcoholism for ten years by this point. I walked out after he said he didn't think I had tried hard enough." -- ftsunrise
"I had a GP say this to me after I told her my anxiety was exacerbated by alcohol. It's so condescending and unhelpful." -- noiesferatu
Fanning the Flames
"Went in because I had started having panic attacks. Was told by a female pdoc that I should have a baby and go back to college."
"Yep - the best way to deal with stress is to become a first time mom at 40, work full time, and go to school at night. Wtf? I got a referral to a therapist and never saw that doctor again."
Why the Follow Up?
" 'You're not ill enough to be here, please don't make any more appointments.' "
"It was our first appointment, I was having panic attacks nearly every day and could hardly function."
"She called me again a few months later asking why I hadn't made any appointments and I told her to fu** off."
-- FreddieGregg
Other Redditors described times when the therapist said something so demeaning it actually made them feel worse than when they walked into the session.
Bit of an Escalation There
"Years ago I got an appointment with a therapist that was supposed to be an expert in memory loss associated with mental disorders. I have Bipolar disorder and my memory loss is linked to that."
"She seemed really nice and easy going to talk until she told me 'you know, people like you can kill someone and will not remember it'... I was just like... I'm most likely to forget I have already had dinner and have a second dinner... Never went back."
-- ariamar
Did She Hear the Whole First Part?
"I was talking to her through my program because I was experiencing burnout and severe anxiety as a result. I couldn't get out of bed in the mornings because the anxiety was so debilitating."
"During our first session I was telling her about the cycle of trying to push myself to do stuff, committing and then having debilitating anxiety about it and not being able to get out of bed to show up. And how that would lead me to be more anxious from the guilt of not going and it was becoming a vicious cycle."
"And she said 'well that's just disrespectful to those whom you committed to and you need to just show up.' "
"Umm yeah I know it's disrespectful. I am talking to you because I need to figure this out. She was only interested in clearing me from a safety perspective so my program could sign off on my continued participation."
Piling It On
"Beginning of lockdown, schools are closed and my husband and I are attempting to manage a toddler, home school 2nd and 3rd grade children, and work full-time hours in industries where the workload increased dramatically."
"Took it in turns to teach the kids in 2-hour chunks and relied on Disney and minecraft to keep them otherwise occupied. Worked from 8am to 11pm most days, no down time for us for 6 weeks. Called the EAP due to increased stress and guilt."
"Was told that my kids were consuming too much screen time and I would be a better parent if I restricted them to a maximum 30 minutes a day."
"Strangely, that advice did not reduce my feelings of stress or guilt."

-- BonzaSonza
Other times, Redditors were simply taken aback by what their therapists said. These comments either came way out of left field or showed a total lack of good judgment.
Plot Twist
"I don't know if this counts, but I was expressing how anxious I was to my therapist a few years ago. She stops sipping her drink, sets it down, and goes:"
" 'Oh, yeah, I diagnosed you with an anxiety disorder the day I met you. I just didn't tell you.' "
"The day I met her had been a YEAR previous to this conversation. I was appalled and furious. Why wouldn't you tell me?????"
"Anyway I have a new therapist now and I love her."
Hot Take
"Okay so I love my therapist but sometimes psychoanalysts stretch things a bit. Anyways when i was 15 I did a lot of creative writing and showed it to her. The piece of writing I was showing to her had characters traveling through an underground tunnel. So she said."
" 'your mother had a C - section. I think you write about tunnels because you subconsciously miss the experience of traveling through the tunnel at birth.' "
Not What They Had In Mind
" 'You're gay? You should move to San Francisco. There's a lot of gay people there.' " -- LollipopDreamscape
"I agree. Wanna pay for my apartment there?" -- Veauros
"Was this 1952? WTF?" -- Yeeteeth_thy_baby
Here's hoping that if you ever do need some help working through things, you get it from someone who doesn't say wild stuff like this.
Want to "know" more? Never miss another big, odd, funny, or heartbreaking moment again. Sign up for the Knowable newsletter here.
Keep reading...
Show less
Therapists can be hit or miss. Someone told me once that finding the right therapist is like dating--you have to find one that you really vibe with. This is so you don't end up with one you're uncomfortable with, like when I had an eighty-year-old therapist who told me about her sex life (true story).
There are therapists out there that will just give the most terrible advice. Goes to show you how important it is to find one that is unbiased, empathetic, and non-judgemental.
Ashiechh asked: What is the worst thing that a therapist has ever told you?

It always sucks when you have a therapist who truly does not understand you, and doesn't even try to.
Not an appropriate response.​
When I told her I was suicidal, she said, "That is selfish. You're punishing your family."
God this is such a common thing people say to people considering suicide, and I really think they consider it to be a statement of value. I don't get it.
Well that's weirdly sexist.​

michelle pfeiffer why dont you want kids GIF by mother!
Giphy
That I was mentally ill because I didn't want children. Like that I had a totally separate, distinct mental illness from the MDD I was there for, because I didn't want or like children.
She spent a long time trying to "cure" me of it.
​At least she was a good fit for you!
My therapist made fun of me when I told her I thought I was schizophrenic. I was absolutely shocked. But then she explained what schizophrenia was and that she was pretty sure I didn't have it. Gotta say, it was in a period in which I thought I was going crazy. Surprisingly enough, her no-nonsense and direct approach was something that appealed to me. After 20 sessions all was well and she was right all along: I suffered from hypochrondiasis. It's when you think you're suffering from all kinds of things.
My therapist was absolutely the best fit for me.
Terrible advice.
I was sixteen, my parents had mental issues and I was suffering a lot. She told me that if I couldn't handle it I should quit my studies and left my home. I had to remind her that in our country you can't work if you are under eighteen, and what a terrible idea was stop studying. I left and never came back.
​When a therapist misguides a patient, it can end up being super traumatizing. And it's sad how often this happens.
Not a good intro to therapy.​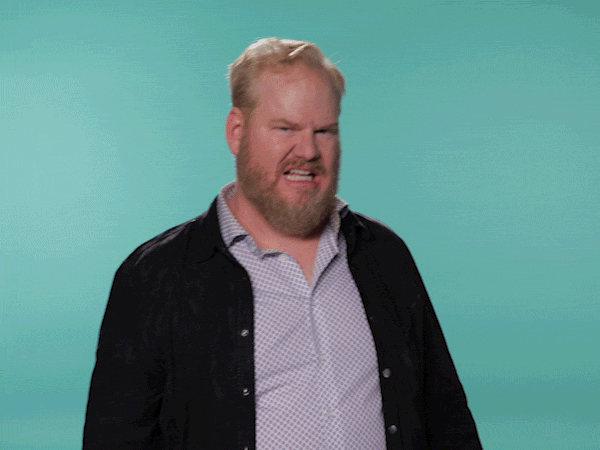 Zzz Ok GIF by Jim Gaffigan
Giphy
It wasn't so much what he said, more just his demeanor and body language.
He yawned through most of the session and kept looking at the clock next to me every couple of minutes. He just gave off an air of absolute disinterest and boredom.
After resisting going to therapy for years and basically being urged to go by friends, having this as my first interaction with a therapist was a major letdown.
​I'm sorry, WHAT?
Me: Acne. Bad teeth. Puberty. Tons of Insecurities. Extreme shyness. Depression.
Therapist: I think the reason why you're 18 and don't have a girlfriend yet is because you're gay.
Dude.
This is horrifying.
A therapist encouraged the Attachment Therapy I was undergoing. I only recently was made aware that sh!t was f**ked up. I actually got that realization from an AskReddit post that was "What is the darkest internet Rabbit Hole you've gone down?"
https://en.m.wikipedia.org/wiki/Attachment_therapy <- if you want a dark internet Rabbit Hole.
For me, they called it "RAD Time" because "RAD" stood for Reactive Attachment Disorder. It still f*cks with me. I just thought it was a normal part of foster care.
I talked to my therapist about it and they told me that I "wasn't trying to get better" and "if you could just be good, and fun to be around, maybe someone would want to keep you." I recently learned that "Respectful, Responsible, Fun to be around" is pretty much the slogan for this pseudo-scientific abuse.
The PTSD still disrupts my life, but I am proud to say that in my adult life, not living under the choices of the overworked and well-meaning but misinformed turnover of social workers has changed my life for the better. I aged out of foster care. I have an organic support system now. And I am loved. I spread as much love and kindness as I can, every single f*cking day.
​Not having a good therapist can lead to some major trust issues, not just in life, but in mental health care in general.
Ok, this is incredibly illegal.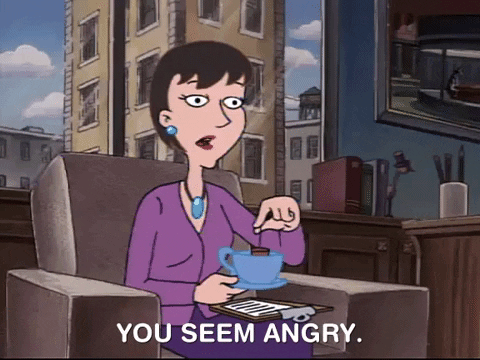 Nicksplat Therapy GIF by Hey Arnold
Giphy
I have a lot of problems mainly trust issues so I went to therapy for it.
Had to change therapists like 4 times because apparently, they all believe patient confidentiality is a rule that they don't have to follow.
Finally found one that treated it like it was supposed to be treated or so I thought.
She came to a school play I was in and I didn't think anything of it until I saw her social media post going into detail about what I was in therapy for and some sappy bs about how she was glad I overcame it all, how did I find this social media post you may ask, why it was on the front page of the school website because she tagged the school in it and the school decided to put it on the front page of their website for everyone to see.
​This is messed up.
"I am not able to continue seeing you anymore because your mother thinks I am helping you too much."
She was my favorite therapist too and still to this day am upset at my dysfunctional mother for making me stop seeing her.
A therapist should be someone you trust. And to anyone who read this and is now concerned about finding a therapist they can trust, just know that most of the ones out there are professional, and truly care about their patients. For every bad apple, there are five good ones.
And if one is rubbing you the wrong way, there is no shame in leaving. You deserve the best.
Keep reading...
Show less
I love therapy. If I could make my therapist live with me I would. But that's not an option, apparently it would be inappropriate. I digress, for far too long there has been an unhealthy stigma attached to achieving some form of mental health and the process involved to get there. Generations have learned that therapy is healthy, if not vital to acclimating to life. There is so much to learn when you have a chance to heard.
Redditor
u/FRlVOLOUS
wanted everyone to share and discuss why therapy is good for all of us by asking...
What is the best, most valuable thing you've learned from therapy?
I started out in therapy to battle my claustrophobia and it helped. I use to have to be medicated to ride an elevator, it took a bit but I was able to overcome that battle. I have since regressed because I had to stop therapy for awhile. But now I'm getting back on track. I have learned that I am capable of controlling my mindset in the moment when I feel trapped. It's a start.
Think About It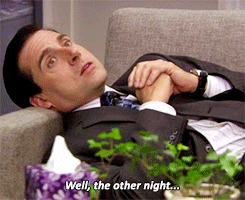 the office therapy GIF
Giphy
Don't judge your feelings, just try to understand where they're coming from. Judge your actions.
Oh Jack!
You can't control the actions of others, and you can't presume to know their motivations either.
A simple example would be "Jack is always drumming his fingers on the desk to annoy me. He knows I hate that!"
The fact is that, unless Jack tells you that, you cannot know if that's his motivation. Most likely, he's doing it absent-mindedly.
I know it's a silly example, but it applies to a lot of things. We tend to be very self-centred in our thinking.
10 Year Later
After I lost my oldest daughter to trisomy 18 anger was my go to emotional response to most things. I either cried or yelled. It felt impossible to process or move beyond because I felt so bitter at the unfair world I lived in. It didn't help I have abusive parents who were making things so much worse through their scumminess. I couldn't stand being any more depressed than I was. I could barely get out of bed. I definitely had to learn to process my emotions. That was almost 10 years ago. If I hadn't gone to therapy and put the work in I don't know who I would be today.
IF YOU DON'T TELL THEM...
One big thing I've learned is that someone might not know what they're doing is annoying you/hurt your feelings/offended you IF YOU DON'T TELL THEM. One of my friends critiqued a video of my training my dog but the way she went about it was unexpected and really hurt my feelings. I knew she meant well but she wouldn't know how bad it made me feel if I didn't tell her.
So I told her...
She apologized because it was not how she meant to come across. But since we had the conversation we were able to come up with an agreement that she would only critique videos if I sent them to her asking for help. And she ended up thanking me for telling her and said she was so happy that I felt safe enough to know she wasn't going to retaliate against me for it.
Time Heals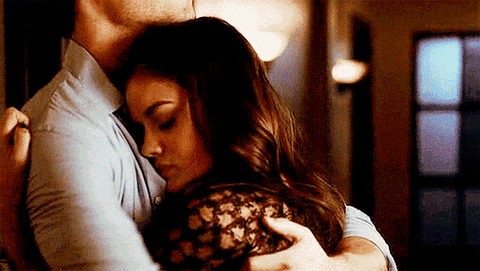 couple hug GIF
Giphy
Give yourself permission to grieve.
Not just for the loss of loved ones, but for anything that makes you feel sad.
So far, so enlightening. I hope y'all are taking notes. Too often we think that our problems don't merit help. As you can see we are often wrong. Let's continue...
No Excuses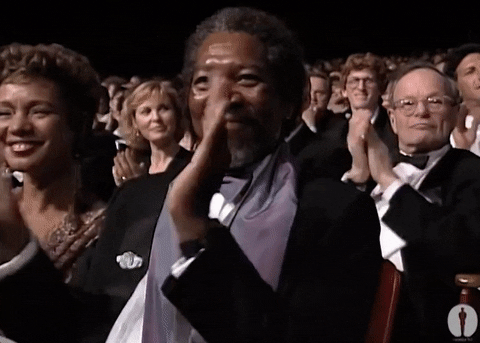 Morgan Freeman Applause GIF by The Academy Awards
Giphy
That my past trauma and upbringing aren't excuses for my bad behavior, and i have to be the one to break the cycle.
Your Story
Acknowledge your feelings - and I mean ALL of your feelings.
Never give up on a NEW path or a modified path to your goals. Disc herniation received from a job I detested. It's been more than 3 decades ago... and wow does time fly.
Accepting this new path was hard for me, but the "choice" of the matter was taken from me, but one thing I would NOT give up was finding a true love.
Met online, married darn near 15 years now, best decision I ever made was NOT giving up!!!
Decided, I couldn't go out and shake my moneymaker lol, but daaamn I found online dating and the rest is "her story" i.e. my story of not giving up!!
Samesies...
My big, huge, existential emotional and psychological issues are actually NOT special — they're just like millions of other people's — and do not make me special. Learning to let them go is not a betrayal of who I am and will not make me less unique or interesting.
It is so it is...
I can live with/accept what I went through because I like where and who I am now (mostly). That was a huge success.
I think about this a lot.
If anything, at all, was different I might not be married to my wife.
If my parents stayed married, or my wife and I had sex ten minutes later, I wouldn't have these specific daughters who I love more than anything. Butterfly effect and all that.
It makes it so much easier to accept that everything I went through had to happen just like it did, but the future is wide open.
BYE!!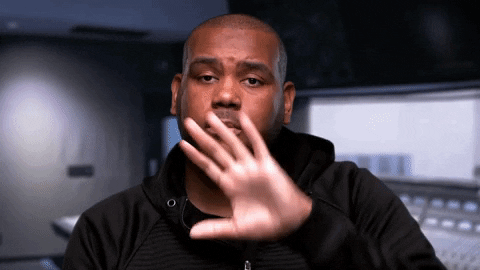 hip hop television GIF by WE tv
Giphy
Not all relationships are worth saving.
It's important to realize that needing therapy isn't a handicap. It's an enrichment. If you're trepidatious, just try one session. There are plenty of docs in your area that work with payments. You won't regret it.
Want to "know" more? Never miss another big, odd, funny, or heartbreaking moment again. Sign up for the Knowable newsletter here.

Keep reading...
Show less
We're never that surprised when we encounter people who are lackluster at their jobs. Bad waiters, rude customer service people, dishonest contractors, or inept colleagues abound throughout daily life.
But it's interesting that we expect to encounter that kind of ineptitude far less with certain professionals.
As an example, look no further than the world of mental health. The role of a mental health professional seems to denote such a knack for empathy, patience, and social tact that we're stunned when someone says or does something wildly unprofessional--or downright mean.
Nonetheless, there are problematic people dotting every professional realm, and the mental health sector is no exception.
Some Redditors offered up their finest examples of dreadful mental health care interactions.
Physical_Philosopher asked, "People of Reddit, what is the worst thing a therapist, psychiatrist, or mental health professional has ever said to you?"
Plenty of Redditors came bearing stories that were so bad you may struggle to believe them. These mental health professionals managed to say the most hurtful thing possible at just about the worst time.
The examples were almost cartoonish in how unkind these professionals were.
Salt in the Wound 
"I was dealing with a lot of family issues at the time and my ex had just broken up with me that week so I was taking it fairly hard."
"My therapist said 'it's because they found someone better' and when I said no and tried to explain she just dug in deeper that my ex had dumped me because they found someone better than me."
-- sgrmw
Suddenly, a Brainstorm Session for Insults
"14, telling my shrink about how I was bullied in school."
" 'Do they make fun of your nose?' "
" '...nnnno....?' "
"And that's how I found out I have a big nose."
The Exact Wrong Outlook 
" 'You'll never do an important job like doctor, veterinarian, firefighter, lawyer, conselor...You'll probably end up in a Walmart for your whole life.' "
"I was 8 years old and still remember how mad my parents were lol."
Some mental health professionals were simply too absent to be of any help whatsoever. These people may not have done anything outwardly mean, but their distant, neglectful demeanor hurt just as bad.
Mourning Snooze 
"Nothing. She fell asleep in her chair while writing notes....I was talking about the death of my parents. I was 16. Never went to another therapist" -- Papismurf101
"After reading a few of these I'm convinced some therapists get there education on a milk box. Flipping heck. I'm so sorry that happened to you." -- illthinkofonel8er
When Word and Deed Do Not Align 
"When they say things like 'okay I understand how you are feeling thank you for telling me' but proceeds to ignore most of the things I've said. -- PrestigeZyra
"Ugh I hate that. Sympathy is not Empathy."
"Rephrased: 'Based on what you've shared, I think I'm starting to understand what you have been through. Thank you for telling me. Now you said X, would you like to explain that further so I can better understand?' "
"It's called motivational interviewing and that specific technique is 'reflecting' and 'clarification' to ensure the client is able to fully explain their meaning without the provider 'assuming' anything or ignoring the person's statements." -- jhorry
Proven Wrong Almost Immediately 
"Go back to work, you'll be fine, you don't need different meds."
"3 times being sent home and psych ward visit later" -- BalancedJoker
"let me guess, diagnosed with depression (unipolar). prescribed an SSRI type antidepressant. turns out you have biploar depression and without mood stabilizers the SSRIs sent you into a strong manic episode." -- SecTrono
Finally, some people's therapists had bizarre hot takes that they just couldn't let go of. They introduced theories to explain a patient's situation, and gladly turned a blind eye to any realistic evidence to the contrary.
These mental health professionals treated the session more like a debate than a healing space.
Doubling Down 
"I had a psychiatrist who was convinced I was anorexic even though I wasn't."
"It really sucked because my therapist and my psychiatrist worked at the same company and they had a policy where they don't help people with eating disorders."
"So even though I went to a specialist and they confirmed I didn't have an eating disorder I was still banned from that facility and lost my long term therapist."
-- assainXD1
Throwing Shade on a Healthy Habit 
"I use my creativity with art and craft as both a coping skill and as something that gives me extra purpose in life."
"A psychologist told me that doing so is maladaptive. I didn't go back."
-- BlackCaaaaat
Wut
"Had a therapist tell me that my soul, long before I was born, chose my parents and subsequent childhood abuse so that I could learn from it."
"By this logic, of course, the abused person is always in control and the abuser is helpless. Argue with that logic. Needless to say I never saw her again."
I'm sure there are even more stories out there, and so many egregious comments not included in the list. It's sad but true: some therapists can't help but get in the way of the healing.
Here's hoping you never have any run ins like these.
Want to "know" more? Never miss another big, odd, funny, or heartbreaking moment again. Sign up for the Knowable newsletter here.
Keep reading...
Show less