Many parts of the world are gradually lifting mask-wearing mandates in public spaces as the pandemic inches closer to the end.

Yet, not everybody is ready to ditch their N95s.
Some people are immunocompromised, and there are rising cases of COVID infections in certain parts of the world from newly discovered variants–which is enough of a reason for people to still cover up to protect themselves and from infecting others.

Curious to hear from strangers online, Redditor -Omegamart- asked:

"Are you still wearing a mask in public? Why or why not?"
Wearing masks has become convenient for reasons you would totally expect.
The Perfect Cover UP
"I wear one to school because I have a nose ring and we're not allowed to have nose rings lol."
– firesidepoet

For The Insecure
"Without a mask I'm just ugly. With a mask I'm mysterious."
– Whole-Recover-8911

Grants Personal Space
"I have an average face, but terrifying/alluring serial killer eyes.... The mask gets me my own personal space without effort."
"The wife says I have the dead eyes of a shark..."
– escape1979uk

Joy Of Anonymity
"Went into a restaurant for pick up a few weeks ago. Saw a couple of people I knew but didn't want to talk to. I was wearing a hat, glasses and a mask. They didn't recognize me at all. Easy to avoid them."
– agreeingstorm9

Still Under Construction
"I am going through getting dental bridges so its a nice way to hide half-broken teeth."
– aBadBug

These people wear masks for the reason why the mandate was instituted in the first place.
For Safety
"Yes. My wife is immunocompromised as she is a transplant patient so I don't want to pass anything on to her."
– SirGreenDragon

Out Of Respect
"My youngest is a PTA. So many of her very young patients had Covid. She herself had RSV when she was three months old and was hospitalized. We still wear mask in public because of those that couldn't survive this virus that hasn't gone away."
– TaterMA

It's Still Risky
"I wear a mask because I interact with a lot of people every day and I don't know which ones are immunocompromised and do not want to take the risk of getting them sick."
"Why does that anger some people?"
– sharkira

It's Been Proven Effective
"I'm the type of guy that gets bad colds every summer and winter. I haven't had one in over two years since wearing a mask."
"Also a fair number of my neighbours are high-risk; even if I don't come down with 'it' (even if I'm all jabbed and boosted), I'd rather not pass 'it' on to them."
– neohylanmay

Never Again
"I stopped for a while. I got Covid this week. I am triple vaxxed and healthy and it knocked me on my a**. I'm masking from now on for two reasons."
"I want to avoid getting Covid again, it sucked."
"if it was that bad for me, I can't imagine what it would be like for people more physically vulnerable. I want to reduce the spread to lower the risk for everyone."
– Astuary-Queen
Still In A Pandemic
"I wear one in public because covid isn't gone, people are still catching it, people see still dying or having to live with long covid and I fall into a vulnerable category. I don't trust others to do the right thing (isolate if positive) so I look after myself."
– LaraH39
It's Second Nature

"It's become a habit (I often put it on when I'm outside)."
"I work at a fast food restaurant."
"People won't talk to me as often."
– stinkylooloo89

With the TSA announcing they have gotten rid of the mask requirement on air travel, I'm still be wearing a mask.
I'm vaccinated, boosted, and I don't have an underlying medical condition that makes me vulnerable to infection, but wearing a mask on planes gives me a peace of mind somehow.
I've also gotten so used to wearing them as I've flown a lot, cautiously, during the pandemic, that boarding a plane without one would somehow make me feel naked.

Want to "know" more?
Sign up for the Knowable newsletter here.

Never miss another big, odd, funny or heartbreaking moment again.
Keep reading...
Show less
Many people who abided by mask-wearing protocols during the pandemic have adapted to protect themselves and others from the contagious viral pathogen on a daily basis.
While various parts of the world still have varying levels of safety and health mandates in place, many people opt to wear masks, even though a particular establishment or other public places no longer require them.

Curious to hear why strangers would volunteer to wear a face covering, Redditor VerySlump asked:

"What's a non-covid reason that you like wearing a mask for?"
Some people like that masks are a partial disguise.
​Hiding Idiosyncrasies
"Whenever I'm concentrating or working on a task I tend to stick my tongue out or leave my mouth open and I really like it when people don't see that."
– Conscious_Fondant634
What Loose Skin?
"Covers my double chin."
– Catlover2727
"Made me realize the top half of my face looks gooood. Chin waddle not so much."
– Unique-Drawer-7845

Covering Pimples
"Hides my acne."
– gabrielcutler21
"Thank you! A few years ago this tailgating lady confronted me and called me a druggie and I assume it was because of my acne and it really took the wind out of me. I really don't look like a methany... I hope?"
– shewholaughslasts
​Self-Consciousness
"It hides my teeth."
– salmonsensual_69
"Same! Overbite checking in. I am considering getting braces while wearing a mask is still a thing."
– Blijerd

It's A Look
"Black mask goes hard with my outfit and hairstyle."
– pineapple_boiii
Half The Effort
"Don't have to put on a full face of makeup. Fill in my eyebrows, put on mascara and I'm good!"
– tofueggs

Some prefer masks as a block from social stigmas.
Leaving A Shadow
"Nobody notices if I didn't shave."
– paulfromatlanta

These Low Effort Jobs Have Surprisingly High Salaries | George Takei's Oh Myyy
Have you ever worked one of those jobs that paid you to kinda sit there? If you have, you know the joy that comes with watching the entirety of Breaking Bad ...
For The Introvert In All Of Us
"Allergies, and so I can ignore people."
– FightingBlaze77
"Took awhile before I found someone saying they can ignore people. For me it's more of I can fly under the radar of people I know. Sunglasses mask combo is complete anonymity!"
– deepdalecobra
Protection From Olfactory Assault
"Nasty smell in subway."
– ChristianaDarkness
"I agree. Smells in general."
– butterandsaltforever

Masks Make Me Look Attractive
"When this all started I noticed women making eye contact with me more than normal. The I figured it out, I'm a 6 foot tall guy in decent shape, nice hair, and a face like a chimpanzee. With the mask I look like I could be attractive."
– AUSTRALIA_IS_MADE_UP

Talking To Myself
"I can talk to myself without people seeing my mouth move."
– Weak_suicide

Workout Performance
"Same. I can 'lip sync' along to my Spotify while at gym and no one can see 😂"
– ChenzyHouse

Warmth
"I was in New York a month ago (I live in Florida). It wasn't cold enough for New Yorkers to wear scarfs yet, but it felt like it to me because I live in the south. So wearing a face mask was a handy way to warm my face without looking like a tourist lol."
– selfmade117

Viral pathogens aren't the only things floating in the air that can wreak havoc when entered through your nasal cavity.
When The Pollen Count Is High
"I have pollen allergies, mask helps a TON."
– UnclePiccolo

Outfit For Lawn Mowing
"I wore a mask to cut my grass due to bad grass/weed allergies before Covid and now I wonder if my neighbors think I'm just insane wearing a mask cutting the grass now."
– Escalante81

A Shield For All Occasions
"I haven't had a cold for nearly 2 years IT'S BEEN AMAZING"
– fluffofthewild

Extra Protection
"I'm a fresh heart transplant patient and I'm required to wear one in public for the first year. Not strictly COVID, but literally any pissbaby infection that most anyone can shrug off could kill me at this stage. 🤷♂️"
– MikoRiko

When I was a kid, I always found it unusual that people in Japan always wore masks out in public.
No one bats an eye.
Turns out they were on to something. Many cultures outside the U.S. have employed the use of masks to prevent the spreading of the cold or flu or other infectious pathogens way before COVID-19 wreaked global havoc.
It's nothing for them in endeavoring to protect others and themselves from a nasty bug.
Personally, wearing masks actually trained me not to rub my nose in public, which is how I've been prone to getting sick in the past when my hands weren't always clean. So even if I don't have to, I wear one to make remind me that I don't have an itchy nose.
What are your non-pandemic reasons for wearing a mask?

Want to "know" more?
Sign up for the Knowable newsletter here.

Never miss another big, odd, funny or heartbreaking moment again.
Keep reading...
Show less
Here's a wild fact that might blow your mind: being a superhero isn't quite as glamorous behind the scenes as it is on camera.
For some Avengers, like Tom Holland, even taking a quick swig of water can be an awkward ordeal.
Fans always take a special interest in the behind-the-scenes lives of the Marvel heroes.
But it's not all fun brunches and hang-time!
During a press interview with the stars of the upcoming Spider-Man: Far From Home, Tom Holland (Spidey himself!) revealed the web-slinger's true nemesis: hydration.
'Spider Man Far From Home' Zendaya, Tom Holland and Jacob Batalon Full Interview youtu.be
With his costume obviously blocking his mouth during filming, it turns out that Holland has to get water by removing one of his eye-pieces and sipping through a tube that runs through his mask.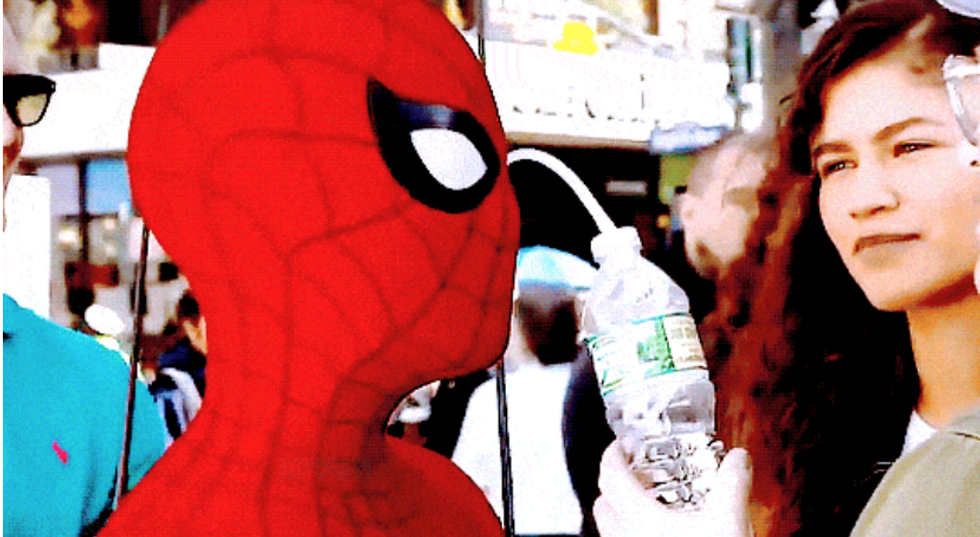 Sony/Entertainment Tonight
There's always a trade-off when you get superpowers...
@ThatEricAlper The spider bite had more side effects than we thought

— JeoMona✍(Commissions Open🔆) (@JeoMona✍(Commissions Open🔆)) 1561590612.0
@ThatEricAlper He has to hang upside down to kiss a girl.

— Craig Hall (@Craig Hall) 1561586955.0
Naturally, Holland's revelation made front page news worldwide.
thanks google, i love staying updated on how tom holland drinks water! https://t.co/5hZccrIZFI

— johnny (@johnny) 1561589193.0
The fact that Holland has to get his water through an elaborate apparatus gave everyone who saw it a case of the giggles.
Everytime they cut to @TomHolland1996. The only man I could watch drink water on a loop 😂 #SpiderManFarFromHome

— Holly (@Holly) 1561601321.0
the content i never knew i needed https://t.co/O8agVAQkjx

— j🦋 (@j🦋) 1561594601.0
BREAKING NEWS: Innovator @TomHolland1996 Learns to Drink Water From His Left Eye https://t.co/C55PTNNqzN

— lauren ✈️ TIME OUT (@lauren ✈️ TIME OUT) 1561571905.0
Perhaps Spider-Man will wrestle with his ability to drink in his movie.
@people The cost of being iconic 🤷‍♀️ https://t.co/Bd2OwBMjoy

— Nakita Dozier (@Nakita Dozier) 1561610658.0
If only Spider-Man's drinking method was the only eye-related headline inspired by the press for Far From Home!
It seems one of the designers for the movie's posters couldn't be bothered to remember which eye Nick Fury's patch is on.
Samuel L. Jackson furious over Nick Fury's eyepatch on right eye https://t.co/KyvwKDA30A #SpiderManFarFromHome https://t.co/vQENB5Tz6f

— Straits Times Life (@Straits Times Life) 1561459495.0
Check out Spider-Man: Far From Home when it hits theaters on July 2!
Hopefully, Tom Holland is looking as quenched as ever thanks to the behind-the-scenes efforts of the entire Marvel team.
SPIDER-MAN: FAR FROM HOME - Official Trailer youtu.be
Keep reading...
Show less
Believe it or not, we now live in a world where you can have a surrogate wear an iPad mask and participate in life for you.
According to Select All, Japanese researcher Jun Rekimoto presented his new tech, called ChameleonMask, at MIT Tech Review's EmTech this week.
ChameleonMask "uses a real human as a surrogate for another remote user," by giving the surrogate "a mask-shaped display that shows a remote user's live face, and a voice channel transmits a remote user's voice."
We know what you're thinking...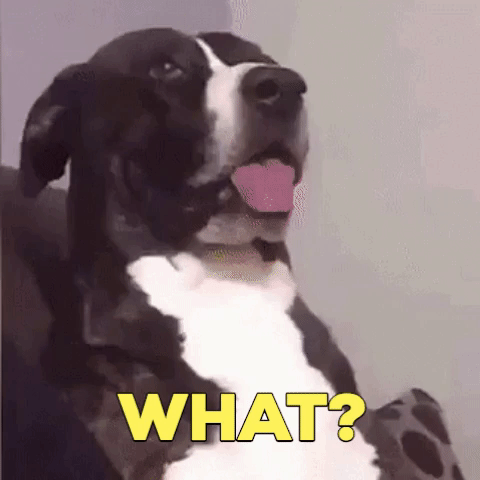 GIPHY
Actually, I'm pretty sure some of you are thinking this: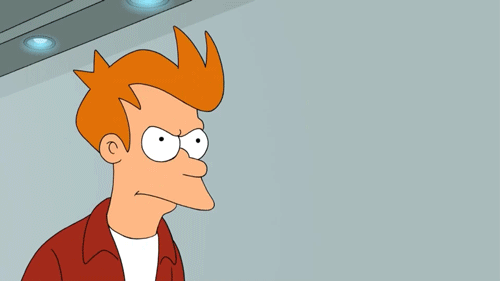 GIPHY
Think of it this way: You need to go grocery shopping but you don't want to leave the house. No problem! With ChameleonMask, you can send someone in your place while you beam your face onto a iPad and guide them through your shopping list.
You can watch a video of ChameleonMask in action here:
ChameleonMask: Embodied Physical and Social Telepresence using human surrogates youtu.be
How do people wearing ChameleonMask actually see? That doesn't seem quite clear.
People certainly have opinions.
@FrankPasquale Why, WHY didn't they have this magical technology when my sons played t-ball?!

— Justin Longo (@Justin Longo) 1517490486.0
Black Mirror Season 5?! ChameleonMask is all you need for a dystopian future where a class of humans is relegated t… https://t.co/BOWcDKNME7

— 𝕯𝖚𝖆𝖓𝖊 𝕶𝖎𝖓𝖌 (@𝕯𝖚𝖆𝖓𝖊 𝕶𝖎𝖓𝖌) 1522975811.0
@FrankPasquale Arrested Development came out a decade before Black Mirror

— James (@James) 1517490947.0
No, no , no! This doesn't seem natural at all! #chameleonmask #freaky https://t.co/iC09QOmMYr

— Xtina Rodriguez-Romo (@Xtina Rodriguez-Romo) 1517690809.0
@FrankPasquale We seem to be constantly building a stronger case for Skynet to just wipe us out. #codewithmeifyouwanttolive

— Chris Zimmerman (@Chris Zimmerman) 1517506037.0
Telepresence technology has been around for a while.

In 2015, for example, James Vincent described using a robot "Double," a telepresence bot from Double Robotics, as combining "the fun of a remote-controlled car with the thrill of videoconferencing."
"It's best described as an iPad on a Segway because, well, that's basically what it is," Vincent wrote at the time. "There is a pair of squat wheels at the bottom and a telescoping pole that extends from three feet to five feet tall."
"At the top of this, there's a jig for an iPad (sold separately unfortunately), and the whole arrangement is self-balancing. You log in like a Skype call—either via a mobile app or website—and then you're presented with controls to move the bot around, while a loudspeaker attachment lets you sound your barbaric yawp over the cubicles of the world."
I used a robot to go to work from 3,500 miles away youtu.be
Keep reading...
Show less