Reddit user AmoebaMan asked: 'What's the gifting equivalent of flowers for a dude?'
When intending to show a woman how much she means to you, giving her flowers is a fairly common solution.
When trying to do the same for men, however, what to give them is a bit more challenging.
True, plenty of men will be overjoyed to get a bouquet of bright red roses or pink and yellow tulips.
Unfortunately, there are still far too many men who are too insecure with their masculinity to be caught dead holding a single rose, let alone a bouquet.
Leaving one to wonder, what is an appropriate substitution?
Redditor AmoebaMan was eager to hear what the Reddit community thought men should be given in lieu of flowers, leading them to
ask
:
"What's the gifting equivalent of flowers for a dude?"
Nothing Says Love Like Home-Baked Goods...
"Fresh baked cookies or brownies."- zazzlekdazzle
"It's a traditional romantic gift from the opposite sex that can also be given as condolence or congratulation."
"In every scenario where a girl might get given flowers, a guy might get given baked goods."- Efficient_Star_1336
Please Their Ego, And You'll Be Fine...

"Maaaan, just some appreciation and maybe a compliment."- Far_Kangaroo_8111
"I'm a simple man and don't usually like being gifted anything."
"But a hug and heartfelt compliment or kiss from a SO goes a long way."- Fenix_Fire66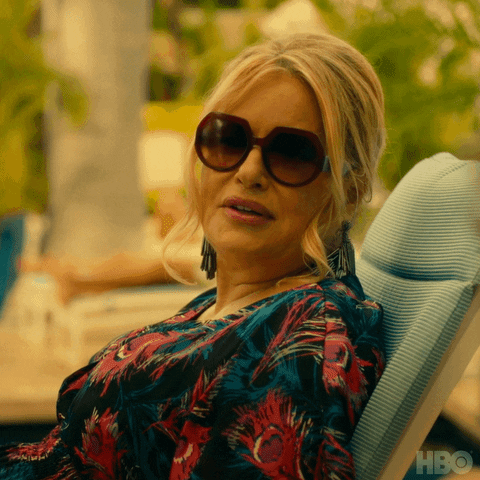 White Lotus Flirting GIF by HBO
Giphy
No Need To Shop, Just Look At The Ground

"A cool rock."- simonearth
"My best mate would be over the moon if I found a cool rock and gave it to him."- NotoriousJAM
More Precious Than You Think...

"A 10mm socket."- speedyhemi
"There are only 1000 10mm sockets in the world and they move around, so if you can't find yours it means that someone else is using it right now."- unbearablebastard
Nothing Better Than A Warm Embrace
"Hug works for me."- randymysteries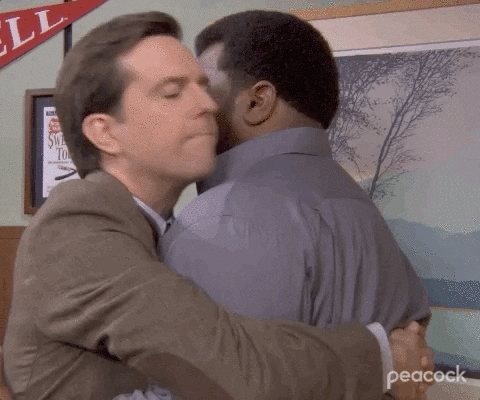 Season 9 Hug GIF by The Office
Giphy
Something To Eat, Not Just See And Smell
"Lots of guys on here saying flowers."
"Sure, some guys might want flowers, but don't let this convince you that all guys secretly want someone to give them flowers."
"I'm a 38 year old guy."
"I don't want flowers."
"I don't want to find a vase for them."
"I don't want to clean up when they wilt and the petals fall off."
"I don't want you to waste your money on them."
"Don't get me flowers."
"Get me something I can eat or drink instead."
"Beef jerky."
"Nice coffee."
"Nice booze."
"Dessert."- gilded-perineum
"Hot meal?"- kurainikuraini
"A home cooked meal!"- Popular-Ad2193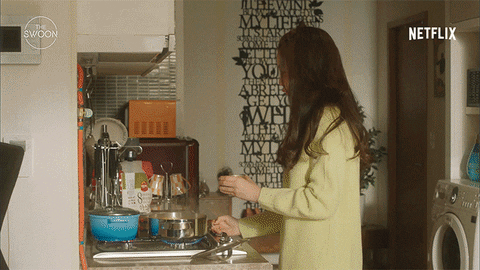 Korean Drama Cooking GIF by The Swoon
Giphy
"Everything Is Awesome"...
"A Lego set."- dysFUNctional_kitty
"Yes!"
"I don't drink alcohol or like flowers, but there is always room for one more Lego set on my shelf."- DelusionalPianist
And NOT Well-Done...

"A pack of ribeyes."- fishstock
"I have rarely loved my wife as much as when she came home with a barbecue kit."
"She told me I didn't treat myself often enough."
"So she got a couple of beers."
"Went to the butcher for a couple of burgers and a steak."
"All I had to do was turn on the grill and sit back."- mirage2101
Still In The Botanical Family...
"Potted plant."
"I love flowers, but like, bring me the whole plant."
"The flowers will die in a few days."- PVDeviant-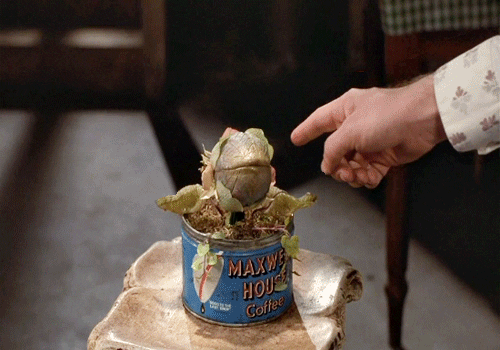 Little Shop Of Horrors GIF by Maudit
Giphy
Seems Fairly Obvious

"Beer."
"A six-pack is always a nice gesture."- Excellent-Practice·
Just Make Sure You Get The Right Kind And Sauces!

"Chicken wings"- wm_destroy
"Plus Ranch or Blue Cheese (depending on preference)."- RatherDashingf11
Just Don't Expect To Ever Hear From Him Again...
"RTX 4090."- Jetzve
"The only right answer."- _Revlak_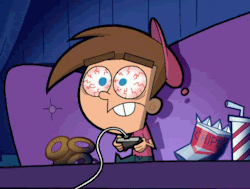 Video Games Gamer GIF
Giphy
It should perhaps be mentioned that not all women love getting flowers either.
Pollen is a notoriously bad allergy.
However, no matter the gender of the recipient, any gift to show how much you appreciate them should be met with gratitude.
After all, it's the gesture that counts.
Though, it shouldn't come as a surprise that some people will be even more visibly grateful to receive a gorgeous Wagyu rib-eye than they would a bouquet of daffodils...
Money matters.
Don't let people fool you when they say it doesn't.
Yes, it isn't everything.
And yes it can corrupt.
But it can also be immensely helpful.
It's especially helpful in large sums.
A windfall of cash in any amount can be life-changing.
Redditor SheemieRayVaughan wanted to know how we could have some fun with a major windfall, so they asked:
"How would your life be changed by winning $20,000?"
Please someone send me $20,000!
I'll even take $10!!
Living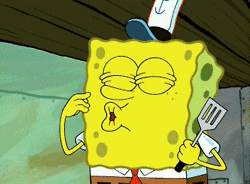 Kisses GIF by SpongeBob SquarePants
Giphy
"Replenish my emergency fund that was depleted from my cancer bills this past year. My out of pocket max + deductible was 5k and now just paid 1k to get a prosthetic (had salivary gland cancer which left a hole in my soft palate). Hopefully part of that will be reimbursed from either dental or medical insurance."
stepheli88
Juicy
"As I'm homeless ATM it would mean a whole f#*king lot! I'd buy some fruit first tho! The biggest pineapple I could find! 😂."
"Umm about £2 so like $3, ah you've very kind thank you! But it's ok I don't even have a knife or anything to get into one and I've no Venmo or PayPal or anything like that. Really do appreciate the very kind offer all the same! ❤️🙏."
Marchogdu
"If you find a way to receive it I will also Venmo you pineapple money. I've not been homeless but I've been 'no money for fruit and veg or literally anything to bring light to my life' poor. $20k would still be life changing but I have enough pineapple money to share now."
TheLastEggplant
Finally!
"I'd literally be out of debt for the first time in my entire adult life 😅."
SnooTangerines5325
"Same 40 this year and I've just given up on the idea of owning property. Settled for a council house in the sticks in Scotland. Gonna make this house our home, try to clear the debts and just try be comfortable is the aim."
"Actually doing it on the other hand is near impossible when my outgoings of just rent, food and power take my entire wage. At the moment bankruptcy is looking like my only way of actually ever achieving being comfortable let alone buying property."
Nelly32
Same Ole'
"It wouldn't change."
mythoughtsfortheday
"I'm in the same boat that it wouldn't change much. 1/10 of my student loans would be kinda nice I guess, but when I'm drowning, I prefer they just drain the whole pool instead of 10%."
Schleeeeeem
"Same. It would just get rolled into a current or future investment."
SevenTheTerrible
"I'm with you. Would split it up between Roth and savings. Excitement would last just a moment. I know that sounds spoiled but the question was asked. I answered."
Va0utdoor
Timeless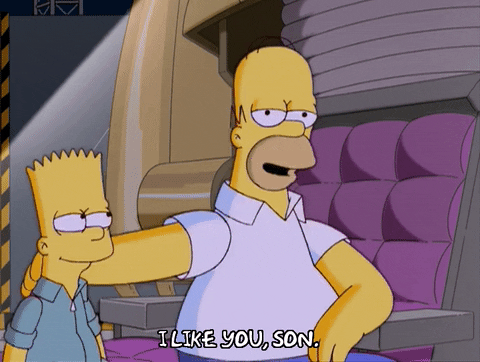 Episode 9 Hug GIF by The Simpsons
Giphy
"$20k would cover rent, bills & food so I could take time to spend with my dying parents."
-qqqwwweeerrrtttyyy-
HELP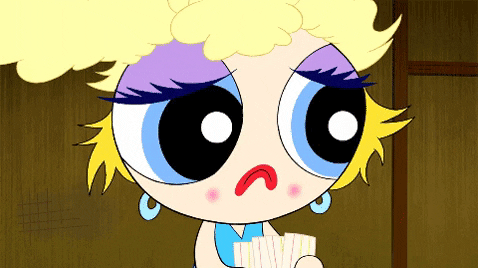 Cartoon Network GIF by CNLA
Giphy
"I'd be able to get the medical treatment and dental work I've been avoiding. I'd probably be a lot happier being able to chew more things."
asianinindia
Bad Ideas
"I would lose my disability and be more f**ked than helped, honestly."
"If I spent it incredibly under the table, then yeah. But if I did anything noticeable with it, it's still a risk. I borrowed money from a friend once to buy a cheap a** van (to live in, yay, leeching off the government is so profitable /s) and they drilled me about where I got the money to buy it."
"To get them off my back, I even drew up a contract stating that I was never in possession of the money and was on a payment plan to pay it back. It can be hell to get disability, but they'll rip it away in two seconds."
odd_ender
A little here and there...
"I have $54k left on my mortgage. No other debt. Don't need a car. So almost no change."
SteelTumbler
"Same pretty much. I don't 'need' anything and the one thing you could argue I could use, you can't buy that for $20k. So literally would not change my life at all. Maybe someone else would be a better recipient."
descendency
"I mean, it wouldn't change my life, but I could park it somewhere for my son later on."
not_a_droid
It Works
"My mom died and had an insurance policy that paid out about this amount. It allowed me to buy my first ever new car. Everything works in it! Especially thrilled to have heat and defrost. Reliable transportation really does make life easier."
Cate_in_Mo
The Everyday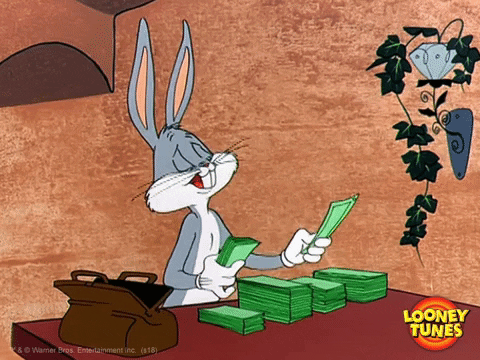 Bugs Bunny Money GIF by Looney Tunes
Giphy
"It would help immensely, I'm living paycheck to paycheck with $12 in savings. I get by, but the fear of an unforseen expense is crippling at times."
xanarchy69
Debt be Gone!
"Pay off some consumer debt and the rest of my car loan. It would basically just push the timeline for my wife getting a new car up by a year, granted that would mean that the debt we paid off would be replaced by a new car payment. Aside from her no longer driving something questionably reliable (we've had major issues), nothing would change."
duffman13jws
Money isn't everything... but it certainly helps!
What would you do with the money? Let us know in the comments.
Accomplishments prove we tried to do something and did something.

A little flex every now and again doesn't hurt.
I did this.
I tried this.
It proves we lived.
Just don't be arrogant about your success, but sometimes you want to show off just a little.
Redditor vjts87 wanted to hear about what everyone feels they deserve to brag about, so they asked:
"What's the weirdest flex you have?"
I brag about nothing.
Except that I can sing word for word every Whitney song.
The Win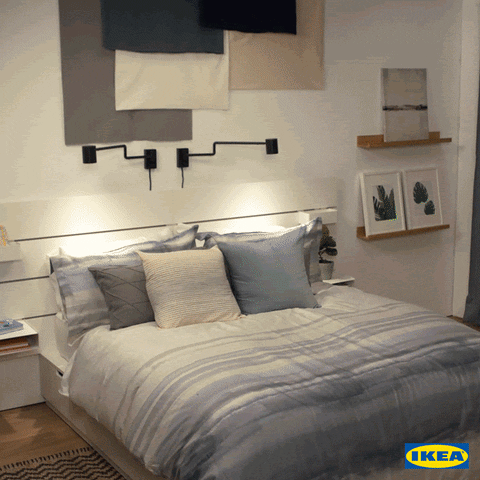 Tired At Home GIF by IKEA USA
Giphy
"I work the overnight shift and still get eight hours of uninterrupted quality sleep every day."
ITookAPooInTheICU
"Love Shack"
"I've been booed by 10,000 people at once. I know athletes and celebrities have been booed by more people, but I'm neither. I was randomly picked out of the crowd at an NBA game to attempt a 3-point shot, to win everyone a free pizza. I bricked it."
Shonuff8
"At least you had a task that only lasted like maybe 10 seconds."
"I was at a radio concert in a venue that size with 6 big acts on the bill. In between acts, they had fans do karaoke. A mother-daughter team got tasked with 'Love Shack' and sh*t the bed hard. One of the DJs told the crowd to give them a round of applause and they got hit by a massive wave of boos."
patrickwithtraffic
Gross
"I got picked up in a white van as a child by a stranger to get a lift to somewhere 5 mins away, I was in the back off the van for half an hour, then they opened the door at the place I was trying to go. To this day I'm not sure but I think he changed his mind. The guy seemed nice enough at the time but, it was just such a strange experience to think back on, I was about 12ish I think at the time too so definitely old enough to have known better."
WhatAmI111WhatAmI111
Genius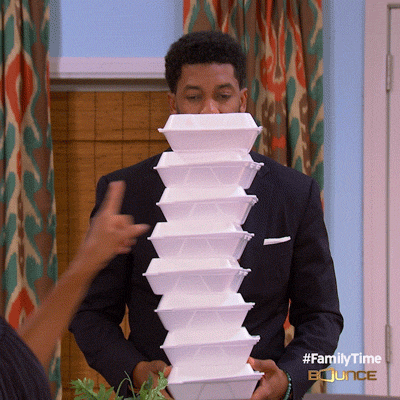 Hungry Labor Day GIF by Bounce
Giphy
"I can always pick the exact right size container to put leftovers in."
Money_Pomegranate_51
Knowing how to portion leftovers is a MIRACLE gift.
The Gift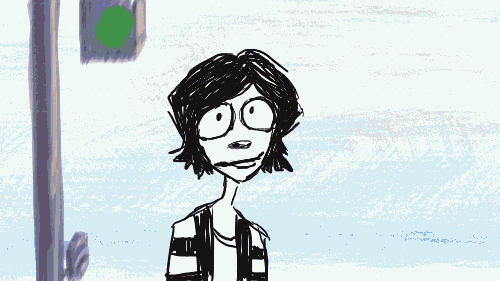 Giphy
"I can get rid of hiccups on demand. Like without fail if I have hiccups I can just think about it and they go."
DoIReallyNeedAnAcc
Trauma
"A tree fell on me in 2021 and broke all my ribs, my spine, and popped both my lungs. I dragged myself out and survived long enough slowly drowning in my own blood (and internally bleeding out) to be found and get airlifted to a trauma ward. So I got almost as much metal grafted to my bones as wolverine though I don't flex much because I got so much metal making me rather stiff and rigid."
Setantaoceillaigh
Kevin! Come back!
"I had to take an IQ test when I was being evaluated for ADHD and apparently I am in the 99th percentile in spatial reasoning. I can't do math or talk good but I can pack the hell out of a suitcase!"
yekirati
"This is actually an amazing skill to have! One of my old cooks was the same way. Quiet kid, very bright but not cut out for the restaurant industry. He loved being on prep for EXACTLY this reason. The fridge was never as organized, cleaned, labeled, dated, rotated and stocked properly unless it was he or I or one other person. I miss you Kevin! Come back!"
subtxtcan
40
"I survived 9 heart attacks, before I turned 40. Have 4 stints following 3 angiograms and 1 open heart surgery with vein transfer... that failed... been in heart failure status for a year. But honestly I am healthier than I was a year ago. A year ago couldn't walk half a mile. Now can walk 3 miles without issue. Even survived covid this year after 2 years of isolating."
BadGenesWoman
Savior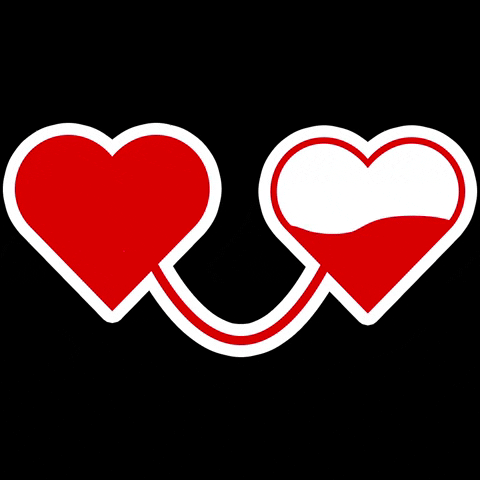 Blood Donation GIF by Santander Brasil Oficial
Giphy
"I have donated over 15 gallons of blood!"
DonkeymanPicklebutt
"As someone whose life has been saved due to a blood donation: THANK YOU! I love you and hope others will take after your example."
Friendly_Chemical
Life is always full of flex. Embrace it.
Do you have anything to share? Let us know in the comments below.
As kids many of us made wishlists of the toys or games we wanted for major holidays or birthdays.
As adults we still make wishlists sometimes, but there's a societal expectation we'll only list practical or mature or responsible things.
But what if we still want that Lego Millennium Falcon or Barbie's Dream House?
Redditor devious_egg asked:
"Adults, what is something you'd love receiving as a gift but no one even considers giving you because you're an adult?"
Dinosaurs
"I'd like some of them pills that turn into dino-sponges when you put them in water."
- mpapillon12333
"Also the mini dinos you put in water and they would grow 100x their size over night."
- goblingirl
"How about the oatmeal with the eggs that hatch into little jelly dinosaurs?"
"I got some for 'my kids' a couple years ago and I—I mean they—enjoyed them very much."
- Fallwalking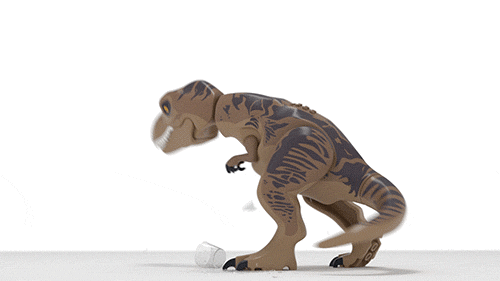 Giphy
The Thrill of the Hunt
"So I'm 34 now and no longer with this girl but for my 32nd birthday my girlfriend at the time did a scavenger hunt around the house with little gifts for each step and a weekend away as the final gift."
"Definitely one of my cooler birthdays as an adult."
- Teejaymac
"I'm doing this for my anniversary coming up!! I'm having so much fun making the clues and the gift is one of those Steven Singer gold dipped roses, which I only just found out my wife always wanted."
- abrokenelevator
"My husband did this for my 30th, but went all out. Security at work gave me a card when I left the office."

"It had a short poem that led me to the day spa we went to before our wedding and I got a massage. After the massage they gave me another card and a small gift."
"I went to a couple of other places where I picked up various small gifts from him. After that, I ended up at a restaurant where my husband and friends were having a couple of drinks and waiting for me."
"We hung out for a bit, then headed off to a second restaurant where we had reservations. I got gifts at each of these places too. (The gifts were all like $10 things, he wasn't going all out spending too much.)"
"To top the night off, we headed to a third location to drink too much. Finally, tipsy me was carted home where I got a final card that directed me to a pair of diamond earrings."
"People, when I say this birthday was epic... I mean, it was crazy amazing. It was beyond thoughtful and so romantic in the way he did it."
- terminator_chic
Arts & Crafts
"12 pack of Play-doh, the ultimate 150 crayola crayon set—the one with the sharpener and some drawing paper. I turn into an eight year old!"
- Forsaken_Republic_98
"Totally just ordered the gigantic Crayola box (I wanna say it was atleast 164 colors) and when my husband asked why I said it's for our daughter....who is 19 months, and just discovered crayons and coloring books a couple weeks ago ....he laughed when I confessed they were for me because I am SO EXCITED that she is starting to color and I cannot cannot cannot wait until we can sit and color next week when they get here 🤣"
- Legitimate-Ad1784
"I'm 37 and in grad school and my mom still gets me a big box of crayons every year at the start of classes. I love it."
- wildlybriefeagle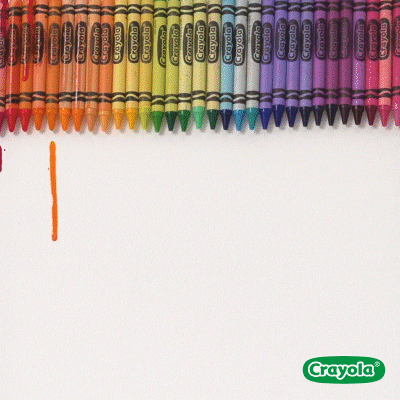 Giphy
"My mother gave me a coloring book and fresh crayons every Christmas until one year when I was about 13 she didn't. I mentioned that I was disappointed, though I laughed it off, but she noted it and the next year there they were."

"She continued doing this until she died, when I was 30. I would still like a new coloring book and fresh crayons every Christmas."
"In fact, if I mention this to my son or daughter I know one of them (especially my daughter) will remember it and do it (I'm 49 now and the past two years my kids have had jobs and bought me stuff and I'm always just blown away by their generosity."
"It's the first time in my life since mom died that anyone buys me anything, which has been fine. But not gonna lie, it warms my heart so so much. They give such thoughtful gifts.)"
"But yeah, I love the smell of a fresh box of Crayolas. Such nostalgia."
- NibblesMcGiblet
Reading is Fundamental
"A few Nancy Drew books. My parents didn't have money for books. The small Catholic school library offered books on saints, US presidents and their wives. The public library wasn't in walking distance."
"I lied when Susan Sample, a classmate, accused me of befriending her for the "sleuth's" books."
"55 years later, I'll fess up; yes, I preferred my time with Nancy more than you."
- gladysk
"This is why I support Dolly Parton's Imagination Library. You sign up and get two free kid's books a month for your kid to enjoy. It rules."

- PM_ME_KITTEN_TOESIES
"Check out the Nancy Drew PC games on Steam! They're adventure point and clicks with tons of mini games, and the originals only take 4-6 hours and are $3-6 USD. They also inevitably go on sale every major Steam sale."
- IggySorcha
"I've downloaded Nancy Drew eaudio books from the library. I was stunned to learn that Laura Linney narrates."
- gladysk
Lego is for Everyone
"At 18 my parents would laugh if I asked for Legos—they never bought them for me unless I asked and stopped buying them for me when I was nine because I was 'too old'."
"When I play with my siblings' Legos I get brutally mocked but I honestly think that Legos are ageless and super great not just as a toy but as a hobby in general."
- Future-Parsnip4597
"The box does say up to age 99. Your parents just don't get it."
- A_70s_Virgo
"It kind of sucks that you're not allowed to play with them once you turn 100 though."
- No-Garlic-1739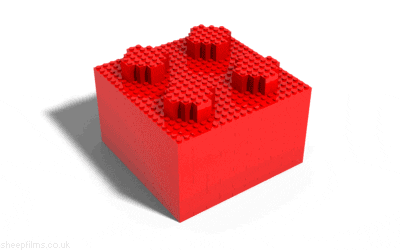 Giphy
"I got a call from a friend, she said it's a birthday and we should all come over. I got the date/time and event correct, but not whose birthday it was, although I was confident it was for a kid. Why else would she say, bring the whole family?"
"We show up and I'm frankly concerned by by all the craft beer with bows and balloons on it. I set our gift bag down and we join the party. Shortly after, her husband shouts with joy and wants to know who got him the big Lego set."
"Well, that was me, and, uh.... You're welcome."
"So, my answer is Legos. Adults want Legos."
- CanYouBeHelped
Hide!
"Not a gift, but would someone play hide n seek with me please?"
- tbama11
"Let's do it in Ikea!"
- Low_Loss9934
"I'm in! Pick me, pick me!"
- TwoIdleHands
"Honestly, I wonder if you could book an Ikea for a specialty sleepover—like, food court opened for dinner then ice cream, hide and seek, scavenger hunt? Serious missed opportunity on their marketing department if not."

- Crackinggood
"This has happened before! An IKEA in Denmark got snowed in and 20-30 people had to stay the night. They got to watch movies and eat cinnamon buns and slept in the showroom beds."
"If this happened to me, I'd make a fort with a big pile of stuffed animals in the kid's section."
- PM_ME_KITTEN_TOESIES
Mini Worlds
"An original Polly Pocket! They were so well made and I just love how perfectly miniature everything was."
- cnfmom
"For Christmas one year, my brother and I got the "boy" version of Polly Pocket: Mighty Max Skull Mountain, it was awesome! My sister got a bunch of Polly Pocket and Littlest Pet Shop toys that I probably played with just as much as Mighty Max."
- tavok_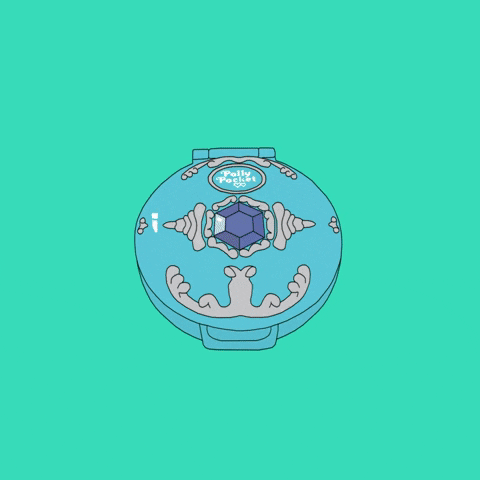 Giphy
Glow-Up
"Legit anything that glows in the dark. I think it's so fun but since I'm grown I get basic non-glowy stuff."
- I-like-bagels15
"Growing up my brother had glow in the dark stars and moons stuck to the ceiling of his room. I was always jealous of them and I think it would be the coolest thing to have my own little galaxy in my room now."
- acecayde
"I'm 39 and have my walls covered in glow in the dark stars. They make me happy and I don't care what anyone else thinks."
- moonbunnychan
"I have a canopy bed because I always wanted one as a kid, but it's a really modern looking steel tube one that looks pretty chic. I have a mesh canopy over the top with plastic glow stars scattered on it. They tend to gather in the middle after a few weeks so I smack the mesh to scatter them randomly again."

"I also put glow stars in the glass dome under my kitchen light. When I shut off the light the stars are all charged up and glow for a while!"
- bondagenurse
"Anything glow in the dark is still super exciting to me. I've got a glow in the dark phone case at the moment (actually helps me find it at night), silly putty, nail polish, a Tshirt and a little glowy tree spirit from Princess Monoke that sits on my nightstand. In the past I've had glow in the dark stars, stickers, tempera paint and a glow in the dark moon calendar."
‐ lightbulbfragment
*pew* *pew*
"A full laser tag set with at least four guns."
- DrByNight
"…and a fog machine!"
- TexBlack
"Plus strobe lights and black lights and a stick stereo system to pump some techno beats to shoot lasers to."
- SobiTheRobot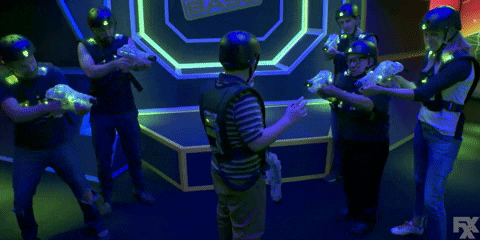 Giphy
Lava Fun
"I would love a new Lava Lamp."
"Decades ago I lost mine in a natural disaster which is me doing what I usually do which is drop my lava lamp onto the ground."
"By far the most difficult clean up I've ever encountered."
- Billsonite66
Nerf Herders
"Nerf guns. Not gonna lie, I'm probably to old for this stuff, but I love screwing around with my friends and just having a great time flinging foam."
- Save-The-Defaults
"Nerf guns or just some toys in general now that i'm older newer toys have come out and weren't around when i was a kid they honestly look fun sometimes."
- SelectionQuick9153
Wet and Wild Fun
"A Super Soaker with the LATEST Super Soaker technology!"
"My birthday is in August, northern hemisphere, so I would put it to use straight away."
- hangriest
"I'd much rather have a fight with dope-a** water guns than with Nerf guns because there is no clean up with water guns and finding all the darts after a nerf battle really f'king sucks."
- Jordaneer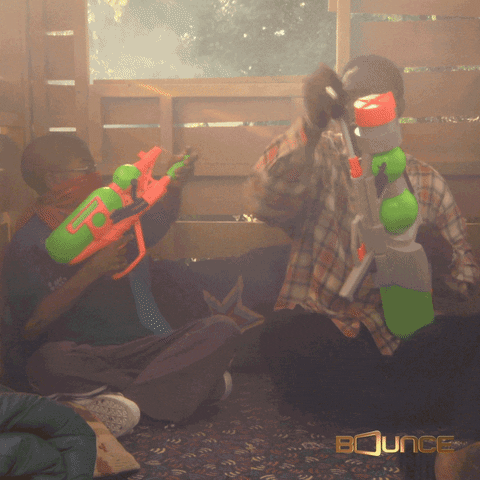 Giphy
Is there a reason we need to stop enjoying certain things when we get older?
There isn't, really, so do the things you love no matter what other people think.
Want to "know" more?

Sign up for the Knowable newsletter here.
Never miss another big, odd, funny or heartbreaking moment again.
Lottery tickets are a pretty commonplace gift for the holidays. It's an easy way to give someone something completely noncommittal and kind of fun gift, where even if they don't win, they play a little.
But what if you did win?
It's a fun, though unlikely, thought. Still, not impossible.
Do you ever just let your mind wander a little bit into the realm of what it would be like if you won fabulous riches?
Redditor clooless46 asked:
"A relative gives you a $10 scratcher for the holidays and you win a $1,000,000 prize right in front of them. What do you do?"
Here were some of those fantasies.
What COULD Happen
"OMG, I remember a People's Court episode over a scratch off. My mom loved that show."

"Apparently two friends went grocery shopping together. First one pays then asks second one if she can borrow $1. Second one gives her a buck. Well, first one bought a scratcher and won something like $500 or $1000."
"Second one demanded the money, as it was her dollar. Ended up in front of Judge Wapner, who ruled that second one only deserves $1."
"His point to her when she protested was 'if your friend bought a Coke with that dollar, would you sue her for it?' So there's at least a similar TV court precedent, lol!"-LaLionneEcossaise
Hi-Ho The Glamorous Life
"It actually happened to a friend of mine. Gave his dad a scratch ticket for his birthday, and he scratched it like you do, and honest-to-f**k, he won $1,000,000."
"The son had posted a video, it was with a pre-iPhone camera phone (kids, they were terrible). He went to check it at the store just to confirm and it was like watching someone have an out of body experience."
"Generally, he's relatively reserved. But watching him go and check it was completely different. He was screaming, having panic attacks, including hard time breathing. He couldn't contain himself. It was pretty cool to watch."
"They came from lower/middle class, they bought a nice sized house, and gave the son a sizeable amount. I don't know exact numbers, but he got a nice vehicle, and a few other nice things. It was quite the story."-four4youglencoco
-Shrug-
"Laugh. There isn't much to do."
"Like they give you a scratcher in hope for you to win, and if you win, then both parties should be happy, otherwise you shouldn't buy a scratcher for people if you don't want them to win."-MorrowFane
It's true that too much money can really turn some people a little crazy.
Pre-Empting Part One
"Split it. Straight down the middle, no hesitation. Actually surprised the top 5 comments have 100's of upvotes all effectively saying 'f**k you, that's my money.' 1 mil is no joke, half a mil is enough to change a life."
"Better to change both of your lives and have a shared life-changing event. I'd feel guilty as fuck, and depending on the relative maybe even slightly afraid, if I gave them just 10% or even nothing."
"That sounds like some deep rooted resentment waiting to manifest. Anyway, reverse the roles, you'd feel pretty jipped if somebody you cared enough about to buy a gift for decided to keep the lot for themselves."-ediblehunt
Pre Empting Part Two
"Seems like it wouldn't be a bad idea to just ask them straight up if they expect anything. They get one shot to be generous or greedy with their answer, and you can still say no to whatever they propose if you choose to."
"My guess is no matter what you offer, your idea of fair and their idea of fair is highly likely to be different and I think it would be a rare relative that wouldn't manage to have hard feelings if they feel shorted somehow."
"You'll never convince them it's fair unless it was their idea."-MDF247
Expectations Vs. Reality
"Just to point something out immediately, they bought YOU the Scratchcard. You don't owe them anything, but common decency would dictate you should show your gratitude."
"I'd likely pay to take their family on a holiday, and pay off any debts or a mortgage they have. And maybe a car. If I bought someone a scratchcard and they won big, I wouldn't expect them to give me half their money, but I must admit that if they won a million, I'd at least would want them to pay off my 15k debt, I wouldn't want anything else."
"I bought them the Scratchcard as a gift, which I've done many times, and that gift has no strings attached."-Dangerous-Jaguar-654
Sharing Is Caring
"Of course I share with my entire family, no hesitation at all."
"Not just the person who gifted it to me. It was a gift. It became mine, win or lose. Imo, it is legally and morally my money to do with as I choose."
"I would choose to share with my family. Not out of obligation or with the gifter because of 'owing them.' I would choose to share because it is my money and that would be how I'd 'spend' it. ❤️"-4letters1name
There is a lot of pressure to immediately figure out what you are going to do with this money once you get it.

To The Vault!
"Keep my damn mouth shut and not make any promises. Get the ticket in to a safe deposit box as soon as possible. Give it a few days and decide what I want to give them."
"Some relatives would get half the after-tax amount, some would get far less and I'd enjoy watching them explode over such a slight."
"Once I've come to a decision I'd have my lawyer draw up paperwork. No handshake agreements, no verbal agreements, ink and paper!"
"Once the paperwork was drawn up, signed, and notarized I'd retrieve the ticket. Cash it, divide as agreed, and go about my day."-NS8VN
Just In Case.....
"I'm sure this will get lost in the comments... but years ago (like 2002) my boss asked me to go get him a quick pick for the lottery while I was at lunch. The lottery in my area was north of 300 mil at the time. He gave me the money to snag it for him while I was out."
"When I was going in to buy it, I had the sudden realization that the ticket I buy might win him millions and I would have literally handed that over to him. I spent about 10 minutes trying to figure out a solution to this realization and did the only thing I could think of to do."
"I purchased his ticket with quick pick as he requested (computer assisted.) I then took his ticket and went and manually played the numbers the computer picked for his ticket and purchased that for myself."
"That way if somehow he won, he'd at least be splitting it with me."
"I never told him this story and I still have lunch with him to this day every so often despite not working for him since 2004. In fact, ironically enough he called me today to wish me a late happy thanksgiving."-jackfirefish
Touching
"I work for a very large lottery operator. On my first day they gave us a tour of the facilities and there was an elderly couple there who'd won a price of approximately $10k per month for 10 years and they were there to collect."
"It was like watching two people have an out of body experience and they were waiting for someone to wake them up or something."
"Increasingly heart warming stuff when they started talking about all the really mundane stuff they were going to do with the money that they couldn't do before. Like, fix the air con, visit their daughter interstate et."-Linkan1234
Some people have a clearer idea of what they need wealth and riches for. Some people have no idea--they just know that having it would elevate their status.
But some people could really see their lives change for the better with an influx of money. And that's why so many of us dream of things like winning the lottery.
Want to "know" more?
Sign up for the Knowable newsletter here.
Never miss another big, odd, funny, or heartbreaking moment again.