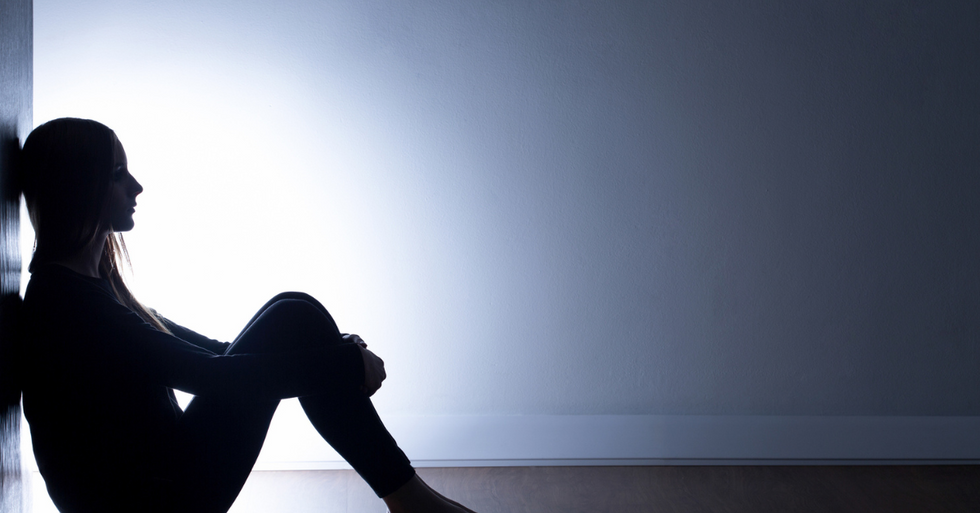 No matter how hard we might try, no one has complete control over their emotions. As a result, we often find our emotions getting the better of us at very inopportune times. Sometimes finding ourselves saying things we deeply regret or fill us with immense guilt. Redditor Electrical_Shock_412 and her family were all going through […]
More
We've all had experiences which left us sad or despondent.
A friend moving away, the loss of a pet, missing out on a promotion.
While these experiences often result in our feeling the need to drown out our feelings in some capacity, we know deep down that we'll eventually bounce back.
Some experiences, however, take a bit longer to recover from, if we manage to recover from them at all.
The sort of experiences which, for lack of a better term, break us.
Redditor Vanguard2002 was curious to hear from people who went through experiences that truly broke them, leading them to
ask
:
"What's something that mentally and/or emotionally broke you?"
The Death Of A Spouse
"My wife's death."
"We both knew her cancer was terminal from the beginning, and I had seven years to make my peace with that."
"As the end neared, I assured everyone I'd be fine."
"Despite all that, seeing her stop breathing was a total shock to me."
"And I even knew she'd die that very night."
"When you've been with dying people, you can tell when it's their last day."
"It's been six years, and I'm still grieving her."- jefuchs
A Child With Substance Abuse Problems
"My oldest son became addicted to opioids and ODed in our home 4 times."
"The first time our youngest found him from the death rattle sounds. I'll never forget giving him CPR."
"I'll never forget an OD that put him in the ICU, non responsive with a breathing tube due to heart atrophy."
"He is 2 years now sober with clinic MAT help and his own tenacity."
"We are all scarred for his time in active addiction but time is letting this wound heal."- level 1pnutbutta4me
Death Of A Grandparent
"I could honestly give a lot of things that have f*cked me up, but I've bounced back from most of them."
"The one thing that broke me entirely last year was the death of my grandfather."
"He'd had a stroke around April 2021."
"April 1st, 2022 he had to be rushed to the hospital."
"I dropped everything to go see him."
"I'd been pretty close with him growing up."
"My grandparents raised me and my sister and he and I used to go to Gettysburg together a lot."
"He was in the hospital all of April, with declining health."
"We would visit all the time."
"He developed sepsis, and we wanted to move him to hospice, but by the end of the month even moving him would probably kill him."
"April 28th, it was my first week at a new job and my aunt texted that we should all hurry over to the hospital because they didn't think there was much time."
"I left work and stayed at the hospital with my family all day."
"The nurses let us break Covid protocol and all stay in the room as long as we were quiet."
"We all had gowns, masks, and gloves anyway because he had sepsis."
"At that point, he was practically in a coma."
"We thought he would pass that day but he didn't, and when it came time for me to leave I knew it would be the last time I'd see him alive."
"I sobbed so much I almost threw up, and it was almost impossible to drag me out."
"The next day, he was gone."
"The following week was the funeral and viewing."
"The viewing broke me too."
"I cried so much those days, especially when we had to close the casket for the funeral."
"We all left little things for him to be buried with."
"Cherry chapstick, Guinness, and a little alligator plush I'd brought."
"I have the matching one."
"He always used to say, 'See you later, alligator' and I would say, 'After a while crocodile'."
"So now I always tell him 'See you later, alligator' at his grave, as that's what I told him before he died, and before they buried him."
"April 29th this year will mark the first full year he's been gone."
"I've never handled death well, so it still hurts a lot."
"But he was in so much pain, and I know he went peacefully and he's not suffering anymore."
"He believed in Heaven, and that's where I hope he is."- Appropriate-Fox2381
Death Of A Parent
"Hearing my mom ask if it was going to hurt to die."
"Few mins later she took her last breath."
"Squeezed my hand and a slow release."
"Am I okay?"
"Nah."
"A year and a half later I'm still not."- Mysterious_Window575
"I was in therapy and was nervous about my child's upcoming birthday party because of serious anxiety issues."
"She told me to imagine the worst thing happening and when the party is over I would realize everything was ok."
"Day of birthday party I received an out of state call from a coroner."
"My mom was found dead in her apartment."
"An investigation occurred but it was determined she had a diabetic episode, hit her head on the kitchen counter, bled out and died."
"An hour later my friend arrived, hysterically crying indicating she just got a call HER mom died."
"I was numb and broken."
"Life has never been the same since."- EverywhereINowhere
Finding Someone Died
"When I found my fiancé dead on the ground after I came home from work."
"I was 22 at the time and it broke me in all the ways."- caramelcoldbrew·
"Finding my twin brother dead."- No-Contribution-469
Illness In The Family
"Having a mother with schizophrenia."
"Such a tough illness for someone to experience, and tough on a family."- Eeahsnp18
When The Child Becomes The Parent
"Filing my dad's bankruptcy, getting him diagnosed for early onset alzheimer's/dementia, and being his primary caregiver."
"It completely reverses the father/son role in a way I was not prepared for."
"Better now, but still is heartbreaking."- Snoogles150
Misdiagnosis
"I was misdiagnosed for 2 years."
"Told I had anorexia when really I had Crohn's disease."
"It got to the point where my bowel ruptured and I was very, very close to death."
"2 years of being told this very, VERY physical pain was all in my head has caused endless knock on affects."
"I remember just laying there as the paramedics couldn't find much of a pulse and thinking 'I'm dying but at least I was right' which is all kinds of f*cked up."- goosedrinkwine369
Love Cut Short

"My fiancée died the day after we got engaged."
"She was fine, then sick, then gone in less than 24 hours."
"She died of meningitis."
"We spent an awesome day together while she was back in town from college and I asked her that afternoon."
"Later, she said her legs were going numb and her back hurt."
"We went to the hospital because they had just had a whole presentation about the symptoms of meningitis at her school."
"The doctor did some tests and said everything was negative l, so they sent us home."
"We went to bed thinking everything would be fine."
"I woke up sometime around 2am and looked at her."
"She was covered in sweat and turning blue so I picked her up and carried her to the car."
"We hauled @ss back to the ER, but she stopped breathing before we got there and didn't regain consciousness again."
"At least I was holding her hand the whole way."
"The doctor did say they got her heart started a couple of times, but all of her organs failed, and her body completely shut down so they had to call it."
"Later, they asked if I wanted the ring."
"But they said they had to cut it off because her body had swollen so much."
"I told them to keep it because I wouldn't have been able to handle what it meant if it was in one piece."
"I'm as alright as I get."
"Lately I've been thinking about our first days more than the last one."
"It's hard to tell if that makes it better or worse, though."
"Relationships are hard."
"Anytime things get too good; there's a compulsion to pull away for self-preservation."
"There's no making it through of another round of that."-
fronkenstoon·

Some experiences are so painful that the very thought of moving on seems impossible.
Next time you find yourself struggling to get out of bed, however, always know that even if you have trouble finding the words, there are always people eager and willing to listen.
Even in this supposedly progressive modern age, far too many men feel self-conscious about the natural act of crying.
Feeling that it's not a manly thing to do, even though many would argue that it takes a real man not to be afraid to tear up publicly.
Of course, even the most unabashedly masculine men don't have complete control over their emotions and find their eyes watering unexpectedly every now and then.
Sometimes giving in to grief, sometimes overcome with joy, and sometimes simply owing to a corny commercial for coffee.
Sometimes this happens when nobody's around. Other men aren't so lucky.
Redditor xeowa was curious to hear confessions from men over the last time they cried, leading them to ask:
"Men of Reddit, when did you last cry and why?"
Genuine Fear For Their Family
"Crying in my car right now."

"My wife has cancer."
"It scares me to death."
"I have to be brave at home."
"My car has become my place to escape to cry and release my fear and sorrow."- shmozzfinish
"At the hospital with my 2-year-old daughter."
"She just had a seizure in the waiting room."
"I felt so lost and useless."
"But it cut the wait time down to seconds!"- garsk05
Grief
"Few weeks ago."
"Friend died."
"Cried myself to sleep for a few nights."- PizzaPoopF**k
Funerals
"3 years ago."
"In my fathers funeral."- JOVA1982
Pets Passing
"January 4th."
"On January 1st, I got a message from my dad that the family dog had a stroke and passed away in the front yard."
"During the time before I stood at his grave just before I left to head back to my home, I just didn't cry. I was questioning why I wasn't."
"Then, standing at his grave, just a rush of emotions came in and just sobbed my heart out, then got in the car with my girlfriend and had to drive home."
"His name was Snitchel, and he was a good 14-year-old pupper."
"I'm 21, so he was a part of my life for about 70% of it."
"Was hard to say goodbye, especially because I wasn't able to see him on Christmas because I got Covid, and I didn't get to see him open his Christmas gifts like he usually does, during Christmas and in general during his final days."- ASexyCow0090
Spousal Loss
"My wife died."- Pitbull60usa
It's Been So Long, They Wish It Would Happen.

"I don't remember."
"I feel so sad and lonely sometimes but I still can't cry."
"I wish I could cry like a kid again."- spootex
Too Much All At Once

"About 2 yeats ago, was dealing with a lot of work an personal sh*t."
"Was at my limit of sh*t I can handle."
"I get a phone call that a childhood friend that I've known since we were 4 died in a car accident."- Mechanic_Me_Harder
"A few days ago."
"Broke down due to stress over everyday things."- einarn
Caught By Surprise
"Last night, just thinking about my mum."- TheH1dden1
Songs
"Last night, I heard 'Follow You To Virgie' by Tyler Childers for the first time, and memories of my mom hit me like a freight train."
"She's been gone for 28 years now but when you least expect it the waterworks can come out of nowhere."
"Felt good if I'm honest."- GhostRN
Along With Many Others, No Doubt
"The Last of Us episode 3."- brucek951
A Broken Heart

"Tonight."
"My best friend told me that I don't make her happy, and that she doesn't want me in her life anymore."
"I'm in love with her."- helenemayer
Unbridled Joy
"Last night sent my girlfriend the basic Good night message."
"She replied back with 'I love you'."
"Sat there and started crying over the fact that she is the most important person in my life and that I'm so lucky that this woman loves me."- raskoe47
Post Traumatic Stress
"Two weeks ago."
"When it really hit me how much I let my managers abuse me."
"I quit a few days later and I start my new job on the 27th."- Karnezar
While Peter Allen may have encouraged us not to "cry out loud," to "keep it inside" and "learn how to hide [our] feelings," sometimes letting out a good cry proves to be just the therapy we need.
For what it's worth when Liza Minelli (coincidentally or not, Allen's ex-wife) covered the song, she altered it to exactly the opposite message.
When in doubt, go with Liza.
Why are men forced to be things they're not?
We are too far along as a society not to let the boys grow and evolve.
A good cry, a good laugh, a song, hug, a dance it out... can help anybody.
Or maybe just watch an episode of 'Grey's Anatomy.'
Redditor 040607AJF wanted all the guys out there to share how they "feel" so they asked:
"Men of Reddit, what is something f**ked up that you're supposed to be okay with because you're a man?"
Gents, it's time to start healing and growing.
Go to sleep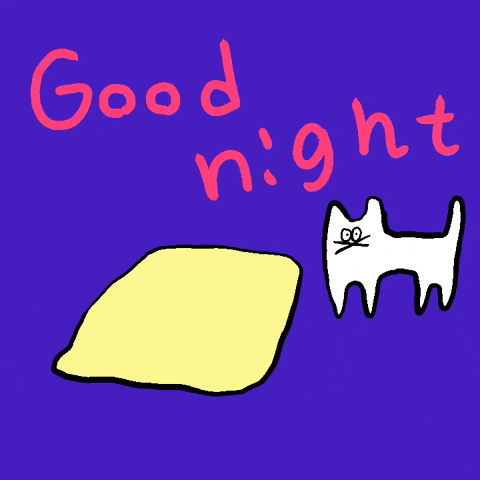 Switch Off Good Night GIF by Gunmaunofficial
Giphy
"Having sex whenever she's in the mood. And if I say no she thinks something wrong with her so you get pressured into doing it so she won't be mad or feel sad."
dabbiedabbiedoo
Grief
"30 year old male from India. Lost my dad 20 days back in an accident Relatives and well wishers spend time talking and pacifying mom/sister and listen to them with patience. To me before they leave- 'Now it's your responsibility to take care of your mom/sister' and nothing else."
"What about my grief of losing a parent? How do I handle it? Who is going to pacify me? Who listens to me? Without support from my wife and my friends, I could have gone insane the way people expect me to treat grief."
pgaravindhsf
Red Flags
"Depression and loneliness, as much as I wish I could say the support gotten better it hasn't. I see the 'mens mental health awareness month' bulls**t all over social media for a day once a year but then nobody speaks about it. Being depressed or saying you're lonely can often be seen as a cry for attention or a 'red flag' for partners."
"People on social media think posting some picture of 'We need to support our men in the world!' Is going help, it doesn't. If you legitimately care about the men in your life's mental health please reach out to them and ask how they've been. Don't compare to them and don't undermine them just understand them. It does so much for them."
Senior-Place-7627
"figure it out"
"The fact that a lot of men have no guidance and are supposed to just figure s**t out or just know yet people will treat you like s**t for not knowing."
DeepTalkTv
"When I was younger I was always told to 'figure it out' cause I'm a man. Every time I needed help whether it be homework, a flat tire, or something I genuinely needed help with like applying for college/fafsa I was turned away because it was my problem. Now if any family needs my help I'm demonized if I say no. Like wtf man I was taught not to bother y'all why are y'all bothering me?!?"
Mountain_Ad1797
911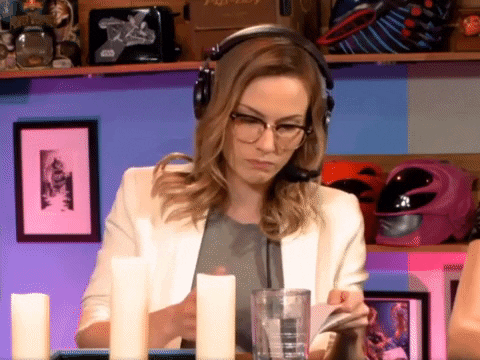 Role Playing Reaction GIF by Hyper RPG
Giphy
"You can ask for my help, but I can't ask for yours."
spenser1994
Leave me be...
"Some women should understand that men can be 'not in the mood' as well. I don't know why many people think that men will never say 'no.' I saw many on Twitter, sadly both men and women, thinking that men are these cartoonish wolves that will start salivating and have their eyes turn into hearts when anyone mentions the word 'sex.'"
Inevitable_Count_370
Out of the Norm
"Getting weird judgment from others for not conforming to the 'traditional' male role in a marriage or family. My wife is a highly driven genius, makes a great living, and loves what she does. I'm full time in the arts, and I'm not completely dependent on her, but I don't have traditional employment or make a lot of money."
"I've had people in my life (especially older people) throw shade at me for not being ambitious enough or not having a real career. But together we're doing much better than okay, and I'm probably gonna be the main caretaker when/if we have kids. I feel that if she were a man and I were a woman, nobody would question it at all."
LovesRefrain
Mind Games
"We aren't taught how to deal with emotions. (Mental health too)."
"I'm not advocating for men to be super-soft emotional wrecks, or to cry five times a week. But man I wish I knew I wasn't 'wrong' or 'weak' or 'avoiding becoming a man' just because I was sad, depressed, anxious and trying to deal with past events."
Maestroifuplz
"So many women in my lifetime have acted like I'm not a strong guy because I show emotion. I have a big heart and I'm not going to change that for anyone. But I've had relationships take an immediate downturn when I showed any kind of sensitive side."
Gamur
A New Leaf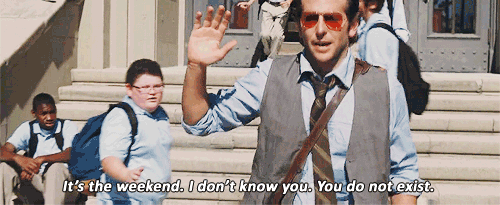 Bradley Cooper Teacher GIF by Legendary Entertainment
Giphy
"That If I ever finish my AA and teach preschool that I'll be seen as a threat to children."
bahardesty
"I have known two men attempt to enter the teaching profession. My advice is don't! It really is not worth your time."
raceAround126
Oh gents, we all still have a long way to go.
Do you have anything to add? Let us know in the comments below.
Much as we may try to avoid them, it's hard not to find ourselves in situations we would rather not be in.
In some cases, we have no other choice but to persevere and let the moment pass, however uncomfortable or irritating the situation is.
Other times, we know that the only thing to do is leave, right then and there, without looking back.
Even if it means leaving mid-conversation with someone, we know in our gut that there is truly nothing to do but leave immediately.
As our health and safety could be at risk.
Redditor tartar-buildup was curious to hear about the most unexpected and memorable moments people knew they had to leave right away, leading them to ask:
"What was your biggest 'we need to leave... Now!' moment?"
Unwelcome Visitors
"Was 15/16 at a house party with my good friend, another girl."
"There were some gatecrashers who turned up, which weren't unusual at London house parties, but these guys were older, and there was just a vibe."
"I looked at my friend and said to her 'I'm gonna call my mum and dad to come get me do you want a lift?'"
"My parents were always amazing and said to me that if I was at a party or out and for ANY reason didn't want to be where I was I could call them and they would come and get me."
"My parents turned up, coats on over pyjamas and took us both home."
"Apparently half an hour after we left, someone was stabbed and lots of stuff was stolen and people beat up and held up at knifepoint."
"I had such a feel in the air that I've hardly felt before or since and KNEW we needed to not be there."- AliceLovesBooks
Came Out Of Nowhere
"I used to drive for Lyft. April 2018, I picked up a young couple from a bar at about 1:30 am."
"They were fairly chill and I figured it would be my last ride of the night."
"The dude asked me to stop at a corner store on the way to their destination so that he could get cigarettes."
"I didn't see any harm in waiting so I stopped, and had a nice chat with the young woman while he was in the store."
"He ended up being about 5 minutes since everyone was trying to get their pre-2 am beer."
"When he came out, he asked me to take him to a location that was in the opposite direction of their destination, but was only about a mile away."
"He said he wanted to meet some friends real quick and grab some beer."
"Since I figured it would be my last ride of the night, I said 'f**k it, why not' and drive him over there."
"Now, I know the town we live in fairly well, but the direction that we were coming from was not a way I was used to going when I would go to this location."
"So when I turned onto the destination street, I missed the turn into the complex parking lot."
"I just came to a complete stop since the roads were empty and asked them if they just wanted me to park on the street or pull into the complex."
"This is when the two of them started arguing, as he suddenly wanted to go in and hang out for a few minutes while she didn't want to go in at all."
"She just wanted him to do his thing and get out of there so they could go home."
"And then something hit my car."
"The sound is unmistakable to me, so I immediately started to look around to figure out what it was."
"But there were no other cars on the road, so that couldn't have been it."
"Then I moved to the next thing on my mental checklist."
"If something didn't hit me, then what did I hit?"
"But that didn't make any sense either as I'd been in park and couldn't have hit anything."
"It's at this point that the young lady's attitude completely changed."
"She just kinda looked around, and then said 'Can we just get out of here? It hurts and I want to go home'."
"This was odd to me as she'd been sitting in my car for about 10 minutes at this point and hadn't said a word about any kind of pain."
"She followed this up with 'It hurts and I can't move,' put her had to her back, and pulled it out covered in blood."
"What. The. F*ck."
"So the guy starts freaking out, thinking that something in my trunk had exploded, but it was empty."
"As he reached over to tend to her I noticed something white sticking out of the seat."
"This hadn't been there at the beginning of the night, so I asked him what it was."
"He pulled on it; it was a piece of the filler fuzz from my seat."
"It came out of the hole that had been made in the seat."
"Because she'd been shot."
"As soon he grabbed that fuzz we both had the same realization."
"He slammed shut his door and I drove them straight to the hospital, which was only a couple of miles away."
"That realization, and the follow up realization of 'oh, someone could still shoot you while you're sitting here' was one of the most terrifying things I'd ever experienced."- akabuldozer
Lucky They Stayed Up Late...
"About two months ago I'd stayed up past my usual bed time and as soon as I got in bed I smelled something odd and was hearing some inconsistent banging and clattering from downstairs."
"I don't live in a great neighborhood, so none of this was unusual, but I got out of bed to check anyway and saw flames licking up the side of the building."
"Yelled at my wife to get out of bed and threw on some clothes and we high-tailed it out."
"Our building has a shared wall with the next and that one had an apartment on the ground floor fully engulfed by the time we made it outside, ended up condemning the whole building."
"I was the first one to call 911."
"Have been jerking myself awake in the night pretty consistently since then."- UglierInside
Easy Prey...

"I was waiting for an Uber on the outskirts of Atlanta with a couple friends around 10pm."
"We were just shooting the sh*t after leaving a nearby restaurant and talking about what bar to go to."
"A disheveled older man walked up a few feet behind one of my friends and struck a weird pose for 2-3 minutes while looking in our direction, and there was no one else around."
"Then he walked off without saying a word."
"He came back a few minutes later and sat down on the sidewalk about 5 feet away from us."
"At this point I'm just wondering if he wants something from us, because there was absolutely no other reason to plop down that close to us on an empty sidewalk."
"Then a small sedan pulls in a nearby parking lot, parking behind some bushes in the spot closest to us and consequently furthest from any of the shops in that lot."
"I only noticed because I happened to be facing that direction, but then saw 6 guys pile out of the sedan and immediately cross the street directly towards us."
"I realized there were not any shops or restaurants still open nearby."
"It suddenly occurred to me that the strange dude might have been sizing us up when he was watching us earlier, and he came back to 'mark' us."
"We were all dressed nice with smartphones out and watches visible, basically the fanciest stuff we had for a night out."
"Right as I started to speak up that we should head back towards other people, our uber pulled up to the curb."
"As we drove away, I watched those 6 guys talking in a circle where we had just been standing, and then they crossed the street again and got back in their car."
"I'll never have a definitive answer, but I'm pretty sure we were 10 seconds away from some unfortunate shenanigans."-Zeethro
Shopping
"Grocery shopping with my grandma, she's tired (normal for her) but she's getting a bit slower and dragging her leg more than usual. At the checkout counter I saw her face was a little droopy and I said we are leaving now and going to ER. They gave her a bottle of water for the car ride which she ended up choking on and vomiting up all the water. Called ahead to ER so they were ready and they took care of her ASAP, she was having a stroke and they were able to help her quick enough so that she didn't have any long lasting issues."
Reddit
"Remember FAST"
"Face: Smile and see if one side of the face droops."
"Arms: Raise both arms. Does one arm drop down?"
"Speech: Say a short phrase and check for slurred or strange speech."
"Time: If the answer to any of these is yes, call 911 right away and write down the time when symptoms started."
Reddit
Doll
"New years eve in Moscow. I (dark haired brown man) was drinking with my SO (blonde white woman) in a bar getting friendly with some locals who tried their best to speak English. So friendly that one of them gave us a matryoshka doll that he was going to give to his mother later that night."
"They seemed a little too friendly, and maybe they just were, but at one point I went to order more drinks and the bartender (who had been watching and serving us) gave me a stern look and said, "you should leave... now".
"I found this a little strange and unexpected so naturally tried to question what he meant, but his face was drop dead serious. He looked at the friendly group, then at my GF, then to me and repeated his words."
"I didn't really want to take any chances in Russia and wanted to see another bar anyway, so I grabbed my girl, the doll and promptly left."
neanderthalensis
Bad Roommates
"I was in college when I had my first solo apartment. This guy across the hall would come over, or invite me over, and we'd hang out a few times. However, I would not call him a friend."
"One night he asks me to loan him some money. In addition to not wanting to loan him money, I don't really have any, so he proceeds to ask for a ride to see his girlfriend because she has some money for him. I agree."
"We arrive at her apartment and a small party is going on. When we walked into the party everyone immediately shuts up and stares at us. He runs off to find his "girlfriend," who I find out is his ex-girlfriend. It is awkward because I'm kind of this guy's friend by association, and I'm getting lots of angry stares. He gets into an argument with her and we are basically thrown out of this place."
"He then asks if I can take him to another part of town. He owes another guy some money and needs to go talk to him. We proceed to an unfamiliar part of town, and he instructs me to park in a fairly isolated spot. He explains that he doesn't want the other guy to see my car...BECAUSE HE MIGHT TAKE IT. He owes this guy money for gambling or drugs or something else bad, and he is way behind on his payments. I left him and spent the rest of my time in that apartment avoiding him."
enephon·
Not Taking A Chance
"Was in Mexico City with family including two daughters. Grabbed a cab on the street around 10:00 pm to take us back to the hotel. I was somewhat familiar with the area since we had been there four or five days already. Cabbie totally passes the hotel district and starts heading away from the part of town we were in. Streets were getting more and more residential. I demanded that he pull over and we GTFO and walked back to the hotel, probably 3 or 4 miles."
"He was probably just padding the fare, but I was not going to take a chance on being kidnapped so we flew."
Choose_2b_Happy
Airshow
"Sknyliv airshow catasrophe"
"I was 5ish at a time, so it's my dad's story more than mine. You can google the details, but long story short, my dad saw the plane jolt in the air, and he realized that something went wrong and started running and yelling at everyone else to run. I was sitting on his shoulders, so he just took off with me. The plane crashed into the crowd killing 77 people, 35 or so children among them. Not us."
Polylactic
Surge
"I work as an engineer in a data center cooling plant. We're responsible for basically everything in the building- mechanical, electrical, hvac, plumbing."
"So the engineer I'm relieving tells me there's an odd sound coming from the Con Ed vaults- this is where these huge transformers are that step down from 26,000 volts or so to a voltage the building can actually use- we are not allowed in those vaults, they're locked and only Con Ed has they key."
"So he leaves, and I take a walk by the vaults- I had never actually heard electricity arcing through the air before, but I knew I was hearing it then."
"I called Con Ed's emergency line and told them to get out there ASAP- a crew of two guys show up, they seem calm and disinterested in the elevator on the way up- "it's probably just a contact chattering" they said."
"We get off the elevator and start heading down the hall- the sound was WAY louder now, we weren't even near the vaults and there was no mistaking it. Both guys stopped dead in their tracks and kind of hunkered down. I saw the color drain from them."
"Wasted no time getting back in that elevator. If you've never seen video of a large transformer explosion, go check YouTube. These transformers are not like the ones you see up on utility poles, they're as big as a couple of trucks stacked on top of each other. Anyone on the floor when one of them cooked off would be gone, and we have 8 of them."
blind30
Sometimes, the most reliable things we can trust are the hairs on the back of our neck.
The minute they start to stand, it's often a sign that we might very well be in danger.
When this happens, the best thing to do, more often than not, is to get out.