Some of us are just born with brains and beauty... and some of us lack in one or more of those departments. That is just how the brain cells crumble. There really are people running around without common sense or logic that God gave a goose. And what is most frightening? Some of these people are in political positions of power. Now, you know we've all personally come across a person or six that left us shook by a few things that fell out of their mouths. Let's compare notes.
Redditor
u/your_neighbor420
wanted to hear from everyone about certain people in their lives that may be missing a few marbles by asking...
People of reddit, who was the dumbest person you met?
Want to "know" more? Never miss another big, odd, funny, or heartbreaking moment again. Sign up for the Knowable newsletter here.
Keep reading...
Show less
Pets sure do get into a lot of mischief, which is why they seem to be highly entertaining to watch.
But there are some things that just make pet owner facepalm – whether it's a dog staring out a window all frickin' day or a cat doing a number two outside the litter box.
There may be rational explanations for their odd behaviors, but no logic will convince us they're not the brightest bulb in the household.

Curious to hear from pet owners online, Redditor vxah asked:

"What is the stupidest thing you've seen your pet do?"
Dogs
We love 'em. They're loyal and stupidly hilarious.
Pretty Lion
"my dog was sniffing around a tree and bumped into a dandelion. he yelped and hopped away."
"i never let him forget that time he was scared by a dandelion."
– buckut

Who's There?
"My dog wouldn't come in from the front garden so I rang the doorbell and she ran straight in so she could look out the window to see who was at the door."
Foul Offender
"She farted and then looked over her shoulder, growled, and barked at her butt."
"Same-ish, my dog used to think he was gunna get in trouble for farting, so he'd sneak away. Like a ninja farter. Walking into rooms, farting then leave. Tbh, I think he knew his farts were rancid."
– anarae

Cats
Felines aren't necessarily smarter than doggies, as these Redditors can attest.
Swimming With Fishes
"my cat bit a glass plate and got angry bc she couldn't eat it then went to bother the fish and fell into the fish tank."
Time For Breakfast
"At 4am I woke up to the sound of my cats 'I've hunted and caught a thing' noise. It's a high pitched squeak/meow/trill/music of the happiest of cats."
"She was running closer and closer, squeaking all the while, muffled slightly by the fact she obviously had her prize in her mouth as she ran."
"I live in a place that rarely gets mice or anything nasty, so as usual, I just assumed it was her toy and she wanted to show it off."
"Then she dropped a full bag of bagels on my face."
Airborne Kitty
"My parents were staying with us for the weekend in our upstairs bedroom. The cat was outside the door looking to play and had brought it's toy mouse with them. So my dad tosses the toy a little too hard and it ends up going over the upstairs railing. At which point you would assume the cat would be like, nah, but not our little guy. He jumps straight off of the ~12' cliff after this toy."
"The cat full on bounced off the floor and went right back to playing with my dad. Only later when I heard the story did I realize that I had my security cam facing that direction. When I went to check it, this is what I found. https://youtu.be/TGd5R8yAWH8"
"The cat was all good after this incident, but it scared the crap out of all of us."
– Guyver_3

Guinea Pigs
The domestic cavy is a very social animal, and their interactions with others can be highly amusing to witness.
Fresh Veggie Ritual
"My guinea pigs get so excited about fresh veggies that they have to throw it around in celebration first before eating it. The best is whole tomatoes, they brain each other with them and they're so focused on stealing their buddy's tomato that they just keep getting smacked in the head."
– Zukazuk

Troublesome Veggie
"My two piggies once fought over a piece of veggie neither of them liked, but because one of them had food the other had to steal it, then drop it because it tasted disgusting, then get it stolen, then get mad because his brother had food, steal it AGAIN.... I finally removed the veggie."
Take Us To Church
"My mom caught one of our guinea pigs sitting in the hay feeder and the other two in front of him like they were acting out a sermon. The 'preacher' is now dubbed 'King Leo of the Hay Feeder'."
I have never had a pet in my life. But after reading through some of the ridiculous anecdotes shared by Redditors here makes me want to become a pet owner more than ever.

Because nothing sounds more entertaining than watching a dog get confused while standing in front of a mirror, chasing their own tail, or forgetting that the screen door is not open.
Sloppy doggie kisses, however, is something I can probably do without.

Keep reading...
Show less
They say there are no dumb questions. Well, that's debatable.

Being inquisitive and seeking information through research is commendable.
And there's nothing wrong with asking where you can find the cereal aisle in a grocery store you've never been in -- with the understanding you're not making the inquiry while standing in the said aisle.
Curious to hear from the experiences of strangers on the internet, Redditor nonlinearcharm asked:

"What's a question you absolutely hate being asked?"
Keep reading...
Show less
Sometimes the things that come out of peoples' mouths are truly astounding. It makes you wonder, where did things go wrong? Why are they like this? As Forrest Gump once said, "stupid is as stupid does".
Here are a few of the most jaw-dropping lay stupid things that have been said by actual human beings. Not aliens trying to figure out how humans communicate--ACTUAL human beings. Thanks, Reddit.
U/cperr310 asked: What's the dumbest thing you or someone you know has said?
First up, what better people to hear ridiculous claims from than children? Here are some people that even teachers couldn't help.
Well, that's awkward.
I was in 5th grade like 20 years ago, and I am a male which is important later. My school changed an extra girls locker room into a computer lab. When my class got to go check it out, I say "wow, it looks so different!".
Everyone looks at me like I'm a creep. What I meant to say was "wow it looks so different that the boys locker room!" I still think about this when trying to fall asleep more often than I'm comfortable with.
....no. No it's not.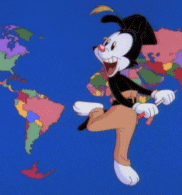 War Guy GIF
Giphy
In my Spanish class where they were talking about Spanish countries
"What about Syria...isn't Syria Spanish?"
Worst part... NOBODY called her out on it to the point I was questioning myself. The professor had good English but it wasn't her first language and she dodged her question saying she's only going over countries in south america. I had to literally write myself a note that she literally asked that question. Then I got paired up with her like 10 minutes later for a group activity and I still wasn't over this question lol
Fake but also real but also demonic?
A kid in high school tried to convince me that men had an extra rib and that the earth is only a few thousand years old. Same kid said that ouija boards were full of magnets and gears which made them fake, yet they were simultaneously completely real and needed to be burned on sight to prevent demonic possession.
But sometimes it's the parents of children who say the dumb stuff.
Back in 2014 I still vividly remember we were eating dinner, and my brother is chewing with his mouth open while my sister is talking. My dad, still thinking about her talking but talking to my brother said "Talk with your mouth closed." and my sister just went silent immediately.
Stupid can turn into ignorant really quickly. Here are a few examples of the not-so-harmless kind of dumb statements.​
Fun fact: they don't use the US Constitution in New Zealand. Who knew?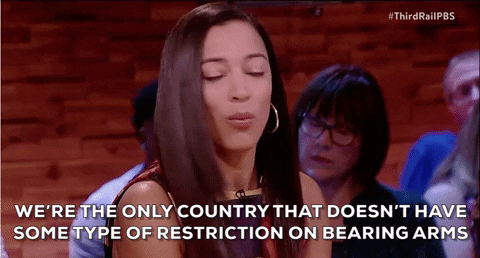 angela rye guns GIF by Third Rail with OZY
Giphy
After the church shooting in New Zealand, they banned guns. My coworker said that they can't do that since it violates the second amendment. We live in California.
Everyone knows New Zealand is the state below New Canada.
Uhhhhh that's racist af.
Not to me but my husband.
He had to take an uber home from the Naval Base in San Diego (car was getting fixed) and the guy who picked my husband up was from Pakistan and they had small talk, telling him how he moved over here etc, dude was pretty cool.
My dumbass half sister whom we were staying with for a bit told him straight to his face, "Oh since you're military he probably wanted to like... murder you."
...What a f*cking ignorant, racist thing to say.
Just gonna leave this one here....
"And then I see the disinfectant where it knocks it out in a minute. And is there a way we can do something like that, by injection inside, because you see it gets in the lungs, so it would be interesting to check that out."
Well that's a new one.
A trans friend got "You're registered as a man here, so I need to hear a male voice to complete the verification of your acount."
Not the first time the cable company pulled this 'female' account 'female' voice / 'male' account 'male' voice crap. But that one time was on a whole other level.
But most of the time, dumb statements are harmless, and make for a good story down the line.​
I wouldn't be able to keep a straight face either.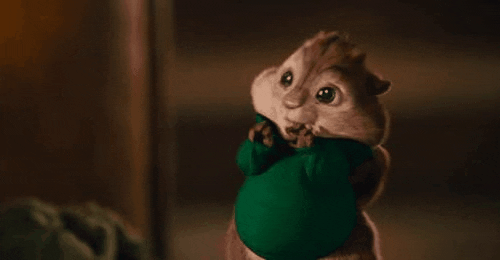 alvin and the chipmunks GIF by 20th Century Fox Home Entertainment
Giphy
A few questions I've heard come to mind, I'm not sure which is the best/worst.
A few years ago my mom, in her 60s at the time, asked me if chipmunks grow up to be squirrels. Have you ever tried to keep a straight face while explaining to the grown-ass woman who was responsible for keeping you alive for ~18 years that chipmunks and squirrels are different animals?
In high school during a Spanish class as student asked "Do Spanish-speaking people think in Spanish?" After being told yes, her follow-up question was "Are they born speaking Spanish?" The teacher kept a straight face explaining that foreign language speakers learn their language the same as the student learned English, but there were a lot of other students laughing and brutally mocking her.
Ah yes, the two types of guitars.
Dumbest thing I ever asked was, "do you prefer playing electric or air guitar?" I really meant to say acoustic, like my dad's.
Air guitar. I don't know how to play the acoustic or electric guitars, but I never get a wrong note on the air guitar.
Did you change your birthday?
At the bank.
Teller: Is your phone number still 123-4567?
Me: Yes
T: Is your address still 123 Easy st?
M: Yes
T: Is your birthday still 01/01/2000?
M: laughing I sure as hell hope so
I can't even make fun of these. One time I asked my husband where the Newport Ferry sailed to.
Newport, obviously.
I think we all have slip-ups in our brains sometimes. It's part of being human, and hey, they stay alive as inside jokes for generations to come
Sometimes it's a knee-jerk reaction to call 911. Once an emergency emerges, often the mind begins to splinter. You want to be helpful and superhero-like but most of the time, we're all just grasping for a bit of sanity. That isn't a judgment. It's harder than you think to keep your cool in an emergency situation. But... just make sure it's an emergency. Too many people are commandeering 911 for things that are not dire. That's why there is 311... try it.
Redditor
u/FormerLongTimeLurker
wanted to emergency workers out there to share with us about their daily headaches by asking them...
First responders of Reddit, what is the stupidest reason someone called emergency services and what happened?
I have to admit the last time I called 911... it was a non-emergency. But my roommate and I didn't know that. It was Halloween and a massive "something" slammed against our door. When we opened it the "something" was gone. Then all of a sudden I heard screaming and gunshots. And... I smelled an immense amount of pot. Turns out the massive something was our alcoholic neighbor who visited the roof and feel down the stairs on the way back. He quickly picked himself up and hurried off before we could catch him. The gunshots and screaming were our downstairs neighbors watching "Scarface." Their sound system is state of the art. I told the police someone had been murdered. So you can imagine how thrilled the neighbors --who were innocently watching a movie and smoking copious amounts of pot-- felt when answering the door to detectives at 2am. We all had a good laugh about it later. Well, my roommate and I did. The neighbors who give me side eye. I think the people on this chain can sympathize with my mistake.

Good Luck Goldilocks...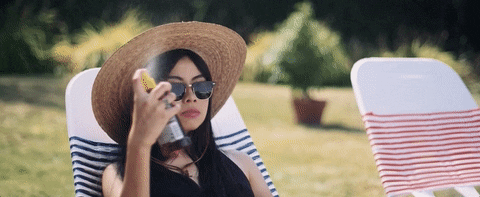 summer sunglasses GIF by Topshelf Records
Giphy
Well, I once sprayed myself in the eyes with bear spray as a kid and wound up calling the fire department. My initial perception was that you put bear spray on yourself, not the bear. It was an incredibly rude awakening. The fire department got a good laugh about it while I vigorously poured water into my eyes as I continued to cry. Makes for a good story now though.
Not my Legos...
A kid called 911 because he wanted us to come arrest his brother for not sharing the legos from the lego bin.
You see, they were supposed to share, but his brother wasn't sharing. The caller's mom even told his brother to share, but alas, the brother declined. The bin had enough legos for both of them, but the caller's brother said that he was playing with all of the legos. This wasn't reasonable to our caller. There were too many legos for one person to play with at the same time. Therefore, our caller's brother was a liar, a turd, and he definitely wasn't sharing and Mom said he had to share so we needed to come arrest him.
While hilarious, we wanted to do a quick check to make sure there wasn't something else going on. We had a high degree of confidence that this wasn't a coded request for help, so we asked to speak to an adult. After confirming that there was no actual emergency, we ended the call and recommended no action.
Share your legos, kids.
Nana's Phone
My cousin was learning about emergency numbers. She stole my nana's phone, ran to my nana's room, gathered my siblings and called 911. Of course someone answered and she flipped out. She immediately hung up without saying something. The operator calls back but nobody answers. 10 minutes later, the police arrive. They said that they got a phone call from this location.
My cousin immediately starts wailing in the background. My nan'a calls for one of my siblings who tells her that it was my cousin who called because she wanted to see if anyone would answer. My nana apologizes and the police start laughing, saying that it happens all the time.
Sometimes kids are adorable. The next group of people just found themselves in the wrong place at the wrong time. Who hasn't right? More often than not, lonely people will try to find connection anywhere and everywhere, like an ER at night, so once and awhile we innocently find ourselves as accomplices in a stranger's story. And some of us just get stuck due to our own malfunctions.
Just Visiting?
Former er nurse here. My absolute worst was a lady who called 911, claiming she couldn't breathe.
She had a pimple on the inside of her nose and it hurt to breathe through her nose. I rubbed some bacitracin on her pimple, gave her a bus pass, which she refused, demanded a cab voucher, accused me of calling her poor, then called an Uber.
Super strange encounter.
I need to be BALED out...
Obligatory not a first responder... but the dumb caller. Climbed up into the hayloft of my barn, and while I was moving bales around I accidentally jammed the door to the ladder closed. I didn't have any tools with me to wedge it open, and I couldn't pry it up with my fingers. But I had my cell phone with me, I always bring my cell to the barn. None of my neighbors answered their phones, so... yeah.
"911, I'm stuck in my barn. Can you send someone to climb up the ladder and open the door?"
The worst part? I work in the hospital. I KNEW every single person (and they sent two cop cars and a fire engine for some bizarre reason) that showed up at my house. To this day, I've yet to live it down.
Can I hitch a Ride?
Got a call for chest pains, patient gave a really generic story, got to the hospital and when the triage nurse asked what was wrong I start telling her about the patient's pain. The patient cut me off to explain she wasn't having chest pain, she just wanted a ride to the hospital because she liked the socks she got in the emergency room last time she was there and would like another pair.
Who can't help but be frantic when things we hold near and dear go missing. I have a small, black dachshund, her name is Juliet. Over the course of our ten years together she has sent me into panic mode several times. She either is doing it innocently or she 's the devil. (Still so cute either way) Every once and awhile she'll hide. The problem is she is compact and easy to miss in poorly lit spaces. More than once I've torn my apartment apart in search of her, only to find her asleep in my laundry. One time I was sure she was taken from my open window. So I called the police, right before they arrived, I turned around to find her staring at me form under a pillow. I believe with a smirk. There were no treats that evening.
Quack
Elderly lady calls and reports that out of her 200 ducks, 3 were just stolen.
Arrived to see an enormous mass of ever moving ducks and elderly lady says, "See there's 3 missing, just count them." Needless to say, you could count to about 10 ducks at most before you lost track of the ducks that were either counted or uncounted.
Me Again...
Not a first responder but my previous phone had a virus and would randomly call emergency services twice a night while I was using it. Few times I couldn't disconnect in time and would awkwardly tell the responder it was a mistake. I still feel bad for wasting their time.
Cruella?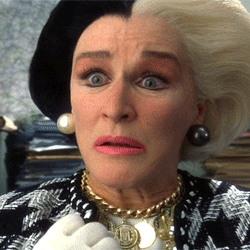 101 dalmatians GIF
Giphy
Young couple calls and reports that out of their 17 dalmatians, 15 were just stolen.
There wasn't much SY could do besides put up adverts in all the papers. After a rather unorthodox escape by the dogs themselves, an officer arrived for a followup to see an enormous mass of ever moving dalmatians - many more than the original 17 - and the young husband exclaims, "It's a dalmatian plantation!" Needless to say, you could count to about 10 dalmatians at most before you lost track of the dalmatians that were either counted or uncounted.
Hot Water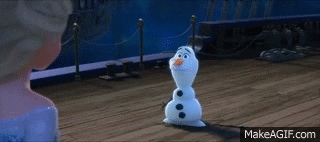 olaf GIF
Giphy
Local lady made the news for calling emergency services because her snowman was stolen.
Guys and gals, let's all save emergency response for emergencies. Can you imagine a "please hold" response while someone is breaking into your home so that the person hogging up the line can get a police escort for a missing Scooby-Doo sweater. (Yes I've lost mine before) When in panic mode... stop, breathe, assess then choose action. Calmly. Call 311. Or learn your local non-emergency number.
Want to "know" more? Never miss another big, odd, funny, or heartbreaking moment again. Sign up for the Knowable newsletter here.
Keep reading...
Show less