Doris Day charmed audiences right from the start with her musical debut in the 1930's. By the time she started acting in films (the late 1940's) she was already a household name to fans of big band, swing and jazz.
Unbelievably, Doris Day just kept on working for essentially her entire life - her most recent album was released in 2011!
She acted, she sang, she danced, she advocated for animals... it's easy to see why Doris was so beloved.
You'd think a celebrity who won literally millions of hearts would have a massive memorial service after their passing.
Doris won't.
In fact, she won't have one at all - and that's exactly how she wanted it.
Doris spent her career shattering boundaries, breaking rules (in the cutest way possible) and tackling important issues. One thing she could never quite bring herself to face, though, was death.
It seems Doris Day just straight up "didn't like death." It's not a subject most people particularly enjoy, but for Doris it was one to be actively avoided.
Trying to talk to her about it was pretty likely to garner this reaction: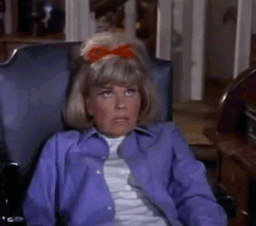 Her friend and long-time manager Bob Bashara explained to People that he tried repeatedly to talk to Doris about how things should be handled after she passed. Death, however, wasn't something Doris was willing to discuss.

Not just her own - but any death. The passionate animal activist was well known for her love of her pets, but she couldn't be present with them when any needed to be humanely euthanized.
It was her dogs, though, that ended up getting Bashara anywhere with Doris writing a will. He was eventually able to convince her to draft something up to make sure the dogs would be cared for. What she came up with is something many people are finding incredible.
Bob explained:
"I'd say we need to provide for her dogs [after she died], and she'd say, 'I don't want to think about it' and she said, 'Well, you just take care of them' - She had several when her will was written, and she wanted to be sure they were taken care of. She didn't like to talk about the dogs dying."
Her will is clear - she wanted no funeral, no memorial service, no grave marker. Essentially, Doris Day refused to acknowledge her death or to let anyone else acknowledge it.
She would rather we all just carry on like it never happened, folks.
Her estate is to be donated to charity. Bob is to take care of the animals. Simple.

It's unusual, but it's very Doris Day.
As news of her no-funeral request hit social media, people's reactions were mixed:
@TMZ @TooFab I know it'll be hard to honor those wishes.😢 I just loved her movies and singing!!👏🏾👏🏾👏🏾🙏🏾

— Daphne (@Daphne)1557844982.0
@NeilMcMahon It's in her quotes; she felt grief was v private and thought funerals were barbaric.. 😔

— 🦋 (@🦋)1557833385.0
Odd topic. So Doris Day died. I loved her movies and I'm sad. I wanted to grow up and be like her when I was a kid.… https://t.co/LZVLoCGMW2

— Laurann Dohner (@Laurann Dohner)1557771959.0
@ceoaetnews That is so sad 😢😢

— Maggie Copeland 💜 (@Maggie Copeland 💜)1557864622.0
@mcharlesworth7 Doris Day all day tribute June 7 on TCM (why so late ?)was announced yesterday meantime, I have re… https://t.co/sUx9vTo2cW

— sylvia tomarchio (@sylvia tomarchio)1557835595.0
As we learnt the news of Doris Day's death yesterday, we also learnt that she didn't want a funeral, a memorial or… https://t.co/Z6gSqN5b8w

— Marie Hough (@Marie Hough)1557832251.0
@GeneA22860 @people No it's not a waste of money to have funerals and headstones. My dad, daughter and grandparents… https://t.co/h04Kn4SH2R

— Tracy Mirelez (@Tracy Mirelez)1557810337.0
Doris Day Won't Have a Funeral, Memorial or Marker | PEOPLE https://t.co/gzw7Wh0HlT⠀ Good for her standing by her d… https://t.co/v9NicwHu7f

— Wake Up America (@Wake Up America)1557854602.0
@people Good for her Family & Friends respected her wishes that doesnt always happen RIP fair lady 🌷🌺 ☀️

— The Spice Of Life (@The Spice Of Life)1557840452.0
#DorisDay. Good on Doris Day for eschewing all the nonsense of a funeral. They are useless ceremonies!

— Mark Owen (@Mark Owen)1557814636.0
Doris Day says no funeral, no memorial, no marker. Kind of cool, I guess, but kind of a middle finger to her fans, isn't it?

— Jeremy Tuman (@Jeremy Tuman)1557775340.0
People who wish to honor Doris Day's memory are being encouraged to donate to or volunteer with an animal charity - like the Doris Day Animal Foundation.
RIP Doris. You will be missed.
Keep reading...
Show less