They say knowledge is power, and the more you know, the better off you are.
But to what extent is that much true if the nuggets of information you just acquired are things that gave you nightmares?

For me, the knowledge that we all have spiders crawling around our faces keeps me up at night. Yes, we all have face mites.
I cannot go on with the rest of my life being aware of the phenomena without sharing this with you all lovely readers. So, you're welcome.

Curious to hear about other dreadful information from strangers, Redditor jo_exotic asked:

"What is a disturbing fact you wish you could un-learn?"
Natural Phenomenon
Let's face it, organisms are downright creepy...or gross
Constant Nibbling
"There's a type of crayfish that farms sea stars by cutting all their water legs off and eating it's arms all the way to the center, but leaving the center intact. it then feeds the sea star with kelp to keep it alive so it regenerates, and then repeats the process."
When Comes A Parasite
"In most cases when a parasite gets into the brain, they don't remove it. They just kill it with some sort of acid or something with a similar effect, then just let the body calcify it. It's weird cause you'd think that the parasite could still do something."
Mouth To Toilet Paper
"If you have an intestinal blockage you can burp up farts and have fecal vomit which is basically just throwing up your poop."
In Your Blood
"My biology teacher had a Q&A session before Christmas and one student asked if its possible to be allergic to your own blood. Unfortunately you can. Just imagine your own immune system destroying your red blood cells, constant hemorrhaging, constantly feeling cold and out of breath. When we got back from winter break we saw a new face in class, a former student of my bio teacher who just so happened to have this disease and we spent the whole class asking questions. I feel so bad for the guy but thankfully the medicine available to suppress the immune system has made his life bearable."
Horrific Facts
The following are more disturbing than fiction.
Cause Of Death
"When the Challenger exploded in 1986, the astronauts didn't die from the explosion. Nor did they die from depressurisation as NASA has initially claimed. (There is some evidence they turned on their personal oxygen supply.) They died from impact when they hit the surface of the Atlantic Ocean."
"They were in free fall for two and a half minutes."
"Jeffrey Dahmer drilled a hole into some victims' skulls and tried pouring different toxic liquids into the hole. He was trying to make a sex slave that could eat and drink but could in no way fight back or escape. The worst fact is that victims might survive the first hole with all brain function intact and live long enough to be fully aware they were going to get a second or third hole drilled."
Animals
If you could get inside the mind of an animal, you might want to make an immediate about-face after discovering the following:
Deep Bond
"Parrots often bond with a keeper, from their perspective, as a lifelong romantic partner. If the person dies, or the parrot is displaced, they can go into massive depression and pluck out their own feathers."
Pecked To Death
"I learned on Reddit that a woodpecker will tap enough to break into a baby bird's skull and slurp up their brains."
Shriek Of Terror
"The fact that dogs like squeaky toys because it sounds like their prey crying out in pain."
Most of us have a thirst for knowledge out of genuine curiosity about how things work or why certain events occurred in history.
But Google searches will inevitably lead you down the proverbial rabbit hole where you uncover a lot more than you could ever bargain for.
This is exactly what happened to me when I looked up what might be the cause of my face itching. I may not have found the most accurate information about my ailment, but that was when I was introduced to the existence of Demodex or eyelash mites.
They're basically arachnids that spend most of the time burrowed in your hair follicles and come crawling out on the skin's surface while you're asleep at night to mate and head back to lay eggs.
Did you just feel something on the side of your nose? It's probably nothing.

Keep reading...
Show less
There are few dull moments as a teacher.
That's really no surprise given that a teacher is usually tasked with navigating the wild behaviors and free associations of about 20 or 30 children.
Thankfully, many of the comments uttered by kids are, at best, hilariously out of left field or, at worst, a little annoying or off topic.
But sometimes, a young student may say something that immediately changes the tone of the entire room. A teacher feels threatened, worried, or empowered to act in these moments.
Some teachers of Reddit gathered to discuss the moments things became very serious all of a sudden.
SecretariatGodHorse asked, "Teachers of Reddit, what is the most disturbing thing you've heard a student say?"
Want to "know" more? Never miss another big, odd, funny, or heartbreaking moment again. Sign up for the Knowable newsletter here.
Keep reading...
Show less
There are many facts that are beneficial to you in life that are super helpful.
But it's the creepy ones that you wish you never found out about, because they are always in the deep recesses of your brain waiting to manifest in your recurring nightmares.

When I was in Mexico City, my group of friends and I were taken to the beautiful canals of Xochimilco.
It was during the floating excursion when I first learned about the existence of La Isla de las Muñecas – or, the Island of Dolls.
We were told that the island's caretaker, Don Julian Santana Barrera, once found a girl who had drowned there under mysterious circumstances. He also found a doll in that water that presumably belonged to the dead girl.
He strung the doll up on a tree to appease the dead girl's vengeful spirit, and that thoughtful gesture inspired a creepy tradition in which hundreds of other dolls and doll parts were hung up or left on the island as a creepy shrine.

While the origin story of Doll Island is debatable, it is a real place populated with hundreds of decaying dolls that have been exposed to the elements.
But what the locals say frequently happens there is hardly surprising.

They are convinced the dolls move at night and that they can sometimes hear them whispering to each other.
No thank you, ma'am.
Our group never floated by the haunted island, and it's just as well. Possessing the knowledge of its existence nearby gave us enough chills that left us with awkward smiles for the remainder of our delightful boat tour.
What gives you the heebie-jeebies and keeps you up at night?

That is what Redditor sussege wanted to know when he visited askReddit.
He dared to ask:

"What are some disturbing facts you know?"

Redditors did not disappoint as they shared fascinating factoids that included an underwater grave, historical brutalities and an unsettling ritual in the insect world.
Prepare to expand your mind ... and pull up your bed sheets tonight.
Guilty Pig
"In 1386, a pig in France was executed by public hanging for the murder of a child."
"The pig was given full legal representation and provided human clothing for the trial."
The Monkey Hangers
"In a similar vein, during the Napoleonic Wars, a French ship was wrecked in a storm off the coast of Hartlepool."
"The only survivor from the ship was a monkey, allegedly dressed in a French army uniform to provide amusement for the crew."
"On finding the monkey on the beach, some locals decided to hold an impromptu trial; since the monkey was unable to answer their questions and because they had seen neither a monkey nor a Frenchman before, they concluded that the monkey must be a French spy."
"Being found guilty, the animal was duly sentenced to death and was summarily hanged on the beach."
"Hartlepool's football team are called the Monkey Hangers to this day and there are various monkey statues around the town."
The President's Absent Mind
"John F Kennedy's brain as well as the associated autopsy slides have been missing since 1966, three years after his assassination."
– brkh47

An Unappetizing Thought
"If you have to turn to cannibalism for some reason, eating the thighs will give you the best nutrients."
Eat Me
"To my understanding due to the similarities between humans and pigs we would taste like, or simular to, pork."
"Wonder if that means human bacon is possible."
Off With His Head
"When a female mantis bites the head off a male who is breeding them, it is actually is a good thing. Males can't start fertilizing until a nerve in their head says they are properly clasped, think performance anxiety, can take hours. When the male has his head bitten off though...it ain't over. They have an organ in their abdomen that controls copulation (for when their head is bitten off) and it just goes to town, no worries about that nerve waiting for the proper clasp anymore since it's now gone. So in the end the females end up getting bred better by a zombie male with no inhibitions. I find this evolution in mantises disturbing (as a male) and amazing!"
Thousands And Thousands Of Spiders
"A Missouri couple sued the seller of a house, from whom they had bought it, when they discovered that Brown Recluse Spiders were 'bleeding out of the walls.'"
"It was estimated by an expert that around 4,000–5,000 spiders had infested the house."
Remnants Of A Maritime Disaster
"There are sh*t tons of shoes near the Titanic, the reason for this is that once the ship hit the bottom of the ocean, corpses rained down around the wreckage, the fish ate the bodies but no fish at that depth in that area can eat the leather that most shoes of the time were made of."
Frozen For All Eternity
"There are over 200 corpses on Mount Everest and they're used as landmarks."
Stallion Zebras
"A dominant Stallion Zebra will kill the offsprings of other stallions but mares won't put up with much. When it comes to their sons, a stallion would most likely kick them out. The bachelor stallion, if he's lucky to survive, would join herds of other bachelors until he can challenge the dominant stallion in a harem or start their own. The latter involves 'kidnapping' a mare from another harem. Yet, a stallion maybe not be pleased with a mare if she's already pregnant and does what he can to cause an abortion. After that, he tries to the mare pregnant by him."
"BTW, there's a sane reason for this has to do with preventing inbreeding."
Death By Train
"Unless hit in the head, people why have been killed by trains usually take minutes to bleed out instead of dying from the impact of the train hitting them."
Contaminating Our Oceans
"Lot of unethical shipping companies EVEN TODAY dump a lot of garbage, oily sludge, waste contaminated water and oil out when sailing in international waters far away from the shore. There are only a few handful players today who are actually executing business trades while still keeping the carbon footprint and enviornment as one of their core policies. I am glad to be working with one one them (I am a merchant marine who works as an engineer on mega container ships like this."
"Disclaimer: link takes you to a youtube video of a container ship in port and eventually sailing off under the Golden Gate Bridge."
– trendz19

Don't Put Off What You Can Do Today
"You can be in good health (both mentally and physically ) one day and then drop dead from an undiagnosed brain aneurysm the next. Most of the time there are no symptoms leading up to it. It can happen to anyone at anytime. The good news however is that it's certain death,you won't know what hit you. If your unlucky enough to survive one it has permanent neurological effects,that can make you a vegetable for the rest of your life."
"Another tidbit of information to add is that 1 in 50 people you encounter on the street,at work or school are currently walking around with an unruptured brain aneurysm."
Watery Grave
"There are more planes in the ocean than submarines in the sky. I think that's pretty disturbing."
Keep reading...
Show less
Many of us have done things we're ashamed of, with transgressions ranging from the immoral to the downright embarrassing.
As a result, we're really good at keeping secrets.

But here's the thing about secrets – they can weigh you down and affect how you interact with the people involved.
Lucky for you, there's Reddit, where you can anonymously confess your deepest, darkest, dirtiest misdeeds

Redditor YourOwnBiggestFan asked:
"What is the most disgusting secret you're hiding right now?"
The comments that follow include privileged information involving things like imaginary friends, ketchup, and poop.
Keep reading...
Show less
Some jobs are just too awkward. You couldn't pay me enough money to do a few things in particular. Being a translator would be right up there. As enticing as it sounds to be an active audience in the drama of others, some drama is too uncomfortable to communicate. When you have to help strangers or even loved ones understand things that are better left to the imagination, that leaves a mental impression. Thank the Lord for vodka.
Redditor
u/MrMatoKapo
wanted the translators out there to tell us about some "interesting" times they've had to communicate by asking....
Translators of Reddit, what is the most disturbing thing you have had to translate?
It was not fun. 
A badly recorded and garbled video made in a hospital for children with developmental issues. It was not fun. The worst part was when a girl's parents were discussing something and the mom mentioned other children.
Then the father said something like "other children don't want to play with [daughter's name]".
For a few seconds after that he looked like he was going to break down, but then he managed to collect himself, clapped his hands in a gesture of hopeless acceptance, and started playing with his barely coherent child. Mind101
Tragedies. 
I worked in the humanitarian sector for a bit. So for me: testimonies of people who had gone through the horrors of war, had been assaulted, kidnapped, or had seen family members/friends/neighbors be killed in front of them. Also press releases announcing that a member of our organization had been killed while working in a conflict zone. CamelliaSafir
Carl's Jr.
I was once eating in a Carl's Jr. in Chula Vista, CA when a woman in her late 40's entered with her boyfriend (¿? idk really) arguing very loudly, everyone was very alarmed as most of the clients were families with small children. She went out and everything went normal again.
30 minutes later, I was waiting for the bus to take me to the international crossing (I live in Tijuana) when the same woman approached me and the ones who were in the bus stop asking for help and for someone of us to call 911, as she was physically abused by her partner.
She also spoke English, but she was so nervous she told me how he was dressed and some of the things she had passed in Spanish. Before she finished, she saw the man coming towards her, so I told her to don't worry, as I would call 911.
When dispatcher asked for details, I had to translate everything (as the Spanish-speaking dispatcher wasn't available), it was so awful I wouldn't want to remember it. Also, it was my first time calling American 911, so I was nervous as I had the idea dispatchers were not paying attention or were mean, but she was very nice and comprehensive.
Just as I went on the bus, the cops arrived behind it, when they approached her partner, he started running away, but was luckily caught. The last thing I saw was some officers calming the woman and arresting this man. I hope she received professional help, because she suffered a lot. Emi6219
I'm Great!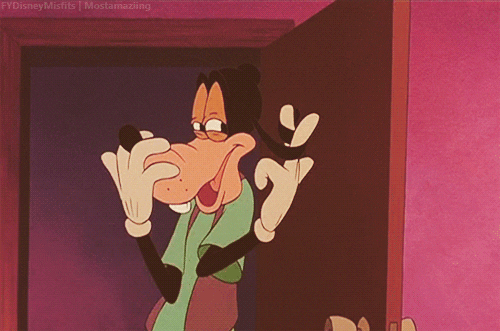 Giphy
When my neighbor started telling my mom how great I am. Translating compliments about myself I found disturbing a bit. SaveTheNature
Bananas....
I do a lot of work internationally, and we use translators pretty frequently. After work one day, a few of us went to grab drinks. We were talking about how wild translating could be- one of the guys said his craziest experience was being the sole translator for the Russian National Rugby Team.
He was a Spanish/English translator. Three of the twenty or so Russians had played rugby in Scotland, which is where they learned to speak English.
So- Speaking Spanish for a team of twenty guys who were speaking Russian through three guys who were speaking Scottish-English (with Scottish slang) with a thick Russian accent.
Bananas. WatchTheBoom
TMI!!!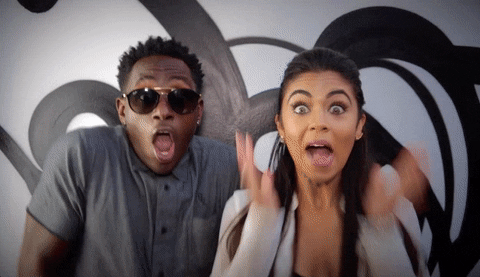 Giphy
When my French friend had met one of my American friends and they started flirting and dirty talking. I had to translate back and fourth.
Lemme tell you, hearing how your American guy friend is gonna have sex with your hot French friend so intense she's gonna be numb and forget she's French, then having to translate to French then having to translate your French friend saying she's his is pretty damn awkward and disturbing
They ditched me and tbh I'm fine with that. Don't ever wanna translate for them again. ExistentialNerds
My German is rusty....
I had a relative who translated games from English to German for EA. His English is excellent, my German is rusty, but occasionally he wanted input from a native English speaker.
He was stumped on "fusion gorp pus tosser" and I couldn't really offer any help on that one beyond something that flings a gross substance. sezah
The Gamble. 
Probably not going to count for much, but I used to work in the Online Gambling industry, so my job was partly translating "game" descriptions. Wasn't disturbing as such, but I mean I knew how problematic gambling can get for some so there's that. JimBro55567
The Butt Area.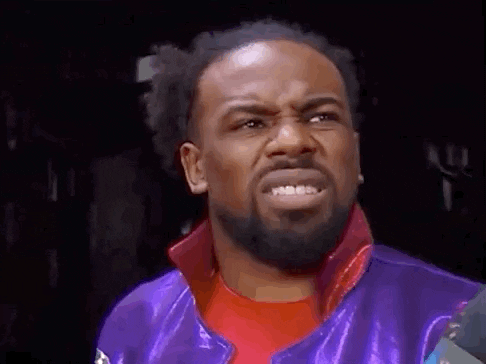 Giphy
A patient had hemorrhoids, described to me in full detail what it was like. Since the patient didn't know how to send an email, I received the picture by text and forwarded to the doctor. Never thought I would see another guys butt area tbh. huycx
Tech Support. 
Used to be a customer support team lead at a big video game company. We received a report that someone was grooming kids over the in-game chat. Had to read and translate (for my manager) the whole chat history for the last 4 weeks of a disgusting human being trying to get details off children to contact them outside of the game. Police report with the user details was filed. darkunrage
Do you have something to confess to George? Text "Secrets" or "
" to +1 (310) 299-9390 to talk to him about it.
Keep reading...
Show less