Everyone looks back on their high school experience differently.
Some wish they could relive it all over again, while others are more than happy to put it all behind them and seldom, if ever, look back on it.
Of course, no matter if they look back on high school with pleasure or disdain, everyone has a few memories of their classmates.
Particularly the one who always seemed to be getting into trouble.
Constantly landing themselves in detention and, in more severe cases, landing themself in trouble with the authorities.
Some of these students thankfully grew out of their bullying days and have grown and learned to treat others with respect and kindness. Others were not so lucky, and still found themselves getting into trouble long after their school days were over.
Redditor Damned-scoundrel was curious to hear about the absolute worst students people knew in high school, leading them to
ask
:
"Who was the worst student in your high school, & what did they do that was so bad?
The Beginning Of The End...
"There was a kid who walked up to the pencil sharpener and set the substitute teacher's hair on fire from behind her with a cigarette lighter and then claimed sparks had flown out of the light switch."
"Yeah."
"He's in prison for other stuff now."- isfrying
Lucky The Room Was Empty...
"I knew a lot of sh*tty people back in school, but I think the guys who dropped a whole desk out of a third-story window onto some kid qualify as the worst, purely because I think that qualifies as an attempted murder."- WixedEcho
Doesn't Exactly Scream True Love...
"The boy that put a pipe bomb into another kid's locker because he talked to the girl the original boy liked."
"He went to a juvenile program and then disappeared."- dreamermom2
The Demon Student Of High School...
"A girl at my school took the ashes of her recently deceased grandfather."
"Baked it into cookies and handed the cookies out amongst her classmates."
"Nine students had eaten them before she revealed the urn and told them what she did."- FiddlerofSticks
What A Waste, So Close To The End...

"He put LSD in a teacher's drink and they tripped."
"12th grade, he got arrested as he should have."- Amy_OZ
How Did He Even Get The Job?

"Not me, but my daughter and her female friends in 9th grade."
"There was a boy who was disturbed who was making threats to the girls in his classes."
"The girls told me he had photos of dead animals he'd killed."
"Anyway, for whatever reason, my daughter felt like telling me about it for the first time well into the school year, like in November or so."
"I had no idea this was going on until then."
"I called the teacher first, who was a man, and he was afraid of this kid."
"Teacher said to call the principal and gave me his number."
"Principal said, and I quote: 'Lady I have 1200 students to deal with on a daily basis'."
"'I can't be worried about whether your daughter is safe at school'."
"Which was the wrong thing to say, bc it obviously pissed me off."
"He said that he put this kid and my daughter alone in a room and told them to essentially kiss and make up."
"Called the superintendent next, who was incredibly bowled over by the incompetence of the principal."
"He told me to call the police."
"Which was too late because I had already taken my daughter and 3 of her friends to the police to make reports and file for a restraining order."
"The next day the principal called to apologize, from the phone in the superintendent's office."
"The kid was removed from the classes with all of these girls, which was next to impossible."
"And less than a week was removed from the school."
"I think my daughter said that he's in prison now."- floridianreader
Some People Can Turn Their Lives Around
"Not the worst student but craziest thing to happen was freshman year this kid got caught using a keylogger to steal teacher's gradebook logins to sell grade changes."
"He was also stealing credit card info."
"Ran into him a few years ago and he actually graduated Harvard and is in real estate now."- AbortionCrow
Bad Decisions Have Consequences

Bullied other kids mercilessly."
"Stole cigarettes & alcohol from shops, to sell to other kids for cash he'd use to buy weed."
"A few years after high school him and 2 of his closest mates were hooning in their sh*tbox on the highway, playing Chicken."
"It was night time and they had their lights turned off, and they were driving on the wrong side of the road with the intent to make other people flinch & dodge before they had to."
"Other driver didn't even know they were there & just drove a straight path."
"So because of that the other driver obviously didn't dodge or deviate, forcing them to flinch and they dodged off the side of a road, right into a huge Gum Tree."
"All 3 killed instantly 140+kmph impact on a hardwood tree."
"Small rural area so the whole town grieved over the 'tragic loss of 3 young lives' but single kid who grew up around them knew better than to call it a tragedy."
"Glad the other driver didn't see them & suffer their fate."
"Gladder that they're gone."- Pharya
Some People Simply Never Learn From Their Mistakes
"One of the rich families kid was just 100% incapable of driving safely at all."
"We're talking at the age of 16 has already totaled 3 cars."
"His parents kept giving him new ones, not cheap ones either, Acura RSX, VW Golf, Subaru WRX."
"The VW and Acura he did nothing but crash them into trees while he had his DRIVING PERMIT - not even a license."
"The First WRX he had a passenger in it and decided to hit another tree."
"Passenger broke his neck but was fine."
"3 months later, parents got him his second WRX."
"Was doing 70+ in a 45 back road with a 2 girls in the car."
"Swerved to avoid a truck pulling into a road, clipped the back corner, spun the car sideways and got T-boned by a box truck/Uhaul."
"Everyone died."
"It was sad but I'm more outraged at his sh*tty parents."- Saturn_5_speed
One never knows the kind of person your classmates are going to grow up to be.
Though sometimes, you can't help but appreciate that you were right about your instincts to avoid certain people.
Everyone in life has a bully or six to face.
Even the bullies have bullies.
And sometimes the bully is in the mirror.
Now I know we're supposed to only use our words when standing up to our bullies.
But that is not always the most ideal form of defense.
Words can work.
Sometimes words can cut like knives leading us to victory.
And sometimes words aren't sufficient as we've learned from Reddit.
Redditor KiLLz_Smanrx7 was hoping people would open up about dealing with bullies, so they asked:
"People who fought back against bullies, what caused it and how badly did the bully get hurt?"
I can't remember my bullies.
I think that's the best recourse.
For my Sister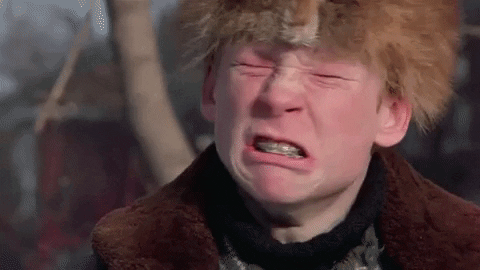 A Christmas Story GIF by filmeditor
Giphy
"I think I was about 10. He'd been bullying me and my sisters for a couple of years. He tried to sneak up on my sister on the bus. He stretched out his hand like he was going to pull her hair or something. I made a fist, swung it backwards and him in the eye. He cried."
Fun_in_Space
Shattered Pride
"Little bit of backstory first. We were playing tackle the carrier. I was a fourth grader, and I tackled a sixth grader, and he got pissed off and started to kick me."
"I let it happen a few times a teacher was literally looking right at me. After about the fourth time I grabbed his leg and lifted. He fell backwards then I punched him in the face twice. He only got a bloody nose and shattered pride. We each got suspended for three days. My mom was pissed at the school after they told the story to her. Then when she watched the footage, she asked me in front of the principal if there was a new game I wanted."
"Principal was mad but my mom said 'I never teach my boys to start anything. But when the teacher refused to end it he did by defending himself.' Best three day weekend ever. P.S. we were related threw marriage and he got in huge trouble with his convict dad for getting beat up by a little kid."
Titalator
Keep Walking
"For some reason this kid had it in his head that he could beat me up. I've no idea why, or where his assumption came from but he wanted a fight with me to prove he could. I couldn't care less if he could or couldn't. It simply didn't interest me."
"For a week or more he would goad me on the school bus with things like 'who do you think would win in a fight?' Etc. I was having none of it, I wasn't interested in fighting anyone and I didn't care what he or anyone else thought on the matter."
"He squared up to me several times off the bus trying to get me to fight with him and I just kept telling him to leave me alone and kept walking away."
"After several days of this and him getting nowhere, as I was walking away chatting with my friend, he ran up behind me and punched me on the back of my head."
"I very calmly asked my friend to hold my bag for me. I walked up to the kid, grabbed hold of him, tripped/threw him to the ground, punched him once in the face/eye, stood up and I walked away. I said nothing. Walked back to my friend, collected my bag and continued walking."
"I didn't see this kid for a few days, and he unsurprisingly he left me alone after that."
Arisutea
RUN!
"Little league football - I was in 6th - brother in 4th grade - his bully in 5th. He intentionally tried to hurt my brother during practice - so I took off running - jumped in the air, went horizontal and landed my cleats in his chest. He lost his breath for a minute or so. I ran laps for many minutes. Bully no longer bothered little brother."
Sheehanigens
One Punch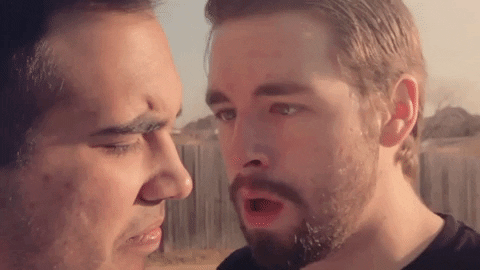 I Win Take That GIF by Film Riot
Giphy
"Early high school, was going between classes getting something out of my locker. He shoved my head into my locker and without hesitation I turned around and punched him square in the chest as hard as I could. That was enough to get him to stop."
Qangulous-Yahrnam
What is the stuffing the locker obsession?
It's ASSAULT!
Say Sorry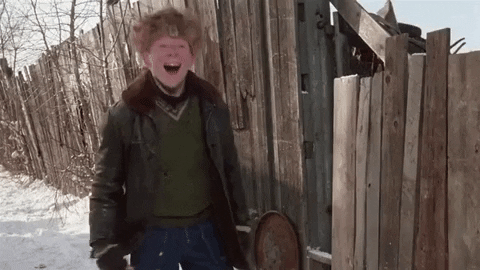 Laugh At Ha Ha GIF by filmeditor
Giphy
"I saw a guy my age bullying a younger kid, so I got the entire bus to point at him at say 'bully, bully' over and over. He ended up crying."
"Problem was, my mom and his mom were friends, so my mom took me over to his house and made me apologize to him, so it wouldn't be awkward between her and his mom."
Veritas3333
The Last Day
"In high school i was bullied for a few years (mainly calling names, making 'jokes' and messing with my stuff). I used to never do anything back."
"Then at some point I got angry, turned around (he was standing behind me) and punched him in the face, giving him a bloody nose."
"That was also the last day I got bullied."
"In hindsight i think i mostly got picked on by him because i never did anything back and he did not want to risk any pushback. (Who says violence never solves anything?)"
The_Upperant
The Dude
"The one that comes to mind is the one kept trying to trip me. I finally called him on his sh*t and he slapped me which set me off. I body-slammed him and jumped on him. I got called to the office with my parents, and they wanted to suspend me but every other student that witnessed it stuck up for me and said it was self-defense and I got off with in-school suspension. The dude avoided me for the rest of our time in school."
Diesel-KC
A Strong Kick
"Two guys in high school tried to do the 'tabletop' move (one gets on all fours and the other pushes you). I stepped on the hand of the guy on the ground when I stepped back. Realized what was happening. Kicked him with kind of a horse kick while still stepping on his hand, and then fastballed the 20 oz bottle of Coke I was holding at the other guy's head as hard as I could and ran away. They were both on the ground reeling."
CheeseIsQuestionable
Let's Wrestle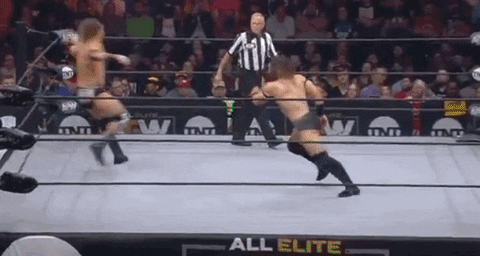 Wrestle The Elite GIF by All Elite Wrestling on TNT
Giphy
"Dude knocked my pizza out of my hand at lunch, so I took a running start and kicked him the gut. He got up and started to try to wrestle with me, while my friend tried break us up. All in all it lasted maybe 10 seconds, nobody hurt."
Jon__Snuh
Never touch the pizza.
Do you have any similar experiences? Let us know in the comments below.
Everyone is beautiful in their own way.
Something all too easily forgotten in this world of unrealistic, not to mention unhealthy, standards regarding beauty and physical appearance.
Making it all the more upsetting that there are still people in this world who actually feel the need to call people "ugly" right to their faces.
Luckily, those on the receiving end of that unnecessary bullying often have enough self-worth that they have just the right response should such an unfortunate situation arise.
Redditor Distorded_Girl was curious to hear the best responses to tasteless attacks on people's looks, leading them to ask:
"What's the best answer to being called ugly ?"
Always Rely On The Classics

"Classic Cyrano de Bergerac: 'I give you this to work with, and that's the best insult you can come up with?'"- Terpsichorean_Wombat
You Must Know This From Experience

'"Hopefully that's all we have in common.'"- Annoying_pain_in_a**
That The Best You Can Do!
"I've been called worse things from better people."- That-End-322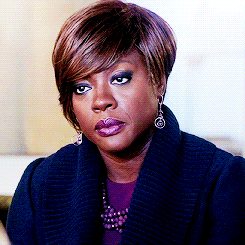 Unimpressed Viola Davis GIF
Giphy
The Bar Is Certainly Low
"'And even I wouldn't f*ck you'."- elenchusis
Blessing In Disguise... Or Just A Blessing!

"I once had a guy tell me that he would find me attractive if I wasn't fat."
"I basically went 'whew! Good thing I'm fat!'"- Low-Stick6746
"'Thanks, its a relief to know that someone like you doesn't find me attractive'"- greedthecurious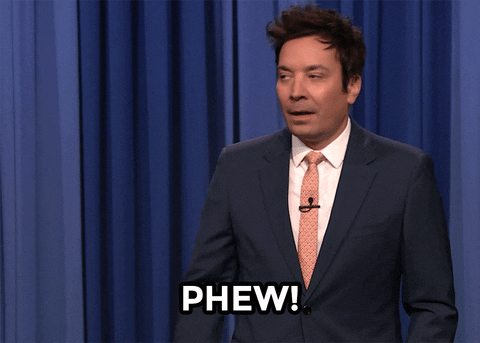 Reassuring Jimmy Fallon GIF by The Tonight Show Starring Jimmy Fallon
Giphy
You Think You're The First?!
"If I had a dollar for every time someone called me ugly, you'd think I was handsome."- GreyFoxNinjaFan
Not Afraid To Bring Your Mother Into This!
"I've got a face only a mother would love, and your mother loves me very much!"- fenris_dallocort
Learn From The Greats
"A quote from Lincoln after he was called 2 faced:"
"'If I was two faced, do you think I would choose this one to wear?'"- Layer-Motor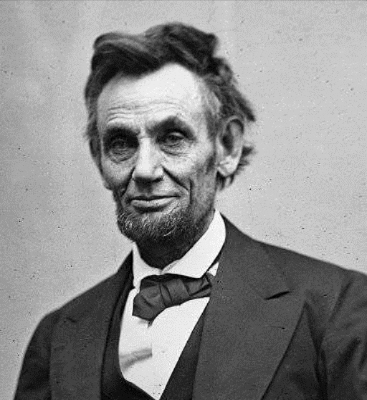 abraham lincoln net art GIF
Giphy
Tell Me Something I Don't Know...
"Just go 'and?' and look at them all confused as if they just pointed out something irrelevant about you, like the color of your hair."
"People really break when you give them an anticlimactic reaction."- Particular_Fudge4856
It's sad to think that people have nothing better to do than to make demeaning comments about others.
Making them all the more deserving of all the clap-backs listed above.
Plus many, many more.
Kids can really be cruel. Why is that? Simple answer, because adults don't know any better. Bullying is a learned behavior and it's time for parents to step up.
As much as we discuss bullying out in the open nowadays, it still seems like an enormous amount of kids are suffering.
We definitely have social media to thank for that. Too many people have access to easy ways to spew their hate and vitriol.
Let's hear some stories...

RedditorFarSheepherder3880wanted to hear from the survivors of bullies, they asked:
"What did you get bullied for?"
I was bullied a lot as a child. There were an endless amount of reasons; none that matter, because none of it is justified.
Silence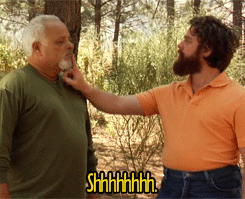 quiet tim and eric GIF
Giphy
"Being quiet." ~ YoucefBtw
"This one. c ~ rebelwildheart
300+
"Fatness." ~ -SonOfHam-
"Being 300+ in high school was rough. It was either: making fun of me for it, or assuming I was someone who was strong. I was neither, just a shy kid who liked cars and got fat because of health reasons and stress. Misery. Honestly. If there's one thing that everyone should avoid, it's being extremely overweight. It ruins so much of your life." ~ Saaaaaaaaab
I was in 5th grade...
"Well… I got beat up in the bathroom because some kids asked who my dad voted for and I said George W. Bush. I guess that wasn't the right answer. I was in 5th grade. I had no idea who my dad voted for. I barely knew what an election was. George Bush was just the only name I remembered hearing about on TV. Probably why 20 years later I really, really hate politics." ~ 4d3d3d3__Engaged
Appearances...
"How I looked, what I wore and what I liked (Harry Potter, etc). Class of 2008 here and I've only gotten one apology from one of the people that bullied me." ~ horsetrek
"I'll admit, I was a bit of a bully in school and a lot of times I've wanted to reach out to people and apologize. The only thing stopping me is that maybe they've moved on from it and that I'm better off as just a past memory to them." ~ Zeldaaaaaaaaa
hey red...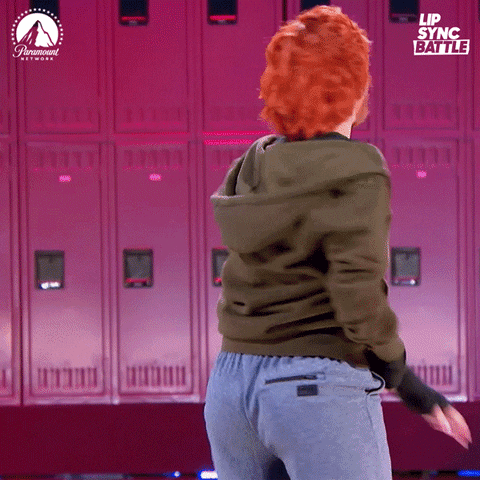 Ed Sheeran Dancing GIF by Lip Sync Battle
Giphy
"Red hair. More specifically, being a male with long and red hair." ~ on-the-h
Why can't we just let people be people? Is it internalized hate or psychopathy? I don't even want to know.
Money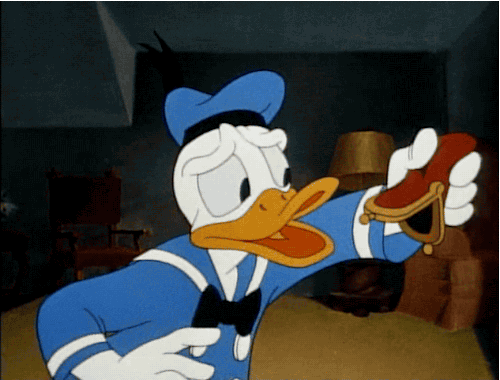 donald duck disney GIF
Giphy
"Used to get bullied for being "poor." I was a middle class kid in a middle class town that bordered a rich town where I went to school." ~ placeholderNull
Elementary
"In elementary school because I was filthy (I was severely neglected) and in my teenage years because I had crooked teeth and was told I was ugly and disgusting (the hygiene thing sorted itself out when I got older and managed to uphold routines on my own). I've been an adult for a long time now and shower daily, have a very neat apartment - and I still feel like I am dirty and filthy." ~ Actual_grass
The Reader
"Introverted and loving to read. Also just because I wasn't in the A group, but my younger sister and cousin were. Imagine being bullied by your own sister and it never stopped, not even at home." ~ Thin-Union-7712
"That sucks. I remember a bully of mine was a friend of my big sisters, the bully talked about me negatively to her once with a group of the bullies friends. It's not the same as what you've been through, but it was still horrible. I can't imagine what it felt like to be in your situation where you had it worse." ~ JaySkopezz
Newbie...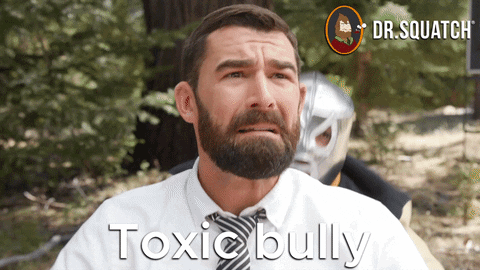 Bully Suffocating GIF by DrSquatchSoapCo
Giphy
"Being new at school." ~ decentralizedgear
"Hey, everyone, let's go and pick on the new kid school! I never understood this mentality. You see it a lot in movies and I just don't know why." ~ PapaTwoToes
Don't let the bullies get you down. It gets better. Just keep breathing...
If you or someone you know is struggling, you can contact the National Suicide Prevention Lifeline at 1-800-273-TALK (8255).
To find help outside the United States, the International Association for Suicide Prevention has resources available at https://www.iasp.info/resources/Crisis_Centres/
Bullies suck! Why so you have to be cruel? What do you gain from it? At any age, trying to crush another person is so wrong. And coming from someone who was relentlessly bullied, I know of which I speak. So much of the time it feels like ALL the bullies in life seem to pounce for no concrete rhyme or reason. Not that there is ever a good reason to bully, but more often than not, they leave us with a big ole "WHY?" And some inflictions seem really dumb.
Please explain...
Redditoru/likeistoleyourbikewanted to discuss the people who decided to make everyone's lives more difficult, but in odd ways, by asking:
What's the most ridiculous thing you were bullied over and what prompted the bullying?
Is it how I look? Dress? Speak? Walk? Is it my love for Madonna or that I like tuna fish? If they had just explained I would've adjusted. But then I wouldn't be me...
Sing!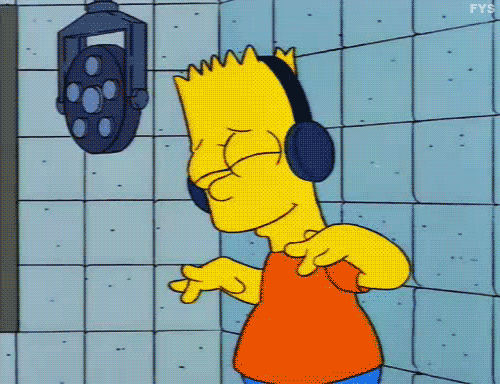 Moving The Simpsons GIF
Giphy
"Because I was listening to music in a school break, like literally. I can't listen to music??"
It's Cheese!
"I got crap for eating cottage cheese. Actually, that one had followed me into adulthood. People just really, really hate the concept of cottage cheese."
"Edit: 250 updoots for my cheesy childhood struggles. In retrospect, I should have realized that my reflections about how many adults are irritated by cottage cheese would only be confirmed tenfold by commenters on the internet. I have played myself."
- cjkcinab
'poor kid'
"I was bullied in middle school because I'm the first kid in school that had 120s crayola. It was an all rich catholic school and I was known to be the 'poor kid' and they didn't like the fact my grandma could get me that much crayolas lol."
- nipp1e
"LOL I forgot what a status thing crayons were as a kid. Everyone with a big box had it proudly displayed on their desk. And kids would try and steal "unusual" colors."
Weighted Down
"Got bullied for being fat AFTER I lost 16kg over the summer. At the time I was 5'4 and 59kg, definitely not fat and the kids who bullied me all weighed more than me. My classmates were dumb."
The Winder
"One time in 3rd grade I farted really loud during silent reading time. Some kid nicknamed me Fartacus, and it stuck for the rest of elementary school."
Who is angry at people loving music? Anger is all manifestation. But getting into the anger source of bullies will keep us here all year. Just keep reading...
Nasty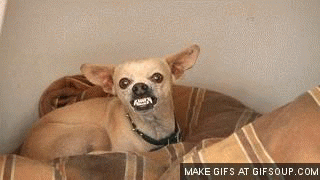 mean chihuahua dog GIF
Giphy
"I was bullied because my dad died. Kids can be cruel."
Blades
"Being respectful to the bully's dad. He started bullying me after that, when I stood up for myself he said 'I know I can't take you in a fight so I'll just stab you!' and showed me the knife."
"My "friend" in the 4th grade showed me his new switchblade and held it to my throat. He also taught me how to smoke e-cigarettes when they were hot crap (early 2010's). In hindshight he wasn't a very good friend."
Jumbo Jack
"My older brother was a chunky kid, didn't really do sports or activities unless forced. So around the time he was in 5th grade, he was being bullied and called "Jumbo-Jack" after the burger at Jack In The Box. His name is also Jack, so it worked. The younger kids picked on him too for it. Then when I started on the bus, they started picking on me, calling me "Jumbo Junior" even though as a kid I was skinny and athletic. Didn't matter to them."
Hooded
"That you can't see my upper eye lids easily when my eyes are open. They just get kinda shoved under my eyebrows and hidden out of the way. I was called a freak and a mutant. For having hooded eyes. I don't even."
Meow...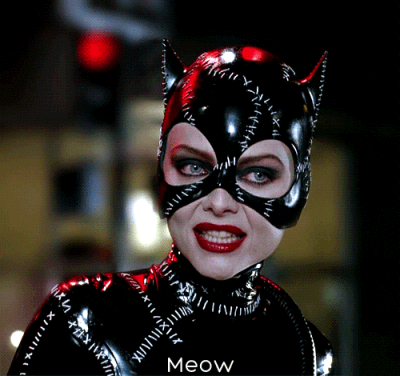 Michelle Pfeiffer Batman GIF
Giphy
"I have a cat without a whole tail, yea they made fun of me cuz of my cat. Life can be weird."
No rhyme, no reason... there is the theme of it all. That is good to know, would've loved to known sooner. Be kind everybody, we all need it.
Want to "know" more? Never miss another big, odd, funny, or heartbreaking moment again. Sign up for the Knowable newsletter here.