With all the frustrating updates on immigration policies and Donald Trump perpetually touting his impractical border wall cluttering our newsfeeds, the story of Vilma Carrillo will warm your heart.
However, her story had a horrific beginning.
Carrillo is an indigenous Guatemalan woman who lived with her husband in the U.S. for a year as undocumented farm workers in onion fields and warehouses. While there, she gave birth to their daughter, Yeisvi.
The family returned to Guatemala in 2007 to care for Carrillo's ailing mother. That was when the nightmare began.
Over the years, Carrillo's husband grew violent, and she was subjected to frequent physical abuse, including having four of her teeth punched out and being dragged around naked by her hair. The violence made her daughter fear for their lives.

As a victim of extreme domestic abuse and with no legal protections in her country, Carrillo wanted to return with Yeisvi to the U.S. and seek asylum at the Mexican and U.S. border on May 10, 2018.
Mother and daughter arrived at the border around the time Trump's zero tolerance immigration policy was enforced, and they were forced to separate.
ICE agents detained Carrillo, and after discovering her 12-year-old daughter was a U.S. citizen, Yeisvi was taken to live under the care of a foster family in Georgia.

Yeisvi's American citizenship complicated matters. U.S. District Judge Dana Sabraw ordered U.S. immigration officials to reunite the separated families within 30 days. However, as a citizen, Yeisvi could not be detained with her mother and was not subject to the federal ruling. As a result, their reunion was delayed for 8 months.
Finally, after 246 days, Carrillo was reunited with her little girl.
I can hardly believe it. Vilma has been reunited w/ her daughter, Yeisvi! They are in the care of a local family wh… https://t.co/qQOaXSp4Hp

— Penn Badgley (@Penn Badgley) 1547340781.0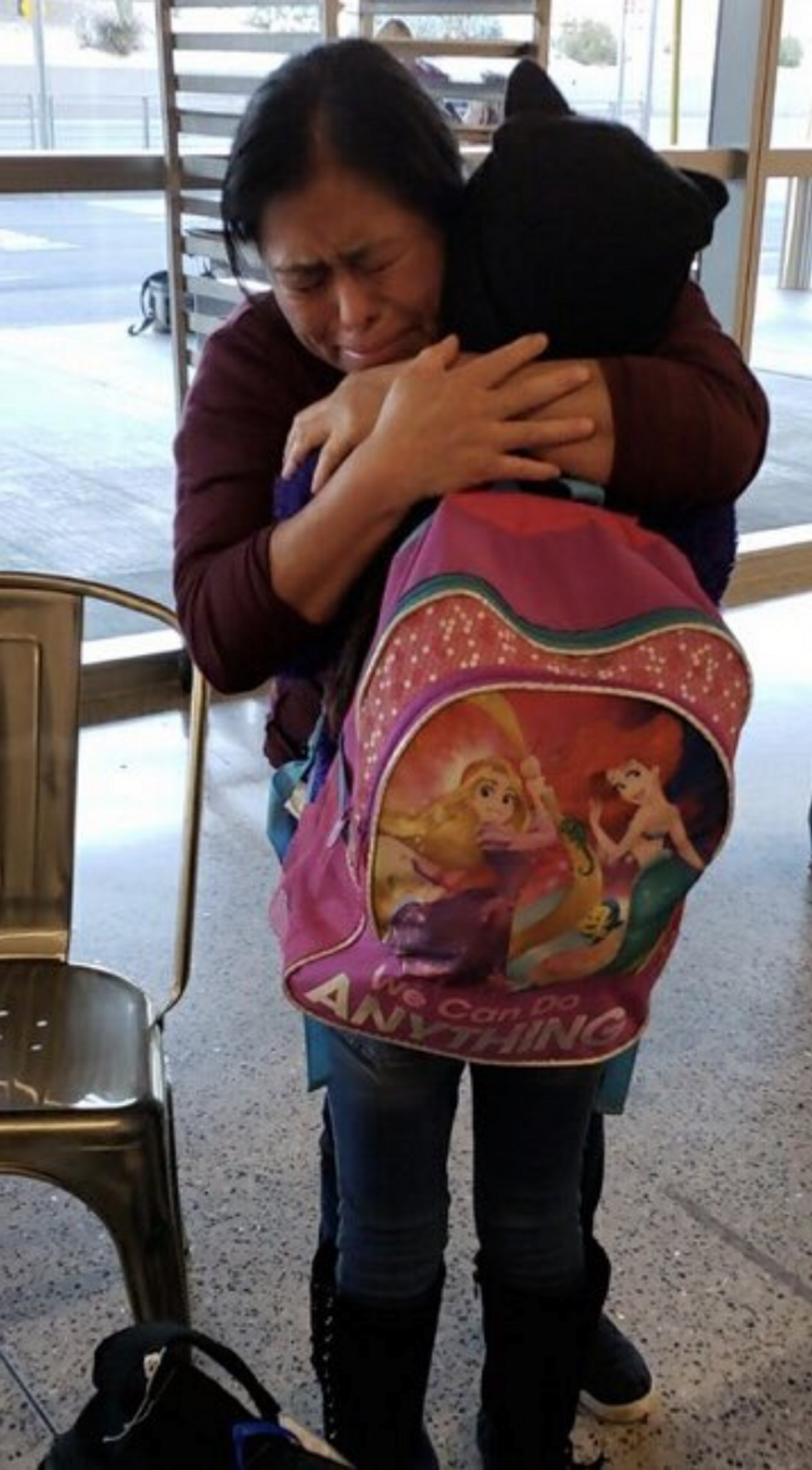 @PennBadgley/Twitter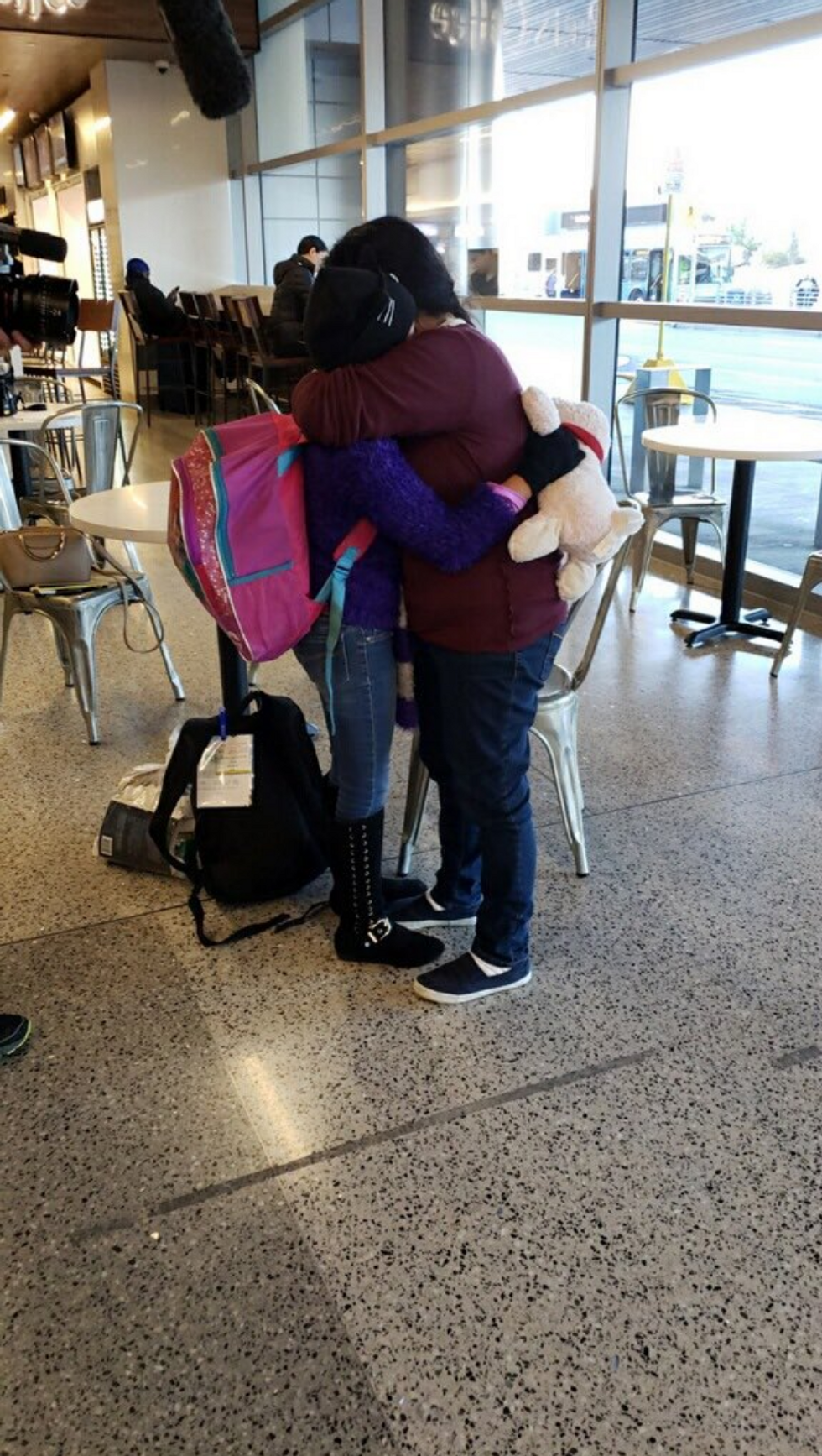 @PennBadgley/Twitter
While she was separated from her daughter, Carrillo's story caught the attention of the media, and in particular, a Hollywood personality.
Actor Penn Badgley (from Netflix's You) teamed up with Atlanta's Tahirih Justice Center and even visited Carillo at the detention facility with her immigration court lawyer, Shana Tabak.
Badgley helped raise awareness with Carillo's story by writing an article for Teen Vogue, writing:
"Her treatment reflects the explicit use of fear as a tactic in certain U.S. policies. Vilma was being made into an example."
Thank you to those who followed this story, who signed, who responded with care. Some history abt this case and the… https://t.co/YMHW84HN7c

— Penn Badgley (@Penn Badgley) 1547340782.0
Carrillo's emotional reunion photos tugged at everyone's heartstrings.
@PennBadgley @TeenVogue Well, I just cried. Beautiful reunion. Embarrassed to do this & SO putting myself out the… https://t.co/e0RIutfMSP

— Heart,Sleeve ~Kristin ✍🏼 (@Heart,Sleeve ~Kristin ✍🏼) 1548796263.0
@PennBadgley @TeenVogue This made me cry!! I'm happy they reunited. I relate to this, I have family in Guatemala an… https://t.co/7MANw3LlEK

— Erika Casado (@Erika Casado) 1548640090.0
@PennBadgley @TeenVogue This is so hard to read. Hits me in all the most vulnerable places as a mamma. So happy you… https://t.co/XPwClSKK8Y

— Haley Abercrombie (@Haley Abercrombie) 1548610073.0
@PennBadgley @TeenVogue This is Amazing! So happy she is with her baby 💜

— Heather Colon (@Heather Colon) 1547994750.0
Some felt ashamed that our country was responsible for forcibly tearing many families apart like this.

@CNN So glad they are back together but honestly the fact that we did this in the first place is grotesque and shameful.

— Ken Urban (@Ken Urban) 1547607726.0
@CNN All for what really??? This so called "God fearing law makers" shall answer to God 1 day . This legit breaks… https://t.co/0itDli9BXH

— Poncian Kamanda (@Poncian Kamanda) 1547608156.0
@CNN Finally. The direct hurt this president has had on ppl with this situation and with holding their paycks is si… https://t.co/tKKCcppu4W

— i_love_lifee (@i_love_lifee) 1547644496.0
We're just happy to see mother and daughter reunited. The joy spilling from the both of them in the photo cannot be contained.

"I'm here to fight for my life with my daughter, to keep going forward," said Vilma Carrillo, separated from her da… https://t.co/AttU6jjjH1

— NBC Latino (@NBC Latino) 1547827853.0
@CNN GOD Bless!!!

— Lonzo Franklin (@Lonzo Franklin) 1547606395.0
@PennBadgley @TeenVogue Say NO to hate and walls. #HumanRights

— and del rey (@and del rey) 1547944725.0
Tabak said that Carrillo is ready to return to work in the onion fields in Vidalia, where she was previously, and is "eager to have the opportunity to contribute to society in that way."
Carrillo will apply for a work permit, which asylum seekers are allowed to do after 150 days after applying for asylum.
Tabak told Upworthy that Carrillo's faith is keeping her hopeful. "I'm praying for the best. Everything is in God's hands," she said.

Keep reading...
Show less
The partial government shutdown officially became the longest in U.S. history on Saturday, surpassing the 21-day shutdown in 1995 - 1996.
The impasse between Democrats and Donald Trump over funding for his inane border wall with Mexico has put up a proverbial barrier between 800,000 federal employees and their livelihood.
Although Trump's flawed campaign promise got backlash based on principle, the border wall also sparked debate on its effectiveness in keeping migrants from entering the United States.
Amy Patrick—an expert in structural engineering and adjunct professor of structural analysis—laid the foundation for a strong argument over why Trump's wall is doomed to fail if it were to come to fruition.
Basically, she destroyed 45's wall with her professional assessment.

In Patrick's now-viral Facebook post, she explained the reasons why Trump's wall will not work.
Patrick posted:
"Howdy."
"To recap: I'm a licensed structural and civil engineer with a MS in structural engineering from the top program in the nation and over a decade of experience on high-performance projects, and particularly of cleaning up design disasters where the factors weren't properly accounted for, and I'm an adjunct professor of structural analysis and design at UH-Downtown."
"I have previously been deposed as an expert witness in matters regarding proper construction of walls and the various factors associated therein, and my testimony has passed Daubert."
"Am I a wall expert?"
"I am. I am literally a court-accepted expert on walls."
"Structurally and civil engineering-wise, the border wall is not a feasible project. Trump did not hire engineers to design the thing. He solicited bids from contractors, not engineers.
"This means it's not been designed by professionals. It's a disaster of numerous types waiting to happen."
She backed her claim in the comments by explaining the importance of contractors and engineers working together.


Amy Patrick/Facebook
She went into detail about the type of disasters we could expect.
"What disasters?"
"Off the top of my head..."
"1) It will mess with our ability to drain land in flash flooding. Anything impeding the ability of water to get where it needs to go (doesn't matter if there are holes in the wall or whatever) is going to dramatically increase the risk of flooding."
"2) Messes with all kind of stuff ecologically. For all other projects, we have to do an Environmental Site Assessment, which is arduous. They're either planning to circumvent all this, or they haven't accounted for it yet, because that's part of the design process, and this thing hasn't been designed."
"3) The prototypes they came up with are nearly impossible to build or don't actually do the job."
Patrick went on to add links to relevant data.
"This article explains more: Who Would Profit from The TrumpWall?"
"And so on."
"The estimates provided for the cost are arrived at unreasonably. You can look for yourself at the two-year-old estimate that you see everyone citing: Writing on the Wall: Report Suggests Border Project Is Off-Track and Over Budget"
Then explained further issues that will arise.
"It does not account for rework, complexities beyond the prototype design, factors to prevent flood and environmental hazard creation, engineering redesign... It's going to be higher than $50 [billion]."
"The contractors will hit the government with near CONSTANT change orders. "Cost overrun" will be the name of the game. It will not be completed in Trump's lifetime."
"I'm a structural forensicist, which means I'm called in when things go wrong. This is a project that WILL go wrong. When projects go wrong, the original estimates are just *obliterated*."
"And when that happens, good luck getting it fixed, because there aren't that many forensicists out there to right the ship, particularly not that are willing to work on a border wall project— a large quotient of us are immigrants, and besides, we can't afford to bid on jobs that are this political."
"We're small firms, and we're already busy, and we don't gamble our reputations on political footballs. So you'd end up with a revolving door of contractors making a giant, uncoordinated muddle of things, and it'd generally be a mess. Good money after bad. The GAO agrees with me."
"And it won't be effective. I could, right now, purchase a 32 foot extension ladder and weld a cheap custom saddle for the top of the proposed wall so that I can get over it. I don't know who they talked to about the wall design and its efficacy, but it sure as heck wasn't anybody with any engineering imagination."
"Another thing: we are not far from the day where inexpensive drones will be able to pick up and carry someone. This will happen in the next ten years, and it's folly to think that the coyotes who ferry people over the border won't purchase or create them. They're low enough, quiet enough, and small enough to quickly zip people over any wall we could build undetected with our current monitoring setup."
"Let's have border security, by all means, but let's be smart about it. This is not smart. It's not effective. It's NOT cheap. The returns will be diminishing as technology advances, too. This is a ridiculous idea that will never be successfully executed and, as such, would be a monumental waste of money. 🤷🏻♀️"
"This is set to public. Have a blast sharing it."
Indy 100 noted that both the Democrats and Republicans agreed with Patrick's expert advice from her January 9 Facebook post.


Graham Rucker/Facebook

Graham Rucker/Facebook

Ken Owens/Facebook
There were some facetious comments actually praising her for presenting facts.


Rob Jupille/Facebook
Most just praised her for telling it like is.

Ann-Marie Corely/Facebook
A little bit of history reminded us about why walls never work.

Catherine Adcock/Facebook

Catherine Adcock/Facebook
Keep reading...
Show less