With all months of planning that goes into a traditional wedding, you'd think it couldn't go that sour on the day of the event.
Sure, there will be some unexpected challenges and a few snags throughout the day. That's standard for any event ever.
But for the wedding to crash and burn, some glaring oversights must have been at play.
Unfortunately, those sometimes only become obvious once the event has already taken its nose dive.
A Redditor, who has since deleted their account, asked:
"Reddit, what is the WORST wedding ceremony you have attended? Why was it bad?"
Keep reading...
Show less
There's nothing some people love more than drama. Not being involved with it, of course, but getting to witness it, and indulge in all the glorious weirdness of it. It's addicting. Don't lie, we all love to hear about it.
Sometimes the tension is too much to handle. Piebalddacshund asked:
What's your greatest, "you can cut the tension in the room with a knife" story
​Awkward moments are usually pretty d*mn cringey. Here are some of the wildest stories.
​A bad time for twerking.
"I bartended in college. The new manager, during the club rockin, at midnight, proceeded to cut off the music and tell 200 drunk college kids about how he was 120 days sober and showed everyone his coin. Then he preached about sobriety and him not having custody of his kids for about 4 minutes before putting Lil John back on so girls can twerk.
No one twerked."
​Now THAT'S awkward.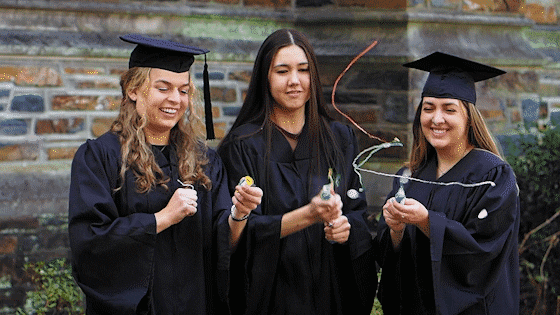 College Graduation GIF by Duke University
Giphy
"Graduation day at the college where I work. The commencement speaker, a famous journalist, is giving her inspiring speech, working in little bits of trivia about our school. But something seems off. And as she starts listing our famous graduates, we realize she's Googled the wrong college, and is talking about the hyper-conservative Christian school a thousand miles away that happens to have the same name.
But the speech goes on and on, fifteen minutes more, with more awkward details she looked up on the wrong Wikipedia. And nobody wants to tell her while she's onstage. A murmur goes around, even the graduates' parents have figured it out by now, and several thousand people slowly cringe themselves to death.
To her credit she graciously apologized on her TV show and gave the college a nice promo."
Yup, she REALLY did something there.
"At my sister's wedding, her "frenemy" showed up wearing a white dress... and to make it KNOWN she came upstairs to her room at the banquet hall before the "big entrance" (classic Italian wedding, you know?). She walked in and all of us bridesmaids and my sister were just slack-jawed. (she had zero reason to come upstairs except to show off her floor length white dress)."
[deleted]
"I just don't understand the mentality here. Is there a single person anywhere who would think 'wow, she really showed the bride' rather than 'that guest in the white dress must be a raging c*nt'? That just makes yourself look bad."

When family gets involved, that's when you know sh*t has REALLY gone down.​
​The husband handled that well.
"Several, it really makes you feel older and make your BP skyrocket.
My cousin (F) came out to our family during a party. In front of her husband of 5 years and their 2 kids. She confessed to seeing another woman behind his back and that they've been together for far longer than she'd been married and she was the true love of her life and the kids names were her idea.
She then introduces her to everyone and as the silence went on and the the color in our faces returned, her husband just stands up and shakes the woman's hand and tells his wife that the papers will be coming along.
Party ended right there and her parents were pissed, they didn't care about her being a lesbian but her cheating was a big problem.
I learned that her lover had been in and out of rehab and is in no condition to support her or the kids.
My cousin had her marriage annulled but she lost custody of her kids, and could not get any settlement. By the end she didn't have a house and was basically homeless.
She's still with her but her kids refused to visit or have anything to do with her. Her girlfriend acts as if she's the one who gave birth to them and sends hateful messages to the father."
This might win for the most tense.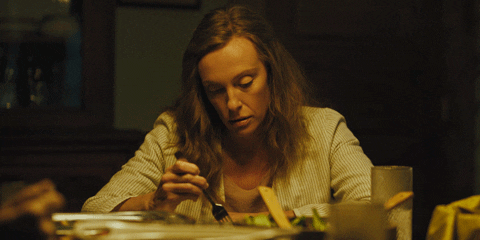 toni collette dinner GIF by A24
Giphy
"My dad was an amazing father but once, when I was about five, he was gone all weekend. It was not like him to do this. He was a great dad and we were all crazy about him and so was my mother. Mom was stressed beyond belief.
At the time, she didn't work and he was our sole provider. There were four of us. She was a devout Catholic and Friday night, she lit candles and had all of us kneel and pray for his safety. Saturday morning, she called the police and said he was missing. Sunday morning, they called and asked her to come and identify a body that matched the description she'd given.
She was f*cking rattled when she got back. Some guy who was my dad's height and weight had been murdered. I can only imagine what she felt going into that room and seeing THAT on the slab. She asked to see his arm that had a tattoo and it was the wrong tattoo.
Dad came home Sunday evening with some cock and bull story about being slipped a mickey (old school roofies). You would have needed a jack hammer to cut the silence between them.
My mother always brought his plate to the table first. That night she brought all of our plates first. When she put his down, it was SO HARD, I remember his food being about two inches in the air from his plate. He didn't say anything. She didn't speak to him for a good while. Let's just say it never happened again."
Things That Are Normal Where You Live But Crazy Anywhere Else | George Takei's Oh Myyy
​This is so sad.
"My mom died due to an overdose and without a will. At the funeral home, my stepdad, grandmother, aunt, brother and I were in the office to plan my mother's funeral.
My aunt and grandmother hated my stepdad. They said he enabled my mother, and didn't take care of her. My stepdad also owed my grandmother money.
My stepdad hated us all. My brother had stolen from him, he thought my grandmother and aunt were over-bearing, and he blamed me for my mother dying because I had cut off contact with her (it was for my own well-being).
My brother was just plain angry at everyone but me. He thought my grandma hadn't supported my mom. He also was in such denial that he thought my stepdad had murdered our mother.
My grandma also partially blamed me for my mother's death because of going no contact. My mother had been an addict for years, but apparently I was the reason she overdosed.
I was fuming angry that all of these people blamed me for the actions of someone else and I was being scapegoated again for my mother's actions. I was mad at my mom for not having a will, and for dying when I was 25.
I cannot imagine the tension that funeral director felt in that room, as all these people who detested one another tried to agree on funeral arrangements."
Friendships can be really fickle, especially when we're young. Definitely makes for a whole lotta awkwardness.
​That's karma.
"Back in highschool, my best friend was dating one of the most popular guys in school (not just our grade, the entire school). So it was a huge deal, and she gained a lot of popularity from it. This meant her getting invited to a lot of parties and I got to tag along to many of them.
During one of these parties, I was sitting with her boyfriend and another mutual friend of ours. I had gotten up to go inside and wash my hands, when I heard muffled sounds coming from the pantry in the kitchen. I went and looked, and my friend was in there hooking up with another dude. It wasn't just any dude either, it was the "weed guy" of our grade who was very awkward and weird.
Word spread around the party about this, and basically everyone knew what was going on but my friend's boyfriend because he had stayed sitting in the same spot for a while and nobody had the balls to tell him what was happening.
Finally after like twenty minutes, my friend comes out with the "snacks" she was getting and sits next to her boyfriend. You could've heard a pin drop as everyone got silent and stared at the two of them.
Worst part of it all, her boyfriend chuckles and says "you were in there for a while, what'd you do, lock yourself in the pantry?"
The tension was practically unbearable. Eventually he found out the truth, not sure how, but they broke up the next day and she basically became ostracized from hanging out with anyone that was even slightly popular. It never really blew over either, she had to transfer schools for the next school year and she deleted her social media accounts for several years."
​We've all been in this situation.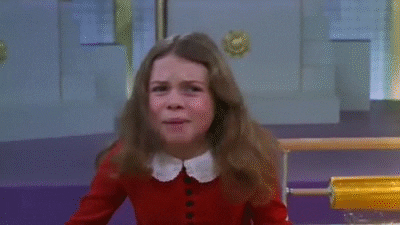 Willy Wonka And The Chocolate Factory Tantrum GIF
Giphy
"I had a friend back in middle school that invited me to spend the night at her house. I was there for maybe 1 hour when she asked her mom if we could order pizza and her mom said no. My friend then proceeded to have the absolute worst, over dramatic screaming temper tantrum at her mom and then started screaming at her that I wanted the pizza and they were being rude for not buying it. This carried on for the rest of night and I just sat on her couch beet red waiting for it to end."
​Awkwarddddd.
""When I was in 6th grade or so, I was invited to my friend's birthday sleepover party. She tells me to be there on Friday after school. So I show up with my overnight bag. Nobody else is there yet but I didn't think much of it. I just thought she wanted me to be there early to help set up and hang out. She says nothing. Her parents say nothing. But I could start to feel something was up when her mom takes us to Walmart to get things for the party. I said things like "we're going to have so much fun tonight!" that was met with awkward silent tension. I sat and watched TV with her family for a while and I could feel the whole room just go stagnant.
About an hour after we got back from the store, her mom started making dinner. I asked if I could help her, but that I thought she was going to be ordering pizza for the party. She finally told me that I was an entire day early for the party and that I needed to go home.
Edit: for those who asked, the party was terrible. She invited all the "mean girls" from school. It felt like Jenna's birthday party in 13 Going on 30 fr. I ended up leaving early after they started making tiny baby gay me uncomfortable by daring each other to kiss."
​Not the impression you wanna make.
"My ex's family camping trip. Her mom is talking to one of her daughters, and the daughter says something along the lines of "I don't think I've ever seen you actually angry" and my dumb*ss has to chime in, 'she was pissed at me once when I took your sis to two movies in a row and forgot to give her a heads up that we were gonna be back later' mom chimes in 'nope, I was pretty mad at you around thanksgiving a year or so back'.
I immediately grabbed my toast, downed a big ol glass of shut the f*ck up, and dipped out of that conversation. She was referring to when she found out I took her daughters virginity."
We've all been there, on every end of it. Awkward moments are just a part of being human. Just remember, "this too shall pass". Or something.
Tension passes. Don't forget that
Keep reading...
Show less
Like most people, I was really awkward when I was younger. Tall, lanky, and didn't quite know how to dress in a way that suited me. Little did I know, there are very simple ways to improve someone's appearance, that a lot of people overlook. If only I had known them in high school.
Here are a few tips that I wish I had known. Reddit user Bestangela asked:
"What is an underrated way of improving your appearance?"
​It's the little things we need to be aware of as we go about our day. Minor fixes can help so much.
Stand up straight, the right way.​
"Standing up straight, or at the very least with some sort of upright gait."
-[deleted]
"This but doing it by strengthening the right muscles. Forcing yourself into a straight standing position can cause just as many postural issues and living hunched over. Source, I was a PTA for a while and now I'm a functional personal trainer."
Nothing like a good pair of glasses.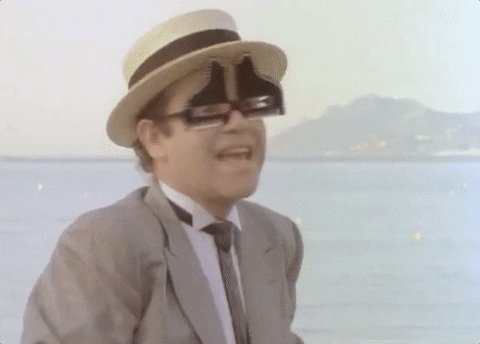 Glasses Diamondsday GIF by Elton John
Giphy
"Glasses frames that actually fit your face structure."
"Or just glasses that are more stylish. Lot of fashion-challenged dudes wear the same style of glasses they've worn since middle school even if they've updated the prescription."
Like a bonsai tree.​
"A lot of guys with beards don't trim them. I cringe at old pictures of myself before I knew how. Treat your beard like a bonsai tree."
"I have long hair and a mustache at 27y/o, we're talking 1970's called and they're sending a cease and desist hidden in an LP cover of Yes to make sure he actually reads it.
I get noticed a lot because I actually take care of my hair. Oils and regular cleaning for the facial hair, beard brushes, mustache combs are cheap. Oils and balms can be crazy expensive but Google is your friend, just keep a close eye on the fragrances as they can be off putting to others especially if they're super close and quite pretty. Trim once a week is a good guideline, too often and you'll mess it up or thin it out, too long and you'll be back at square one.
For hair, it's not mentioned near enough DO RESEARCH ON THE BEST PRODUCT FOR YOU. How it reacts to the elements, the finish, the feel, there are so many pros and cons to each product. You can style a comb over perfectly and it'll feel horrible to the fingers because the product is unnecessarily stiff for your hair. As well oil-based can and will cause serious acne breakouts if you're prone to sweating, great product for the Fall but not when it's warm or you're active. Sea salt is definitely my favourite for my style as it has almost zero hold and naturally curls my hair for some surfer-bro points. It's all about giving a f***."
Best Excuses For Late Assignments That Were Actually True | George Takei's Oh Myyy
Keep trying!​
"Getting a healthy quantity of sleep."
"Currently reading this at 2:30am thinking I'll try again tomorrow."
​Stay hydrated, and don't do drugs.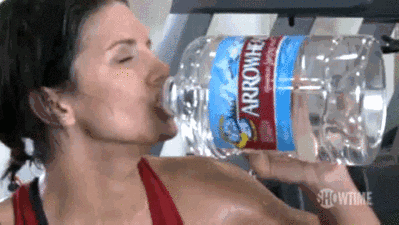 gina carano water GIF
Giphy
"Drink water. Dehydration can have you looking raggedy af."
"Substance abuse in general takes on a look. Working in the prison system, you can nearly pinpoint those brought in on drug offenses versus the violence offenses merely by how a person's body looks after years of substance abuse."
​Bad hair parting = criminal scum.
"The way you part your hair can be a huge game-changer."
"I remember seeing an old video on this. Some pseudo psychology about how parting it could affect a kid growing into a good citizen vs potential criminal scum. My take away was that I'm gonna be criminal scum just cause I'm left handed."
​When I think of ways to fix my appearance, the first thing I think of is fashion sense. What works best for your body type?
Accessorizing helps.
"Putting even just a bit more thought into your daily outfits.
Wearing different things that are mostly flattering, even if it was just adding a bandanna, bracelet, and wearing colors that look good together, can improve self confidence and make you stand out just a smidge more. It gives a more put together look and people will be more willing and likely to notice you. Self expression is attractive."
You know what they say, "clothes can make the man".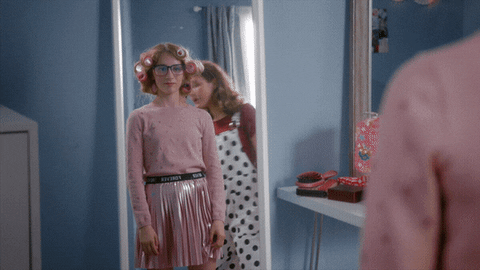 Elliana Walmsley Shopping GIF by Brat TV
Giphy
"Buying clothes that fit properly instead of buying the smallest size you can squeeze into."
"Came here to say this. I am and have pretty much always been fat and always made the common mistake of wearing bigger clothes not realizing it made me look even bigger. At some point, I read somewhere that you should get proper fitting clothes so I tried it (apprehensively) but I was surprised to find I liked how I looked. Works wonders."
​It's all in the eyes.
"Not gonna lie, a lot of my coworkers started looking a lot better at the start of this pandemic by covering the bottom of their faces. Myself included."
"Bruh stop. With my mouth, chin, jaw covered I Iook like a goddamn supermodel and some look at me with those hungry eyes. But when I take it off, people are like "Oh..." Swear, couple of month ago I had a coworker that saw me without my mask and she just said "So, that's how you look like! I N T E R E S T I N G!
Reminds me of Bane's 'No one cared who I was till I put on the mask.'"
​It'll be more comfortable, too.
"Wearing a properly fitted bra. Go for a proper fitting. A lot of women are wearing the wrong size bra."
"As a long time bra fitter, 90% of the people are wearing a band size at least 2 sizes too big and a cup size 3 or 4 sizes too small."
I recently was struggling with feeling awkward every time I looked in the mirror. Then I got bangs. And let me tell you, a good haircut frames your face so much better. You just have to find the one that's right for you.
Try implementing these shifts into your life- they'll work wonders.
Keep reading...
Show less
Secondhand embarrassment is like siphoning gas from one car to the next. Except instead of gas it's cold sweats and red blushing cheeks, and instead of a car it's your central nervous system.
Also, you want no part of it.
But it happens. Someone in your field of vision--or, even worse, someone you're interacting with directly--is so supremely awkward that you lose control of your own body so that all 206 of your bones can dedicate themselves to cringing.
It happens in a variety of places, for a variety of reasons, and lasts for anywhere from mere seconds to excruciating minutes that feel eternal.
TeachMeTheWayz asked, "What's the story behind a time when you felt secondhand embarrassment?"
Want to "know" more? Never miss another big, odd, funny, or heartbreaking moment again. Sign up for the Knowable newsletter here.
Keep reading...
Show less
There is only one thing worse than finding yourself in an intimidating social setting and feeling horrified to speak. It's being called out for not speaking.
For shy people, that nightmare scenario is the end of the world.
The chatter of voices, confident body language, and comfortable laughter all taunts from every direction. Meanwhile, internal and silent, a furious inner monologue is being strung together.
The panicked, anxious thoughts are bad enough. But eventually, the collide with reality. Something happens and all eyes--or at least a few--are on you.
The moment makes the inner monologue feel like a quaint, safe memory.
yaman007 asked, "Hey shy people what is your worst experience?"
Want to "know" more? Never miss another big, odd, funny, or heartbreaking moment again. Sign up for the Knowable newsletter here.
Keep reading...
Show less