A transgender shopper has been sent a personal letter of apology from British retailer Marks & Spencer after staff refused to let them try on clothes in the menswear changing rooms.
Myla Corvidae, 30, was born female and now identifies as transgender non-binary using they/them pronouns.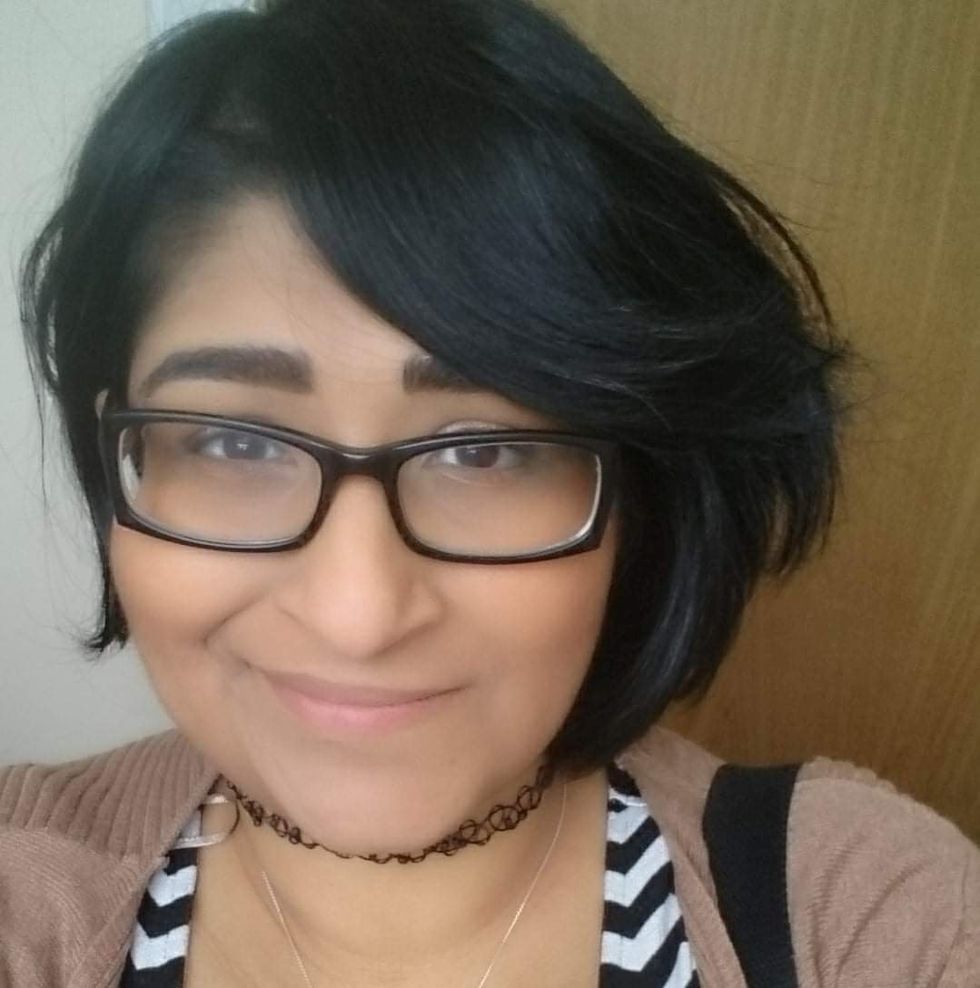 Myla Corvidae /SWNS.COM
They had picked up a few items of clothing from the menswear section of M&S in Aberdeen, Scotland, and wanted to try them on in the store.

But a member of staff told them they could not try the clothes on in the changing rooms by the menswear section.
Myla says they were told the facilities were "only for men" during the incident on December 31, 2019.
A spokesman for M&S admitted "a mistake was made" and the store has apologized - including a personal letter from the manager.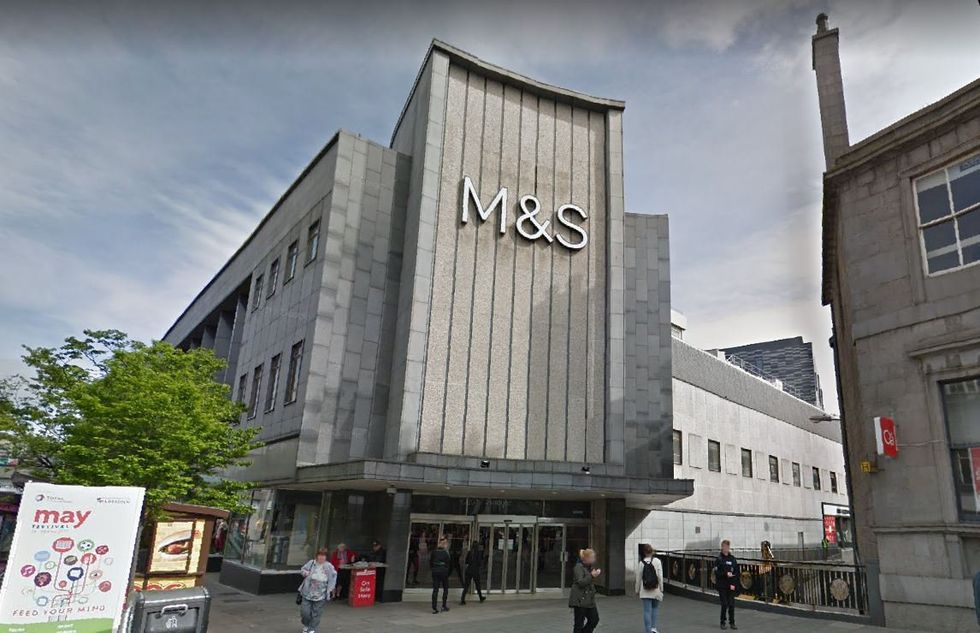 Google
Myla, of Aberdeen, said:

"I'd picked up some shirts and jumpers from the menswear section and went into the changing rooms nearby. There was no attendant so I just went on in."
"I left the changing room to grab a bigger size in one of the jumpers and a female attendant approached me on the shop floor."
"She told me I couldn't use the changing rooms there as they were 'only for men' and said that I had to use the changing rooms downstairs which are for women."
"I was utterly shocked and the only thing I could think of to say was 'I'm not female' to which she looked me up and down, apologized and walked off."
"I felt sick, like I was being accused of some kind of crime just for trying on clothes. Afterwards, I went home and cried - I have never been accosted like that in a store before."
"I had to go back in and speak to someone in store because no one took it seriously the first time and I started crying even trying to talk about it again with them."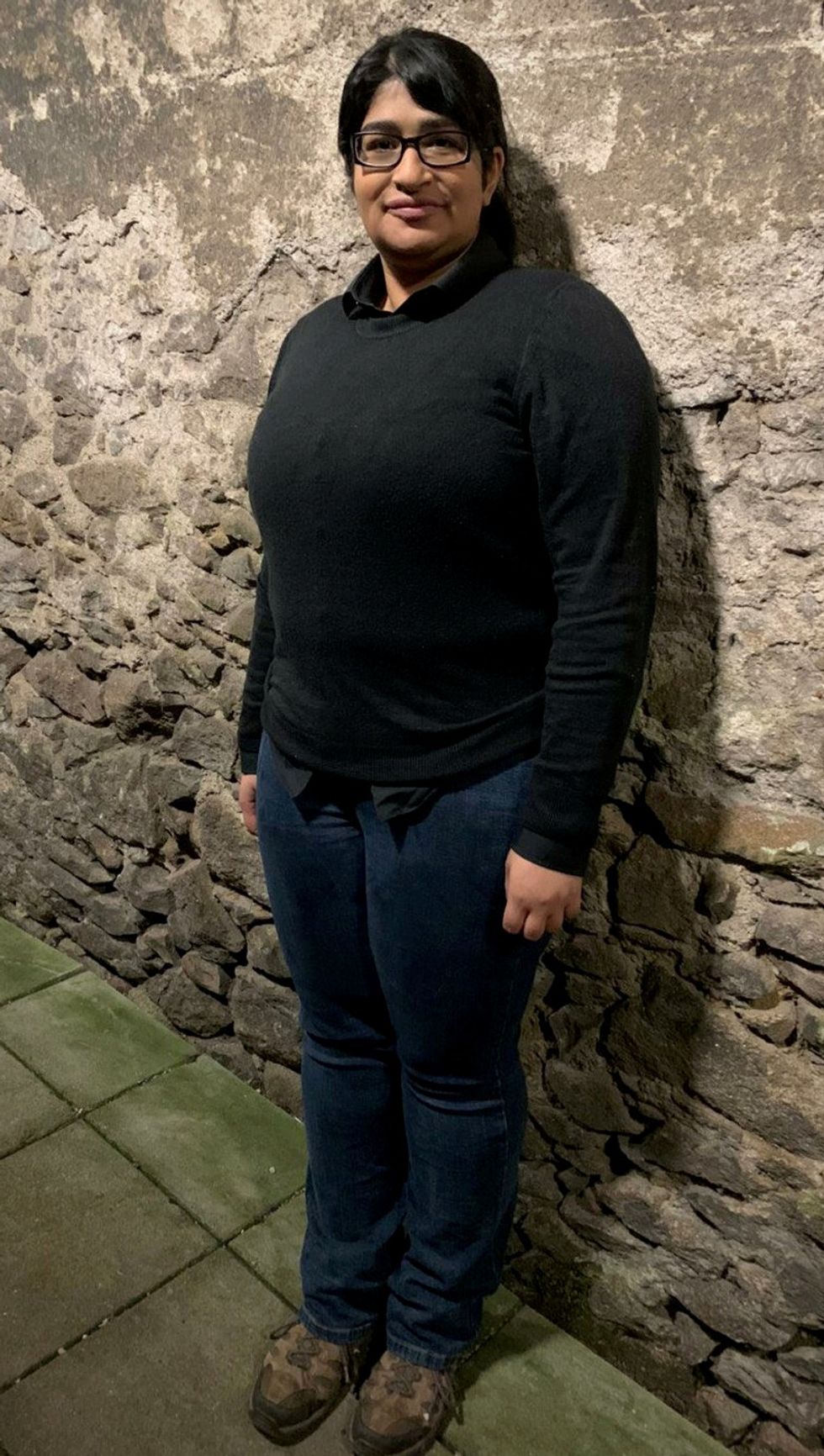 Myla Corvidae /SWNS.COM
Myla had been shopping in the Aberdeen City Center branch of Marks & Spencer regularly for the past five years before this happened.

Following the incident, Myla has complained to Marks & Spencer who have formally apologized to them both in person and via letter.
Despite the apology from the company, Myla feels unable to return to the shop due to the distress caused on that day.
Myla said:
"I don't think the apology was enough to be honest, it shouldn't have ever happened to start with and I have lost confidence in Marks & Spencer as a company for standing up for trans folk like myself."
"I still feel scared to shop at Marks & Spencer in case it happens again elsewhere or if I have to deal with that same person again."
"The fact that I saw a female using the space at the same time in full view of the attendant when I left the changing rooms just made it so much more of a personal attack."
"I honestly don't think I would go back there, I don't want to have to experience something like that again or see that staff member again."
"I am still very much upset by what happened and if I were to go back I wouldn't go on my own and I would not be shopping for clothes there again."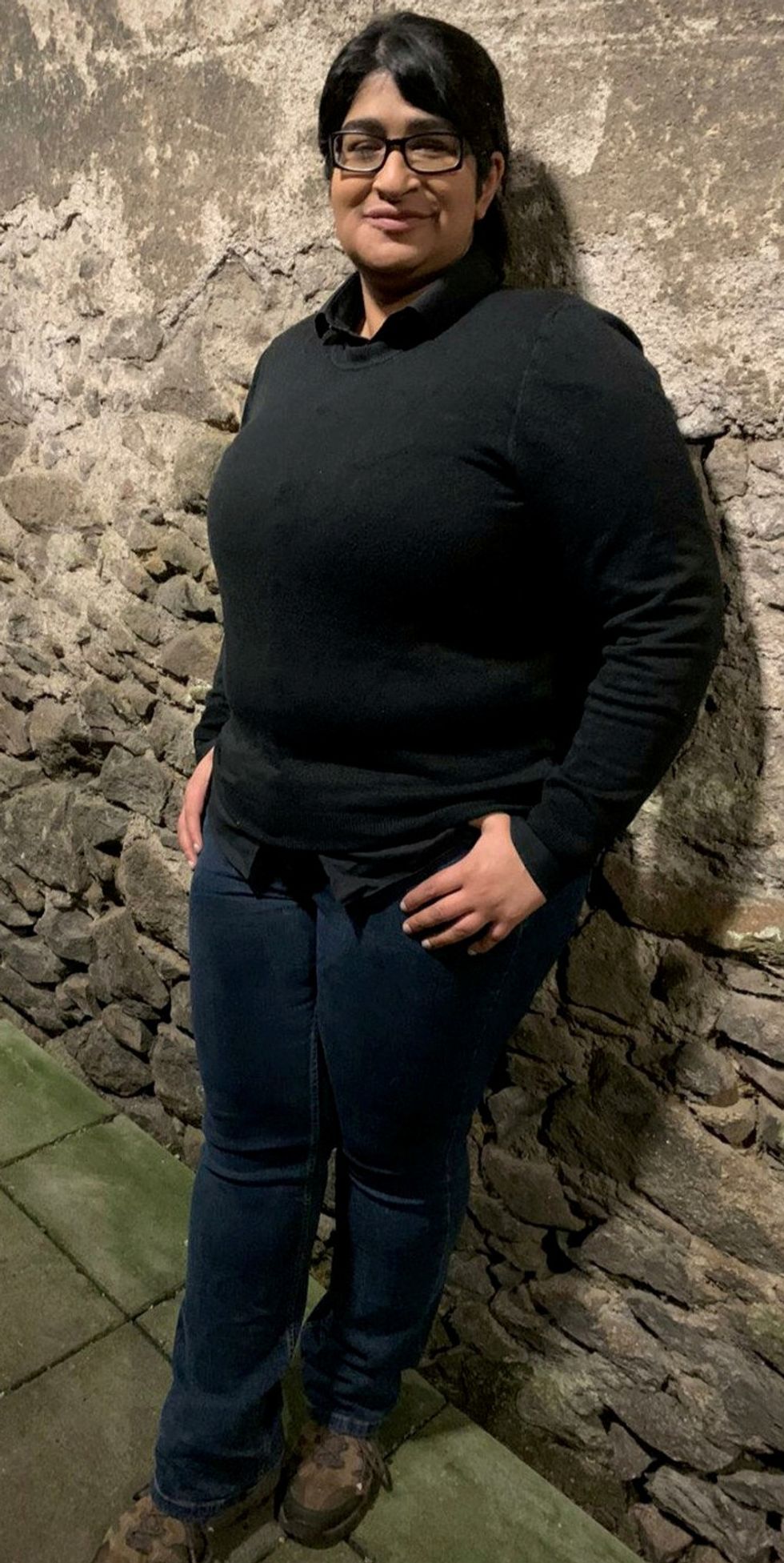 Myla Corvidae /SWNS.COM
An M&S spokesperson said:

"With our fitting rooms we only offer individual lockable cubicles and this is to ensure every customer feels comfortable and has the privacy they need."
"The fitting rooms are located within our womenswear and menswear departments and therefore are mainly used by customers of that gender. However, as an inclusive retailer and in line with most other retailers, we allow customers the choice of fitting room in respect of how they identify themselves."
"Clearly on this occasion a mistake was made, we have apologized to our customer for this incident, additionally our store manager wrote a personal apology assuring the customer they have spoken to the team."
Keep reading...
Show less
A forever home has finally been found for this wonky-faced dog who is fittingly named Picasso.
Picasso is a pit bull, Chihuahua, and Pomeranian mix who was born with "wry mouth" - an upper jaw deformity.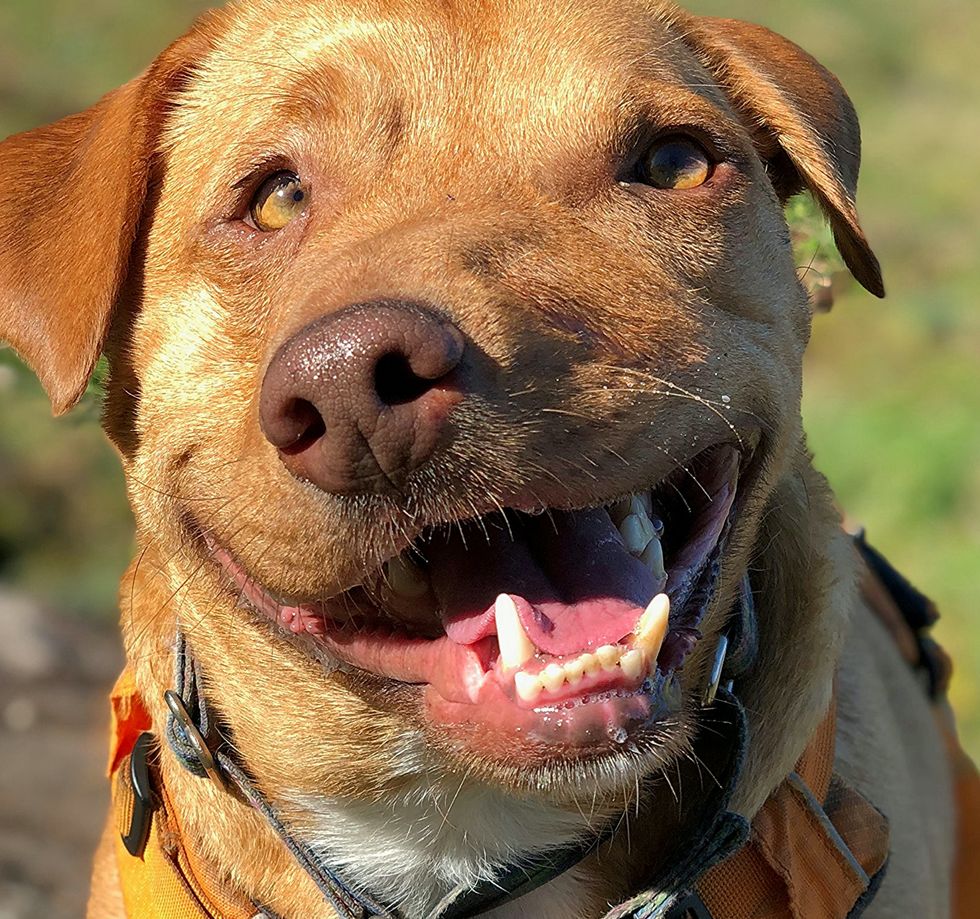 @picassothewonkyandwacku /SWNS.COM
His unconventional look gave him the name Picasso because he looks like one of the artist's famous abstract portraits.

Picasso's condition has disfigured his face with his nose pushed to the right and his overbite pushed to the left - but he can still eat, bark, and play like any other pooch.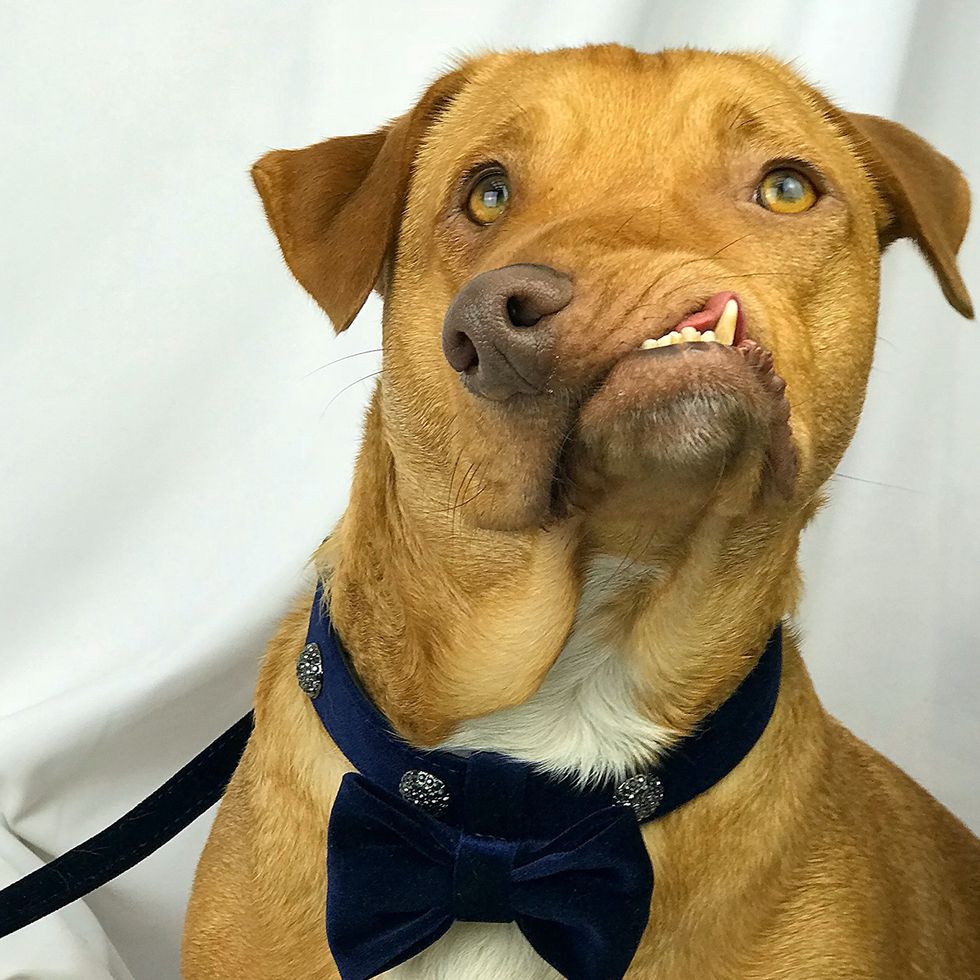 @picassothewonkyandwacku /SWNS.COM
He was abandoned two days before Christmas 2016 with brother Pablo - who did not suffer from the defect - and taken in by dog shelter owner Liesl Wilhardt, 51, a few months later.

Despite only intending to foster the two pups for a few months, Pablo died suddenly of a brain aneurysm in October 2017.
Devastated by the loss of his brother, Picasso, 3, now lives with eight other rescue dogs, two cats and a rescue pig named Pax.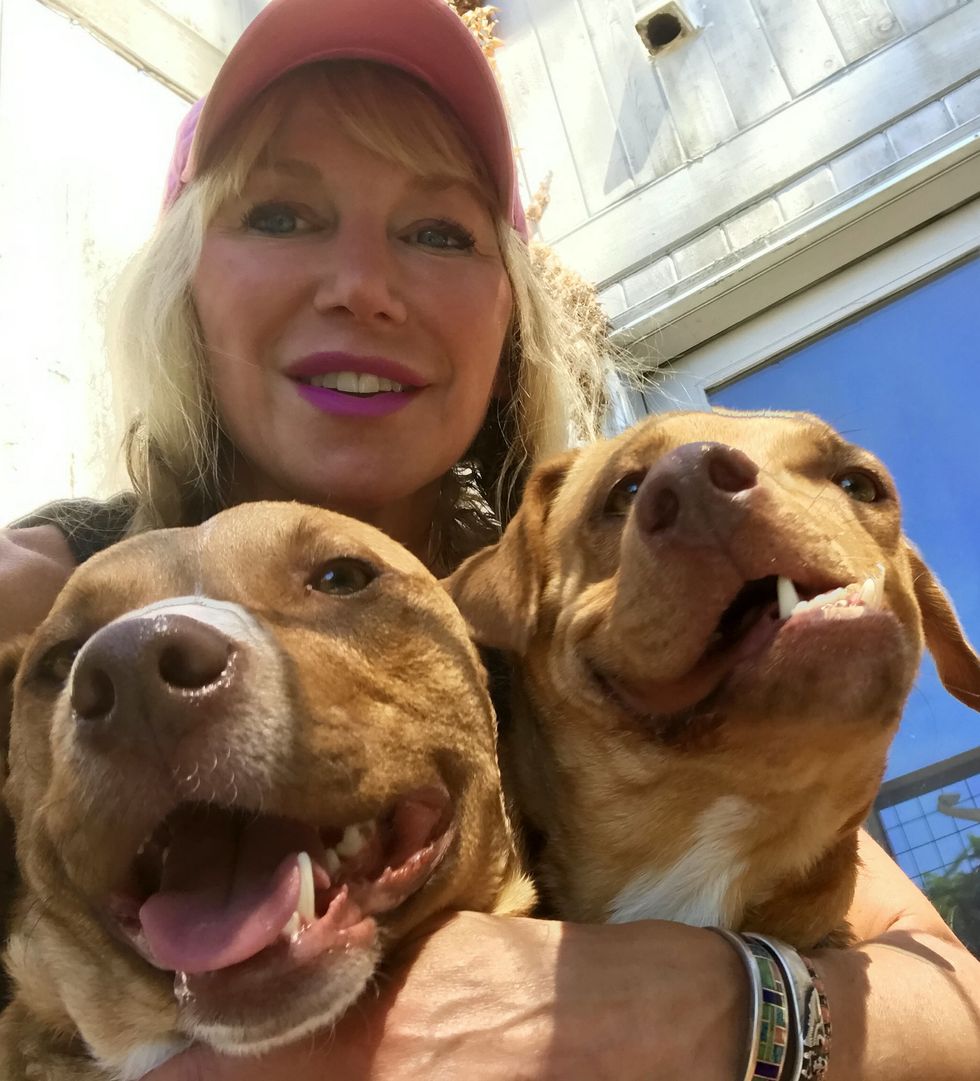 @picassothewonkyandwacku /SWNS.COM
Owner Liesl Wilhardt who runs Luvable Dog Rescue in Oregon said:

"People feel sorry for him at first because they think he was hurt. But he was born that way. He is perfectly imperfect."
"Once they know he isn't in any pain and nothing horrible happened to him, they relax and his appearance makes them laugh."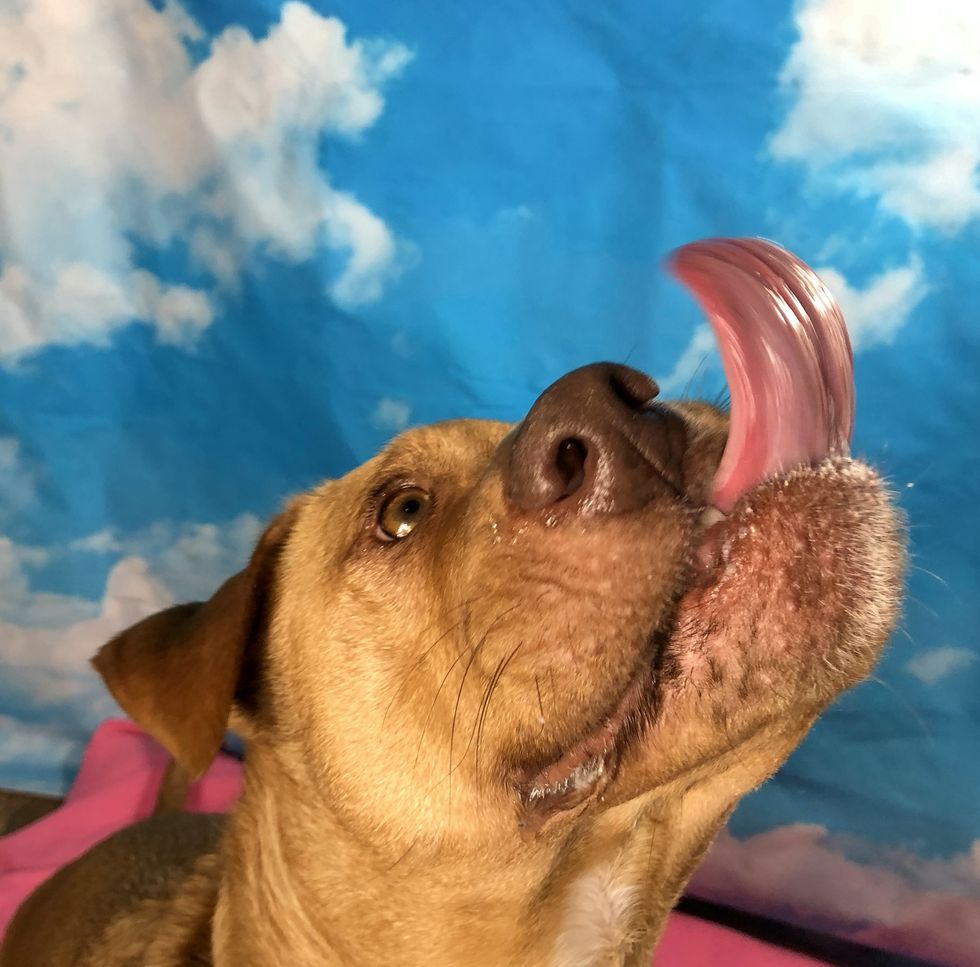 @picassothewonkyandwacku /SWNS.COM
"He was actually almost killed as a puppy because he ate some plastic and it caused a blockage in his system."
"Nobody knows why some animals are born with this condition. Something just happens when they are developing in the womb."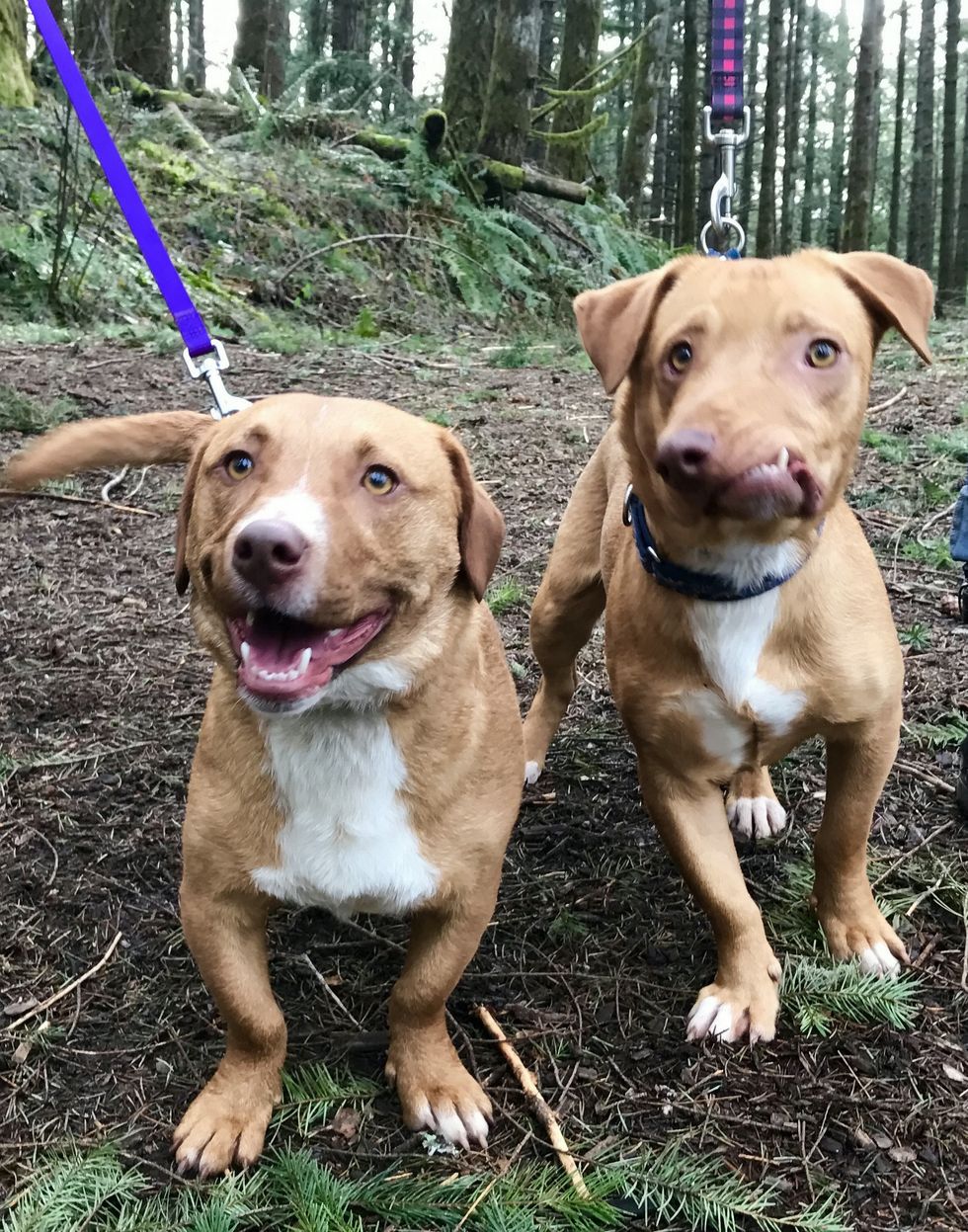 @picassothewonkyandwacku /SWNS.COM
"He is not in any pain, and does not need corrective surgery. He can still do all the things other dogs can do. "
"He can do everything a normal dog does, but he is a bit of a messy eater. But he can only lick to his left."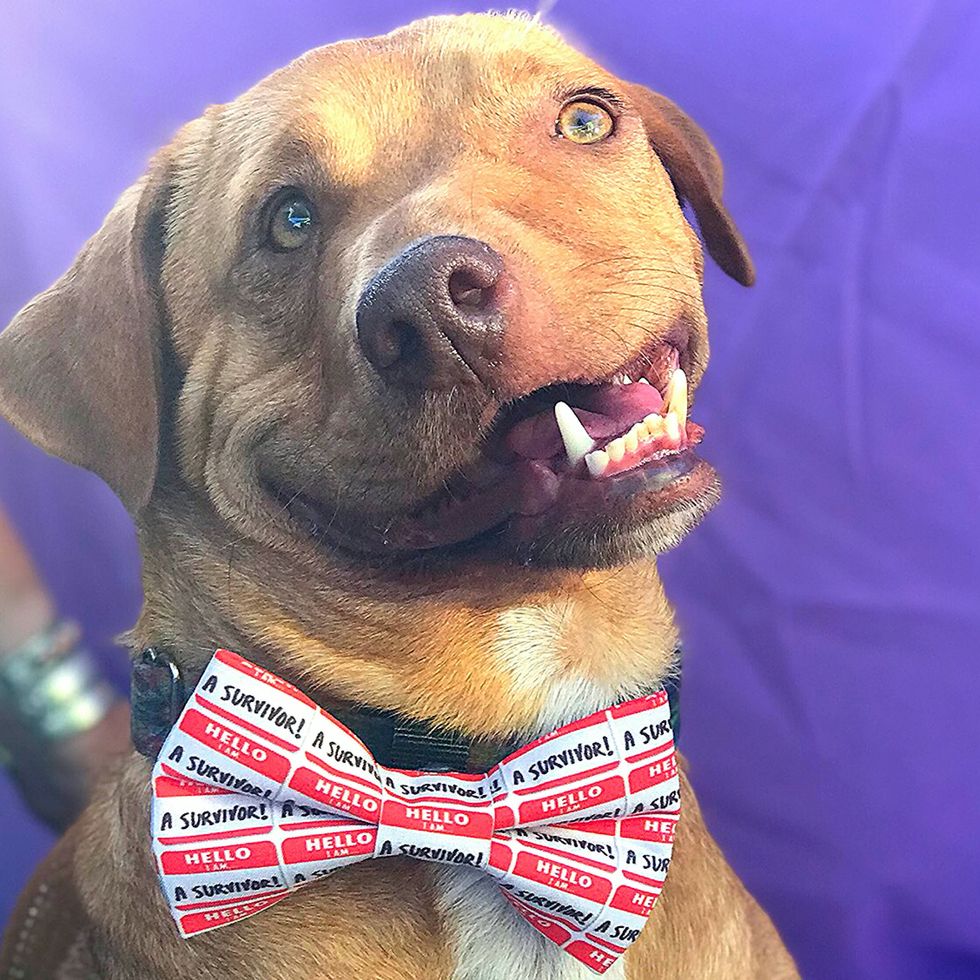 @picassothewonkyandwacku /SWNS.COM
"He knows tricks and commands. He can play dead, wave, walk backwards in circles, jump through hoops. You know it, he can do it."
"He often does it with Pax the pig too. I fell in love with his face right away. We are the best of friends."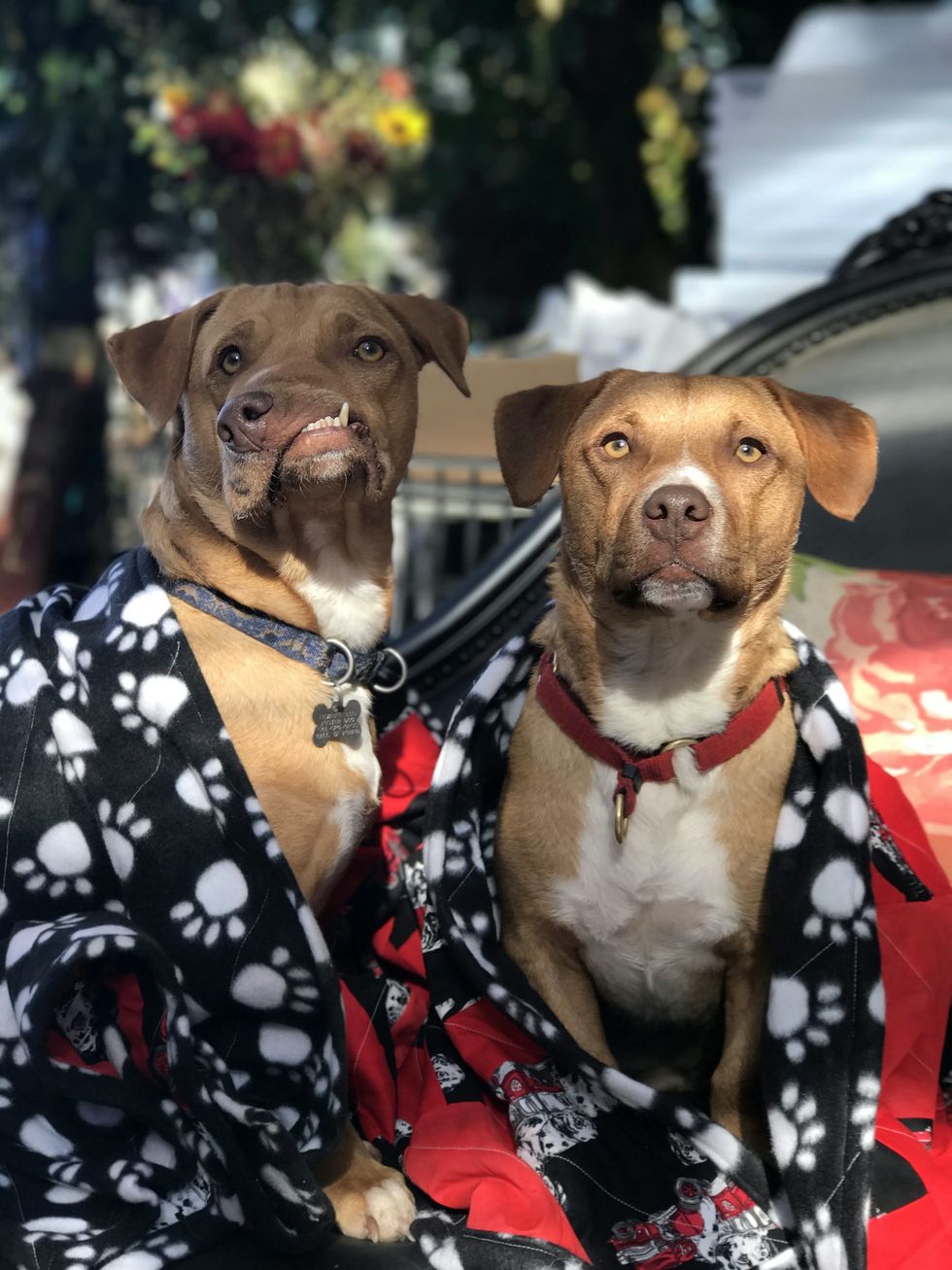 @picassothewonkyandwacku /SWNS.C
"His jaw line is fine and he can open his mouth normally as you can see with his amazing yawns."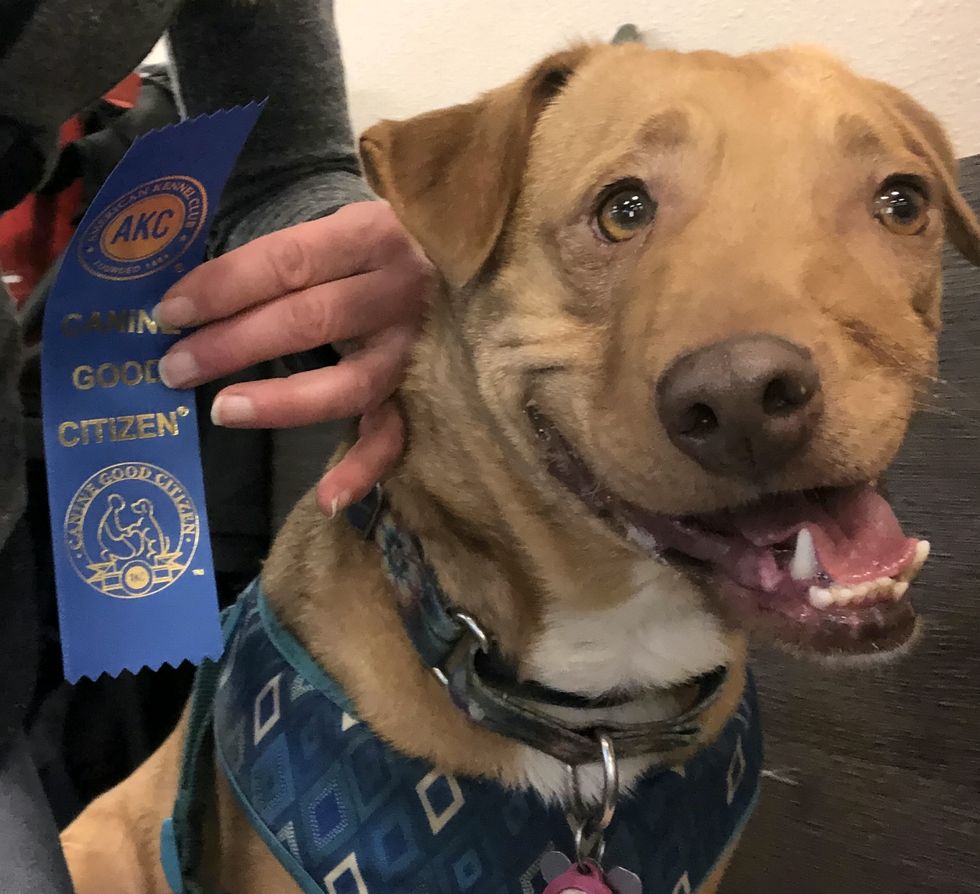 @picassothewonkyandwacku /SWNS.COM
To keep up to date with Picasso's escapades follow him at @picassothewonkyandwacku on Instagram.

Keep reading...
Show less
This hilarious video shows the moment a "show-off" dog owner attempted to leap across a flooded path - only to slip and fall flat on his back in the mud.
Harry Way, 19, was out for a walk with his girlfriend Abi Chamberlain, 20, and their nine-month-old golden Labrador puppy Milo on Sunday, in the wake of Storm Dennis.
When the couple came across fast-flowing flood water blocking their usual path, Abi cautiously tiptoed through the current to the other side - but Harry was feeling a bit more daring.
Egged on by excitable Milo - who was clearly keen to leap across to the other side - Harry took a leap of faith across the flood water, and ended up skidding onto his back in the wet mud.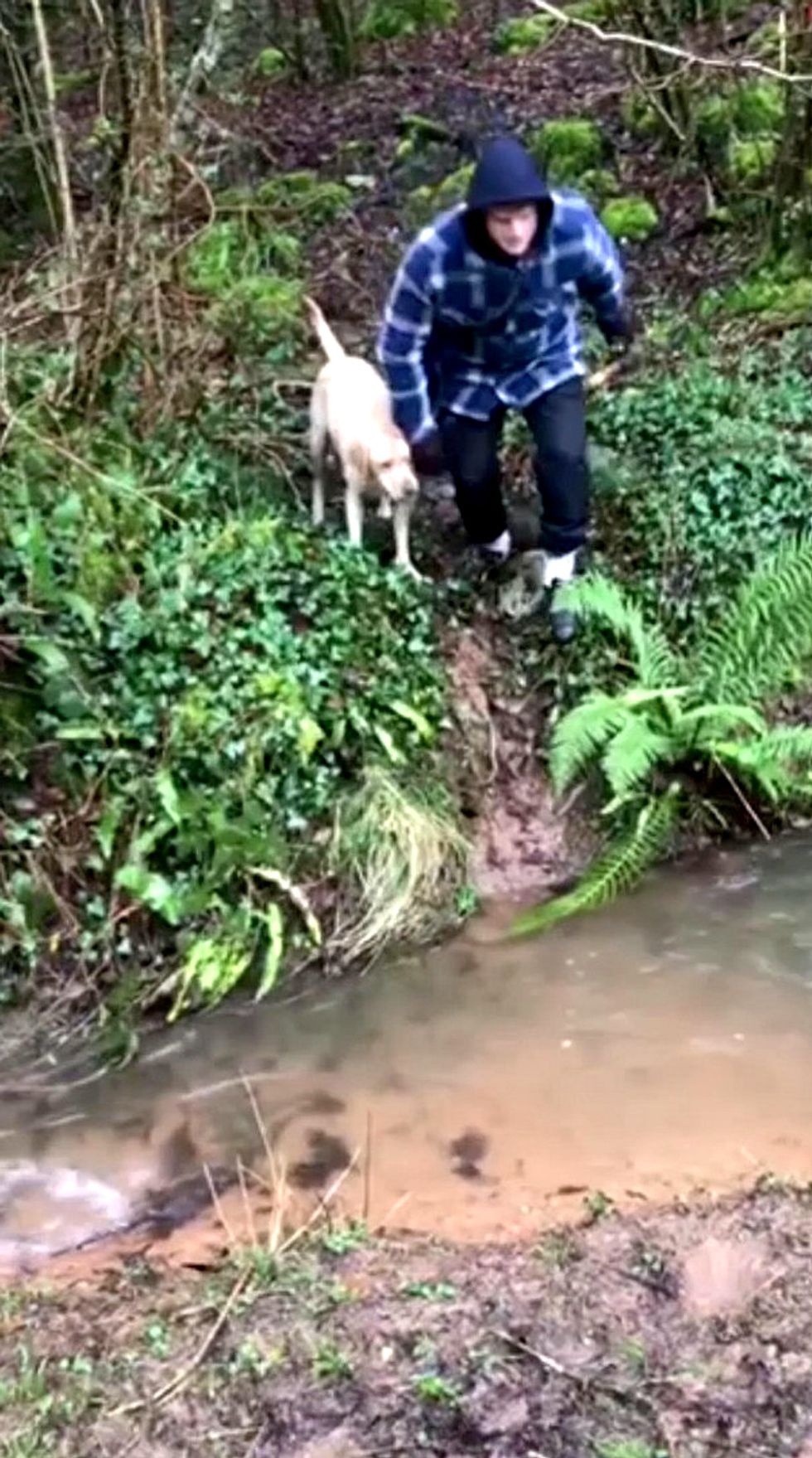 Abigail Chamberlain /SWNS.COM
Abi can be heard bursting out into laughter as her hapless boyfriend lies in the mud - while Milo bounds across the water and playfully leaps on his fallen owner.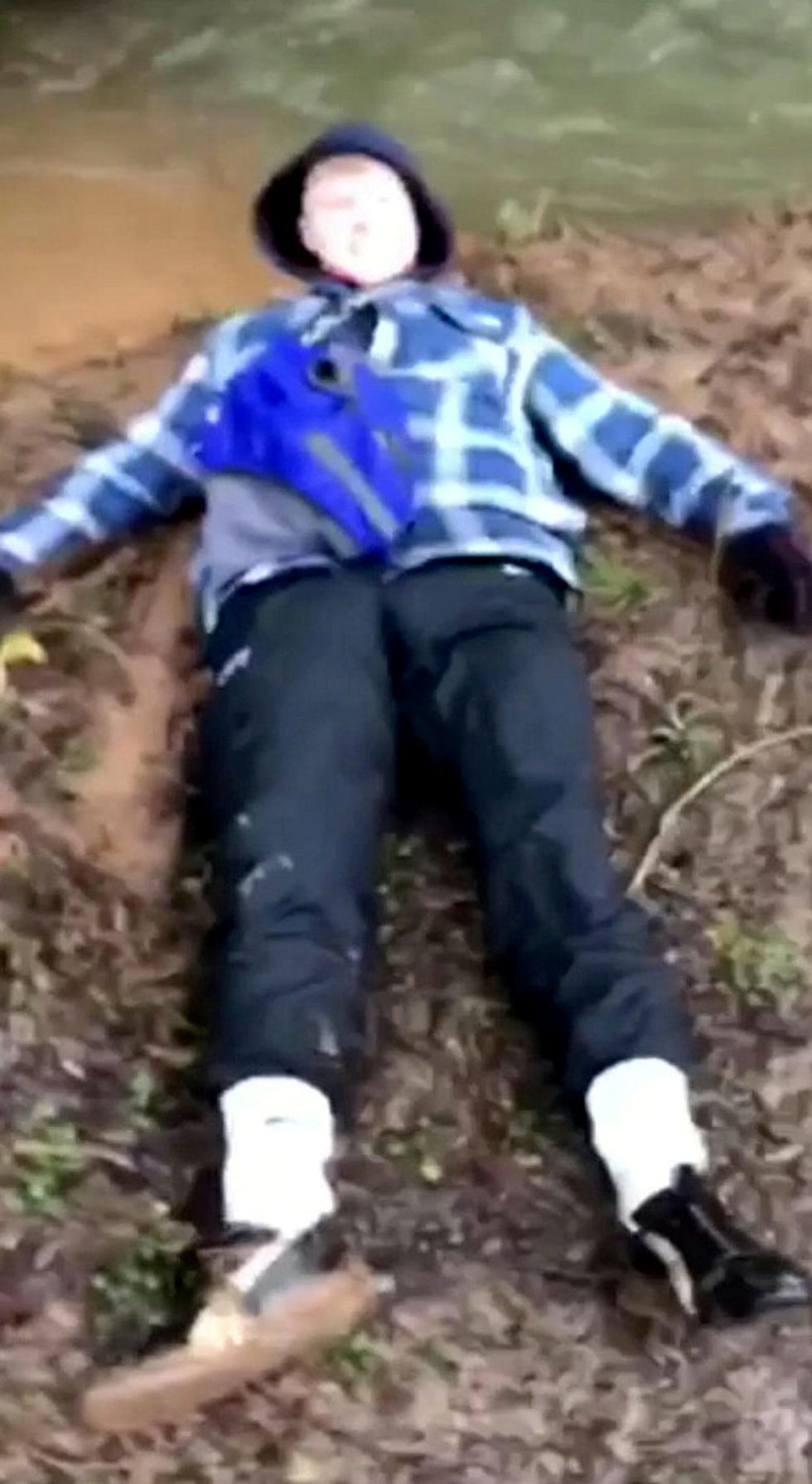 Abigail Chamberlain /SWNS.COM
The video was captured in Chepstow, on the border between Monmouthshire in Wales, and Gloucestershire.

Abi, who runs her own luxury hampers business, said:
"I found it so funny. He's always trying to one-up me on everything and he obviously thought, 'I can show off here.'"
"He's really annoyed today because I won't stop teasing him about it."
She added that the flooding in Chepstow has only got progressively worse since Saturday, leaving her and fitness instructor Harry working from home.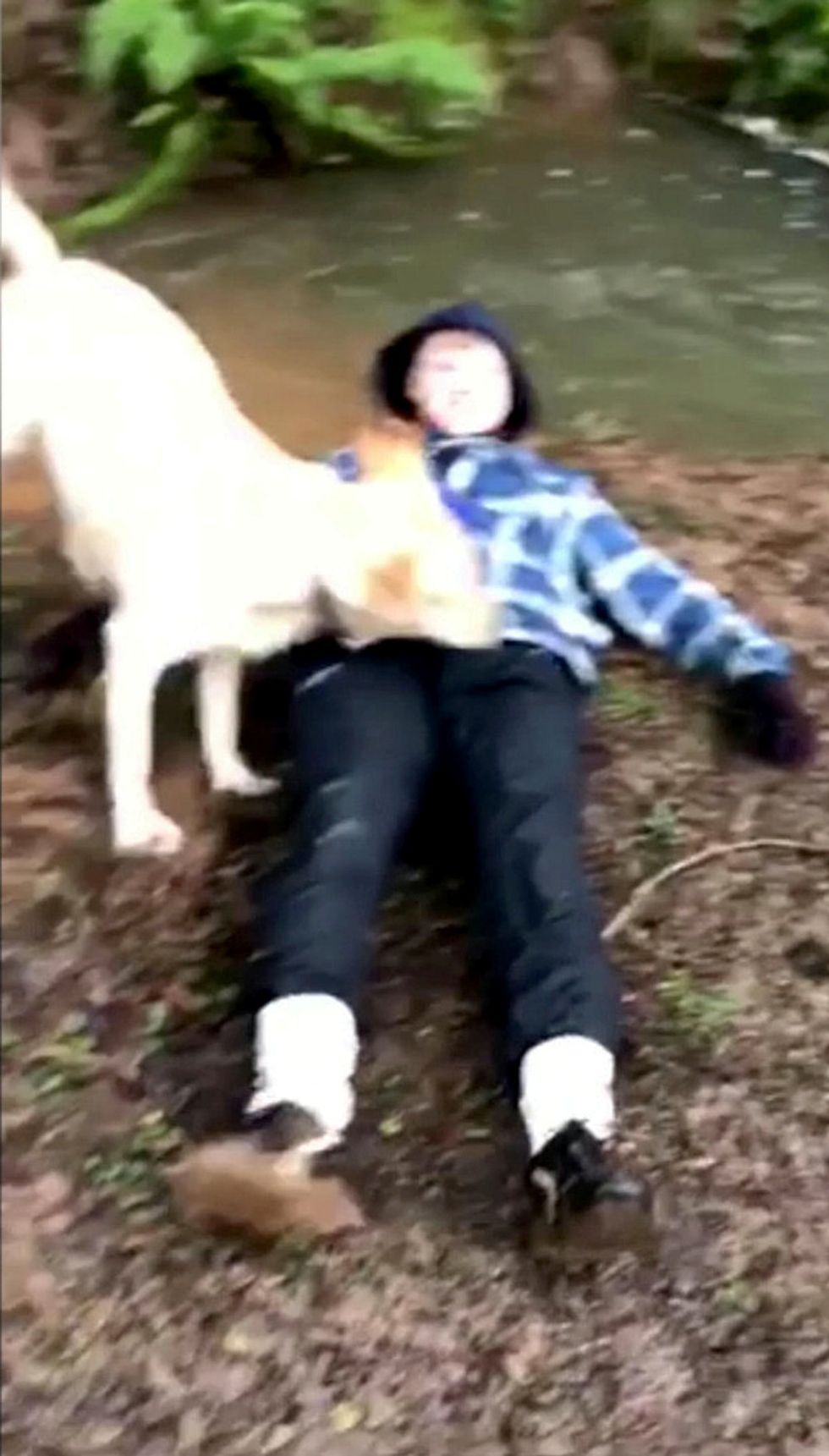 Abigail Chamberlain /SWNS.COM
Speaking about the dog walk on Sunday, Abi said:

"Everything was flooded, including the footpath we usually take the dog along. Milo loved it, though. It's his favorite walk ever."
"We had to shove him in the shower when we got home - all our carpets are cream, so it was a bit of a disaster getting him through the house into the shower."
Keep reading...
Show less
This is the brilliant note a sassy seven-year-old schoolgirl left for her dad in her lunchbox – telling him "I not etting my sandwish because I hate hummas."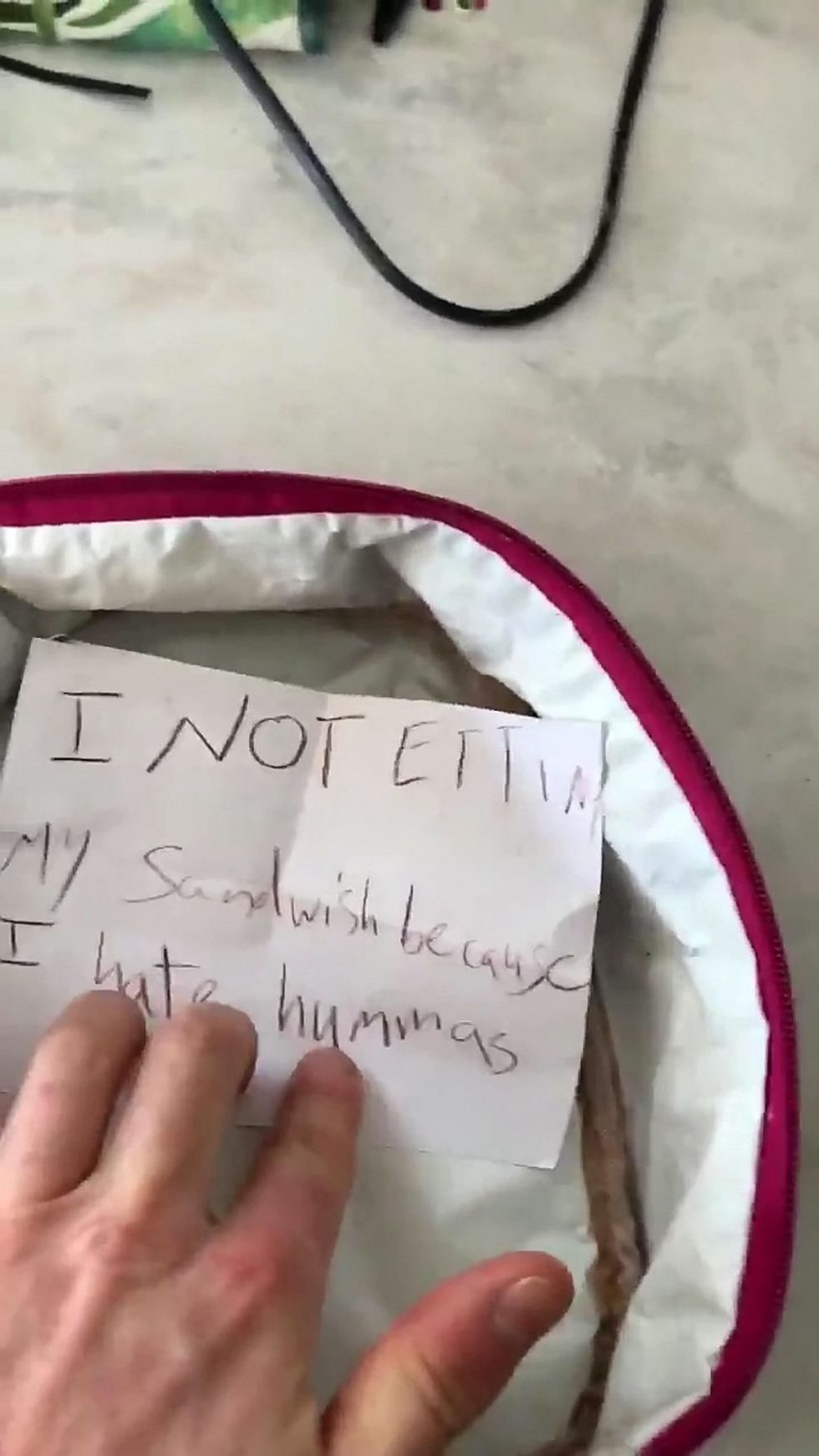 Peter Simson /SWNS.COM
Pete Simson, 37, asked his daughter Pearl, seven, what she thought about her packed lunch that day, once she had returned home from school.

She told him she'd left a note in her lunchbox - and he thought it might be a cute thank you note, or a lovely drawing.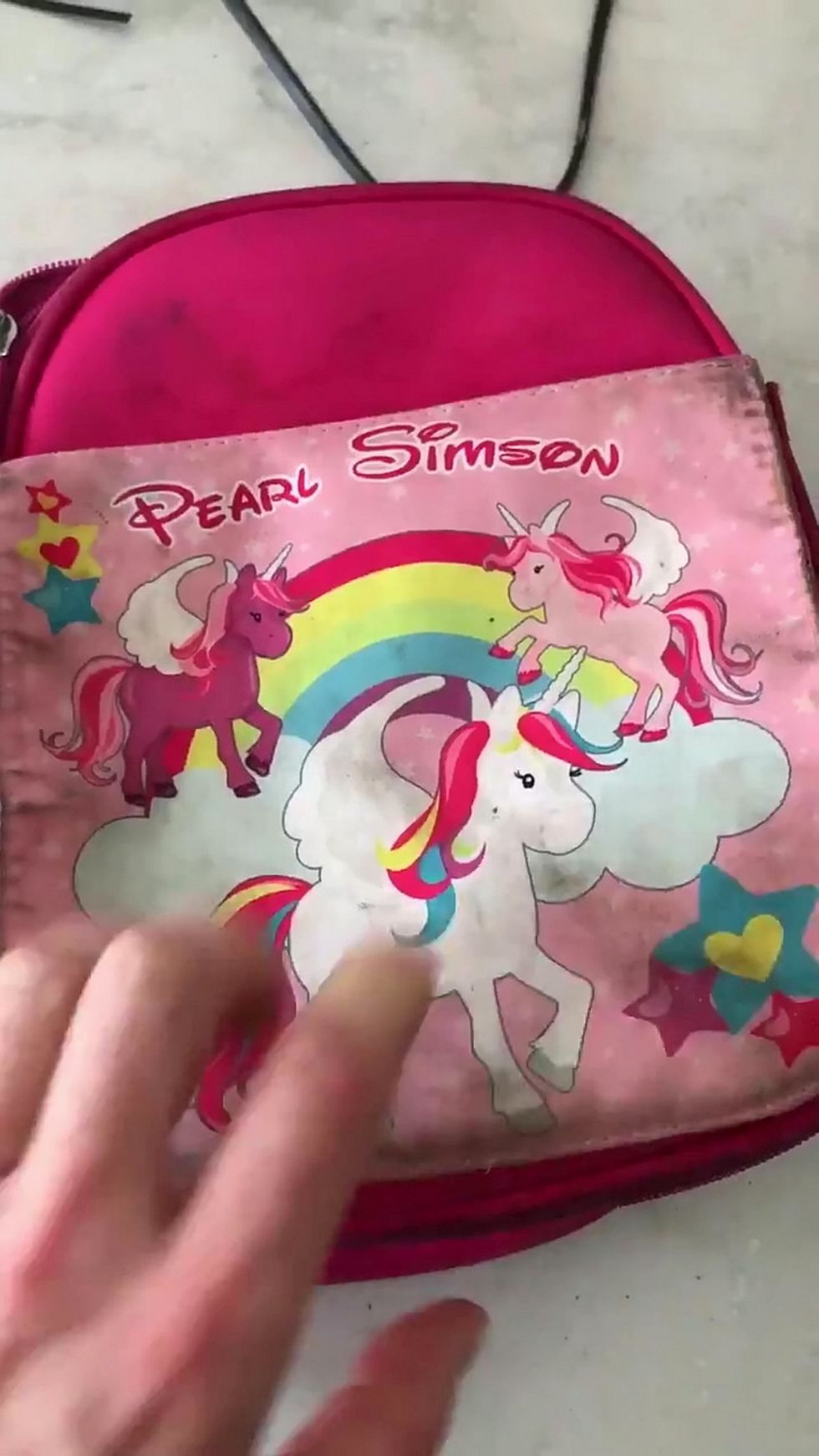 Peter Simson /SWNS.COM
He was left laughing when he found a note addressed to "DAD" which said "I NOT Etting my sandwish because I hate hummas."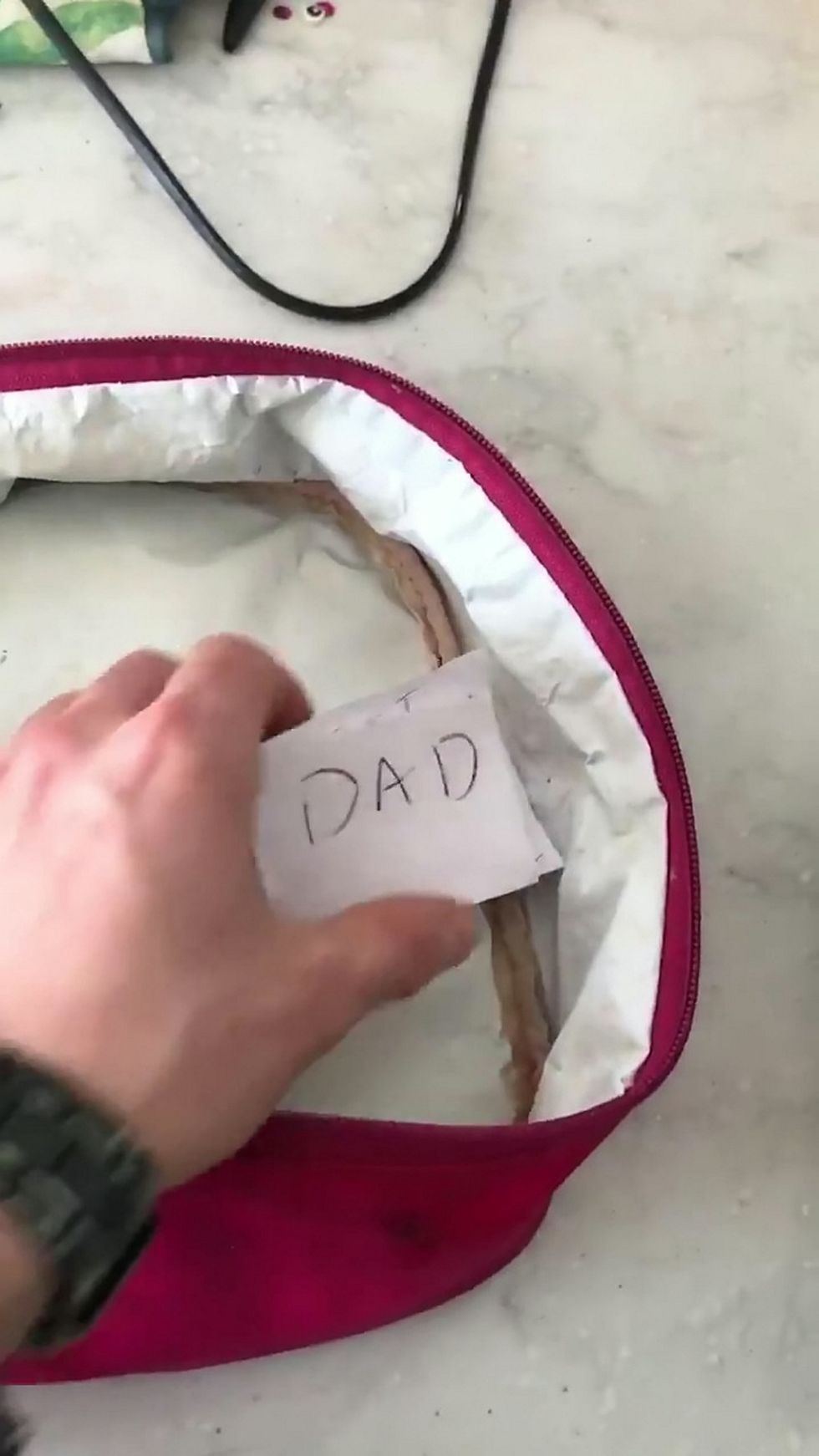 SWNS Peter Simson /SWNS.COM
Proud dad Pete, from Bristol, England, said:

"Well clearly, she wasn't a fan on the sandwich I made her! This was after school this week."
"I asked her if she liked her packed lunch and she told me there was a note in the lunchbox!"
"I thought it might be a thank you or something but as soon as I saw the disheveled sarnie in there I knew something was amiss."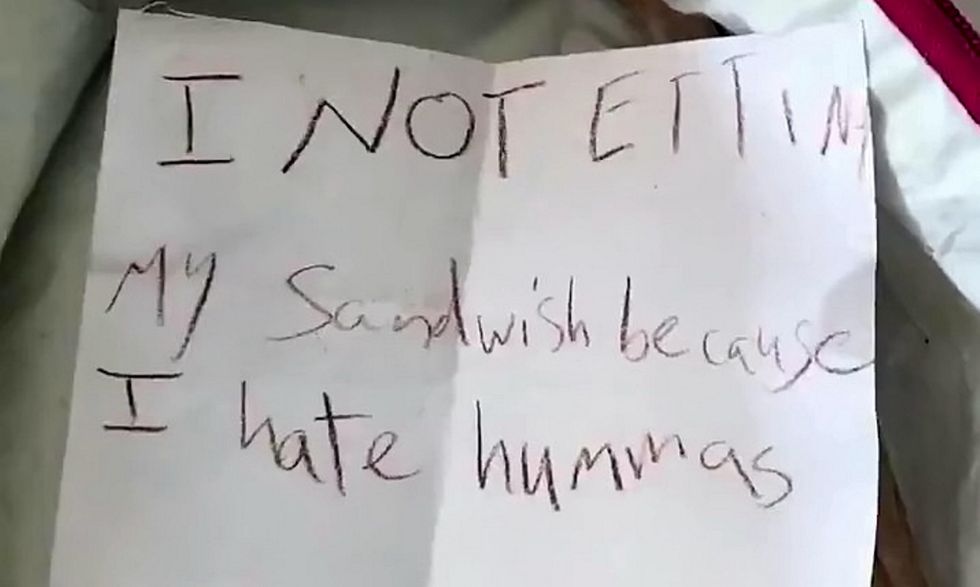 Peter Simson /SWNS.COM
"The dark brown pencil it was written with should have been a clue, it was a foreboding color. I was both amused and horrified."

"Amused because she'd gone to the trouble to write it and the cute spelling, but also horrified 'cos she must have been Hank Marvin (rhyming slang for 'starving')."
"This is a very Pearl thing to do - she is what a casual observer might describe as 'sassy.'"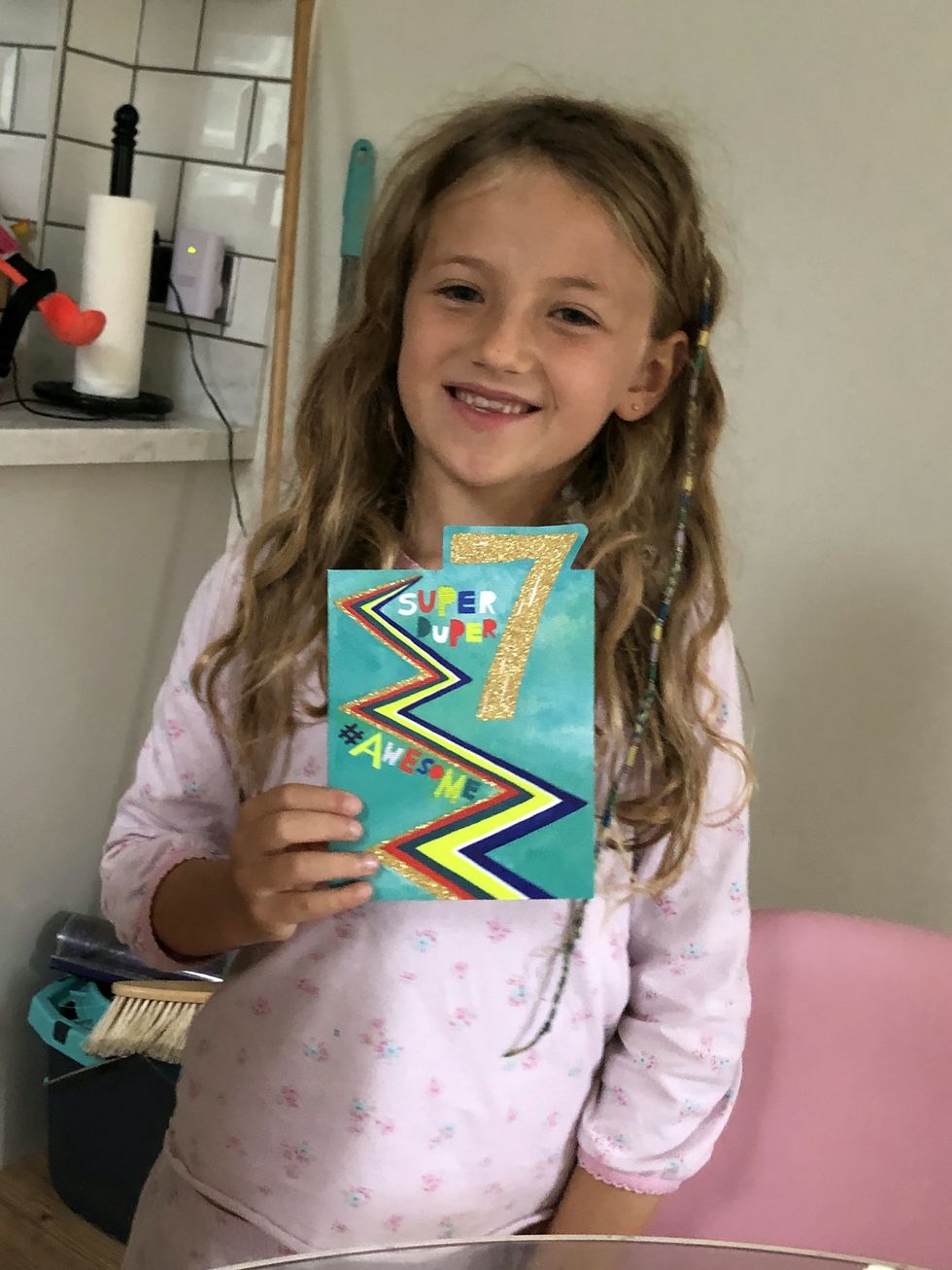 Peter Simson /SWNS.COM
He joked:

"To her mother it's the sign of a strong woman but to me it's plain insolence. I should add my own mother made the worst sandwiches on crumbly bread when I was a kid, but I made damn sure I ate them."
"I suppose it's nice I'm following in a family tradition. Pearl also HATES sourdough, with that and the "hummas" she'll never be a middle-class icon."
Keep reading...
Show less
Frank the adventurous dachshund was in the dog house today after jumping onto a bus and making an 18-mile trip to the seaside on his own.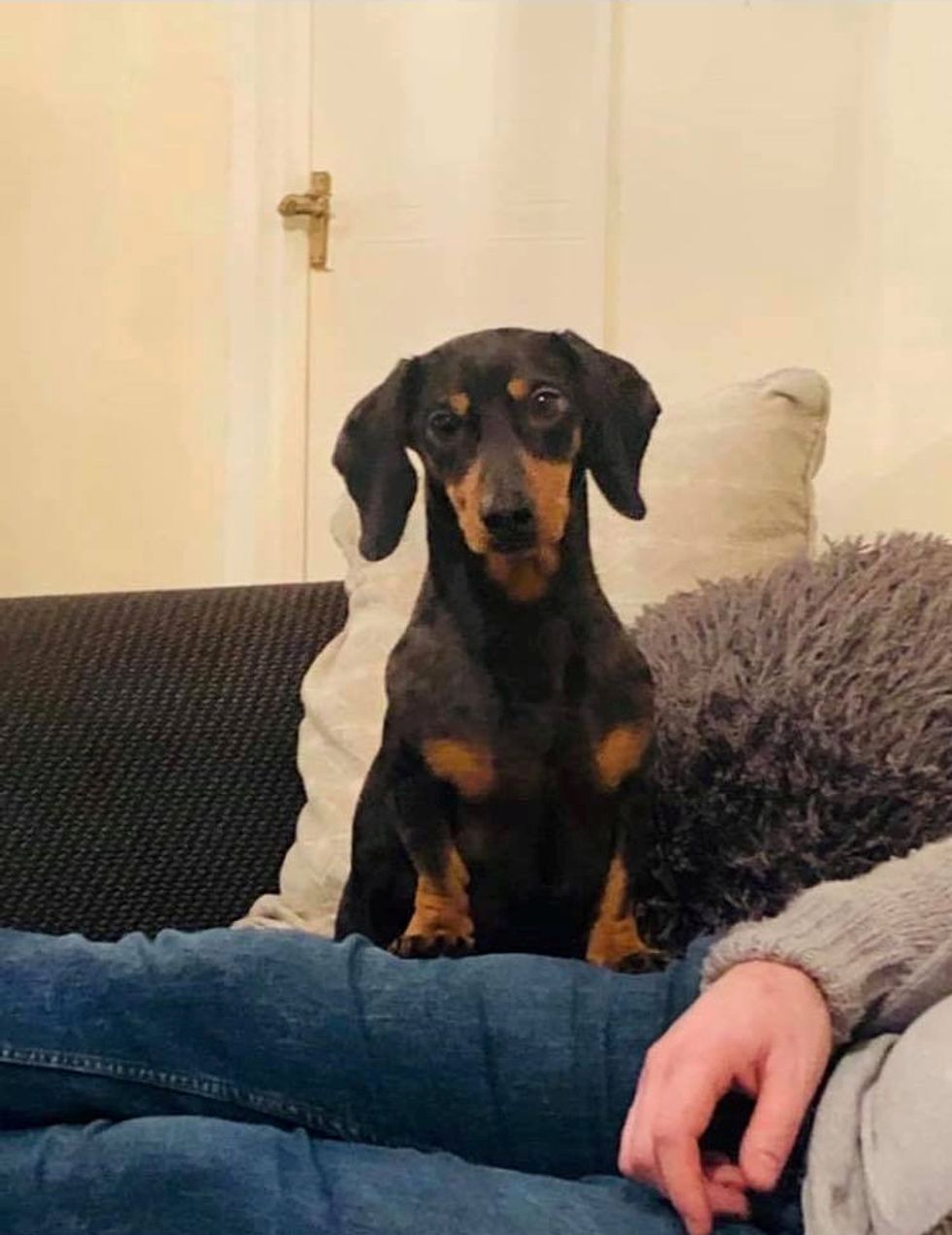 SWNS.com
The mischievous mutt vanished from his home earlier this week, sending devoted owner Michelle Ballard into a blind panic.

The four-year-old pooch had strolled down a nearby road in Colchester, Essex, England, before hopping unnoticed onto a bus bound for the seaside town of Clacton.
Michelle hastily arranged a search party with friends, fellow dog walkers and schoolchildren to try and find her much loved pet.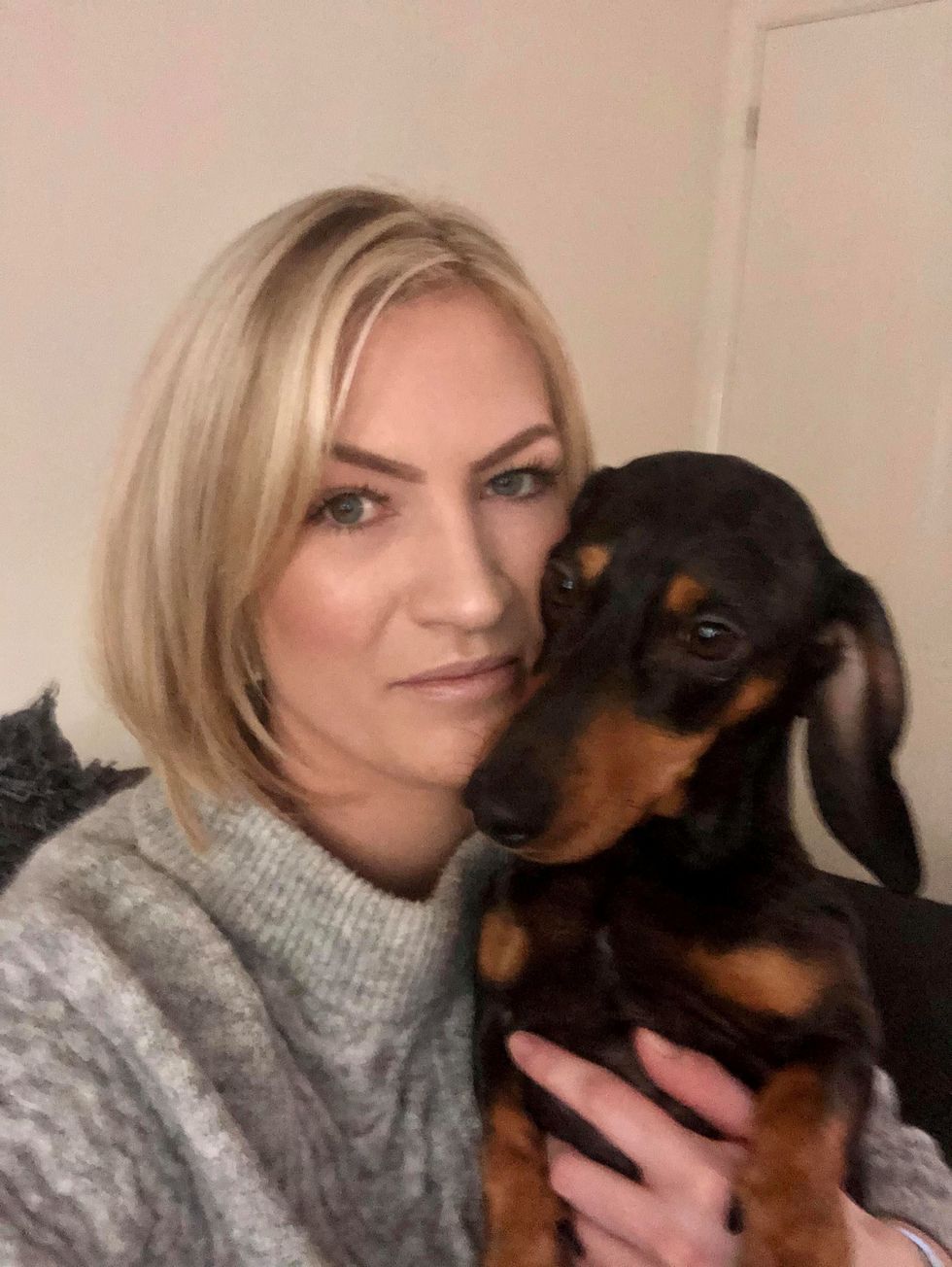 SWNS.com
Meanwhile Frank was enjoying his day trip on the no. 61 bus before being noticed by a fellow passenger who, after chatting with the driver, agreed to take him to his home in Clacton.

Later that night the good samaritan's family spotted a Facebook appeal for Frank's whereabouts and were able to arrange a reunion.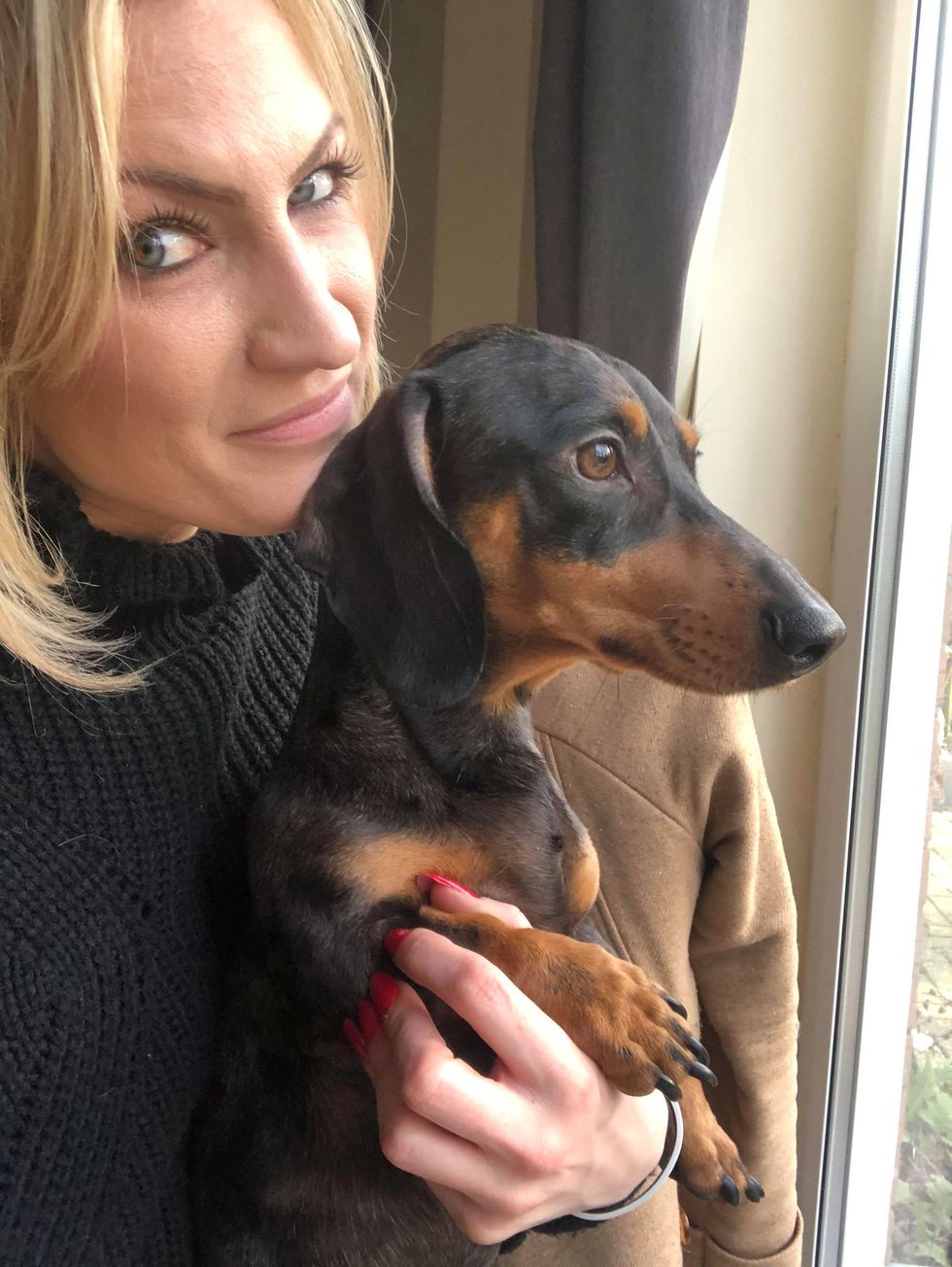 SWNS.com
A relieved Michelle said:
"I thought a bus driver would have noticed and not let him on but maybe he boarded when someone was paying."
"Luckily, there was a kind gentleman called Michael who offered to take him back to his own home in Clacton.
"He took him in for the evening and was going to take him to the vet in the morning but his family spotted the post on Facebook."
"My partner Jonathan picked him up at about 7pm."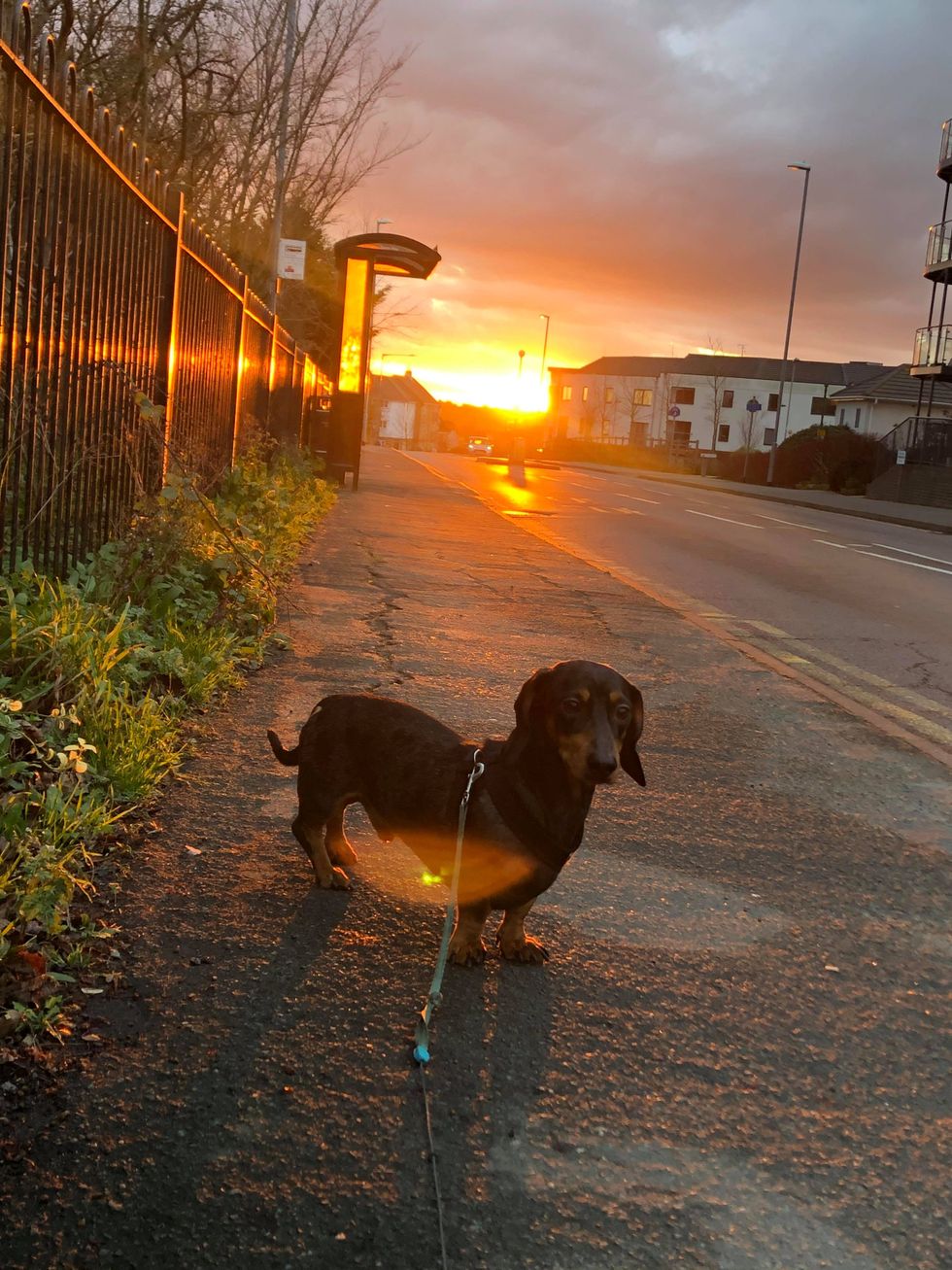 SWNS.com
Frank was taken home and reunited with Michelle as well as best friends Charlie, a two-year-old sausage dog, and Freddie, his two-year-old human brother.

Michelle added:
"He is a valuable dog and you hear some horrible stories about situation like this. We were so lucky it was such a kind man who picked him up."
"It is completely out of character for Frank. It is the first time he has done anything like this in his life."
Keep reading...
Show less