Flying can be enjoyable as you watch the world below shrink as you ascend above the clouds. It can also be difficult and a fair test of one's patience. If this writer has any flight advice it would be one—even though it looks appetizing don't eat the airport sushi during a layover.
Two—please keep your shoes on—the rest of us, including the attendants, can indeed feel our noses burning. They have to deal with enough during the flights, let's not add olfactory assault to the list. But seriously... leave the sushi alone, grab a nice-made pretzel instead.
Redditor theburiedsalmon asked:
"Flight Attendants and/or Pilots of Reddit, what are some things passengers do that get on your nerves?
Flight attendants jumped on this question ready to dish on their biggest pet peeves and worst experiences.

Gross...
"Leaving a ridiculous amount of garbage behind. Last week I had a grown a** couple spit huge globs of gum onto the floor and then step on it to try to rub it in. Like seriously? Why? And getting up to use the bathroom when we're already descending."
Keep it in your pants ya'll...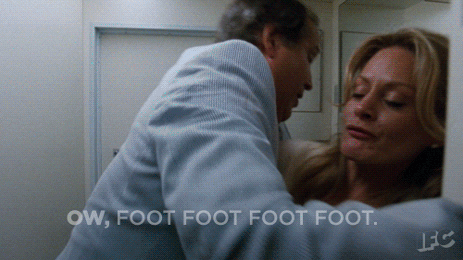 Flying Las Vegas GIF by IFC
Giphy
"As a former FA—Don't try to join the mile high club. Just, stop."
"Don't have sex in the bathrooms y'all. No, you aren't being very quiet and yes we will know and depending on the airline policy we'll also have to politely ask you to knock it off and keep it in your pants."
"Not to mention the obvious - airplane lavs are ridiculously tiny, to the point where once on one long haul we had to make an emergency landing because a large couple couldn't get out of the lav they had shoved themselves into once they were done."
"I'll add that this is THE grossest place to possibly want to do the deed, as lavs NEVER GET DEEP-CLEANED, EVER (between same-day legs)"
"I know what your hand motions mean and I will have to come over and shut it down, especially because in most cases there are families with kids sitting behind or near you."
15 years in...
"Former flight attendant here... 15 years I've seen it all! (and sorry for the formatting, on mobile)
Walking throughout the aircraft barefoot. Especially into the toilets... Those floors are not as clean as you think they are!
People who talk to us and treat us like scum. And yes, we'll provide better service to the ones who are nice or think of them first when a whole row is free and they need to lie down and sleep during an 11hr flight.
Parents that don't watch their kids during the flight. The aircraft isn't childproof and there's a surprising amount of things they can injure themselves on.
Passengers who do aircraft yoga during the service. By all means, if lights are off and it's quiet go ahead, but if there's a buzz of activity near the galley then maybe wait a while.
Speaking of which, assuming the galley is free for all. Sometimes we don't get provided crew food for work and bring our own. If we're busy attending to a call bell and can't finish out snack or whatever... It's not for you to just grab and eat... At least ask first!
Complaining about how rough the flight was. I've had some cuss out the flight deck about their abilities because the aircraft hit wake turbulence... If you can magically see wake turbulence on a tiny monitor and think you can do a better job then join a flight academy, pay several thousand dollars for the training and certification and do it yourself..."
"I left Aviation in August (because of you-know-what) but that's just what I can recall from the top of my head..."
"If you'd love to really show appreciation for your flight crew, particularly when many are so close to redundancy, a complement really makes a difference. A 15 min email to the Service Delivery department of the airline you flew with praising the crew who went above or beyond on your flight can do wonders for their career progression. I do it for service staff all the time at restaurants and the hotels we stayed at, and having them remember you after months or years due to your comments is simply priceless."
*screams in sarcasm*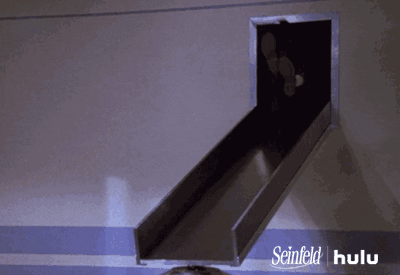 baggage claim kramer GIF by HULU
Giphy
"Did you know that the closer you stand to the baggage claim carousel, the faster your bag arrives? It's science. Look it up.
Warp speed for the ones that let their kids on the carousel!"
​You're going to want a buffer.
​"If you are booking a connecting flight and the connection times are 30min or 2 hours. Pick the 2 hour connection. I can't stand passengers who get all upset when they miss their connecting flight because they booked themselves a 30min connection."
"Your stressful travel day will be a little less stressful knowing you have a buffer. If you happen to land on time or even early, sit down at a restaurant, go for a walk, people watch, find your next flight's gate and watch a movie there, etc."
​Repeat after me: Keep your hands to yourself!
"Poking or grabbing at me to get my attention!! And it's usually on my @ss as it's eye level with most people haha. But for real DON'T poke people! Especially if I am speaking to another passenger."
"I can see you waving at me I'm not going to interrupt my assisting someone else because you want me to take your trash, just give me a second and I'll come to you next. I promise can hear you if you say 'excuse me!' Or 'Miss!' Or even wave a little in my direction. There's just no need to touch people or grab at them."
"Once I was so irritated at someone's incessant poking, I turned, looked them in the eye and poke poke poked them right back and said, 'what do you need.'"
"Slip me a twenty instead..."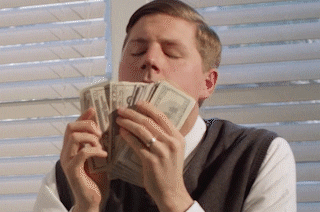 Turn Up Money GIF by Joel Byars
Giphy
"Stop expecting free alcohol because you handed me a three dollar bag of candy you bought in the airport. I'm a grown *ss man. You didn't make my day by giving me a Hershey's kiss. Slip me a twenty instead. I'll give you an open bar the rest of the flight."
"If you are nice I am happy to walk the extra mile for you."
​"Gosh where to start. I'd say one of the most irritating and annoying thing is when people ignore or fight our instructions concerning safety regulations. I do not enjoy telling you that you can't have your bag in an exit row, that you need to put your important laptop away for takeoff and landing and that you should stay seated when the seatbelt sign is on. And no it is not negotiable. No reason to get insulting or treat us like sh*t."
"Drunken behaviour. When you start getting aggressive for not getting anymore booze, we know it's the right call. It is neither fun for us or the people sitting in your vicinity. From harassment, cussing, aggressive behavior, throwing up, or loud terrible singing/howling on a long-haul night flight. Same for medications taken with alcohol."

"If you are nice I am happy to walk the extra mile for you. Having a free seat next to you, a drink I don't have in my cart atm, extra snacks, etc. But being an @ss for things I can't change won't help anyone. Yes, I do see you are flying with an infant and I would love to give you a whole seat row but the flight is fully booked."
"You have a certain allergy and can't eat any of the foods offered and have not ordered a special meal before flight? We have only the foods onboard which were loaded and I can't create or order any mid-flight."
"The bar carts are heavy and the airplane has basically always an incline angle. Please move out of the way and go use the restroom before we are blocking your way."
"Feet in the isles during night flights. The cabin lights are dimmed and i do understand your need for stretching your legs but it is a trip hazard for us. There have been colleagues which broke bones for tripping over feet and legs in the dark."
The list doesn't end there...
"Parents which let their kids do whatever they want. I almost had to cancel a takeoff once because a toddler was crawling in the isle just because mom said he won't sit still shortly before takeoff. Disregarding that on takeoff roll he could have gotten severely injured."
"And please bring everything you need for your kids. Diapers, food, milk. We have some items to help you out when you run out but not to supply everything for infants for the entire flight. And tray tables and seats are not changing tables. Gross. Please use the ones in the restrooms."
"And yes i cringe seeing ppl run around barefoot especially near/in restrooms. I sometimes can't understand what happened in there but its gross. And well I bet in almost every aircraft are restrooms where someone couldn't make it to it in time and vomitted right in front of it."

"You are a guest on board. A very valued guest. But please behave as such. You have passenger bins and your seat area. Don't open other cabinets or lockers. Don't help yourself to anything which isn't obviously on display for you. And if in doubt ask first."
"We had passengers eating the homemade lunch of a colleague in Tupperware. Someone took a bite from a piece of cheese which my colleague already had a bite from and placed it back, etc
"All that said I have had as well super amazing passengers. A lot of laughs, people who forgave me for drenching them with sprite or redwine, offering help to me in certain situations, etc."
"Flying since 2012"
"I am not your grandchild, I am your captain."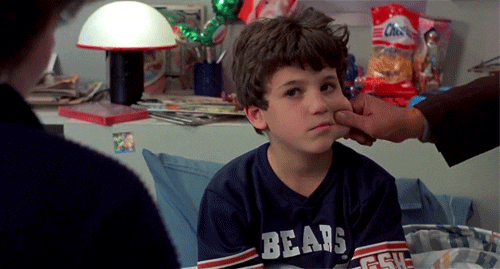 the princess bride cheek pinch GIF
Giphy
"After a flight I usually stand by the flight deck and say good bye to the passengers as they exit. I get a lot of people that ask how old I am. That doesn't really bother me (I'll probably be sad when it stops), but please don't touch me as you are saying it. Seriously, strangers trying to pinch cheeks and pat my head. Lady, I'm not your grandchild, I'm your captain."
General advice? Listen to and be respectful to your flight attendants...and seriously stay out of the bathroom unless you need it—don't be the couple that needs to be peeled out of the loo.
Want to "know" more? Never miss another big, odd, funny, or heartbreaking moment again. Sign up for the Knowable newsletter here.
Keep reading...
Show less
Fast food work allows you to come into close contact with a lot of people. Sometimes you see the secrets of the trade as you go. My first job was at a McDonald's more years ago than I'd like to think about. Our biggest secret was that the 15-minute timers for the hamburgers to be fresh were constantly reset.

Management put heavy pressure on us to reduce food waste and our supervisor would get peeved if we actually followed food safety and threw the old meat out. It's not all, but many locations that follow the same.

Redditor Yung_Mulann365 asked:
"Employees of Mcdonalds, what secrets did you discover while working there?"

The internet was full of weirdly relatable answers.
FOUR pounds of sugar!?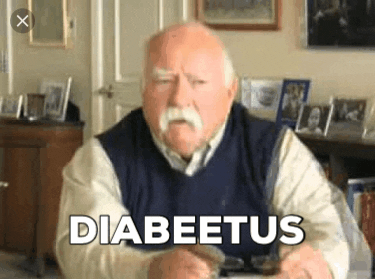 Animated GIF
Giphy
"Former employee here. I found out that, when making 5 gallons of sweet tea, an entire 4-pound bag of sugar goes in. Sandwiches with round egg use real, cracked eggs. Folded and scrambled come from packaged goods in the freezer or fridge."
"I also had a manager that insisted more people purchase Filet O Fish when it's raining out because they subconsciously associate the watery weather with fish. Anyway, he did some research by poring through sales of Filet O Fish for months and months and comparing it to weather data for each day."
"Turns out he found something like a 3% increase on rainy days and was very pleased with himself."
"Edit: Wow, I will answer some of your questions up here so people can see. The manager voiced his theory one day, and the crews all argued with him about it. This went on for a while."
"He was committed to proving us wrong, so he secretly pulled the sales numbers at work and did the rest on his own time, never breathing a word until he brought his printed report in to shut us all up. He did separate Fridays during Lent and compared those days to each other in anticipation of having holes poked in his research."
"We still did that anyway, of course. As pointless and imperfect as the research was, it was impressive to see his commitment to giving us the middle finger!"~ AmbivalentWaffle
Mmmm spicy...milkshakes?
​"Not really a secret? More of a story. One time someone replaced the chocolate syrup in the shake machine with barbecue sauce on accident because the bottles are similar. They're labelled differently but it still happened."
"We found out because a few people complained that the chocolate shakes were sour. We remade them for a couple people and they moved on but one lady just wouldn't let it go. My manager tasted the shake and was like wtf then looked and we saw the culprit."
"Had to clean the line after that so we didn't have chocolate shakes for a minute."~what-why-ok
"premature splatulation..."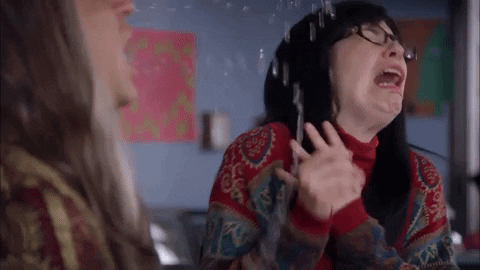 season 3 no GIF by Portlandia
Giphy
"Sauces for sandwiches have the craziest dispensers. Ketchup and mustard are in these really rudimentary plastic funnel things that have a paddle in the handle, when you squeeze it gravity pushes just the right amount of sauce through holes. Doesn't seem like it'd work well but it does if you apply the proper amount of jigglin."
"The Mac sauce, mayo, and tartar though, they're in basically caulk tubes that get loaded into basically caulk guns. You pull the trigger on the handle and a reeeeaally satisfying ratchety clanking delivers a powerfully saucy surprise for the awaiting buns."
"Problem is, it takes a bit of finesse because if you hit that trigger too hard you'll blow the bun and the wad of creme right through the condiment station and onto the wall 8 feet away. No joke, the first couple tarter splurts of a fresh tube came out so hot I'd fire a shot or two in the trash to avoid premature splatulation during the lunch rush."
"The first salvo, properly elevated and adjusted for wind, could clear the whole kitchen and take out the McInfantry on the cash register...If you're ever anywhere near a McDonald's when a sauce gun begins to fall, you have (doing math - https://www.omnicalculator.com/physics/free-fall?c=USD&v=g:32.17405!fps2!l,v_0:0!ftps,h:4!ft ) exactly 0.4986 seconds to make peace with your God before Tartarmageddon."~thomsomc
Ok, but who else has a mom that still does this?
"A couple of Mormon missionary guys came in one time and ordered their food, and also ordered French fries with NO SALT. So the fries had to be fried specially, with no salt. They told me it was their tactic to get HOT FRIES."~TakeMetoLallybrock
​"the parking lot is basically a meet-up..."
"Depending on which one you work at, the parking lot is basically a meet-up for druggies/drug dealers and (at least where I was in New Mexico) people to meet up and have sex in their cars. As long as they kept their business to the middle of the night and didn't cause any serious problems, we were told not to call the cops or make a fuss, mostly because they'd come in and buy food after their shenanigans."
"Soda and mini pies were really popular with addicts. What I later found out is that management was actually told to let it slide by corporate, since everyone higher up was aware of how much money the "night crowd" brought in. I got to see many, many drug deals. I'm convinced I saw at least one arms deal, but I of course have no way of verifying that."~Weird-Church-Noises
App hacks!
"There is a glitch with the McDonalds app. There is a 'deals' section and it usually has a coupon for a free cookie or free apple pie with any order. Add it to your order and you get the free cookie."
"Then, the next time you order from the app, just reorder your last meal (you can add/subtract whatever you want) but the free cookie will still be there. The glitch is that you can add another free cookie from the deals section, and now you have two free cookies."
"Evidently there is no cap to this. I now get 5 free cookies with each order. (I stopped at 5 because I felt that any more than that would be overkill)"~neilly777
But why do they turn bright pink if you use water that's too hot?
"Dehydrated onions, you put them in a metal thing and just add water. The thing is they still taste great! But I was shocked and happy that I didn't have to go cut onions."~HawkTheHawker
​"Mismanagement is suprisingly common..."
"All drinks come in as a syrup and are carbonated on the spot, hence why it can taste flat sometimes. There used to be a way to get a discount code for every second that the timer was running on a coupon, but they patched that in 2017."
"The ice cream machine at my place usually broke down because people mixed up the milkshake bags with blue caps and the ice cream bags with red caps while filling the machine. Mismanagement is suprisingly common and corporate doesn't give a single sh*t as long as there is sufficient profit coming in."~Wooshmeister55
Headsets have two buttons...
"My time wasn't bad. We kept it clean, and no one I know ever tampered with the food. But there was a lot of funny things that happened, so I have a lot of stories."
"Example: one day, we had 10 minutes to close. It was myself off at close, the grill closer, the service closer, and the manager. Grill closer had on a head set, as he was praying no one else came in as he was very low on a few things and didn't want to make more right before closing."
"This guy prided himself on having things done and being out the door within 10 minutes of closing (bosses loved him because other closers took up to an hour, and that meant paying them for up to an hour)."
"One thing to know: our headsets had two buttons."
"One talked to the other headset only, the other talked to the outside speaker. He had been playing a game where he was trying to make the service worker laugh while she was taking the orders. You probably see where this is going."
"So a driver pulls up to the speaker. He orders a 20 piece nugget. Closer is pissed, and pushed the "talk to other headset" button and goes "man, f*ck that stupid f*cking order. F*ck!"
"Except, of course, he hit the wrong button. Needless to say, someone got a free 20 piece, and another free meal in the future, and grill members were banned from wearing headsets for a while after that."~redpurplegreen22
Despite opinions, fast-food workers work hard and deal with a lot. Remember to show kindness to those working with the public.
Want to "know" more? Never miss another big, odd, funny, or heartbreaking moment again. Sign up for the Knowable newsletter here.
Keep reading...
Show less
Marriage takes WORK. If both parties aren't willing to put in the effort things get bad pretty fast. The fairytale lie we've been fed of happily ever after has made it difficult for people to grasp what real long-term relationships look like. News flash: it gets messy!
When Redditor CrisP_bacon asked the question "Long term (10+ years) married couples of reddit, Whats was the worst low you've had and why didnt you leave?" the online marriage veterans were glad to share their struggles, and their triumphs.
Relationships take work, dedication, and self reflection from both parties. Hope these couples continue staying safe and in love.
Want to "know" more? Never miss another big, odd, funny, or heartbreaking moment again. Sign up for the Knowable newsletter here.
Keep reading...
Show less
Have you ever watched an ad and thought "wow that's just what I need!"? I have. Show me any type of time-saver, miracle device and I'm ready to give up my money. Unfortunately, none of these uni-taskers hold up in our busy house. Miracle stain remover? Still stained. All in one stick vacuum? Works great except it plugs up at least twice per use requiring full disassembly. Magic skincare? Burned my cheeks red.
Thankfully, it's not just us with bad luck. When Redditor jab116 asked "What is the most overrated product you've purchased?" people were glad to share all the times they'd been duped by clever marketing.


A great rule of thumb—if it sounds too good to be true it probably is.
Want to "know" more? Never miss another big, odd, funny, or heartbreaking moment again. Sign up for the Knowable newsletter here.

Keep reading...
Show less