Too many times I've sat in a job interview and knew in my gut I should be running for the door.
I'm not alone in this experience.
I didn't take all of those jobs, but I took more than I should've.
I never give my gut and the red flags enough credit.
That's why I work from home now with two dogs.
And even that isn't drama-free.
Redditor pbourree wanted to hear about the times they had an eerie feeling about the place they were thinking about working at.
"What are subtle red flags at a job interview that say 'working here would suck?'"
I once went on an interview that turned into a therapy/meditation session.
Generous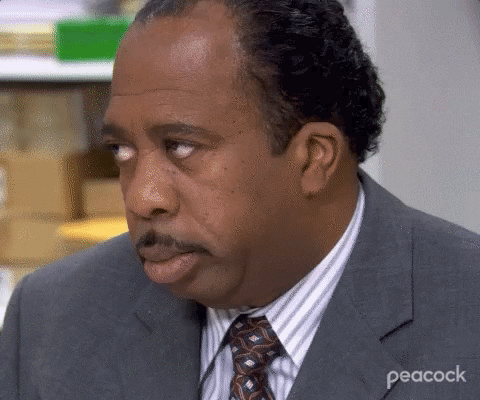 Bored Season 3 GIF by The Office
Giphy
"They told me all about their generous severance packages. In the initial interview. Turnover city."
takatori
sparks in their eyes...
"I always ask about training and learning curves. Every job I've had that went wrong- I notice that when that question came up they stumbled. The current job I have, when I asked the question they had sparks in their eyes as they explained the whole process from day 1 of shadowing to the transition to working solo. And even when Covid hit they managed to continue without skipping a beat."
ikogut
"leaving early"
"'Well, the overtime isn't mandatory, but most folks stick around after hours most days.'"
"Spoilers: The overtime is mandatory."
IM_OK_AMA
"The most terrifying thing is that in any places, the managers won't even need to encourage/threaten you to work overtime. Your coworkers will shame you for 'leaving early' if you leave right when your working time is over."
szofter
"'Overtime isn't mandatory. By the way, remember your performance review is coming up.'"
CJcatlactus
Broken
"Was interviewed by a Senior programmer and the department head. The department head was continuously making condescending remarks towards the other interviewer. Poor guy just sounded broken. Hope he's somewhere else now."
khanman504
"Years ago I was told by a manager that he needed some help with a technical interview. This manager was not especially skilled, so I ended up conducting the interview. When it was the time for goodbye the candidate offered me his business card and the manager commented in front of him with 'funny how he's given his business card to you, when you are basically irrelevant.' I could see the guy cringing so hard at that point and he was obviously right."
not-much
YES PEOPLE!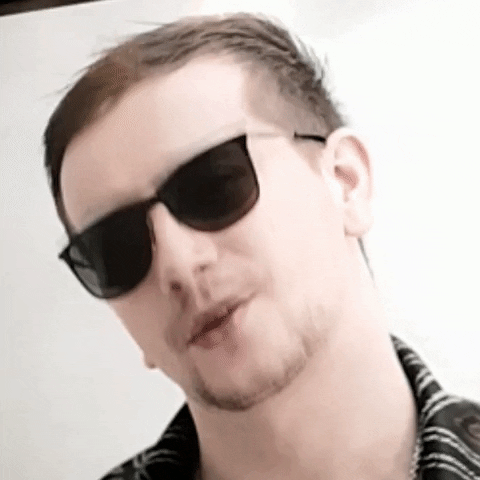 Yes Man Nod GIF by DEEPSYSTEM
Giphy
"Besides always hiring, they seem almost overly eager to say, 'Yes, we could do that!' to everything you ask. No job will have literally everything you want, and if your gut is telling you they seem to be promising a bit more than they can offer, they likely are."
Doobledorf
All I can say is "Been there/done that!" I've been on all of these interviews.
Lucky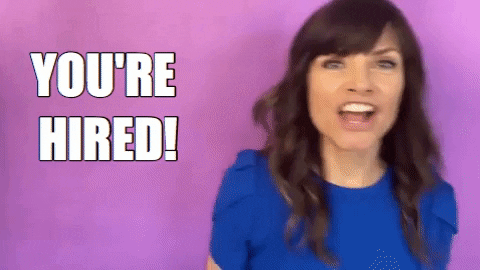 Giphy
"My favorite is 'there's a lot of people waiting in line to work here, count yourself lucky. Huge red flag."
REDDIT
The Final Capper
"I had an interview once, the owner of the company told me he was going to hire me, let the man in the office train me, then fire that man once I was up to speed. He also told me that sometimes employees have to hold their paycheck. And the final capper, (not that I needed it, I had already decided not to work for him) was he told me I looked like his nephew. I am female."
WildeAquarius
For Free
"Once an interviewer straight up asked me if I had any trouble working for free on weekends... I told them my free time is more valuable than anything and that the only way that I would work a weekend is if they are paying me and if I felt like working a weekend. She got really mad at me and ended the interview right away. Biggest red flag I've ever seen because they didn't even try to hide it."
lempiraholio
What we Expect!
"We cater lunch and dinner for our whole team! Sounds like a positive, but what it means is, 'We expect you to be working past dinnertime hours, and there will be a lot of social pressure to never leave, and to socialize with the team well past working hours. We don't understand that anyone might want a life outside of work.'"
Less of a problem now, hopefully, but in the tech bro heyday, this was super common."
helava
Drama Free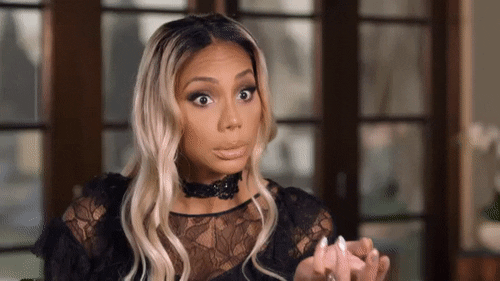 Braxton Family Values Drama GIF by WE tv
Giphy
"At my current job, after my interview the manager said 'just don't get involved in the staff drama and you'll be fine.' It has not been fine."
Pellt
Go with your gut. You always know at hello.
We all need a paycheck but we don't need that much drama to go with it.
Do you have similar red flags to share? Let us know in the comments below.
Keep reading...
Show less
Everyone has wild stories from their workplace.
But the stories that tend to instantly grab people's attention are those about instances which led people to quit.
Be it low pay, unsafe working conditions, or abusive bosses or managers, hearing what finally led someone to leave a job is always fascinating.
But how about moments where not one person, but multiple people, if not the entire staff, all banded together and left?
Far-fetched as it may seem, there have indeed been occasions where an entire workforce was so over their conditions, that they all gave their notice in unison.
Redditor RealSlicy was curious to hear some of these stories, resulting in their taking to Reddit to ask:
"What happened at work that made everyone quit at once?"
Unsafe conditions
"I worked at a bread manufacturing plant."
"This happened in the bagging area."
"A worker tripped and somehow the way he landed his hand slipped underneath the machine guard and into a chain."
"Cut off his arm just below the elbow."
"The supervisor insisted we just wipe off the machine with a towel and continue running the rest of the already baked product."
"Twelve out of sixteen including myself quit."
"I found out later the manager fired that supervisor that day."- Bignona
Horrible Bosses

"Three of us, the engineers, quit the same week and without any discussion between ourselves."
"Man in charge was an insufferable, insulting tw*t."
"This led to the head office losing faith and the whole subsidiary being sold off."- PicardTangoAlpha
"I worked at a dispensary for a few months, the owner was a really bitter older lady in her 60s."
"The owner was extremely sexist and hated all of the male employees, that included me."
"She would constantly dog on me and all of my male coworkers."
"We had to wear aprons, I had to keep my hair in pony tail, and she would constantly call us dirty bums and losers, etc."
"When she would get in fights with her husband or just have a bad day she would come in the shop and start yelling at everyone."
" I was the manager and after I quit she lost it completely, and tried to not pay anyone."
"Everyone quit that day and her business went under, best feeling I've ever had."- Sl33PYH3AD_
Placing Blame on the Wrong People
"Company did a survey of employee happiness."
"It had super limited answers."
"We filled it out and tried to explain that, internally, our team was doing well and we were happy but just about everyone had problems with two other employees outside the team who were bullies in important positions."
"The company asked us instead what 'we' could do better so the bullies don't bully."
"Over half the team quit within a month which is unheard of at that company and our team was/is a corner stone of the entire business."- Butterbubblebutt
Bribery
"Manager kept pitching Amway to us on breaks and then cut hours of those that didn't sign up under him."
"We worked in retail at the mall."- rayrayrayray
Total lack of sympathy

"Worked in a call centre offering free public transport brochures to people living in a city."
"The place was poorly managed, it was contracted out by the local government and only cared about numbers."
"Early during one shift a spate of bombings on public transport killed a load of people around the city."
"After a few calls of getting abuse from people aghast we were trying to get their details to send them bus/train timetables etc, we collectively stopped making calls."
"We assumed management would pause the project for that week at least, maybe longer, out of respect for what had happened.
"Our manager put her foot down and told us we must continue calling that morning, and as we were only on temporary contracts anyone who refused may face being replaced, then she stormed off."
"The entire team quit on the spot, we just got up and left without speaking to her again."
"We called up the work agency to let them know and they did not blame us."
"We were all replaced but the local government office heard what had happened and pulled the plug on the contract with that call centre within a month."- Husper
No or late payment.

"Not my work, but close friends."
"Restaurant owner wasn't paying his staff and checks kept bouncing."
"So one night, they all said 'f*ck this', closed up shop together and left."
"Owner got ran out of town after Social Media and reg media took over."
"He closed down both of his places, the second also had a staff walk out the week prior to the first and sold the buildings."
Since people keep asking, this was in MD."
"And the 'second place' was his second restaurant, Indian place, that had kitchen staff walk out a week prior, but the walk out didn't close the restaurant."
"He closed it and sold it after his first restaurant was shuttered."
"Good riddance." - Reddit
Other priorities
"One of my first jobs was as a dishwasher at a local steakhouse which was always really busy as it overlooked the waterfalls of the the local river."
"My 3rd or 4th day working the whole kitchen staff just didn't show up."
"Except for me."
"Boss grabbed me and taught me how to cook as we went."
"Not only had I never cooked before, this was a Friday night and I was missing a concert, so I was kind of angry about that."
"Probably not the culinary experience some of the customers expected that night, but I tried my best."
"Then, after we closed I had to stick around for another 4 hours to wash dishes.'
"Turns out everybody went to the concert."
"This was almost 40 years ago.'
"Still mad."- MadonnaBinLaden
Wrongful Demotion
"I had a manager at a thrift store that I won't name."
"She was the type of woman that genuinely cared about her employees."
"She gave us a break if we were having a rough time, or if it was serious she sent us home, and she NEVER questioned if you needed to call out."
"Even if you just said you were having a depressive episode it was ALWAYS 'I understand I'll try to find someone to cover, and if not one person down won't end the world'."
"Anyways this thrift store sent their higher ups in from corporate one day and I guess they didn't like how the store was being run."
"We genuinely always got our work done as a store, we just lived in a crummy area and the customers would wreck the store a lot."
"Anyways they ended up demoting the manager and putting in this brown nose woman who was the type to write you up when you were 2 minutes late from your break."
"About 35 people worked at that location and I'm not joking about 20 quit in the span of 3-5 days."
"They had to consider closing the location because they were so short staffed."- PriorAgreeable8103
Fed Up With Beurocracy
"Late 90s Pizza Hut."
"The manager got fired for putting too much topping on pizzas."
"Corporate had just adopted this ultra-strict regime of making the cooks weigh every topping on every pizza, which took forever and slowed everyone down during busy times."
"He didn't enforce the rules and so they canned him."
"Most of the cooks quit with him in solidarity."
"He was a cool guy who got me my job there."- ToBlayyyve·
Willful Ignorance
"Vaccine mandates was the straw that broke the camels back, but just mask mandates caused a 1/3 to bounce."- basically_anyone
Selling Out

"We got sold to franchise owners."
"They had no respect for what they were doing."
"Wanted us to sell moldy food."
"When one of us put in their notice, the owners literally called her and said 'you need to turn in your keys tonight'."
"It would be a shame if something happened to the store."
"UMM, WHAT?"
"After about two months, all of us had either gone back to a corporate store or left the company altogether."- ugfuglio69420
Another Casualty Of The Pandemic
"Covid, new managers, short staff."- Wesmom2021
Knew Their Self-Worth

"This is my brother's story."
"Several years ago he worked as a team lead for a company that was toxic AF."
"Overworked the staff and cut corners on the products."
"Not long after he started there he was already job hunting but not finding anything so he was sticking it out."
"One day they reduced the department by 2/3."
"My brother and the ones kept on staff watched their former coworkers clean out their desks smiling because they were out of hell, with severance."
"Those left behind were going to be stuck with about four peoples' worth of work to each team member."
"My brother typed up a resignation letter to hand in at the next instance of abuse."
"He didn't have to wait long."
"The next day the manager and VP called him into a meeting and cussed him out and yelled at him for not being a true leader and told him he better get his worthless team in line."
"Did this in earshot of said team btw."
"'You're absolutely right', my brother said. 'I'm going to be the leader my team needs starting now'."
"He pulled his resignation out of his back pocket, threw it on the table, and walked out."
"His remaining teammates all got up and walked out with him and left the manager and VP with no engineers at all in the company."
"As you can imagine the company didn't last long after that."- AgentCarmichael20
Sometimes, when at a loss of how to handle things, the best thing to do is just get up and leave.
Though, one does hope those that chose to skip work for a concert weren't planning on going back to work the next day.
Keep reading...
Show less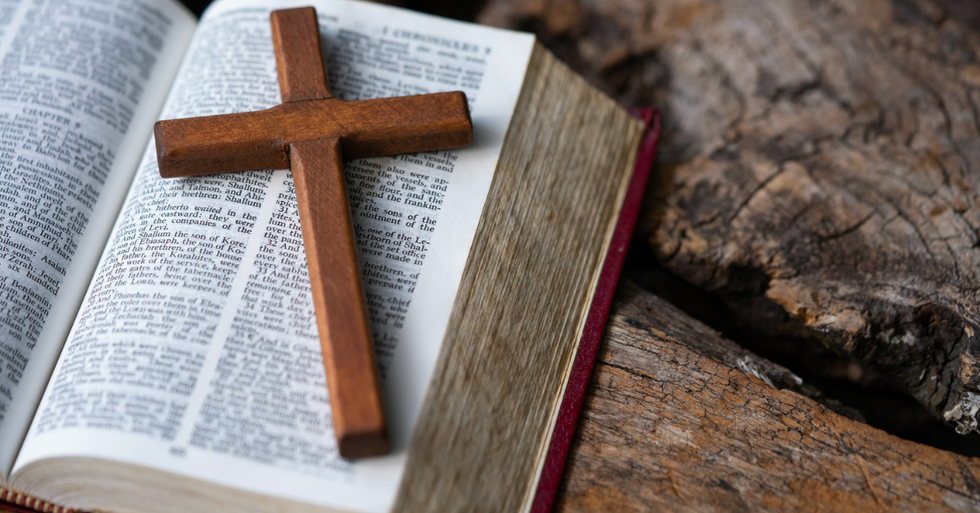 Guessing at someone's intention is almost always a disastrous choice. It can be so difficult to ascertain what the other person meant by the words they said or the tone that they used. However, when the words do get under your skin or the inflection of their voice hits a nerve, how do you handle […]
More
There is a fine line between doing your job and being asked to an accomplice.
I can't tell you how many times I've looked at a supervisor and thought... "Who did you sleep with for this job?"
Some bosses have no boundaries.
And what may sound like a simple favor or just part of your job description is actually nonsense.
Nonsense they gaslight you into doing.
I know we all have stories...
Redditor thekutsi wanted to hear about all the workplace lunacy a higher up has caused. They asked:
"What's the craziest thing your boss asked you to do?"
I wish some bosses could hear themselves when they speak. They'd be shocked.
Dumped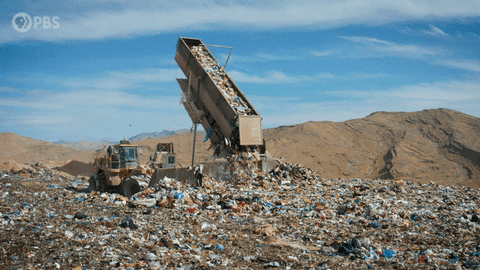 I Am Trash GIF by PBS Digital Studios
Giphy
"My old shop owner used to have us techs pour coolant down the toilet instead of disposing of it properly. After enough of us raised a fuss he started dumping it in the street himself."
Led_Halen
The Bell
"I used to work at Taco Bell and on the receipt there was a little online survey at the bottom. My manager told me to go through the trashes to find receipts that people had thrown out so that we could fill them out ourselves so our store would get a better rating. I was a stupid 17 year old so of course I did it. We used to give ourselves perfect reviews all the time actually."
ha1fway_decent
On Fire
"Used to deliver pizza for Domino's on an e-bike. The e-bikes we used had a bunch of wiring underneath the saddles. One day the wiring caught on fire while I was delivering an order, so the fire started burning underneath my bum (also obviously the batteries stopped working so it became very tough to ride the e-bike)."
"Asked the shift manager of that evening if I could get another e-bike to use for the rest of the evening. He told me 'as long as you're not on fire yourself you're using this e-bike.' Quit my job shortly after that."
NOOWOFFICIAL
Labor and Delivery
"At the beginning of Covid, most of our pregnant patients were staying at home and not coming to the hospital for minor things such as mild abd pain, UTI, STD checks, etc as they had before because they were scared to come to a hospital. Our census obviously dropped."
"To try to get the census back up, our managers told us that if a patient called asking whether they should come to the hospital or not, we were supposed to just tell them to come no matter what their complaint was, even if it was something that they absolutely did not need to come in for."
"I refused to do this so I'd just transfer any calls to my charge nurse and let them deal with it. Let's bring an already immunocompromised pregnant patient to the hospital in the very beginning of an unpredictable pandemic for something they don't really need to come in for, sure. Smh."
okitay
Minted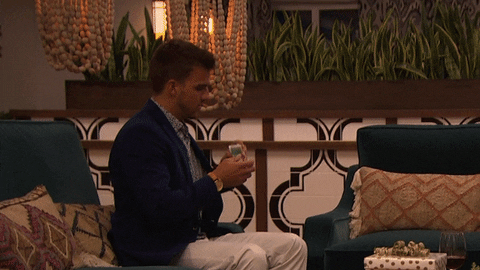 Eating Fast Tic Tac GIF by The Bachelorette
Giphy
"I had a boss at a fine dining restaurant that would check to see if all his staff had breath mints and then he would make us buy them and if we didn't, it would be deducted out of our paycheck."
Relative_Elderberry1
Hospitality bosses can be meglomaniacs. They are obsessed, it's unhealthy.
Not an ATM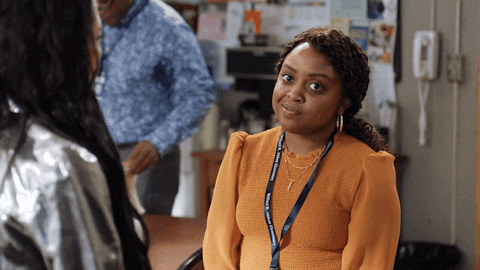 Okaay What GIF by ABC Network
Giphy
"Worked at a convenience store and my boss actually asked me if he could borrow $1000 to pay for part of the beer delivery because they wouldn't have enough. Quit not long after that."
baconpoutine89
Mighty Winds
"Used to deliver for Papa John's. One night the weather was cuh-razy, tornado warning and constant lightning/winds. They kept taking orders. The winds were so bad they kept pushing my car out of my lane. One driver was so close to a lightning strike that he was visibly shaken and disoriented when he somehow made it back. They let him sit and recuperate in the manager's office for awhile, but we still had to deliver orders."
No_Extension108
No Thanks...
"I was called to cover for a temp who quit on the spot off hours. I responded that I already was 2 whiskeys in and didn't want to get into my car to drive to the site. He responded that since I was coherent enough to have a conversation with him I was ok to make the 30 minute drive to the office. I told him I wasn't about to risk a DUI for him and hung up."
User Deleted
Hell No
"A long time ago I worked at a grocery store. They decided to no longer get the cleaners that came in with special gear to clean out the compactor, presumably to make extra money. The compactor began to stink to high heaven. I'm talking rotten meat, produce etc. So they asked me to climb inside and clean it. I laughed at them and said no."
"I told all my co-workers to say no. One did not listen and went in and cleaned it, he had to go home because he stunk so bad and reeked for days afterwards. There is a reason a specialist comes in to clean it, wears a Hazmat suit and has the machine disconnected with another person standing there making sure no one turns it on."
MorkSal
you'll figure it out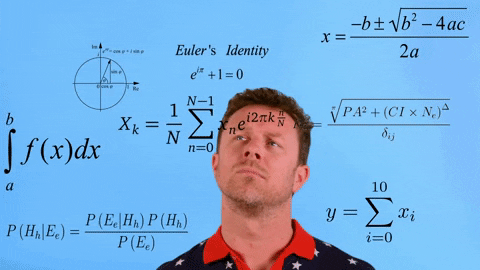 Looking Let Me Think GIF by TipsyElves.com
Giphy
"Run a nursing home laundry room with no experience and no training. I didn't even know how the machines worked. Industrial laundry machines are not like your home washing machine. The extent of my training was having an under qualified supervisor telling me 'you'll figure it out.'"
rosesforthemonsters
"clean up"
"Worked at a sh**ty college town pizza place that paid me $5/H plus tips under the table. It would get insanely busy on days when there were football games and boss required all hands on deck. 12+ hour days were not uncommon when there was a game."
"I got to the store at 10am (2 hours before opening) and worked until 3am the following day. By the time 2am rolls around and the crowds finally die down and we start closing shop and cleaning up, my boss pulls back the entire front counter (which was on wheels) to reveal dozens of little roaches scattering everywhere."
"He gave me a broom and told me to 'clean up' the roaches. I waited for him to go out back to smoke his cigarette, I took everything from the tip jar, and left. Never went back."
ArtFreek
Shark Bait
"My boss had me put together a remote control inflatable shark in a closet in secret. I work in a sales office with a pretty fun culture (well now I'm mostly remote and it's actually a lot less fun ). I have no idea where they sound this shark but he had me put it together in the marketing departments closet to surprise everyone."
"It actually was very hard to get together so the most ridiculous part was the amount of actual work I was missing. And had to grab my boss for a 2nd set of eyes like 3 or 4 times."
imlittleeric
Little Floofs...
"Ex boss. He asked me to kill a litter of kittens by throwing them over an embankment. I was driving the front end loader over to a pile of bark chips that we had covered up for quite some time. I pulled back the plastic cover and see a fuzzy grey pile. It turned out to be a fresh litter of kittens (eyes haven't even opened)."
"I phoned it in to my boss and he said that there was no time to help them, and to just toss them over the embankment because we had customers waiting. I scoffed, hung up the phone and immediately called my girlfriend to come pick up the little floofs to take them to the local shelter."
"He's an ex boss for a reason. Honestly I was not surprised that he asked me to do that. The dude was a complete f**king prick. He's confided so much nasty crap to me that I could write a book. I found a picture of the little ones that I took before they were rescued."
PopGunner
'on call'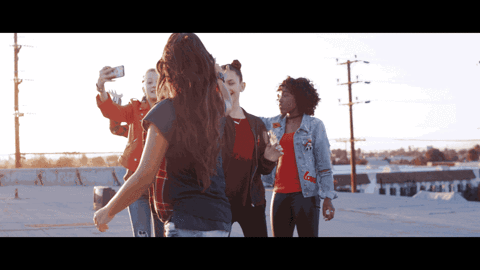 dance girls GIF by L2M
Giphy
"Would we like to go 'on call' (for free) if the one person scheduled for the Saturday shift needs help or calls in sick. A weekend away for a team building exercise paid for by ourselves, including travel, accommodation, food & expenses. In our own time. No thank you."
markste4321
4 big jugs...
"My boss at a grocery/retail store told me to pour 4 big jugs of this industrial glass cleaner down the sink drain in one of two public washrooms, they've been in the back so many years one chewed through the plastic and melted all the paint off the shelf, honestly don't know how I didn't damage my vision with the chemicals in the air, long story short I ended up with a few chemical burns on my arms and hands with not as little as an apology."
IMakeBrew
Keep it Running...
"Worked at Disney World at Space Mountain for 4 months on an internship. Long story short one day we found a LOT of human crap in the waiting line. After we made the appropriate calls to have it cleaned up the supervisor that was there told me not to stop the line and keep the ride running."
"After the supervisor left I immediately called the front of the line and told them to stop letting people in. Same supervisor also told me I 'should have kept the ride running' one day after I hit the e-stop in the unload area because I heard what only could be described as a tank of CO2 breaking open any time I sent a cart through."
Spoonerx2
"ghost"
"To jump into a cardboard compactor to un-jam it."
LoganEpp
"I had a manager who used make fun of me because I emphatically said no to doing this exact thing. Absolutely the f**k I will not. They went on about safe guards and how i wouldn't get hurt, or I was afraid of the 'ghost' in the compactor. No, but malfunctions do happen, all the goddamn time. No. I won't do it."
Overnights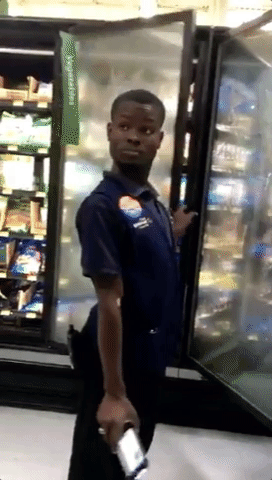 come again over it GIF
Giphy
"I stock overnight at Walmart. The average speed 1 pallet of goods takes to stock is roughly an hour and a half for the dairy section when you work on it by yourself. My boss asked for it to be done in 20 minutes."
XarumeR
Disgusting...
"I worked at an independent retailer. The owner pocketed a lot of money and never wanted to spend anything. We had a massive rat infestation. Instead of getting help my boss had me create a position just for wiping rat pee and crap off of beer six backs before being put out."
BusConfident1756
Mascots
"Dress up in an animal mascot costume and snowboard down a slope because the usual guy had got messed up drunk the night before and they were worried he was going to vomit inside the costume again. I'd never been on a snowboard in my life."
FormalMango
I hate bosses. Except the ones here on this website.
Want to "know" more?
Sign up for the Knowable newsletter here.
Never miss another big, odd, funny or heartbreaking moment again.

Keep reading...
Show less
The workplace is a hotbed for scandal and drama.
I think it's a big part of what people missed about the office most during the pandemic.
All of that hot drama unfolding.
And it doesn't even have to be on a grand scale.
So let's dive into some details to gag for.
Redditor ThatYoungsterSlt wanted to drink all the tea about workplace craziness, they asked:
"What is the small scale work drama happening in your office right now?"
We are here for it all. No detail or issue is too small. Speak up y'all...
Thief
"Someone's been eating people's sandwiches at work. They only get the sandwiches too. I'm legit invested in this because i wanna know.... why just the sandwiches?"
crispylilchickenwang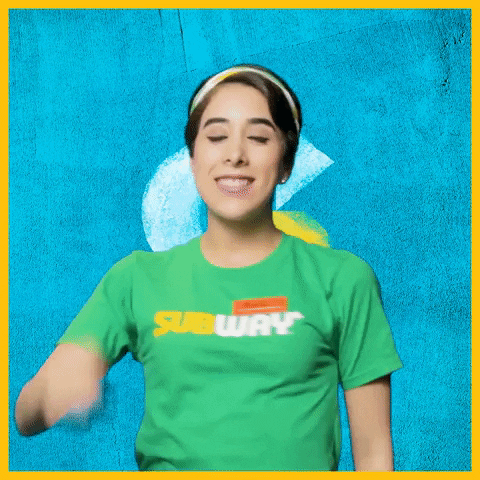 sandwich maria GIF by SubwayMX
Giphy
Bedlam
"I guess this isn't small scale but fits the drama side; We've just received our pay increase and bonus figures for the year except HR sent a number of letters to the wrong people. Some of whom work together, doing the same job, but with different rates of pay and bonuses. Bedlam."
No_Sugar8791
Takeover
"My coworker was texting my old number thinking it was me asking if I could cover a shift. The person who took over my old number replied to her saying 'gargle on my b**ls' or something like that. I almost got fired for it."
liquid4618
"My sister was in a study group in school, and a guy from the group texted her to tell her when they were meeting up. He texted a wrong number, and the person replied 'won't be able to make it, I have explosive diarrhea.'"
introvertissue
And Spoons?
"There are not enough forks in the staffroom. Some people are getting quite upset."
robohyeah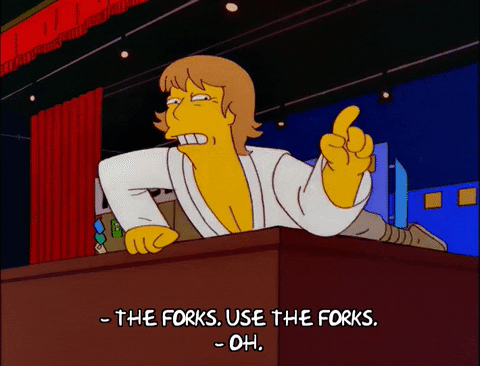 mark hamill forks GIF
Giphy
I'm living for it all. I work from home so my greatest dramas are with my dogs. Tell me more...
You or Me
"Minor downsizing means the two of us on temp contracts will have to reapply for a single post at the end of the year, so one of us stays and one of us goes."
MerylSquirrel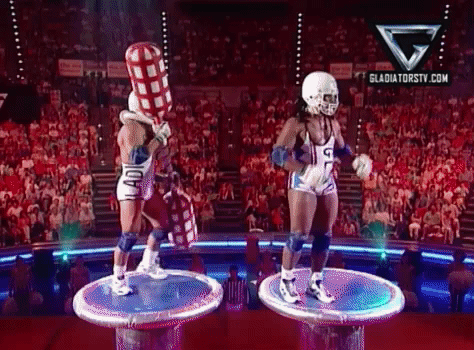 bad guys wolf GIF
Giphy
Sneaky, sneaky...
"Tom and Marie think they're being sneaky with their liaisons. They are not."
nsap200
"We had a Tom and Marie in the office. Everyone knew they were banging but they thought they were being slick and sly. Lead to his divorce and now they spend half the day at each other's desks."
TheBeardedSingleMalt
Drama & Tea
"Someone was pulled in to HR today about keeping their personal life away from work due to lots of recent over-sharing. The air was thick with tension as this person remained silent for the rest of the day. Absolutely everything. All of the dirt for the years leading up to their divorce that was finalized last summer, everything from current sex life to (unsolicited) announcement of her reproductive status. Constant discussion of private conversations with her kids and what's going on with them (teens asking about sex etc)."
"Not only will she share these conversations with other adults but also has been heard having these conversations with the young teen kids who help us out around our shop as part time workers. The moment you drop a cordial 'Hi, how are you?' You get days worth of drama and tea. I've stopped talking with her other than work related conversations."
M0ck_duck
Miserable
"One of my coworkers came in 3 minutes late Monday of last week and my other coworker has been pissy at her since."
FairieButt
"Oh God, I once got called in to a meeting with the boss since she'd had a complaint that I'd left at 4.59pm the day before, instead of 5pm. The fact that I came in 30-60mins early every single day was never even taken into consideration. Quit that job, it was miserable anyway."
ishouldcoco1
The List
"The old manager wrote a list of pros and cons for each employee for the new manager. She left it out where it could easily be read. There are 3-5 cons for each person and 1-2 pros. She hasn't left yet. Everyone now hates her."
Pantsyo_dog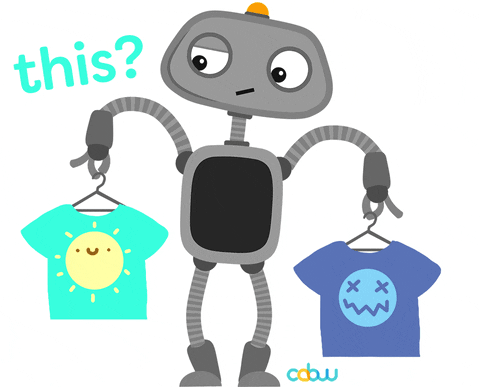 fashion choose GIF
Giphy
FB Issues
"A guy was made redundant at work over a year ago and he still laugh reacts to every post the company makes on Facebook."
Queen_Of_Cat_Island
"Before I came to my current company, there was apparently a HUGE dustup involving the head of the company and his right hand lady. They still come in and comment on Facebook posts (they've both been gone over two years) with salty comments."
nomadicfangirl
We found out they could!
"I teach. Our team (teachers of the same grade level) is going to send home colored paper note sheets for parents to write encouraging comments to their students for state testing coming up. We want it to be a surprise for the students. We decided to try to see if the office could give us half size manilla envelopes to use. We found out they could! (Very exciting as a teacher to get office supplies)!"
"The secretary went into the locked closet to get us some envelopes. Another grade level team found out that we got envelopes from the office. Now THEY want envelopes because it's not 'fair' that we got envelopes and they didn't. That's the drama. Plus, one teacher that basically hates kids and her job and maybe everyone else will finally retire next year (but we all were hoping it would happen sooner)."
eastcoastme
Damn it Dora!
"We have a shared spreadsheet, someone keeps changing the filters, but no one will own up to it!"
MarioCarter
"Okay I can relate to this. People kept messing with my numbers in my sheet and while I asked for mine to be locked I got denied 'in case you're not around.' In the same breath I was told I need to have accurate numbers. It's not my fault Dora keeps touching my stuff!"
NOT PLEASED
"They're installing new furniture and people are NOT PLEASED about the new floor/seating plan."
ConanApproves
"I have personally been in charge or ordering furniture for an office of four individuals. I went in all bright eyed and bushy tailed with my clipboard to have talk about what they wanted. It was one of the most painful experiences of my life."
bloodymongrel
The Fall
"Our operations manager fell through the ceiling of the conference room. He wasn't invited to the meeting and wanted to listen in."
Charming-Wallaby-602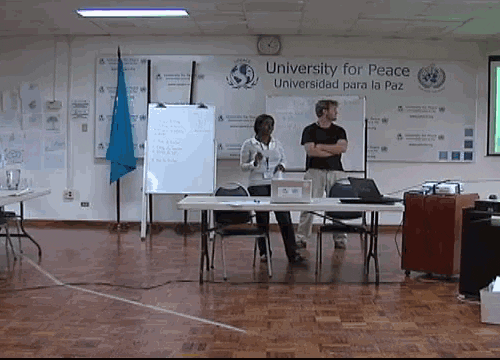 cat falls GIF
Giphy
Inked Out
"So last October our printer ran out of ink. More had already been ordered but with covid running rampant at the time the shipment was super delayed. One of my coworkers got really shitty over the fact that she couldn't print the reports in the department and instead had to go upstairs to print them. She claimed that since I was the supervisor (I'm not) that I should've be the one to go up and print them despite the fact that it was 4am and my shift doesn't start until 7am. She still isn't talking to me."
FrostedFishbone
My two-cents...
"We have a jigsaw puzzle on one of the spare desks to give people the opportunity to sit down for 5 minutes and de-stress. However, there's a piece of this puzzle missing and everyone is pointing fingers at each other and trying to work out who has stolen/hidden the piece. My two-cents is that it's just a missing piece, but it's fun to sit and watch the madness unfold."
REDDIT
Naughty
"My boss has been sleeping with a married sergeant and a new boy fresh out of the academy. Neither know about the other. She just found out she's pregnant."
haroyne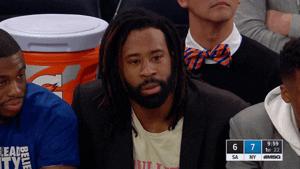 New York Reaction GIF by NBA
Giphy
We See You!
"We have a serial toilet clogger. Some bitch uses a half a roll of toilet paper to wipe her ass and clogs the damn toilet at least twice a week. It's gotten so bad that the poor maintenance man had signs made up that say 'Please flush after 2 wipes.' Apparently, she can't read, because it keeps happening."
april_minx2001
We need some "to be continued..." for a few of these. I love tea.
Want to "know" more?
Sign up for the Knowable newsletter here.
Never miss another big, odd, funny or heartbreaking moment again.

Keep reading...
Show less