The only thing that is possibly more difficult than losing a loved one is being with them in their final days.
Or worse yet, their final moments.
When it's no longer a question of if but when.
No matter their age, or cause of death, when people know that the end is near, they will become reflective of their life and all they've accomplished.
And sadly, all the things they wish they'd done... or hadn't done.
The things they never got a chance to do or wished they'd never said.
Something that health care workers and home aids find themselves equally moved by as the family sitting vigil.
Redditor delete_my_comment was curious to hear the most heartbreaking confessions hospital and healthcare workers heard from their dying patients, leading them to ask:

"Hospital workers, what regrets do you hear from dying patients?"
Some People Are Just Ready To Go.
"Some people just want you to let them go."
"I had a man with terminal cancer break down crying after his daughters left the room because they wanted him to 'keep fighting' and he just wanted to rest and pass peacefully."
"Learn when to let go."- SheWolf04
When You're Truly Alone
"He was one of my first patients as a nursing student, named Frank."
"He was 92."
"After knowing him a few days, he disclosed to me his regret was outliving everyone he loved."
"That he and his wife hadn't had kids, and he was 'all that was left' and that he wanted to see his wife again."
"I wasn't sure how to respond , so I just listened."
"It made me realize how living so long isn't great if everyone you love is gone."
'He passed away later that week, and while I distinctly recall some of my classmates being upset, I felt relief for him."
"I knew he was where he wanted to be."
"I've had many patients since, but you tend to remember your first ones."
"Other than that, ditto what everyone's saying, more time with family/loved ones, wish they wasted less time with work or other bullsh*t, etc."- Reiiran
Regret Comes In Many Forms

"I'm a hospice social worker, so I have the honor of getting to listen to peoples' life stories, including favorite memories and regrets."
"Most regrets center around what they didn't get to do, like never traveling to Italy when their family was originally from Naples."
"Some regret not getting specific education, wanting to go to college but never doing it."
"Some regret their choice in partner, especially when alcohol/drug abuse was involved, or cheating."
"Many express a sadness that looks a lot like regret if they are estranged from family."
"And some have anticipatory grief from knowing they will miss a milestone, like the birth of a grandchild."
"Some regret not taking better care of their health, people with COPD who regret ever having a cigarette."
"In general life is long and time smooths some of the rough edges, so people tend to focus on the good."- Notacoldnight
Everlasting Love

"I worked in long term care for 12 years."
"I remember a married couple that shared a room."
"She had cancer and kidney failure."
"I was helping her eat lunch one day with her husband sitting there with us."
"She looked like death but her husband looked at her then at me and said have you ever seen a more beautiful woman?"
"I had to leave and go to the bathroom and cry."
"I cried for days every time I thought of what he said."
"I thought I would never know what it was like to be loved like that."
"I had been divorced for years."
"I couldn't even tell the story without tearing up."
"Footnote, I was divorced 23 years when I met Rod."
"Been together for 11 years."
"I know that love now. It's never too late."- Moonpixy
Past Decisions Come Back To Haunt You
"He wished he had been a better father to his daughter."
"He wished they had reconnected."
"His dementia prevented him from remembering they had reconnected years before and that she visited often."
"I wish I could have made him aware that he had accomplished his last wish."
"But he died not really understanding that."- shesagdb
The Life He Never Got To Live
"I worked as an oncology nurse right out of nursing school."
"I was barely 21 years old."
"Had a patient about my age who was dying of lung cancer."
"A few hours before he died I sat with him and he was telling me how much he wished that he would have had more time-to maybe fall in love, marry, have kids."
"He was so young."
"He asked me to call his parents and he died shortly after they arrived."
"It was awful."
"His regrets were more about the life not lived."
"Many older patients had some interesting life stories and most wanted to tell them before they died."
"Most were at peace with the life they lived."
"Many regretted working so much and not spending enough time with family."- MagiBee218
Life is precious and short.
Chances are, none of us will accomplish everything we hope to in life.
So the best we can do is live to the fullest, and enjoy each waking moment.
And never take for granted the people we love and who love us.
Keep reading...
Show less
Ever wonder how often people have dropped their personal items through the gap between the elevator and the floor?
Ever wonder the kind of items that could be strewn at the bottom of an elevator shaft?

Wonder no more!
Elevator technicians share with us the things they've seen. Some of the things that forever became detached from their owners are unique, others are of the usual suspects, and others are just plain bonkers.

These are the things that were found when Redditor diegomkt asked:

"Elevator-maintenance folks, what is the weirdest thing you have found at the bottom of the elevator chamber?"
These are the shocking items.
Not Yolking
"Worked at a hotel. Guest dropped their phone down the shaft. After a few failed retrieval efforts, we called the elevator guys. They went down got the phone and also found a carton of eggs. Rotten, but not cracked. I don't even understand how that could happen accidentally."
– Hocktober

More Egg
"Did home repair to help put myself through college. Get a call that there's a non-waste water leak in an apartment in a second floor bathroom from a landlord, so me and my coworker go over. The water line on the toilet has a leak, enough has come out that we need to remove some of the ceiling in the living room to replace it. So we cut out a 4' x 4' area that meets a ceiling joist and we find an egg. One single egg balanced on the ceiling joist. We gingerly removed it and tossed it out. The ceiling had been closed up for at least the last 40 years. It was lathe and plaster, that old. That egg still haunts me."
– probablyapapa
Here, Kitty
"My dad was an elevator mechanic for about 15 years."
"He had a very dark sense of humour and would come home with some of the craziest stories. (For example, any time he was in an elevator, he would shake it a little or tap on the displays or buttons and go 'Yep. Total piece of crap. Inferior piece of crap.' and I think he mostly did it to freak people out.) One of my favourites:"
"He got a call that someone was hearing weird noises from the elevator. He got inside, rode the elevator up and sure enough, he could hear it too. For half a second he thought it was a baby crying and realized it was a cat. When he got to a certain floor, he could hear this sad meowing. It obviously wasn't in the elevator car, so he got into the shaft and found this little orange kitty! It had somehow (and I don't think he figured out or told us how) got into the elevator shaft and was sitting in a spot between the floors where it wouldn't get crushed by the elevator, but it couldn't get out."
"My dad saved it and gave it to the building manager to see if it belonged to anyone in the building."
"It was the one time he ever told us a story that involved him saving an animal instead of finding dead ones."
– aimeeerp

You might have expected these.
Late Reunion
"I once accidently lost my drivers license down the little gap in the elevator doors, just dropped it and was super unlucky as it slipped through. It turned up in my mail 10 years later! Obviously long expired, but still crazy some maintenance guy found it and bothered retuning it."
– Myjunkisonfire

Dropped Taxes
"Well over 1500 tax returns at the bottom of the ATO's north brisbane office elevator shaft."
– anon

The Magazines
"My dad has a great story about this. He supervised the mechanics, and one of them called him from a mental hospital and said 'you've got to see this'. The maintenance guy was called because the elevator wasn't quite sitting level on the ground floor; it was about half an inch too high and both patients and staff had been tripping on it. But all other floors were no problem."
"My dad arrived to find the maintenance guy cackling, looking into the bottom of the shaft. There were probably tens of thousands of magazines down there. They had to get a bunch of shovels, a small crew, and a rolling dumpster to clear it out. When it was all done, my dad decided to stay behind and pretend to read a newspaper while he sat in the lobby. After about half an hour, he sees an elderly patient holding a magazine, shuffling slowly toward the elevator. He stops in front of the doors, glances left, glances right, and quickly stoops down, slides the magazine into the gap, and shuffles away as fast as he can with a huge grin on his face. My dad could not help but laugh hysterically. This guy had probably been sliding magazines in there multiple times per day, every day, for decades. I should ask him whether he reported it or let the guy have his fun. Wouldn't surprise me if my dad went with the latter."
– nibiyabi
The Hotel Employee
"Not a technician, but do work at a large hotel. A few years ago one of our elevators stopped working. Turned out when they opened it up they found a 3-ft pile of guest folios that were never delivered to the rooms. Later when we looked on the camera we found it was a security guard that got tired of delivering them to the rooms and instead dropped them down the elevator shaft. He did this for months until he was caught."
– drdisney

These are the absolutely "nope" items.
Slither
"Pest control tech here, Snakes had gotten into the pit and were climbing up and dropping down on people as they rode the elevator. Good times.
– FeastofFamine

Getting Some
"Out team dropped a steel anal dialator down the dumbwaiter shaft by mistake. When the technician came down and grabbed it off the floor ill never forget the look on his face when I told him 'we need that up here it's got to go in someone's a** soon'... it was priceless (I am a technician for a hospital dealing with rectal surgical tools is very normal)"
– AmishApplesauce

Squat
"A couch. Not joking. It was a walk in pit that a homeless person had retrofit into a small living room."
Elema214
Luxury Apartments
"One time, we were doing a rip out at an old factory. They were gutting them and turning them into luxury apartments. The elevator we were taking out was an old freight that hadn't run in years. When we finally ran it up, we went down to inspect the pit. It smelled like a dead body had chilled there for half a century. The bottom floor wasn't lit so I shined my flashlight under the elevator and the whole floor started moving. Roaches. Nasty."
"Haven't really found anything fun though. I've cleaned out more pits than I could count too. I gave my mom a cheap ring I found. Found a pair of underwear at a hotel. Found a full packet at a courthouse of some lady's case transcribed. Oh, I was on a mod once and one of the hoistway doors had an advertisement sticker for a tennis restringing service. Which was weird because it was somewhere only an elevator guy should be able to reach. I called the number, but it was out of service. I've found some cool grafitti from the 40s. That's about it."
"I worked on escalators for a year and a half. There was a lot more in those pits. I was taking home bent up quarters every day. There was lots of shoe bits and I was always nervous of coming across used needles in certain units."
User Deleted
Arrest

"Worked security in a large department store, we routinely had to pop it open to retrieve dropped keys, wallets, and phones."
"Recovered a $2500 gold necklace covered in poop.. a would be shoplifter darted out of our jewelry department and "suitcased" the necklace while in the elevator. When he realized we were waiting for him at the exit level he went back up a floor, removed it, and dropped it down the shaft."
"We arrested him anyway, much to his surprise."
Sho0terman
So there you have it.
No reports of a missing body or anything gruesome involving a serial killer were recovered at the scene of these elevator shafts.

Still, you never know what lurks beneath your elevator. And if something alive is down there, hopefully it won't slither its way up to unsuspecting riders on their way to the work floor.
Keep reading...
Show less
Some people can sense the kind of jobs do based on their temperament.

Restaurant servers are often infectiously charismatic and very personable. Are they actors? Chances are—at least in New York City or Los Angeles—the answer is yes.
Extroverts at a party can steal the show at a cocktail party, and one might conclude they are actors as well.
Maybe they are, but they might also be into sales.
These examples of job-linked personalities are stereotypes, of course.
But while we're on the subject, there is another cliché that is the topic of this Reddit thread.
Here is one in which Redditor Sauced_Penguin asked:

"What's a job that you just associate with jerks?"
The world of sales apparently can get pretty aggressive.
Stealing Customers
"Any job where you can steal customers from your colleague. Salespeople can be one."
– pk1950

"Put. That. Coffee. Down. Coffee is for closers"
– drawkbox

Long-Term Marketers
"MLM's on Facebook. Girl I haven't talked to since high school: 'hey girl!! Long time no talk! Guess how I've been losing weight?! You should try this product too!'"
"Like… ya. Ok thanks"
"You're Hired!"
"3rd Party Recruiters. False charm, constant lies, ghosting people, spamming, terrible attention spans and an inability to simply read a darn resume to see what people actually do rather than just 1 keyword. 'Hey are you an Engineer or Artist? We have a role for you!' OK buddy, way to narrow things down…"
Insurance Agents
"Whoever calls the shots at the insurance company."
– finney1013

Driven
"Worked in car sales for 2 years. Couldn't get out of it fast enough. I felt like a sleaze ball, and I was the most honest salesman on the lot by a country mile."
– bigpancakeguy

Some people viewed those who represent artists in the entertainment industry as a big turnoff.
Putting On A Show

"I work in entertainment. Talent agents and managers top the list, then some talent themselves."
The Band Manager
"Sh*t howdy that's true. I worked in the music industry until a little bit before [the virus] and some of the most baffling behavior I've ever seen comes from talent/ managers. I once was running a show where it was more or less a metal music showcase for NAMM years ago. There were some pretty big names on the list like Yngwie malmsteen, and a few other medium names in metal plus a bunch of smaller bands. Well it was supposed to be a showcase. 17 bands, 15 minute sets, supposed to be over before 10pm, started at 5 pm. No biggie I've had gigs like that before, but not with all this management there. Because it was a NAMM show there are a ton of sponsors and other bands, like on different stages as well. Long story short I get a few managers that try to fight for more time because their bands need it more. My spidey sense is tingling because a couple of the bands don't even talk to me they just send their manager to check in. Weird. Cut to the first band that plays over the set, just like 10 minutes over. Whatever.
"Well everyone noticed that and decided nothing mattered. The first few bands go 5 or 10 over which was manageable but not ideal. As soon as we get to the first 'big' act they just keep playing. 5...10...20 minutes over the set time. I go up to their manager and say if they don't get off now I'm turning off the stage and they'll look stupid ( no lights, backing tracks, keys or stage monitors at that point its really hard to keep playing) manager goes up in between songs and comes back to my booth and says 'they only have 2 more songs' and shrugs. I called security back to my booth, then shut down the stage and let them slowly realize they can't hear themselves and that they're all sliding out of sync. I get ran up on by the band and their manager after the show telling me how unprofessional I am and that they play over time all the time and nobody cares (which is bs). I just point at my 17 band list and told them to leave. Nobody else played over their time and that band got banned from playing NAMM events in the future so really super not worth it for them. I have so many more stories that's just the first that came to mind."
The Strangest 'Wrong Number' Stories | George Takei's Oh Myyy
Before we all had caller ID, wrong numbers phone calls were commonplace. But now that almost everyone screens their calls, it's wrong number texts that have ...
Paparazzi
"The video where Tobey Maguire is trying to pull out of a parking garage but they're blocking him in pretty much sums it up"
– DankieKang
Reps For The Stars
"I used to do event catering (big concerts) and almost everyone was cool, even the artists, except Alan Jackson who seemed to go out of his way to be an ahole. But once in a while someone who worked for an artist was just flat out sh**ty. I get that in a way that's their job so the 'star' doesn't have to, but it was so unnecessary. By far the worst example of this I ever witnessed was a tour manager for Dolly Parton. Now Dolly herself was very gracious (and short, like I knew she was short, but not THAT short) but her employee was horrid. Also cool: Bonnie Raitt, Steve Miller and Robin Williams. And none of their 'people' were jerks."
The following people are in professions that look after your physical and mental health but can leave little to be desired in the personality department.
Fitness Trainers
"Personal trainers at a lifetime. Had this one incident where this trainer kept blatantly laughing at me whenever I I did my next set of deadlifts and it honestly disheartened me so much. I already had some hesitancy of getting on the stage area because it was so out in the open. Don't miss that particular place."
– JmyKane

Body Coaches
"BeachBody coaches. Bleh"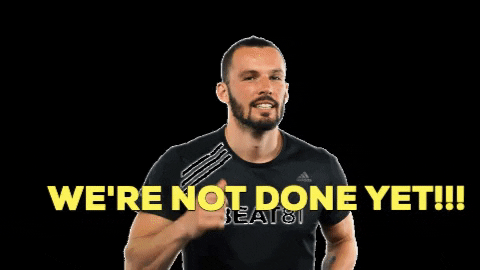 Fitness Coach GIF by BEAT81
Giphy
They Can Go Either Way
"Every surgeon I've ever met was either one of the kindest, noblest, most intelligent people on the planet or a damn sociopath."
"Surgeon here, for everyone saying 'yeah I wouldn't mind having an overconfident sociopath work on me' trust me...you do."
"The cocky surgeons are the ones who take the biggest risks and feel the least amount of empathy when considering the potential consequences. Not to mention they crush the morale of their support team which can often psych them out at critical moments. My talent comes from years hard work, not unearned arrogance, and more importantly I am comfortable enough with my own fallibility to double/triple check instead of just rolling the dice. Not controlling your ego is what gets people hurt and makes for a miserable work environment for everyone else around you. It's a shame that surgeons are associated with being jerks and it's an even bigger shame that most of them deserve it."
God Complex
"Worked for/with surgeons for 4 years. I confirm this. Also age doesn't mean anything. God complex is really a thing in that field."
Want to "know" more?
Sign up for the Knowable newsletter here.

Never miss another big, odd, funny or heartbreaking moment again.
A friend of mine was once told when getting his real estate license that being a realtor was the second most loathed profession behind attorneys.
True story, 20 years later, he is still a realtor but loathes the profession.
However, the money is good enough for him to endure high levels of stress and anxiety.
And contrary to the stereotype that brokers and real estate agents are heartless jerks, my friend is the exception and is constantly praised by clients who are genuinely surprised by his efficiency and warm demeanor.
While stereotypes exist for a reason, they are not always accurate.

Keep reading...
Show less
Depending on the job or company, workers are required to sign non-disclosure agreements (NDA) to avoid leaks of trade secrets.

Because revealing any confidential information to an outside source can be grounds for termination, it puts a lot of pressure on the employee to remain tight-lipped.
But after NDAs have expired, strangers online revealed the secrets that finally saw the light of day when Redditor Charcoals7 asked:

"People who did super secret work: what is something you can share now, that you couldn't before?"
Keep reading...
Show less
The daily grind in the workplace can be mind-numbingly tedious, but at least there's a sense of familiarity that can be comforting.
But inevitably, there are many factors at work that can contribute to a train wreck.
We all welcome distractions to a certain degree, but there are some dramas better left elsewhere.

Curious to hear from workers who witnessed things heading south in the workplace, Redditor zana-666 asked:
"People of Reddit what's the worst thing that's happened on your job? (serious)"

Warning: some of the comments involve deaths and the descriptions are not for the faint of heart.
People who work in healthcare have witnessed alarming situations like an episode from Grey's Anatomy.
Taking Matters Into Their Own Hands
"I worked at a nursing home years ago and we had a patient with dementia who was ALOT of work - constantly trying to get up, screaming, throwing things, spitting, hitting. We'd rotate staff as a 'one to one' to keep him safe. Well, one shift his sitter got tired of the constant yelling and moving and medicated him from her own stash. Gave him her personal supply of Ativan and Oxycodone to knock him out. It did work (!!) but she was immediately escorted out of the building and lost her CNA license."
Nurse Rage
"Work as a nurse in an ICU. Two of my coworkers found out while on shift that they were 'with' the same guy. Proceeded to physically fight each other in the hallway. Meanwhile there is a patient coding (in cardiac arrest) down the hallway; annnnd I'm not embellishing another patients family set the trashcan on fire in their room during the code. It was a wild wild night shift."
Pervy things went down while these people were on shifts.
Unprompted Art Installation
"I worked at a Barnes & Noble in Florida and some dude came in with a bunch of Polaroids of his junk and hid them in books in the kids area. A kid found one and showed his mom. We had to close down for the rest of the day and leaf through/shake out all the books in the store to find the rest of them."
Your Underwear Or Your Life
"I work at a high school and a student pulled a gun on one of the teachers in the parking lot after school and made her give him the underwear she had on. He was caught later that day and said he did that because she is hot and wanted to use them later"
– mbogan67

Tight spaces are not ideal work environments, but someone has to work in them.
Confined Spaces
"There's sooo many rules about confined spaces where I work. It always seems so harmless but it's very dangerous if you think about it."
"Whether it's an inspection or something that needs fixing in a confined space we need entry permits, oxygen monitors, continues forced air circulation, 1-2 people as intervention if anything goes wrong, safety harness and ropes to pull someone out if anything does go wrong,... All for a seemingly 'harmless' space."
– Haimonek

Arachnid Attack
"I used to work in low volt integration, wiring smart homes. Being the lead pre-wire technician, I was in-charge of all pre-wire installations unless a more experienced tech was on scene. Being just 23-24 at the time of employment, I was the one to usually go into crawlspaces and attics since most of the older guys didn't want to do it."
"Over a year and a half working there, I've been bitten by two brown recluse spiders and one black widow spider. I still have a scar of one of the brown recluse spiders who bit me on my side, luckily it was just my side that got bit and I am a healthy young adult, otherwise I could've lost something. The brown recluse has NO antivenom in the entire United States."
Bad things may happen at work, but witnessing tragedy will put things into perspective.
The Absent Candidate
"It's not as dramatic, but we were interviewing for a position once and the candidate's husband called to say she'd been killed in an accident on her way to the interview. He actually apologised. It was awful."
Sad Intuition
"Colleague was absent from work for a couple days and wasn't answering their phone so manager and I went to their home. The building manager gave us a key to their apartment (totally illegal of them, I know), and we opened it to find the colleague dead. Already at the door, I could smell something sickly sweet and I knew in my heart they were dead. We had to wait for the ambulance service to come declare them dead… turns out they were sick for days and didn't contact a doctor or anyone else. Just slowly wasted away at home. I will never forget that first look into the apartment."
One Incident Too Many
"Had a guy have a massive heart attack between 2 furnaces in remelt department. It cooked him. His skin split like a hotdog on the grill. It was terrible. Also had a guy that had a air pocket in a molten pot. When the air pocket reached the surface it blew out and rained molten metal him. We had to chase him down to get him in the safety shower. Same place had a guy commit suicide in the parking lot because his wife was cheating with someone on her shift."
Gruesome Accident
"Worked in a steel mill many years ago."
"One day a guy was doing something they've been doing for many years, and the molten steel came into contact with water from improperly dried refractory stones."
"Instant metal explosion that rained down a sh*tload of molten metal on him, he died in less than a day. Skin melting off his body and all the gory details."
"Luckily for me, it was my day off, else I would have been a first responder."
A Horrific Frequency
"Air Traffic Control. Didn't happen to me, but I was working that day and heard the replay. Couple takes off in bad weather and get more ice on their wings than they can handle. They dropped like a rock and screamed on frequency the whole way down. The worst part is the other planes may or may not have heard it and you have to keep talking to other planes like nothing happened until someone relieves you."
– megaPOG

Depending on the job, the everyday mundanity of work can take a toll on your psyche.
But based on the examples mentioned above, some of the best work days are the ones that end with no incident.
When I used to work at a certain amusement park, my coworkers and I heard security personnel talking through their portable radio devices about park guests who were bludgeoned to death by a terrible accident caused by one of the park's attractions.
A miscalculation while docking a large watercraft moored too soon to the dock caused a cleat from the ship's hull to dislodge and fly into the faces of a couple who happened to be in the wrong place at the wrong time.
Both victims – who were alleged to be on their honeymoon at the time – died instantly from the impact.
My colleagues and I were dancers in between our performances at the theater inside the park. When we heard what happened in our vicinity, we were sick to our stomachs. But the show eventually had to go on.
Keep reading...
Show less