Why are people crazy with words?

It's like no one has been taught to think before they speak.
There are fine lines between some thoughts and then there is just straight-up nonsense.
Like... do you not realize you're in public?
And what you're saying is a crime?
Redditor Mysterychic88 wanted hear about the what some people have said to others that left shivers down their spine. They asked:
"What's the eeriest thing a complete stranger has ever said to you?"
People are just creepy in general. So this should be weird.
Call Dateline NBC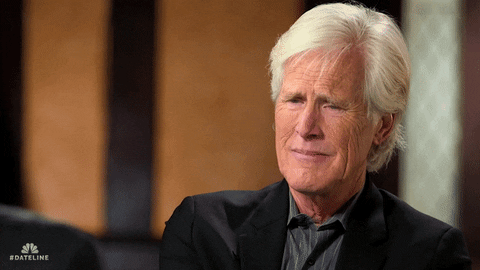 Keith Morrison Chin Touch GIF by Dateline NBC
Giphy
"'Enjoy the rest of your night at the dance. When you go out to the parking lot, I'm going to kill you.'"
"Didn't see him again for the rest of the night and had an escort to my car, but dude was creepy as f**k."
ThePhiff
Old Navy Issues
"I was 7 years old and in Old Navy with my mum and sister. They went to try on clothes and I didn't know that and had a panic attack trying to find them. Some older woman said she'd take me in and raise me and not to worry. For some reason I thought it was better than being alone forever at least. I was with her for a bit until I saw my Mum walk out of the dressing room. To this day I think about what if I left with her…"
Still_loading_1
I gave him one...
"I was on my way to my friend's house when a man(probably homeless) walked over to me and said 'Give me some money, I am hungry.' I said I don't have any money to which he replied 'you have two $5, give me one.' I don't know how he did it but I had exactly two $5 bills in my pocket, I gave him one."
SuvenPan
Dead Eyes
"As a child, I lost track of my mom while walking around after spotting a friend. It was a tiny town; the kind where you know everybody at least by sight, so I didn't freak out, just went looking for her. I asked an arcade owner if he had seen her, and he said: 'Yeah, she went inside to the back. Why don't you go in to look for her?'"
"My stranger danger alarm went off like crazy inside my head. I just said 'no!' and ran away. I swear this dude had dead AF eyes. Turns out she was just about a half a block ahead and was walking back to me. I never told her about the creepy man, and I regret it to this day thinking he might have actually lured a poor kid in."
Ihlita
Ya hungry?'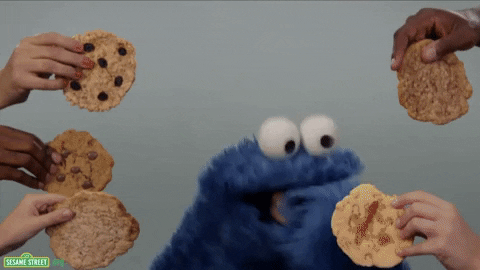 Cookie Monster Eating GIF by Sesame Street
Giphy
"I'm walking through a parking lot between cars when right by my ear I hear an adult man ask in a syrupy-sweet voice 'Hey, cookie, ya hungry?'"
"I turn in shock/disgust to see he's sitting in a car with a little girl, sees me and says incredulously 'I was talking to my daughter.' My sister who witnessed this laughed til she cried."
Amish_Cyberbully
It's like humans can't hear themselves. Have we no censor?
'do you want any chips'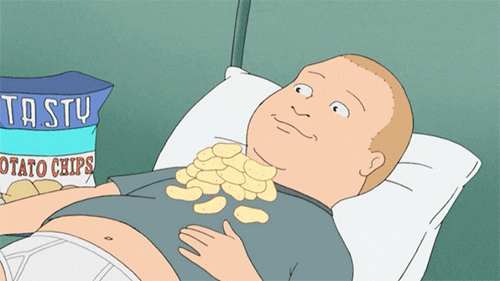 chips GIF
Giphy
"I feel bad, there's some legit scary stuff here, by comparison mine seems significantly less 'eerie.'"
"Walking home from work and a bloke screams Up in a car, slams the brakes and gets out. I assume I'm already being done over and accept my fate (it was a long day at work, I didn't have fight back in me). Anyway, the bloke jumps to his boot (trunk?) swings it open and just screams 'do you want any chips' I said no thanks mate, and off he angrily sighs jumps back in his car and buggars off."
davetrials
my family needs me!
"Not a stranger, but my brother stood up in the middle of a catatonic seizure and said these 3 things: 'Where am I? I have to get back to work in a few hours. My family… my family needs me!' - while looking around the room confused, and as he said that his eyes rolled back and suffered a second attack."
"He was 12 when this happened, and no, he didn't have a job or a family of his own. I was there in the ER room when it happened while he was being attended by nurses. When he finally recovered consciousness a few hours later, he didn't remember a single thing that happened that night and had no idea of the things he said."
AndyVilla14
Tuck and Roll
"I was in an Uber and the driver asked if had any kids and I said no. He was shocked and I asked why? And I kid you not he said 'I'm shocked no guy has ever tried. You're a beautiful girl, I know I would have.' In that moment I was considering tucking and rolling out of the car but we were about to hit the highway and I didn't want to be late for my flight 🙃."
Brilliant-Divine
Hey, you're a great person!
"One day in high school, I was walking to Burger King and thinking about how much I didn't like myself. When I got to Burger King, this homeless man inside yelled out to me across the restaurant 'Hey, you're a great person! You're a great person.'"
"I casually said thanks and left, like I wasn't both stunned and creeped out. Reading through the comments, I see a lot of similar experiences with homeless people knowing what you're thinking or details of your past. Amazing and creepy."
7Birdies
there was nobody there...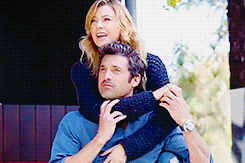 anatomy preach GIF
Giphy
"I'm a doctor. When I was working in psychiatry, a schizophrenic patient in the Emergency Department who I was clerking in asked me who the man in the turban behind me was (there was nobody there). I asked him to describe man and he described my grandfather who had been dead for several years perfectly."
amarghir1234
People really need to read the room before speaking. Good night.
Want to "know" more?
Sign up for the Knowable newsletter here.
Never miss another big, odd, funny or heartbreaking moment again.
Keep reading...
Show less
I use the word 'literally' like, literally, all the time.
Am I a professional writer who understands that the repetition can lose some readers? Yes.
Am I educated and fully aware of the definition of the word "literally" and the fact that I almost never actually mean "literally" when I say literally? Also, yes.
Do I know it annoys some people? Also, also yes.
Am I going to stop doing it any time soon? ... ... ... I'll take that into careful consideration.
Reddit user matchless2 asked:
"What is a word that people need to stop overusing?"
So here's a whole article full of people who probably literally hate me. (hehehe)
Let's Just Start With The Obvious
"Literally."
- rs_yay
"I saw an ad for a meal kit service that said something like, 'My husband loved the salmon so much it literally killed him!' "
"RIP husband."
- madamguacamole
"High school teacher here. Sooooo many kids use this every other sentence and don't even understand the meaning. It's annoying, to say the least."
- NorwegianMuse
"I was kind of irritated by 'literally' being used figuratively for a while, but then I found out that 'fantastic' used to mean something literally from fantasy."
"It would have been just as wrong to say 'that's fantastic' if you weren't talking about a dragon or something."
"Now when I hear it I just think 'language be like that sometimes.' "
- TheRiverTwice
"I'm literally part of the problem... I let it slip into my vernacular and I can't stop 😩"
- Conscious_Camel4830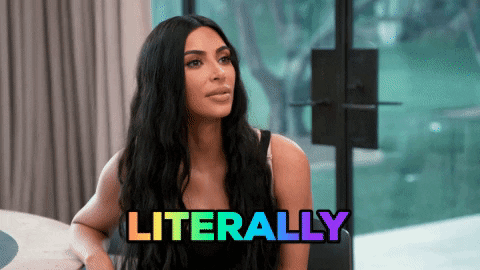 Giphy
Define "Influence"
"Influencer."
- B0J0L0
"Influencer cracks me up sometimes."
"Like the other day when someone tried trolling me by calling me an influencer. Ironically at the time he would have been the only person that I had influenced AND he had misread me anyway."
"Are that many people really influenced by 'influencers?' Wasn't the tag snake oil salesman descriptive enough?"
- Justthisguy_yaknow
"They do influence, just negatively."
- real_MainDepth
"Truly a word that has lost any positive connotation to it."
- floweytheflo
There's Usually A Precedent
"Unprecedented."
- stupidmacaroni
"I would like to upvote this comment a million times. I flinch when I hear this word now."
- Lexjude
"The amount of times unprecedented has been used is unprecedented."
- Funktastic34
"Holy hell I hate this word, even reading it makes me angry."
- popcorntongue
"Same. Everyone on TV was using it, 'these unprecedented times, these uncertain times.' "
"JUST CALL IT THE PANDEMIC BRUH."
- stupidmacaroni
"Unless they say it is 'literally unprecedented.' Then you know they're being for realsies. Because literally."
- GoodAsUsual
Gaslighting Is A Specific Thing
"Gaslighting isn't just another word for lying, it's a specific method of manipulation that involves making a person question their own perception of reality. It doesn't even require lying."
- CupcakeValkyrie
"And gaslighting is purposeful. The abuser is intentionally making you question your reality."
- hoyaheadRN
"It also doesn't just mean that someone is being stubborn or obstinate. If someone unreasonably or irrationally disagrees with you they aren't necessarily gaslighting you."
- 05110909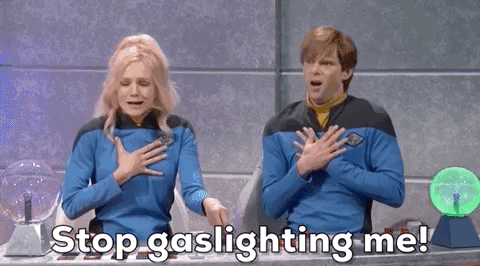 Giphy
Not Neat
"OCD, without actually having OCD."
- nepenthe17
" 'I like putting my dishes away after I wash them, but I'm just OCD like that.' "
- ostentatiousbro
"This is one of my pet peeves."
"My ex mother in law had OCD and it wasn't about being neat and keeping the cushions straight or lining things up right. It was a debilitating belief that if she didn't do certain things, that bad things would happen."
- Tendontearer
"I've met people with genuine OCD."
"They don't care about tiles being ill-aligned. They're touching the doorknob in the exact same spot for 37 times to stop something horrible from happening."
- UnoriginalUse
A Versus Anti
"Anti-social."
"Preferring to be alone is to be asocial. Psychopaths are anti-social."
- andbingowashishomo
"Just explained this to my landlord today."
"I am Asocial. A."
"A! Not anti!"
"I am not going to poison your dogs for sure."
- Critical_Macaroon_15
"I've been saying this for years, but at this point I feel like it's one of those situations where the language has evolved."
"I've literally never heard anyone say 'asocial', despite it being correct. And I feel like I rarely hear 'anti-social' used to describe actual anti-social behavior. It's far more often used incorrectly."
- imaginaryblues
War
"War."
"We've got a war against nearly everything. It waters down the tragedy of real war."
"Such as: We've got a struggle against obesity, not a war. I'm not near as scared of being in the middle of a bunch of fat people as I am of being in the middle of a real war."
- traws06
"I'm not sure how common this is outside the US, but a few years ago (it's still sort of around now, but its real heyday was almost a decade ago), the phrase 'War on Christmas' was all the rage."
"The inciting attacks of this conflict? Starbucks changed the design on their cups, more people embraced the phrase 'Happy Holidays', and schools changed 'Christmas break' to 'Winter Break'."
"Because of that, people started protesting by either boycotting Starbucks or ordering under the name 'Merry Christmas,' discussions were had on the news, and at least two full-length movies were made about this new 'threat' to our way of life: 'Christmas with a Capital C' in 2010, and 'Last Ounce of Courage' in 2012."

- Aegis_et_Vanir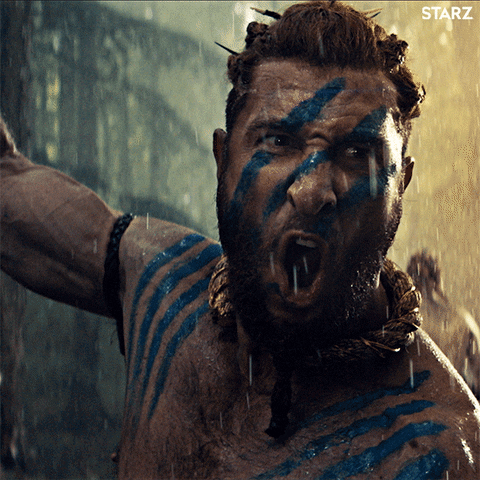 Giphy
-Gate
"Anything -Gate"
"PizzaGate, Bountygate, now SlapGate.. plus 12 million others I'm forgetting."
- Xennial_Potato
"I will make an exception if Matt Gaetz is involved in a scandal, especially involving a fence."
- Dexaan
"I support calling the allegations against him PizzaGaetz, but agree that '-gate' in general needs to stop. I actually wonder if people think '-gate' is somehow synonymous with 'scandal.' "
- NC_Goonie
Something To Be Solved
"Problematic."
"The word is supposed to connote that something is difficult to resolve or decide, as in a problem to be solved."
"It was used to point out that ideas needed more debate because questions were left unanswered, or apparent contradictions were unresolved. It was a word needed more in academia than in daily discussion."
"Now it often seems to mean something along the lines of 'I do not like this person or their beliefs'."

- TradeDeadline
Sports
"Adversity when in the context of sports."
"For instance, if a football team loses two games in a row and wins the third the Coach goes on TV and says 'this team knows how to pull through adversity' and I roll my eyes every time."
"That's not adversity. That's sports."
- Upstairs-Try6583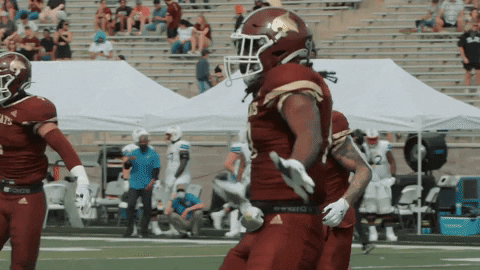 Giphy
I know you read through this list with more examples popping into your head the whole way through.
So tell us what they were!
Want to "know" more?

Sign up for the Knowable newsletter here.

Never miss another big, odd, funny or heartbreaking moment again.
Keep reading...
Show less
We all want to have the best of intentions, I mean at least I hope we do.
In order to do that though... we need to start watching what falls out of our mouths.
First, read the room.
Second, process your thoughts.
Third, just be present.
I know we've been indoctrinated to believe that putting a positive spin on every little thing will make life all better.
But that is not always the case.
Redditor numb_yet_emotional wanted to discuss the ways being "positive" maybe didn't work out best. They asked:
"What is the worst toxic positivity you've heard?"
Don't tell me to just smile. I like a solid frown thank you.
What Day?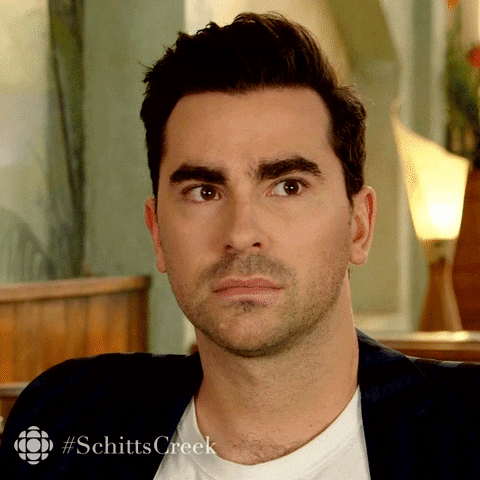 canadian what GIF by CBC
Giphy
"I read a comment on Reddit that someone had wished someone a 'Happy rainbow baby day' on the anniversary of their miscarriage. So uh... that."
MikeNoble91
Just Like Bey!
"People saying that we all have the same 24 hours."
GBKGames
"There's a motivational image somewhere that says 'you have the same amount if hours in the day as Beyonce' and it's like.. I mean yes but how many of her hours are spent cooking, cleaning, struggling with finances, and handling life? I would argue she has more hours because she pays people to do things instead of wasting her time."
joyfall
Nah bro...
"I've been called brave before because of my disability. Nah bro. I'm just living life the best I can just like anyone else tries to do."
disablednerd
"You should be proud of not letting it affect your personality and make you bitter!"
"First of all, you never knew me without this condition, so for all you know, this IS my bitter self. Second: honey, if every bitter person needed a good reason, and if every person with a good reason turned bitter, there would be such chaos in human society."
thefuzzybunny1
Dungeon Masters...
"I would often cry as a kid because I had a really bad father. My mom's response would be 'at least you have a father, some kids don't have one!'"
poopybuttfacehead
"There's a saying in Dungeons and Dragons, particularly regarding toxic groups or Dungeon Masters. It's become a slogan for subreddits where people share their horror stories about really bad games, because it's pretty common that people are writing them in retrospect and, at the time, feared that they wouldn't find a group to play with again. That saying is 'Bad D&D is worse than no D&D.' Bringing this up for no reason at all."
ShornVisage
"it'll be ok"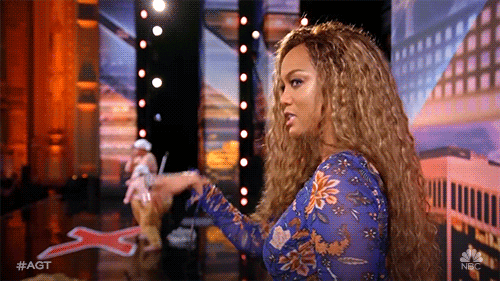 americas got talent shut up GIF by NBC
Giphy
"When my baby was diagnosed with a potentially terminal illness in utero and everyone outside of the medical field kept saying 'it'll be ok.' Meanwhile I'm trying to figure out how I'll survive planning my baby's funeral if the worst happens."
comebraidmyhair
I can't with some of these. It's like people have never been in public before.
Shut Up!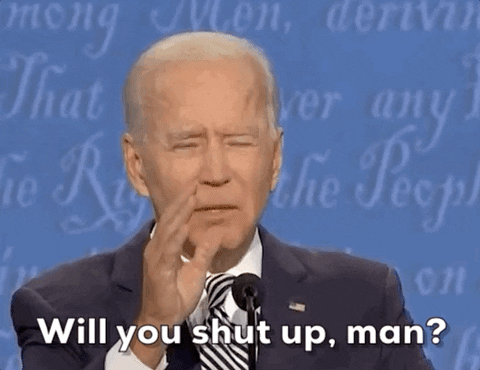 Joe Biden Reaction GIF by Election 2020
Giphy
"Recently went to a crisis Uni. One of the case workers said you can't be sad if you're grateful. Very untrue!!!"
weist-risq
"doesn't mean it"
"The idea that you 'have' to forgive everything, often said immediately after the thing happened. It's often used as a way to dismiss the hurt or the action. You don't have to forgive everyone or everything. Many times, forgiveness is good, especially when you can communicate with the person who hurt you. But sometimes anger is adaptive, and it signals an important boundary that you can recognize in the future."
"Relatedly, the idea that you should be explaining away someone's behavior by trying to imagine what they were thinking or feeling. In many cases, understanding other perspectives is extremely helpful. But in cases of repeated abusive behavior, telling someone that the abuser 'doesn't mean it' or 'you know they love you, but they have problems controlling their anger' is not helpful."
definitelynotadingo
Choose This...
"Just choose happiness!"
Lunallance
"I hate this for two reasons."
"1: there is a seed of healthy advice here that has been drowned and corrupted into something absolutely meaningless and offers no help for any situation."
"2: happiness is just one of several emotions humans feel. All of them are valid and serve a role in the human experience. Anger, fear, jealousy, love, disgust, regret and sadness are just as valid as happiness and suppressing them is not healthy. Acknowledging our 'negative' emotions as they are helps us get out of bad situations much more effectively than 'choosing to be happy.'"
ArthurBonesly
Pain is Pain
"Two things. It's selfish to want to help yourself when you're in a state of depression, and you shouldn't be depressed because you have what many people don't have. A roof over your head, food, water, electricity, etc. No matter who you are, you can always take care of yourself, and you can also feel depressed. Placing yourself before anyone else shouldn't be selfish, it should be basic self needs."
DogsAreCool69420
CRAP!!
"Family always sticks together!"
"Bull. F**king. S**t!!"
Doodle_Brush
Sometimes the best way to help... is to just shut up. There's a positive.
Want to "know" more?
Sign up for the Knowable newsletter here.

Never miss another big, odd, funny or heartbreaking moment again.

Keep reading...
Show less
A lot of people like to talk.
Being outgoing or an extrovert is encouraged in popular culture as an ideal, so prattling on is seen as better than remaining silent.
But is it?
Especially when all that's said are the same tired clichés that stopped being clever a long time ago.
Redditor Medium-Grapefruit-86 asked:
"What's a saying or phrase that people should stop using?"
Not an Excuse
"If someone is being a bully, and hurting people (mentally or physically), I hate hearing the phrase 'they are probably going through a lot'."
"That is almost definitely true, but that doesn't make it OK to do."
‐ Jeffityfeffity
Just Unoriginal
"That's it. That's the tweet."
"LOUDER FOR THE PEOPLE IN THE BACK"
"I'll wait."
- TeaRexQueen
Echo Chamber
"'Why is no one talking about this?'
"Usually it's because OP has a very closed circle of followers/people they follow, people, in fact, are talking about 'this'."
- ReceptionExpensive
With 0 Self-awareness
"*post linking to a CNN or NYT article*"
"Top comment: 'Why isn't the media talking about this?'."
- Indercarnive
Rude
"Idk if this exactly counts, but I f*king hate that stupid tv/movie cliche where someone makes a genuine mistake tying to be helpful and they're like 'I didn't think that…' and the other person just cuts them off like 'That's the problem, you didn't think!'"
- KingOf_Anarchy
"OK—"
"NO, IT'S NOT OK!"
- BigbyWolf94
"Glad I'm not the only one. The amount of time I wasted trying to explain that 'okay' in that context is used for acknowledging what the person is saying. 🤦"
- craftjensin
Not That Deep
"Let that sink in'. Specifically as a mic drop in a poorly researched Facebook meme."
- RazrbackFawn
"People often leave their kitchen basin outside in winter... Let that sink in."
- Slanderous
Don't Get Paid Enough For This Joke
"'It must be free today' when something doesn't ring up. Even worse when something just takes an extra second to scan."
"Heard that so many times as a cashier."
- 0kokuryu0
Gotten Old
"I was today years old when…"
- niebla081
Trauma Isn't Great
"'What doesn't kill you makes you stronger'."
"Bro when ? I'm just more traumatized."
- R_May0
Not Comforting
"When my dad died, a family friend said to 12-year-old me 'God needed him more'."
"I don't get how that's meant to be comforting."
- Complete_Entry
"People say all sorts of useless things when someone experiences loss."
"I had 'God needed more angels in heaven'—which I liked, because that made sense to me. At the time, I was 5 and understood that my mom would be a perfect angel."
"However, this same thing (my mom's death that is) made my siblings instantly stop believing in God. As no God would do this—take away our mom."
"I'm sorry you had that negative experience—it's so hard to know what to say or what we even want to hear."
- m37an13
"When our cat died, my mother span this yarn about how God happened to be passing by our house and saw a lovely cat that would look beautiful in his garden."
"Cue a lifelong perception of God as a jealous, opportunistic predator."
- joshii87
"God just decided to steal from us but it's ok because hE LoVeS yOu."
- ccfenix
Words have impact, but sometimes its easiest to stick to the familiar.
But if you're just talking to have something to say, but not to say anything of value, silence works equally well if not better.
Want to "know" more?

Sign up for the Knowable newsletter here.
Never miss another big, odd, funny or heartbreaking moment again.
Keep reading...
Show less
People think most of us are too lame to catch when we're being insulted.
I will admit some backhanded compliments can comedy gold.
But nonetheless, be kind.
For instance... "So happy for you. We never thought you could lose the weight and look this good."
Excuse me?!
Redditor assouda wanted to hear all of the supposed niceties they've been told in life. They asked:

"What seems like a compliment but is actually an insult?"
Just say what you mean. I always try to. Unless the shade is truly funny.
Weight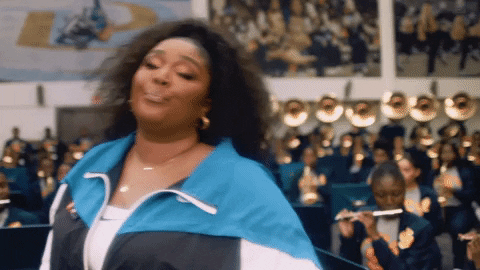 And What Hair GIF by Lizzo
Giphy
"You look good for your size."
optionsgirl70
"You'd look really good, you know, if you lost weight. How can they tell unless I look good now?"
MessoGesso
Tardy
"Hey, you're on time!"
939388383883
"Lol... I'm always late to friend/family gatherings. I can't even get mad when people point it out anymore."
PangolinFit6338
"My friend does this. she also says things like 'wow I'm really impressed you actually pulled that off' and it's a simple task like knowing where to put away f**king flour."
bwofowo
IQ?
"You're smarter than you look."
Tubaplayer1959
"Got hit with this one too! Also that I was actually more interesting than he thought when he first met me. From the overall context I think he really believed he was complimenting me. Thanks..?"
chubbyfingers
Well that's...
"That's certainly a unique..."
Inevitable_Chicken70
"I get this a lot except instead of 'unique' they use the word 'different' with a certain tone to the word and certain pauses around it."
Informal-Amphibian-4
"Or interesting."
runnyOntheInside
WHAT?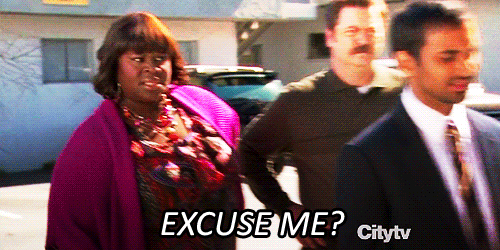 Parks And Recreation Donna GIF
Giphy
"You have years beyond your wisdom."
Poorly-Drawn-Beagle
Oh well Bless your heart! See, I can do it as well.
You?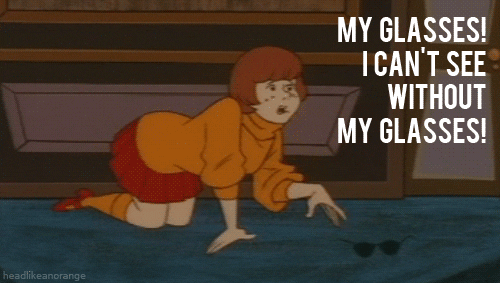 scooby doo glasses GIF
Giphy
"You're smarter/funnier/etc than I thought you were"
napluvr17
ACTION!!
"As a director of high school theatre, if a parent says 'it looks like everyone on stage had a good time' it means 'no one in the audience enjoy this show.'"
colbyrosenkrantz
"It is possible for a middle/high school performance to be enjoyable, and it really makes a huge difference. The worst are 3-hour holiday band/choir performances for elementary schools. Your kid is in two songs, but you have to sit through them all and pretend it isn't painful."
Gromky
Cheers!
I used this one in a roast of my ex-boss before he transferred departments:
"The respect and leadership you've shown our team simply cannot be stated."
"Delusions of adequacy. But my favourite was after our marketing director left to go to another college the principal announced that he didn't want us to think of it as losing a valued team member so much as hamstringing the opposition."
Hysterical_Realist
Next to Godliness...
A friend visited (she'd been over many times) and this time when she stepped into our kitchen she said, "wow it's so clean! :l "
Wrenby
Ha! My Grandpa said recently as he visited my mother's house: "this is the cleanest I have ever seen this place look, well done! She has lived there for 30 years and was, understandably, miffed."
StructureNo3388
Later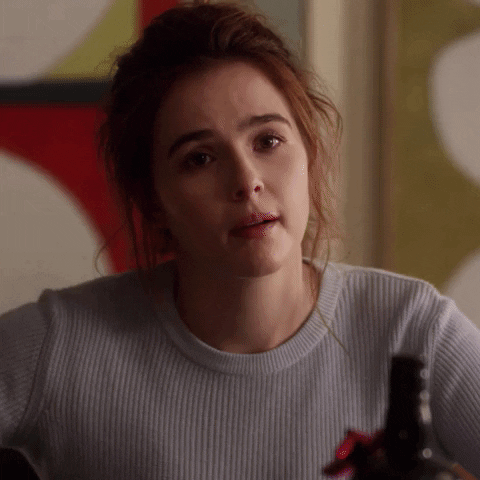 Peace Out Goodbye GIF by NETFLIX
Giphy
"When people say 'see you later' and the person responds 'not if I see you first!' Took me ages to realize they're saying they'll avoid me if they see me before I notice them. Pretty funny when used sarcastically though."
PilotG2-07
See... we know what you all really mean. You mean girls!
Want to "know" more?
Sign up for the Knowable newsletter here.

Never miss another big, odd, funny or heartbreaking moment again.
Keep reading...
Show less