As if being a mom isn't hard enough, why does society want to heap on more stress. Women who can breastfeed need to be able to breastfeed. They need to do it whenever and wherever.
This has been a contentious, dramatic issue for generations. Some people just can't handle a boob out in public. A boob that is nourishing a child, I might add. When you're hungry, you don't want to wait, so why should a mom, make her baby wait until a more "appropriate" time?
God grow up.
Redditor u/Brace4Landing wanted to chat about what women have to do what they do, by asking:
What are your thoughts about women breastfeeding openly in restaurants?
Want to "know" more? Never miss another big, odd, funny, or heartbreaking moment again. Sign up for the Knowable newsletter here.
Keep reading...
Show less
"Sisters are doing it for themselves." Y'all remember that song? One of the last century's best female empowerment anthems. How can you top Annie Lenox and Aretha? You can't, so you just bask in the glow. Sisters got it all under control.
But even though women are highly capable of anything, there are certain actions and everyday moments that just come a little easier. Sometimes women are just more in tune, or are built better for a certain situation. Let's discuss.
A Redditor who recently deleted their account left the interwebs with a question for the ladies, by asking:
What is easier to do if you're a woman?
I've always found women to be better actors right off the bat. I believe it's because women are less afraid to tap into emotion. And that can be because society said it was ok for them to do it from birth.
Hips Don't Lie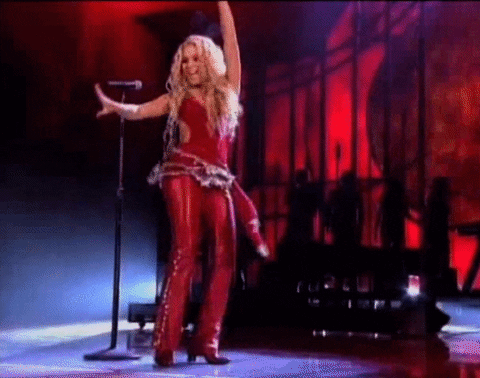 Shakira Hips GIF by Latin GRAMMYs
Giphy
"Carry anything on your hip."
"Anytime I carry something heavy and place it on my hip, it's like a part of my instinct awakens."
"I remember reading a while back that it is because girls have the equivalent of an extra week of development because they don't need to develop boy bits. I'm 25 week white/hispanic boy who survived the NICU in 1990. They were very very shocked."
- bros402
The Kids
"When I was babysitting once and me, the girl (7) and the boy (5) were playing in the street and a women came up and tried to take the kids away from me, asking all sorts of questions about who I was and if they were okay, she even asked if I was hurting them. She then tried to physically take them away from me. I imagine that wouldn't happen if there was a women looking after them."
Hold Me
"Physical contact? If I feel like it if I need a hug, I can just cuddle with my girlfriends. I don't think its' that easy for guys."
- LisslO_o
"Just specifically with girls though. I seem to make easier friends with guys and want to hug them but feel like it will get weird (as it has in the past). It makes me sad. Like, I love you, man and I want to hug you when I feel like it (not just when you're super sad and it's obviously a non-sexual hug)."
public cleaning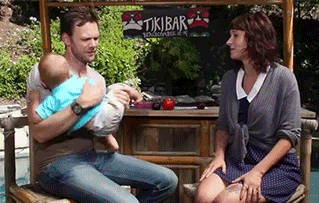 joel mchale baby GIF
Giphy
"Changing babies in public. Many men's rooms do not have baby changing stations."
- DJD119
I need better hips. And women can keep babies and all the mess that comes with them. Physical contact, why are men so adverse to it? So much therapy here to chat about.
No Questions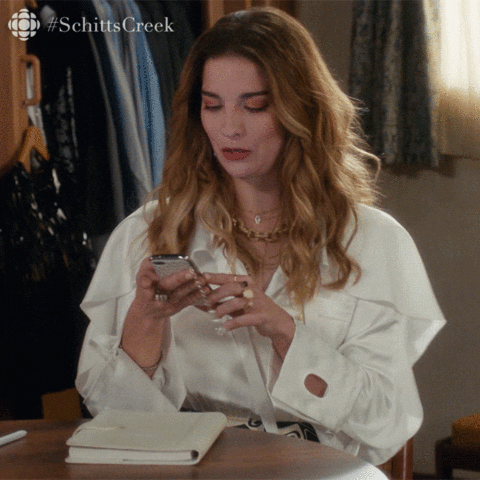 Helping Schitts Creek GIF by CBC
Giphy
"Help a child without suspicion or judgement."
- eliz1865
"Being around a child in general. I've been questioned when I was out with my son before."
In the Air
"Apparently women fighter pilots handle g-forces better than men, mainly due to being shorter and their heart not having to work so hard to pump blood to their brains (short men also handle g-forces easier for the same reason)."
"Yep. As a tall guy (6'4"), g forces mess with me big time. In fact, 2 weeks ago i passed out on an especially intense roller coaster. My wife, who was sitting next to me for the ride cackled with laughter when we saw the on ride picture and i was out like a light."
Will you tell her?"
"Compliment any complete stranger. As a dude, I have to very careful complimenting strangers. I will actually tell my wife, "check her hair out, it's super cool. Will you tell her?" And she will, and it made that stranger's day. Just wish I could do that more often without being seen as creepy. This especially applies to children. It's a big no-no for a 41 year old guy to compliment a child saying they look super pretty. Woman - no issue."
Sales...
"Since the majority of posts here are sexual, I'll bite: sales. Seriously females salespeople are on average much more successful than their male counterparts. In my industry (industrial sales), it's an open understanding that our typical sales contact (older middle-aged male) is much more interested in talking to females than males. Huge sales buff if you are young AND at least a little attractive."
"If you are a hard working, quick witted and social young female looking for a high paying job without education requirements, I would strongly encourage you to look into B2B sales. All of the technical knowledge you can learn on the job."
Man's Work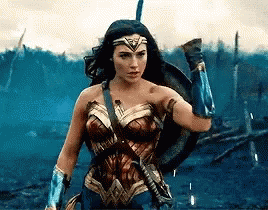 wonder woman GIF
Giphy
"Have someone help you with mechanical/electrical/car work. So many people believe men just know how to do that stuff and will look down on guys who don't. As a woman, people assume I don't know what I'm doing with that kind of stuff. Sexist, but helps me, I guess."
- kkohler2
The ladies got it going on. That's why I always think of my mom as a hero. There are just somethings men are never going to measure up to. That's ok, talent is meant to be dispersed.
Want to "know" more? Never miss another big, odd, funny, or heartbreaking moment again. Sign up for the Knowable newsletter here.

Keep reading...
Show less
Yeah, the fact that the phrase "the fairer sex" even exists is evidence enough that we need to have a little sit-down. So look, I'm not sure who started this lie - but women are VERY capable of some grossness.
Very. You don't even want to know. Honestly, we can be horrific.
Keep reading...
Show less
We've all heard of toxic masculinity. You know, that thing where men don't want to do anything remotely feminine, like wear pink, or wash their a**holes in the shower because they think it's "gay"? Yeah, that thing. It sucks, but sometimes it's important to remember that people of all genders can be toxic AF too.
Let's talk about toxic femininity, shall we? VysX_ asked:
There's toxic masculinity but what are examples of toxic femininity?
For some reason, toxic femininity gets really, REALLY prevalent when ​they become moms. It's weird and kinda creepy, if you ask me.
Why does Little League bring out the worst in people?
"Mothers who treat other people like crap and then justify it by saying they're a mama bear."
"A few years ago my son's team was playing a little league game against another team. We had a very good team that year and the other team was really struggling. Despite this, it was a close game going into the 5th (i.e. next-to-last) inning.
Well, we're batting and the wheels finally come off for the opposition. A kid on our team gets a simple hit to the outfield and the other team proceeds to go full tee-ball and throw it all over creation. What should have been a single turns into a 3-run HR.
As the batter crosses home plate, fans are going nuts, players are going nuts, everyone is going nuts, and the star player on the losing team just melts down. He picks up the ball and throws it as hard as he can right at our dug out. There's a safety fence of course, so no one gets hurt, but it was still very much an "Oh, snap" moment for everyone.
​At this point, the ump turns to the losing coach and says, "Coach, you need to get a hold of your player." That's it. That's all he said. He didn't say anything to the player; he didn't kick him out of the game; he just gave the coach a direct warning.
Next thing I hear is "DONT YOU TALK TO MY BABY THAT WAY" as the dug-out mom comes firing out of the other dug-out, heading straight for the ump. Fortunately for everyone, the head coach comes out of nowhere to intercept her. He proceeds to restrain her and walk her (and the player) away. The whole game stops for ~5 minutes while those three basically have a group hug in the middle of the infield.
Fortunately, that was the end of the drama. I still give major props to that other coach for somehow diffusing that situation without getting the police involved. But I will never understand what was going through that lady's mind."
We can all do "womaning" differently.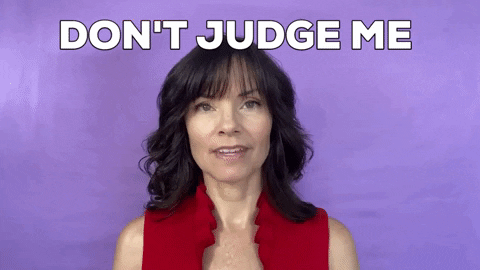 Wendy Conrad GIF by Your Happy Workplace
Giphy
"To me it would mean women who bag on other women for womaning differently than they do.
This becomes really toxic after childbirth. Some women will feel nothing about letting you know how you are parenting wrong by using this product or letting you child do this particular thing.
Women who are able to stay at home will be made to feel guilty for not helping to provide; and women who work are made to feel guilty for abandoning their child.
I wish women were more understanding about dealing with differences and letting things slide a bit more. You should never feel higher after putting someone else down.
That being said, I don't know how we did it, but I found the world's greatest group of moms when my son was a year and a half old. We came from all walks of life and supported the ever-loving hell out of each other. This was in Phoenix late 90's and we were completely tight until I moved away when my son was 5. I miss all of em."
They should know better than to tear down other women.
"It's very common for mothers or female relatives to be some of the first ones to comment on a woman's weight, appearance, or personal style/fashion choices, as well as reinforcing a sense of self-hatred (i.e. "I look so fat in this outfit, and you look so ugly in that color"), all while tearing other women down ("I can't believe she's wearing that, doesn't she know how she looks??").
When you have that reinforcement that it's normal to say things like that, because if your mom does it then it's okay to do it too, then you just treat it as normal. And because it's so common, you find other women to do it with and it just becomes a cycle. If you try to break it, then you're labeled as sensitive, a bore, and "Oh my god we're just having fun, chill out, it's not that serious."
I still remember the first time I called my mom on talking sh*t about a woman wearing something she didn't like, and she got so f*cking mad at me."
Let's dive into the tearing down other women thing some more. We as a society need a wake-up call.​
It's like high school all over again.​
"Some women are so judgemental about other women, particularly when it comes to looks or fashion.
Also the women who seem to enjoy forming cliques and cutting out anyone they deem to be an outsider.
Worked with an office full of them once. It really sucked!"
"When I first got out of grad school, my first (and as it turns out, only) teaching job was long-term substituting for a friend while she went on maternity leave. The kids/classroom were mine for the first half of the school year, but we coordinated so that things would be pretty smooth transitioning back to my friend teaching at the end of her leave.
My friend was part of a two-teacher team who ran the 8th grade Student Council. I told the other teacher that I would be happy to help her with the club in my friend's absence, but she insisted she didn't need my help. She then proceeded to 100% ignore me and treat me as if I was invisible during all future interactions. 8th-grade team meetings, if I said even a single word, she shot me side eye, even though what I had said was not at all related to her; just a kind of "you're not a real teacher, how dare you speak?" vibe she was giving off.
My last day, my friend came in after school to put her classroom stuff up as I took my own down. The other teacher and two other women (the PE coach who I'd never talked to and another teacher, I don't remember) came in to help her, but none of the three of them offered to help me take any of my own things down or pack any of it up. They also said things like, "Is this yours or hers?" to my friend, even though I was standing right f*cking there. They also gushed about how excited they were that she was back; again, right in front of me.
After I was finally done putting away all my things--again, by myself--I just left without a word. I texted my friend about it later, and she apologized for her other friends' behavior but just excused it as, "Yeah, they're definitely the 'Mean Girls' types".
I was just floored. These were TEACHERS. You know, the people who are supposed to teach children NOT to bully other people? And I had never been anything but nice to everyone I met during my time there, but they didn't care. I wasn't part of their group, so I wasn't worth their time.
It became one of a laundry list of reasons I decided I didn't actually want to be a teacher for a living, after all.
tl;dr - personally experienced cliquey adult women in the education field, of all places. It sucked."
The Best 'Actually, You're Speaking To The Boss' Experience | George Takei's Oh Myyy
How possessive.
"My ex-husband and I separated when our child was 2. Went to a birthday party for daughter's friend and was having a casual conversation with one of the husbands. The group of women stood in a corner staring at me, and the wife came up and grabbed him by the arm and started doing that strange possessive peacock dance.
What were we talking about? Real estate prices."
"No joke, I had a professor I was close with because we were both single moms and she gave me the advice to wear a wedding band even without a man and that the other moms would chill out a bit. It worked and my daughter started getting more opportunities for playdates. It's really demoralizing."
I think we all need to learn how to be more forgiving.
Toxic office culture is the literal worst.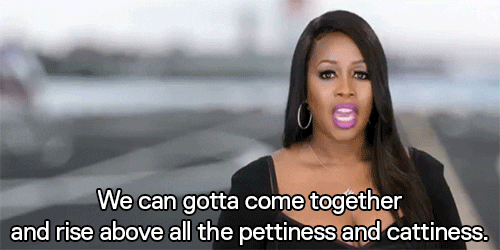 come together love and hip hop GIF by VH1
Giphy
"The sheer terrifying glee they have at tearing down someone who's made a mistake or is somehow lacking in their eyes. I worked at a doctor's office with a fifty person staff, forty five of which were women. Like they were so fake and catty and just outright hateful to each other. It was a toxic office culture."
"Did they also have a compulsive, competitive need to please the male figures in the department? I go weekly to a fairly small medical department where the head doctor is male and the majority of nurses and admin are female. They treat him like an absolute God and defer to him with everything. He's a huge d*ck and of course, has a big ego by now."
This girl isn't just toxic--she's a monster.
"A girl in the grade below me (I'm a senior in high school at this point) passed away unexpectedly due to sepsis. Our whole city was in shock as the girl was in the school just days before her passing.
I remember I met up with my gf at the time and she asked, "Why do so many people care about her dying? It's not like she was pretty anyways."
This was the type of girl that says, "What??!! I am SOOO nice."
Safe to say, the lord blessed me with a brain and I GTFO of that relationship.
To this day, she is still in contact with me & recently she complained that guys use her & she can't figure out why nobody will be with her.
Well, honey, I don't think it takes a rocket scientist to figure that one out.
Edit: Some of you have said that I should tell her and I did. Apparently, she would "literally never say that about her" and also apparently "I know nothing about her." (My ex. Dated for 4 years. Know nothing)"
This is how eating disorders start.
"Probably the culture around eating.
When I was 17-18, a few friends kept saying how much more attractive I'd be if I lost weight, how that's why most guys weren't into me, how I'd regret not being skinny in college, etc. My BMI was slightly under 25, so I wasn't overweight, but I was close to it, especially compared to them.
So I basically became anorexic from 18-20 just because the feedback was like a high. I recovered, but not enough to make my mom and others happy, even though my BMI was 22-23. This continued for years between friends and family, and it was exhausting cycling between being too skinny or not average enough.
That's really the only strong example I can think of. No matter the trendy body shape, the criticism from others will always continue. I've only had one guy ever comment on my weight compared to the many, many women, even strangers."
​As a woman myself, I've encountered plenty of toxic femininity in my life. It's almost as terrible as the objectifying sh*t I hear men saying about women all the time. We have to be rid of cattiness and tearing other women down.
Remember what we actually need to be working against. So much sexism exists in the world, and we have to stick together.
Keep reading...
Show less
There's an old saying that describes women as a mystery; however, today we're going to crack the case…well, at least a little bit. This thread allowed men to ask the questions they've always wondered about in a safe, informative zone. This can be difficult in face-to-face conversations where personal or private questioning is not always appropriate.
Keep reading...
Show less