Sometimes you just gotta walk away. Love is love and it's fabulous and all that jazz, but that doesn't mean it's meant to be... forever.
And no one wants to hurt another person's feelings, especially someone you're in a relationship with; unless they really deserve it. But more often than not, a lot of marriage proposals seem ill timed and not well thought out.
Like, you just cheated on me or stole my money, a "Will you marry me?" does NOT an "I'm sorry" make.
Redditor u/tommygunz007 wanted to chat with the ladies out there about the times they just had to say... "No!" They asked:
[Serious] Women of Reddit who were proposed to by their SO and said no, what's your story?
Want to "know" more? Never miss another big, odd, funny, or heartbreaking moment again. Sign up for the Knowable newsletter here.

Keep reading...
Show less
Many of us living in the U.S. don't think twice about certain freedoms that aren't granted in other parts of the world.
Generally speaking, of course, we can wear whatever we want and behave without constantly walking on eggshells and worrying about consequences or judgment.

However, there are countries that look down upon women wearing suggestive clothing that aren't viewed as provocative in America. And when these women somehow find themselves here, it's fair to say it's quite the culture shock.
These are their stories.

"Women who migrated from a socially conservative country to a progressive country how significantly has your life changed?"
Keep reading...
Show less
We're all well aware of the weird, horrible, predatory things men do when attracted to women. But what about when women are the culprits?
Though it seems that, statistically, men are problematic at a WAY higher rate than women, there are certainly times where the person bringing the creepy vibes is, indeed, the woman.
Some men of Reddit gathered to share the most bizarre and uncomfortable things a woman has ever said.
AidenTheGamer14 asked, "Men of Reddit, what is the creepiest thing a girl has ever said or done to you?"
For some, it was the stalkers.
The cryptic behavior and frightening detective work of ex-lovers can be unparalleled.
Some Light Sleuthing
"Found out my address from the phone book, this was the 90s, sat outside my house for multiple nights, all night just watching my house, I live in the middle of the woods miles outside of town."
"We only had one date and agreed to leave it at that. I found out sometime later what she had been doing."
-- crooky50-dc
Plot Twist
"Girl I was dating asked if I had changed the locks since breaking up with my ex months prior. I'm like 'No, but she wasn't a crazy person so I never worried about it.' She says if I don't change the locks she ain't comfortable sleeping over, so I change the locks."
"This ex sends me an angry text the next day 'So you changed your locks huh? Real nice a**hole.' So she had been coming over this whole time and doing who knows what."
-- Joey42601
She Stopped at Nothing
"She kept writing me letters at every address I lived at during that five-year period. If she didn't have the address she'd send them care of my parents. The most memorable is the one where she told me she was married and 'he's a great guy but he's not you.' "
"Once not long after I'd moved to a new address I came home and found a box of cookies she'd FedExed to me. Eventually I moved to a new state. I knew from her return addresses that she lived and worked there, and was worried we'd run into each other but realized that was pretty unlikely."
"Then after less than a year, she found me through a blog I was keeping and left a message on my voicemail demanding we meet. I posted a message to her on my blog telling her to stop harrassing me or I'd call the police (up to that point I'd been ignoring her, hoping she'd take the hint). That night she called, I repeated my threat to bring the authorities in, and I haven't heard from her since."
-- JedLeland
Others dealt with the creepiness on the internet. With so many avenues of communication all around us, uncomfortable comments can come from all directions.
Phony Warnings
"Someone I considered a friend started to grow feelings for me, but when she found out I had a girlfriend and I didn't feel the same for her she found out who my girlfriend was somehow. She then DM'd her and tried to tell her that I was cheating on her with her."
"Luckily I was with her when she got that DM so I could explain the situation and then we blocked her. Next day she DM'd her again from an alt account."
Reddit Users Share Their Best 'It's A Small World After All' Experience
Worst Kind of Pen Pal
"I started a new job, and I shared a small office with a woman my age (and a couple other people). She was kinda cute but also weird and super naïve (she grew up in a very rural area). She'd flirt with me a lot, but I wasn't interested."
"So she started sending me emails."
"They were super long, detailing her whole day. And she sent them to me every day. I never responded. Then one day she sent me this long email confessing her love. I replied with the (very obvious) reasons why it wouldn't work and asked her to stop sending me emails every day. She didn't."
"They kept coming. This went on for months. I asked her in person and online to stop, but I still got these email memoirs every day. Eventually I had another female office mate who was her friend have a talk with her. Finally the emails stopped."
-- RPShep
That's A Lot of Passwords
"I've had a girl create about 50 different Snapchat, Facebook, and Instagram accounts all to try to get me to friend her. I've never met this woman in person and yet every few weeks I'll get a handful of friend requests from her"
-- keldog361
Terminal Catfish
"Met this girl online and talked to her a bit. I did started to like her."
"Later found out that the pic she showed me of herself was actually a pic of her friend who had passed away due to cancer."
-- Immortal1h1
Poor Host
In my early 20's I was at a party and the hosting woman full-on tried to reach down my pants to grab my business."
"Strange, yes, what made it creepy is that we were right in front of her mother, who was cheering her on."
-- BauranGaruda
Breaking Out the Scroll
"After 6 months from our breakup, my ex called me because she wanted to see me. It seemed strange to me but I accepted. When we met she was friendly and all..."
"Then at a certain point she pulls a sheet in which there was written a list of all men she fu**ed after our relationship and she read it all to me, with accurate description of every sexual intercourse. Well it was an awkward moment."
-- Omoi_
Getaway Vehicle
"I was going to head home after a night out and a I was getting into my taxi a girl jumped in after me. I asked what they were doing and she said 'I'm coming home with you.' "
"Nope. Taxi driver helped me and she got out the car eventually when I shot down her advances."
-- Stuf404
Others were stunned by the things a woman did in person. Everything seemed to be going great, until it wasn't.
Dog-Based Assumptions
"She thought it was suspicious a single guy had a female dog" -- DivineSwine_
"I think it is suspicious that this was her first thought on having a dog." -- Amegami
"I had a girl in college accuse me of being gay...because I was a grown man with a pet cat." -- esoteric_enigma
A Strange Errand
"Hung out with some friends and they brought someone I haven't met yet. we ended up hooking up. Right after she asked where the used condom was, she grabbed it and said she was going to throw it away. walked past the trash and went upstairs."
"Needless to say I was pretty nervous about getting a call 9 months from then. I think I'm in the clear, still creeped me out tho."
Old School Courtship
"This didn't happen to me but when my dad was at sleep away camp as a teenager, this girl had a crush on him so she snuck into his cabin and folded and reorganized all his clothes." -- purplepanthersfc
"She was checking to see if they were made of boyfriend material" -- InjuredAtWork
Third Party Assessment
"Maybe not creepy in a sense, but it freaked me out. I'm in the school hallway - schools been over for an hour, but my mother works there so I waited. I'm getting something from my locker, and this one girl walks up to me in the empty hallway - angrily looking - and takes my hand, and places it on her a** and goes 'does this feel fake?' "
"I was 13 at the time, and the whole thing freaked me out for a while."
Again, it's important to read this thread and remember that this is a bias sample, solely focused on the incidents where a woman did act creepy.
But, yes, it happens out there.
Want to "know" more? Never miss another big, odd, funny, or heartbreaking moment again. Sign up for the Knowable newsletter here.
Keep reading...
Show less
In this day and age it can be difficult to flirt. Let's just talk truth. Everyone is trying to navigate a new normal where we try to let someone know... "Hey! I think you're cute!" Without getting the cops called. It can be done. There is a misconception running around that women don't like to be flirted with. That is untrue. Flirting and being a creepy disaster are two different things. Here... let's discuss...

Redditor u/hungary70 wanted to hear from the ladies out there about when they've some cute come ons by asking... Girls of Reddit, what was the best flirting technique someone did to you?
All my ladies will tell you... "Just be respectful!" How hard is that? Don't be handsy, and be able to read the room. And most of all? NO. Is no! It's literally that easy. Everybody likes to flirt. Flirting is fun. Let's see how...
The Tub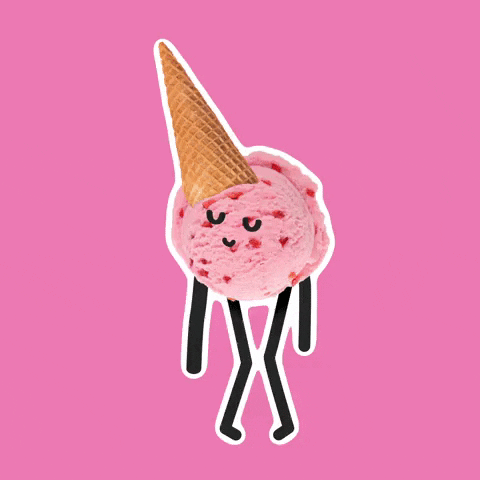 Happy Ice Cream GIF by GIPHY Studios Originals
Giphy
He brought me a huge tub of my favorite ice cream flavor after hearing that I was having a bad day.
Kombat
When I was 10 I received a love letter from a boy. It contained a flower inside, and at the bottom of the letter he wrote some cheat codes for Mortal Kombat for me. He knew I was always playing that game on my Sega.
13 Years In
I'm British, and I came over to the States on a temporary work visa, to do "one" ski season with Vail Resorts. I was bartending at an on mountain restaurant, and a couple of snowboarders come in and start talking to me. It came up that I was only there for the season, then one of them says "I'll marry you so you can stay... but we have to go on a date first".
... we just celebrated our 13 year anniversary, and I'm still in Colorado.
Rotted Fruit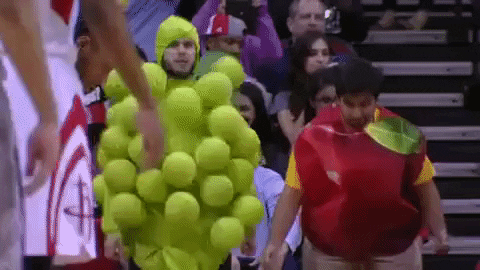 fruit of the loom GIF by NBA
Giphy
"Hey do you want to help me throw fruit at my friends?" - 16 year old boy at summer camp, holding a bunch of oranges, who wanted to meet me. I was also 16 at the time.
Years Later...
The third time we hung out I went to his house. We were both in grad school and were talking in his room but I was exhausted from school and my 2 jobs. I was sitting on his bed and fell asleep. When I woke up he had put a blanket on me and was playing beautifully on the piano. I was so embarrassed cause I had drooled all over his pillow and surprised that he was so kind about the drool and not creepy about me being passed out on his bed.
We've been married for almost 4 years now and been together 8.
Bonus fun fact, his brother didn't believe I existed and accused him of making it up till I met him a year later. I was his first real girlfriend at like 25.
Oh I am feeling butterflies. I thought love was dead. So far, I've been given hope. Love can be born with trust. Tell me more...
Thanks to the Migraine
I was in Chicago on business, got a horrible migraine, and had to cancel a meeting with a man I had met with (for work) the day before. I get really bad migraines, really, really bad. After it was over I had to get a bit of food and something to drink, but it was very late and there was no way I would survive any kind of car/cab ride.
He was the only person I knew in town, so I sent him a text to see if he knew of anything in my area that would be safe/open that late within walking distance. He drove 30 min across town in the middle of the night to walk me to a 24hr restaurant and buy me dinner. I've been with him for 11 years now.
the corny...
Was riding home with the friends group back in 2008. We stopped to drop off the one guy, and I got out to stretch. I mentioned that the stars were so much more visible up there in the mountains and he said, "Yeah, they're really pretty. Wish I had someone to watch em with."
I'm a sucker for corny guys. We got married the next year and are celebrating 12 years this June.
Happy Halloween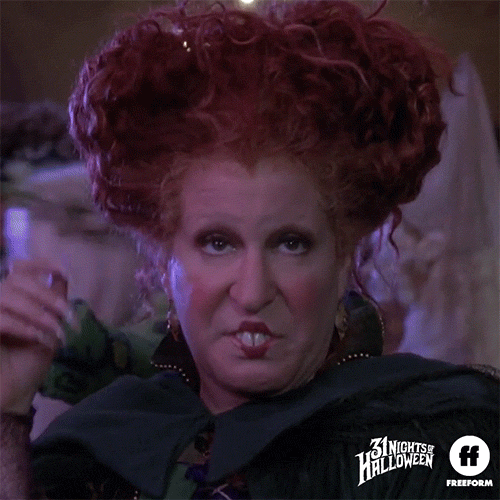 Hocus Pocus Wtf GIF by Freeform
Giphy
We met at a Halloween house party and when I was going to leave he walked me to the room with all the coats which also happened to be a kids room and he asked me "what color crayon would you like to write your phone number with?" I married him. Celebrated 20 years.
The First
My first boyfriend came into the store where I was working and just straight up told me he had seen me through the window and needed to run home to clean up/put on something nice so he could come back and ask me on a date. It was super endearing :)
Edit to add: he didn't WATCH me through the window lol, just saw me in passing and wanted to ask me out.
This was well before dating apps where you basically had to ask in person. He was within my age range, nice smile and just had a good energy.
Also his secondary flirting technique worked just as well, he brought me a book on our second date because I had mentioned in passing that I loved to read :) he was good at making me feel heard.
Silence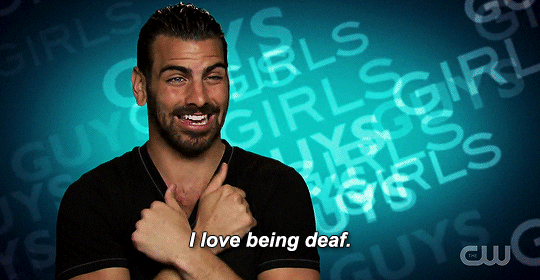 deaf sign language GIF
Giphy
Not me but my mum. My mum and dad were set up by a friend of theirs.
My mum is completely deaf, upon being told this before he met her my dad went out and learnt as much sign language as he could before he met her.... my mum doesn't know sign language... adorable and hilarious.
Women are so much better at this. And there is a lot to learn in this thread. I hope y'all gents took some notes. Willing gestures speak far more volumes than money, attitude or status. If you like then put a ring on it!
Want to "know" more? Never miss another big, odd, funny, or heartbreaking moment again. Sign up for the Knowable newsletter here.

Keep reading...
Show less
Owing to the courageous and persistent efforts of women for the last several decades, some gender equality--and gender justice--has been sought and gained in the contemporary era.
Multiple waves of feminism have charged empowerment forward like a tidal wave. Trailblazing women have blasted through glass ceilings in several pockets of society. The "Me Too" movement raised awareness and achieved justice for women who survived the harassments of men who refused to listen to the word "No."
And the well-needed advocacy for feminism to be more inclusive of people of color has added nuance and numbers to the ongoing fight.
Yet, men continue their upsetting maneuvers. They touch without asking. They say things to a women they otherwise wouldn't. They act entirely unprofessional and shame any push back.
Some Redditors gathered to share the subtle forms of sexual harassment and/or sexism they encounter regularly.
dudeARama2 asked, "Women, what are the subtle kinds of low grade sexual harassment you face on a constant basis ?"
Want to "know" more? Never miss another big, odd, funny, or heartbreaking moment again. Sign up for the Knowable newsletter here.
Keep reading...
Show less