First impressions can be misleading.
It's not uncommon to meet someone who might come off as cold or standoffish, who turns out to be genuinely kind and innately likable.
Or, on the flip side, meeting someone with an effortlessly charming public demeanor, who might be a little less charming behind closed doors.
But every now and then, there are clues from the moment you meet or first encounter someone which gives a clear idea of their personality.
For better or worse.
Redditor 123backflip was curious to see what signs people saw as immediate evidence that some people might not be the most friendly, by asking:
"What's something subtle people do that lets you know automatically they're an a**hole?"
Watch where you're going!!
"Switch lanes without looking."- yamsnavas2.
But you're such an easy target.
"Criticize you and laugh like it's common practice or just part of the conversation."- oneandahalfeggs123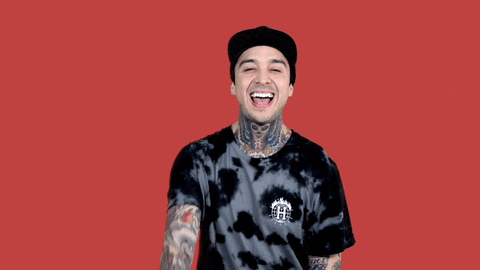 Ha Ha Lol GIF by Pierce The Veil
Giphy
People just love me!
"Repeatedly telling everyone that you're 'such a good person'."
"If you have to constantly say that about yourself then you might not be that much of a good person."
"Kinda like the 'I'm a nice guy' situation."
"I had a team leader who would say that about herself."
"She's the reason everyone quit the team ,including myself."- grumpycoffeee.
"I'm right, you're wrong."

"Wildly overestimating their knowledge/competence, while also underestimating the competence of actual experts."
"'Everyone that works with ___ are so dumb, they should just do [this] and [this] but they only care about ___'"- chshcat.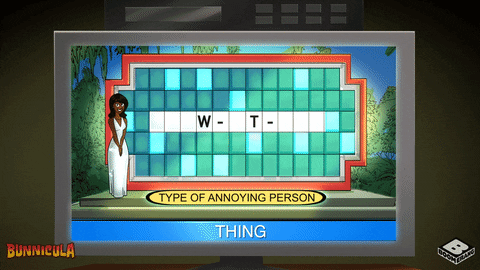 know it all boomerang GIF
Giphy
"You're kind of in my way."

"Stand in the way of aisles, doorways, etc., then actually act offended that you dare say 'excuse me' when you need to get through."
"I get people sometimes loose track of where they are and don't mean to accidentally block access ways."
"But most people actually are embarrassed they did it and legitimately apologize and immediately get out of the way."
"Jerks however feel entitled to block the way and think you're the one imposing on them for asking them to move."- llcucf80.
"Cause you're there for me too..."
"They remember you are their friend only when they need you or need something from you."- SuvenPan.
Oops!

"Not apologizing when they found out they were clearly wrong."
"Destroying your property because they are entitled."- kitchen_clinton.
Ugh, can you believe him?

"When I meet someone who spends more than half their time complaining about other people they know."- ofsquire.
I couldn't find a trash can.

"Litter."- Ahole_Judge.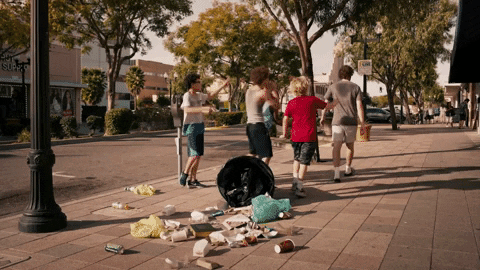 earth litter GIF by Lil Dicky
Giphy
"Hey, you!"
"The impatient finger snapping that some people do to get someone's attention such as in a classroom or when asking for the check at a restaurant, etc."
"It's just degrading to snap at someone like that and instantly puts a bad taste in my mouth."- Sixhaunt·
It's always a good idea to try to really get to know someone, and not resort to pre-judgement.
But sometimes, one single action can simply say it all.
Want to "know" more?
Sign up for the Knowable newsletter here.
Never miss another big, odd, funny, or heartbreaking moment again.
Keep reading...
Show less
We all have certain things about ourselves we would love to change.
Many aspects of our bodies, inside and out is the first thing to come to mind.
And what's frustrating is that many of those things we're passed down to us thanks to DNA.
Certain diseases and bodily aspects "run in the family."
Which often feels like a cosmic joke.
We have to learn to embrace it.
So let's do some venting...
Redditor dump_acc_91 wanted to hear about what generational issues have been passed along to many of us. They asked:
"Which sh**ty genetics did you inherit?"
My eyes. One droops, seems to be a paternal side issue. I'm looking into eye surgery but it's expensive.
Head to Toe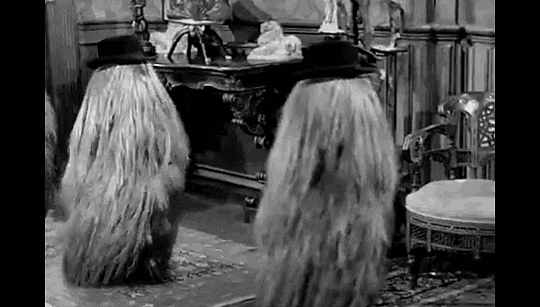 the addams family remix GIF
Giphy
"Hair on every inch of my body except for the top of my head."
elgatogordo19
"Me too... And I'm a lady. Thankfully, due to the wonders of laser hair removal, no one can tell anymore that I used to look like the love child of a yeti and cousin It."
LilPeaHen
Drenched
"Excessive sweating."
mrzpzp
"Same and the treatments are considered cosmetic where I live. I just want to sweat a normal amount and not have to change my clothes multiple times a day like a normal person. lol"
Kyubey4Ever
"Same! My mom could stand in the sun for 2 hours not breaking a sweat while I will be drenched when the temperature rise by one f**king degree so thanks dad."
lawsuy
Scars of the past...
"Severe acne when I was a teen that left behind scars."
DeathSpiral321
"Acne that forgot to leave with the rest of puberty is also not fun. I have the scars AND I have the angry zits that like to crop up along my bra line. At least at this point, my face is taking the least of it and I don't have deep pockmarks or scarring there. But I don't wear plunging necklines because my chest is a mixture of new and old scars."
ConniveryDives
Brush Away
"Teeth. I brush using an electric toothbrush for 2 minutes twice a day using prescription toothpaste, I floss twice a day, I've had braces and I floss under the permanent retainers once a day, I wear my night retainer every night and clean it every morning, have a dedicated tongue brusher and scraper that I use as needed, I go to the dentist twice a year and get fluoride treatments, I don't drink soda or eat excessive sugar, and I still have cavities."
"I had to get a root canal that ended up failing (missed by the guy who did the root canal and 3 separate dentists) and when the cap eventually rotted off I had to get an implant which got infected, then got infected again, then was deemed chronically infected and had to be removed. Now my wisdom teeth are acting up and need to be removed. I am so f**king sick of putting in so much time, energy, and money to be below par with most of the rest of the world I'm only 33 ;_;"
NeedsItRough
Bad Breed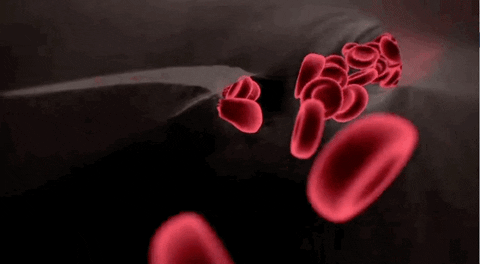 Red Blood Cells Sickle Cell GIF by Discovery
Giphy
"My parents met in their 20s, bonded over how they both have sh**ty circulation and everyone in their families has crappy circulation, and were like 'I know, let's breed!'. Went as you'd expect."
cateml
Bad circulation sucks. People don't understand the issues it causes. All of these can be difficult to deal with.
Bad Moves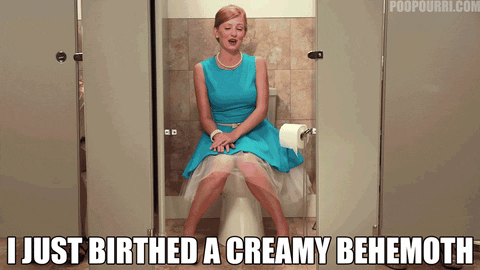 poop toilet GIF by Poo~Pourri
Giphy
"Dad has IBS-D, mom has IBS-C. My GI said you'd think they'd meet somewhere in the middle and give you regular bowel movements. Sadly not, I'm also a C."
Torshii
Issues of the Mind
"Likely Alzheimer's. Both grandmas had it, my mom has it, and I'm in my early fifties and starting to feel the beginning of decline. Frankly, I'm scared sh**less."
f_leaver
"I'm in the same boat, 2 generations in my family are diagnosed with it on my mother and father's side. Lucky me it's was late in life for both sides of the family, but I've always had notoriously bad luck so we'll see. If you haven't already, I'd definitely suggest seeing a neurologist sooner rather than later."
Taz447
It's gone...
"Hair loss."
Girlinda7
"Me too, but it's not a full bald. It's much thinner hair by my crown and down the middle of the top of my head. There's still hair there, but if you look at my head from above you can see that the hair there is much sparser."
potatoluIz
"My wife says it not a big deal but I always tell her she would be freaking out if she started to lose her hair too. Hair means just as much to men as it does to women. Confidence killer."
YM1979
Painful Endings
"I'm slowly going blind from RP. Thanks mom. My spinal discs are deflating and pinching off my nerves, Thanks dad."
ruzzerboo
"My son has RP as well. He is blind and uses a cane. He has a good government job, is married with two children. There is no cure but maybe someday. They are always working on trying to find a way to fix the retinal cells that are dying. It will happen but I am not sure if it will be this century."
LazyBox2303
Evolution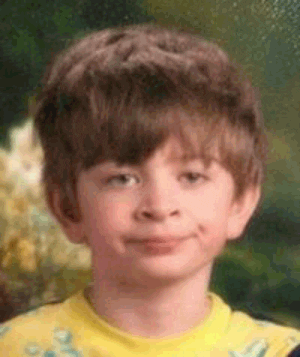 Come On Reaction GIF
Giphy
"Half of my face has my mom's bone structure, the other half my dad. Come on, evolution, I thought this was all about symmetry. OH and they both have addictive personalities which makes substance abuse almost instinctive. Luckily I was a pothead instead of an alcoholic or pill popper. We're all doing better now LMAO!"
vashonnn
Well, we are who we are, for better or worse. Let's make the most of it.
Want to "know" more?
Sign up for the Knowable newsletter here.

Never miss another big, odd, funny or heartbreaking moment again.
Keep reading...
Show less
Most of the time, we fight against our own worst natures to function like "regular" people.
It's what we deal with all day, every day, and it's a struggle.
Reddit user, Fluid-Daydreamer, wanted us to be open and honest with ourselves when they asked:
"What's your own toxic trait?"
Admitting you have a problem is an important first step.
You Just Need The Right Motivation

"I ignore things that cause me too much stress, until they become urgent and serious"
EarthExile
"Fear is a powerful motivator, issue is I have to be terrified for it to kick in lol."
"Looking back, I'm amazed how many problems just went away because I ignored them for long-enough. Not the best thing to do but it's surprising how often it works."
Hughesybooze
Never Let It Go
"I hold grudges and I can be quite petty sometimes."
robotchicken007
"I came here for this very reason. I remember EVERYTHING. I will hold onto things forever. I'm sure this is something along the lines of 'the ax forgets, but the tree remembers' thing for me."
"I remember exactly what was said to me or done that hurt me on X day at X hour down to the X minute, but for you, it was just another casual Wednesday. This has actually made my memory quite good and has come in handy for everyday life other than making me petty."
Jinbell
Unimportant
"I don't remember things that don't benefit me"
GentleAnusTickler
"I'm terrible at this too. I actually TRY to commit things to memory but if they don't benefit or at least effect me, I don't retain the details."
Standard_Equipment27
Sometimes it's not internal, maybe all of your toxicity manifests itself in the form of how you interact with others that gets you in trouble.
Cut Them Off At The Source
"I interrupt people if I feel like I know what they're going to say. It's f-cking annoying"
devondawsonmma
"I've managed to contain myself from doing this but the problem is that when I figure out / think I know what they're going to say I pretty much "checkout" of the conversation until their finished."
"Or, I'll pre-plan what I'm going to talk about when they're done which basically is nodding my head and pretending I'm listening all the while thinking about other things or different responses."
"I don't like that I do this and sometimes I have to concentrate really hard and force myself to empty my mind and focus on the other person but it is difficult sometimes."
ColoneISanders
How Close Is Too Close?
"I'm really bad at keeping up with people I'm genuinely interested in getting to know, and when on occasion I succeed, I can't help but feel I'm being creepy"
maleorderbride
"This one gets me. I want friends, but I feel creepy and over bearing when I follow up and text after a few weeks. I can just imagine then looking at their phone and thinking, 'how can I let this conversation die quickly so I don't hurt her feelings, and also don't have to talk to her'."
"I can't help but feel this is a symptom of social media. Our interactions are all over media's, and personal interactions outside those platforms feels invasive."
Ok-Second1272
Can Never Rely On Others
"I never ask for help because I think i can do everything myself, and i insist that i can do it even though i cant"
RGNlingling
"I'm right there with you. The only exception being not because I think I can do it myself, but because I have to, if that makes sense. Like, I've never been able to rely on anyone's help because I just have to figure it out for myself, or else I'm a failure and feel judged."
"It's caused a ton of stress in life. But on the other hand I've been able to pull myself out of sh-tty situations and have a little pride in that. But I don't think it's necessarily healthy. Life is tough and it takes its toll when you do it alone."
mykoconnor
Then there's everything else, the walls we have to overcome and crawl over everyday to be the best version of ourselves we can.
Knowing Is Not The Same As Doing​
"My toxic trait is thinking that my self-awareness of my toxic traits cancels them out"
VaginalSharknado
"It took me a while to realize that "being self aware" doesn't mean sh-t if you do nothing about it."
Victor0Chavez
Everything Sets You Off

"i'm very irritable and that really pisses me off!"
squarefan80
"I feel this one hard. The worst part is that as I get older, I realize that's it rarely to do with the other person/situation but just my own anxieties playing out in unhealthy ways"
loggershands
Where Do I Fit In?
"I either overvalue my role I other peoples lives, or I self isolate and want nothing to do with anyone"
Kemestri
"I simultaneously have low self-worth and a feeling of superiority to other people."
Exemus
Keep going.
Best way to win is to accept your faults, then do your best to get past them.
Want to "know" more?
Sign up for the Knowable newsletter here.
Never miss another big, odd, funny, or heartbreaking moment again.
Keep reading...
Show less
Everyone has their "type" when it comes to sexual attraction.

It could be a woman's scent, a man's fashion sense, or a confident attitude that really gets a heart fluttering at 100 m.p.h.

However, what someone thinks is "hot" or "sexy" may be a total turn-off for others.
Curious to hear from strangers about the qualities they don't look for in relationships, Redditor hmansloth asked:
"What is something you cannot find hot or attractive no matter how hard you try?"
People discuss the looks and behavior that are off-putting to them.
Know-It-All
"Everyone's typing sexual shiz, but here's mine: Ego. When someone thinks they're just a top of the line kinda person and know everything about anything? No, just no."
"Had a guy I had just started dating awhile back ask me about my job at the time. I was telling him about it, but he would interrupt me to try and CORRECT me on things he clearly had no idea about (and was also wrong about every time he opened his mouth lol)."
– NuckingFutsWinx

Puckering Up
"When girls put lipstick above their lip line to make their lips look bigger."
– JackEyedPees
"I don't respect people that can't color within the lines, didn't in first grade and don't now."
– Zerole00

Lip Augmentation
"Those huge pumped up lips on a woman."
"Gross."
– fishnwirenreese

And To Top It Off
"The female equivalent of a toupee."
– jfq722
Negative Behavior
"Bad attitudes."
– ForExpToronto
"I feel like that's the kind of thing that's alluring because it conveys confidence until you actually get involved with someone like that and realize they're just an a**hole."
– Turkey__Puncher

Toxicity
"Many things, but, the romanticising of toxic behaviour and toxic relationships primarily in films."
"Example uno - After Example duo - The Kissing Booth Example tre - Twilight"
"Edit: I'm aware I missed out on some prime examples like Fifty Shades of Grey and 365, so please feel free to add anymore to the list!"
– pantrypans

There's a certain way adult couples speak to each other that others find annoying and more fitting for a nursery room.
How Infantile
"Baby talk."
– Dendad6972
"If you think it's bad coming from a girl try hearing it from a guy. !!"
– Watermelonito

Mismatch
"Girls doing baby voices, I was once fooling around with this very cute girl and she used a baby voice sounding like tweety bird and sh*t and I couldn't recover, I had to cut her free, hope she found the right guy who's into that."
– santichrist
"That" Couple

"My ex would often talk in this very childish way of speaking, like trying to be funny and cute, and honestly I thought it was, until one day we were hanging out with her ex and her ex started talking like that and I was like….ohhhhhhh….I see."
– Vila_VividEdge

When it comes to the bedroom, these activities were ones Redditors could do without.
Getting Anal

"Scat."
"Truth be told, I had an ex who loves being f'ked in the a**. But it wasn't till the 20th ish time I realized she only wanted it up the poop shoot If she had diarrhea. And unfortunately it ended up all over me. Then she'd lick it off. Every single time I went immediately limp and couldn't finish. I tried, but, no.""I tried because she was into it."
– oO_SbowWulf_Oo
"Beep bobbly dee doot dah dah bup ba boodle doodle hee bat NOPE!"
– Alewort

It's A Fecal Thing
"Scat play. I'm not here to kink shame, but... Miss me with that sh*t."
– TheCantrip
Leave It For The Gastroenterologist​
"Unsolicited internal organs shots."
– yeet_onfleek
Here's A Pisser
"Golden showers."
"She asked, I obliged, we broke up within a month."
– MelantorBoost

Burning Wood
"Hand jobs where there's too much enthusiasm - meaning that I'm risking friction burns."
– FoodExternal
Age Is Not Just A Number
"I am 29. Anyone who is that much younger than me, even if it is legal. Just not into it, I am sorry."
– stare_at_the_sun

Interior Decor
"Unsolicited internal organs shots."
– yeet_onfleek

We all have our preferences that draw us towards certain people.
What others find repulsive, others find totally sexy. That's the beauty of dating, though, isn't it?
There's someone for everyone.
For those of you who are single and still looking, don't lose hope.
Your unicorn is out there.
Want to "know" more?
Sign up for the Knowable newsletter here.

Never miss another big, odd, funny or heartbreaking moment again.
Keep reading...
Show less
Some of our shameful traits may include a tendency to put ourselves down, being painfully shy, or shutting down entirely when dealing with a superior.

Could it be that people simply were not loved enough when they were growing up?
"What screams 'You weren't loved by your parents as a child' without saying you weren't loved by your parents as a child?"
Keep reading...
Show less