Just because a therapist is there to expertly evaluate our emotional challenges throughout many of life's adversities and crises, it doesn't mean they always hold it together.

People tend to forget that therapists–the professional we seek for guidance when we're vulnerable–are also human and are just as prone to feeling the feels.
Curious to hear from therapists who've exposed their emotional vulnerabilities in front of their clients opened up when Redditor Unkw0n_pers0n asked:

"Therapist that have cried in a session, why?"
A patient who feels seen and understood reinforces why therapists endeavor to help people in the first place.
It Wasn't Her Fault
"I was working with a deeply depressed client who had a lot of negative self talk about how she was always a failure. We were exploring the origins of this and how young she was the first time she felt self-blame. She told me her earliest story of when she was in 2nd grade."
"Afterwards, as we were processing it, I expressed that 'it wasn't your fault' about the story. She just broke down sobbing and said 'nobody has ever said that to me before' in between sobs. It hit me and I cried a little."
– Ayzmo

Relatable Experience
"i cried after i worked with a kid who described an emotionally difficult situation with a sibling. the kid's experience aligned very similarly to something i went through with my own sibling when i was the kid's age and i hadn't realized how much hurt i was carrying from the experience."
"being a therapist sometimes means being confronted with things you didn't realize had such a strong impact on you. luckily, i have a stellar therapist of my own that i can work through these moments with."
– rejecteddroid

The Patient With A Disorder
"I was doing a cognitive assessment for a girl. We were doing tests and at one point she started crying she was unable to tell me why, she was fine just one moment before. I let her collect her thoughts, then she said softly 'I don't want to be more stupid than my friends'. She wasn't actually, she was very bright, but she didn't know that she has dyslexia, dysorthograpy AND dyscalculia. I realized that she went through THIRTEEN years of school without help. Her parents didn't want to do an assessment as they thought she was just lazy. I told her that she was very brave to decide to get help and things would get better after our assessment and I felt tears in my eyes."
"Edit: first of all, I have great empathy for parents, for most of all is just a matter of ignorance, fear and parenting is hard. If you are a parent and you see your kid struggling, PLEASE listen to professionists, we are here to help, not judge, and we will find ways to help you and your kid. Disorders don't go away, don't underestimate it, the sooner you get help, the better the outcome can be. It's ok to be scared but we're here for you and we understand you."
"Second, I'm really sorry to read so many heartbreaking stories about people that weren't believed and struggled being undiagnosed. I wish you all the best, I hope you are in a better situation and you got or you'll get all the help you deserve, because you do deserve it."
"Third, if you think 'something's wrong with me', get help if you are in a position to do so. Worst case you understand yourself better and have a chance do make peace with parts of yourself."
– ---honeybadger----
A patient who has already accepted their heartbreaking fate recalls seeing their therapist getting emotionally involved during a session.
A Mother Who Didn't Want To Let Go
"My therapist cried while 'mediating' a discussion between my mom and I. I have a neurodegenerative disease and she is my full time caregiver. Because of my severe disability, she also has legal guardianship of me, even though I am in my 20's (this is all fine with me, I need the help, and I agreed in court to all of it. This was the first true 'disagreement' that we ever had.)"
"I am ready to die. I am in pain, unable to do anything for myself, and it's only getting worse. I asked my mom to sign a DNR, because I have been resuscitated before, it was a mess, and I don't want it to happen again."
"She refused. She doesn't want to lose her child and wanted to do everything medically possible to keep me alive."
"The session was essentially me begging her to let me go, while she sobbed and said she could never sign a paper that would lead to my death. It was a terrible situation. No one was 'the bad guy', no one was trying to hurt the other. It was someone wanting their suffering to end, verses a mother not wanting to lose her child."
"My therapist agreed that I should be allowed to make this choice, but certainly didn't think my mom was manipulative or evil, just already grieving and trying to hold on to me as long as possible. I saw her wipe her eyes several times, and they were red by the time we were done. She actually hugged us both at the end."
"The situation wasn't resolved during the session, but my mom came around shortly after. She wouldn't sign the DNR, but gave me legal permission to do so (so, in her mind, it wasn't her making the final decision.)"
"BTW, my mom and I have a GREAT relationship! This was just one issue that we couldn't come to an agreement on ourselves. But it worked out, and I'm now in palliative care and have a great team looking after me, INCLUDING my mom!"
– fightwithgrace

The following examples continue to demonstrate how therapists are more emotionally invested in their patients and clients than you think.
Responding To Tragic News
"I cried in a substance treatment group. A client's mom had reached out via email to me to say that her daughter died from an OD. She called during my group so I chose to take the call and spoke with her briefly. I thought I could continue with the group. Ended up in tears instead."
– ChicagoOwls
She Patient Who Felt Unloved
"My patient cried and said 'there's nobody on this planet who loves me anymore.' I cried when I left because I knew she was right. For context: she was 95, her husband and son had died, she had a personality disorder that made her behaviour unbearable for her environment after her husband died and every person still in her life were paid for to be around her. She died a few months after this conversation."
It is unsurprising that therapists are compassionate people.
Otherwise, they wouldn't be in the room to help someone who is struggling internally.
Want to "know" more?

Sign up for the Knowable newsletter here.

Never miss another big, odd, funny or heartbreaking moment again.
Keep reading...
Show less
*The following article contains discussion of sexual assault.
Patients are comforted in knowing when they seek a mental health specialist, they are in a safe space to ensure they can open up about the issues weighing on them without judgment.

Patient confidentiality is protected under state law, but that doesn't mean therapists don't silently judge a client's moral character if they are seriously flawed individuals.
Curious to hear from professionals, Redditor godslayingdruglord asked:

"Therapists of Reddit, when is a time you've believed someone one of your patients was just a bad person?"
Some people are not fit to be parents.
Calling Child Protection Services​
"Client told me about cornering their daughter, whose claims of sexual abuse the client didn't believe... The client stopped coming after I called child services. I won't give hard numbers, but client had more kids than you can count on one hand, all of whom were taken by child services at different points. I was the third person this client had seen and none of us could get the client to acknowledge any degree of responsibility."
"Childhood abuse is horrible, wrong, and can mess a person up for a long time, but that does not make it okay to do the same to your kids."
"Edit: I feel obligated to add a line that I've worked with people who have done some pretty horrendous things and still not considered them bad people. Even this client was redeemable in my eyes until they decided they'd rather allow the kid to be hurt than to pursue more therapy. Fingers crossed that they just went to someone else."
– bda-goat

History Of Abuse
"A client told me that whenever he sees his 4 year old son struggling to get something done or trying to learn something, he makes fun of him and tells him he's stupid and will never succeed. He later told me his mother used to be an absolute unpredictable tyrant around the house and as a child he was put in a barn in the garden with no food for days. Even though I felt for him, I couldn't help but feel anger towards him."
– Sifraar

Under Assessment For Personality Disorder
"I'm relatively new at it (2nd year practising after 6 years of studying), and there's one client that just bugs me?"
"I know she is a product of abuse and mental illness, but she has inflicted so much harm on everyone around her, including her own kids, which she just does not care about. It's all about her and how much she has been hurt."
"Her kids are older now and have protective orders against her, which is her main complaint right now. She doesn't understand why they don't just deal with it so she's happy, when she would never do the same for them."
"I show empathy and am totally committed to helping her, but there's still a bit of me that can't stop getting, I don't know, annoyed by her? Something just doesn't sit right with me."
"Assessing her for personality disorders at the moment. Maybe that will help me understand her better so I can see her side more. It's a complicated job sometimes!"
– 13Amy13

Advice From An Experienced Professional
"Long term project there. I have a relative who also can't see how she hurts other people (and herself honestly). Her youngest kid got taken away by CPS, and she still doesn't relate this at all to her own behavior and choices."
"Don't lose sleep over it. Do what you can and recognize that you will not save them all!"
– I_want_to_choose

Parents Who Don't Qualify As "Protective Adults"

"Been practicing for about 10 years now. As a previous redditer said, we treat clients with unconditional positive regard, respect and non-judgement. If we can't do this, then it is probably not a safe space for the client (referring on is recommended). While some clients may be challenging, our training helps us understand the underlying causes of the behaviour (trauma hx, attachment style, personality, brain functioning etc). So, I wouldn't consider my clients bad. But clients with limited insight or motivation is hard work!"
"I have however, come across very harmful parents, carers, trusted adults and/or systems in my work that I consider as bad people. When working with children, one of the hardest things is working with parents who are not able/willing to be protective adults. Worse still is when systems meant to protect children (child protection, family court) end up putting them in further harm."
– chickie_bickie
The "Irredeemable" Kind
"There were a few times, yes, but I'd rather not go into it. Some people, especially those who hurt kids, are irredeemable."
– EspressoBooksCats

These clients are examples of people who are narcissistic and lack self-awareness.
The Flirtatious Husband
"I had one client that just didn't care about cheating on his wife. He got married really young (not sure why, they didn't have kids) but by the time I met him he was in his 30s."
"He only came in because his wife threatened to leave him if he didn't. He also thought he 'might' be a narcissist. He calmly discussed how he cheated on his wife constantly during their 20s together, and showed little if any remorse about this. He seemed to be proud of his ability to sleep with women."
"It seemed his remorse was that she wanted to leave him and he got some benefit from her being around. But he didn't really care about hurting her. Still, he came in for his first few sessions saying the right things and claiming to want to be a better husband."
"Then he came in after a family party. He told a story about how he was 'just talking' to a 19 year old woman there. Of course, as the story went on, it became clear he was obviously flirting, and getting progressively drunker and bolder throughout the party. This was also in front of his wife's whole family. He began hitting on this girl badly, touching her, and came close to kissing her before his wife literally had to drag him away, while crying."
"Again, he showed very little if any remorse. He 'didn't do anything' and 'didn't see why this was a big deal.' I tried to help him make connections, but it wasn't getting through. Right before the end of this session, I informed him the office would begin enforcing a mask mandate (start of Covid)."
"He didn't show to his next appointment, and when I called him to tell him I would apply the missed session fee, he claimed he never actually confirmed this appointment and had never 'fully committed' to coming back the next week, even though we agreed to it."
"I knew he would be a problem, so I just waived it and took him off the schedule. Never heard from him again. And I was glad that was the case. I don't think he was a monster, but man, he was such an a**hole."

– metastar13
You Can't Help Those Who Don't Want Help

"I don't think any clients are bad people but I would say those that have certain personality disorders with no insight can cause a lot of pain to others and not ever realize/acknowledge the destruction they've caused. They also tend to live incredibly lonely painful lives as again they don't see their part in their problems and just feel that horrible things happen to them and place blame externally. They are also less likely to seek therapy because of this lack of awareness and are more difficult to treat."
– nictme
For Social Media
"When they discreetly recorded a session for tiktok views."
– squatwaddle

Some therapists questioned about what makes a "bad person."

Not Defined By Bad Actions
"I've had plenty of clients who have done bad things. A lot of them may not recognize the severity of their actions or how badly they affect others, but I never see them as a 'bad person.' I just see them as people who have done bad things who are working on improving themselves."
– Samara1010
Powerful Insight
"I'm a therapist, and I've seen a few therapists or people in caring professions who have held this perspective about Clients, and its quite dangerous. Being non-judgemental is basically page one of the therapists handbook."
"I won't give any specific details, but I've had a Client receive an off-hand diagnosis from another professional, which was totally inaccurate, because they thought he was a bad person."
"It turned out, after advocating for an assessment, that the Client had an intellectual disability and his processing of information and consequential thinking was impaired."
"I think any good therapist should never seriously believe that a Client is a bad person. Not only is it a useless/irrelevant 'diagnosis/opinion', it's therapeutically harmful to hold them in that light, and it creates projections onto the Client."
"Not to mention, it goes against all the good science we have on psychological development, systems theory, etc. that while there is good and bad behaviour, people are not 'good' and 'bad'. Its far more complicated than that."
– BobbyByrde

It's Subjective
"Lack of empathy and narcissistic qualities can point you in that direction but 'bad' is subjective. I'd have to have a pretty solid definition of bad bc it could be a lot or it could be just a handful. I've had clients I knew weren't going to progress any further, and someone who isn't going to change at all can be seen as 'bad'. Honestly most MH professionals aren't going to answer questions like this."
– mooncricket18

While each case is different, overall, many therapists generally believed that no one is fundamentally a "bad" person, and perceiving a client as such impairs their ability to properly assess how to approach a session.
If you or someone you know experienced sexual assault, help is out there. You can reach the RAINN National Sexual Assault Hotline by calling 1-800-656-4673, use their Live Chat tool: https://www.rainn.org/get-help, or visit the National Sexual Violence Resource Center's website.
In Canada, help is available through the Ending Violence Association of Canada website.
International resources can be found through the Rape Crisis Network Europe website.
Want to "know" more?
Sign up for the Knowable newsletter here.

Never miss another big, odd, funny or heartbreaking moment again.
Keep reading...
Show less
I could never be a therapist. That is why I'm so in awe of them.
I don't know how one person takes on so much emotionally in order to help others.
They are only human. So I often wonder... what breaks them?
How do they compose themselves?
How do they take a breather without compromising the client?
Because you know they need a break... or six.
Redditor falnergaming wanted to hear from all the mental health professionals out there. They need time to vent as well.
So they were asked:
"Therapists of reddit what was your "I need a minute" moment?"
My therapists have held together successfully.
I wonder if I'm dull.
Hmmm...
Too Much
"I am not a therapist, but I was in a therapy program years ago, and we got a new patient. Within the span of a week, her mother died of cancer, and her house caught on fire and her dad and sister died in the accident. The sister died slipping from the girl's hands and falling into flames. I felt so bad for her and I couldn't comprehend it at first." ~ EmiEvans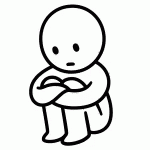 Giphy
didn't see that one coming...
"More of a funny story but I arrived at a client's house for a session (I was doing in home therapy for adolescents at the time) with a 13 year old kid. He was a little late getting home from school so he wasn't there yet. His mother has me sit down to wait for him and says that while he's not home she wanted to ask me something. I'm assuming it's about her son since that's why I'm there. She proceeds to ask me why I think her boyfriend won't perform oral sex on her and if I have any suggestions to change that. Really didn't see that one coming." ~ freechurro824
"go to the back room"
"First internship on my path to counselor and I was working in funeral home under the grief counselor there (grief and trauma is my focus).We were taught to be strong and supportive to those grieving of course and if we needed to cry, go in the back or to the bathroom."
"I escorted an elderly lady to view her husband before the service. I helped sit her in the chair in front of the casket and was standing behind her when she stood up and laid on the casket, bawling her eyes out declaring how much she loved him, missed him, and begging him not to leave her, come back.That totally destroyed me. I immediately started crying behind her."
"She stood up and i sucked it up to help her walk back into the hall to start greeting guest. I thought I had did a good job collecting myself, but my mentor took one look at me and softly said, 'go to the back room,' which I did. I completely lost it for a few minutes, cleaned up and went back to help with the service. I definitely needed that minute." ~ Tacomapenguin81

Stepping Out
"When I was a kid I went to therapy, I asked my therapist if she felt like I deserved what happened to me. She stepped out of the room, came back in a few minutes later clearly having had cried. She then said, no, you did not deserve it. I'll never forget it. I felt terribly sorry for upsetting her. But now I better understand. I hope she is well." ~ Throwaway18077
This is a WHOLE lot of heavy. How do they do it?
20 Minutes Later...
"Once had a client with a child who did nothing but scream at the parent for about 20-30 minutes straight. As soon as they left, I cried for 20 minutes due to how emotionally charged the words/accusations. I tried to defuse it at times, but it continued to rebound quickly." ~ Ryyah61577
Poor Girl
"The time I had to clean a bloody bathroom scene where an incredibly disturbed girl had self harmed herself throughout our rec complex. A local grade 4 class from a neighbouring school used our pool so it had to get cleaned that night. I needed a freakin' month actually." ~ remberly
so. much. trauma.
"Therapist here. I specialize in working with first responders and medical professionals (nurses, physicians, etc). The child death cases are always hard for me. I am an expert at keeping a good poker face during those sessions but daaaamn if there aren't days I've gone home and just held my kids and cried with gratitude that it wasn't them. First responders experience so. much. trauma." ~ the-mulchiest-mulch
'the new people are coming'
"It's my work with kids that has always affected me most. Had one kid that was in foster care and had been pushed from house to house. He had apparently had a very rough upbringing before that. He was very quiet and didn't talk much. We always gave every child a box that they could decorate and fill with things they made in sessions. At the end of their sessions they could then take it home if they wanted to."
What did this kid do when I first gave him his box? He started making it into a house. Gave it a door, windows, a roof etc. and then wrote a message to his mum (who he couldn't see anymore) on the side to say that he loved her. In the sessions he spent the majority of the time playing with the doll house where it always went the same way.
"He arranged all the furniture and people perfectly. He was very specific about what went where and what people had which rooms. And then he would destroy it all. Saying that 'the new people are coming.' I have a lot of stories but remembering his pain and his simple desire for a home always breaks my heart." ~ Vaytato
Evil
"Not a therapist, but I'm a first year school counselor. I've listened to a lot of heavy stuff, but probably one of the worst was a 4th grade boy telling me about how his shithead dad beat the crap out of him and his younger siblings and poured hot sauce in their mouths. I kept it together in front of the child but wept in the car on my way home. Sometimes it's impossible to fathom how monstrous and evil some people can be." ~ emshlaf
How was your day?
"My wife friends are a couple of therapists - he works at the prison ward, she works in emergency (handling cases such as somebody trying to kill their family during an episode and she helps to negotiate with the person and defuse the situation). I once made a mistake to ask how their day at work was and it was all like this thread but in one week. Suddenly my job doesn't sound as bad anymore." ~ gregtheomniscient
turning 30...
"I worked as a therapist at a substance use agency before going into private practice. One of my biggest 'I need a moment' times happened there. I was working with a young individual (and I myself was around their age) who was addicted to meth. They were bright, intelligent, and deeply empathetic to the world but so so sick."
"Had to have not just one open heart surgeries due to cardiomyopathy, but two. Prior to ever turning 30. Just kept relapsing despite trying so hard. This client never missed treatment. Didn't show for an appointment so I called. Didn't answer. They called back and asked to speak to me. I will never forget the voice when I answered. They were so broken."
"They had just relapsed before calling and injected meth into their PICC line that was treating another heart infection. They were so afraid and disappointed. I remember thinking that their addiction was going to kill them and it weighed so heavily on me. I will never forget this client. After that call I sat there awash in the realization that my client would likely die from this and they were my age."
"Addiction can turn people all out of character but they were so sweet and kind. Would give you the shirt off their back. I truly believe they were just too kind for this harsh world. BUT: This was awhile ago. Client went to a higher level of care and I found out over a year later they were sober and doing well and had moved states. I remember crying when I found out they made it all that time later."
deane_ec4
But to no avail...
"Not a therapist but volunteered on a suicide hotline for a number of years. Took a call from a young woman who was hysterical on the phone, was difficult to make out what she was saying amongst her sobs but I could make out she was outside."
"I asked her where she was and she replied that she was on the top floor of a multi-storey car park and was contemplating jumping off. I talked with her, tried to calm her (meanwhile I was shaking like a leaf). But to no avail. She jumped and the line went dead. It was in the local paper not soon after and it's stayed with me for years."
daisydream-
Hurt
"Had a (adult) client whose evil dad would buy them a pet (they were a kid when this happened), and then proceed to torture the animal in front of them or would set it free in the middle of a field just to hurt them."
AccidentalClock
"bathroom break"
"I'm no longer in mental health but I was a mental health professional in a big city jail for years. I had a few moments where I needed to take an extended 'bathroom break' to compose myself (breaks were not allowed outside of lunch). I had one person admit to attacking his very small children."
"He had another confess to a brutal murder (every greystone detail) with a straight face, another who would routinely dig up his mother's grave to put her in different clothes, and one who murdered his abuser. That job was nuts and made me realize how you never really know anyone or why they do anything. I was so burnt out I left the field altogether. It sucks because i know that's my calling but I'm too old to go back to school for a master's now."
Scrappie1188
Blades
"I had a client bring in a blade, pulled it out, and talked about thoughts to harm self. Asked for the weapon, called receptionist, and made arrangements for client to be hospitalized. Spazzed out after the client was en route to nearby ED."
BelleViking
"Thank you for your courageous work and sacrifice. That must have been so difficult to experience."
Yusi-D-Jordan
hard to forget...
"I'm a psychiatrist. The hardest one for me was a young woman who was sex trafficked when she was 16. She was essentially forced to take heroin until she was addicted and then forced into prostitution. I didn't actually leave the room when she told me the story, but it was hard to forget."
"The only times I actually had to leave the room was when I was doing inpatient work and I was seeing floridly manic patients who were saying things that were, quite frankly, hilarious and I started laughing."
Geri-psychiatrist-RI
"examinations"
"I had a patient who was psychotic and believed their ex-spouse had been molesting their child. This person went into graphic detail of examining the child's rectum for signs of abuse despite my attempts to get them to stop. I had to go to the door to my office and tell them they had to leave or I was going to call security."
Crisis...
"For the record, I never asked them about this, either, despite being aware of it from their crisis evaluation. I'm an activity therapist and my assessment with patients is all about their lifestyle and activity. I was asking them about chores, housework, etc and their basic routine and this was apparently something they did multiple times a day."
Even_Tell_7011
"DCF removed the child from their care. The patient eventually cleared from their psychosis (which was substance induced by mixing Adderall and alcohol) and recanted on their belief their spouse was molesting their child, but denied the 'examinations' ever happened."
maybe_little_pinch
On Air
"Not a therapist but my first night on air as a talk show host I got a call from a frantic woman. She told me she had just found her brother hanging in the garage and didn't know what to do. I organised police and ambulance to her address and kept her on the phone until they got there, it was so sad. Had people ask me later if I had arranged her to call to get ratings!! Would never pull crap like that. It left me a bit shaky for a while after as have lost several people to suicide."
GrooveGran
The Ex
"Listened to a woman explaining how her ex is abusing her son who had custody and she cannot do anything about it. My heart was breaking for her, she was working hard to get him back, but because she left without her son, he had automatic rights to the child (the way the kid end up with the dad was by fluke not planned in her escape). The guilt she was facing was excruciating to watch unfold."
"She now finally has custody and her son and they are both is thriving. I like to think mom and son made sacrifices to live a better life. Happy ending, but at the time, it was just killing me personally not to get involved. I could only advice and guide her how to cope and remain firm."
DisastrousGarage9052
PTSD
"I once made my therapist cry. She always knew that I was diagnosed with PTSD from years of physical abuse but when I finally opened up about this particular nightmare, she cried all while listening to me. I felt guilty and changed therapists after that."
Even_Tell_7011
Well that was a lot to process, and I didn't live it. I need more than a minute.
Mental health is important. So be kind to yourself and others.
If you or someone you know is struggling, you can contact the National Suicide Prevention Lifeline at 1-800-273-TALK (8255).To find help outside the United States, the International Association for Suicide Prevention has resources available at https://www.iasp.info/resources/Crisis_Centres/
Want to "know" more?
Sign up for the Knowable newsletter here.
Never miss another big, odd, funny or heartbreaking moment again.
Keep reading...
Show less
Mental health symptoms and disorders are incredibly common. Thanks to a global pandemic, mental health issues are at an all-time high.
But somehow, mental health is still a taboo subject for many.
Historically, mental health disorders have been thought of as demonic possession or witchcraft. On a global scale, this caused talking about mental illness strictly off-limits.
This silence around something so common is fluctuating between that taboo and normalization.
Redditor beholdtheblackcat asked:
"Therapists, what is something people tell you that they are ashamed of but is actually normal?"
You may find that something you are worried about is on this list.
It's normal to feel relieved.
"Mixed or even positive feelings when a loved one dies after a protracted illness. Especially someone who hung on for a long time, very sick and suffering, or an older relative with dementia. There's often a feeling of relief, of 'at least that's over'. It's perfectly normal and it doesn't mean you didn't love the person."
- nezumipi
"My cousin recently passed from a lifetime of illness starting with a premature birth, then cancer, then an endless string of issues."
"I miss my cousin, but I'm glad she doesn't have to put up with it anymore.'
- unforgiven91
"No longer suffering is a big one, but I also think care giver burnout is a big part of that relief feeling."
"I think people often feel guilty because they're relieved that their caregiving role is over as well. Society likes to act like you should be the energizer bunny and happy to either finance a loved one's care or physically take on the task of caring for them. It's perfectly natural to feel burnt out, stressed, angry, trapped, etc... when you're in that situation. Feeling relief that it's over and your life can return to normal doesn't make you a bad person or in any way tarnish the very real sacrifices you made to care for your person."
- UpstairsDeer
"Yup. I've learned this personally and try to use it whenever dealing with someone else going through a loss. You experience a whole range of emotions when a loved one dies, and you should never let others tell you or even imply how you should be feeling. My mother died of cancer and of course I was very upset, angry, devastated, sad. But I also felt very relieved and almost happy it was over, because watching her decline towards the end, especially in the last few days when she was barely lucid, was absolutely terrible. And in the actual moment that she died, the strongest feelings I remember having were just how surreal and bizarre it was. I was ashamed of those feelings at first, but I came to realize I shouldn't be and they're completely normal."
"Death is very surreal, and we as humans are terrible with dealing with it. As societies, we often hide and suppress the realities of death. And at the same time, we romanticize it in a way. We're very prescriptive about how it should be and how people should feel about it, but death rarely looks like it does in the movies and it never really feels like it either."
- dakatabri
Even therapists feel this.
"I've had patients describe their impostor syndrome in great detail, and are genuinely surprised when I say everyone feels like that, myself included sometimes."
- like_literally119
"As another therapist with imposter syndrome, 100%."
- spacecirrina
"I'm sometimes afraid if I don't think I have imposter syndrome I'm just fooling myself and others."
- Mateorabi
"I never felt imposter syndrome until I started my new career last year."
"They actually sat us down to explain that at some point you will feel this way and to lean on your colleagues, managers and the employee mental health program for support."
"Sometimes it still doesn't feel like enough."
- Hey_HaveAGreatDay
"I work for a software development company as a support guy. I've been trying to skill up my coding to cross over and a few of the devs specifically mentioned imposter syndrome to me. They are both awesome devs and they both at one point felt like they shouldn't be doing what they are doing."
- domestic_omnom
It's okay not to know.
"That they do not know what they enjoy doing. Often they have people in their life, including therapists, say 'Try to do something fun today,' or ask, 'What do you like to do when you have free time?' Many people I work with do not know what those are. Once I explain that I dislike these statements/questions because they assume people should know the answer, and that many people don't, I can watch as they relax, take a deep breath, and say something to the effect of, 'Oh my, that's so good to hear. I have no idea what I like to do. That's part of the problem.'"
"More often than not they feel like they should know and that everyone else their age has it figured out. They are embarrassed to say that they don't know when in fact not knowing is very common. I couldn't even try to count how many clients I've had this conversation with."
- ljrand
"I'm not a therapist, but I mentor at risk youth and marginalized professionals (I'm a black woman myself, who also used to be an at risk youth), and I've encountered this quite a bit. I usually suggest to them what I did when I realized I had the same problem years ago: What did you enjoy doing as a child? What were your dreams as a child? Is there any reason you can't pursue one or both of them now as a hobby or even have that as a professional goal to work towards (if applicable)?"
"It usually helps, and suddenly they're like, 'Man, I always wanted to learn to play tennis...' and we find a free MeetUp for them to go to. Or they say that they used to like model cars, so they go grab a cheap set so they can try it out. It's always low-commitment so they can quit if they find they don't enjoy it anymore. The only way to find if you like it is to do it - often our busy schedules (or if you have it like I do, our depression/mental health issues) are gonna tell you it isn't worth it or that it's going to suck. To try that, give it a try on two or three occasions. If that doesn't work, try another thing you used to like! But the only way of finding that out is doing it"
"For me personally, it was that I used to love playing video games. So I went back and got some of the games I always wanted growing up, but couldn't because my family was poor. I had so much fun (and they're also cheaper now 😂)!!! Got me back into gaming again, and now I find "retro" consoles at thrift stores and buy them (I'm upset that the GameCube is considered retro now, but I digress haha), as well as new games. I'm also doing art again and starting a number of hobbies I wanted to do as a kid."
"We may grow up, but a lot of our sadness and u fulfillment comes from our inner child calling out to us. If you haven't had a great adult life, or childhood, or anything like that, you can be the parent your inner-child needs. Pick up some yarn for like $2 at the store - you can weave a blanket with a cardboard loom! Go get them that soap-making set they always wanted and just try it. You can even start with a cheap one! Or go get them a piece of candy they used to like. Go to the beach (by yourself if you want to!) and build a sandcastle. Take care of yourself. This life is supposed to be fun; Humans NEED some kind of happiness to live and keep going, and we don't have to wait until we retire, or even spend money to do that."
- iftheronahadntcome
​Your abuse should face consequences and it's okay to have mixed feelings.
"Feeling conflicted when a caregiver who abused them is exposed/faces consequences. Many express feeling bad for them because this person abused them but they also took care of them, provided for them, etc. I always try to tell them that what they're feeling is normal and understandable but that the abuser needs to face consequences for what they have done."
- SeaworthinessWide183
Intrusive thoughts are common.
"Having intrusive thoughts (thinking about steering into oncoming traffic is a popular one). Also, when they're talking about inner dialogue people fear I'd consider them psychotic."
"For those interested or struggling with intrusive thoughts I highly recommend The Imp of the Mind by L. Baer. It's well written and has some great exercises. Regarding inner negative dialogue Breaking Negative Thinking Patterns by Gitta Jacobs is generally considered to be a very practical self help book. They're no substitute for therapy obviously but I think both can benefit any reader."
- Conquestadore
Another therapist shared the same thing, so it must be incredibly common!
"Having really f*cked up thoughts. Intrusive violent or uncomfortable thoughts are very common, i.e. call of the void. For most they are a passing thing like 'oh that's weird,' but for some they get stuck and people judge themselves for them thinking there is something wrong with them."
"I want to encourage you all to reach out for help. There are treatments, both with and without psychopharmacology, but you need to find what works best for you with the help of professionals."
"I will share a mantra that has helped me throughout my life, both as a therapist and as someone with OCD."
"I am the observer of my thoughts, not the manifestation of them."
"I love you all and wish you all the very best!"
- WhatWouldMrRogersSay
Regretting having kids should be talked about more.
"They regret having kids or weren't instantly attached to their child when they were born. It's a lot more common than people think, but the subject is extremely taboo and is not often is discussed due to the shame and guilt that comes with it."
- Kevin-W
"I mentioned having these feelings in a supposedly 'safe space' once. I had no idea people could be so over-the-top mean and cruel in their replies. It was deeply traumatizing and I never mentioned it to anyone since."
- rubberman83
"A work colleague opened up to me about this last week, kind of out the blue. He told me he was jealous of me for not having kids nor wanting to have them."
"I truly didn't know what to say."
"The way he was talking about it, something tells me he might be going through some hard times these days and might not have someone to talk about it."
- Mr_Laheys_Drinkypoo
There are so many things that we don't talk about because it's taboo or we are afraid that we are alone in this. In reality, not talking about these things have actually made us more alone.
If there's something you're going through, talk to a therapist. It might be more common than you think.
Want to "know" more?
Never miss another big, odd, funny, or heartbreaking moment again.
Sign up for the Knowable newsletter here.
Keep reading...
Show less
To provide a productive therapeutic environment, therapists are trained to "meet people where they're at."
That means accepting a client and their struggle regardless of how alienating the specifics may be. That acceptance allows a safe space to form where the client can verbalize their feelings and responses, and understand their internal states more closely.
But therapists are humans.
Sure, they're ideally well-trained humans especially skilled at noticing certain thought patterns and human tendencies. That said, they do have knee-jerk initial responses to the people around them.
They then mindfully work around those responses to continue to provide good care. But nonetheless, the occasional moment of shock does come about every now and then.
homowithoutsapiens asked, "Therapists of reddit, what was your biggest 'I know I'm not supposed to judge you but holy sh*t' moment?
Want to "know" more? Never miss another big, odd, funny, or heartbreaking moment again. Sign up for the Knowable newsletter here.
Keep reading...
Show less