To provide a productive therapeutic environment, therapists are trained to "meet people where they're at."
That means accepting a client and their struggle regardless of how alienating the specifics may be. That acceptance allows a safe space to form where the client can verbalize their feelings and responses, and understand their internal states more closely.
But therapists are humans.
Sure, they're ideally well-trained humans especially skilled at noticing certain thought patterns and human tendencies. That said, they do have knee-jerk initial responses to the people around them.
They then mindfully work around those responses to continue to provide good care. But nonetheless, the occasional moment of shock does come about every now and then.
homowithoutsapiens asked, "Therapists of reddit, what was your biggest 'I know I'm not supposed to judge you but holy sh*t' moment?
Want to "know" more? Never miss another big, odd, funny, or heartbreaking moment again. Sign up for the Knowable newsletter here.
Keep reading...
Show less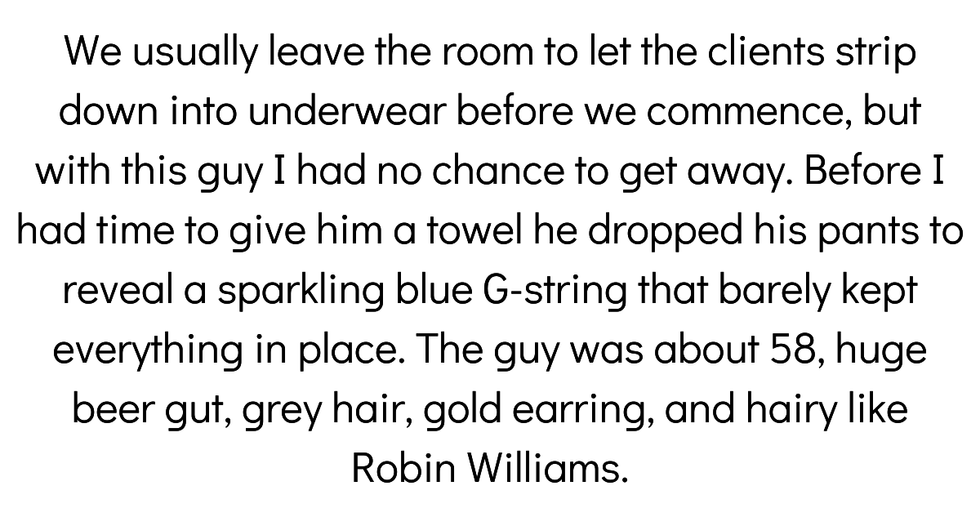 Ah, massages. This very legitimate therapeutic technique has been around for nearly as long as human beings.
But now it's been co-opted by so much erotica and so many movies that it seems to constantly provided weirdo creeps with a place to actualize their fantasies.
Real life massage therapists have plenty of run-ins with said weirdo creeps. PSA: happy ending massages are NOT to be expected. Sex work does not equal therapeutic medical techniques.
u/Tracewell asked, "Massage Therapists of Reddit what is the creepiest thing to ever happen to you while giving a client a massage?"
Keep reading...
Show less
Keep reading...
Show less
https://www.gettyimages.com/detail/photo/male-therapist-analyzing-paper-while-sitting-with-royalty-free-image/991178664
Joining a therapy group or seeing someone one-on-one is an open admission you need help. That's perfectly fine, as seeking assistance in life's problems is an extremely positive act you can do for yourself. On the other side of that relationship, you have a therapist who, hopefully, wants to help you. For whatever reason, it doesn't always work out. You can't crack through, or you can't figure it out, and you can only hope to find help through other means.

Reddit user, u/Ate10, wanted to know:
Who's that one patient you couldn't help? Tell us all about it!
Keep reading...
Show less