It's no secret that Terry Crews is ripped af.
His character on Brooklyn Nine-Nine is partly based around how fit the actor is.
What we probably didn't know was that Crews, at 51, will put most of the fitness models you follow on Instagram to absolute shame.
Crews shared a pic of himself post workout via Twitter.
MY NECK, MY BACK, MY BICEPS AND MY LATS!!!!! 🤣💪🏾🔥 #SweatForSuccess 🔥 Here's some BACK inspo before @AGT is "BACK" t… https://t.co/FRRIDLrd35

— terry crews (@terry crews) 1578957758.0
Hold up.
Let's take a closer look.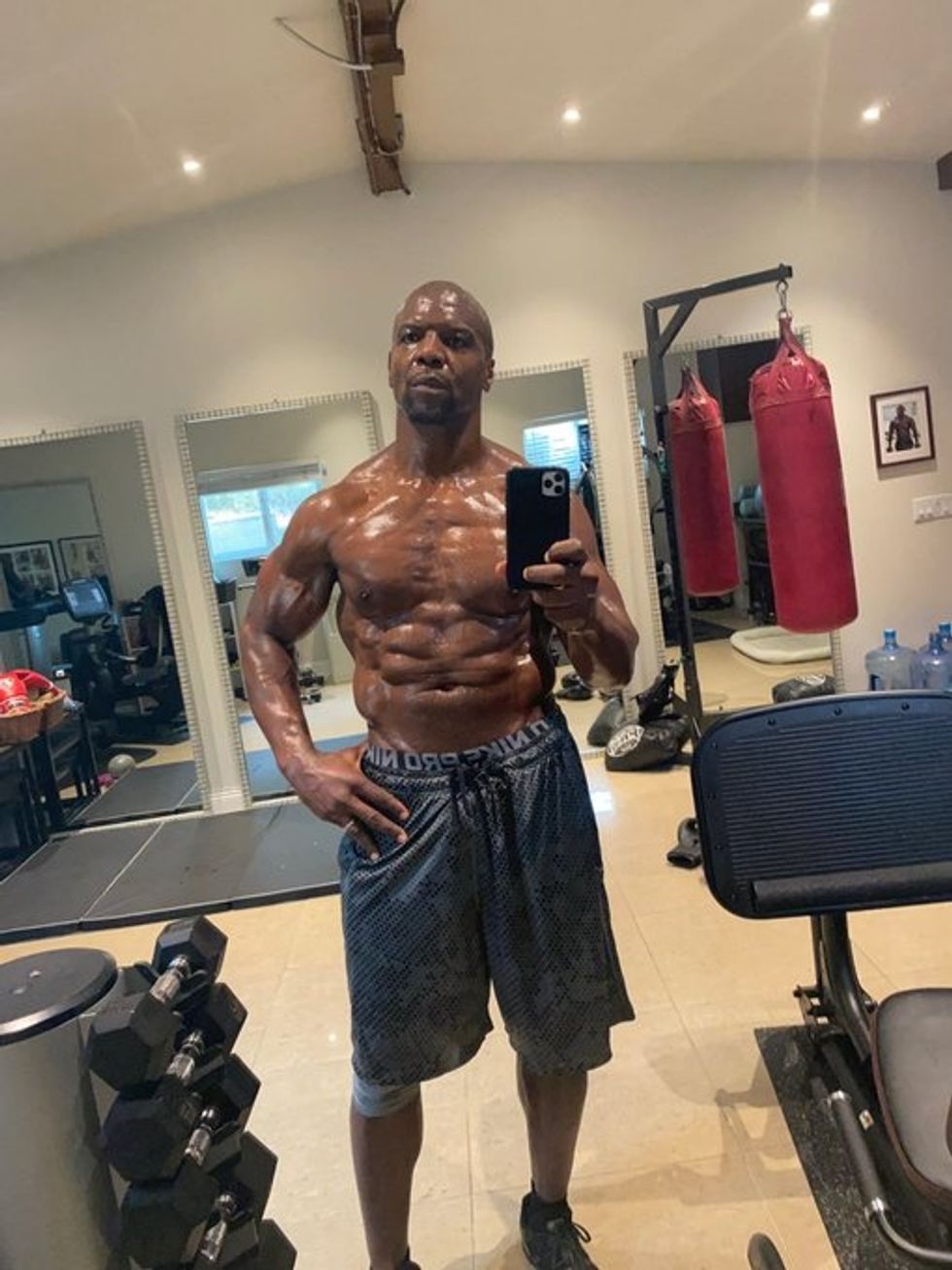 @terrycrews/Twitter
Okay.
Fit as heck.
Let's take a look at that other picture...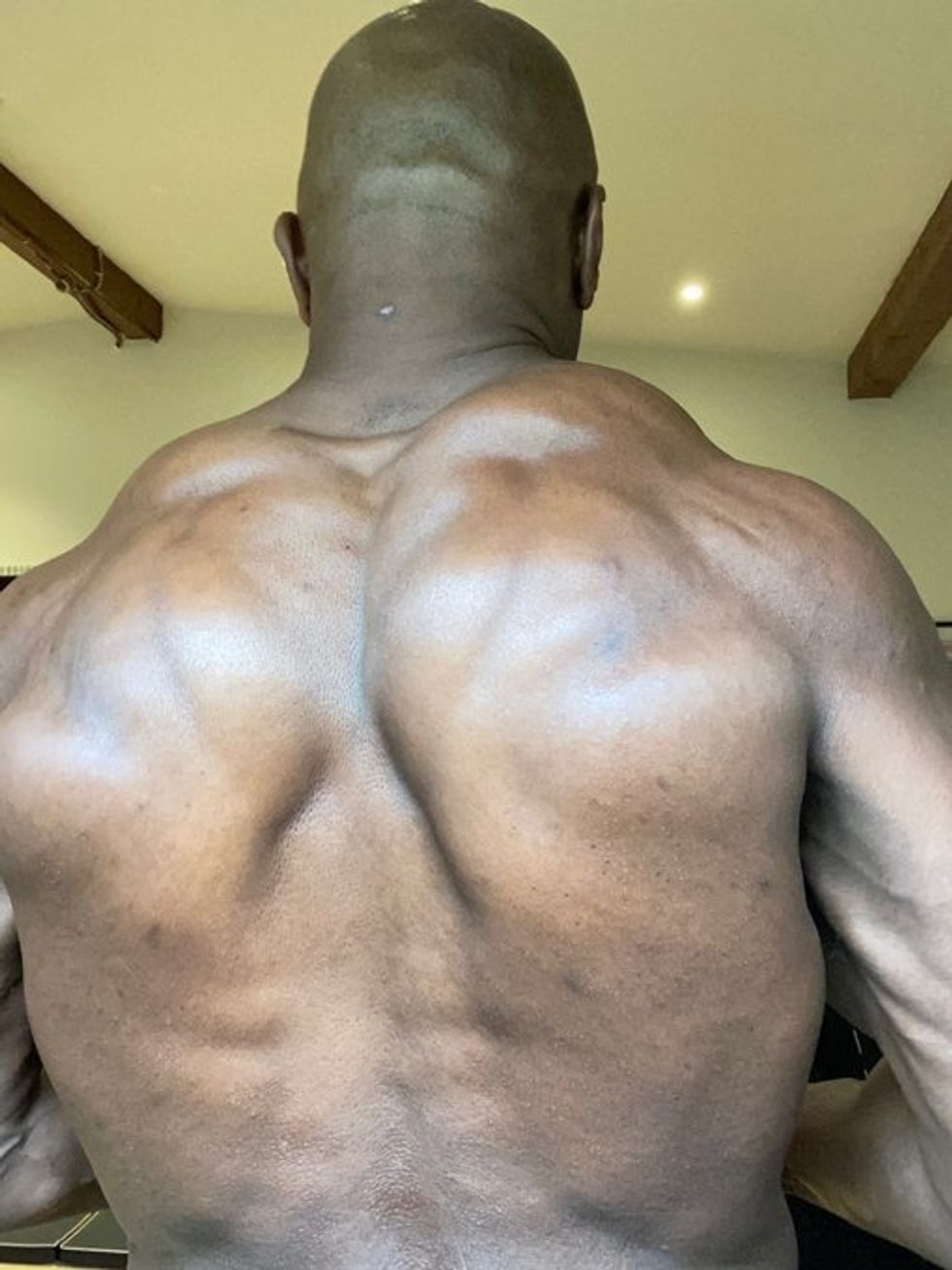 @terrycrews/Twitter
Whoah.
Okay.
There are some extra muscles on those muscles there, Mister Crews.
@terrycrews @AGT the part in the movie just before the wriggling alien bursts out of its astronaut host body https://t.co/XPZR6oZxgq

— erik forrest jackson (@erik forrest jackson) 1578962509.0
@terrycrews @AGT @YomahR6 jesus christ! man is 51

— BillsMafia (@BillsMafia) 1578963562.0
@terrycrews @AGT Yall ever seen muscles on top of eyebrows. How u get those big dawg

— Oprah's son (@Oprah's son) 1578968005.0
@terrycrews @AGT Terry Crews is so jacked his body is like "I don't know if we can put any more mass on these muscl… https://t.co/EA3vSgEmPb

— Edward DeRuiter (@Edward DeRuiter) 1578960559.0
@terrycrews @AGT Your muscles have more muscles on them than I do on my entire body.

— Trevor Henry (@Trevor Henry) 1578958607.0
And people were even pointing out his abs look like they might contain an entire second Terry Crews.
@terrycrews @AGT 😟 https://t.co/iaRDch4Fmq

— Jimmyboy (@Jimmyboy) 1578958790.0
@terrycrews @AGT Why does Terry Crew's 8-pack have an 8-pack? While I'm... https://t.co/whP2hLSD6W

— Monica Sainz (@Monica Sainz) 1578963833.0
@terrycrews @AGT Terry's body has another face in it! https://t.co/ON8S9Z1bCJ

— A Wayne In A Manger (@A Wayne In A Manger) 1578958346.0
@terrycrews @AGT If you wanna know which Harry Potter house you're in, just ask Terry https://t.co/hLzfTxPMTG

— Crawford Crusher (@Crawford Crusher) 1578965387.0
@terrycrews @AGT He's on that goku level. https://t.co/y7vXEDfLln

— yussuka (@yussuka) 1578966765.0
Crews maintains a rigorous routine, which includes a different muscle group focus each day of the week.
"I lift weights four times a week, on Monday, Tuesday, Thursday and Friday," Crews said to Coach UK.
"Monday is usually legs day, Tuesday is back and Thursday is chest and arms. I know a lot of people do chest and back together, but that's just the way it works for me. Friday's my shoulder day, when I do barbell complexes called 24s. I like using basic exercises and big, powerful movements that work your whole body."
@terrycrews @AGT i also eat yoghurt why i don't look like that

— 연기 소녀 (@연기 소녀) 1578957863.0
@terrycrews @AGT Damn he said, https://t.co/mYMgzprxZB

— Diego... (@Diego...) 1578977136.0
@terrycrews @AGT My body is beautiful too https://t.co/IEx6yR1J0j

— Fireside 🔥 Sargie (@Fireside 🔥 Sargie) 1578963995.0
@terrycrews @AGT Dude has an angry face on his body... lol https://t.co/42FyGSHoFZ

— Matt Gabbola 🇺🇸 (@Matt Gabbola 🇺🇸) 1578962455.0
Crews and his muscles continue performing in the acclaimed series Brooklyn Nine-Nine, set to premiere Its seventh season on February 6th, 2020.
You can get the first 6 seasons of Brooklyn Nine-Nine here.
Keep reading...
Show less
Terry Crews is campaigning hard for the role of King Triton in the upcoming live action re-imagining of Disney's animated classic, The Little Mermaid.
The announcement of Rob Marshall's film rippled across social media for its racially controversial casting of 19-year-old black actress, Halle Bailey (not to be confused with Halle Berry) as Ariel, and American rapper Lizzo suggested replacing the rumored casting of Melissa McCarthy with herself as Ursula, the sea witch.
Now, the Brooklyn Nine-Nine actor and former NFL player is testing the waters with his own contribution to all the Little Mermaid hubbub.
His wittiness and secret longing to be a part of your world is making quite a splash on the internet.

Crews, 50, posted an artist rendering of himself as the ruler of the sea and father to the mermaid who falls in love with a human.
He tasked followers to help manifest his dream role by tweeting:
"IF YALL RETWEET IT ENOUGH MAYBE IT'LL HAPPEN!"
The artist behind the dramatic rendering of Crews rocking his crown and mighty six-pack is Australian digital artist BossLogic, whose real name is Kode.

Fans are all on board for Crews to rule the seven seas. His tweet already received well over 15,500 likes as of this writing.
Thanks to BossLogic, casting directors should have no problem imagining how the actor's portrayal would captivate audiences.
If the artist's rendition doesn't do it on its own merit, maybe this will.
We can see it now.
The enthusiasm is real and fans are crossing their fingers.

One user suggested this as incentive.
The exposure spawned opportunities for the actor to bring other cartoon personalities to life.
Last Saturday, before upping his game, Crews dipped his foot in the water to prove he is worthy as "Ariel's Dad" by posting a more modest approach with a Photoshopped image of himself in front of King Triton's castle.

He later added in a followup tweet:

"Good thing I skip leg day because mermen don't have legs!"

While Team Crews is bubbling, others campaigned for Idris Elba in the role.

And BossLogic updated his portfolio with this latest entry.
So far, casting announcements confirm Halle Bailey – one half of the R&B duo CHLOE X HALLE – will star as Ariel; Crazy Rich Asians star Awkwafina will voice the gender-swapped seagull, Scuttle; and Room child actor Jacob Tremblay will lend his voice as Ariel's loyal companion, Flounder.
Rumored casting includes Melissa McCarthy voicing Ursula. Disney has yet to announce casting for King Triton or Prince Eric.

The original voice actress for Ariel from the 1989 film, Jodi Benson, offered her voice of reason to quell the backsplash over casting for Halle Bailey in the titular role.
Her wisdom could also apply towards whomever gets cast as King Triton.
"I think that the spirit of a character is what really matters. What you bring to the table in a character as far as their heart and their spirit is what really counts."
Disney did not announce an official release date but production is rumored to begin around April 2020.

Who will ultimately claim the sea crown? We'll just have to go with the flow.

Crews cut his teeth playing a dad on the comedy Everybody Hates Chris, available as a complete series here.
Keep reading...
Show less