A couple of years ago (ah, yes, remember pre-pandemic times?) I went to a club and while I was with friends and had a decent time, I can't say I was exactly a fan of the crowd.
Then I noticed that quite a few guys there had tattoos of lions wearing crowns on their heads. It felt like a certain kind of cultural thing... all these dudes thinking they're kings or something.
It didn't scream creativity, certainly, but it did give me a chuckle.
People shared their observations after Redditor Peliaroth asked the online community:
"What tattoos scream, 'I have no creativity'?"
"I have two..."
"I have 2 flying birds on my ankle lol. I feel like I belong to this category."
Ineshakia7
I'll die on the hill that if someone is a sheep for getting a tattoo just because the design is popular then they would also be a sheep for avoiding a design they like just because too many other people have it. Either way you let other people dictate what you do.
"Every man..."
"Every man from Essex that wears those dumb ass tight tops and trousers has a sleeve that has a melting clock. So mysterious."
[deleted]
Essex, huh? So specific. Good to know.
"Remember..."
"Remember the mustache tattoos that everyone was getting on the side of their fingers? What happened to those people?"
[deleted]
We don't talk about those people, okay? We just don't.
"I knew a dude..."
"I knew a dude with a microphone on his index finger and he'd hold it up to your face after asking you a question."
QuietStroganoff
I can't decide if I love this or if I find it utterly insufferable.
"Anything copied from..."
"Anything copied from or inspired by the Joker and Harley Quinn in Suicide Squad."
Temmere
Something tells me that the people who idolize these two characters don't actually know anything about them.
"The owners..."
"The Council Cabbage. The owners always insist it's meant to be a rose."
Ravekat1
This is the best thing I've ever heard. Council cabbage. I will remember this.
"Or..."
"The infinity symbol. Or a feather breaking off into birds flying away."
LoboPatronus
Oh, wow. Are you a member of a camera crew following a third of the men who live in my neighborhood?
"Getting..."
"Getting your own name tattooed on you."
Mr-scientist
Oh, Lord. I have met a few people with tattoos like this. No. Please, no.
"I have a pineapple..."
"I have a pineapple on my upper arm. Why? No reason. I'm not creative and I like to make people wonder."
ddoinyomom
I can see this driving some people absolutely nuts. It's kind of brilliant, to be honest.
"I know someone..."
"I know someone with that COEXIST bumper sticker tattooed on them. It's so terrible. I think of them every time I see that sticker on a car."
[deleted]
Oh dear... Do they also have a Subaru logo tattooed somewhere else?
Let's be real though: If you like something, just get it.
Tattoos don't all need to have significant or meaningful stories attached to them. You do you.
Have some observations of your own? Feel free to tell us more in the comments below!
Want to "know" more?

Sign up for the Knowable newsletter here.
Never miss another big, odd, funny, or heartbreaking moment again.
Keep reading...
Show less
Do people not realize that tattoos are pretty much permanent?
Do you understand the meaning of forever?!
Permanent or a long, painful removal process, neither sounds fun.
How do you not think on this idea for awhile?
I get art and expression, but that's why God made canvas and paint.
To scar your body with craziness... that just sounds like a cry for help.
Redditor carlden3 wanted to hear all the deets surrounding outrageous body art.
They asked:
"Tattoo artists of reddit, what is the most fucked up thing you've tattooed?"
I have seen some truly off the wall tats in my day. So I'm interested to hear how what I've seen can be topped.
Help Wil E...
"Tattooist here. The list is long but the one that made me laugh the most that I've done, is Wil E. Coyote's arm poking out of a dudes butt, holding a sign that said 'help.'" ~ Goongalagooo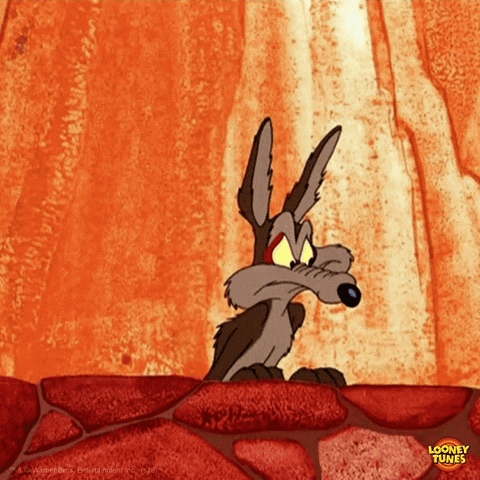 Giphy
Whoops
"Not a professional artist, but my brother in law had jerry rigged up a tattoo gun in the garage out of a hand fan, an eraser, bic pen and a sharpened guitar string. Friend wanted to get a quote from Che Guevara, I'd rather die on my hands than live on my knees, or something along those lines... needle broke after the first T... so dude left our house with a fresh 'I'd rat tat.'" ~ whycantifindmyname
Dude...
"A dude who was a regular customer at an old job got a scorpion on one forearm and a tarantula on the other. Only their heads were replaced by Beavis and Butthead.The lines and details for the arachnid bodies were blown out a bit and blurred- Beavis and Butthead were mostly intact." ~ Vote_4_Cthulhu
"Well crap, I have a tribute to someone close who passed which has his favourite animals wearing Beavis and Buttheads shirts. I see nothing wrong with this." ~ VagueSomething
Billy Jack What?
"Had a woman come into the shop one time way back who looked like she'd been in a tanning booth 8 days a week for the last 40+ years. She wanted to get her locked-up man's name tattooed on her, but she wanted it 'down there.' She convinced me to get waaaay closer to her jukebox than I was comfortable with, and had me tattoo 'Billy Jack's P***y' so far up that I think we're common law related now."
"(Name slightly changed for anonymity). Best part is that a couple weeks later "Billy Jack" called me from prison tell me how much he loved the tattoo. It was a collect call too. God damn it. Thanks for bringing that memory back. I was almost over it, lol." ~ willieyobslayer
Basics...
"My friend's mom got a Mustang car that transitions into horses. Just like one of the basic infinity tattoos that turns into birds, but with a car and horses." ~ Curly_su3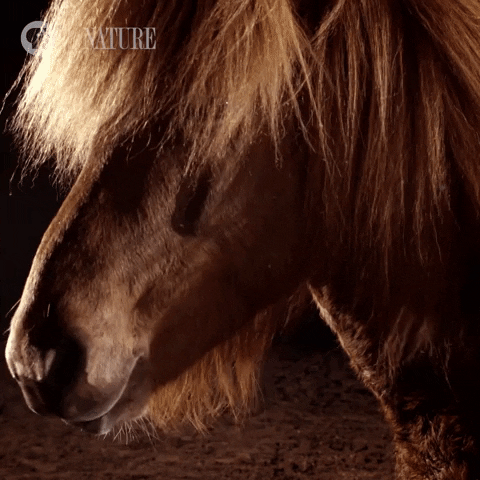 Giphy
Seriously? I mean... I have no words.
Seriously?
"I'm a detox nurse. A patient had a penis tattooed on the back of his shin so he could tell people he had a-d**k-shin. Addiction. Not making that up lol." ~ jessica4994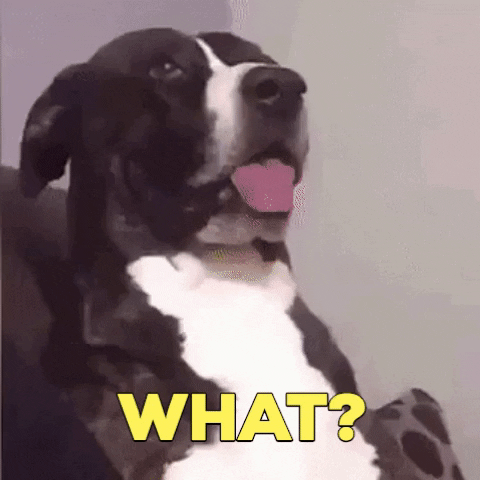 Giphy
Backwards...
"In prison I knew a guy with half his name scribbled backwards on his forehead. The only explanation I could come up with was he was tattooing himself in the mirror and half way through realized it was coming out backwards to everyone so called it quits." ~ Luke-__-
Over the Pond
"I used to work with a guy who had a tattoo on the side of his body that was a woman squatting over a pond full fire hydrant peeing into it, inside the pond was floating decapitated heads. When I asked him wtf was this he told me that the woman was his ex and the heads were all his kids. I asked why is she peeing on them and he told me he has a pee fetish." ~ Kypriot
I Do... Not!
"Girl had a dream about marrying a dolphin. She got a tattoo of her as a mermaid, rising from the water in an embrace with the dolphin. Halfway through, after hitting on me the whole time and telling me stories about an abusive ex, she started arguing about the colour scheme and left with only the outline and some shading." ~ zombieriot
Gross
"My tattoo artist told me he made a snake out of a guy's penis, scales covering the whole thing. Different strokes for different folks. Pretty gnarly." ~ zygomelonm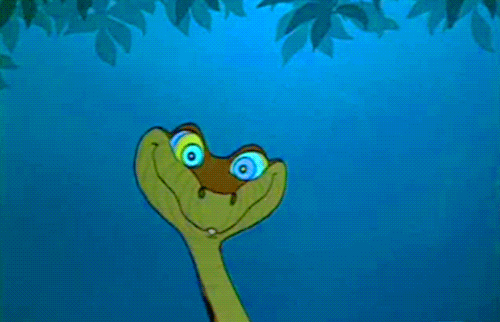 Giphy
Oh my.
People, people, people...
To each their own I guess.
Want to "know" more?
Sign up for the Knowable newsletter here.

Never miss another big, odd, funny or heartbreaking moment again.
Keep reading...
Show less
I've been waffling for years as to whether I should get some body art. I keep chickening out. Getting inked isn't for everyone. And I still have night terrors from the time I held a friend's hand as she shook through a six-hour sit down for a massive thigh portrait. So much blood. Yuck. But I do have a few artistic ideas...
Redditor
u/Paintingrefinish
wanted to hear from the
tat
community about the times they had to weigh art over conscience by asking...
Tattoo Artists of Reddit What was the most "Hard NO" moment of your career?
Want to "know" more? Never miss another big, odd, funny, or heartbreaking moment again. Sign up for the Knowable newsletter here.

Keep reading...
Show less
Tattoos written in a language not spoken by the wearer are not uncommon.
People like to have a mysterious mark that they can claim is deeply significant for them, and yet you have no idea what it even means.
But the inky exoticization can backfire. In fact, for many people out there, it did backfire.
Whether it was the workings of a snarky tattoo artist or the fruits of total cultural ignorance, there are plenty of folks walking around with tattoos that say something VERY different than what they intended.
And thanks to a recent Reddit thread, all kinds of real life examples are right at our fingertips.
sunriseoverseas asked, "People who are able to read Chinese: what tattoos have you seen that were clearly not what the tattooed person aimed for?"
Want to "know" more? Never miss another big, odd, funny, or heartbreaking moment again. Sign up for the Knowable newsletter here.
Keep reading...
Show less
The body is a naked flesh canvas, though some people do run out of room after awhile. Tattoos have become one of the most genuine and creative ways for people to express themselves and tell their stories; or display talent. I have seen some exquisite renderings on a muscular back.
Ink is forever. Which is why its good to put some thought into your body art. Some of the tattoos people choose to mark themselves with can leave witnesses speechless, and not in a good way.
Redditor u/saxonn_88 wanted to hear the details behind some of the most obscure body art people have come across by asking.... Which type of tattoo makes you cringe the most?
Want to "know" more? Never miss another big, odd, funny, or heartbreaking moment again. Sign up for the Knowable newsletter here.

Keep reading...
Show less