There is nothing wrong with sex work.
Sex work is real work.
Which is why I've always wondered... why do strip clubs have to be so gross?
But the hygiene is probably the tip of the crazy stories when it comes to strip clubs.
Redditor NomadFourFive wanted to hear about what happens behind closed doors in the places where the clothes come off. They asked:
"What is the worst thing you've seen at a strip club?"
One of the very few times I've been to a strip bar, the buffet was not a good choice.
"You interested?"
"I was at a place in a poorer Rust Belt town. Girl comes up to us, pulls a baggie with a white powder out of it, throws it onto the table and says 'I have to sell this for my boyfriend tonight. You interested?' We said no and she grabbed said bag and continued on her mission."
Affectionate-Pea8706
Too Much Seen
"I saw my first dead body at a club in East Dallas. Story was, a girl that worked there set a guy up to get robbed. He found out, hit her in the head with a beer bucket and a fight ensued among several patrons. I assume most of them didn't know the reason she was hit and just fought the guy. One of those people was a regular."
"As the almost robbed guy left the club, the regular threw a beer bottle at his head. Almost robbed guy steps out of his car, walks up, pulls out a gun and dropped him at point-blank range right in front of the club's entrance/exit. He returned to his car and wasn't found by police for several months."
Kjoco9
Bad Land...
"Saw a guy get his penis broken. At this one club they'd bring guys up on stage, strap them to a chair next to the pole and the girls would take turns sliding down it really hard and fast and landing on his crotch. Basically a way of hazing a guy for his birthday, bachelor party or similar occasion. Somehow the girls did it so that it probably looked worse than it was. Except one time... Not sure what went wrong, but when the third girl slid down, he yelled out in pain. 15 minutes later he left in an ambulance."
Content-From-Reddit
Good Monday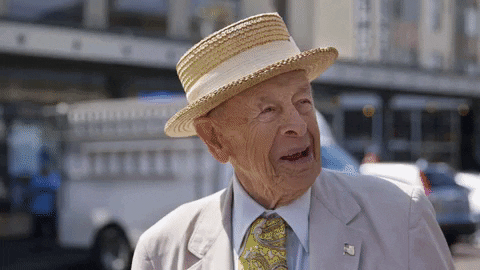 Old Man Smile GIF by F*CK, THAT'S DELICIOUS
Giphy
"Old dude on an oxygen tank, smoking. He turned toward the crowd and with the two teeth he had left, he spat out, 'Ya-kin see 'er t**s.' Solid Monday night."
Legal-Banana-8277
Goodness. What in the world. Can't people just watch the show?
Simplicity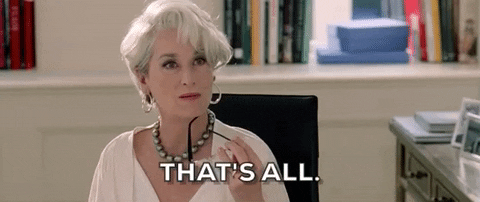 Meryl Streep GIF
Giphy
"Ankle monitoring bracelet on... and heels… and that's it."
Bangorilla
Bad Tricks
"Saw a girl climbing up the pole and she was strong. She could climb that thing fast. Until she hit the bolts holding to the ceiling with her head. She came down even faster and her head was bleeding bad. Ambulance was called and she took a ride."
wtfjusthappened315
"I once saw that done right. She climbed up the pole and when she got to the top she disappeared into the rafters like a raccoon. A moment later she reappeared upside down, legs around the pole, then did a dead drop and stopped herself inches from the bottom using nothing but her thighs."
PM_Me_HairyArmpits
The Hit
"I went to the local ratty strip club with some buddies. I didn't really want to be there but it was somewhere to party after the bars closed. I got to talking to a woman in her 40's in a nurses outfit. She told me she was wearing it because her daughter is going to nursing school and she's working there to pay for it."
"She then tells me she's paying for it to get closer to her daughter since she just got out of prison for putting a hit out on her husband. The guy the hit man went after attacked the wrong person and got arrested. Snitched on her. I was too sober to be dealing with all that haha."
wythehippy
In Canada
"My 19th birthday (legal in Canada) went to the strip club for the first time. This one dancer was so sick. She coughed and blew her nose through the whole set. She looked miserable. She was obviously off her game. She was getting no reaction from the crowd. My buddies and I tipped her really well since we felt so bad for her."
Metaldwarf
Oh Candice
"A stripper pulling her panties to the side and rubbing her butt up and down my face. When I told another dancer, she said 'Oh yeah. That's Candice, she does that.'"
No_Conversation8959
Fixer Upper
"A Club in Niagara Falls Canada has the seamstress who fixes the g-strings and outfits set up in the ladies bathroom. This poor old woman works all night in a stinky bathroom, so wrong."
REDDIT
"Group of us dad bros got dragged to a club by the one last guy getting married. We had some drinks and a buddy ripped the brand new button down off a friend. Before we can say anything the strippers at the table were down collecting the buttons. All they said was, 'we've got a girl. $40 and 20 minutes later his shirt came back good as new.'"
txvacil
Happy...
"A stripper crying and being consoled by other strippers because no one was asking her for lap dances... it was all a bit too real. It was my 18th birthday and first ever strip club experience.. it put me off them for good."
Puzzled_Use7034
The Guy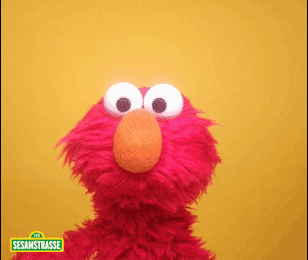 Elmo Hello GIF by Sesame Street
Giphy
"I went and with a friend one time for just a normal evening. Halfway through the evening his expression went from 'being a guy in a strip club,' to like he just seen something horrible. To find out his mom was actually up on the stage. He never knew what she did at night because he lived with his dad."
deano1344
I'll never forget it...
"I worked for a beverage company in my early 20's, we delivered pop and bar mix to night clubs/ peelers and restaurants. Met a lot of dancers. A lot of them were smart college girls that made great money when they weren't in class or doing homework. There was the opposite side of that coin and some were doing it to support their habits. One of the poorer establishments in the far reaches of the area catered to a lower crowd."
"There was a problem with one of the juice guns so I was working behind the bar for a bit. The place had a very small corner stage and a woman wearing clothes that didn't fit got up on the stage. She was clearly wasted , had a black eye and was covered in bruises. The pole was her support while she was standing (dancing) and she tried to swing around on it with one hand . Her grip slipped and she fell off the stage and face planted on the floor."
"The staff, the patrons. Everyone saw it and no one did anything for what seemed like forever. The bar was on the opposite side of the room and I had to tell a waitress to do something. They picked her up and took her into the back. It was completely bizarre. I'll never forget it."
shaundisbuddyguy
WTF?
"It's a toss-up between the pregnant (7-8 months) stripper smoking and drinking alcohol, or the stripper giving lap dances to her aunt, then her uncle, then her 17 yo cousin while only wearing a g-string."
gheiminfantry
Bye Now
"In Vegas. I see a guy walk in. Purchased 2 drinks. Slams them. Walks down to the stage. Pulls out a wrinkled 1 dollar bill from his pocket. Wraps it around his pointer finger and proceeds to cram it up the stripper on stages a**. Turns around and walks out. Never to be seen again."
ImLostAndILikeIt
Hidden
"Stripper had previously had a breast implant rupture and had to have it removed. I guess she couldn't afford a new one so when she danced she always had her hair draped over that side to try to hide the deflated beast. Queens strip club near Vancouver, it's gone now I think."
ticklemebits
YOU?!
"I was out with my buddy in college and he saw his younger sister's best friend on stage (he had no idea she was a stripper and had grown up with her), took his jacket and tried to cover her up. The bouncers swarmed in and almost beat his a**. Was more comical than anything and he tried to give her a lecture as she was collecting tips and killed the vibe."
imjustaguy812
This is why we should stay at home. Safe.
Keep reading...
Show less
I've only ever been to a strip club once--okay, three times. Three times too many. The things I witnessed I still can't bleach from my memory.
So I've always had respect for all strip club employees because the "people" who frequent these hotspots can be crazy and obscene.
Seriously, I'd have to have a drink at all times. And I always wondered about the music masters. How do you DJ in a strip club?
You gotta control the dancer's music and then manage the mood. It's all too much.
Redditor Familiar_Sherbert_70 wanted to know what life is like in the booty-shaking room by asking:
Strip club DJs, what do you have to tell us?
I will say, the one thing I saw that shocked me when I visited a club or two, was how lovely the breakfast buffet was. For real, if you hit these places up around 4:30/5 a.m, you can get some good eggs.
Chow Time
"So when I was in college one of my roommates was a cook at the strip club, and he used to have us come in on afternoon Tuesdays/Wednesdays so we could eat for free. The bouncers were cool with it as long as we didn't cause a scene. That food was on point always, probably ate more fried chicken in a strip club than I have anywhere else."
- Sharcbait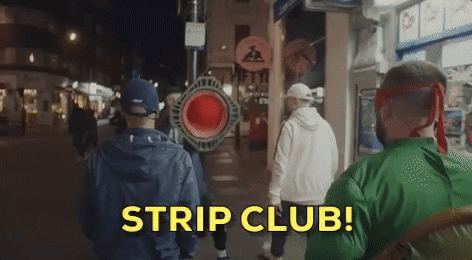 Giphy
Look Away
"I dated a stripper many years ago, only saw her perform a couple of times. One evening as she's about to start she stopped suddenly, walked up to me and said "could you do me a favor and make sure my brother and his mates aren't watching please?" Sure enough her brother and three of his friends were sitting at a table, has to ask security to escort them outside while she performed and let them back in afterward. Her brother was OK with it but his friends were pissed."
- tribble0001
Pony Up
"Former strip club DJ here.
Almost always if you buy a stripper a drink, she asks for vodka and soda and the bartender pours from a special vodka bottle that's just water, and then the dancer and/or bartender pockets the money.
I never really wanna hear "Pony" by Ginuwine ever again.
Sometimes the best nachos in the city are there." - fugaziozbourne
Yeah, this all sounds like an unwanted reality show already. It's like people lose their minds and decency when they're in the shadows. You're still in public, act like it.
Wild
"Not a DJ but former dancer. if you tip them they'll play anything. Cue Wild Wild West by Will Smith."
- otterstripper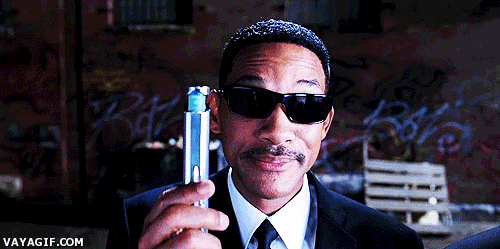 forget will smith GIF
Giphy
Ten Percent
"I was a DJ for over 3 years. Made more money from tip-outs from the girls than I made from the club. Tip out was 10% of what the girls made. Most girls were honest. Some weeks I made more money than I make now. My girls were awesome, at least most of the time. It was an awesome time in life and I do mean awesome. Glad to be where I'm at in life now though."
- brainiacmania
Nudger...
"Some girls work as waitresses and shooter girls because they want to make the money but they don't want to take off their clothes so management makes them watch the dancers count their money at the end of the night to help nudge them along to the dark side."
- cyranodepufnstuf
The Boss
"My old boss was a strip club DJ in college. He said the number of dancers who hit on him so he would give them preferential treatment (shorter songs for lapdances, hype the audience for them, make their rival dancers bomb) ultimately lead him to quit."
- Ganglebot
Tips
"Hairstyle tips on how to tie the mini ponytail behind a bald head?"
- karmaredemption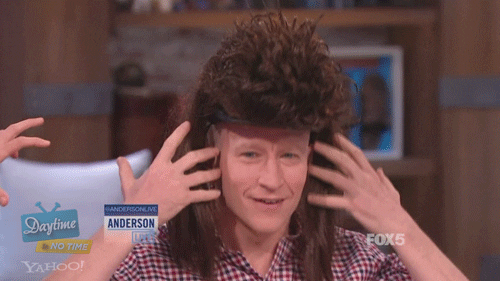 Anderson Cooper Hair GIF
Giphy
Don't do it!
"My roommate was a DJ and I spent a lot of time hanging out with him in the booth. One night a dancer came in with a cup, saying a guy just paid her $100 to pee in a cup so he could drink it. She didn't wanna actually do it so she gave the cup to my friend who was not the LEAST clean dude I've ever known, and he peed in it instead and the dude drank it up and loved it. I guess the moral is… don't freaking do that crap."
khal_Jayams
Damaged
"Worked in a couple of higher end strip joints many, many years ago. One of the problems we had was dancers bringing boyfriends in. Most knew it was best to keep them out. But every once in a while one would get a new guy that would want to see what she was doing."
"Usually they would get a few drinks in them and it would go bad. Either they would fight with their girlfriend, or they would get pissed at a customer getting flirty and get into a fight. Or a mix of both. A night where a dancer would bring her BF up to meet me, it added an extra stress layer to the evening."
"I met a lot of very damaged people in that world. Victims of abuse, mental issues, coping with substances. A lot of well intentioned, but very screwed up people."
jamesshine
Take Notes
"Two of my good friends used to be strip club DJs. They created a Twitter account to post quotes from the strippers. It was hilarious while it lasted. They both moved on a few years ago. https://twitter.com/strippergenius?s=21"
mewithoutCthulhu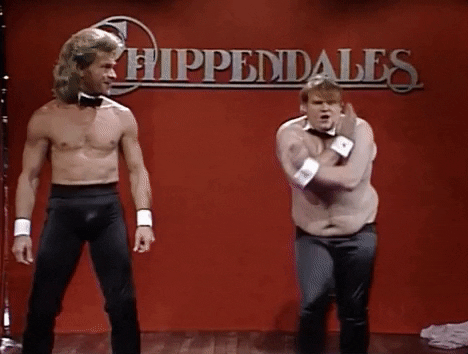 sexy chris farley GIF by Saturday Night Live
Giphy
Oh my Lollipop...
"Not a DJ but get a few casual shifts behind the bar at the male revue on busy weekends. The guys are gay, they have boyfriends already (in fact a few work together) and even if you had a chance, they have exactly zero time for you that you're not paying for between this job, their day job, rehearsals for the main shows and their insane workout schedules."
"That said, it's not uncommon for them to make an extra $300 off drunk chicks who really want a suck of their lollipop. Easy money is easy money. They're just not in it for the girls."
xavierash
Hey Sarah?!?!
"I've worked security in strip clubs for years. When the girl tells you, "My name is Sarah, but they call me Candy here," she's just giving you two stage names to make you feel like she likes you enough to tell you her real name."
nnelson2330
"A stripper gave me this really exotic name as her real name and I figured it was her second stage name. Later she talked to another guy and gave a much more plain second stage name that I thought was real. I called her by that plain name, and discovered the exotic name is her real birth name. We've been Platonic friends about 15 years now."
NightMgr
Jimmy Juice
"Stripper here. One of my favorite DJs of all time was at a very high end gentleman's club in west palm. He was always VERY friendly, and always in a great mood. His name was Jimmy. Once a floor guy told me to watch his moods, and to try to notice the difference of when he was drinking his 5 hour energy shots."
"It turns out that inside the bottles was not 5 hour energy, but it was in fact his own mix of some kind of liquid and GHB. Yes, he would roofie himself. (But only enough to have a good time?) everyone called it his Jimmy Juice."
Abigailpeachx
Abreeva
"Not a DJ, but I am a stripper and when I first started working, the club that hired me had me make a list of female names since all their dancers had stage names. Well, the names I had were all taken since over 800 girls work at that club. One of the managers at the club told me that I had better pick my own name, bc if they picked, 'you might not like what you get.'"
"Then he told me a story about a girl who couldn't decide a name and someone had suggested Abreeva (the cold sore medication) and this poor girl used Abreeva as her stage name for like two months before one of her customers told her what it was."
booger999999
Please Eat
"A very good friend of mine is a DJ at a strip club. Early into his tenure, he learned he was expected to supply candy to the ladies. This isn't a euphemism. He literally has to have a bowl full of candy at the ready for ladies as they go on/off the stage. And not bush-league candy either, like Smarties. I'm talking mini-Toblerones."
nerve657
Truth
"No, she doesn't actually like you."
TisButAScreenName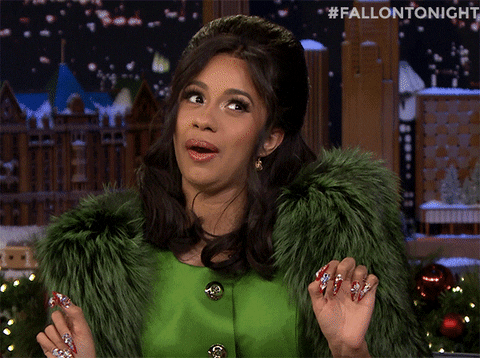 Tonight Show Yes GIF by The Tonight Show Starring Jimmy Fallon
Giphy
The Voice
"The 'DJ voice' is because we are bored as f**k and need something interesting to do. The job is boring but pays well with tips from the girls. In 2 nights of working I can make an entire weeks worth of 40 hours at a 9 to 5. However, dealing with drunk women that come visit that want to request getting on stage and want this song and this time this way is f**king enough!!! Not your club, not your music and not your choice."
Istoleapot
People are crazy and gross. Make playlists in your living room, your neighbors will love it.
Want to "know" more?

Sign up for the Knowable newsletter here.

Never miss another big, odd, funny, or heartbreaking moment again.
Keep reading...
Show less