It's not difficult to understand why true crime content, be it in film, television, or podcast continues to grow in popularity.
Of course, the most fascinating crime stories are those which remain unsolved.

It allows us to put on our detective hats, and evaluate the cases ourselves, hoping we might find the answers which evaded the police at the time.
Knowing full well, the answers may never arrive.
Redditor inevitableloudmouth reached out to the crime buffs of Reddit to discover the most bizarre mysteries which have yet to be solved, leading them to ask:
"What is the strangest mystery that is still unsolved?"
Atomic Cover-Up
"The lost A-bomb off the coast of America, which the US government said not to worry about in the 50's and tried to cover up."
"Was dumped in the ocean in an aviation accident and it's still lost to this day."
"100x more powerful than what was dropped in Japan."- BremCrumbs
Targeted Divorcée

"I remember seeing a video about a woman that after getting divorced started getting stalked and assaulted in her own house."
"Every time police would arrive no one more than her was at the scene, sometimes she would appear with bruises, once she appeared with a screwdriver through her hand."
"This happened so many times that police started ignoring her calls after the investigation on her husband and on the case left no suspects."
"Three months later she disappeared just to reappear next to a highway in the middle of the desert, miles away from her house, with her hands tied, dead."
"Autopsy later confirmed she was beaten to death."
"Creepiest sh*t I know."- JustCallMeAttlaz
The Oakville Blob
"The Oakville Blob."
"In 1994, there was a rainstorm in Oakville, WA."
"Only the 'raindrops' were a strange clear substance that had the consistency of Jello."
"Lots of people experienced flu-like symptoms after coming into contact with it, and peoples' dogs and cats all over the city were dying."
"When a local hospital ran a lab test on the substance after one of the patients suggested it, it was found that whatever this mysterious 'rain' was, it had human white blood cells in it."
"Some time after that, a sample was also sent to the Washington State Health Laboratory, where it was being researched by epidemiologist Mike McDowell."
"After he determined that it was man-made and speculated that it was some sort of matrix for transporting viruses/bacteria, the samples suddenly went missing from the containment facility and his supervisor told him not to ask any questions."
"There are no known samples of the stuff anywhere today, despite being sent to several different facilities by various Oakville residents."
"So yeah, I'd personally say that this was clearly some sort of bio-weapon test run, but by whom?"
"I'd like to give the US Government the benefit of the doubt here and assume it wasn't us testing something like that on our own citizens, but if it wasn't, why would it have been covered up like that?"
"And you'd think an event like this would be a lot less obscure."
"Also, even if it being a bio-weapon seems super obvious, how the heck did whoever dispersed it manage to make it rain over an entire city for several days?"- Xaldyn
A Family Thing
"An unsolved murder of an entire family in Japan which to this day remains unsolved despite DNA evidence indicating the ancestry of the killer, a sand sample left by the killer which was traced back to the California desert near Edwards AFB, and even sesame seeds in the killer's stool."- PaperbackWriter66
The Circleville Letters
"THE CIRCLEVILLE LETTERS."
"In 1976, residents of the small city south of Columbus Ohio began receiving handwritten sinister and graphic letters."
"Each letter included secret and dark details about their personal lives."
"One resident received a ton of letters, accusing her of various unsavory acts."
"The author warned the resident that he had been keeping an eye on her home, as well as her comings and goings."
"The resident was horrified and tried to keep the letters a secret until her husband began receiving them."
"The attacks on the family continued, with large posters appearing around town spreading rumors about their 12 year old child."
"One day in 1977, the husband left the house after receiving a call from who he thought was writing the letters."
"A few minutes later, the husband was found dead at the end of the street dead behind the wheel."
"The sheriff had ruled it a homicide when he realized that a single shot had been fired before the accident, but there was no evidence that the husband was shot at the site."
"The sheriff found the husband was twice the legal limit and ruled it a drunk driving accident."
"The letters began once again, this time accusing the sheriff of covering up the true nature of the death."
"The letters also accused the sheriff of mishandling an investigation into the county coroner who had been accused of other grotesque acts."
"The harassment continued, this time with signs along the road and in 1983, the original resident who had been accused of having an affair pulled over to remove a sign."
"During the effort to remove the sign, she discovered a box was attached and inside of it was a small pistol."
"The gun was part of a booby trap designed to fire when the sign was removed."
"Paul Freshour was arrested and given 25 years, but one small problem."
"The letter writing continued even after Freshour was put in jail."
"In a new batch of letters, the author had promised to dig up the grave of a deceased baby and mail the bones to the police in the case of another potential affair turned murder."
"Hundreds of residents continued to receive personal letters until 1994 when everything stopped."- GeneralMadAnthony
Running Man

"This dude got lost in the catacombs, and they found camera footage of his journey, but at some point he drops the camera and just starts to run."
"As far as I know, nobody has found out wtf happened to him."- Cookyloco6
The world may never know the fate of these poor souls, and those responsible might never be brought to justice.
However, cold comfort though it may be for the families of those involved, there will always be people searching for answers.
As the saying goes, the truth is, indeed, out there.
Keep reading...
Show less
Life is fulled of things we can't explain.
Time. People. Dreams. The dark. The Unknown.
When life feels a little off... like a tape being paused because we're all part of a 'Truman Show' experiment, it's because it probably is.
Then the reset.
But resets don't go unnoticed.
Redditor kaden86 wanted to discuss the times they've tried to decipher the unexplainable.
So they asked:
"What's your creepiest 'glitch in the matrix' or unexplainable thing that's ever happened to you?"
I feel like I live in the Matrix. More than I like to admit.
The same spot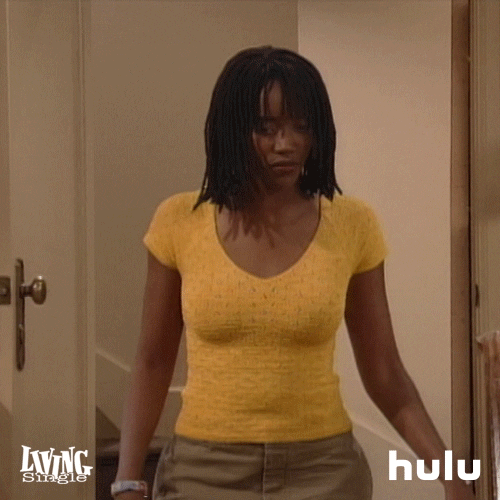 living single shiver GIF by HULU
Giphy
"Removed a painting from the wall during a late evening cleaning, put it away and returned to the wall to see a never before seen painting on the same spot, put a chill down my spine."
Adventuredepot
Fast forward 10 years...
"I remember being pretty young like 9 or 10 and I was the car park of a pub in England (Southend). I remember seeing someone in their teens in the window of a house looking over the car park."
"They waved at me and I felt like I knew them somehow. My parents asked who I was waving at and I said just some lady in the window over there. Didn't think much of it. Fast forward 10 years."
"I was at my nan's new house. I remember walking into her room (which I never was allowed to do) going to the window. I then realised I was in the house looking over that same parking lot and remembering that interaction years before."
"Then a girl around 9 or 10 who was in said car park waved at me and I waved back. I felt like I knew her. Could not explain it and have never told anyone about it. It freaked me out."
kerwapple
No idea how...
"Weird but happy. About 5 years ago in November we lost our family dog to cancer. She was the dog my children grew up with, loved by all. At the next Christmas, at the end of the day of gifts, food and family, as I was picking up, I found a tiny pewter dog figurine sitting on the mantel."
"I asked everyone who had been at the house that day if they left it. No one had. Okay, weird, but took it as a good omen. When my eldest went back to college at the end of that Christmas break, he asked if he could take the little figurine, to remember his dog. Of course, I said yes. A week or two later, picking up around the house, there was the figurine again!"
"I called my son, and said, 'You forgot the dog figurine!' He said, 'No I didn't, it's right in front of me on my desk!' I had now found a second figurine!! Again, no one claimed any knowledge of it. No idea how... but I still have the two of them tucked away on a shelf to this day."
cowgirlinthesand2
In LA
"About a year ago me and my cousin visited Los Angeles. We were driving around using google maps and after missing our 3rd or 4th exit we swear we both heard it sigh loudly before it rerouted us."
"We freaked out and made sure our driving was on point the rest of the ride. The rest of the trip there if we missed any of our exits or turns we always apologized to google so hopefully she would know we were just morons and not a**holes."
ruchull
Tricks in Florida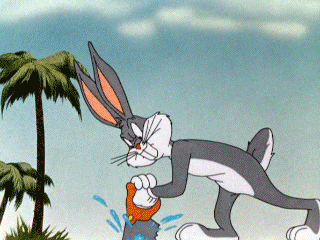 Looney Tunes Florida GIF
Giphy
"I was on vacation on Florida visiting a friend, we were walking on the beach on a perfectly sunny day when everything went black for a second. I think it was weird but explained it away thinking that my eyes were playing tricks on me until he looked at me and said 'did everything go black for a second?'"
mrsbmw330xi
Oh Florida... where the glitch is HOT!!
World Travels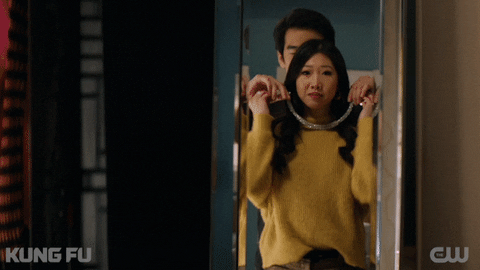 Chinese Wow GIF by CW Kung Fu
Giphy
"I have a jade Buddhist necklace I bought in China about 10 years ago. It disappears for months at a time only to reappear somewhere obvious like my desk, my dresser, in a drawer I use every day. I just say it goes on a trip and will come back eventually."
setyh
Bye Wally...
"Not my story, but my Grandpa's. So he served in the Navy and hadn't come home for five years. He finally got to go home, and on his way, he saw his old friend, let's call him Wally. Wally was getting on his normal bus, and my Grandpa shouted 'Hi!' To him. But Wally didn't respond."
"But he didn't think much of it, seeing how Wally didn't have the best hearing. Wally got on his bus, and looked my Grandpa in the eye as the bus drove away."
"Later, after he got home and was talking to his dad, he asked him how Wally was doing and told his dad about how he saw him earlier.
"His dad was silent for a minute, and asked him if he was sure he saw Wally. My grandpa said yes, and his dad replied..."
"Wally died six months ago."
Battle_Narwhal53
In my Dreams
"One day when I was about 8 I didn't go to school because I was sick. My friend was supposed to bring me homework etc. but he never came. My granddad came home from work and he told me that that friend was dead, I was devastated. That night I had a dream."
"I was with my friend at a playground next to our school and we were talking, then he told me that he is safe and it didn't hurt when that car hit him. The next day my mother wanted to talk to me about that situation and she asked me if I wanted to know what happened. I told her that I know everything because my friend told me."
"She thought that my granddad told me but he did not. He said that he did not wanted to tell me without her knowing it. That night I had a dream again and I was talking to him again. We were playing and having fun and he told me that he really had to go and we wont see each other ever again. The next day was his funeral and I really haven't had a dream about him ever since."
nithararith
Trophies
"Might get buried but oh well. When I played baseball as a kid, they were handing out the trophies at the end of the season. They called out the names of the kids while we received our trophies. There happened to be a kid with the same name as me. We met after the ceremony because it was weird since our last name isn't a very common one."
"We had the same birthday and everything. We looked alike, both our Dad's were named Derek and both of our sisters were named Lilly. As a kid, I found it cool. As an adult, I find it cool and also disturbing."
Dolios6757
Down the Highway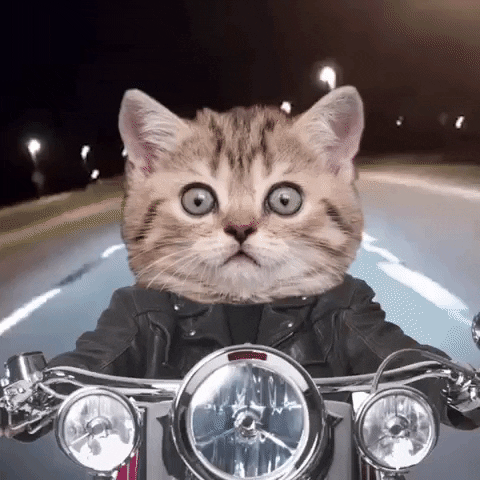 On My Way Goodbye GIF by Bubble Punk
Giphy
"I was driving about 50 mph, and a car ran a stop sign on an on ramp and pulled out right in front of me. I remember bracing for impact and then I was about 300 yards down the highway and I saw the car at the ramp in my rearview, just about to pull out."
REDDIT
There are always going to be weird "coincidences," they make life fun. Right?
Keep reading...
Show less
Some people are less easily scared than others.
While some people live off of the adrenaline of zombies jumping out at you in a haunted house, others will jump ten feet in the air at the tiniest sound of a crack in the floor.
Even people who live to be scared, however, have had one genuinely spooky experience that they simply cannot explain, no matter how hard they try.
Managing to disrupt their sleep in a way that slasher films and haunted hayrides couldn't even begin to do.
Redditor Generic_Garak was curious to hear the absolutely scariest thing people have ever experienced which they still can't explain, leading them to ask:
"What is your spookiest or most unexplainable event that has ever happened to you?"
Unexplained Orb
"Sitting at the desk in my basement at my house during college, I saw a ball of light the size of a basketball 'manifest' across the room from me, fly towards me, then veer off and disappear."
"It was the middle of a clear, sunny day."
"Not sure, but given it's the only time something like that has ever happened to me, I would classify it as abnormal, maybe even paranormal."
"Also, immediately after, it was like I could see the air 'flowing' in the room."- milkomeda
Santa?
"I was a kid but a teenager, old enough to know that Santa Claus didn't exist."
"But one Xmas eve was staying at my uncles old farm house."
"In the middle of the night, I awoke to the sight of an old man looking exactly like the typical Santa."
"I was so confused and scared so I just kept my eyes closed and eventually fell back asleep."
"Told my family about this mysterious Santa visit and to my surprise, no one ridiculed me for thinking I 'saw Santa'."
"Instead they determined I was old enough to know the truth about the former owner of the farmhouse."
"He was a real person who was sadly found dead with suspicious conditions."
"Turns out my uncle had had plenty of odd occurrences throughout his time living there."
"Never anything hurtful or violent but definitely his presence was known."
"What really sealed the deal was when they showed me a picture of said previous owner, Saul, and what do you know...he had a remarkable resemblance to Santa."
"RIP Saul!"- jmvk2018San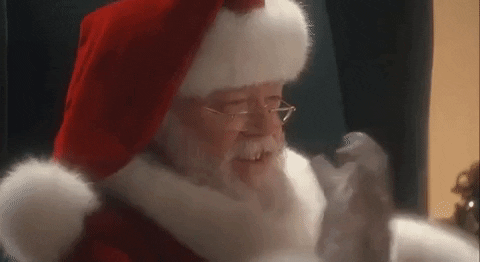 Sign Language Applause GIF by filmeditor
Giphy
The Others...
"This story is from a childhood friend who told me this and it still unnerves me to this day."
"She was genuinely freaked out and her family even backed up her claims so here goes."
"Basically my friend and her family moved into this rental property which my friend said was haunted."
"It gave everyone an off feeling, those who visited or stayed over would mention it."
"I myself experienced this odd feeling of foreboding whenever I went over there and believed in the consensus that the house was haunted."
"It honestly felt oppressive in the house and you would feel this pitiful dread that is hard to compute into words and was extremely uncomfortable to experience to say the least."
"Anyway this particular inexplicable event, that is the basis of this post, was enough for my friend's family to pack up and stay with relatives until they moved out permanently."
"On this fateful afternoon my friend had arrived back home from the park and heard an argument taking place in the kitchen between her mum and dad."
"My friend thought this was odd as both her parents should be at work so she called out 'Mum?' before unlocking the front door and going inside."
"My friend said the house fell instantly silent: an uncanny silence like all the air had been sucked out of the place and felt stifling and wrong."
"Then her mum said 'hey friend's name we are just in here'."
"My friend was just outside the closed kitchen door at this point and froze beyond opening."
"It was her mother's voice but there was something off like the cadence was missing that made it her mother."
"It sounded flat and unnatural."
"My friend decided to bolt back out the front door and wait outside until her brother came home but she said as she turned back to the house she saw her mother peering at her from the lounge room window."
"But it wasn't her mother."
"The face was the same, everything was the same but her face was devoid of anything that made it her mother."
"There was no recognition on her mother's face, there was no indication that she was looking directly at her daughter, there was no emotion in the expression: nothing."
"The eyes looked unstaring and utterly blank."
"My friend screamed and ran down the street to her mother's work and confirmed that she was there all this time and had never been home."
"Initially my friend's mother reasoned that someone must have broke in but a later investigation proved nothing had been stolen and the back door was locked as was the front door when my friend came home."
"No one could rationalize who my friend saw in the window and why it looked so much like her mother, but not fully human, so that was the deciding factor to nope the f*ck out of there and find somewhere else to live."
"The landlord of the house denied anything like this happening when they lived there but did admit tenants didn't stay long saying there as something was 'wrong' in the house."
"My friend also told me she was the only one who actually saw anything definitively sinister in the house but her family said they definitely felt an evil presence there which manifested into the doppelganger experience my friend had."
"Utterly terrifying."- Mummyto4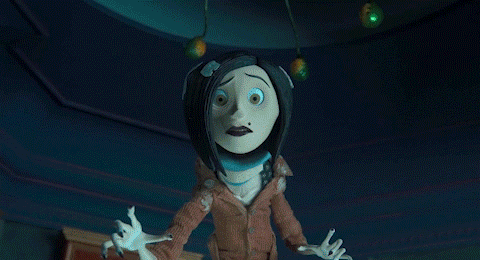 Your Mother Animation GIF by LAIKA Studios
Giphy
A Lucky Premonition...

"Okay, so once when I was about 9yrs old, it was late at night, I'm asleep in my room and my younger sister (8) is asleep down the hall in her room."
"It's not uncommon for us to run into each other's rooms if we have a nightmare, you know that whole trying to outrun the demons just run and jump into the others bed?"
"Well, this night I literally wake up out of a dead sleep, its dark, the moon is high outside my window, and my sister is standing in my doorway."
"It's not debatable that it's her, her height, her stupid haircut, down to the New Kids on The Block oversized t-shirt nightgown from my mom's youth."
"But she's just standing there."
"One hand on the doorknob, other hand on the doorframe, staring at me."
"Silent."
"I look at her for a minute and then kind of annoyed I throw my blanket open, 'COME ON IF YOU'RE COMING IN HERE!'"
"She doesn't move, doesn't say anything, she's still staring."
"And I'm not even creeped out at this point, I'm just annoyed and sleepy and white trash, lol, so I get up to go hit her."
"I know, it's a garbage pail kid thing to do, but I'm just being honest."
"Our parents didn't teach us self-regulation, it is what it is."
"I'm better now, lol."
"I jump out and stomp over to where she is and stop about arms length in front of her, she's still silent, still staring."
"Now I'm a little creeped out, 'WHAT ARE YOU DOING?!'"
"And I swipe at her overhand."
"She disappears as my hand falls."
"Like not dissipates into nothing, like straight up is just gone!"
"I look back at my bed?"
"I look in the hallway?"
"NOTHING!"
"SO now I RUN TO HER room down the hall because it's that time!"
"Nightmare time!!"
"zoooOOM JUMP WRESTLE INTO HER COVERS!"
"And when I get there, I notice she is there, thank God, but she's SHAKING violently!"
" She's HAVING A FUCKING SEIZURE!"
"SO then I go on the full tilt alarm, run to my parents room turn all the lights on, yelling that sister is having a seizure."
"We go to the emergency room and she gets her diagnosis of childhood epilepsy."
"I also didn't even know what a seizure was when I started yelling about this, which was also weird."
"I honestly think to this day that she Astral projected or something, that b*tch found a way to come get me because she was in trouble in her bed."- aceinnoholes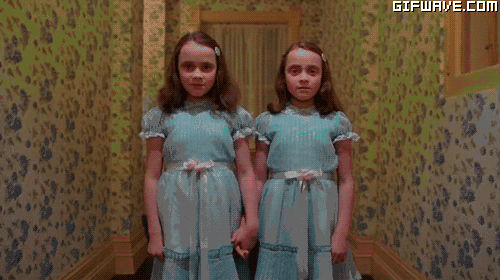 shining stanley kubrick GIF
Giphy
One Complicated Panty Raid...

"Was camping with my wife sitting around the camp fire."
"Started to pour rain, so we went back inside the tent."
"Inside the tent the rain was so heavy we couldn't hear anything over the pitter patter hitting the tent. "
"We decide to change our clothes and call it a night."
"We get into our sleeping bags and turn out the light and hear 'dleet dleet dleet' again 'dleet dleet dleet' like the sound Motorola phone would make when the battery was dying."
"Only thing was we don't have phones that make that sound and our phones are turned off."
"Miles from anyone."
"Pouring rain."
"Can't hear if someone is walking up to your tent."
"Can't tell if someone walked away from your tent."
"We were trapped inside this canvas death trap with only one exit."
"We froze and waited for what seemed like hours."
"Eventually I grabbed my gun and light and made a dash for the door trying to get out as fast as I could."
"Once out I ran around my tent."
"Nothing."
"No one."
"Not a sign of life anywhere."
"We grabbed our our valuables and decided to make the 10 minute trek to our car."
"We made it safe."
"Drove an hour home."
"And slept better than we would've if we stayed."
"The next day we drove back to get our stuff."
"When we got to our tent it didn't look like anything had been messed with."
"Nothing out of place."
"Once we got home and unpacked my wife couldn't find her underwear."
"None of them."
"Literally nothing else was missing from our stuff."
"It was the wildest and creepiest experience of our life."- dktaylor32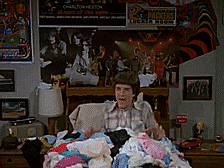 panties GIF
Giphy
Going through these experiences is enough to make you afraid of spending even one minute home alone.
However, as time goes by, you discover the biggest advantage of having the living daylights scared out of you.
Having a tale to tell...
Keep reading...
Show less
Here we are, decades into the life and journey of the internet.

And we still can't clean up all of the horrible spots.
The internet is a fantastic invention with many, many flaws.
Our screens have been exposed to things that will remain with our souls forever.

So let's talk about it.
***WARNING!! THIS IS AN NC-17 ARTICLE***
Redditor Powered_programmer wanted to hear about all the things that we've seen on the web that has left us shook. They asked:

"What is the creepiest thing that you've come across on internet?"
So let's all take a deep dive into the darkest places of the net.
Bad Footage
"Rotten.com back in the day."
u004665
"Surgical footage and trauma footage look very different. Even if you know next to nothing about anatomy watching a surgery looks neat and clean."
"You can clearly see the boundaries of different flaps of tissue and stuff, and can kinda see how it would fit back together once the surgeon is done. Trauma just looks like chaotic hell. Nothing makes sense, it all looks like badly ground hamburger, and any recognition of parts only brings more horror as you realize the part is broken and relocated to somewhere it doesn't belong."
venbrou
Too Far a Reach
"Years ago I came across a website that was just a collection of links to unsecured camera feeds. Webcams, baby monitors, security cameras… basically anything with a lens and WiFi capabilities. Apparently most people never set up their devices properly and just leave default passwords or none at all, and this website was just trawling through the internet finding them all."
ShallowBasketcase
Messed Up
"I watched Luca Magnotta kill his BF but when I watched it, it was uploaded to a horror site by him and everyone thought it was a really good special effects. I don't get spooked much but I stopped watching when he started stabbing the corpse with a ice pic or something. A little while later I found out he was on the run and that video was a real person he murdered, it messed me up for a while."
ChineseChaiTea
Broadcast
"A website that broadcasted millions of private security cameras of people houses who had no idea that their security camera was just on the Internet and they could be watched during all hours."
moosa_jafri
Why did we ever create the internet?
Look Close
"That one video where the car was driving down that mountain road and you had to pay close attention and then it turned out to be a screamer."
Natural-School5690
LONG!!
"I'm going to go with creepy, not horrifying or even f'd up. I can't remember who it was, but back in the day on YouTube a man posted LONG videos of himself just sitting and looking straight into the camera with a smile, not a single movement the whole time. Always a live feed."
"One day someone broke into his home DURING the live show, and actually ended up leaving without stealing anything because the guy didn't react at ALL. Just sat there, wide eyed and smiling at the camera. Thinking back as a thief that would scare the heck outta me."
Smooth_Bet_4849
Oh Mickey
"This picture of mickey mouse that was added to my DSI's wallpaper. I have never owned or known someone that owns a Mickey Mouse plush. I do not recognize the area, wall, chair or anything in the picture. I have not lent my DSI to anyone. It just appeared one day when I opened it. It creeps me out and I still question how could this have happened."
Galastique
Was it Real?
"Those 'ghost showing up in mirror' YouTube videos. To this day, I'm still scared to walk past mirrors at night sometimes."
NiamhHA
"I could never find the video but i can never forget it. its about two boys who remove a talisman from a large stone and out of it a ghost pops out moaning, the boys immediately dart out of the cave and run at full speed screaming as they see that the ghost is following them even catching up to the boys. Never got to see the ending of the video. Was it fake? Was it real? Don't know, it was just creepy."
sharpie-sapien365247
Wake Up
"When I used to browse the hellhole known as 4chan I came across a crazy green text story. Some kid ran away from home, found a place for the night and slept in his sleeping bag. Woke up to what he thought was homeless guy peeing on him and chased him off. When he stopped and smelled himself he realized that the homeless guy was pouring gasoline on him. Still creeps me out to think about what could have happened."
mgtz_
My Face
"I keep thinking of the video of the cartel gang member cutting a dudes face off and wearing it like a Halloween mask. Gore doesn't bother me but the idea of someone cutting my face and scalp off and wearing it for a joke in front of me while I bleed out is crazy to me."
OneTyler2Many
Air Loss
"I saw a dude with half of a head trying to breath."
Acrobatic-Hornet-739
"Was he the one that tried to join his friends by jumping off of a 'cliff' into water? The issue was that he needed more horizontal velocity to clear the concrete bank below. He messed up and hit the corner of the concrete bank head first. The video then cut to his head split open and him seemingly trying to breathe. The breathing didn't upset me, it was the sound of his head hitting the concrete that did... it gave me a headache."
FloatingWatcher
Gutted
"Prior to Rotten.com , (showing my age) I once googled masks, for Halloween. The image search came back with one picture that scared the hell outta me. It was a woman, completely nude except for a face mask, and had been gutted with entrails hanging free. Best I can figure, it was a crime scene image that got posted online by accident. I was 15."
glitchygreymatter
Impossible
"Audio from the Jonestown massacre."
freddythedinosaur1
"This is pretty bad but some of the stuff from Uvalde recently really messed me up. The shooting in Buffalo that was live-streamed was bad too. I just can't deal with it. I try to be as well informed as possible, but there's some stuff no one needs to see to understand the horror of it."
volatutopia
Altitude
"It was just posted the other day here on Reddit... I don't remember what the sub was, but it was the audio from a plane crash that happened because the pilot let his kid take over the plane. There was a visual showing the plane's altitude and how it was moving. The way everything cuts off at the end is deeply unnerving."
joashajo
9/11
"The creepiest thing that I've ever seen were a photos of dead people from 9/11. And if you thought something like: uh, it's just dead bodies, nothing special. Hell huh, basically I was really bored and at that time I was obsessed with topic of 9/11. I would search for all kind of information that u can find on the internet. So once I decide to google: <Dead bodies after 9/11> and there weren't any horrible photos of the victims."
"But suddenly I decide to open this weird link, and after I opened it, I saw a photos of burned bodies of people who died there, or there were dead bodies that were crushed by steel and glass, so these weren't a normal bodies, these were a simply minced meat made from people, or it was a man who was sitting in his car and he burned alive, but I don't know how this happened, but he had a big hole in his stomach, so you could see his organs."
VividEmphasis5292
I had a VPN on...
"I was once on 4chan and ended up with someone arguing over the fact that the Xbox controllers looked better than the one of the PS4. IDK anymore how it ended, but when i got an email later with my address and IP address… Things got real creepy. Luck for me, I had a VPN on, so the guy thought I was in the USA."
"I knew that this was possible, but experiencing it from first hand... is something different. But seriously, why are so many ppl so emotional? I mean... we argued over CONTROLLER DESING??!! Fun fact: the VPN I had connected itself automatic to the US thanks to the default settings, so I didn't even activate it manually."
Tovitas
A Bad Turn
"This has been years ago now, but there was a YouTube channel called AlanTutorial. The videos started out seemingly normal, maybe a slightly handicapped teen making videos in his house. Then they… take a turn. One day he gets locked out, can't get back in. Then he appears to be homeless and living in the woods. It's… bizarre to say the least. The last video was 7 years ago and the channel has been stagnant ever since. Still gives me the chills thinking about the channel."
thebassdgod
Zim
"When I was a kid, I loved Invader Zim. The Internet was just starting to become a major presence in the global economy and in my life. Naturally, I went online to look for cool pictures of Zim and Dib fighting. I got lots of drawings of them, but they weren't doing what I thought they should. It's less creepy to see these things now, but at the time, what I got from the image results freaked me the hell out. Another reason why middle schoolers shouldn't be on the Internet."
ugagradlady
Well that is a lot of drama I never want to see.
Keep reading...
Show less
History is littered with horror and fright.
And much of it is journaled and cataloged for our reading pleasure.
Which sometimes is reading that can leave one a bit on edge.
That's because some of our best long-dead wordsmiths left some serious echoes.
Now we all do love a good speech.
We're especially entranced when the speaker has that certain... "thing."
But once and awhile when you listen and really dig deep, they are less inspirational and more morbid
Redditor KeyWar8755 wanted to compare notes on the words we can't shake. They asked:

"What's a quote from history that gives you chills?"
I always listen to famous serial killers. So I've long been tainted.
To the Sea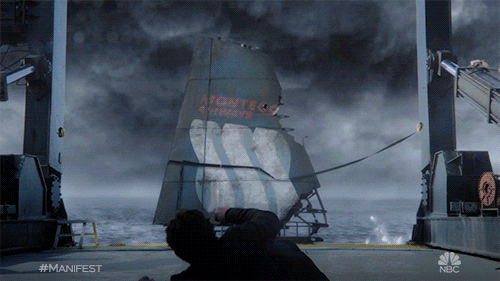 Season 3 Nbc GIF by Manifest
Giphy
"'It is only those who have never heard a shot, never heard the shriek and groans of the wounded and lacerated […] that cry aloud for more blood, more vengeance, more desolation.'"
"General Sherman, from a letter sent in May of 1865 in the midst of his march to the sea."
TTTriplicate
Loss in Life
"'WAR is a racket. It always has been. It is possibly the oldest, easily the most profitable, surely the most vicious. It is the only one international in scope. It is the only one in which the profits are reckoned in dollars and the losses in lives.'― Smedley Butler"
ayayaJAMMER
Shoot
"'Every gun that is made, every warship launched, every rocket fired signifies, in the final sense, a theft from those who hunger and are not fed, those who are cold and are not clothed.' -- Dwight D. Eisenhower"
zyygh
Dirty
"'In Germany, the one who complains about the dirt is considered much more dangerous than the one making something dirty.' -Kurt Tucholsky"
"(Not an exact translation, the original quote is in German)"
EsszettOfficial
I'll Find You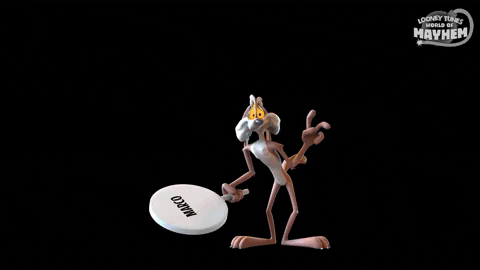 looney tunes marco GIF by Looney Tunes World of Mayhem
Giphy
"Nobody believed Marco Polo's stories about travelling through Asia, and on his deathbed someone asked him to admit he had made it all up. His response was 'I have not told half of what I have seen.' That always got my imagination going. I would have liked to have heard his stories straight from him."
mariam67
I've always wondered about Marco Polo's origins.
Dreams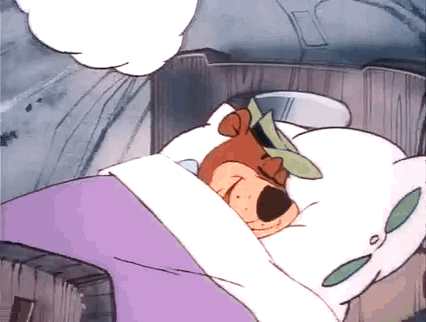 Hungry Hanna Barbera GIF by Warner Archive
Giphy
"'All men dream, but not equally. Those who dream by night in the dusty recesses of their minds, wake in the day to find that it was vanity: but the dreamers of the day are dangerous men, for they may act on their dreams with open eyes, to make them possible.' T. E. Lawrence"
Kravashera
Time to Die
"'I've seen things you people wouldn't believe... Attack ships on fire off the shoulder of Orion... I watched C-beams glitter in the dark near the Tannhäuser Gate. All those moments will be lost in time, like tears in rain... Time to die.' — Rutger Hauer in Blade Runner"
cisforcoffee
Send it All...
"'Stop sending people to kill me. We've already captured five of them, one of them with a bomb and another with a rifle… If you don't stop sending killers, I'll send one to Moscow, and I won't have to send another.' - Said by Josip Broz Tito to Joseph Stalin"
ChangKaiShek2
Death
"'I used to have five brothers, now I'm not even a brother' - Kevin Von Erich"
"His older brother died at the age of 6. His younger brother David died suddenly at 25. His three youngest brothers all killed themselves at 33, 23, and 21. Between 1984 and 1993 he went from having four younger brothers to not being a brother."
ToxicBanana69
Remember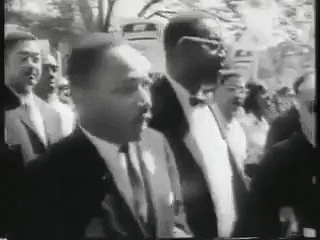 Martin Luther King Jr Mlk GIF by Identity
Giphy
"'We will remember not the words of our enemies, but the silence of our friends.' - Martin Luther King, Jr."
RecalledBurger
Power
"'We have the power to make this the best generation of mankind in the history of the world or make it the last.' - John F. Kennedy"
VerdHorizon
Hard Truth
"'There are decades where nothing happens; and there are weeks where decades happen.' --Vladimir Ilyich Lenin"
thatsnotmyf**kinname
"Whew! The timing."
imheretoupvotes**t
"Seen too many once in a generation depressions and once in a hundred years extreme weather events."

Meritania
Pay Attention
"'A generation which ignores history has no past and no future.' Robert Heinlein"
underpressure65
"Here in Latin America we have a similar saying: 'Un pueblo sin memoria es un pueblo sin futuro.' Which means 'A nation without memories is a nation without a future.'"
Guilhermedidi
NOW!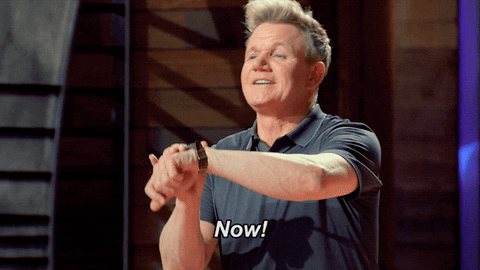 gordon ramsay fox GIF by MasterChef Junior
Giphy
"'They didn't want it good, they wanted it Wednesday.' -Robert Heinlein"
Hob_O_Rarison
"Damn. I work in manufacturing and this hit me right in the paycheck."
XXPapaZombieXX
Take Notice
"'Why show anger to the world, as if the world would notice.'"
Wehfi
"I like this. Who said it?"
-Saltyz
"It's a double quotation. It's best known today as a quotation from the Meditations by Stoic philosopher and Roman Emperor Marcus Aurelius, but he was himself quoting from the Greek play Bellerophon by Euripedes."
contramundi
Bull Moose
"'Friends, I shall ask you to be as quiet as possible. I don't know whether you fully understand that I have just been shot; but it takes more than that to kill a Bull Moose. But fortunately I had my manuscript, so you see I was going to make a long speech, and there is a bullet - there is where the bullet went through - and it probably saved me from it going into my heart. The bullet is in me now, so that I cannot make a very long speech, but I will try my best.' -Teddy Roosevelt"
herculesmeowlligan
Pay Up
"'It will cost what it will.' - Albert von Bredow"
"After receiving orders to charge the French infantry. Would become one of the last successful cavalry charges used in battle. More than half of them died in the charge."
KingOfWinteryIce
DONE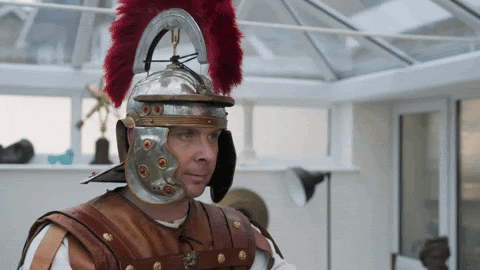 Proud Ides Of March GIF by Checkatrade.com
Giphy
"'The die is cast - Ceasar'"
"He said that after sending Roman troops to the border of Italy and Callia which marked the beginning of a Civil War."
Lanxol
Franz
"'One day the Great European War will come out of some damn foolish thing in the Balkans.' - Otto Von Bismarck"
"Said in 1888, 26 years before Archduke Franz Ferdinand was assassinated in Sarajevo triggering World War One."
Superb-Possibility-9
These are some powerful words that have stood the test of time.
Keep reading...
Show less