Some of the best comedians of all time have passed through the doors of Saturday Night Live over at New York's Rockefeller Plaza, and many of them have gone on to achieve superstardom.
Some of the comic legends of the 1970s include Dan Aykroyd, John Belushi, Gilda Radner, and Chevy Chase, while the 80s saw Julia Louis-Dreyfus and Eddie Murphy.

Cast members making star turns today include Kate McKinnon, Pete Davidson, and recently exited actress, Cecily Strong.

With so many greats that have made millions laugh over the years, people have their wide-ranging favorites.

Curious to hear from fans online, Redditor Nickster1619 asked:

"Who is the best SNL cast member of all time?"
Repertory cast members from earlier seasons get a shout-out.
Known For Eugene–The Anal Retentive Chef
"Quite possible! It's Phil Hartman."
– Jaoxpax
The Larry King And Burt Reynolds Impersonator
"Idk about the best, but Norm McDonald was always my favorite."
– Burgerpocolypse

Memorable Sketch
"Norm did a skit where he played a police sketch artist who wasn't any good at eyes or hair so everybody had a giant hat and sunglasses. It was a rip on the Unabomber sketch with the hood, bandana and glasses. It was so dry and hilarious."
– tuenthe463

Best Weekend Update Host
"Norm was by far the best weekend update. No question. Seth Meyers and Tina Fey were second. I'm a big fan of Michael Che because I've been following him since he was doing stand-up. Who else? Dennis Miller, meh. Collin Quinn, I like the guy but he wasn't my favorite weekend update by a long shot. Norm was the perfect person for that gig."
– arcaneresistance
The "Beverly Hills Cop" Star
"Eddie Murphy. He carried the show when he was on it, and it probably would have been cancelled if he wasn't there to do so."
– ovid10

Iconic Characters
"Seconding! Murphy was at a career peak during his time with the show, and his characters - Gumby, Mr. Robinson, Buckwheat - were iconic."
– Brilliant_Tourist400

The Church Lady
"Dana Carvey was incredible in his time."
– Iwannascream2

The 2000s boasted these greats.
Now Starring In "Barry"
"Bill Hader"
"I dont really watch a lot of SNL so my knowledge is limited. He just always appeared to be having a really good time on the show and he's one of the ones who could make me laugh sometimes."
– adios-b*tchachos

The Giggles
"I loved it when he'd get the giggles at something he was going to say and he couldn't deliver it because of his laughter. That was as good as the joke."
– opossumonmyporch
Love To The Ladies
"Gotta send love to my ladies, it's Tina Fey for me. Amy Poehler is also a goddess but I don't remember her as much until Parks and Rec. Also Kenan Thompson? He had such a long run!"
– __nothankyou__

Kiss Me, Kate
"Kate McKinnon. She is the most versatile cast member of modern times."
– Guest8782
Longtime Cast Member
"Gotta give some love to Kenan. He is often the center and driver of the sketches. So consistent and has been there so long now."
– Naes422

No one made me crack up harder than the great comedy legend, Gilda Radner.
In 1975, the SNL alum was one of the original "Not Ready for Prime Time Players"–the freshman cast of the show's first season.
A character of hers I'll never forget was the know-it-all Weekend Update advice expert, Roseanne Roseannadanna. YouTube clips of her hilarious turn as the wacky consumer affairs reporter show her comedic timing and delivery brilliance.
Unfortunately, Radner left us too soon in 1989 having died from ovarian cancer. She was 42.

Keep reading...
Show less
Aidy Bryant has been making SNL audiences laugh with her hilarious sketches since joining the cast in 2012.
Critics also praised her performance in Hulu's original series, Shrill, in which she plays Portland writer Annie and addresses issues concerning body-positivity.
But after receiving a barrage of negative comments on social media about her portrayals of former White House Press Secretary Sarah Huckabee Sanders on SNL, it all became too much to bear.

So Bryant announced she was quitting Twitter.

Aidy Bryant Explains Why Playing Sarah Huckabee Sanders Led To Her Quitting Twitter https://t.co/lhktgwiFpI

— Sarah Loyd (@Sarah Loyd) 1580259302.0
Bryant told Shondaland about the equal-opportunity fat-shaming from both sides of the political spectrum—one aimed towards her, and the other towards the contentious political aide.

"The thing that always blew me away was that when I would play [Sanders] on the show, I would be inundated with tweets saying I was a fat, ugly pig who didn't have the right to play someone as 'brave and smart' as Sarah Huckabee Sanders."
"The other half were tweeting at me saying I was too 'beautiful and good' to play someone as 'vile and fat' as Sarah Huckabee Sanders."
The "Saturday Night Live" cast member pointed out that the left and right have one thing in common on the social me… https://t.co/gOZrW6lGmj

— HuffPost Ent (@HuffPost Ent) 1580295056.0
Here is a sample of Bryant's portrayal as Sarah Huckabee Sanders on SNL.
She continued talking about the toxicity prevalent on Twitter.

"It was brutal to me. It made me sad on both sides that she was being reduced to her looks, and so was I. It wasn't good for any reason."
"I have the odd random person calling me a 'fat piece of s**t' or a 'fat pig' or telling me that I 'eat hamburgers' on Instagram, but it feels less targeted."
"I certainly haven't had the targeted harassment that Lindy West or Leslie Jones had. These are people who I know and love. When you see stuff like that, it's pretty revolting."
Aidy Bryant learned an ugly truth about both sides of the political spectrum after playing Sarah Huckabee Sanders o… https://t.co/1pgrsSPf71

— ♫ Shannon McDowell ♫ (@♫ Shannon McDowell ♫) 1580312121.0
On quitting Twitter, she has absolutely no regrets.
"I have to say, it just wasn't worth it to me. I do have Instagram. I get feedback about the show there and it means a lot to me."
"But I wasn't finding anything worthwhile on Twitter."
When asked how she would "stay sane" through the upcoming election, she said:
"I try to keep my news sources dry and straight forward. I tend to read a lot more than I watch."
"That helps me — it feels less sensationalized and more straightforward. It's definitely hard."
"A part of Saturday Night Live is engaging with current events on another level, and it's important to represent what's happening in our country and our culture. That changes my relationship to it, rather than just watching the news."
Shrill is based on Lindy West's 2012 titular book of personal essays. West joined forces with Bryant and Ali Rushfield to develop the show into a series.

Bryant's character is a timid journalist who finally becomes empowered to fight off all the negativity towards her body.
When it comes to her work on Shrill, the actress beamed:

"Probably the thing I'm most proud of in my life is my work on Shrill, even just the team we've assembled and how hard we all work to make it."
"And I think it's actually, in a lot of ways, let me enjoy being on SNL more, because I feel like I got to do the thing that I always dreamed of doing."
@latimes Love this show deeply. So excited to turn on my tv tonight and see season 2. What a sweet surprise!

— Karen Parry (@Karen Parry) 1579936413.0
With social media abuse behind her, the actress is focusing on having fun.

"For me right now, the key is just to have fun. I feel like the audience can always tell when you're having fun."
"It always really translates. I think some of my early years on SNL, I was there, working really hard, but scared. Now, I'm having fun."
The second season of Shrill debuted on January 24, 2020.

Keep reading...
Show less
They say imitation is the best form of flattery.
Actor and comedian Kenan Thompson is best known for his tenure at Saturday Night Live.
He has a number of solid characters and impressions under his belt, from Charles Barkley to David Ortiz.
One of his most popular, and perhaps most dead-on in his portrayal, is Steve Harvey.
Family Feud: Extended Family - SNL www.youtube.com
The SNL cast member was recently approached by Harvey himself, on the set of Thompson's new reality competition show Bring the Funny. Turns out, Harvey is very familiar with Thompson's impression of him, and issued him a joking threat.
Thompson spoke of this encounter to Fox News.
"I just saw [Steve Harvey] when we were shooting 'Bring The Funny' and he was on the next stage doing 'Family Feud,' so I sat down with him and he was like, 'You better watch yourself'. I love Steve. I've known him for a super long time."

Despite Fox, it was a pretty funny encounter.
Many SNL fans thought so too.
Steve Harvey telling Kenan Thompson to watch himself over his SNL impression is by far the funniest thing he has ever done

— Dazzling, Deft & Devoid of Feeling (@Dazzling, Deft & Devoid of Feeling) 1558026290.0
#SteveHarvey #kenanthompson Celebrity boxing match is needed to settle this!! https://t.co/GDVbikjtgq

— christian (@christian) 1558023586.0
While initially some fans took the threat a little seriously, it was obvious to Thompson that the comment was in jest.
After all, he is a comedian.
"Comedy is a craft. It's something that you sharpen over time so the more you educate yourself about topics and references the better [your comedy] will be and the more appealing it'll be to a wider audience. Your comedy skills get better over time but you have to work at it."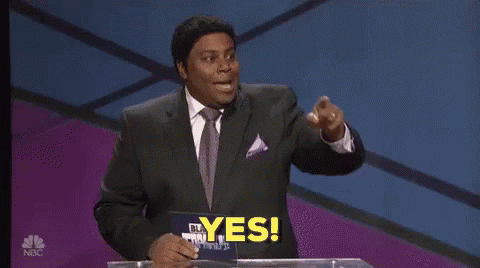 media2.giphy.com
Thompson has gained a large following over the years, beginning with his involvement with Nickelodeon in the 90's. After starring in shows such as Kenan and Kel and All That!, he wound up scoring a spot on the biggest sketch comedy show of all time.
In fact, Thompson broke the record for the longest running SNL cast member.
He is now has sixteen seasons under his belt, and he won't be stopping anytime soon.
The year 2093. Earth is a barren hellscape. Humanity has been extinguished. Kenan Thompson celebrates his 100th sea… https://t.co/cFkI4g8e7D

— JC (@JC) 1557536065.0
Thompson is now getting his own sitcom on NBC, titled The Kenan Show, along with a new unscripted reality game show called Bring the Funny.
He has no plans to leave SNL.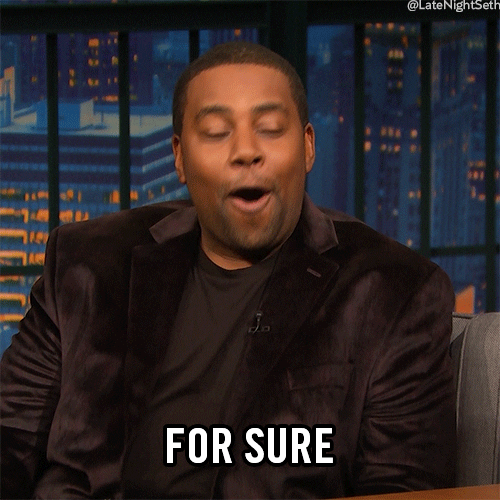 media0.giphy.com
What a legend.
Keep reading...
Show less
Jason Sudeikis made an appearance during the latest episode of Saturday Night Live, and he wore a shirt that is giving fans a hefty dose of nostalgia.
Sudeikis wore a "Kristen & Jason & Andy & Bill" T-shirt, paying a tribute to Kristen Wiig, Andy Samberg and Bill Hader, all of whom joined Sudeikis as featured cast members during the 31st season of SNL in 2005.
Have a look!

Thank you Kit Harington, @SaraBareilles, Jason Sudeikis, Emilia Clarke, @johnbradleywest, Rose Leslie, @Mariska, an… https://t.co/AYkcxthNNc

— Saturday Night Live - SNL (@Saturday Night Live - SNL) 1554614164.0
Jason Sudeikis is wearing a "Kristen & Jason & Andy & Bill" shirt at #SNL goodnights. Kristen Wiig, Jason Sudeikis… https://t.co/RmPu47w74p

— Jillian Sederholm (@Jillian Sederholm) 1554613880.0
All four of these SNL alums have gone on to enjoy wildly successful careers in Hollywood since getting their big breaks on the show, and fans are loving this sweet tribute.
kristen & jason & andy & bill.... maybe i'm emotional rn https://t.co/LX4WBVDqbw

— nau (@nau) 1554614722.0
Shout out to 2005 @nbcsnl https://t.co/8mcLB2jqWW

— Law Murray 📣 (@Law Murray 📣) 1554614291.0
that was a sweet t-shirt that Sudeikis wore at SNL goodnights 😢 https://t.co/RlaLzqc0ok

— Dave Itzkoff (@Dave Itzkoff) 1554613458.0
Jason. Kristen. Andy. Bill. 🙌🏻❤️ https://t.co/KaNwzK7miD

— Charlene (@Charlene) 1554614982.0
OUCHY my NOSTALGIA https://t.co/bHqpzzO3Cm

— riley (@riley) 1554616669.0
GIVE US THE SHIRT, JASON!
@ jason sudeikis where did you get that shirt/Please

— ash (@ash) 1554613462.0
Yes, please!
okay now I need a project with Kristen, Jason, Andy, and Bill together. I don't care what it is I just need them all together again

— zoe (@zoe) 1554614527.0
Sudeikis returned to the show to play former Vice President Joe Biden in SNL's cold open, which depicts Biden attending sensitivity training to address allegations that he behaved inappropriately with women over the years.
Joe Biden Cold Open - SNL youtu.be
It's SNL, everyone: Nothing––and no one––is spared.
Want your own t-shirt to commemorate this fine four? You can get it here!
Keep reading...
Show less
In case you don't know by now, Halsey is a renaissance artist.
She stunned Saturday Night Live audiences as both host and musical guest, an impressive feat very few have achieved. Donald Glover did it last spring and Paul Simon pulled duty back in 1975.

Not only is Halsey — whose real name is Ashley Nicolette Frangipane — a renowned singer and songwriter, but the 24-year-old wields a paintbrush as deftly as the microphone.
Studio audiences witnessed the multitasker working her magic as she sang "Eastside" for her second set of the night.
Halsey painted a self-portrait upside-down across the makeshift canvas floor. It was a groundbreaking performance that will probably never be attempted by another SNL host again.

Watch Halsey's performance of "Eastside" in the YouTube clip from SNL below.

Halsey: Eastside - SNL www.youtube.com
People can't stop talking about her performance that ranked among the season's best, so far.

@nbcsnl @halsey I mean, it's unfair that she's gorgeous, can sing, can act, and can do art like this! But I ain't even mad! Amazing!

— YMA (@YMA) 1549802207.0
@nbcsnl @halsey One of the best performances on this show in years. Bring her back!

— dennis jenkins (@dennis jenkins) 1549778460.0
@nbcsnl @halsey One of the BEST SHOWS OF THE SEASON!!! Halsey knocked it outta the park! Her painting while sing wa… https://t.co/XTQjTOWeJ8

— Foos Queen (@Foos Queen) 1549779115.0
@nbcsnl @halsey Ok, so without me was great but eastside was amazing! Adding your talent of painting in addition to… https://t.co/uorHdEEv2D

— Dan Pietrowski (@Dan Pietrowski) 1549779407.0
@nbcsnl @halsey One of the best shows of the season! Simply fantastic.

— Mark Timber (@Mark Timber) 1549778524.0
@nbcsnl @halsey Wonderful performance art.. @halsey totally love you!! Wonderful wonderful piece to share with us..

— Mark Bean (@Mark Bean) 1549778466.0
She made quite an impression on the uninitiated.
@nbcsnl @halsey I have no idea who she is, but I was seriously impressed.👍🏽

— Relativity. (@Relativity.) 1549813234.0
@nbcsnl @halsey This is how you make a new fan. I was so impressed. You got me.

— RockaRolla Rex (@RockaRolla Rex) 1549812241.0
Flashy backup dancers are fierce and all, but her solo, a transformative performance, set the bar high for future SNL hosts.
@nbcsnl @halsey I could watch this for hours! It's got a very therapeutic effect and I don't know if it's watching… https://t.co/J7OXDL1B1G

— •HannaJ• (@•HannaJ•) 1549801184.0
@nbcsnl @halsey A first on SNL. Anyone can top that? Nah. Bring her back.

— Trini Swinging (@Trini Swinging) 1549832478.0
Standing on the SNL stage was a dream come true moment for Halsey. In her opening monologue, she talked about how much she loved watching the show as a kid and "especially admired" the women cast members who "never cared what they looked like, what they sounded like or what anybody thought of them. They were just funny."
Now she's the one inspiring others with her legendary performance.
So, when is she coming back to SNL for round two?

Keep reading...
Show less