I can do many things. Things that are astonishing and mean nothing. Like so many of us we all harbor skills and abilities that others wish to be experts in but... they're mostly useless.
I can balance and catch ten quarters off of my elbow and then catch them when I throw my arm down. Someone call Guinness, and not the beer.
I promise there is no reason to put that on a resume. But don't ignore special skills, because they are perfect to be the life of the party. And being the life of the party is a skill.
Redditor u/dawnsic wanted to hear about everybody's hidden talents that may (but probably won't) change the world, by asking:
What useless thing do you excel at?
Want to "know" more? Never miss another big, odd, funny, or heartbreaking moment again. Sign up for the Knowable newsletter here.

Keep reading...
Show less
We are all good at something however, some talents are a bit more obscure than others, or perhaps your talent isn't something that easily comes up in conversation. I have almost oddly successful thrifting and sale trips. My designer dress? Got it for a small fraction of the price. I've literally had multiple people ask if I could take them shopping to help them find stuff like I do.
It's fun and who wants t spend $500 on a dress when you can find it for $80, it's like a game. It's a weird skill but handy nonetheless. Whatever the case may be for you we want to hear what hidden skills you've got.
Redditor Sacrificial-Toenail asked the Reddit community:
"What's something you're good at but don't get to brag about much?"

The responses went from school band to some interesting natural talents.
Deserved a raise...
​"Worked fedex ground for a few months a couple years ago. Was the youngest, and they had me loading 3 trucks (one of them was a semi literally fully loaded every single day). Sometimes I would have a 2nd guy helping me on that truck only. Sometimes."
"Consistently #1 every week, and never had a mistake on any of my trucks, to the point that my drivers would tip me or buy me breakfast almost everyday. They kept me at 11.75 3am-9am the entire time and never once talked about any kind of raise. Had me in the best shape of my life, but f**k fedex lol." xXregularShmegluarXx
​No one wants to sound pretentious...
"I have a very well-developed musical ear. I can point out just about any detail you can ask about if I hear it, and I can replicate most songs I hear on the piano. Can't really brag about it since I feel like it just comes out sounding pretentious." mysterioso7
They left her a raving review...
"Cleaning. I'm so good, I started my own home cleaning business (I'm a one man show) and in almost five years, have never needed to advertise. All of my clients have come to me by word of mouth."
"I'm currently off due to a hand injury that is looking like it'll need surgery to fix and today, actually, one of my clients texted me to let me know she hired a different cleaning company temporarily while I'm out." BustAMove_13
""I can play the Tuba and Euphonium..."
​"I can play the Tuba and Euphonium, and pretty well at that. I don't really get to play much since graduating from HS, but it's still a relatively rare ability, especially in this country where school bands are not as common as they seem to be in the USA." NyanNyanNo
Moms everywhere would hire you.
"I'm really really good at soothing babies. Getting them to calm down. Most of my friends don't have kids. But my wife remarks on it any time I get the chance. Bit of a baby whisperer."​ WhiteTshirtDad
All around the world...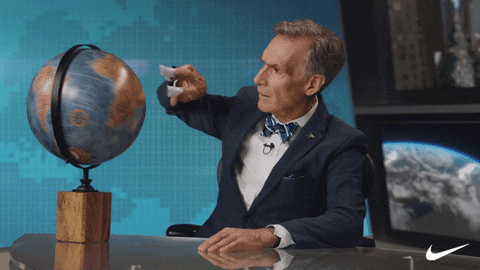 Bill Nye Spinning GIF by Nike
Giphy
"I've vomited (from sickness) in 5 out of the 7 continents. It's my proudest achievement. Im not sure if that makes my life uneventful or my accomplishment is amazing... Probably the former." ​Cute-Explorer-1653
wobbly-wobbly timely-wimey stuff...
​"I never have a watch on me and don't really look at my phone much… but I can always tell the exact time of day within about five minutes every single time."
"In all my years of people asking what time it is not even my close friends have noticed that I can do it without looking at a phone/clock/watch, I just know it in my head. Other than that i'm helplessly stupid." Qav
Faking they can see...
​"I am blind, and I've gotten really good at faking like I can see. My eyes don't look blind, and I can make eye contact and have great spacial orientation. Can't brag about it, because a lot of people think I'm faking. I am able to access read it on my phone by using voiceover, a built-in screen reading software on every iPhone."
"You can find it by going to your settings > accessibility > voiceover. You can also tell Siri to turn on voiceover. Turn it off by doing the same thing. Also, I know I am making eye contact with people because I am always asked if I'm really blind because I don't look blind." Dapper-Angle8778
People Share The Scariest Thing They've Ever Experienced While Home Alone | George Takei's Oh Myyy
A little extra flexible.
"Im an over 400 pound man that can do a split." ​MarquisDeSarc
"...to my surprise the muscle memory is pretty much still there."
​"In high-school I did Colorgaurd and Wintergaurd, which is essentially dance mixed with equipment work. It's quite a bit of fun and, though I'm no dancer, I was always pretty good with the flag and rifle in particular. I recently acquired a rifle again, and to my surprise the muscle memory is pretty much still there. I'm no professional, but I can still do some pretty impressive tosses." Skyaboo-
Indulge in the skills and hobbies that make you happy and often you will find that you are good at them
Want to "know" more? Never miss another big, odd, funny, or heartbreaking moment again. Sign up for the Knowable newsletter here.
Keep reading...
Show less
If only all the things we excelled at were also the very things we loved to do most. But sadly, that is not the way it goes.
Instead, some horrible force of the universe made you way better at, say, sewing the holes of pants than playing guitar. The universe can be a spiteful, fickle jerk.
It often seems that the most boring things are indeed the things we are best at. Perhaps because they're mindless and demand minimal creativity, so the learning curve is easy to get past.
Or maybe it's a "grass is greener" thing, where we yearn to be great at the things we know we aren't.
Redditors who know all about the plight of expertise in all the wrong places recently weighed in with their personal examples.
itch_bay asked, "What's something you're really good at but don't actually enjoy?"
Want to "know" more? Never miss another big, odd, funny, or heartbreaking moment again. Sign up for the Knowable newsletter here.
Keep reading...
Show less
There are basic life lessons that are life-saving and cost-effective that we are all intimidated by but, in actuality, they take all of a few minutes to acquire. We all condition ourselves to believe that certain skills in life are just too complex for regular joes to master. The truth is... you do not need an Ivy League degree to learn how to clean out the water heater, clip your pet's nails, or change out a toilet. Who knew? So many of us have been forced to acquire new skills while we've been trapped at home and we're going to be better off for it.
Redditor
u/goodspeed19
wanted to know what lessons we should all be learning while stuck in quarantine that will make us more useful in the future by asking.....
What's a skill you can learn in 30 minutes to one hour that is extremely useful/cool?
Want to "know" more? Never miss another big, odd, funny, or heartbreaking moment again. Sign up for the Knowable newsletter here.

Keep reading...
Show less
Every now and then, we inevitably regret not having learned how to do something until it is too late.

Personally, I'm glad that I had previously learned how to tie a bow tie. It's not a necessary skill, but it's a good one to know.
In pre-pandemic times, New York City held an annual Jazz Age Lawn Party on Governor's Island where attendees would don period clothing and have a picnic in front a live jazz orchestra.
I went dressed in my casual speakeasy attire topped with a boater hat and a bow tie around my neck that I proudly tied myself.
No other fellas I spotted at the party sported a clip-on, not that anyone would razz me for wearing one if I did.

Most party guests were either too busy doing the Charleston in front of the orchestra or on a toot and getting zozzled from their glasses of giggle water by noon.
Keep reading...
Show less