Siblings can be problematic to say the least. And as much as we love our family, they can be the most aggravating people any of us know.
The history of the bond and twisted relationships between sibs is long, complicated and chuck full of family fun.
I know by brother and I alone could fill an anthology. Imagine if we all put our stories together?
That's all anybody would talk about.
Redditor u/lew939 wanted all the siblings out there to share a tale or two by asking:
Siblings of Reddit, What does your sibling do that irritates you the most?
Keep reading...
Show less
Ever see those viral videos of when a newborn meets their parent's identical twin?
Those videos of bewildered babies are adorable! But what can be cuter than a baby? How about... a pet? You would assume most animals could distinguish between people by smell, but sometimes it may take a pet a minute to understand that they are looking at two identical people.
Redditor u/avianthon asked people to share their pet's reaction to their identical twin, and it proved that animals aren't always as sharp as we may think.
Do you have something to confess to George? Text "Secrets" or "
" to +1 (310) 299-9390 to talk him about it.
Keep reading...
Show less
This is the adorable moment a six-year-old boy sang a Justin Bieber love song to his newborn brother with Down syndrome.
Little Tripp Grieve spent his first month in hospital after being born with the genetic condition.
His big brother Rayce, six, assured his mom Nicole Powell, 29, he'd always look out for his precious brother - and asked to give him a cuddle one morning.

And the mom-of-five was left smiling when the schoolboy started singing "their song" — "10,000 Hours" by Dan + Shay & Justin Bieber.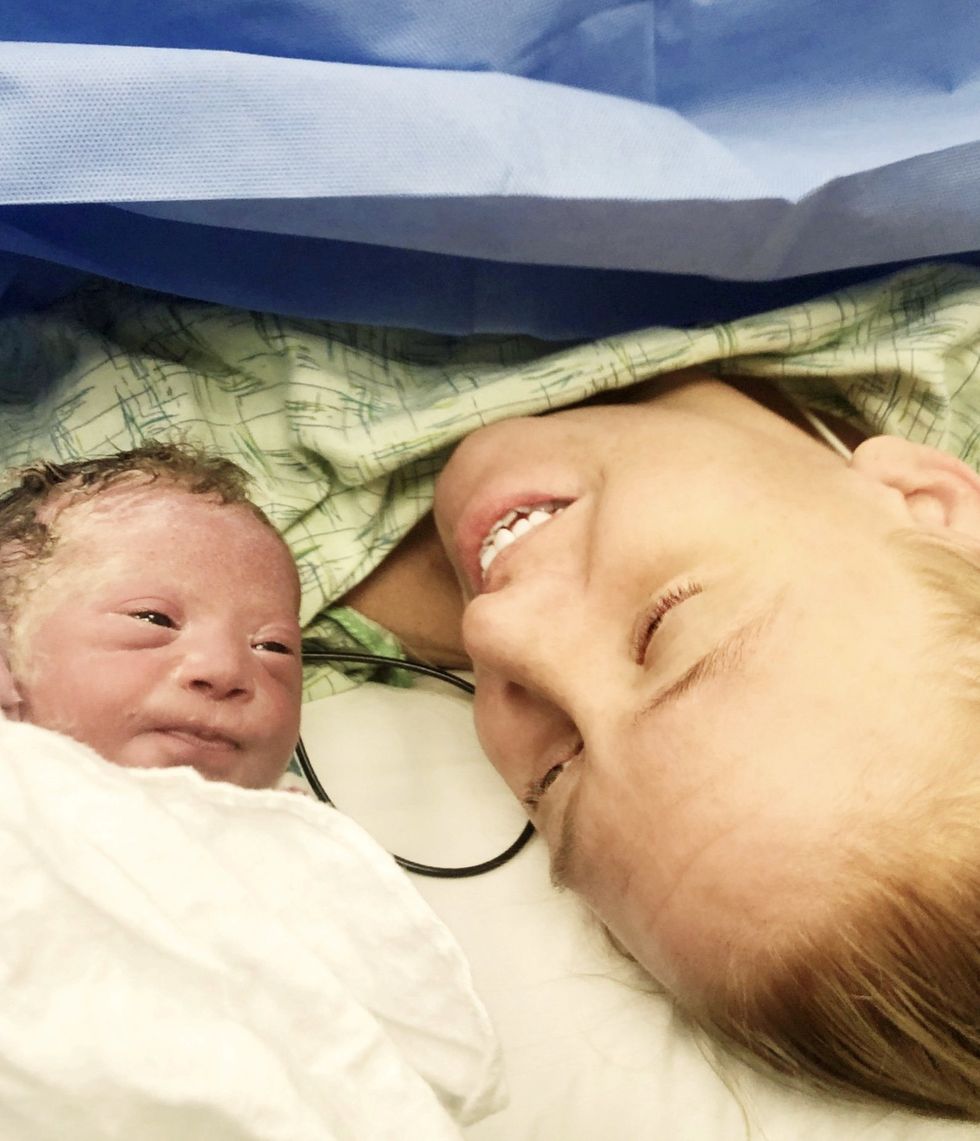 Nicole Powell / SWNS
She captured the touching moment on her phone, to send to husband JJ, 39.

Police officer Nicole also posted it on her Facebook - where the clip amazingly racked up more than 8 MILLION views.
Nicole, from Cabot, Arkansas, said:
"It's amazing. I had wondered our purpose - of why now do we have a baby with Down syndrome. I think maybe it was to bring love and awareness. People are so terrified of what can happen. But he's perfect. It's super scary, but parenthood is scary in general. I'm so proud of my sons."
Nicole and husband JJ, who owns a car sales business, found out Tripp would likely have the condition during scans before he was born.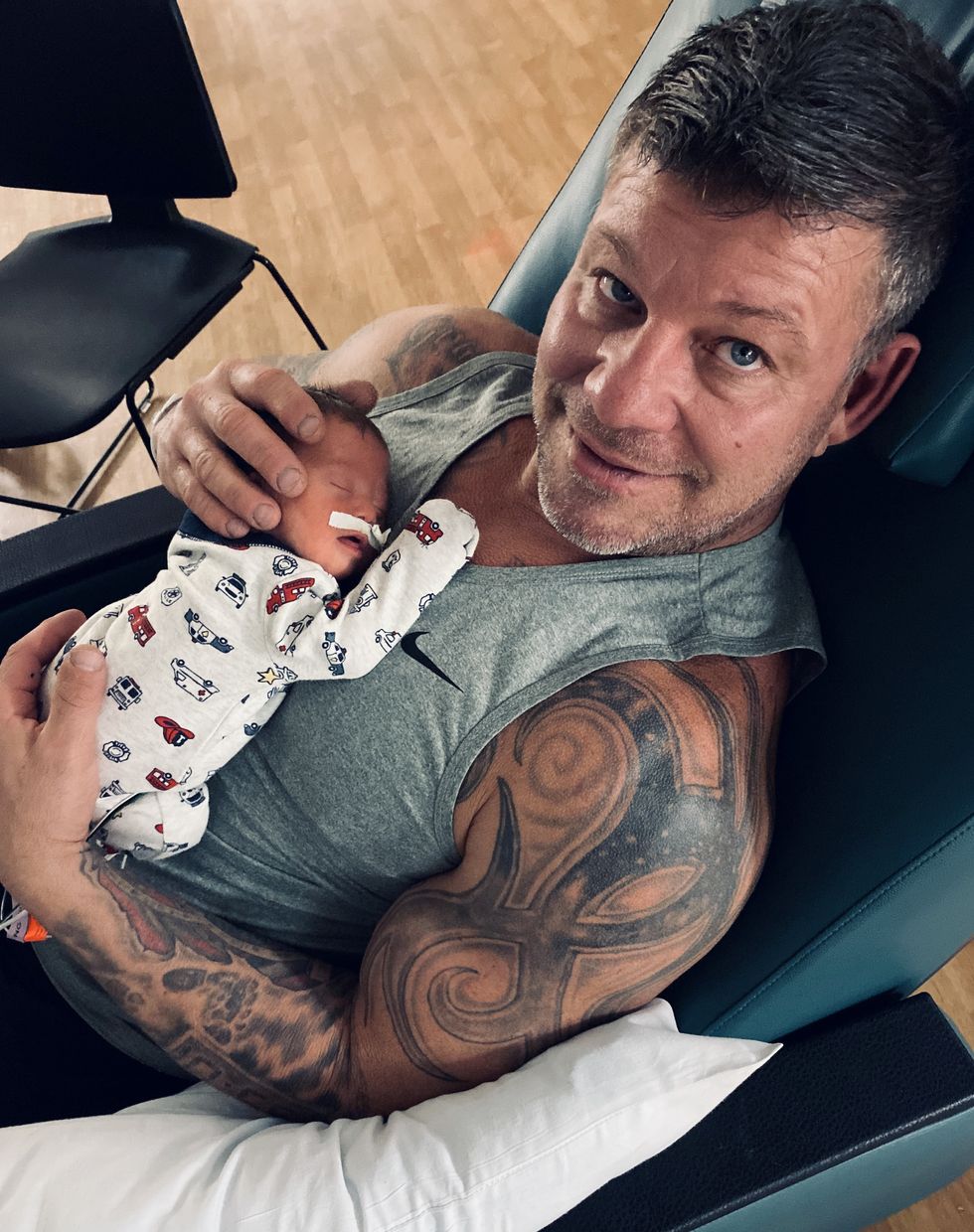 Nicole Powell / SWNS
She admits they were "not educated" about Downs syndrome and said doctors warned he could have major heart problems.

"Honestly I was really terrified because I wasn't educated at all about Down syndrome, and I hadn't been around anyone with Down syndrome," she said, adding:
"I had this horrible picture in my head and I was thinking the absolute worst. My biggest fear was I was afraid of the future. I was uneducated and didn't understand. I thought 'I have four other children, they all love each other, I just want them to love him the same way they love each other.'"
"We explained to them early. I didn't know much but I told them what I did know. We told them it just means he will be different but he's still your brother. The boys answered and told us 'but we're all different.' And we were like 'ok, this is going to be fine.'"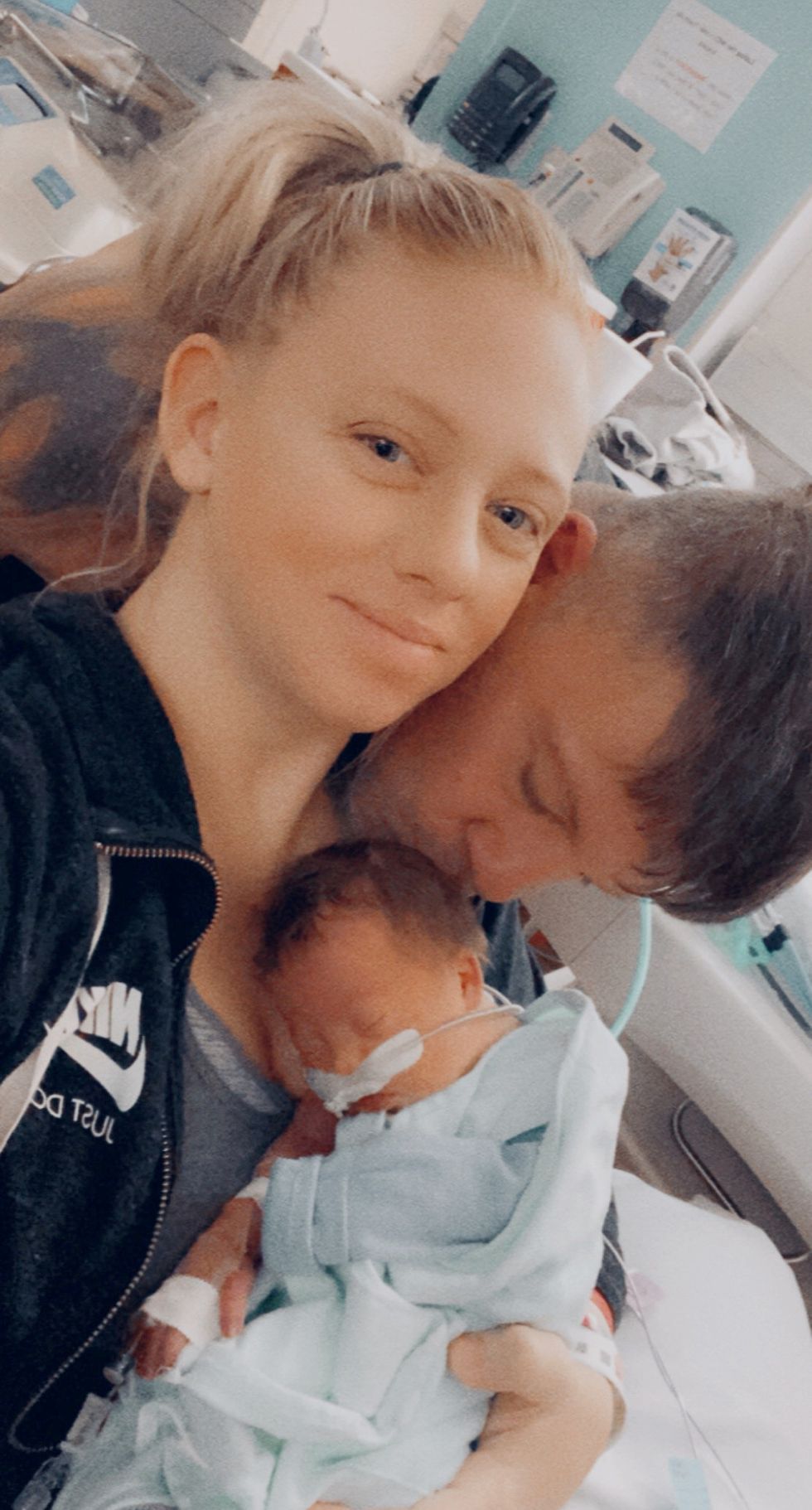 Nicole Powell / SWNS
She said later scans revealed his heart was healthy, and when she finally saw him when he was born via c-section on November 21 he was "absolutely perfect."

After a month in the hospital he came home to the family - including Jayce, nine, Rayce, six, Grayce, two, and Reese, one, on Christmas Eve.
On the way home in the car the love song "10,000 Hours" came on the radio, and Rayce started singing it to his little brother.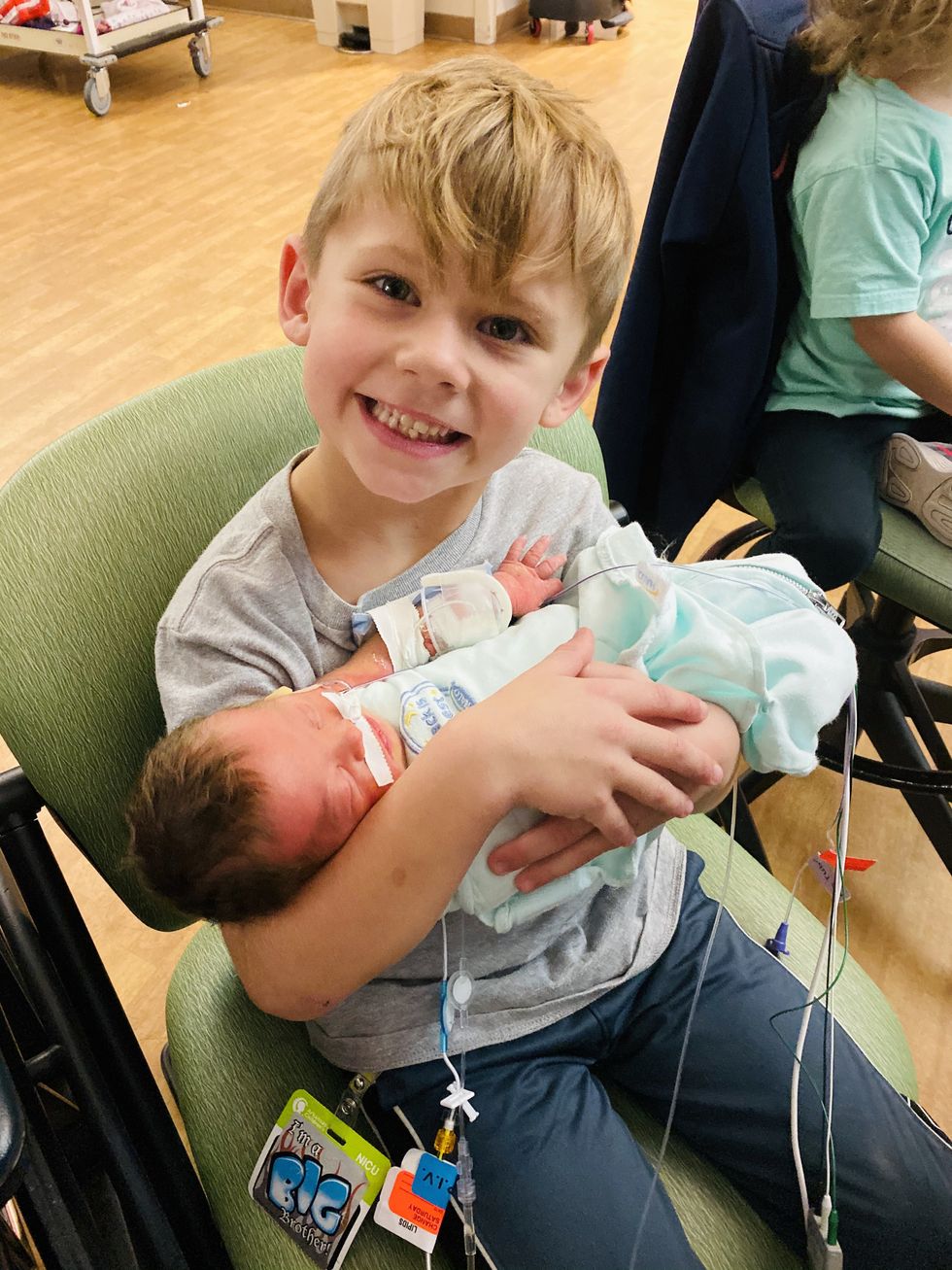 Nicole Powell / SWNS
"Both the boys love music," said Nicole.

"Rayce was saying 'this song is about me and you' - he doesn't know it's about a husband and wife. He decided it was 'their song.'"
She woke up on December 30 and took Tripp in to see Rayce and Jayce, and the eldest was listening to the song on YouTube, and asked to hold his brother.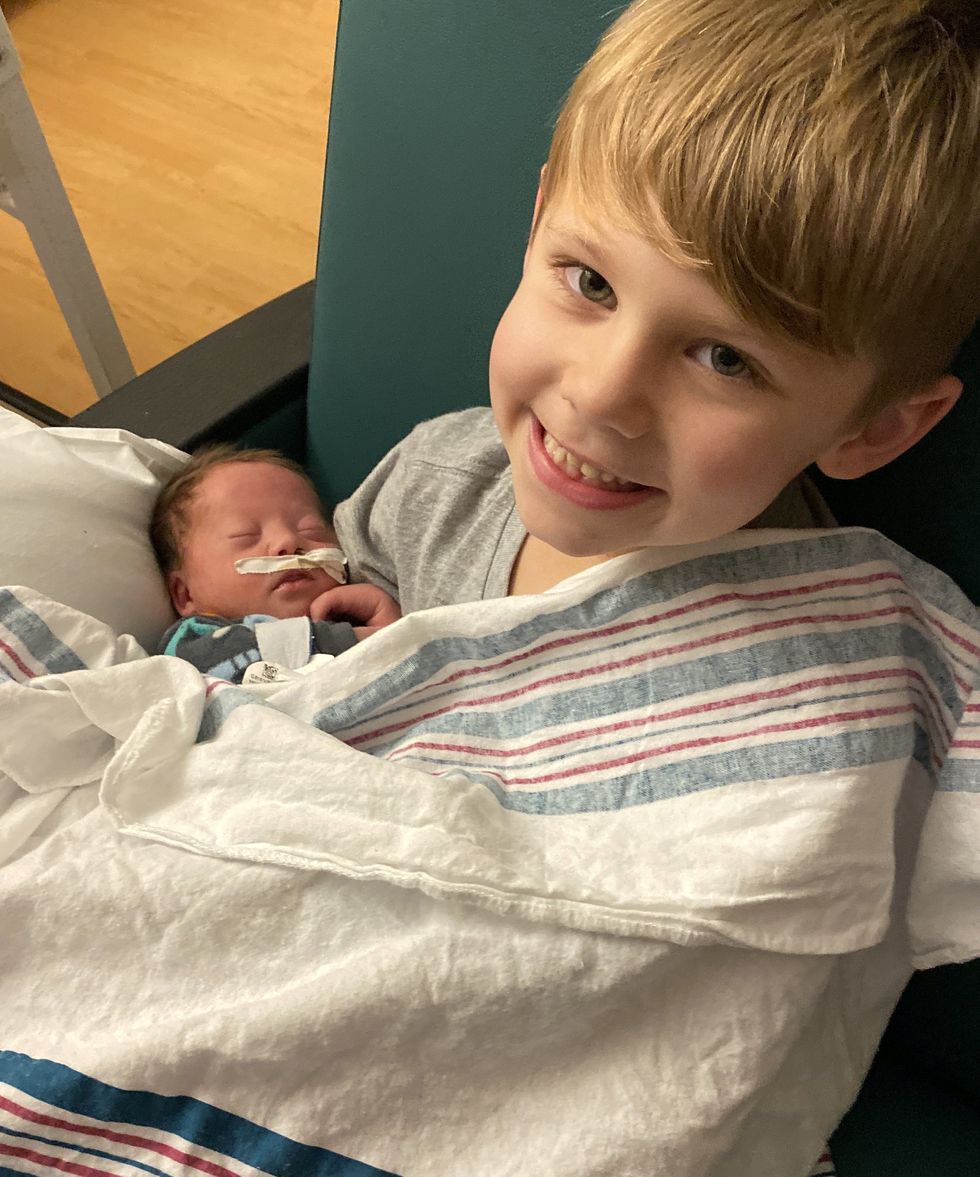 Nicole Powell / SWNS
He cradled him and stared into Tripp's eyes while he sang the song:

"I'd spend ten thousand hours and ten thousand more. Oh, if that's what it takes to learn that sweet heart of yours. And I might never get there, but I'm gonna try. If it's ten thousand hours or the rest of my life.I'm gonna love you."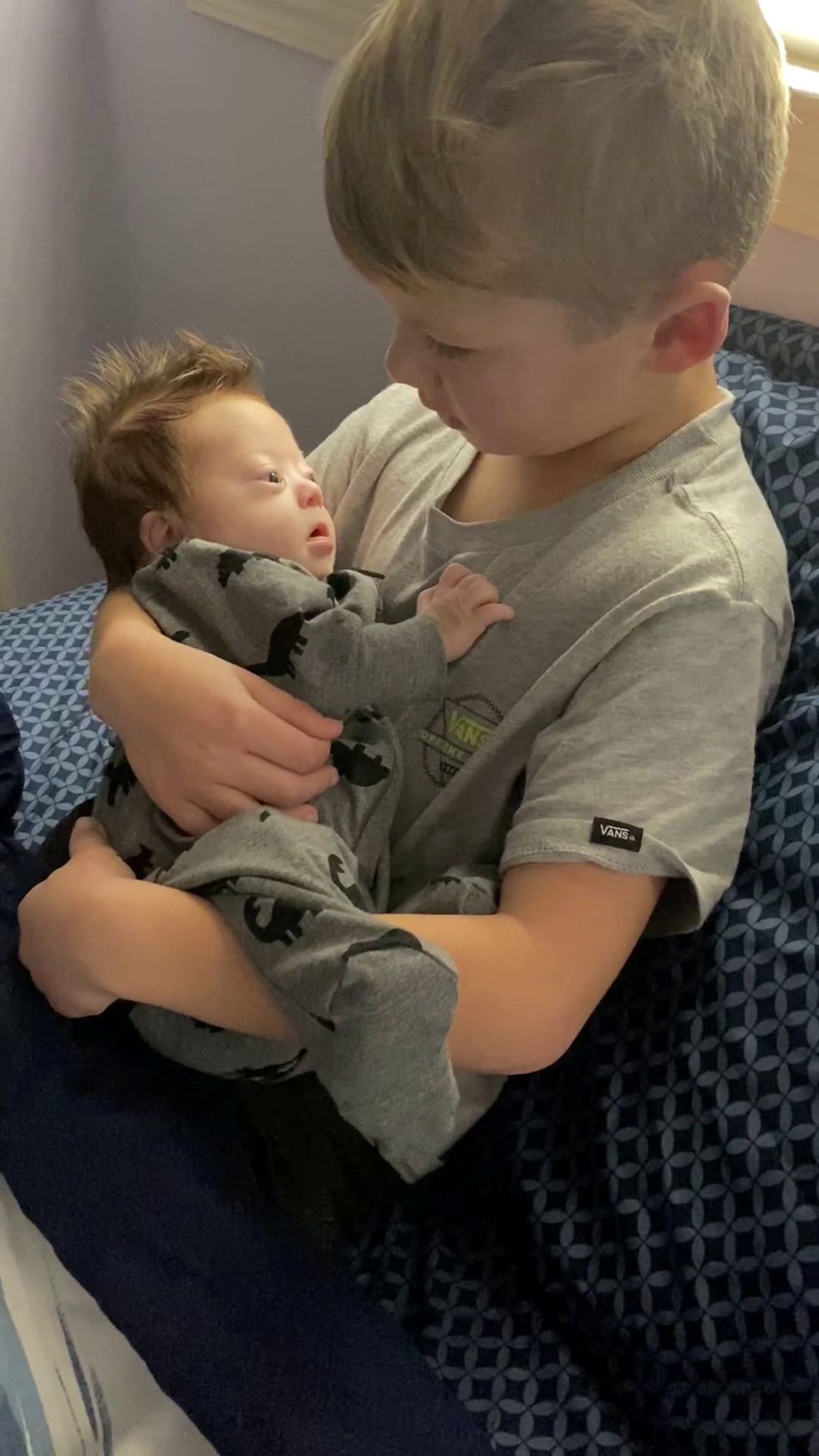 Nicole Powell / SWNS
She posted the video online before she went to bed, and was surprised when it received 90 likes before she fell asleep.

But she woke up to see it had been viewed a million times overnight, and a week later it has more than 8,000,000 views.
You can check out Dan + Shay and Justin Bieber's official "10,000 Hours" music video below:
Keep reading...
Show less
Being the oldest also means bearing a ton of the responsibility. Usually, responsibility you never asked for.
And that's tough. You need to have your 'you' time! But when you grow up as the oldest sibling, sometimes that can be totally difficult to come by.
u/VileZ_ asked:
Oldest Siblings of Reddit, What do you hate about being the oldest sibling?
Here were some of those answers.
Keep reading...
Show less
Chasten Buttigieg has won the hearts of tons of people as his husband, Pete Buttigieg, campaigns across the nation for the presidency.
People have fallen for Chasten's charisma, his intellect, his "realness" and his warmth.
Recently, Chasten opened up to The Washington Post about how this new-found popularity has affected him and how that popularity hasn't exactly translated to his family life.
As far as potential "first spouses" go, Chasten is unique. He's still in his twenties, the campaign is happening in the first year of his marriage, he is the first in his family to graduate from college and he and Pete are a same-sex couple.
Chasten Buttigieg is a story of firsts.
One of the major firsts in his life has to do with his family. Chasten is the first member of the LGBT+ community in his working-class, mid-western, conservative Christian family. Coming out didn't come so easily to him, but Chasten Buttigieg insists nobody was entirely surprised.

He told The Washington Post that he was entirely different from his two older brothers his whole life. They were athletes; Chasten preferred reading, theater, and Celine Dion ballads.
In their small High School, about 500 students total, there were no openly LGBT+ students - but that didn't prevent Chasten from standing out enough to be bullied, called homophobic slurs and get flung around by his backpack in physical attacks.
Eventually, Chasten applied to an exchange program that sent him to live in Germany for a brief period of time.
It was there that he finally confessed that he had been:
"scratching and itching and clawing to try to change whatever brain chemistry was making me the way I was."
Rather than reject him, the friends he made in Germany just gave him a word to go with how he was feeling - gay. Chasten Buttigieg accepted his homosexuality for the first time while in Germany. He knew it would change his whole world back home.
He wasn't wrong.
When he told his friends, they mostly responded by telling him that they loved him. However, there was a sharp divide in that love. Some loved him just the way he was, but others loved him by telling him he should turn to God to fix him.
That sentiment was later echoed in his family by his brothers, but we will get there.
First, he told his parents. He sat them down in the living room and handed them a letter filled with words he couldn't bring himself to say aloud.
After reading it, his mother's response shocked him.
"I remember my mom crying, and the first thing she asked me was if I was sick. I think she meant, like, did I have AIDS?"
His father opted for silence and Chasten spent what felt like ages getting the cold shoulder from his once warm and loving family.
Then he heard his brother utter the words that convinced him he wasn't safe at home:
"No brother of mine …"
At that point, he made the difficult decision to leave, feeling safer homeless than he did with his family. Chasten spent time couch surfing or sleeping in his car in the parking lot of his university.
It took months, but eventually his parents asked him to come back home. Their next conversations on his sexuality clearly went better than their first.
When Chasten and Pete fell in love, his parents were thrilled and proudly walked Chasten down the aisle to his future husband.
That loving acceptance hasn't come from his brothers, though. According to Chasten they just never got past it.

To this day Chasten has no relationship with either of his older siblings. One declined to be interviewed for The Washington Post piece.
The other, Rhys, who is now a Christian minister in Michigan admitted that Chasten coming out was not at all a surprise. Everyone had known since childhood.
However, knowing Chasten was born this way didn't mean the minister could accept it.
He simply stated:
"I want the best for him. I just don't support the gay lifestyle."
Keep reading...
Show less