Nighttime is a little scarier no matter where you are, but there is something especially eerie about the silent pitch darkness of unpopulated rural areas.
The unknown sights and sounds that lurk in the deep dark are enough to make one's skin crawl. A sudden shriek or a piercing light can make the blood run cold.
Perhaps curious about what life is like in those rural spots, Redditor catarpillarfu**er asked:
"Rural folk, what is the most creepy thing you've seen or experienced?"
Keep reading...
Show less
Life is an unrelenting obstacle course toward survival. The irony is that the end of the course is the end of life, so we're all going to end up dead anyway.
But we have to jump through hoops to stay alive and have a long course to run.
Thank the Lord sent spirits in bottles to help us through. When we're not traversing our own course, we're bearing witness to others.
Whether it be accidents or murderers, the plights of others can be haunting.
Redditor u/im_a_noob_lol wanted to hear about the things that have scarred the psyche of many by asking:
[serious] what is the scariest thing you have seen ever?
Want to "know" more? Never miss another big, odd, funny, or heartbreaking moment again. Sign up for the Knowable newsletter here.

Keep reading...
Show less
Our memories are riddled with haunts. Haunts that can be impossible to get rid of. In fact, more often than not, the dark memories seem to linger the longest. They even haunt us when our minds trap us later in life. Because of these issues it can make life feel like the bad outweighs the good. This is why therapy is key. Our childhoods are riddled with moments that follow us. Nevermind the paranormal. It's time to sever the ties.
Redditor u/BabyAcid2001 wanted to hear about hauntings of the past people can't shake by asking... What is a creepy, unexplained childhood experience that you had?
I have so many memories I can't seem to expunge and I hate it. I can't tell what is worse, my abusive ex stepfather, the bullies or the times I almost died. I have such a plethora to chose from. It's a wealth of darkness. But my childhood was still happy, just flawed.
The Wall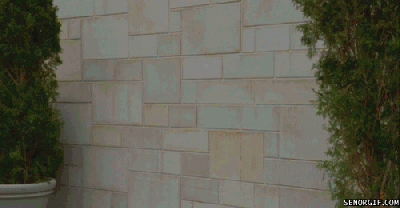 ouch wall GIF
Giphy
I remember a day at summer camp where we were on a portage trip through crown land in Northern Canada and it was a super windy day.
We came to a section of the woods and for some reason the trees and foliage were completely still. For a few hundred feet there was just silence it was so weird. Almost like an invisible wall was hit. What made it creepier is how I could see how white our guide was getting. It was very creepy.
Aunt Liz
When I was younger (no idea how old) I had a dream that my aunt came to visit me. I was named after her husband who died a few months before I was born so she always loved me. So after the dream I went into my parents room and told them that Aunt Liz came to see me and she told me to say goodbye. A few hours later they got a call that she had passed away.
A few years later my grandfathers friend Mary got brain cancer and she lost her ability to speak and her face was paralyzed. The last time I saw her I told my mom I just wanted to see her smile one more time. A few nights later I had a dream where she was smiling at me. Few hours later, parents got a call that she had passed.
When I was 11-12 I had a dream my dad died. He was sh*tting bricks for weeks. 14 years later he's still alive though.
The Guy
A guy in a car asked me once if I wanted some candy. He was younger, possibly teenager, possibly in his 20s. I was about 10.
I was walking alone back from a friend's. I just stared at him for a few seconds and said no, he asked if I was sure, I think I just stood there. He drove off.
I've gone back and forth throughout my life about whether he was crazy or just a dude messing with me. Still not sure.
Change the Channel
My brother and I were watching TV one time late at night in the mid-90's. Suddenly the audio to the show we were watching cut out— we changed to various channels, and only the show we had been watching had lost audio. We flipped back to see if the audio had returned, and it was literally the audio of people having a phone call.
Not scripted, not associated with the show— like a LIVE phone call— like the way you can sometimes hear other people's chatter on a walkie-talkie. It was a man and a woman talking and they were trying to find their friend "Howard." Just this panic back-and-forth dialogue about where he could be— it was clear Howard wasn't their child, because they kept referring to him as "that motherf*cker" and almost sounded like they wanted to harm him.
I even wrote down some of the things they had said and Google searched them many years later to see it they were lines from a script or a show or something— nope. Not a result. The Howard conversation continued for about five minutes and my brother and I listened to the whole thing. Then the conversation ended. Click.
The audio for the channel didn't return until morning.
Haunted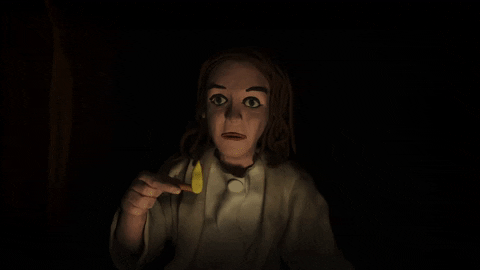 The Conjuring Halloween GIF by ALTER – The Best Horror Films
Giphy
I was laying in bed one night probably about 6 and I swear on my life that my Ariel doll started floating and slowly floated through the wall.
I couldn't find it in the morning. I had a couple of weird experiences in that house. Another night I remember the feeling of someone laying their hand on my leg while I was laying under the covers. I grew up religious so when I was a kid I always thought it was God coming down and blessing me.
Yeah, I definitely would be seeking therapy for all of those moments. This is why I always hated dolls. I prefer stuffed animals. And don't get started on creepy neighbors and noises that go bump in the night. And they say "A Nightmare on Elm Street" wasn't autobiographical. Wanna hear more?
Silhouettes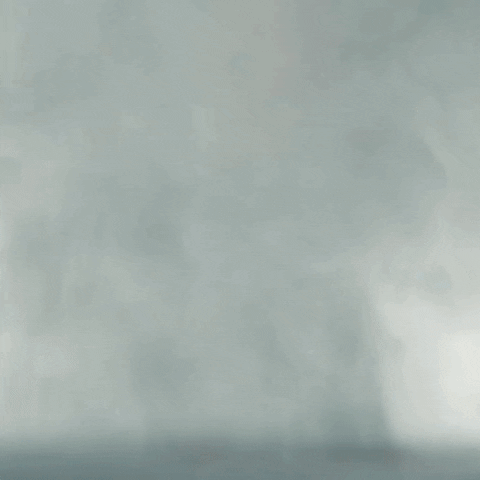 soccer smoke GIF by Nike Football
Giphy
When I was young, probably around six years old, I woke up in the middle of the night to see a dark figure just standing at the corner of my bed.
Rather than resembling a person, it looked exactly like the silhouette of one. Just pitch black, which was odd considering I had a night-light in my room. Never had experienced anything like that since, and honestly question whether or not it was simply a dream.
The Nanny
It was my nanny's youngest sons birthday, I was 4 years old. I didn't fully understand why but I hadn't seen my nanny in roughly 6 months, and had just returned to her that week. She mentioned the birthday and I asked if I'd get to play with youngest son, which she cried at.
I moved on to the next thing and hung out around the kitchen when the neighbors popped in, as well as my nanny's husband, and the youngest son. He was now 3 years old, and still didn't talk much but he smiled, and let a balloon go from his hand and it flew to the ceiling. My nanny later asked where the balloon came from, and I said it was "youngest sons's" and that he let it go up there.
She started crying again
As an adult I understand that youngest son died at 2, he and my nanny were hit by a distracted driver. Nanny survived but had serious injuries, her son died the day after the collision. I know what I saw in the kitchen, and I have no rational way of explaining it.
Mutants
Had an incredibly vivid reoccurring nightmare where I was constantly hunted down by a black dog with yellow eyes when I was around 5-7 years old. Always started and ended the same way. I eventually stopped getting them for a while and kinda forgot about it. Probably a year after I stopped getting them, I was sitting in my living room watching the new episode of monster quest and it literally had the exact same dog that I had been seeing in my nightmares. Was thoroughly spooked from that for a while. And for those who are curious, it was the mutant canines episode.
Not So Cheery
When I was younger, about 10 years old, my room was covered in posters.. posters of celebrities (you know the ones you tear out of the magazines) and I had a giant NFL cheerleading team poster. When I was in bed at night, my posters would move and the cheerleads would do backflips and cartwheels across the page... this scared me so much I gave my cheerleading posted to my older brother (which he didn't mind) and I kind of had forgotten about it for a while until now.
I also used to see visual hallucinations floating around my room at night when I was going to bed. They would never make any noise but they would be really scary and sometimes even interact with me. They were there when my eyes were open and closed.
Snap...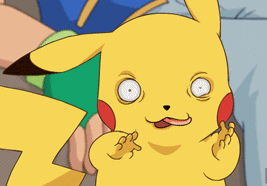 excited pokemon GIF
Giphy
When I was about 4, playing Pokémon Snap, I was on the main menu where you talk to Prof Oak.
One time, I remember the text box turning orange instead of green, and he had this frown on his face, and the game froze. That was years ago, and I've never been able to make it happen again, nor have I heard about anyone else having the same experience, so I conclude it was likely a false memory, though it seems real.
Ok, I've heard enough. I already have enough issues falling asleep at night. This is why we drink. I guess the key is to try and fill up the rest of our lives with happier memories and adventures. Post Covid of course. Sweet Dreams.
Want to "know" more? Never miss another big, odd, funny, or heartbreaking moment again. Sign up for the Knowable newsletter here.

Keep reading...
Show less
Working overnights can take a toll on one's psyche. When you're predominantly spending you're only waking hours in the dark, life can get a little draining. Aside from that, the wee hours of the night also come with surprises. There is a reason that most horror movies take place after the sun has set, the night comes with some chills and spooks. And yes the kooks love to run amok under the moon. So working the night shift can leave you a bit shook now and again. Shook, like Stephen King shook.
Redditor u/Tiny-Dragonfruit7864 wanted midnight workers to share a tale or two with us by asking.... What are your nightshift horror stories?
The Birds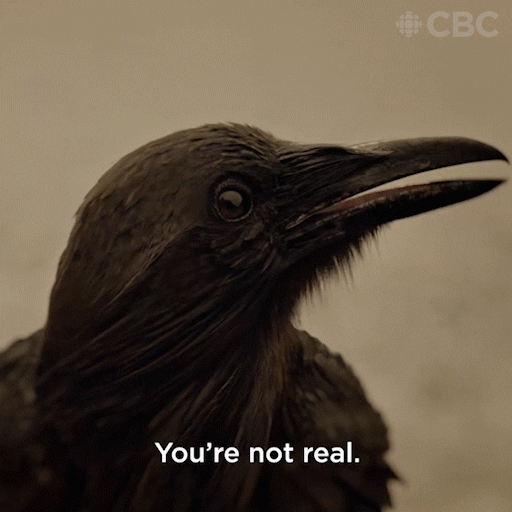 Tripping Seeing Things GIF by CBC
Giphy
Worked a parking garage at the airport. Cleaning the top deck and noticed about a hundred ravens all over a truck with a tarp over the bed.
Took my flashlight expecting something awful. Noticed as I got closer the smell and the ravens taking turns going in a hole they had torn open and popping out covered in gunk. some guy left a broke down beater with a couple animal carcasses in the back to rot. No heads.
Checked the logs and the damn truck had been there since November and it was April, so everything was just thawing and breaking down.
At the Depot
Used to work nights at a Home Depot.
There was one time where for a week or so our store stayed open 24 hours. For the most part this wasn't really a problem--typically nobody comes shopping for home improvement items at two in the morning (except that one couple that came looking for marble countertops at 1:30 in the morning and the woman was wearing a nice dress).
I guess there was also that one young lady who came looking for a toilet paper roll holder a little after midnight (I had just gotten off my first break) and she was wearing jorts and a one of those white-with-black-belt stereotypical karate outfits. She was oddly specific about which roll holder to get, too.
But the real story lies within the insulation. It was nearing three in the morning and me and another guy were stocking insulation, as well as fixing the bays and some such maintenance. A bunch of big R-30s had fallen in their bay and while I was sorting through them a freakin' hand came out of the mess and grabbed my arm. I lost my mind enough for not only the guy I was working with to freak out but also for my boss, who was across the store, to come check out the commotion.
Turns out a drunkard had come into the store at some point, and I can only assume before the night crew showed up, and had made a nest in the insulation where he fell asleep. The dude was in bad shape, too. Like, far-gone into whatever inebriation that we had to call the police to remove him. I was always a little more cautious around the insulation after at, for at least the time the store stayed open 24 hours.
The Dead Stare
Oh man, I hate recalling this story. I work nightshift at a rehab facility. We have a protected gate with a camera looking down from above and one of those doorbell cameras. In the office, the camera monitor is on one wall and the doorbell monitor is on another. I was doing some paperwork and see this guy walk past, stop for a few seconds, then slowly turned around, walk back and stared up at the camera. And he kept staring.
The facility is in a rough neighborhood so I'm fairly used to folks hanging out around the gate and usually ignore it. But the way he was staring was off putting. Like, his eyes and expression were hollow and dead, almost as if he were in deep thought about something horrible. I was pretty sure he was zonked on synthetics. I used the intercom to see if he was okay but he just kept staring directly at the camera.
We have a rule - if it's not hurt or trying to come through the fence, just let it be. No sense in engaging needlessly with somebody potentially hostile or f**king with the locals. Y'all, he stood there and stared at that camera for two hours. That same dead-eyed expression staring right at me. I did a round and came back to find him gone, which only creeped me out more.
The Reaper
I used to work the night shift as a care aide in an old folk's home. It was already creepy, the home was an old hospital that was converted. Some a**hole kept walking around the courtyard after dark dressed as the grim reaper knocking on doors. It was actually really scary, he ran off and the facility got a security guard for a few weeks.
The Roo....
Many many years ago, I worked at a regional radio station in the middle of freaking nowhere, Australia.
I was the overnight operator - keep the overnight playlist running, set up for the morning, do all the manual checks for the next day, and jump on the desk if anything funky happens.
I spent a lot of time sitting in what was essentially a tin shed in the middle of a paddock, with my dog, shoes off, listening to 50s & 60s music and doing crossword puzzles.
Except one night when the roo shooters came through. They spooked the kangaroos in the paddock, and one of them jumped head-first through our office window.
So there's me - barefoot and half asleep, when this 6' tall kangaroo smashes through the glass window. Blood and glass everywhere. My dog starts chasing the kangaroo, I'm chasing my dog.
And the kangaroo bounds around the office, knocking crap off desks in the dark, bleeding everywhere. I ran and opened the studio bay doors, and my dog chased it outside. Where, I'm assuming, the poor thing (the kangaroo) was shot.
Then I had to call my boss.
Edit: Bandit (the dog) was fine! She lived a long and healthy life, occasionally being bullied by our pet cockatiel.
Warning, medical gross stuff incoming.....
I worked in an emergency room. The worst night that comes to mind involves a patient that was bitten by a baby timber rattlesnake. He was bleeding out of every single orifice by the time he got to us. More blood than I'd ever seen before outside of a motorcycle vs 75-mph-headfirst-to-asphalt. I don't remember how many doses of Crofab we gave him, but it was the hospital's entire supply.
But trying to get him stabilized, arranging the helicopter transport to a bigger and better equipped facility, all the blood, those weren't the worst parts. The worst part was when the patient lost control of his bowels. I will never, ever, forget that smell. I spent the entire time standing by the door with a battery-powered fan and a handful of gauze pads saturated with cinnamon oil trying to reduce some of the smell.
The doctor occasionally stuck her head out just so I could waft the cinnamon oil in her face.

Yes, by some miracle, the patient did end up surviving, and as far as I know he made a full recovery. But the blood, the smell, and just the shock of it all. Yeah, never underestimate a baby timber rattlesnake.
Freeze Fright
Did hospital security for about two months. It was small hospital out in the sticks so we were responsible for removing patients who had passed from their rooms and transferring into the morgue freezer.
We had just brought a decedent to the morgue and right before we were about to transfer them to the freezer their cellphone rang. Granted, pretty tame compared to some stories, but at the time it gave us a decent fright.
I Think We're Alone Now....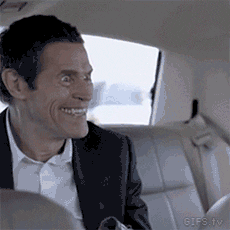 Willem Dafoe Smile GIF
Giphy
Was an orderly in a hospital. Two of us were sitting in the basement office adjacent to the morgue.
A guy passed our office, looking at us a little shifty, came back again and asked if we had access to the morgue. We said "yes," thinking he was doing a pickup for a funeral home, but that seemed strange given it was around 12:00-12:30 a.m. Nope. He wanted to pay us to let him in, and leave him alone with the bodies for an hour. We escorted him up To security. Apparently he had tried it in the past, as security knew him.
ABSOLUTE SILENCE! 
Many years ago I briefly had a job that started at 3:30am. The job itself was very boring, but the commute was wild. The world is at its weirdest in the very early morning. Road hazards haven't been called in yet, so one day I pulled off the freeway and discovered that the off ramp was completely flooded, deep enough that I have no idea how my car didn't stall.
But the most interesting discovery was that if law enforcement has to raid a home, they do it around 3 or 4 in the morning because that's the best chance of everyone being peacefully asleep.
One day I was nearly to work when I noticed something off ahead of me. I slowed down and came up to a massive police blockade, squad cars everywhere and absolutely crawling with heavily armed officers... but all in ABSOLUTE silence. They silently waved me down a side street. Just a creepy, unsettling experience.
Leave Mickey Alone.....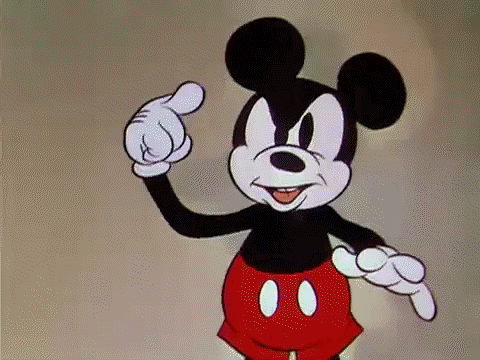 crazy mickey mouse GIF
Giphy
Was running the register at 24 hr supermarket.
Stock person comes running into produce carrying mop handle screaming "you mother f**ker". Out of sight, he keeps yelling "f**ker!" and smacking handle at something, for like 5 min. I am ringing up customers, and freaking out because he was losing his mind, but I am not interested in getting involved in a murder.... so I ignore it. Later I find out he was chasing a rat.
Want to "know" more? Never miss another big, odd, funny, or heartbreaking moment again. Sign up for the Knowable newsletter here.

Keep reading...
Show less
It's spooky season, which means--lights off, jack-o-lanterns, scary movies, candy corn...wait, is that a knock on my door?
Have you ever been terrified while at home alone, and convinced yourself you're hearing an intruder, or a scary animal? Have you ever been right? Our greatest fears are that we are isolated in our homes, alone, and something happens. Will we be equipped to deal with it?
Keep reading...
Show less