Evil walks among us.
That is a difficult fact of life.
Not everybody is a good person.
I'm trying to not be one of those people on the news who "never would've thought!"
But now and again, we're gonna end up surprised and sad.
So let's discuss the people who shooketh us.
Redditor rentinghappiness wanted to know about times we've all faced down darkness. They asked:
"Who is the most evil person you've ever met?"
I have met too many evil people in my days.
See! ALWAYS BRUSH!!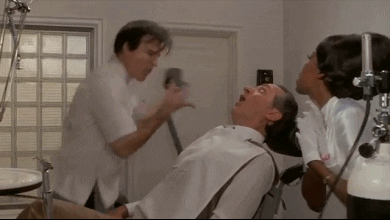 steve martin laughing GIF
Giphy
"My 3 cousins went to a dentist that they found really unsettling but couldn't pinpoint why."
"Fast forward a while, my older cousin of the three was working as an ER receptionist a few years back when a patient was rushed in very close to death after a dental appointment. My cousin found out quickly he'd come in from their old dentist for a standard tooth removal, i think 2 teeth, that should've taken 30 mins."
"He was in the back for TWO HOURS with his wife constantly checking in before she demanded to go back and found the dentist had completely snapped and removed ALL OF HIS TEETH and he was very near death after being under way longer than he should have. Still scares me to this day."
velvetsatan
Daddy Issues
"Not sure about the most but my father is definitely up there spent my childhood with me my mother and older brother being beaten. Then when my brother got older and he was too big for my father to hit he started putting my brother down making him feel worthless which led to him leaving at age sixteen."
"Then my mother and I started getting the brunt of his moods and there was nothing I could do about it because he was bigger than me. But then one day when I was seventeen I realised that I was now bigger than him. I didn't hit him but being able to finally shove him away from my mother made me feel like a horrible darkness had subsided."
John_Volker88
Good for You
"My mum had an awful ex boyfriend after she divorced my dad. He used to hit her and once he came round our house where we (me and my four brothers and sisters - all very little at the time) lived and threw a brick through our window. After she left him, he used to stare out the window at me when I walked to school and shout really gross things at me."
"I'd never done anything to this man ever. One time I was in town after school with my friends, and he saw me and shouted 'sl*t' at me. I flipped him the finger and walked off. He called my school and told them I'd given him the finger whilst I was in my uniform. I got called into the heads office the next day."
"She was known to be very strict and formidable and really scary. I told her what happened and how he was constantly harassing me and this stern, super posh old lady said 'good for you, If he comes near you again let me know and we'll call the police together'. I was stunned because I was terrified of her."
Embarrassed_Put_7892
Leave me Alone...
"My sister's recent ex-boyfriend is a huge narcissist and after stabbing himself in the leg as a manipulation tactic, my sister left him and filed a restraining order. Somehow he managed to steal ALL of my sisters stuff including our deceased Grandpa's sweatshirt that got given to my sister and took her dogs ashes as well. He managed to do all this avoiding even going to her house because he paid somebody else to (showed up on the ring camera)."
"He did this to avoid any evidence. He keeps texting and calling my sister in hopes to have her talk to him which would then void the restraining order. He got in with somebody at her work and had him tell her that 'He's closer than you think.' All of this has made my sister genuinely fear for her life so she moved back in with our parents."
sk8t-4-life22
Die Slowly
"My ex-step father. Put my family through hell. Abusive in every manner. A total piece of sh*t. He managed to flee the country before he was arrested. To this day he is the only person I've ever met where I truly hope he dies a slow agonizing painful death. And that's all I'm going to say about it."
Xyrus2000
We are truly living amongst demons. Good Lord.
The Leader
"One of our regular customers at the grocery store where I used to work. Really cold guy. Never smiled. You'd try to engage in small talk with him at the checkout and you'd get nothing back. It turned out later he'd turned his family into a kind of cult."
"He had multiple kids with his own daughters and nieces. When the cops came to his house to take his kids away from him, he barricaded himself inside and killed nine of his kids. Just an absolutely evil man."
JuzoItami
Finally he left...
"I spent a long time working with young offenders, I've also spent 4 years working in a children's home. All in I think I've worked with about 10 children who went on to commit murder. Only 2 would I say were truly evil. One lad I worked with in a children's home took a real disliking to me. Was always making threats to kill me. Not that unusual in this line of work and something I would normally shrug off."
"But this lad I believed he meant it. Thankfully he was moved on quite quickly. A few years later this teenage girl went missing, turns out she was his girlfriend at the time. As soon as I heard this I knew he had killed her. Turns out he did some pretty horrific stuff to her before murdering her. I won't go in to detail."
Is_there
Speak Up
"A woman I used to know was complaining that when she went to a child's funeral the mother was crying too much and too loudly and it was 'embarrassing.' Said the mother didn't deserve to cry because she (only loosely connected to the family) was not scheduled to give a speech during the funeral."
georgiebb
The Bill Collector
"Was a bill collector for a department store. Called on an overdue account, well-dressed guy and lovely lady came and paid cash. A few days later I saw his photo in the newspaper. He killed his wife and kids by burning down the house. Woman who came in with to pay the debt was not his wife. Later found out he was a serial killer but was amazed at how cool and attractive he was. Why he paid that bill was a mystery."
QuackedUp99
He was super brutal...
"An old friend of mine got into drug dealing as a teen and steadily grew in power into adulthood. I had heard he was behind some deaths and beatings, at times personally doing it and other times ordering it. Dude could turn from cool to enraged in an instant, and he never regretted anything he did. He was super brutal."
"Around me he would essentially revert to himself when we were best friends from the ages of 9 to 11. I remember once I ran into him at a local bar/restaurant and he lit up, asked me to go to the arcade nearby to play games on him, so I obliged. I'll never forget a couple of his goons joining us just standing around as we played games, and one of them came over with some news and my old friend turned red and shouted 'I don't care, handle it, I am playing f**king games!!'"
"Dude could turn a whole room cold and make everyone stop laughing with a glare, was spooky, especially having known him before he became that person. He was shot to death with an uzi by a guy on a motorcycle passing by at a local bar, they never found the shooter and it was a suspected professional hit."
Vegeton
Sorry Mom
"Harold Shipman was my mother's family doctor for a while. I met him once when he made a house visit to check on her after a minor operation. He was very friendly and polite but I still wonder to this day what would have happened if I hadn't been there. Luckily my mother moved to another area shortly afterwards."
BoiledFroglet
BALLIHURTON
"I worked for a guy that worked as a subcontractor for a company that rhymed with Ballihurton. We rented land from a 90 year old farmer that still raised bulls to sell. We'd dump oilfield waste on that property and ended up noticing the cows getting sick and dying. Was more expensive to properly dispose of it. They'd step over a dollar to save a dime."
"The business was a shell of a shell company, if anything happened "OH NOT BALLIHURTON, HOW DARE YOU X EXCAVATION SERVICES" Nah we cleaned up oilfield waste and disposed it in the absolute cheapest way possible. My boss was the most ruthless person I'd ever met willing to do literally anything to make/save a single dollar."
Naborsx21
She's Gone
"My old boss. She came into our store and bullied three people out of their jobs (including me) so she could hire her friends. It was maybe 5 years ago and I still think of it sometimes and get angry, because you really can't do anything, or at least I couldn't. She got a promotion afterwards and runs the flagship in LA + the Hawaii branch. Sad to see so many people lost their jobs because she doesn't care about how her actions affect other people."
genghis-san
Stay in Prison
"My daughter's ex-boyfriend that tried killing her when their baby (who was in the room) was 6 weeks old. He strangled her and the ER said she was second away from dying. He's currently serving his 3rd prison sentence for domestic violence. He hurts another women every time he gets out of prison."
kre8ive1
Back Off
"Drew Peterson. Yes, the serial killer. I was waiting for a friend of my parent's and the sleezeball wouldn't quit hitting on me. He quit when my parent's friend (a fellow cop) walked in and we had dinner."
schroedingersnewcat
"drop off"
"I used to know a pimp who bragged to me about beating two murder charges, offered me money for my girlfriend, and explained how he would 'drop off' his girls in the woods when they didn't want to work anymore. It was heavily implied that they were no longer alive when he dropped them off. He later went on to kill his cousin, one of my best friends, in the exact same way he had committed the first two murders."
"Currently he's in county jail, but not for any murder charges. Worst part is I don't think he's the most evil person I've been around, he was just the most open about it. He was cold as hell and charismatic as f**k. Almost a perfect psychopath if he hadn't been such a severe addict."
jskinbake
Trickster
"Used to work for a chained grocery store on the East Coast. The stores would always ask for donations to some cancer charity. The donation money never went to the charity and ended up going to one of the executives to buy himself a new swimming pool at his mansion. Nothing was ever done about it and the guy ended up passing away from some rare disease - amyloidosis. Seems rather evil to trick people like that."
expensivemustard
Well that is all disturbing. Evil never dies.
Keep reading...
Show less
You know what's truly terrifying? The world.
It can feel like it's out to get you and based on some of these harrowing tales of death avoidance and last-minute escapes, you might be justified in thinking that way,
The world is scarier than anything you can see in theaters or watch at home. Clearly, real life is where the fear should be.

Reddit user, Shaneshev, wanted to know when things became too terrifying to handle when they asked:
"People of Reddit; what is your downright scariest real-life story?"
Keep A Phone Nearby
"I was home alone when I was 11. I had just fallen asleep and someone tried to break in the front door. I called 911 and hid in the pantry in the bottom shelf. They came to the door next to the pantry and tried to break into that door too. The police got there and one of them picked me up and held me until my mom got there. I wouldn't let go and he made sure I felt safe. I'm 27 and haven't stayed home alone much since. The day I signed a lease for my first apartment I got a dog so I wouldn't be alone. It's pretty traumatizing when you're that young."
HistoricalHeart
Get In. Don't Ask Questions.
"Years ago in one of my first jobs, a colleague told me a story. The night before, she had gone out for some drinks and on the way home she had got off the bus and was walking down her road to her house. A taxi pulled up alongside her and the driver told her to get in the car, she obviously said no. He then said to her "call whoever you want whilst you're in the car, but please just get in and I'll explain". So she got in."
"Turns out, walking towards her was a topless guy with no shoes on and a machete in his hand. Cab driver had already called the police but then saw my colleague so had stopped to look after her."
– Good-Helicopter-9303
Bullet: Dodged
"I had a pulmonary embolism last year in late August. I was going to get a pain evaluation the following Monday, but the pain was so bad on Friday that I just went in. The doctor told me that I'd have died if I had waited."
– jeff_the_nurse
Unsure Of His Next Move

"This is very tame compared to a lot of the stuff on here, but when I was twelve I saw this huge man drop a dollar bill. He seemed not to notice, so I ran across the street to hand it back to him. He thanked me several times, and I could see that he wasn't right in the head. I was a pretty small girl, probably only 100 pounds at the time. This guy easily had a foot on me. All of a sudden, he grabbed me by the top of my head and wouldn't let go. I am so lucky that my dad was nearby, and he pretty much just picked me up and led me away."
– Simple-Muscle822
"dawg just open palmed your head like a melon? yeah, that's terrifying-"
– ImThatMelanin
Not The Person You Want To See
"I was home alone (thankfully my kids weren't home) when my now ex husband's drug dealer came by. He busted I'm the door screaming at the top of his lungs that he's gonna f-ck us all up. I was hiding in my walk in closet under blankets on the phone to 911. He got so close a few times, I have never been so petrified in my whole life. The cops came very quickly and he ran off, they caught him just a few streets over."
– Mason3637

Close...Closer...
"I used to sleepwalk when I was a child. We lived in a rough neighborhood (Decatur, GA) and I would wake up outside in the middle of the night, not knowing how I got there, and would have to walk home and walk into the darkened doorway I had left wide open for whoever might be lurking around. However, the time that scared me the most was when I was about 9 years old. I woke up and found myself with the bedroom curtains drawn back and staring out the window. As I came awake, I noticed a very large and completely hairless man (no hair, eyebrows etc) staring at me and slowly inching closer to the window and closer to my face. He was looking bewildered like he wasn't sure what he was seeing."
"At that moment, I realized what was going on and I started screaming uncontrollably, frozen in place and peeing down my leg. The man freaked out and screamed, did a tumbling move, and then ran off in a weird zig-zag like he was trying to dodge bullets. My mom woke up and thought I probably had a nightmare. The next morning we found a screw driver on the front porch and damage to the door jam and door handle."
"I still just about pee my pants when I tell that story, but now it is usually from laughing. I will never forget the look on his face when I started coming to life and screaming or his high pitched scream or his duck and roll and dodging and bobbing all the way down the street."
– issamurcle
A Hair's Width Away
"I was riding my motorcycle on the highway, going through a major city. I was still pretty nervous about riding on busier highways since I was still pretty new on the motorcycle. I was in one of the middle lanes when about 250 ft in front of me an 18-wheeler (Semi) kicked up a plywood panel that was in the road in my lane. It flipped around, making it look like I was going to run into it like a wall. Didn't have enough time to brake or move lanes since I was surrounded by other vehicles."
"Luckily another 18-wheeler passed by it, causing it to rotate perpendicular, making it barely graze my elbow as I passed by it. I don't think I moved a muscle for a quarter mile in shock that I survived that."
– FuryFlurry40
You'll Wonder "What If?" For The Rest Of Your Life

"I always parked in a certain spot at my last job for 12 years that I was there. It was accessible to the public as it wasn't company parking but they wanted us to park in the back of the lot so the closer spots could be available for customers."
"One day my spots taken by a dark tinted caddy and I'm immediately pissed because everyone knows it's mine. It's morning shift so 4am so it can't be one of the others cause I know what they drive. So newbie? Or maybe another employee from another shop in the plaza? It's still there on my lunch break and when I go home and the next day I come in at 1pm till close. Around 9:30. And then also the next."
"Something about it really bothered me. It smelled wrong. Literally, it's the South and high summer and who knows what's baking in there. My dad was a marine then a police officer. He always said if you feel something is wrong there probably is. So I dialed the non-emergency contact police number. I felt like an idiot but every time I walked by it bugged me. So. I was stuck waiting for over an hour before anyone shows and honestly, if I hadn't been off the next day would have been like f-it. But I waited, mostly because I can be really a petty SOB and that's my spot damn it."
"The police show, all annoyed because who knows how many "they can't park here" calls they get. They run the license plate though and then things go crazy. They want my info, want me to contact my manager, does this lot have cameras, have I touched the car, etc."
"Apparently the car is on Amber alert as the last sighting of a missing person who was a minor. A 15 yr old girl. When they pop the trunk they find her dead, mutilated body under a blanket and the source of the smell. She had gone out with her much older, controlling and insecure boyfriend but had decided to get out of the relationship. She only made the mistake of getting into the car with him. He drove three counties over after torturing her, stuffing her in there and who knows what else, then parked and walked away, left her to die in the trunk."
"I never learned her time of death so it haunts me sometimes thinking she might have been saved if I'd made a fuss earlier. So yeah, listen to your gut even if it seems petty."
– Fubar-is-my-life
A Very Close Call
"I was held at gunpoint by a kid in my school. I'm still in the same class with him and when I ask him about the gun he says he makes them himself. I'm still wondering what would've happened if he pulled the trigger. The gun felt so real and it had loaded barrels wich he showed me"
– Virtual_Display_4842
In The Nick Of Time
"I was working with a friend of mine (we work in Security) and we had a nightshift at an empty festival site. I decided to do my usual round in the woods and I saw someone running. I quickly paged my friend and he came to me. We both didn't see him but we decided to keep our eyes open. A few minutes lster I looked to my left and I saw him running again but he was too fast ao we decided to call the cops. 30 mins later they show up,without sirens,without lights just quietly. I was smoking a cigarette when they approached me and they asked: with how many security officers are you? So I said; just me and my friend...their faces immediatly turned white....turned out when I was smoking and on the phone with my head of security,there was a person standing nearby me with something really big and heavy (don't remember what it was) ready to attack me...cops showed up just in time"
– hetisjanken
Abducted!
"More-so scary for my family but maybe would be scary for little me if it happened…my whole family had a big party at one of those trail parks that had camp sites and hiking trails. I was 5 at the time and a lady lured me away from my group with her cute dogs. My whole family caught her in time before she "took me to the police " stating "I didn't know where her family was so I was going to help her." Idk what happened after that. I will update if I remember to ask."
– violet-ack
Was He Really There?
"When i was around 10 I started seeing like 7 foot tall black shadow people with glowing red eyes in the corner of my room and when I slept in the lounge room, down the hall. To this day I still dont know if it was hallucinations, my imagination, sleep paralysis or a demon or something like that."
– WhoG1vesASh1t
That's Why You Don't Sneak Out
"When I was 12 me and my friend sneaked out during a sleepover. We found a shopping cart in the woods, we drove the cart trough the city and our plan was to drive it under a bridge and leave it then head to my house but when we were under the bridge we heard a loud cough, we started running up towards a university I looked back and I saw two guys running after us. We lost them with running inside of the university's yard and hiding inside of a garage."
– The_Orange_Burger600
A Strange Man
"A years ago, my younger brother was playing with his toys in his room, while I and our mom were sitting in another room. Few minutes later, we both heard crying from brother's room. We fastly came to him and after he chilled down, he said he saw a scary man, but there were no one except of us. A few days later we pictured brother's room and showed picture to great grandpa (he was working with spirits and that stuff at the time) and he saw something unusual on this picture. Later, father also saw something weird, but in mirror. Even now our cat just sometimes stays in the middle of different rooms and stares at nothing."
– oyomoyk
A Real Man After All
"When i was in 6th grade i was chilling in the class with some of my classmates. Our class was on the 4th floor, which is about 30 meters up. We had a beautiful view. All of a sudden my best friend comes into the class crying and shouts that he saw a hanging man out of the window in the train. He could see the man's face and body. At first, no one really believed him except me and we looked right out the window. A man with an orange top and a bloody face was hanging on a small bridge next to the rails (the bridge was 50-80 meters away from the window). I calmed him down and told him that the person didn't look real. 10 minutes later he calmed down a bit and we asked a teacher if we could go to the office to ask if they could call the police. The secretary called the police and we went back up to our class. We could see the police officers go up to the man and pull him up. It turned out that it was actually a real man. So many years have passed and I still have the image in my mind's eye."
– GucciBananaKing99
Heroic Mom
"i was a about seven at the time, and was playing in my front yard. i was alone out there, but we lived in a nice neighborhood, so my mother wasn't worried. i heard a car screech to a stop behind me, and a guy jumped out, grabbed my arms, and started to throw me into the back of his van, all the while, im screaming. my mom came out and punched the guy in the face, and saved my ass. my mom had heard the car pull up and went to see what was happening, and when i started screaming, that's when her mother bear instincts kicked in. the guy was charged, and i don't know where he is now."
– the_hentai_merchant
I Swear It Happened!
"I was walking home from my friends house at around 10pm. it had just snowed a few days ago so the sidewalk was icy. as i was walking, a car pulls in and is driving by me. i don't think much of it since i live in a relatively safe neighborhood, but i speed up anyway. the car starts driving faster and i begin to run. as i turn the corner i hear a car door slam and footsteps. i'm now at a full on sprint and slip on the ice and face plant on the side walk. i get up and run the rest of the way home. nobody believed me except my aunt when i told them."
– Ok-Calligrapher9997
Nearly Drowned
"I was in the ocean. the water went to my neck. it was fun. jumping over waves. low tide. the tide was getting higher. i was in my regular clothes. I was being swept away by sea. but some guy saved me. mind you i was 9/10. i owe my life to whoever saved me."
– mantheman433
Look Into Your Future
"Alright so this is the scariest for me that continues to scare the shit out of me."
"I was a bartender at restaurant and this was around 2007. I was going through a terrible time in life and during closing I was talking to a friend/customer about it and he suggests I go and see this psychic. I immediately dismiss it and go about life for another painful month or two. I ended up seeing this person again and ask for the contact information."
"I call this lady we'll call her Janice. Says she doesn't do phone readings and if I really wanted a reading that I would have to go to her apt. Now, I was nervous and intrigued at the same time so I say fuck it and plan to go and see what's up."
"Fast forward two weeks and I make the train trek to where she lived. She lived in the projects so I was already nervous af."

"I go up to the floor she lives on and knocked. An older lady answered the door very nice. I was told to wait in her living room."
"After a few minutes she calls me into her kitchen. Now I'm starting to become really skeptical because it is totally not the set up I imagined. At all. Like it's just a dining room table. No tarot cards, no paraphernalia, nothing. Just a notebook."
"She tells me the reading is 30 dollars. Now, I am really skeptical at this point because I had brought a few hundred with me and what can I really expect for such a small amount. I resign myself to the fact that this is probably a bunch of bullshit and I wasted the day but continue on to be polite."
"She asks me to write down my full name. She mutters a few words and dead fucking ass her eyes roll into the back of her head and another voice starts to speak. Like a mans voice. Not like she tried to sound like a man. But a mans voice. I am terrified at this point but I cannot move from my chair. All I can do is listen."
"Whatever this was speaking told me shit that is still coming true to this day. Told me my sister would die of an overdose which I dismissed because my sister was just fine. Ended up happening. Told me another family member would take their own life. Ended up happening. Told me no matter how hard life is to never commit suicide because "I didn't want to end up in there with them.""
"Told me also good things that happened. Certain things predicted haven't happened yet but a few things keep ending up to be true to it is still terrifying."
– Dizzy-Cryptographer2
When you're done reading this, maybe do a quick scan of your surroundings. Just in case, you know? Never can be sure what's coming around the corner or who might be standing behind you.
Good luck.

Keep reading...
Show less
We like to think we have more control over the world than we really do.
Not to venture into dime-store super-villain territory, but so much of the world is chance, or luck, or a random simulation of numbers assembling in front of us in a Matrix-like scenario. Life is chaos.
We can't predict everything that will ever happen to us, nor should we, because how could you ever predict anything like the following stories?

Reddit user, Financial_Lime_252, wanted to know what could never be fully understood when they asked:
"What's the most unexplainable thing that's happened to you?"
Turns out the world is not as big as you think, if these random chance encounters are anything to go off of.
What Are The Chances Of Finding You Here?
"I was visiting the united states, tens of thousands of miles from home, walking along the beach and heard someone call out from the terrace of this cafe. It was my former boss from back in my own country. My mind can't even begin to calculate the unlikeliness of that."
paconadamas
...Not That High, Apparently
"I was walking down a busy street in Dublin on my way to work and I bumped into a guy who was the bouncer at a club I used to go to before I left to go overseas. We both stopped, looked at each other and said "what the f-ck are you doing here?" at the same time. That was over 20 years ago. I'm back in my home country now and not long after I moved into my new place I bumped into him. He lives a couple of streets away from my place."
reverendgrebo
Maybe the inexplicable thing that happened to you isn't so much bizarre and otherworldly, but a just a crazy random happenstance that would take eons to do the mathematics on.
Baby Trash Panda Stories Are Always Cute
"Was in a Krogers parking lot trying to figure out a car issue. Dude who had something tucked under his arm came up, and asked me if I needed help -- I knew what I was dealing with, but said yes, because I'm a computer guy, not a car guy, and you don't know what you don't know, so to speak."
"He proceeded to take the tool I was using to mess with the battery terminal, and handed off the thing that was under his arm, which happened to be a raccoon pup, saying, "Don't worry, he don't bite." I'm completely stunned, holding and petting a completely calm raccoon while this guy sorts out my car. He takes it back, and goes about his day."
"One of many random and unexplainable encounters in my life, but probably my favorite."
Crimsonial
The Connection Is Made
"When I was really really small, like 4 or 5 years old, a woman my mom worked with at the insulation plant, gave my mom one of those 90's fisher price dollhouses because her daughter outgrew it. I even remember the night my mom brought it home, she was so excited that she woke me up at midnight to give it to me (she worked a late second shift). An insulation factory wasn't really a safe place for a really small child, so I had never met the lady. I only knew her name was Rosella, because I thought it was such a beautiful name."

"I had never seen photos or anything to identify her. Fast forward about a month after mom brought home the doll house, I was walking into the general store with my mom. I have no idea what compelled me, but I ran up to a lady checking out in line and yelled out "Rosella!!" Turned out, it was her. My mom just stood stunned, and Rosella had assumed that mom pointed her out to me. Except I had yelled out her name before my mom had even seen her."
todaysmomsawyer
Your Spider-Sense Tingled
"My husband was driving and I was a passenger in the front seat. I dont know what made me do this but I quickly grabbed his arm and I shouted "slow down!"which he did. Then a few seconds later a car on our left side sped past us really fast, then careened into our lane and crashed into the car in front of us. The person speeding died and the person in the car in front of us died. Had I not had told my husband to slow down we would've died because we would've been hit."
"It's inexplicable what made me do that but I'd like to believe I have a good angel watching out for me."
CA_catwhispurr
We like to think there's random luck in the world, where fate and chance meet at the crossroads of life, giving us wondrous experiences to tell later on.
However, not all of these events are actually random, no matter how much we wish they were.
Do Dogs Climb Trees?
"like 15 years ago while still lived with my mom we had a big backyard and had two dogs, one night i heard the dogs running back and forth not barking but they were whimpering, like scared or something, and when I went out to see I saw another white dog, like a BIG white husky dog, and it looked at me with piercing red eyes, then turned around, climbed a fucking tree and jumped to the backyard next door."
"To this day I know for sure I wasn't high, and still don't know what that was."
orbit103
Well, That's A Little Easier To Comprehend...
"I have very bad luck, but I think the most significant was when a cop thought I was someone they were chasing (on an open street) and I got tazered in the back and was hit with a baton several times in the face and ribs. The cop realized I wasn't the person and just ran off without saying anything."
"I called the police and they claimed they have no record of it, and I got a lawyer and tried to pursue action against the police department but it all just fell flat and everyone acted like it didn't happen, even most of my family."
"So I got the pleasure of having partial blindness in my right eye (left eye dominant so thank goodness) and suffer from a broken nose and two broken ribs along with being tazed and humiliated in public for no reason. Things are good, I tell ya what."
ConnieSparks
People Explain Which Conspiracy Theories They Believe Are 100% True | George Takei's Oh Myyy
It's often the bizarre, almost trivial conspiracy theories that take root in people's minds and a Reddit thread dedicated to plumbing the depths of these bel...
Not Even Security Footage Can Explain This
"My wife had the week off work, so she offered to drive me to work. I asked her to check if she had her keys, phone, and wallet before we left. She noticed her wallet wasn't in her pocket and asked me to help look for it. I sort-of recalled her putting it on the mostly cleared kitchen island the previous evening. It wasn't there. We moved the few things off of it, but still couldn't find it. Both of us thought that she might've dropped it while she was out shopping the previous day, and to call around to the stores when they opened."
"So we went about our day and she drove me to work. She was quite disappointed to have to spend one of her days off calling the bank to cancel all of her cards, going to ICBC (auto insurance provider) to get a replacement drivers license, and going to her work to get a new key card. She stopped by the two stores she visited the previous day but both had no such wallet in their lost & found. She decided to head back home so she could grab her passport/other ID incase she was asked for it."
"She walked into our condo and saw the wallet, sitting alone on the kitchen island, in the exact spot that I remembered it was. We have security cameras but the footage during that hour corrupted and wasn't viewable."
"Neither of us can explain what the fuck happened. No one has spare keys except my MIL, whom was out of the country. No friends stayed over. The only "logical" explanation is that one of our cats took it off of the kitchen island, hid it, and then brought it back while we were out."
"We definitely had some odd situations happen in that condo."
fishymoo
You Found Your Doppelganger
"When I was 5y/o my mom opened the door to two cops who where telling her that her daughter, (me) was outside alone in spring with only a t-shirt and shorts at 1AM ish."
"At the time I was sleeping with her every nights. So she told the cops it cannot be true I'm in her bed right now. She comes to get me and we go in the entry. The two cops said that the little girl knew where she's living and that's her who said she was living at my house. The two cops then look at me creep out and ask my name. I have a very unique name by the way."
"Then the cops took the little girl to show my mother that it wasn't a joke of some sort. The little girl entered and ran to my mom yelling "mommy mommy it's me lili". My name is Livia I don't know how the f
"We often tell this story with my mother to family reunions. I wish I was kidding, she had similar physical traits too, not identical but similar."

"She knew my name and made a nickname with it to this day. I do believe she heard the cops asking me questions. Then I started to cry and eventually the cops left with the little girl."
According-Car-296

Helping Someone Pass Beyond
"My best friend passed away this past March. On the morning that she passed, right around the time that the coroner said she must have died, I woke up from a dream where she had been dying. In the dream, she thanked me for everything I had done for her. A few hours after I woke up, I sent her a text just wanting to check in. It was right after I sent that text that I got a phone call from her mother who told me she had passed that morning."
"I'll never understand why I had that dream, but I like to think that on her way out she visited me one last time."
Itsnotaduck
Things. Hurt.
"I still have a print of the photo."
"Around 1996, I borrowed a new digital camera from my work and brought it to band practice at our bassist's house, who was also studying computer programming at the time. I took a bunch of "band pics" and excited about the new technology, we loaded the photos onto his computer to get a good laugh at our drunken foolishness."
"In one particular shot of the bassist, we were stunned to see something bizarre. The TV screen behind him in the photo was black, except for white, cloudy "ghost writing" that said "things hurt." We had NO explanation for this. My friend printed the photo on his black and white printer, and I still have a copy to this day."
Tomegunn1
The world is a big place, and a lot can happen to you in that time. Think critically. You'll find the world makes a lot more sens if you do so.
Keep an eye out for baby raccoons.

Want to "know" more?
Sign up for the Knowable newsletter here.
Never miss another big, odd, funny, or heartbreaking moment again.
Keep reading...
Show less
I am very much a night owl. I quite like being up at night.
For one thing, it's quiet.
There's no one to bother me. If I want to watch television and vegetate, I can just do that.
If I want to do some work, I can get my work done without interruptions. It's pretty sweet.
Nothing particularly scary has ever happened either... yet. My fingers are crossed.
But others haven't exactly been so lucky.
They told us their stories after Redditor citric_acid asked the online community:
"What is the scariest thing you've witnessed in the middle of the night?"
"Driving through an abandoned section..."
"Driving through an abandoned section of Baltimore at 3 in the morning, my CB radio turned itself on and crackled for a bit. Out of nowhere some voice over the radio said in a deep southern drawl, 'I ain't got no panties on.'"
"I could see up and down the interstate for miles and saw not one set of headlights..."
THREEkoalas
What in the world?
No, thank you.
"It was a bright moonlit night..."
"I stepped in and fell over a cow carcass on a night hike. It was a bright moonlit night but I didn't see it in the shadows. Thankfully it was mostly dry."
Phantomtastic
I would not want to stumble into that late at night!
No thanks.
"Turns out..."
"When I was around 8 I woke up to hear my parents whisper yelling. Turns out someone was beating on the back sliding glass door with a baseball bat. Turns out he was drunk and mistook our place for his ex's."
cigarmanga
Imagine something like this happening to you because you're just in the wrong place at the wrong time.
"I cut down a tree..."
"I cut down a tree in my backyard one afternoon. The tree was in front of my backyard slider so at night there was a lot more light coming in from the neighbors lights and street lights."
"I get up the next morning before sunrise to make my coffee and I saw a shadowy figure down the hall. I yelled what the f**k?!"
"At the moment I didn't realize that now more light was being let in by the lack of tree it cast my shadow on the wall. So basically I was a 37 year old dude that was scared of my own shadow."
lookssharp
It happens to the best of us.
Fear of the unknown still gets us, no matter how old we are!
"Don't know who it was..."
"When I was in high school I was out late (around 2-3am) with a friend chilling in a park. We are just chatting on a bench and after about an hour there I noticed a silhouette in the distance move slightly."
"To my horror I realized there had been a person staring at us from the same spot for almost half an hour or more. As I told my friend and we started to run back to their place, they started chasing us."
"Don't know who it was or what they were planning but probably the most freaked out I've been in my life."
Skytorn7
This is horrifying.
Thankfully you got away!
"Last week..."
"Last week I saw a shooting in the middle of the street while having a pint outside a bar, probably that."
Much_Committee_9355
That is terrifying.
Hopefully you've been able to see someone after seeing something so horrific.
"She had her own nightmare..."
"I once woke up from a nightmare about a demonic little girl to my little sister hovering above my bed. I freaked out and punched her in the nose."
"My sister had her own nightmare and was standing over me because she was debating whether or not to wake me up. I have a history of waking violently so she was weighing whether it was worth it or not. We spent the rest of the night watching Disney movies."
lizzyote
You must have been sleeping very deeply!
But Disney cures all ills.
"Remind you of a movie?"
"My daughter, 4 years old, black hair, pale skin, came into our bedroom in the middle of the night. Hair in her face. Middle of the bed by our feet. And started climbing up towards me and my spouse. Remind you of a movie?"
mutalisken
I've definitely seen this movie before.
Has your daughter ever emerged from a television?
"The police banging my door..."
"The police banging my door at 3am looking for a missing teenage girl... even though I knew my daughter was safe in her room. It still freaked me out."
Wshrig
Terrifying!
Thankfully she was okay and hopefully you were able to rest easy.
"Thought he was drunk..."
"My downstairs neighbour walked into my apartment at 1:30 a,m. I was only dressed in underwear and didn't have my glasses on. Thought he was drunk and managed to convince him he was in the wrong apartment. He backed his way out, closed the door and went down the hall carrying something."
"A week later I run into him downstairs and laugh about how drunk he must've been. Turned out he'd been away. That wasn't my neighbour who'd walked in."
tangcameo
This would creep me the hell out.
The last thing I want is anyone uninvited in my space.
I think I'm just going to lock my doors and never leave the house after reading these.
Or maybe not stay up so late. Not be a night owl.
What I don't know won't hurt me.
Have some stories of your own? Feel free to tell us more in the comments below!
Keep reading...
Show less
Nighttime is a little scarier no matter where you are, but there is something especially eerie about the silent pitch darkness of unpopulated rural areas.
The unknown sights and sounds that lurk in the deep dark are enough to make one's skin crawl. A sudden shriek or a piercing light can make the blood run cold.
Perhaps curious about what life is like in those rural spots, Redditor catarpillarfu**er asked:
"Rural folk, what is the most creepy thing you've seen or experienced?"
Keep reading...
Show less