What's the sign of a great restaurant? Well, the most likely to know are the professionals. Reddit user ballinlikemyname wanted to know how the rest of us home cooks should select our next dinner date location.
ballinlikemyname asked:

"Chefs, what do you look for when you select a restaurant to dine at?
Not only did people share their red flags, but also how they know a restaurant is going to be good.
Here's some helpful hints from professional chefs and food industry workers to help you pick your next meal.
Go to places you could never recreate the menu.
"My dad was a professional chef his entire life. As a kid if we went out to eat, he would never want to go somewhere he could do himself. IE steakhouses, pub food, seafood, etc."
"He would want to go somewhere that would be difficult for him to cook authentically, so we frequented a lot of ethnic restaurants."
"This also was vice-versa. He cooked me Thai food once or twice at home but didn't like doing it because he knew he'd never be able to accurately recreate it like a Thai restaurant."
- patlaska
"This is why Olive Garden is such a sh!tty casual restaurant. I'm no chef but I can make pasta better than they make there for next to free with my eyes closed."
"My mac N Cheese also blows the pants off of any I've ever had ever."
"My favorite go-to place is this local Irish breakfast place. I don't have time or energy to make fresh hollandaise sauce, poached eggs, or corn beef hash at 8am."
Cleanliness was a reoccurring theme in the answers to this question.
Never thought to look there.
"Number 1 red flag is the spouts on the soda fountain. Those things are one of the easiest things to clean in the entire place, so if they're mildewy that kills my interest in eating there. I'm fine with a bit of mess elsewhere, especially in a high volume place since it will get messy over the course of the day. But those spouts take multiple days of no washing to get to a point where they are noticeably disgusting."

- wejivedc
"As a former chef, cleanliness and appearance of staff. If any one thing visible to the public that would be easy to clean is dirty, chances are the kitchen is dirty. The appearance of the dishes and utensils as well. There is a specific way that the dishes should look and even smell if they have been cleaned properly. When the machine is not being run correctly, the dishes will have a specific stale water smell to them and there will be a coating on them. The more basic and streamlined the menu, the more likely your food will be fresh due to frequent replenishment. Washrooms are an indiction of cleanliness as well."
This was surprising.
"When I was food service manager at a large company I asked the health inspector where she ate. She said fast food because their cleanliness rules were more stringent than regular restaurants."
- beadsis
"A mom and pop restaurant? Yeah, held to no standards but whatever they choose to set. A multinational fast food chain? You can bet corporate has a book of health rules that each store has to follow."
"But here's the thing, coming from an insider in the fast food business: health inspectors, private health auditors, corporate giving the public the appearance that everything is being cleaned - it's all a sham. I'm a cook and I've been told to cook up rotting meat before. Our line cooler was broken so the manager told us to put everything on ice, which isn't going to keep a pan full of chopped steak cold. Our line freezer also breaks down a lot so sometimes we serve thawing frozen-to-fried product to all our customers as well. Dishes don't get sanitized properly."
"Dumb teenagers don't change their gloves after hand placing raw chicken on the grill. Raw meat gets panic thawed in hot water. Everything is held to lesser standards until it's announced that the health auditor is making the rounds. At my previous job, a manager dropped food on the floor and still served it because she was afraid of the customer getting mad for having to wait for a new one."
This chef has a check list.
"Clean. Bathrooms should look & smell clean. Run my fingers under the edge of the table/bar, no gum and no grit. Clean glasses and cutlery (amazing how many places don't do this... Here's looking at you place I went to in Manhattan where the server licked his fingers and tried to rub/scrape dried orange pulp off the lip of my glass and then give it back to me). And if the entrance is dirty then everything is dirty."
"Menu that I feel is manageable at a good quality for the type of restaurant."
"Social media - a few places have ended up on my eat it list because of their instagrams and such. Hell yes I'll check out your cafe if you post pictures of drool worthy croissants. Showing off your meat locker is a good way to make me interested in what I might dismiss as a run-of-the-mill steakhouse."
"Reasonably busy - everywhere has off days/nights, but if a place is never busy there's probably a reason and that reason is likely that it's not a great restaurant."
"Industry friend recommendations. Reputation goes a long way - someone I trust says it's good? I'll check it out."
Keep it simple.
"A restaurant that does just a few things well. I don't need a place that serves burgers AND eggs Benedict AND seafood AND pasta AND meatloaf, etc."
"The problem is there probably isn't enough turnover to get all that stuff out in a timely manner, so some ingredient might be past it."
"I am particularly picky about seafood. The odds that those fried clams are fresh in a diner, for example? Not great. They've either been sitting there for a while or are frozen."
Avoid the mayo based salads.
"I was a chef. I've since moved on from the industry, but I'll eat anywhere. Clean or dirty, busy or slow, working in the kitchen took a lot of those judgements out of my head. It might be great, it might be terrible, but you never know unless you try. Some of the best food I've ever had has come from places you'd least expect."
"So I'd pick whatever is close and I haven't tried yet."
"Oh, and avoid mayo based salads. They have low turnover. That applies to everywhere no matter how fancy."
The menu can tell you a lot about the quality of the food.
"A menu thats max 2 sides - places with long book like menus are guaranteed to be using frozen/microwave stuff."
"Unless those are 25 combinations made with 5 different meats and 5 different sauces (typical of some Asian restaurants)."
- RNBQ4103
Sometimes a line is a good sign.
"I think the answer is pretty well known: open so late it's early, full of other chefs because that's the place they've always congregated."
- scolfin
Check with the server.
"If you ask the server what they recommend, and they're hesitant, you may as well just get up and leave."
"They know what's fresh/good and not. They know if nothing is."
- nessie7
Big takeaways include short menus, long lines, try something new, keep it simple, but above all else: make sure the place is clean.
Want to "know" more? Never miss another big, odd, funny, or heartbreaking moment again. Sign up for the Knowable newsletter here.
Keep reading...
Show less
Being a chef is way harder than it looks. Trust me, I've watched ten seasons of Hell's Kitchen, so I'm basically an expert. Cooking for an entire restaurant of people, while doing so in a timely fashion, isn't the easiest job in the world. And of course, not all dishes are created equal.
Every chef has that one item on the menu that they can't stand making. Wanna know what they are? Keep reading!
u/ShylocksBloodyBond asked: Chefs of reddit, what is that one dish on the menu you absolutely hate making?

​Depending on which restaurant you go to, there are times when what may seem like the easiest dishes, are actually much more annoying than they look.
​Eggs can be tricky.
Former chef, it's some of the simplest dishes that are the most annoying. I always hated working breakfast rushes, people are very particular about eggs, and it is very easy to accidentally break a yolk.
Outside of that, while pastry and desserts were some of my favorite things to make, working with phyllo dough is a major test of patience
Also f*ck cleaning mussels.
​A lot goes into those tasty soufflés.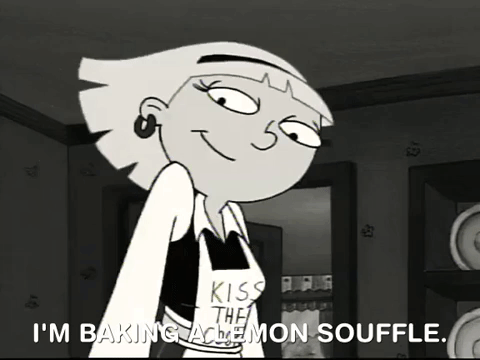 Animated GIF
Giphy
Soufflés. We make the creme pate in advance but when it's ordered the process is: Warm creme pate over a double boiler, while that is warming you need to hand whip a fresh meringue. Once the creme pate is warm, you have about 3 minutes to fold in the whites, fill your molds to make sure you don't touch the edges(as it makes them rise crooked). Into the oven for 3 minutes, open oven and rotate for 2 minutes. In those 5 minutes you have to plate the rest of the tables desserts, which all have 8-10 components. Soufflé comes out to a waiting waiter, has to go to the table immediately or deflates.
While it's not the most difficult thing in the world, when you're busy and have 4-6 on order and each one needs to pass a 3 finger test(height above rim of mold or it gets sent back and you need to restart), it can get quite hard and demoralizing when they don't work.
And then you send out 4 at once and someone at the table gets up to go to the bathroom or have a cigarette and the tray comes back and you start again and cry inside.
​Gross.
Slightly different take, but I was a chef at a nursing home and anything puréed for people who are on that dietary restriction was gross to me. I literally had to take whatever meal I made, throw in a blender and put it in a bowl. I always felt so bad.
​Fancy dishes are even worse. If everything isn't just right, it may be at risk for starting all over again, making for some very impatient customers.
Please don't order this ten minutes before close.​
Our German Apple pancake.
First you sauté Granny Smiths in clarified butter.
Then add three ladles of our German batter into sauté pan.
Throw in oven for 15 minutes.
Remove from oven and add clarified butter and cinnamon sugar.
Flip delicate pancake with spatula and a dash of learning curve.
Return to oven and cook 5 more minutes.
Flip pancake onto plate and insure it makes it to the table in less than a minute as it deflates rapidly.
Bonus points for when it's ordered 10 minutes before we close.
Edit: those who are apologizing for ordering it, don't it's our job. Kitchen staff are gluttons for punishment.
Some customizations are actually impossible.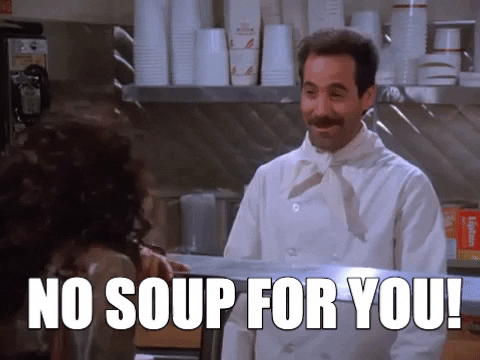 Seinfeld Soup GIF
Giphy
​Customizing the soups. I used to work at a Michelin star restaurant. WE ALREADY HAVE THE SOUPS PREPARED BEFORE YOU WALK IN. I can't just take out the shrimp taste of a paella soup that I prepped before you walked in here.
I don't know what that is, but it sounds like a nightmare.
Not working in a traditional restaurant anymore but the f*cking ringmold stacked beet salad. It took like 3 minutes to make just one and if a table of four all ordered them it slowed down the entire salad line.
​Even the chain restaurants have their own sets of issues when it comes to their dishes.
​Don't underestimate the fruit boxes.
I used to work at a grocery store and I was the person who made all those pre-cut fruit boxes. I didn't particularly mind any of them all that much except clementines. We had to peel clementines and put them in a box. First, it was a huge waste because no one ever bought them (why would you pay $5 for 6 peeled clementines when you could buy a whole bag unpeeled for the same price) except for old people who couldn't peel the fruit themselves, and secondly because the acid would eat through our gloves and then destroy our nails and leave orange smell on your fingers for days.
The only other thing I hated making was 5 mix. We have a mixture called "six mix" which is just 6 different kinds of fruit together, but this one guy would come in and ask for six mix without the cantaloupe in it. We actually started calling him 5 mix. When he walked in someone from a different department would ring us and let us know 5 mix was there and to start making some 5 mix. I hated it because when he asked we'd have to go get a whole watermelon, a whole honeydew, and 3 other fruits and cut them all up just so he could have like 5 cut up pieces of each instead of just eating around the cantaloupe. And he always showed up right as our department was starting to close down for the night too. So we had to them rewatch all our surfaces after five mix came in.
​Microwaved McDonald's is no bueno.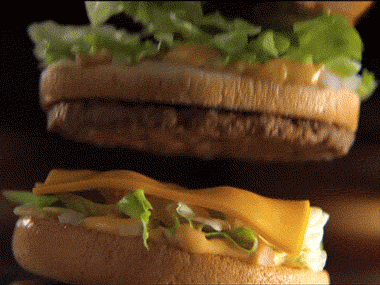 Food Drink Mac GIF
Giphy
I used to work at McDonalds. Years ago we had this promotional burger we called the 'lean beef burger'. It was aimed at people who wanted to be more healthy.
Normally the meat patties are cooked on the grill, but this one was nuked in the microwave. When it was heated, it looked grey, and it smelled so putrid no one wanted to work near the microwave so they wouldn't have to smell it.
Subway can be a tough gig.
Not a chef but I worked at Subway, whenever people wanted guacamole, we always spread it on one side of the bread before adding the rest of the veggies but the way the counter was designed the avocado was the last ingredient so people would always add all their veggies and then want avocado on top. This was a nightmare to spread across the uneven veggie surface and would generally just stick in clumps.
Some vegetarian customers also wanted us to change our gloves to serve them but everytime we change gloves we have to wash our hands which makes the gloves near impossible to wear - this would grind our whole production line to a halt while all staff members struggled to change their gloves. I mean I'm vegetarian too so I kinda understand but like if you're so strict about it you want fresh gloves then you shouldn't work at subway because the "contaminated" gloves from before still went in all the veggie boxes.
​Peanut butter is tricky.
Worked in a sandwich shop for a bit in college. Not fine dining by any stretch of the imagination, but a couple steps above Subway.
Every time someone ordered a PB&J off the kids menu we had to clear off both lines, change our gloves, wipe down every surface the peanut butter got close to, and wash the knife we used to cut it. Like, I get it. But having to treat peanut butter like nuclear waste in the middle of a lunch rush was never fun.
Plus, the peanut butter was too thick for the bread we used for the PB&J, so the bread ended up tearing half the time.
Most of these chefs have made clear- it is 100% ok to order these items off the menu. But it doesn't make them any less of a pain in the butt.
Show appreciation for the chefs at the restaurants you go to! They work even harder than non-food service workers would expect
Keep reading...
Show less
For anybody who's worked at least a few months in the food service industry, that adage that "the customer is always right" can be a total tease.
Yes, good customer service is important. We want people to enjoy their meal, tip well, and come back to pay more money in the future.
But sometimes a customer's entitled attitude can ruffle a waiter's feathers enough for them to take some *subtle* action.
Or, in many cases, a waiter may simply be careless enough to do something profoundly awful to a meal, whether there was some customer transgression or not.
Either way, it's best to have your head on a swivel and be as polite as possible whenever you find yourself giving your order to a hard-working server.
RegulatoryCapturedMe asked, "Restaurant workers of Reddit, what is the worst thing you have seen done to a customer's order?"
It's a list that might leave you feeling rather paranoid about going to fast food or sit down restaurants in the future. But at least one preventative maneuver emerged as a common theme: be polite.
Want to "know" more? Never miss another big, odd, funny, or heartbreaking moment again. Sign up for the Knowable newsletter here.
Keep reading...
Show less
When you work in the service industry you are more than just a waiter, host or bartender. You are also a therapist, a janitor, a cop and a journalist of life. Everyone should have to work at least one month in a bar or restaurant sometime in their lives so they can grasp the scope of the craziness of humanity. The stories bartenders have could fill up story ideas for Oscar winning films until the end of time. And still, nobody would believe half of it.
Redditor
u/Adexiss
wanted all the liquor slingers out there to share with us a bit by asking...
Bartenders of reddit, what is the weirdest thing that you have ever witnessed at your job ?
When I bartended I left every shift with at least one personal eye witness account that I could label... "WTF was that?!" People are nuts, and then you get alcohol involved and suddenly we're living in an episode of "Stranger Things" or "Days of our Lives." People truly tend to forget they are in public after a fews shots.
A Wet Fight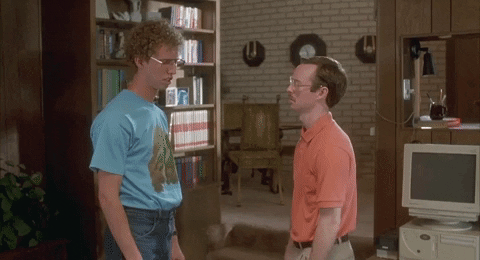 Big Brother Fight GIF by 20th Century Fox Home Entertainment
Giphy
A guy who peed himself sitting on a a barstool and then wanted to fight me when I cut him off and wouldn't serve him a new drink.
The Phone Call
I worked on the bar in a restaurant but would sometimes act as the host if things got busy on the floor.
A couple came in once, I sat them down, gave them menus and all that. Not ten minutes in I pick up a call and it's a woman asking to speak to the guy. I politely let him know someone's on the phone and they say it's urgent. He has a quick chat, seems okay and hangs up the phone before going back to the table. 5 minutes later, she calls again, I go over again, apologise and say they seem really concerned.
At this point he's clearly tense and making an effort not to raise his voice. After a few minutes he hangs up, hands the phone back to me and says "if she calls again, just tell her I'm not interested in speaking to her".
Lo and behold, she calls again, and I say exactly what he asked, to which she laughs in kind of a clichè "crazy ex" kind of way, and I kid you not, says "well tell him I hope he doesn't eat too much because when he finds the tires I slashed he'll be walking home, wishing he'd spoken to me" and hangs up.
I went over a minute later and asked what kind of car he had because there was someone double-parked outside and wanted to check it wasn't him. I figured it wasn't worth freaking him out if it was an idle threat. He described the car and said where he'd parked it. I took a cig break and went to check... All 4 tyres were fine, but that poor bugger had not a single window left unsmashed or severely cracked and there were a couple of rocks laying on the ground.
Needless to say, they did not stay to finish their meal.
Say What?
I once witnessed a woman openly fondling herself (dress hiked up, underwear pulled aside) in the middle of a not super busy bar. It was very obvious she wanted people to see. The weird part was, after a bar back yelled at her and told to stop or get out, a guy walked up to the bar back and said "don't talk to my wife like that" This really happened.
I go to Chili's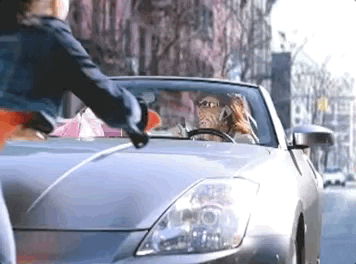 Giphy
Car plowed into the bar I was working in, coming all the way in, and flipping a pool table on its side. Pinned three off duty Applebee's waitresses against the bar. No one was hurt and the woman who was driving tried to order a drink.
I'm Lost
Used to have a regular who sold her time on Backpage. She loved our queso so she always had the guys bring her there. What stuck out was that she always ordered Jagermeister and Diet Coke. In the same glass. I once had to kick her out because she got so wasted she tried performing oral sex under one of our tables. When I could clearly see she lies about what she's doing and says she is looking for something.
See? What did I tell you? You can't make this crap up. Yet half of it sounds like nonsense. Everyone seems to think the bar is like their bedroom or therapists's office. The mentality of like... let me blow off some steam and burn the place down is shocking. Several more barkeeps felt the need to share.
Happy New Year!!
Lots of funny things at new year when everyone is in fancy dress, sad older guys who have drank so much they haven't noticed their wig has slipped. The weirdest is definitely having a mariachi band burst in through the door of the pub, play two songs and leave! Keep in mind this is the UK, it was a dark rainy mid week night. I don't know where they came from or where they went after but while they played they had the attention of everyone in the pub.
Meow Sir...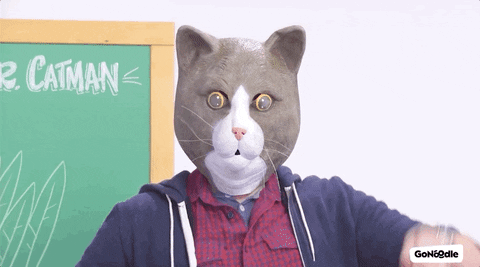 Movement Thumbs Up GIF by GoNoodle
Giphy
I once served Catman a Bloody Mary. Dude had body modifications that were hard not to stare at. He was very friendly. He ordered a blue rare steak and returned it for being over cooked. I told him we can't legally feed you anything more raw then a blue rare steak. He hissed and ordered another drink.
Chew Slowly
A heavy set middle eastern man was drinking heavy and got very drunk at my bar. When he went to the restroom his prime rib dinner had arrived. I think he did some drugs in the stall cause when he came back way drunker. He then cut a long big strip of prime rib, about the size of a thick hot dog, then while glaring at me, threw his head back and proceeded to swallow it whole like a baby bird would a worm from its mother.
It of course got stuck in his throat choking him and he passed out and fell on the floor. I/we cleaned out his air passage and gave him CPR. 10 minutes passed and he was still unconscious when the paramedics arrived. He left with a heart beat but died later that night in the hospital.
How WONKY...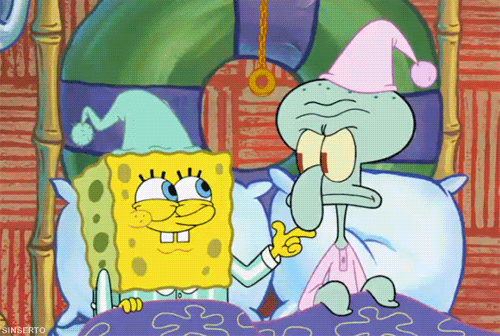 nose GIF by SpongeBob SquarePants
Giphy
Honestly? A fight between someone dressed as SpongeBob and some one as an Umpa Loompa. (Sp) no one was seriously hurt.
The craziest thing I can recall during my tenure behind the wood involved, a homemade carafe of Red Sangria, a pork chop, a seeing eye dog and two, eighty year old men. I'm sworn to secrecy but the local Palm Beach paper may have it archived. If you can't hold your liquor.... STAY HOME!!!
Want to "know" more? Never miss another big, odd, funny, or heartbreaking moment again. Sign up for the Knowable newsletter here.
Keep reading...
Show less
It is called fast food. It is not called hasty food.
And yet, hasty is so often the experience.
We have all been there. First, we politely greet a metal rectangle that bears a mesh speaker face. It responds to the timid hello with fierce, garbed gibberish.
That puts us on our heels. So we escalate to a violent, aggressive scream about the kind of sandwich and drink we'd like. The robot tube remains loud and terrifying.
We're herded through the drive-thru lane alongside the brick wall until we arrive at the window: our only glimpse of the faceless void that we've given the reigns to for our lunch.
Finally, a hand flies out of the portal, we, panicked, absorb it into the vehicle and simply hope that the screaming rectangle did us good.
So often, as a recent Reddit thread illustrated, it did not do us good. It did us very very bad.
Fazi_Snaxxx asked, "What's the most wrong your fast food order has ever been?"
Want to "know" more? Never miss another big, odd, funny, or heartbreaking moment again. Sign up for the Knowable newsletter here.
Keep reading...
Show less