Nearly four years ago, I went in for a job interview I was a little skeptical about. It seemed like a good job that would utilize the skills I learned in my previous position, but the pay was much lower than what I had been getting. Still, I went in, hoping the other benefits would outweigh the low salary.
The first thing my interviewer asked me was how much I was making at my previous job.
Be warned that employers are NOT allowed to ask this question. However, I did know that and answered.
The next five minutes consisted of my boss very convincingly and enthusiastically telling me that my previous salary was very high, especially considering what kind of job the previous position was and the fact that it was my first job right out of school.
I took the job and worked at the company for two hateful years. By the time I left and started a different position, I realized something I wish I had known during my interview: my boss's little speech about my high salary was her way of getting me to settle for the low salary her company was offering, instead of negotiating for a better one.
Unfortunately, between some employers being really good at talking their "perks" up and potential employees being new to the workforce, a lot of things that are red flags don't register as red flags at the time.
That can lead to hated jobs with no benefits and little to no new skills learned.
Redditors know this all too well and are eager to share what should be taken as red flags to save the rest of us from this fate.
It all started when Redditor Redt_Wolf16 asked:
"What is a popular belief that is scientifically proven wrong?"
No Company Is Perfect
"You check out glassdoor and there are a bunch of overwhelmingly positive reviews from "anonymous current employees" that under cons list "no cons that I can think of!""
"Even the best place to work in the world has SOME cons."
– seanofkelley
"My last company did this. They fired half of the team over three months, they deliberately chose to fire whoever was cheaper to fire or who had kids etc because of course they missed work more than who doesn't have kids (usually). They chose to fire a guy a couple of hours after he announced he was going to be a dad. They fired my boss because she was trying to get pregnant and they even asked her to quit instead so she would not get any compensation. The CEO told her he doesn't think employees deserve it."
"After firing 30 people for economic reasons, they said they were done and asked everyone to relax. We all got extra responsibilities but no raise, of course. Two months later they fired 20 more (including me)."
"They asked the ones left to leave a nice review there since they were staying so I reported them to Glassdoor. Absolute trash."
"Edit to add: after they fired so many people most of the good employees left. They actually contacted me a month ago offering me my job back and it felt amazing to reject them."
– diabolikal__
Gossip Girls
"When management talks poorly about the other employees, it might make you feel included/special at first but guaranteed they're going to be talking about you next"
– PhilMeYup
​Work-Life Balance
"Another aspect is, it'll teach you what they really value. If they promote work-life balance but their favorite employees are those who "put in the extra work to get things done", it means they will not in fact respect your work-life balance lol. Learned this the hard way."
– Scarlett1993
"I interviewed at a company in San Diego and everything went really well. Because I have an annual fishing trip in july, and I was being hired first of June, I brought it up. I said I know I'm new and I am willing to skip the trip, I just need to know so that my friends can plan on me being there or not."
"Dude looks at me and says, "No problem. That should work fine. But in my experience, people who work here, will schedule a vacation, and then realize that the project needs them and cancel their time off.""
"I worked up until that trip. The week before I worked an extra 15 hours to make sure that my projects were all tracking to be okay with out me for a week. Two days before I am supposed to take a Time off, my boss calls me in and asks if I think I should go on this vacation. I said yes. He said what if I asked if you were willing to accept your last check? I said I would accept it. So he paid me out my time and I walked out the door."
"I worked my a** off to make sure that things would carry on without me, even though the company didn't have anything in place that helped that process. And the fact they think that people should cancel their vacation out of loyalty is such garbage. The company itself was pretty normal from the outside. But pretty bullsh*t from the inside"
– 444unsure
"What a piece of sh*t."
""So, just to be clear, you need me here so badly that you can't be without me for a week, but not so badly that you can't be without indefinitely? I call bullsh*t.""
– ohheyisayokay
Regulations Are Written In Blood
"Management who are willing to risk it and cut corners."
"Had an interview with a company. The guy interviewing me told me that he would be my boss if I got thr job. He likes his teams to be a strong and cohesive group and that we would all have an input as he values his team."
"Maybe three questions later he asks me: "if you had an unstable and unstable load that I told you has to be loaded this minute. You would do it." Me, "No, if it is unsafe and could potentially kill someone, I would not allow it out. Not until the problem is sorted (had a boss pull this one years before), i would tell him of the issue and try to get it sorted" him "and I tell you it must be loaded as is", me "Then it wont get loaded and i would bring it to Health and safety". He immediately told me how I was not the right type of person for that company."
"A large international company, willing to promote that individual. I consider myself lucky to have not been even offered the job. Saved me turning it down."
– Xib3
"I've seen some interesting things in interviews before, but never before have I heard a company so brazen as to flat out admit they don't adhere to major safety policies. If that's the case how many minor ones are overlooked enough where they're comfortable overlooking a major one? YIKES. Talk about dodging a f*cking bullet."
– Wizard4877
I Finished My Learning
"Offering to pay you a lot less than market rate because you will "Learn so much" or "Will be working with a great team". My bank does not take IQ points as a mortgage payment"
– _three_piece_suit
"I work in games. A lot of job postings end with 'Must have a passion for video games.'"
"Translation: Your pay is gonna be garbage, there's going to be a lot of overtime, and we don't care if you like it because there are hundreds of applicants"
– laehrin20
Lunch Is A Must
""We don't really eat lunch" f*ck you ive been working my a** off all day I'm gonna sit down for 30 minutes to and hour and eat my damn sandwich"
– ReporterWitty3616
"It also shows ignorance to some facts like ... Breaks are relevant and folks need calories to burn."
– deterministic_lynx
"At my current job, before she was demoted and relocated, I had a manager that I asked if I could take my (legally mandated 30 min lunch break) and she literally tried to manipulate me into not taking one. She goes, "well, x coworker and y coworker do 8 hour shifts without taking lunches". As if that's a reason I shouldn't have taken mine. And I was sitting there thinking, "that's not something to be proud of? As a manager that's part of your job is to make sure your employees take their lunch. Also, that's f*cking illegal? Why would you admit that?" Ignoring entirely the fact that both coworkers she named ALWAYS take a lunch on their long shifts, so she straight up lied for no reason other than to guilt me."
– RosariaRain
Work Family
"Paraphrasing from a similar comment."
"When you hear "We're like a family here", run and don't look back. The only "family" trait that'll come from that job is the dysfunction, gaslighting, and lack of accountability."
– Fake-And-Gay-Bot
"Get that where I am now. The gossip is ridiculous, I happened today to know who had brought in the cakes and how old she had turned - shock horror, I speak to my coworkers as people. Next thing you know, people are "teasing" I only do it to get in her knickers. .. Nope, one, if you talk to her, she has a boyfriend and two, not my type."
"Also, my favourite one was the big boss of the company gave a speech about how, he could replace us all with foreign workers for less pay and more productivity. So he can buy another expensive car. The talks with some managers shows they literally bathe in the company cool-aid."
"Family. Only in his inner circle, where he literally employees them."
– Xib3
Do You NEED The Job Yet?
"If they ask if you've turned in your two weeks to your current employer during the interview process. Had two short jobs fresh out of college that did this and realized too late that they were waiting for me to be desperate before hiring me, because the pay was actually much lower than advertised and the hours were much longer."
– the-just-us-league
There's Always A Limit
""Unlimited PTO""
– Shhh_Dont_Tel
"The first time I worked for a company with unlimited PTO, I ended up taking less time off than I did at my previous job because I wasn't sure how much I was "allowed" to take in practice."
– aggressivecalm
"I like my PTO like I like my pay - on the books."
– DogsAreOurFriends
"I had a job with unlimited sick time!"
"Two things to note:"
"There's a hidden equation that will trigger HR to investigate and ask for doctors notes."

"It didn't cover what traditional sick time at other jobs would. No planned doctors appointments or if a family member is sick. You use vacation for that."
– zerostar83
It's Your Job Now
"When an employee quits or gets fired from the job and the company doesn't hire anyone new to replace them."
"It can be hard to tell as a red flag at first, but the temporary workload they added to your own over that was left over after the person left, slowly becomes your new permanent workload, without any changes to your pay or benefits to compensate for the additional tasks. The further out it goes without the position being filled, the larger and more obvious the red flag becomes."
– Goatmanthealien
Yeah, I have personal experience with that last one!
When conversing, it's generally a good idea to make sure both you and the person you're speaking to get equal time.
So, if the focus has been on you for a fair amount of time, it's perhaps wise to ask your conversation partner a question and pivot the subject to them.
Unfortunately, some people have trouble talking about anything other than themselves and take every opportunity to pivot the conversation back to them if they sense it veering away.
Redditor Potatoe_stealer was curious to hear other red flags which indicate people always put themselves before others, leading them to ask:
"What is a tell tale sign that someone is a selfish person?"
"You Had It Bad, Well I Had It Worse..."
"When anything that happens to them is the worst thing in the world and whatever happens to you is not that bad and a waste of time talking about or dealing with."
"'I know your mom died a month ago but my best friend of 3 years died too so I don't see why you are so sad all of the time'."
"I think narcissism and selfishness go hand-in-hand so there you go."- AJM5K6
"They respond how worse their situation is when you're sharing your problems with them."
"No try for help or listening, just trying to draw attention on their side."- seyfgs
"When every single bad thing that happens to another person gets spun around into their personal problem eg I'm really upset because my friend family member is going through."- Purrminator1974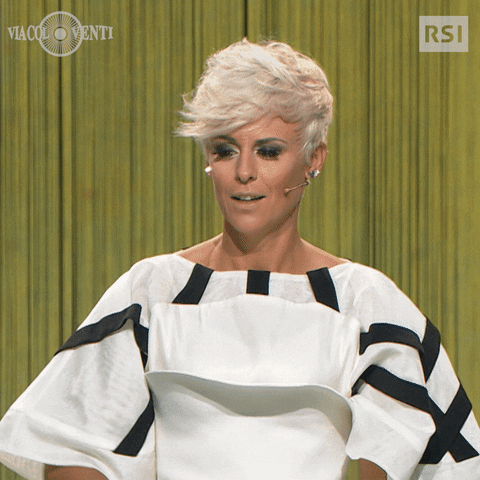 Drama Queen GIF by Radiotelevisione svizzera (RSI)
Giphy
Sorry? I Don't Know The Meaning Of The Word...
"They feel no remorse for how they've hurt others."- avidhiker96150
"I'm Always Right!"

"Doesn't think they're wrong in the slightest bit."
"They can't shoulder any bit of responsibility."- No_Key_6276
No Need To Thank Me, Because I Won't Thank You...
"They don't remember the times people helped them, but remember clearly all the times they have helped others."- GoodMerlinpeen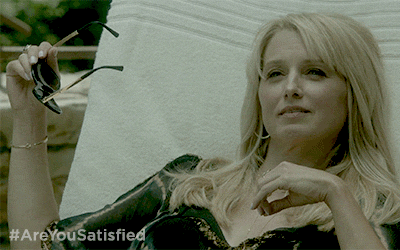 sexy youre welcome GIF by Satisfaction
Giphy
Live To Freeload!
"They bring nothing to the potluck but are first in line."- TRIGMILLION
Quid Pro NO!!!
"They gladly take any favors you do for them, but when asked if they could reciprocate once, they get defensive and or aggressive and act like you're the selfish one for daring to expect something in return."
"It doesn't make you a bad person to expect reciprocation in a relationship with someone else, romantic or platonic."
"Relationships are give and take and that makes them healthy."
"It's not entitlement to expect kindness if you give kindness."
"If you're the only one giving, you're being taken advantage of."
"I'm not talking about narcissism and manipulation, I'm talking about the natural give and take in a relationship."

"It is not manipulative to expect certain things out of a relationship (depending on what kind of relationship it is)."
"The whole reason we make relationships is because they give us something - whether that be support, love, safety, or other advantages."
"It isn't a bad thing, it's a human thing."
"Typically, with give and take, if you notice a pattern of one person consistently taking without giving, the one taking is the problem, not the one giving."
"The kind of people who use this as a manipulation tactic aren't the ones who stick around in a relationship for years, doing favors and kind things without being asked to."
"They're more likely to do one favor and demand twice as much in return."
"Why do I know this? I've had these people in my life, which is what gave me the realization I commented above."- random-shit-writing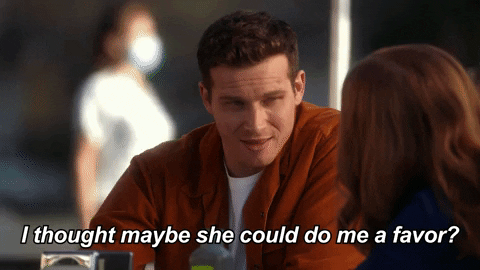 Season 4 Question GIF by 9-1-1 on FOX
Giphy
"I'll Never Forgive You!"

"Every bad thing you do to them is drama-worthy."
"Every bad thing they do to you are details and should be moved on from, and why can't you just do that? You're so dramatic!"- Pasdusername
"If I Could Just But In..."

"If you are in a group and there is one person that is constantly interrupting the middle of what you or anyone else is saying generally to brag about themselves with a 'one-upper' story, is generally a precursor to stop associating with them."
"I've met too many of them in my days and they are more often than not happy to throw you under the bus whenever the opportunity arises."- Philay_shio
But Enough About Me, What Do You Think About Me?

"If they always talk about themselves."- Effective-Craft-1173
"They have that superpower to lead everything back to themselves."
"Even when you're actually talking about your own life or a specific problem of yours, they somehow make it that you start talking about them instead without even changing the topic."- Anskin12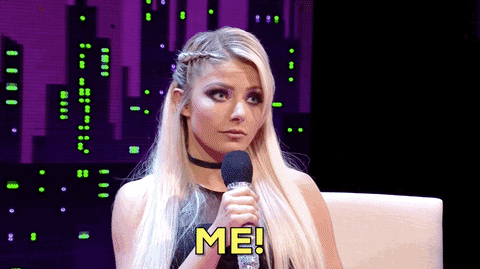 Look At Me Reaction GIF by WWE
Giphy
"Ugh, Work Is So Boring... Can You Do It For Me?"
"Complaining at work to coworkers doing your work for you while you complain."- Minimum-Tea-9258
Perhaps the most frustrating thing about dealing with a selfish person, is getting through to them about changing their behavior is probably a no-go.
For they'll be too self-absorbed to ever think they were doing anything wrong.
There is no feeling more frustrating than saving up for a fancy, expensive dinner at a restaurant everyone's been talking about, which you had to book months in advance, only to sit down to a very underwhelming meal.
What makes this all the more infuriating, is that there was absolutely nothing to suggest that this might happen, as the five star yelp reviews and sky-high prices suggested you were in for a treat.
Thankfully, there can be signs that certain restaurants aren't worth spending your money at.
Be it a grungy facade, a menu that seems a little too eclectic, or a less than welcoming greeting from a host, sometimes it's clear that you're bound to have a much better meal at your local greasy spoon than you are at certain restaurants.
Redditor Rascal_E_Ribbit was eager to hear the telltale signs that a restaurant isn't worth your time or money, leading them to ask:
"What is a Red Flag that you are in a bad restaurant?"
When They Just Can't Be Bothered...
"The restaurant isn't even busy but they take ages to serve you, and when they finally do they seem reluctant."- peculiar-pirate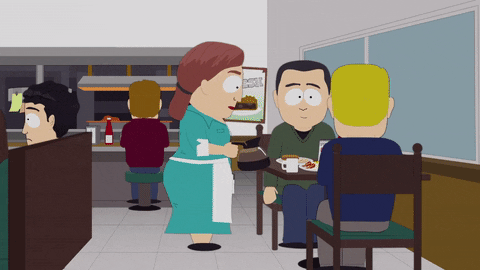 coffee pouring GIF by South Park
Giphy
Quality Over Quantity
"Long menu."
"Pages and pages of food that doesn't really make sense or go together."- blackaubreyplaza
"Sushi, pizza, AND burritos are ALL on the menu."- financialfreeabroad
"Huge, unfocused menu."- TheWarDoctor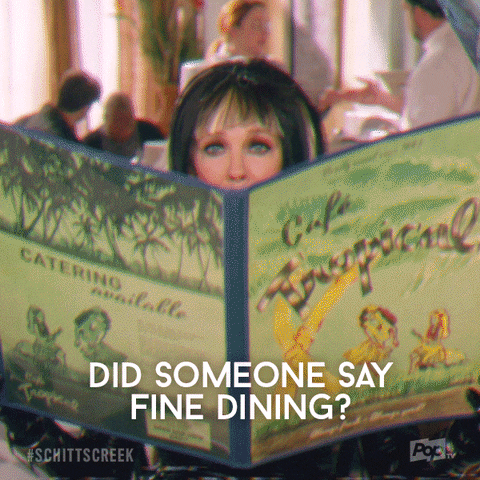 Lets Eat Reaction GIF by Schitt's Creek
Giphy
Lack Of Authenticity
"Ethnic restaurant with no customers of that ethnicity in a town with a large population of that ethnicity."- baronvonbee
Don't Be Fooled By It's Appearance
"I've eaten at ratholes with amazing food and had terrible food at nice steakhouses, both can have people cooking for minimum wage and bad management."

"If it's a small ethnic restaurant and you see kids doing homework at one of the tables; try the food, it's always good."-Dizzy-Particular-258
It's All About The Food
"It's sometimes difficult to tell until you try the food."
"There's a restaurant in my town that is consistently crowded."
"Fairly expensive."
"My wife and I went there and waited a few minutes for a table."
"Restaurant was dirty, food tasted stale, and my wife happened to walk by the kitchen and see like 6 microwaves on a table heating stuff up."- jonahvsthewhale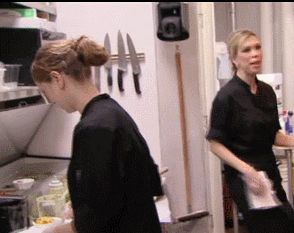 kitchen nightmares amy GIF by Global Entertainment
Giphy
One Unwanted Guest

"The very moment Gordon Ramsay appears and calls the employees f*cking donkeys."- Ch*ist_Hater666
When The Ambiance Is Anything But Romantic
"Bad lighting or sticky tables."- trashbagbum
"Dirty floor, if they can't keep the floor clean, they aren't cleaning the important stuff."- lovelynutz
"A dirty bathroom means a dirty kitchen."- ManifestsOnly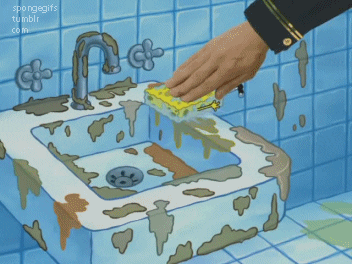 dirty spongebob squarepants GIF
Giphy
"Oh, Sorry We're Out..."

"Whatever is on the menu 60% is not available."- XqueezeMePlease
Whether Or Not It's The Food You're Smelling...

"Smells bad."- Louis-grabbing-pills
Roaches Check In...
"In university I went out with some friends and they decided to go to mid-priced restaurant before we caught a film."
"I was really broke so I feigned not being hungry to excuse the fact that I couldn't order anything."
"As we were hanging out I noticed a cockroach crawl onto the table and quickly scurry out of sight."
"That is one of the few times I was happy to be poor."- gildorratner
"If you smell freshly popped popcorn, but they don't serve popcorn, they have a cockroach infestation."
"The smell is the result of a potent insecticide and dead roaches."- Goatmanthealien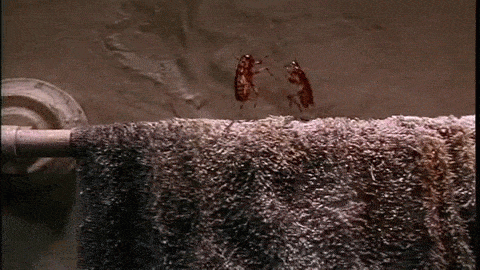 place cockroaches GIF
Giphy
Many restaurants are not worth their expensive prices.
While others aren't even worth a single second of your time.
Thankfully, those can be fairly easy to spot.
Everyone needs a job and hopefully a career down the line, but we shouldn't have to achieve these life requirements through desperation.
Too many places of employment are riddled with secrets.
There are reasons places are constantly in need of staff.
THEY CAN'T KEEP ANY!!
When we're interviewing, we have to read between the lines and do company research.
Redditor KnownNormie wanted to hear about the times when people went looking for a job, and then went running away because of a few hints that things maybe a little "off the rails," while in the interview process, so they asked:
"What's the biggest red flag during an employment interview?"
I was once in an interview and the manager cried due to the understaffing.
I didn't even leave a tissue as I ran away.
May the Odds...
"30 people in the lobby, 'Some of you will be lucky enough to be chosen.'"
gobigred3562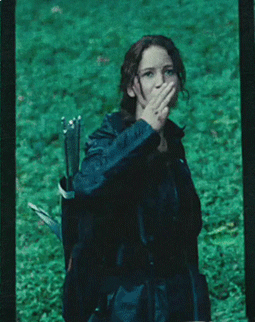 Hunger Games Student GIF
Giphy
Let's Talk
"An employee offered to walk me out of the building after my interview and took the opportunity to basically warn me (in not so many words) about what the job really entailed. He was super-friendly and diplomatic, just like he was making small-talk, shooting the sh*t with me, then 'did they mention you'd get to do X?'"
"'Because if you've got your heart set on that, you might be disappointed with the reality of the role,' that kinda thing. Especially when he heard I was fresh out of college and would have had to move country for the job."
"Basically the job ad was complete BS, and he was making sure I knew. I will be forever grateful to people like him."
ididitforcheese
Evaluations
"When I mentioned a company's dismal Glassdoor evaluations, they became so enraged that they ended the interview. Well. I suppose I escaped that danger."
Even_Beginndsasws
"On the other hand -- I've had some good luck bringing up a company's positive Glassdoor and Indeed reviews when the scores are considerably higher than expected. It's exceptionally rare for companies to post above a 4.0 without serious vote manipulation."
"And I've run across some companies with 4.8/5 and higher. Asking how the company managed to end up with such a high employee satisfaction score gets them talking about what people like about working there, and you can easily tell if they're bullshi**ing you."
Chastain86
​History Lessons
"Not being clear about why the position opened."
Earth-Rat
"Sometimes it really is a liability to discuss. I knew a guy that was fired for embezzling, in the aftermath the company really couldn't discuss it. It is very annoying to be silent on something, but it is necessary from time to time."
snowgorilla13
I conduct job interviews as part of my job. This is something that I cannot reveal to prospects due to confidentiality; two of the last three people I hired were hired to replace others who had been fired."
BobBelcher2021
Hey Lisa
"Being a nanny you get some bizarre ones. It's not HR or a business owner. It's Lisa the 27-year-old first-time mother. Who hasn't done anything in her life. The biggest red flag was probably when she asked if I'd be interested in inducing lactation to nurse her baby."
Onlyfansnanny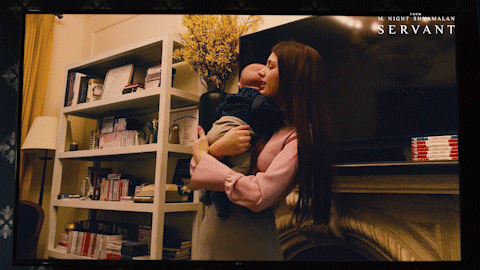 Home Video Baby GIF by Apple TV+
Giphy
I don't know how anyone likes to babysit.
Kids are stressful to care for. Then you add parents. Oof.
TMI... thank you
"My recent interview with what I thought would be a dream job went like this:"
"'You know you're the 6th person we've tried to make this position work for and we're starting to think it's us.'"
Seedinthethorns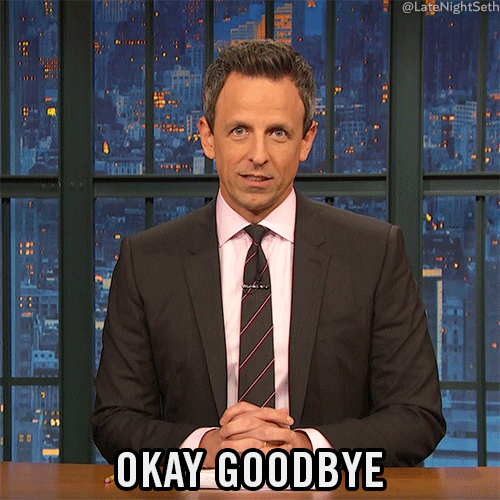 Seth Meyers Lol GIF by Late Night with Seth Meyers
Giphy
Downhill
"Group interviews are a giant red flag. I remember being recruited for a 'sales job' selling textbooks door to door and having to go to whatever state they sent you to in the summer. At first, they had 20 of us meet in a local Mexican restaurant and then when I had my one on one in college hall or somewhere, it went downhill."
JuniorsEyes90
Where's the Fun?
"The office has a break room with games, pool table, etc, that looks like no one has touched it in months."
WorriedlyFretful
"Funny thing is I work for a small family own company, we have a Ping pong table but it's because the family is obsessed with it. like they play each other at lunch or will stay after work to play a round. it's all in good fun and you better believe most days at 5pm sharp there is a mad dash to get the hell out of there by everyone."
glucoseintolerant
I See You
"I've posted on this before, but one I don't see mentioned a lot is the eyes of the interviewers. I'm not talking about do they seem shifty or whatever, I mean, do the people you're talking to seem chill and well-rested? Or are their eyes bloodshot, dark circles under them, and they seem exhausted?"
"It's harder to tell in a Zoom interview, but you can look for it once you start to notice it. I've said no to companies based on this alone. If everyone in a company looks tired, it's because they are stressed out and/or working extra hours all the time."
"Big red flag."
jseego
Not even a DVD?
"In 2017 I interviewed to teach at a small community college. It was a day-long affair and they showed me a video on the history of the school. The video was on VHS. Did I say it was in 2017?"
discostud1515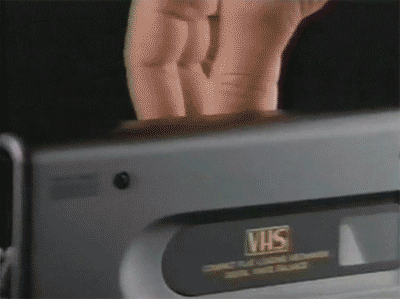 Animated GIF
Giphy
When interviewing for a job... always follow your gut.
If it says run... RUN!!
A resume is so much more than just a simple list of your work experience.
Indeed, your resume is the first step in getting your foot in the door to your dream job, highlighting not only your past experience but your skill set, as well as things about you that will make recruiters want to get to know you more.
On the flip side, sometimes there are things on your resume that will automatically send you to the reject pile.
Of course, this is bound to include common, careless mistakes such as spelling and grammar errors or missing vital information, such as a phone number or email.
However, no two hiring managers will have the same set of red flags they look for on a resume. This can make finding a format that will please everyone something of a fool's errand.
Redditor stereovictrola was curious to hear the things hiring managers find on resumes which will immediately land them in the garbage pile, leading them to ask:
"Hiring managers of Reddit: What makes you immediately throw out a résumé?"
Not In It For The Long Run

"I once received an application from a man in his 60s."
"Solid CV, lots of experience."
"In his cover letter he wrote 'I'm applying because the Job Centre asked me to'."
"Please note that I intend to retire in 6 months time'."
"We had a good laugh, then sent him a very polite rejection letter and wished him a great retirement."-BeerPoweredNonsense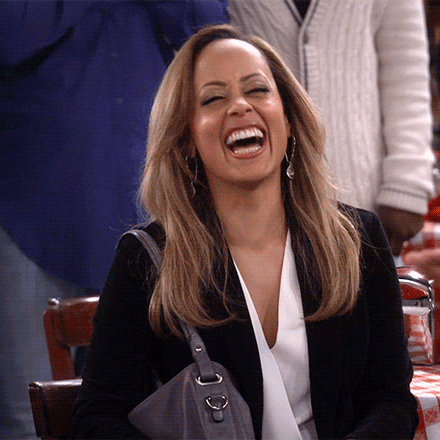 Season 1 Lol GIF by NBC
Giphy
Make Sure They Actually Get The Right Document...

"One time I had someone upload how to upload their resume from Dropbox instead of their resume."- rabidwhale
Always Proof Read!

"I'll usually still interview unless there is no relevant experience, but I've seen some atrocious resumes."
"I've seen people use crutch words like 'uh' in writing for a job description."
"I've also seen a sentence 4 lines long with zero punctuation."
"The same resume will have 'attention to detail' as a skill set."
"I've interviewed for one of those resumes, and the applicant said 'I dunno" to about 80% of my questions, and it turned out he didn't even know what job he applied for'."
"It's not that I'm overly picky, but if someone can't spend the 20 minutes or less that it takes to proof read their resume, are they going to put a lot of effort into their job?"
"Maybe, but it's hard to know."- ChristyM4ck
"'Very meticulous and attentive to detials'."- papparmane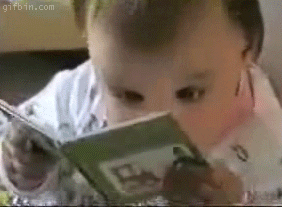 Read Book Club GIF
Giphy
Make Sure It's Legible
"The only time I have ever had to throw out a resume was because someone possibly had it in a bag with their lunch and the paper was soaking wet and dissolving as I tried to unfold it."
"It was just unacceptable to process."
"The application was left in a drop box so I don't know if it was a prank or an actual applicant."- 416unknown
Unprofessional Email Address

"Back in 98 I asked a new group of hires at GIECO to write their email addresses on a list that was passed around."
"Remember email was kinda new back then.. "
"One young female employee's email address included 'mybaldc**tchie'."- catjugglinpimp
"An email address like DankMeister420@."- Kibitznik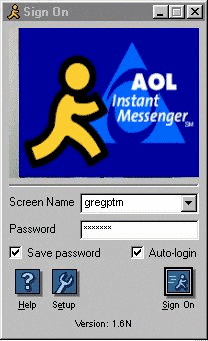 the messengers aol GIF
Giphy
Never Send Someone In Your Place
"It's been a long time but I used to do hiring for a cinema."
"Staff were often young, for many it was a first job, making popcorn and selling tickets type of gig."
"I would not pursue anything where parents came in with a CV for their teenager or if parents were contacting me on behalf of their teen."
"Big red flag."
"Either their kid didn't want he job in the first place or they're incapable of taking initiative and it doesn't bode well for how they'd be as an employee."- FigJamAndCitrus
"Having your parents submit your resume while you stand silently beside them."- krim2182
It's Pure, Dumb Luck!
"I remember a meme or maybe a tv skit from a while back."
"The hiring manager had a huge pile of resumes on his desk."
"Someone asked how he was going to sift through them all."
"He took 2/3rds of the pile, threw them in the trash, and remarked 'I don't hire unlucky people'."

"Lol."- SpecialSpite7115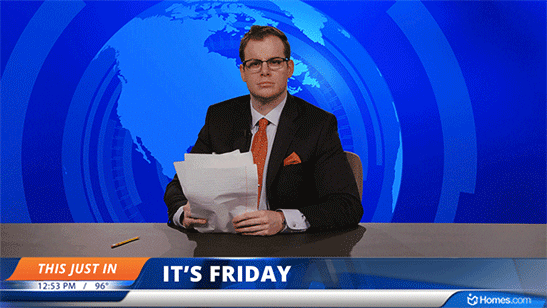 Im Out Breaking News GIF by Homes.com
Giphy
All About The Formatting
"This doesn't matter 100% of the time but bad formatting."
"If it's hard to read I probably won't read it."- Far-Gain-3081
Depends On The Job

"If it's a professional position, significant spelling errors will make me pass on a resume."
"If it's a warehouse job or something, I'm less concerned."- staffsargent
Don't Treat It Like A Text Message!
"Former hiring manager here."
"I tossed MULTIPLE resumes that used text message abbreviations throughout the resume and cover letter and one that included emojis."
"While you can do pretty much anything from your phone, it doesn't mean you should."- spectacularuhoh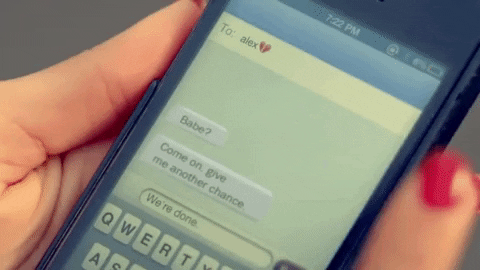 text texting GIF by Fifth Harmony
Giphy
Choose Your References Wisely

"Not me, but a friend who checks resumes/CVs had a belter."
"Candidate had a conviction and his reference was his friend 'Baz'."- LexiRae24
Make Sure You Have The Relevant Skills
"I know it's pretty specific but If your looking for a scheduling job make sure you know how to use Excel and clearly state it on your resume."
"It will probably get thrown out otherwise."- LoyalPlanets
As stated before, no two hiring departments will have exactly the same prerequisites and red flags, so no matter how hard you work, your resume is never going to please everyone.
That being said, multiple misspellings and a cheeky e-mail address are a surefire guarantee of not pleasing anyone.