There are a lot of reasons to quit a job, especially during a pandemic. Not being appreciated, being overworked, burnout—even simple boredom.
Staying in a job you hate is soul-sucking, so it's no surprise that a lot of folks have decided to move on to bigger and better things recently.
Reddit user daraand asked:
"Why did you quit your job this year?"
Too Many Hours
72 hour weeks, was stressed out constantly. Kept getting passed over for promotions.
72 hours weeks
Bloody hell. This makes me appreciate some of the employment laws we have in place. Anything above 48 hours is illegal, regardless if it's on your contract or not. Your employer can ask but you're in no obligation to accept.
This is in the UK.
All Around Better
Found one that is Monday to Friday, same hours as my wife so we can carpool, and paid more for the starting wage than my last job did after working there for 2 years and getting a promotion. Win win win. Plus the actual work is more personally fulfilling. Goodbye retail!
Because Retail Sucks
Because working retail is crap and working retail during a pandemic is just life-draining.
So Tired
I was so tired of the politics, racism, and anger there. I just finished my second master's degree and have decided after 20 years I'm switching careers and could not be more excited!!!
What's My Job Again?
Got taken off a team I started and was on for 4.5 years and moved to a newly created team with 0 notice.
New team is under a different director and also had other people pulled onto it.
"This team was put together to work on a project that's very close to the CEO" we kept getting told.
My experience is in a completely different tech stack. No idea why I was moved to this new team.
Spent a month doing courses and trainings to learn this new tech stack at the behest of my manager and our lead engineer.
Business kept changing their mind on what we were doing, so I had to keep changing what I was learning. (Flutter, Android, iOS, Kotlin, Spring) I was learning all of those from the ground up mostly. Nothing I was experienced in was useful on this new team.
Lead engineer submitted his 2 weeks. Was tired of dealing with our management chain.
After that, director pulls me into meeting. Says I'm not performing at the expected level. Why don't I have as many tickets done. etc etc. I explain that I've been doing courses and pair programming with our lead to learn the new code base. That I'm from a completely different tech stack. He doesn't believe me, says I should be learning outside of work hours. wtf.
That's not how our company culture is at all.
Lead engineer hears about this, pulls director into a meeting and yells at him for accusing me of not performing and lays out all the reasons as to why I am.
Director pulls me into a meeting the next day to say "I guess I didn't have the full story", doesn't even really apologize. Like bro, I f**king told you the full story...
I had a couple break downs during that whole week, so after that I took 2 weeks of vacation to think about sh*t and to de-stress.
Came back, finished a small project in 2 days and submitted my 2 weeks.
And that is how I came to quit a company I had worked at for nearly 7 years that I really enjoyed working at. And how a tool of a director lost a Senior & Staff engineer from his 5 person team in the span of a couple weeks. I hope it reflects poorly on him.
People Describe Their Best Chance Encounters | George Takei's Oh Myyy
Are chance encounters really serendipitous or is it part of some grand master plan? While we may never have an answer for why we come to meet certain people ...
Bad Management Has Consequences
Quit a job last year. The ceo/owner blatantly attempted to leverage Covid to permanently reduce salaries. Outright lied to our customers to get their business then dumped the responsibility of disappointing them on the teams assigned to do their implementations. Did other shady stupid s**t too.
Over about three weeks they lost 8 senior consultants and had to give the ones who stayed large incentives. Three of the ones who left were the entire leadership assigned to their largest customer. We loved our client and were very transparent with them before we last about what exactly had happened and why their project was going to miss all their deadlines. They used this to claw back much of what they paid. Many other customers did as well.

This year the company was acquired. They had been setting themselves for several years to be acquired, but we heard from friends who stayed that they were stuck taking far less than they could have because they had so royally screwed up last year.
Tl;dr idiot CEO assumed Covid would make his developers so thankful for their jobs he could cut their salaries. Backfired spectacularly ended up forced to sell his company for a lot less than he had been on track to sell it for.
Nothing But A Shade
They slowly sucked my soul everyday for 8.5 years until I was a shallow shade of myself
I feel that
Mental Health First
I was in middle management, desperately trying to keep my small team together with no help or support from the higher ups who were content on playing golf and smoking their cigars. My team was overworked, stressed, yelled at constantly by internal and external clients, and were given tools from 1998 to fix 2021 issues.
Luckily a former co-worker asked how things were going, I might have an opportunity for you...he's now my co-worker again, and I'm making 40% more than I was, no longer managing people, and back doing what I like doing: Learning new things and helping people.
Two things I learned:
Be nice to people because you never know what can happen down the road. They might call on you or you might need to call on them.
Mental health first. I had a mental breakdown and my former company said, "Are you quitting?" as their opening statement when I opened up to them. If you're not getting the support you need, go find it. I promise you, everything else will work out.
Overworked, Underappreciated
Worked so many hours, took so much on, and then was told I "wasn't engaged" so I found a job where they are thrilled to have me for 40 grand more a year. I feel like I've been de-programmed from a cult. I even have the energy to join a gym.
Took a few people to tell me I deserved my success before I started to believe it myself.
So Unprepared They Begged Me To Stay
I didn't have any opportunity for personal career development because the business refused to hire another developer for 2 years to help share the load.
I was constantly needed to help support legacy systems that were "going to be replaced soon" rather than allowed to work on anything new or things that would've helped me to improve.
After I gave my 2 weeks, they begged me to stay because they didn't have anyone left at the company who had looked at the legacy code base within the last 2+ years.
Even if you have to keep a job you hate because it pays the bills, there's no harm in shopping around while you work there. Submit a few resumés, you might get a great opportunity.
Keep reading...
Show less
Quitting your job, ideally, should be something done with forethought and planning. It's a career shift that can take months, if not years to make and that "minimally requires" two weeks notice.
Ideally.
Now ... you and I both know we absolutely do not live in an "ideal" world and sometimes sh*t happens.
Reddit user Broad_post-6496 asked:
What made you quit your job?
Spoiler alert: It pretty much boils down to terrible bosses.
Keep reading...
Show less
We in the United States are in the middle of an "employment crisis" - and some people believe the narrative that it's because people don't want to work. Data hasn't supported that, but it has absolutely found that people learning to support themselves means they are no longer willing to work under certain conditions.
Let's take a look at what those conditions might be.
Reddit user "Sketch99" asked:
There are some things more important than money. There are things people just will not tolerate.
Employers and future-employers - pay special attention here. It's important to learn what not to do or allow in your organization.
Appreciation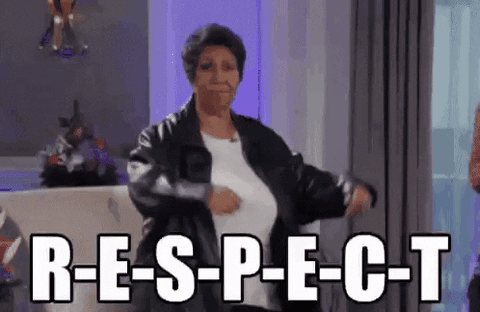 Respect Aretha GIF by MOODMAN
Giphy
"Nothing dramatic."
"After working my butt off during the pandemic and promised an additional bonus. I received a 'low performance' review conveniently timed a day before my bonus was to be paid."
"The low performance feedback canceled my bonus. Given all the other BS I was putting up with, I broke and quit."
"I had a nice month off and my new job pays significantly more. Never work for people that don't appreciate you, there are always others that will." - grasshenge
"I unfortunately work for a company that is currently doing this to me. I can't quit yet, but I'm already gone mentally."
"Busted my butt all through the pandemic (I work on healthcare equipment), working 12-15 hour days regularly. Got the attaboys from the company and managers and was promised a pretty substantial bonus."
"The end of the fiscal year rolls around and we got our overtime cut instead of the bonus due to 'unprotected expenditures' yet the corporate guys and managers got 5 figure bonuses for 'weathering out the storm of the pandemic and succeeding beyond expectations.' "
"This was the final confirmation I needed to start looking for a different position." - acidbass32
Thanks, Leroy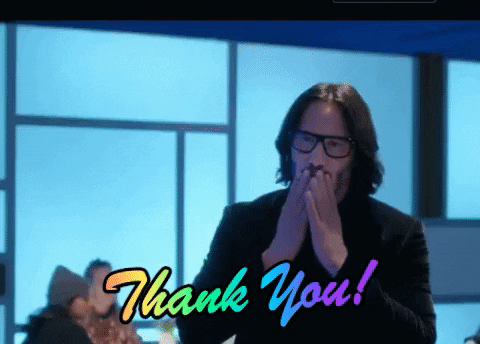 Thank U Reaction GIF by MOODMAN
Giphy
"I used to cut grass in a cemetery."
"I used a push lawnmower and had to lift it up onto the elevated graves, and then back down and on to the next one. Over and over and over."
"Minimum wage was $4.25 an hour."
"After an hour of cutting grass in the August heat, I sit down for my break, and this guy named Leroy asks, 'Was that worth $4.25 to you?' I quit the next day. Thanks Leroy." - nobodytoldme
Surprise Surprise?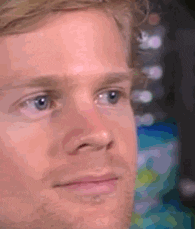 Excuse Me Reaction GIF by Mashable
Giphy
"Asked for a raise and was told okay. Next morning (Friday) I was told by the same person who agreed with the raise that I should put a few more years in and then we'll talk again."
"Locked my toolbox at the end of the day and called a tow truck to pick it up. Shop manager was shocked that next Monday to find a empty spot where my tools were and couldn't understand why I left." - NotSurprised92
"Lol, sure I'll give you a raise. Wait, no raise. We will talk in 6 years."
"That's some ahole sh*t. He had to realize mechanics can find jobs super quick. I walked out on a Thursday, had a job by Saturday. Started work on Monday." - xabhax
Figure It Out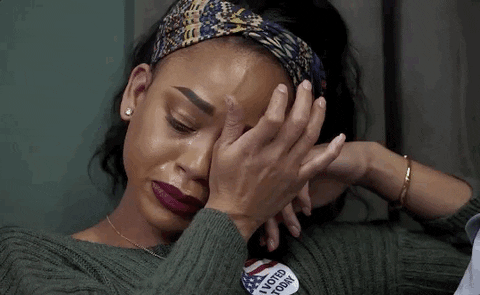 Sad Pauly D GIF by A Double Shot At Love With DJ Pauly D and Vinny
Giphy
"My grand-father, who I considered like a father, passed away after a long stay in hospital. We were closer than he was with his own kids, and our bond was quite special."
"I spoke to my manager about getting the day of his funeral off, since I was organizing part of the arrangements, and having a day or two of bereavement leave, and he agreed."
"The day of the funeral finally comes and the staff start calling me, leaving me messages asking why I'm not at my shift, and telling me, while I'm in a suit hosting family members at the funeral home, that I have to find someone to replace me or face repercussions."
"Needless to say, I told them to figure it out, and never looked back." - Cavalleria-Rustica
"This happened to my wife. She was at work when her mom called to say my wife's grandma had died."
"My wife, sobbing, told her manager that she needed to go home. The manager said 'if you leave now, don't bother coming back.' "
"My wife took off her work apron, handed it to the manager, and said 'I'll come by for my final paycheck.' "
"The manager had the nerve to call and pester her at home: 'so you're not covering your shift tomorrow?' No, Frank."
"This was a summer job when she was in college way back when. I'm proud of how assertive she is." - GummyKibble
Dollars And Deceit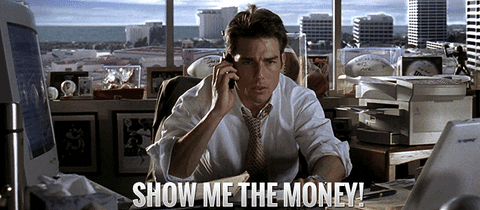 jerry maguire GIF by Jerology
Giphy
"Walked in to the interview, everything went well, accepted the job offer."
"Went to the front desk to do the paperwork and noticed that the contract had a different pay amount, and that I would be 'interning' for the first month for $100/week."
"I asked first about the amount difference, was told 'oh, this the standard contract, it just hasn't been updated for your specific offer.' "
"I told them they'd need to edit and initial the changes before I would sign. 'Oh...that's not how things work here." "
"I thanked them for their time and left without signing anything. They called me back on the day I was supposed to have started asking where I was."
"I told them because didn't sign the contract, I was never an employee....hooo boy that was a fun call." - CowboyFleeborg
"Similar situation for me."
"Back in 2012 I was looking for a job in anything other than food, but got desperate. This burger place had just opened up and was desperate for workers. They advertised on their window $11.75 and hour starting for all positions."
"I applied, had an interview basically the second I turned in my application and got hired 20 minutes later. At the end of my shift (which was about 3 hours), they said they would start me at minimum wage, 'because you haven't finished your bachelor's degree yet.' "
"I was speechless. If I had finished my bachelors degree why would I be working here?! And for such low pay!"
"I told them to cash out my pay immediately and I would not be returning because of their deceit. There weren't any stipulations anywhere on the sign that said anything about needing an undergrad degree for that much pay."
"They cashed me out at $11.25 per hour and I left. They closed down back in 2018 and every year Spirit Halloween takes over the location. F*ck'em!" - Embershot89
People Share The Most Selfless Thing They've Ever Secretly Done | George Takei's Oh Myyy
The Owner's Son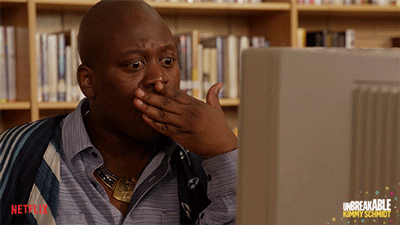 Shocked Oh My God GIF by Unbreakable Kimmy Schmidt
Giphy
"Worked for a privately owned bakery for exactly 1 week."
"The owner's son comes in, walks passed the counter and into the bathroom. He comes out a few minutes later without acknowledging me or my coworker, gets into his car and drives away."
"We both looked at each other then opened the door only to find this guy literally sh*t all over the toilet seat and the toilet paper holder."
"I called the owner, told her what happened and she said to 'Deal with it.' So I asked my coworker if she wanted to clean it up because I wasn't going to."
"She declined and I told her I was walking out. She did as well."
"We locked up the store and told the owner we quit, but would reconsider staying if her son came back to clean up his own mess. She yelled and berated us for 20 seconds before I said goodbye and hung up."
"He was 22 at the time and I'm pretty sure he had a drug problem. When I started working there he was an employee for a day or two before his mom came in and told him to leave after finding out he was taking money from the register."
"I think on that day he had enough and decided to do what he did to get back at her. My coworker and I were caught in the crossfire and bailed out of that situation fast." - Edge80
Denying The Commission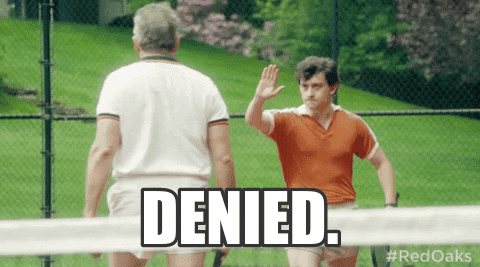 Rejected Red Oaks GIF
Giphy
"I worked for a T-mobile store (authorized reseller, not an actual dealer). One week, I had an amazing week (sold 55 phones, brand new activations on a business account with 55 high end phones at that time)."
"When I got my next check, they said my paperwork was not in order and thus they couldn't pay me."
"As a side note, they always told us to make copies of all paperwork in case this happened so you can show it to the manager and get it resolved within a day."
"I went over my back up paperwork with my boss, he said everything looked to be in order and he would have the office cut me a check."
"I went to the office, and they told me it was still not in order. I immediately gave them my store key and quit on the spot."
"I did go through collections and they did settle before I took them to court."
"The company did go out of business after a few years because they tried that with many other employees and eventually lead to an investigation by the government (according to an old coworker I bumped into years later)." - Jim105
Very Unprofessional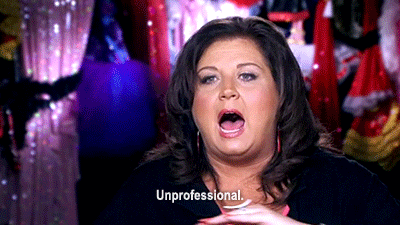 dance moms GIF
Giphy
"Worked as a cashier in a local shop, one night 2 guys came at me with knives trying to get in the till."
"I just walked away and said have at it as it wasn't worth the minimum wage to get into it with a couple of guys waving knives at me."
"After they ran out of the store, I picked up my mobile and called the police then called the store manager."
"The next day, the district manager meets me as I turn up for my shift the very next day. Her first words were not to ask if I was okay, but to tell me that it was 'very unprofessional' of me to have been on my phone while at work."
"I laughed at her and told her she could take this as my notice and walked out. I never had a problem with being held up but the sheer gall of that got me."
"I later got a message from the supervisor that was scheduled with me that evening. They were asking why I wasn't there as it wasn't like me to miss a shift. (Only time I dipped was when I got took to hospital for a night)"
"After I explained to him what happened, he and his partner put their notice in within the week. Along with the other cashier they got in to cover that shift."
"That district manager got made 'redundant' the following month, the manager of the store messaged me explaining that they have been looking at getting rid of her for a while and me walking out was the catalyst."
"Near enough sunk the store." - Voidsleets
Hopefully, more and more businesses truly lean in on the idea of people as actual humans rather than resources. If they don't, we expect to see a lot more of those angry "nobody wants to work" signs - so at least we'll get some laughs.
Keep reading...
Show less
We are living in times when job opportunities have been scarce due to global health concerns. And when an opportunity for employment arises, we go for it.

But there are those jobs that are not worth holding on to. Maybe the job description was deceiving. Or it could be the boss is a tyrant who views their workers as than human beings.
Are these conditions worth the weekly paycheck? Not always. Sometimes, maintaining one's dignity is more valuable than being a cog in a machine.
Curious to hear from those who have reached the limit of their patience, Redditor Firelampan asked:

"People who've quit their job on the spot--what did it for you?"
Bosses are supposed to be the ones setting good examples. Not these bosses.
Lazy Manager
"Worked at Best Buy years ago. This was my second job, that I worked at for fun and the discount. I only worked weekends because I had a full time job during the week."
"Back then, when the next weeks schedule was done a manager would hand it to a person on the team and they'd put it in our little media backroom. Well, I didn't have my schedule for next week yet and it was Saturday. There were none to be found which was odd. I asked a manager for a copy so I knew when to come in and she refused, 'I'm tired of printing out new copies for people.'"
"Well, I can't come in if I don' t know when I'm supposed to be there. So, I just never showed up again. Best part was that I still got the discount for like 6 months."
– nicless

The Bad Boss
"Worked at Staples when I was a teen, I had never called in sick before to this job. In fact, I covered other people's shifts when they were sick quite frequently. I would get called in at least once every couple of weeks to work for someone who had called in."
"So the one time I'm sick and call in, the worst manager was working... total b*tch... she told me I had to come in or bring in a doctor's note. I told her to go f'k herself and quit."
"Later that day, the general manager called me to ask me to stay... so I stayed. The s**tty manager lasted another 2 or 3 months, I lasted about 6 months after that and quit for a better opportunity."
​Unsatisfied Store Manager
"I was the overnight assistant manager at Walmart a long time ago and was scheduled for 12 hour shifts with only 6-8 associates a night to stock an entire store. It was a pretty high volume store so it would get a GM and grocery truck every night. GM trucks would have about 2000 boxes of merch and the grocery would be about 1300-1500 pieces. You have to prioritize grocery obviously because it expires, so I would put every employee in grocery. Every one of them had their particular aisles and refused to go anywhere else. If someone called in, I did their job on top of managing the entire store. It f'king sucked, and I got regularly yelled at by the store manager for not getting everything done. This meant working 2-4 hours past the end of my shift to finish stocking and scanning overstock."
"One night, I had 4 call ins, this meant I only had 2 employees working and me. I stocked 4 aisles by myself, faced the store, scanned overstock, and still had to run the overnight operations of the store. I messaged my co-managers (the management structure was so convoluted) that I had literally no one and I was doing everything I could. They got the department managers to come in early to help stock their sections, but that meant there wasn't as much coverage for the day."
"The store manager comes in at 7:30 every day to inspect work and give notes to assistant managers for what needs fixed for the day. He came in and saw all the department managers stocking their merch, and flipped his sh*t on me. Called me into his office and put me on with our market manager and they both just ripped me apart. I explained the situation and they literally said 'that's not a f'king excuse to not do your job. You should have told them to come in and do their job or write them up.' I looked at my store manager and said 'nope. I'm done.' Threw my badge and keys on the table and walked out. Said goodbye to my (now former) employees and friends, got in my car, and never looked back."
Absolutely No Sympathy

"I worked at a customer support centre for a pretty big company. Employees were just numbers and our manager was a total d*ck."
"An employee's mother had an operation for the removal of a tumor (don't know what kind or where) and it was only a 50% chance she'd survive."
"When he asked for 2 days leave, the manager said no because the influx of calls and emails was too high. The man quit on the spot and so did half the team and I."
"I work at a better company now with a manager that appreciates good work and tells us to take time off himself if we look like we need a break."
The Arsonist
"Boss was arrested for murder. Turns out he burnt down one of his buildings for insurance money and someone died. I had been there for only a couple of weeks, he was the most abusive person I've ever worked for by far. I was debating it, so when the police burst in and arrested him, I locked up and left."
Leaders are supposed to set good examples but also have moral codes. These bosses' personal lives were out of control.
​Internal Affairs
"My boss not letting me have a weekend off for my best friend's wedding because a co-worker wanted a dirty weekend away with the married guy she was having an affair with. The married guy was my boss by the way."
"I was a bridesmaid and had booked the weekend off 10 months in advance. I quit on the spot and told my boss' wife he was cheating on her. My best friends wedding was lovely."
Embarrassing Things People Did As Kids That Still Make Them Cringe | George Takei's Oh Myyy
Refusing Illegal Tasks
"Company asked me to forge documentation so we don't get in trouble with health and safety. They choose me cause I needed and love the job. When I said no it got worse. Other started bullying me too. I walked out not knowing how will I pay bills next month. on Thursday evening. Even though I am not religious and I haven't been in church for decades for some reason last thing I thought was 'be the stone that breaks the waves' from old testament. I am ok now. Got new job and long term contract. Half of the management got fired 6 months after that."
Power Trip
"Got food poisoning the night before a shift at a family-owned farm/farm stand/plant nursery. The protocol was to call or text the manager who was on duty the next day as early as possible so they had time to find someone to cover. Well what I got back was a tirade from said manager saying that she feels like shi*t every day and that it's no excuse for missing work, even though I was really the only one busting my a** on the daily - there at 4 am to prep for market, staying late to help fix things and care for the animals, etc. The next day I went in to pick up my last paycheck and told the owner that I would not be returning to work because her daughter was way out of line and I refused to be treated like I had been. Apparently I wasn't the first person to quit because of this."
Raciest Policy
"My boss in an electronics department told me (and my coworkers) that if my customer was black, don't let them buy the new iPhone with cash and insist that credit is the only option, because that way he can record their names and it prevents them from using 'all the stolen drug money', which is what he called cash whenever it was from a black male."
"I protested, he thought I was joking. My coworkers thought this was run of the mill and just did what he said. Ethics department never raised a finger. I never showed my face there again."
"I worked with that company for 5 years and that was my dream job. Still haven't recovered from the whiplash."
– Sykes19

The pressures of the job itself made these Redditors put in their notice.
Understaffed Daycare
"I was made to take care of 20 toddlers under 3 with about half an hour of training at a daycare. I quit day 2."
Italian Restaurant Stresses
"Was working a high volume Italian restaurant chain on garmo (salads, appetizers, flatbread pizzas, desserts). Easily over 1000 covers a night. Had been there about a year and the last few weekends I had to solo the station when usually there were 3 of us. One beautiful summer Friday evening I found out I was soloing again, so I asked the chefs if anyone was available to give me a hand. They said they called a guy who'd be in by 6pm. 7pm rolls around and still no one. I was way too burnt out to do another weekend of this alone. I tell the chef right at the window I'm putting in my apron and towel - I'm done. Walked out, waved goodbye to the servers on the patio, and drove home. Best feeling ever."
Taco Hell
"I was working as an assistant manager for a large Taco Bell franchise. We were required to work 60 hour weeks (5 twelve-hoir shifts), on a shifting schedule. Each assistant had a roaring schedule (mine was opening Tue, mid shift Wed & Thurs, closing Fri & Sat). We had no general manager, so I was doing a lot of that work."
"So, here I am with no real, healthy sleep schedule, newly married and never seeing my wife, working insane hours."
"Well, the other assistant (there were only two when there should have been three) was young. Very young. Like, fresh out of high school young. So very immature with a lot to learn."
"I came in on one of my closing shifts (we were open until 3am, so shift was 4p-4a). Store was a disaster. Again. Dirty as f'k. Sh*t all over the lines and the floor. No food prepped or cooking. Again. As it was every day I came in behind this other guy."
"I stood there for like three minutes. Just...in shock. Furious. About to snap."
"Instead of carefully took my store key off my key ring, gave it one of our team leads, and asked him to go back to give it the other manager, and walked out."
– dk1701

Overworked And Underpaid Nanny
"I worked as a nanny during the day and a waitress at night. I nannied for two kids, a 3 month old and his 5 year old brother who was severely autistic. Needless to say it was very challenging but the 5 year old and I eventually got into a good groove. His parents did not offer any support to me or their child. The dad "worked from home" which meant he played call of duty on the couch all day while I took care of his kids and the mom was at work.
Eventually I noticed my paychecks were gradually becoming smaller and smaller so I brought it up. The dad told me he didn't believe I should get paid for the times he was in the room. THEN he asked me to choose between my waitressing job and my nanny job, as they were concerened my waitressing job was making me too tired. I was tired, but I was tired of trying to single handedly handle their son's autism without any support. I immediately handed him his baby and his housekey and quit. The look on his face was priceless."
The Punishment

"Got in trouble working at Walmart one time. Christmas season in the toys dept. Everything was everywhere. Didn't have enough time in the night to put everything away and restock all the shelves. I was given 3 days off without pay (which I probably would have put up with), but then they also wanted me to write an essay on what I did wrong and how I would correct it. I just told them to f'king do it themselves then, and walked out. Best thing, really."
I should have quit my first job working at a video game store inside a mall.
I barely started working there and my co-worker would always "take breaks" that ended up being her private shopping time.
And all the advanced transactions – some of which I wasn't trained for, like returns and exchanges – transpired when she was on her private shopping spree...I mean, break.

One time, a kid leaned over while I was helping another customer and stole one of the games. Of course, this happened when I was manning the tiny store by myself because my co-worker was on her over-extended thirty-minute break.
I called security and dealt with the little crook's angry mother who refused to believe her son helped himself to a five-finger discount on my watch.
When I found out my co-worker was on her hour-and-a-half lunch date with our boss when the theft happened, I was livid. But as a 15-year-old, I hadn't developed the guts enough to make a dramatic exit. So I suffered for another month as an employee and eventually quit when school and band practice resumed.
Keep reading...
Show less
The labor of workers is what keeps the world running. As we entered into the pandemic in 2020 it became clear just how essential workers from even less glamorized jobs are to our everyday life.
While we had brief shows of appreciation and special weeks for different jobs, there are two basic things employers quickly forget would show the best appreciation of all—treating employees with respect and fair pay.


In my early twenties I had a job working at a fast food style coffee shop. The owner —former now— always worked way too close with the ladies in the drive thru. He did this so he could monitor us during peak hours. Not for our performance really, but so he could berate his female workers who had to use the bathroom anytime between the hours of 5am-10am.


He would tell us to not drink water before bed prior to an early morning shift and become upset if we stopped to get a drink of water during work. He would make comments daily along the lines of "I've never seen a group of women who have to pee so much" or "women must all have weak bladders". It was humiliating.

To this day none of us ever figured out what his fixation with women and bathrooms was about, it wasn't the time as we were always fully staffed. It was creepy and I hoped right out of there after a short time.
Knowing there were many other people out there with horrible first-day experiences, Redditor redmambo_no6 asked the question:
"People who quit their jobs on the first day, what was your 'I'm outta here' moment?"
People from all different types of work shared the moments that made them nope right out of the job.

Abusing an employee's need to work isn't ok. It's 2021 and past time employers step up and do better.
Want to "know" more? Never miss another big, odd, funny, or heartbreaking moment again. Sign up for the Knowable newsletter here.
Keep reading...
Show less