Public marriage proposals are such emotional events, even passersby stop what they are doing to applaud the presumably happy couple.

But not all proposals are the romantic milestone everyone expects them to be, especially when "yes" is not the answer.

When a woman ultimately says, "no," the courage it takes for her to turn down a proposal is better in the long run for both people involved.

Wondering about how life resumed for women post-proposal, Redditor Interesting-Cod478 asked:

"Women who got proposed to but rejected it, why and how did your life change afterwards?"
The Ring
"I was dating a guy for two or three weeks (yes, weeks) and he proposed to me. With a ring he had bought for another woman. Which he told me as he was proposing. I said no and kind of slowly ghosted him because YIKES."
Wasn't A Joke
"I guy a went on one date proposed to me because he wanted a green card. I thought he was joking at first. He wasn't. I said no and then goodbye forever"
– azick545

"It was honestly hilarious. I was like at least put in some more effort, string me along, etc. But at least he made his feelings apparent quickly and I didn't have to worry anymore."
– azick545

"I was proposed to in a pretty nonchalant manner by a fellow student at my local community college. I had just turned 21 and he was in his mid 40's. The class was scuba diving."
"He has some really good reasons for me to marry him. He was completely deaf, so his proposal was witnessed by an interpreter and most of the class. He spoke well but was a little hard to understand at times so he signed and spoke the whole thing while the interpreter stood by to make sure I understood what he was saying and had to repeat a couple things that I didn't catch."
If It Weren't For The Age Gap
"The class was pretty laid back so we were all mostly comfortable with each other. Hanging out chatting after class one day and he gets my attention and says, very matter of fact 'we should get married, here's why' and proceeds to list several reasons why. Some of his reasons were- I could drive his Jeep any time I wanted. It was a brand new Rubicon and I had an older grand cherokee so obviously I love jeeps. I could play music as loud as I wanted any time of day, wouldn't bother him. We would never fight because he couldn't hear me anyway. He had a job, collected disability pay, and had his own home so I would never have to work. I always looked so interested in what he had to say. That one was him picking on me because he knew I didn't know sign language."
"He said it would be perfect. I agreed with him that it did sound pretty great, except for the fact that he was the same age as my dad and that was weird."
"I kindly declined his proposal and he joked about me crushing his spirits and how I was the only girl for him. He pretty much dropped it but he would ask me occasionally throughout the rest of the class 'change your mind yet?' Then we'd have a good laugh."
"He was the nicest guy, I think just a little lonely. Always kind hearted and loved helping everyone out. He loved that he was on an even playing field while scuba diving, no one can hear under water. He was fun to be around. Too bad he was twice my age."
"Jerry, if you're out there and remember this interaction, I dated a few guys that were sh*t compared to how you'd treat a lady and I thought about your proposal often. I'm incredibly happy with the boy that I hope to marry someday and I genuinely hope you've found someone that makes you happy and treats you well."
– S-Crumby
The Senior Player
"92 yr old man at a nursing home used to ask me and every other woman to Marry him daily. Had this whole sweet old man line 'your the most beautiful woman I've ever seen' , I would reply 'I just heard you say the same thing to that nurse,' 'but you're prettier.' Made me smile everytime. He had forgotten he was already married."
White Water Rafting Followed By A Proposal
"A friend of mine in another city, had been trying to set me up with her male roommate. He, whom I had never met, had won tickets for white water rafting in BC... about 6 hours away for me, and 3 for him... we decided to do a weekend trip to meet (my friend insisted that he was cool... otherwise I never would have gone without knowing him for a while.
Anyways... I was *very* clear that we wouldn't be having sex, since we had just met, and he agreed, pointing out that he was strict Roman Catholic and would not have sex until married."
"First night we fooled around a bit, but nothing much.... went white water rafting the next day, had dinner and back to the room."

"He very excitedly tells me that he met a priest who was also staying at the hotel, and PROPOSES!!!! With complete seriousness!!"

"WTF!! Everything after that went rather poorly. He didn't understand why I wouldn't see him again after dropping him off at home."
"Did not change my life, other than have a good story...."
Sweet Little Suitors
"I worked as a pre-k teaching assistant for a year. The head teacher was married so they called her Mrs. while I was not so they called me Ms. Eventually some of the kids noticed this difference and started asking why head teacher was Mrs. and I wasn't. We explained that she was married and I didn't have a husband. Upon hearing that one little boy loudly stated 'I will marry you! I want to be your husband!' I got 3 other proposals from 3 different 4 year olds that day. Definitely not a serious story, but one that always makes me smile :)"
The Deadbeat
"Okay, my first boyfriend. Started dating in high school, my end of 9th grade year, he was a senior. So he went off to college, lived 2 hours away. Cool, everything was cool. My junior year, he moves back to our hometown. Didn't talked about, I asked him about college. He just said he didn't want to go anymore, then I realize this guy can't commit to a job, like in high school I understood the slack. I ended things with him that summer before I went for my senior year."

"Years pass, I moved to a different city 3 hours away from our hometown. We get in contact again because I was getting over a bad break up. After 2ish years we start dating again. I think he finally has good things going for him, like his future. Well, after dating for like 3 months he moved in with me, I didn't want this, yet his mother was being kicked out of the house they were renting. ( due to non_payment )
About 6 months into him living with me, he's jobless, demanding I pay his car payments, won't clean up anything, and just plays games all day. He asked me to marry him, I said yeah cause people were watching but I promise you, and soon as we get back to my apartment, I give him $40, tell him to go back to his mom's so she could take care of him for the rest of her life!!"
Keep reading...
Show less
There have been so many different, inventive ways that people have proposed to their partner. One Youtube search can show you countless proposals. But it's not just about the act of asking someone to marry them- it's also the events that lead up to that unforgettable moment.
ashleyhellsan asked: Happily married couples of reddit, what was the moment you realized this is the woman/man you were going to marry?
Keep reading...
Show less
An epic marriage proposal is redefining what it is to be engaged in a whirlwind romance.
Joey Krastel is a meteorologist and risk analyst for the Maryland Emergency Management Agency. His obsession with natural disasters began when he witnessed his first tornado at four-years-old.
He is also a romantic whose recent proposal to his longtime boyfriend, Chris Scott, is blowing us away.
Krastel posted a picture depicting "The 2 loves of my life" with a dramatic tornado looming in the background.
The 2 loves of my life https://t.co/Cv4eviechZ

— Joey Krastel (@Joey Krastel)1559088293.0
Scott's mutual fascination with storm chasing, which involves the treacherous act of tracking down and documenting cataclysmic weather events, brought the two together when they followed each other on Instagram.
According to NBC News, Scott reached out to Krastel, who posts pictures of storm sightings, and inquired:
"Hey, do you actually chase tornadoes?"
@NimbusStorms Man look you have no idea the storm that's coming your way .... and there's a tornado behind you too.… https://t.co/fZTt7AlsNk

— Benjamin Dixon (@Benjamin Dixon)1559094839.0
Krastel, Scott and two of their friends sought out a Tornado in Salina, Kansas that the National Weather Service declared a "tornado emergency" for several counties in the state.
When the thrill seekers followed the tornado to Tipton, Krastel knew it was the right time to seize the moment and declare his love.
"It all just kind of came together and happened so quickly. I was like 'OK, this is it.'"
@NimbusStorms https://t.co/zPh06nriau

— Dwight (@Dwight)1559135565.0
@phil_ius @NimbusStorms Tornado likes to watch.

— Buckboy (@Buckboy)1559234472.0
Although the storm appears further off in the distance, Krastel said it moved closer towards them. But for him, the adrenaline rush was worth getting down on bended knee to pop the question.

"I called to my friends to get back in the car. I was just so emotional just because it was my happiest place, being with him next to the storms."
@NimbusStorms "I REQUIRE EXTREME VIOLENCE FOR THIS PROPOSAL." But seriously, that's awesome, congrats!

— Vote Blue 2020! Keep fighting. (@Vote Blue 2020! Keep fighting.)1559091614.0
The Douglas County Office of Emergency Management did not report any fatalities but said 15 were hurt from storm-related injuries.

Despite capturing the exciting moment, Krastel said safety is of utmost importance and acknowledged that chasing storms can be dangerous.
"People need to listen to the warnings and listen to the National Weather Service and their local meteorologists. They know what they're talking about and their only goal is to save you."
Twitter congratulated the couple on the adrenaline-infused proposal.
@NimbusStorms That is fucking beautiful. Congratulations!

— Mike Scantlin (@Mike Scantlin)1559148430.0
@NimbusStorms That is fucking beautiful. Congratulations!

— Mike Scantlin (@Mike Scantlin)1559148430.0
@NimbusStorms Congrats guys! This is absolutely epic!

— Scot Pilie' (@Scot Pilie')1559106549.0
@NimbusStorms Coming soon.....'The Wizard of Awwwwww'.

— Richard Abbott (@Richard Abbott)1559099980.0
@NimbusStorms Twist and shout, brother.

— Marty Olliff (@Marty Olliff)1559436635.0
Because Twitter is a strange place, users couldn't help but notice Krastel's choice in footwear for the special occasion.
@NimbusStorms I couldn't resist. https://t.co/4KlWryGrrq

— Ryan Davidson (@Ryan Davidson)1559183600.0
@NimbusStorms hope one of them is not those sandals 😂😂 https://t.co/2iVsk3Nb7G

— Bob A Booey (@Bob A Booey)1559158200.0
One user offered their congrats and a friendly warning in one tweet.
@NimbusStorms Congrats! Now put the cell phones away and GET AWAY FROM THE TORNADO.

— HikingBerry (@HikingBerry)1559145610.0
The bar is set.
@NimbusStorms If my future husband does not propose to me like this I'm suing

— ⛈Ryan⛈ (@⛈Ryan⛈)1559095198.0
@NimbusStorms @ImRonRoberts why didn't you propose to me like this

— Ethan Smith (@Ethan Smith)1559093376.0
Scott seems like he's floating on air, but we hope it was Krastel who swept him off his feet.
Keep reading...
Show less
Traditionally speaking, when we think of proposals when it comes to hetero couples, it's pretty much always the man who proposes to the woman. We see it in movies, TV, internet specials, read it in books - there really aren't a lot of examples that most people can think of (aside from arranged marriages) where there is any deviation from that. He proposes to her. That's it.
But what if that wasn't it?
Keep reading...
Show less
Members of an upstate New York fire department got together this week to hold a very special drill for one of their own.
On Monday volunteer firefighter and EMT Becca Pelletier was in full gear for her weekly training with the Barneveld Fire Department.
Pelletier was in for a big shock though when she finished the exercise and came out to find a surprise proposal from her boyfriend Lt. Kelby Ueltschi with the help of their fellow firefighters.
One managed to capture the moment on video and it's the sweetest thing we've seen all day.
The video begins as Pelletier is crawling out from underneath a door as she completed her mask confidence training drill.
Pelletier starts gathering gear when a voice off-screen shouts to her, when she looks up and sees what's happening Pelletier drops everything.
Behind two fellow fire fighters holding a hose with the message "Will you marry me?" her boyfriend Lt. Kelby Ueltschi is down on one knee holding out a ring.
Pelletier quickly sheds her gear and rushes over to him shouting "yes." The pair embrace as the rest of the team cheers on the newly engaged couple.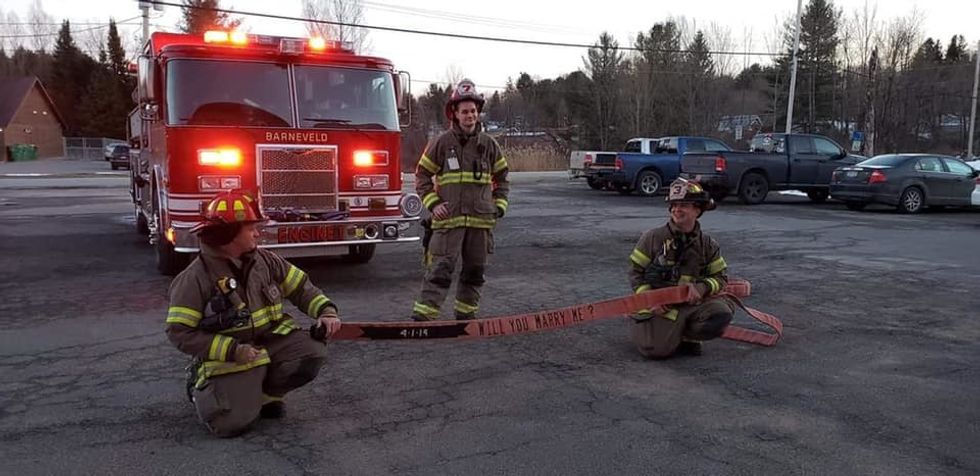 Barneveld Fire Department/Facebook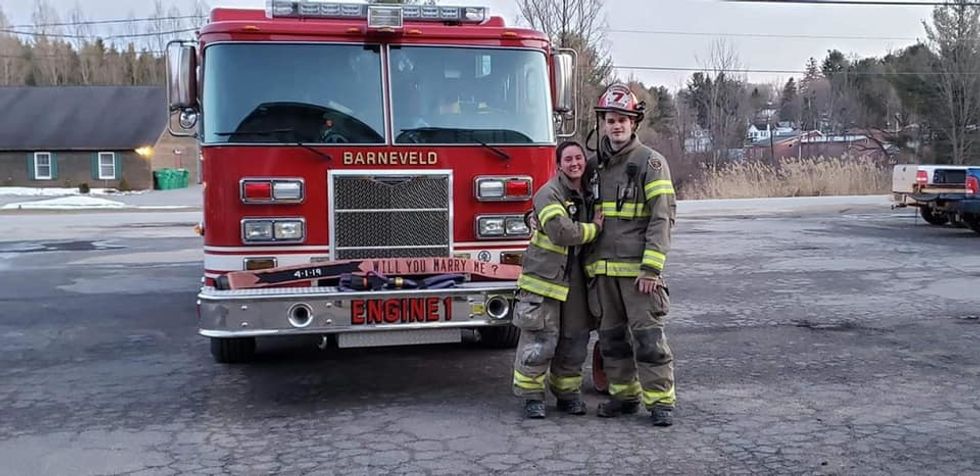 Barneveld Fire Department/Facebook
The video was later shared on Facebook where others joined in the celebration for the happy couple.

Christina Pointon/Facebook

Carey Lindfield/Facebook

Sandi Gerrish Hartsough/Facebook
As far as proposals go people seemed to think Lt. Ueltschi had come up with a winner.

Marcia McKinney/Facebook

Shirley Hart Branch/Facebook

Tricia Cutright Boyd/Facebook
And based on Becca's reaction she thought so too.
@CBSNews @alexanderjaso1 @foxx_loveee look how fast that glove came off for that ring lol

— SyRok Foxx (@SyRok Foxx)1554378580.0
@CBSNews The speed at which she took off that left glove, there was never any doubt.

— Michael Pechar (@Michael Pechar)1554327060.0
The rest of the Barneveld department wished the couple well, saying they were glad to be apart of the moment.
"Our fire department is like a big family and we were excited that we could assist with the proposal. Congratulations and Best wishes to Becca and Lieutenant Kelby Ueltschi."
Keep reading...
Show less