A few years ago, the Idaho Potato Commission (yup, that's totally a real thing) created a giant model of an Idaho potato. The enormous spud toured the country on the back of a flat-bed truck for six years on "The Famous Idaho Potato Tour" with the purpose of drumming up potato sales.
We didn't know they had declined, but we guess things are okay now because the giant spud was retired in 2018. A new potato mascot would take over, but that still left a major problem.
The Potato Commission had literally no idea what to do with the six-ton spud they had just sitting around. This thing was massive; almost 30 feet long, 12 feet wide, and about 12 feet tall. Would they just put it out to pasture and let it rot?
Enter potato-savior Kristie Wolfe.
Kristie is a tiny-house developer who had an idea so insane that it might just be brilliant. She contacted the Potato Commission and asked if she could turn the potato into a room that people could rent out.
And folks, that's exactly what she did. Kristie renovated the super-spud and turned it into an AirBnB that looks ... well ... perfectly potato-tastic on the outside: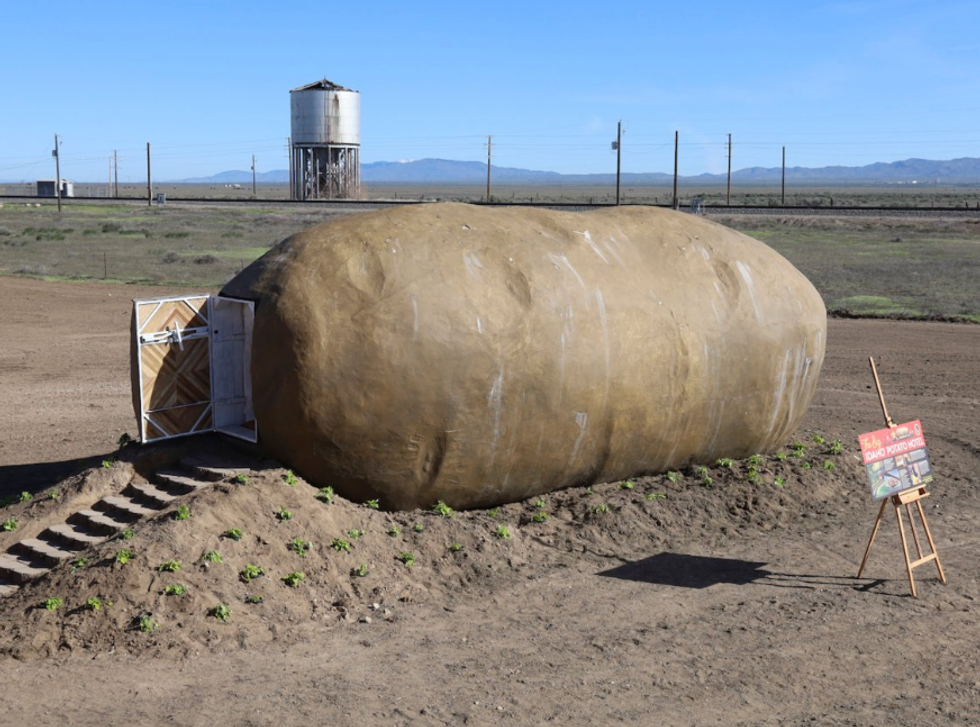 @pxrroud / Twitter
The exterior doesn't seem to have changed much - and that was the point - but the inside is honestly kind of dreamy.
The walls look like they were carved out of mashed potato, but the rest doesn't have a spud vibe at all. The queen-sized bed is adorable, there are tons of lovely plants (though there are no windows, so light may be an issue for them) and a seating area.
There's even a chandelier made of antlers!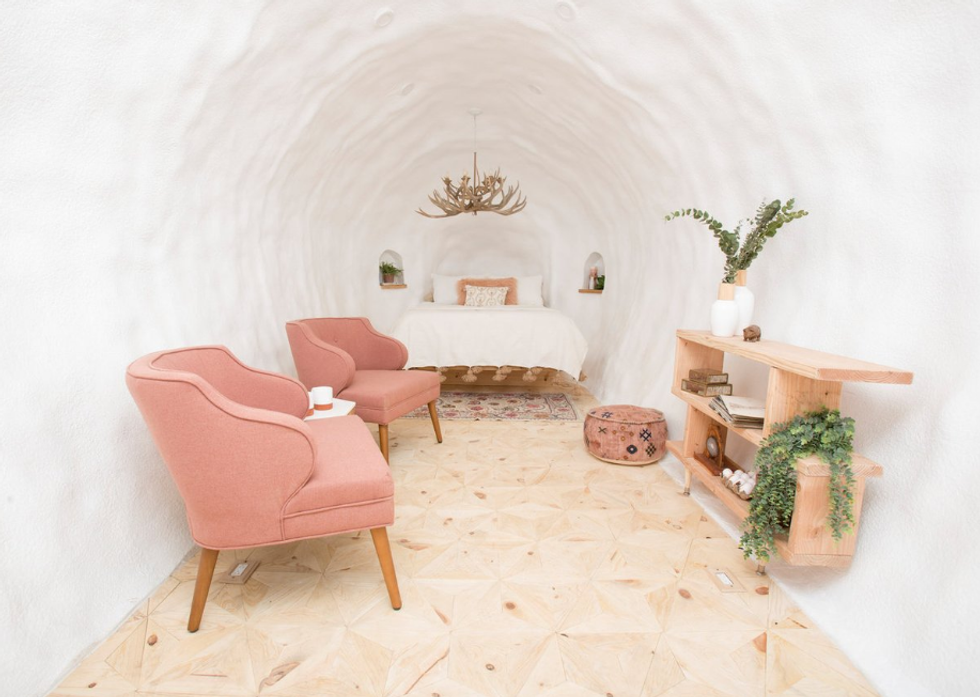 @pxrroud / Twitter
You're noticing the lack of a bathroom, right? We knew it.
Just because there isn't one in the spud doesn't mean there are no facilities on site. A short walk away from the potato is a grain silo that has been converted into a bathroom that's cool enough for even the pickiest potatoes.
It's got more plants, a round tub, toilet, sink ... and is that a fireplace?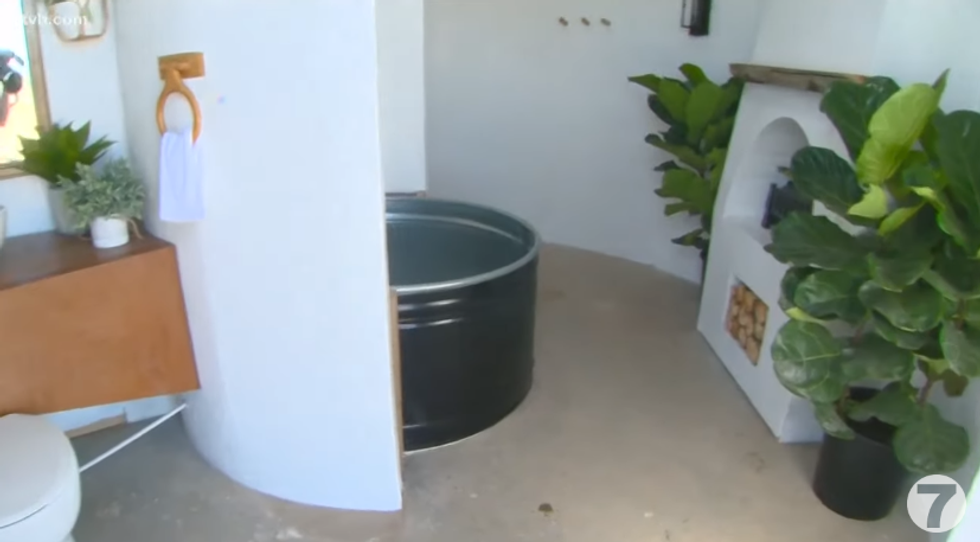 KTVB / YouTube
The spud is garnering some serious attention. Check out this quick little news clip.
Big Idaho Potato turned into a hotel www.youtube.com
The room opens at the end of May, but you can already book it on AirBnB for about $250 a night after fees. Be aware, though, there's not a lot going on in the area.
The potato kind of is the attraction - so if you're looking for nightlife (or privacy) this probably isn't for you just yet. Let some of the fascination die down so you don't have passers-by just gawking at you while you're making a run to use the facilities.
As news of the room spread around Twitter, people shared their thoughts... and potato jokes.
@thisisinsider @KariVanHorn Hated the laundry service there... too much starch! (Insert rimshot here)

— ThruTheGears (@ThruTheGears) 1556131511.0
@IdahoPotato @kristiemaewolfe @MissIdaho @BigIdahoPotato I think I need to bring Spuddy Buddy for a visit! https://t.co/FUjRtomeqV

— Kaitlin (Flannery) Garske (@Kaitlin (Flannery) Garske) 1556140987.0
@lindahubbardart Must be baking in there.

— David Dipré (@David Dipré) 1556204245.0
@chloewitty @thisisinsider Good god yes.

— Amy Marie Maher (@Amy Marie Maher) 1556180218.0
personally relate to the AirBnB in Idaho that looks like a giant potato on the outside but then the inside is surpr… https://t.co/gCN7YjQphO

— Vicky 🍒 (@Vicky 🍒) 1556108840.0
You know those commercials on TV showing the giant Idaho potato getting trucked around the country? They turned i… https://t.co/d8h8kAbeze

— Cody Swainston (@Cody Swainston) 1556039217.0
@lindahubbardart Would that be a "suite" potato?

— AndrewAshton (@AndrewAshton) 1556204598.0
Imagine a bunch of Idahoan's getting baked in the new giant potato hotel..... it'd be a bunch of baked potato's in a baked potato

— Mikey (@Mikey) 1556047107.0
Ok now Ireland can't let Idaho one up us on the Potato love with this. I demand someone build a potato hotel here 2… https://t.co/gAGVUxgH57

— Misslunarmagick (@Misslunarmagick) 1556199121.0
nothing exemplifies the totalizing aesthetic of airbnb better than the interior of this potato-shaped hotel in the… https://t.co/qf54IMZzSQ

— Jess Bergman (@Jess Bergman) 1556123798.0
So what do you think? Would you stay in the spud suite? Let us know!
Keep reading...
Show less
Okay first things first. I'm going to start this off by reassuring you that there will be actual recipes in this article. I'm not a terrible person. You're welcome.
Now that we've gotten that out of the way, let's get to the real meat and potatoes here, shall we? Yeah. Peep that food pun. We all love recipe articles, but let's be honest - how do you know if you can trust the person's palette? How do you know you're not taking recipe advice from whoever came up with that peas and mayo pizza abomination? Ask chefs. Chefs entire job is to know food, right? One redditor asked:
Chefs of Reddit, what's the greatest recipe you've ever come across?
These were some that sounded tastiest (and easiest - we know our audience is a busy bunch) to us. Have fun fam!
H/T: Reddit

Keep reading...
Show less