Over the course of the last several years, anything in the career of airlines has become one of the most dangerous fields to be a part of.
I've lost track of the number of videos we've watched with passengers behaving badly.
And badly? That is an understatement.
What happened to flying the friendly skies?
It's all a mess right now.
And airline people need to vent and set a few things straight.
Redditor BluPillow wanted to from all the people who work the friendly skies. They asked:
"People who work in the airline industry, what are some things you think everyone should know about flying?"
These people are not your maids or personal assistants. And I would hope you treat those people better as well.
basics...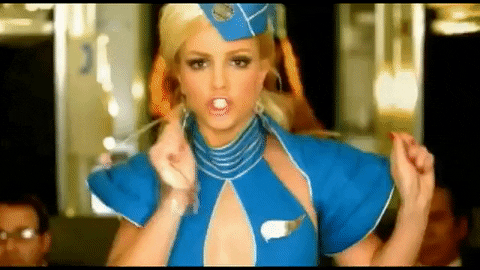 music video britney spears toxic GIF
Giphy
"We are there for your safety first, your drinks second. Also: we don't turn right back around after a 14 hour flight. How would that even work? I've been asked that so many times."
DerSaftschubser
Safety Concerns
"The reason you are supposed to open your life vest outside the aircraft in case of an emergency ditching is so that you don't float upwards while still inside the plane. This will trap you and increase your risk of drowning. Always open them outside or immediately before you leave the aircraft, should you need to evacuate on water."
DerSaftschubser
Difficulties Abound
"Flight attendant here. I think everyone should know or at least keep in mind that airline travel is difficult. You and your fellow passenger can expect to have: Stress, An altered food schedule, Lack of sleep, Swelling, Dehydration, Discomfort, Confusion trying to figure out new things, Social anxiety, Changing ambient pressure, Loud noises, Nausea, Being hot or cold, Boredom."
"Please remember your fellow passengers are traveling for various reasons. Hopefully it's vacation but very frequently I run into people going to funerals, going to get medical treatments and commuting to work away from their families. Everyone has a different story and many of us are having a rough day. onboard we all have the same goal. Get there quickly and safely. Including the staff. Have patience with each other and us."
soggy544
All in the prep...
"Worked one preparing meals that goes onto planes for a while. The reason why some things sometimes are or aren't one a plane. EX: type of drink, or a airlines doesn't have the normal cookie/meal they have on a flight EX: Uniteds delicious white chocolate cranberry, this is never the airlines fault this is ALWAYS the company (big one that's world wide is LSG Sky Chef's) fault. Either they ran out and substituted it or they can't find the item in their large freezer."
NorthwestIceman
You're Out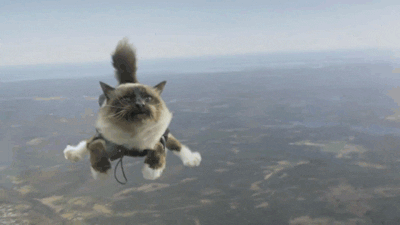 cat skydiving GIF
Giphy
"We will kick you off mid flight if you misbehave."
Dry-Addition9906
"Skydiving without a parachute. niceeee."
mrkitten19o8
See ya. There needs to be more of kicking the trash out.
Jailtime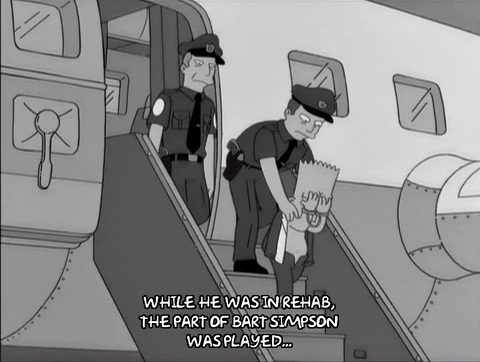 bart simpson episode 22 GIF
Giphy
"Interfering with the air crew is a felony. If you have grievances you can address them with the airline after you disembark."
starfishy
Too Heavy
"No one is physically capable of opening the cabin door while in flight because of the aircraft pressurization. So take comfort in knowing that if a crazy person gets up and starts frantically trying to open the door in the middle of a flight, they're not going to be able to do it at all. You could sit in your seat and watch them work on it for hours and it still won't happen."
EMPulseKC
Hit reset
"I work in System Operations. I try to keep it all on schedule. Here's a few: If you're flying from a small airport, it may be convenient, but it's also more limited on resources. That means if it delays, there's not much to mitigate it. Could go on for quite some time."
"Every aspect of the industry is highly regulated, from aircraft maintenance, to air traffic control, to crew duty restrictions, and more. Please be patient with delays especially around holidays and storms. It is an extremely delicate juggle with all of these challenges to avoid any delays. Got tons more but last one..."
"If you don't want to be delayed, take the earliest flight. There's a bit of a 'reset' overnight each night to start with a clean slate but late in the day, the chances are your plane has done multiple flights already. If any of those are delayed, yours is likely to delay too."
grilldcheese2
Simmer Down Now
"Alcohol has a greater effect on people in higher altitudes so know your limits and don't push them. Even if you have had a drink in the airport it can still effect you during the flight. As flight crew we do not care that it's your holiday, birthday, stag party, hen party or that you are nervous."
"If you are drunk and behaving like a jerk it will not be tolerated and you can be arrested and get a ban from the airline. And because airlines share their ban passenger list you could find yourself banned from a few airlines."
posh-old-bird
Scanner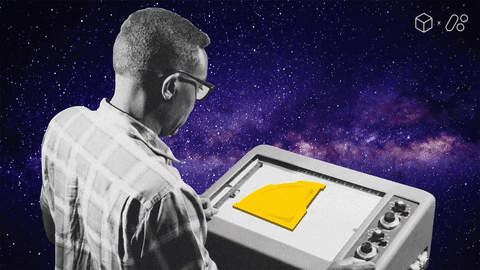 Space Box GIF by BoxMedia
Giphy
"In most European airports, you can enter the business class security lane with any ticket, not just business. The code scans anyway."
DerSaftschubser
Drink Up
"Your tastebuds are reduced by 30-60% on flights. So more salt and seasoning are added to the food so it doesn't seem bland. Might also be the reason so many crave tomato juice or bloody mary mix ONLY on planes. The air in flight is drier than most of the deserts in the world, this impacts the taste of the food as well as your need to hydrate."
"Make sure you are drinking plenty of water on the long trans-oceanic or even trans-continental flights. Flight attendant jumpseats are waaaaaay more uncomfortable than anything you are sitting on and are usually right by a stinky lav. So keep that in mind when you complain to a crew member about your seat. Jumpseats are about as comfy as those old plastic fold-up lawn chairs."
Angelsunrise
Say Hi
"As pilots we are just darn lazy. We focus our attention on finding ways to avoid anything becoming busy, rushed or any time our capacity might be stretched. We do everything for the simple life. Sometimes that means using the autopilot as much as we can. Sometimes it means manual flying and looking out the window."
"Whilst some of us might secretly relish the opportunity to go off piste and demonstrate our prowess as great aviators in adverse circumstances, no-one wants a sweaty day. Imagery of seasoned sky gods wrestling with the controls are all well and good in the movies, but that's exactly the sort of stuff we are determined to avoid. In fact most of us are just plain boring. Come say hi - either before after. Small kids and big 'kids' alike.'"
Cvrk2
Pray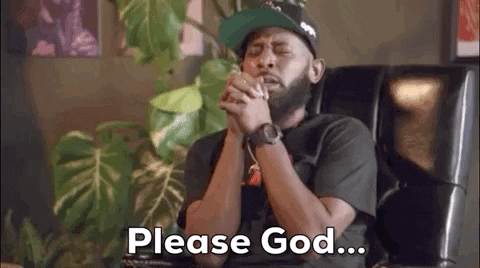 85 South Praying GIF by BET Hip Hop Awards
Giphy
"There are no parachutes on commercial flights, so please stop asking. If the plane is going down there is nothing you can do but pray and ask forgiveness for your sins."
Estbolbotkzn
Ridiculous
"I learned that flight attendants don't get paid for the time before and after flights when doing a crap ton of work to clean up and get people on/off, and frankly, I think that's sh**ty. We would never work before clocking in, why is it okay for them?"
"EDIT- The way I had heard it elsewhere -not reddit- was they were essentially only paid for 4 hours when they worked 7, but another comment here said they essentially get paid as a salary worker based on contract hours. So it's not as bad as someone had made it seem."
HairTop23
The Good Side
"Before being a prick to a flight attendant, keep in mind that their actual job is to save your life in an emergency. If I'm flying and know that there are 2 people who will make it a priority to keep me alive even if I'm unconscious, I'm going to make sure I'm on their good side. Just sayin..."
The-Gordon-Project
stop pushing...
"We KNOW your kid doesn't wanna get a peek in the cockpit, stop pushing that crying distressed child inside, dad. Planes often get delayed due to missing their slots, especially during the busy months, chances are we've been sitting on board for a while too as such a flight can be our 3rd/4th leg of the day, we feel you, yet there's nothing we can actually do about it. -FA."
eliysa_tis1
luck has you...
"Unless you're extremely lucky and your aircraft just rolled out of the hangar after major maintenance, there will absolutely be something broken in it. An aircraft can have a whole host of parts be broken and still be allowed to fly, the broken parts just get labeled, recorded, and put on the to-do list for the next time it goes to maintenance."
ConstableBlimeyChips
Whoops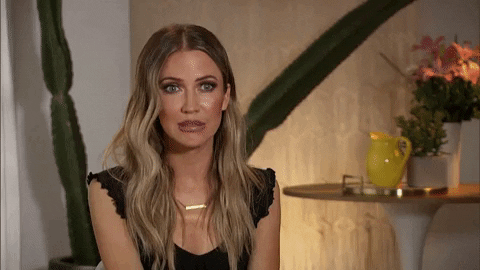 Kaitlyn Bristowe Oops GIF by The Bachelorette
Giphy
"Ladies, take your batteries out of your vibrators when you're packing. It's not going on the plane if it's dancing all over the baggage conveyor, and the bigger the airport the more difficult it'll be to find you so you can go in and deactivate it."
bpanio
SIT!!
"You don't need to queue before passing through from the waiting room to the aircraft and you can also remain seated when you land. There is no way to exit that aircraft until everyone has exited before you... so you may as well remain seated."
mishmishtamesh
Rules
"I don't need to work in the industry to tell you not only to shut up, shit down, and behave, but also not to mix sleeping pills and booze."
Etterra
This is why I'm skipping air travel still. I can't with people. Good luck to you all.
Want to "know" more?
Sign up for the Knowable newsletter here.
Never miss another big, odd, funny or heartbreaking moment again.
Keep reading...
Show less
Many people are afraid of flying. Thankfully, airline accidents are especially rare.
According to The International Air Transport Association, there was just one major aviation crash for every 5.4 million flights in 2018. The odds of dying in a plane accident are super low: The odds are 1 in 9,821.
That doesn't mean that accidents don't happen, obviously, but you can sleep at night. But of course there have been accidents and other scary experiences so both pilots and passengers have stories to tell.
We heard a few of them after Redditor miercole_ asked the online community:
"Pilots, what's the scariest stuff you've seen while flying?"
"It was later in the evening..."
"My dad told me a story from a few years ago that happened while flying a 737 somewhere in Nevada I think on the way back to Toronto."
"It was later in the evening, so you couldn't see too much, but all of a sudden to the left of the plane my dad saw a really bright ball of light I guess you could say, moving really fast across the sky. My dad and his co-pilot had no clue what it was, and they could hear other pilots nearby calling it in over the radio and asking what it was."
"Eventually it flew pass and disappeared into the distance. A few days later my dad found out that what he saw was a missile launched by a USN submarine."
I wonder how many passengers thought they saw a UFO."
Nabbot737
Considering that the government recently admitted that UFOs are definitely a thing... it's likely.
"Thankfully it was when I landed..."
"Smoke in the cockpit when I landed. Thankfully it was when I landed... Had to push the airplane (small Cessna) off the runway."
chrisbe2e9
You see, I wouldn't be a good pilot because this would have me panicking.
"One due to a new pilot..."
"Almost had two mid air collisions. One due to a new pilot not being where he should be, another due to control telling me an aircraft was at me 11:00 when really it was at me 2:00."
chrisbe2e9
Terrifying.
Thankfully nothing happened.
"The coolest..."
"The coolest was a meteor that burned up directly infront of me. Same altitude, straight ahead. I have no idea how far away it was, but it was bright, and so pretty. Went through a spectrum of colors as it burned."
chrisbe2e9
That's pretty awesome.
Must have been a beautiful sight.
"Power lines..."
"Power lines directly in front of me at night that weren't charted and were exactly at helicopter grabbing altitude."
helodriver
Ummm, no thank you!
Thankfully you were not electrocuted.
"He once told me..."
"Not a pilot, but my dad is a former one. He once told me about how he almost crashed his Cessna because he hit some geese. He was actually preparing for a landing approach when he hit geese flying in a patch of fog. Windshield was completely shattered and he and his passenger were covered in blood and feathers."
"They landed safely, but my dad was pretty scarred from that! He didn't quit flying because of that, but bird strikes remained a constant fear of his. Geese are large birds and they did significant damage to that little plane!"
robodragon
Geese are mean creatures on the ground... and I see they have it out for humans in the air, too.
"Everyone sat down..."
"Not a pilot but I was in the bathroom when the pilot came over the radio with a quick announcement that we were about to have turbulence and to buckle up."
"Everyone sat down, including the stewardesses and buckled up. Everyone but me who was in the process of taking a massive s**t. The kind of s**t you don't want to have during turbulence."
"Now I've been in turbulence. It's rough. This was something else. I somehow, by all the was mighty, finished my s**t and completed the post s**t paperwork,.and flushed (didn't wanna chance it) when the turbulence hit."
"To say I hit everything is an understatement. I bounced off the ceiling, hit the floor, back up, face to the toilet. It was hell and I just kept my face covered and I protected my head as best I could."
"After a bit of luck, I managed to get myself wedged UNDER the toilet and I stayed there till the bumpy ride ended."
"I left the bathroom to some laughter, and a lot of concern. See for them in their seats it was fine, until they heard screaming in the bathroom, and loud crashing noises followed by dread silence."
"They all thought I died... haha."
"Forgot to mention that I didn't get to pull my pants up ether. I did the whole ride with my pants around my ankles..."
BubbleDisaster
At least you can laugh at things now!
"This actually happened..."
"This actually happened on my first time flying with no instructor onboard, just doing a couple laps around the traffic pattern. Took off, laps #1 and #2 went just fine, nailed a couple radio calls, got that awesome feeling of "Yeah, I got this."
"But, lap #3 was fine until I was setting up my final approach to land, and the GTN750 (basically a fancy navigation/radio/pseudo-radar system) warned me about a Cessna 1 mile out at the same altitude. Ignored it, since I already had the plane in sight and verified with the control tower that he was landing on the runway parallel to mine."
"Lo and behold, this dude zips under me by about 200-300 feet, which sounds like a good amount of room, but is actually butt-clenchingly close in a busy airspace like this. I should've applied full throttle and circled back around to try again, but the other plane was clear of me before the startle factor even wore off."
"This was made especially dangerous by the fact that the plane I was flying was low-wing (can't see under me) and the other plane was high-wing (he couldn't see above him). So, neither of us could see each other and the tower yelled at the guy to get out of my way, and I landed safely."
furry_anus
You see, after an incident like that, I don't think I'd want to fly ever again.
"Needless to say..."
"My airfield where I did my pilot training had a waterway at the approach end of the runway, and oftentimes there were sailboats heading out to sea as you were coming in to land. Usually came in a little high, since the runway was plenty long enough."
"One day, not long after I had completed my 1st solo, I was doing my run-up, waiting for one of the regular pilots to land his low-winged sport airplane. He obviously, didn't see the mast of the sailboat crossing, and he hit it. The plane cart-wheeled down the runway and broke into pieces."
"I took my plane back to the tie-downs to clear the area, and then went to help him out of the plane before it caught on fire (which it didn't amazingly enough)."
"The pilot broke both of his hands at the wrists, and fractured a whole bunch of stuff. Unfortunately, he was a surgeon. Not sure if he was able to work again."
"Needless to say, I was always very careful on approach after that."
mrbrad595
Wow.
This is the stuff of nightmares.
That poor man.
It's worth pointing out that the major airlines all have excellent safety records. So take note, chill out and happy flying!
Have some stories of your own? Feel free to tell us more in the comments below!
Want to "know" more?

Sign up for the Knowable newsletter here.
Never miss another big, odd, funny, or heartbreaking moment again.
Keep reading...
Show less
UFOs don't necessarily mean aliens, as they have been associated with in pop culture, but they definitely do mean something weird is going on.
A recent report by The New York Times highlighted the prevalence of UFO sightings among pilots and explained what the Defense Department has to say about them.
Lt. Ryan Graves, a 10-year navy pilot, witnessed these objects repeatedly during the USS Theodore Roosevelt's 2014-2015 training exercises on the east coast.
He spoke with The Times about his experiences, which he reported to both the Pentagon and to Congress.
"These things would be out there all day. Keeping an aircraft in the air requires a significant amount of energy. With the speeds we observed, 12 hours in the air is 11 hours longer than we'd expect."
According to The Times,
"experts emphasize that earthly explanations can generally be found for such incidents."
The new classified guidance put out by the Navy after the Roosevelt sightings on how to report these "unexplained aerial phenomena" would seem to indicate that someone was beginning to take the reports seriously.
Navy spokesperson Joseph Gradisher stated that the new reporting guidance was released after those sightings.
"There were a number of different reports. We don't know who's doing this, we don't have enough data to track this. So the intent of the message to the fleet is to provide updated guidance on reporting procedures for suspected intrusions into our airspace."
Leon Golub, a senior astrophysicist at Harvard-Smithsonian Center for Astrophysics, weighed in on the possible causes of the sightings as well. He didn't completely discount the possibility that the objects were extraterrestrial, but noted that the possibility was highly unlikely.
"There are so many other possibilities — bugs in the code for the imaging and display systems, atmospheric effects and reflections, neurological overload from multiple inputs during high-speed flight."
Another seemingly-likely possibility is that the objects are part of an advanced unmanned drone project, but there are multiple things making this less likely to be the answer.

The objects have been reported to move in ways that don't match the capabilities of our current flight technology: appearing at various altitudes from sea level up to 30,000 feet, rapid acceleration and deceleration, followed by rapid jumps to hypersonic speeds.
Lt. Graves and other squadron members from the Roosevelt were further convinced that these weren't just experimental drones after one of them had a near miss with one of the objects during a flight.
Graves was back on base at Virginia Beach when he ran into a pilot on his way back from a flight. Graves said the man was visibly upset and told him:
"I almost hit one of those things."
Believing that a government-run drone project would be aware of their squadrons maneuvers on the East Coast and would therefore avoid their airspace so as to avoid such possible collisions, the squadron began to discount that possibility.
Some Twitter users offered their own theories.
@NYTScience @therealCJPurdy It's probably the Air Force not telling the Navy what it is doing.

— Big City (@Big City) 1559001859.0
@NYTScience @farnazfassihi https://t.co/JzNQzrP4Tm

— Ducky Krupnik (@Ducky Krupnik) 1558967196.0
@MicahHanks FWIW I work in software for a living, though not in aerospace or military. There are always bugs in the… https://t.co/XZ46GgmiLa

— Mission to Europa (@Mission to Europa) 1558984671.0
Others were just intrigued by the story.
@MicahHanks It is fascinating, no matter what you believe about it.

— Sandra L. (@Sandra L.) 1558969965.0
There has been a continuous drip of "possible extraterrestrial activity" stories from the New York Times recently a… https://t.co/wLUTxPYwPG

— Ariel Bogle (@Ariel Bogle) 1558913259.0
Of course, there were X-Files references galore.
@NYTScience https://t.co/sahAsuxPgW

— gee miz (@gee miz) 1558962656.0
@NYTScience Incredible story. Cue the X Files music and call Scully and Mulder out of retirement. https://t.co/VuShIdtZML

— Kith + Kin Magazine (@Kith + Kin Magazine) 1558963472.0
@NYTScience https://t.co/4wXCrftFal

— MelT (@MelT) 1558968470.0
Some people shared personal or family stories of UFO sightings.
@NYTScience When my dad was in the Air Force in the 70s, he and another dude were on watch one night at base. They… https://t.co/3btgaJ7GuY

— elizabeth ashley (@elizabeth ashley) 1558967717.0
@MicahHanks Saw an object as a child in the 60s which did things of which no aircraft at that time were capable. Bo… https://t.co/mD9m5bLXpU

— Karen ❤ (@Karen ❤) 1559000123.0
@MicahHanks Years later, they all got together, one asked if the others had seen it. Turns out they all did. They w… https://t.co/wY8KXfNsEt

— Belinda McBride 🌊 (@Belinda McBride 🌊) 1558968204.0
@gettingsome Oh - I found the report - it was 1948 at Hickam AFB, and signed by Colonel Savage (slick name!) #UFO: https://t.co/xj1PR8FR4m

— Jennifer Holliday (@Jennifer Holliday) 1558987481.0
After leaving Port at Virginia Beach for the Persian Gulf, the crew says that the sightings became less frequent as they got further from the US.
While nobody is officially claiming to know what these objects are, it seems clear that there is something that pilots are seeing and encountering while in US airspace.
The Defense Department continues to insist there may well be a perfectly reasonable—and terrestrial—explanation for the sightings.
Until that explanation is found, though, there will still be those holding out hope for extraterrestrial contact.
Keep reading...
Show less
DQ: What was your scariest moment in flight?
Keep reading...
Show less
Think you know what's happening on your flight? Ya don't. Flight attendants dressing up dead people, hauling vital organs, and pilots goofing off on the emergency channel are just a few of the things passengers usually don't notice. But they happen, and now I want to be a pilot.
Yamesfrank0 asked flight attendants and pilots of Reddit: What are some things that happen mid flight that only the crew are aware of?
Submissions have been edited for clarity, context, and profanity.

Keep reading...
Show less