Reddit user FunChemical3182 asked: 'What is the weirdest animal fact you know?'
People accumulate facts throughout life on a wide variety of subjects.
Some are mundane while others are weird, wild or wonderful.
One subject a lot of people focus on is animals. Most people have a favorite animal that fascinates them that they want to know all about.
Reddit user FunChemical3182 asked:
"What is the weirdest animal fact you know?"
Like Perry
"Platypus glow blueish green under ultraviolet light."
"They also don't have nipples, they just exude milk from glands under the skin and the baby's lap it up."
~ WakingOwl1
"They have electrolocation in their bills that lets them detect their food under water."
~ DrPlatypus1
"And they lay eggs."
"The more I find out about them the more I understand why people first thought they were fake."
~ Reidroshdy
"After seeing all these platypus facts I am convinced these things are aliens that have been abandoned on Earth."
~ SeattleOne206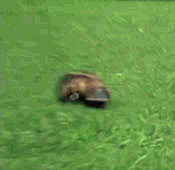 Giphy
Kapow!
"Mantis Shrimp have 16 different sets of cones. Rods and cones are in your eyes. Cones see color, rods see light and motion."
"Dogs have 2 sets of cones—green and blue. Humans have 3 sets of cones—green, blue and red."
"Mantis Shrimp are seeing colors we can't comprehend and explains why they're very colorful."
"That's not even the strangest thing about them."
"They can also punch as fast as a .22 bullet which cause a cavitation bubble which boils the water around them at temperatures of several thousand Kelvins."
~ RigzDigz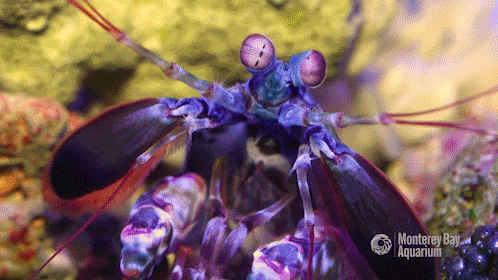 Giphy
Terrible Twos
"Cats have the mental capacity of a 2-year-old which makes a lot of sense."
~ Alive_Ad823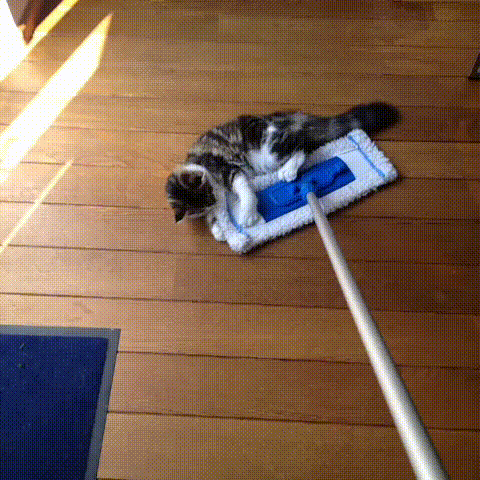 Cats Dragging GIF
Giphy
Like Tinder
"When a female sloth wants a mate she'll hang onto a tree branch and just scream."
~ Remarkable_Sink2542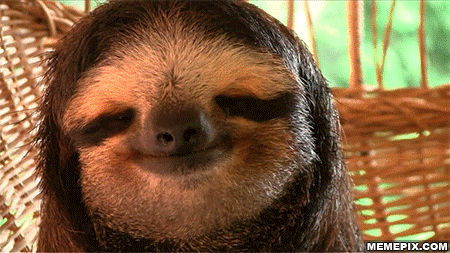 Giphy
Good Thing They're So Small
"Dragonflies are the most successful predators on Earth."
"When lions choose prey they have like a 10% chance of catching it."
"African painted dogs—who hunt in packs—have the highest kill rate of any mammal, successfully catching 51% of their prey."
"When a dragonfly locks onto a target, it has a 99.9% success rate!"
~ PurpleInevitable2103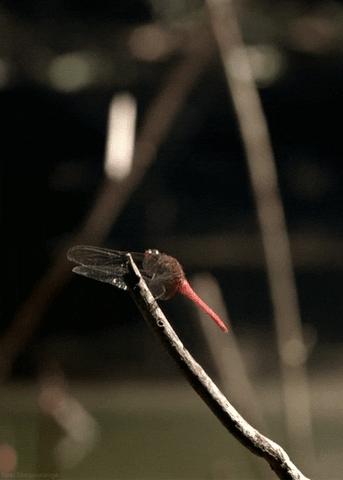 Giphy
On A Swivel
"Owls have really long necks, but it's hard to notice that because their feathers are so fluffy."
~ ergonaut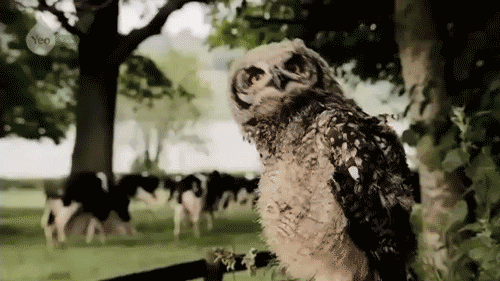 Giphy
What About Cousin It?
"Sea otters are the most densely furred animal with 600,000 to 1,000,000 hair follicles per square inch."
"Dogs have about 15,000 per square inch, humans on average are between 800 to 1,290 hairs per square inch."
~ atom1129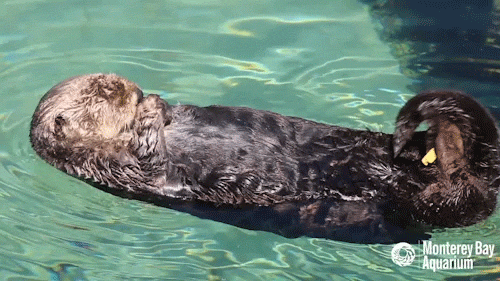 Giphy
Or Two Sets Of Twins
"Armadillos always have offspring as quadruplets."
~ Uncle_Bill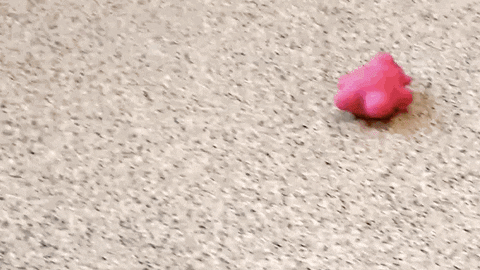 Giphy
Sucker Punchers
"Octopus punch other fish for no reason—so, for fun."
~ Samanthalynn8915
"There's a direct correlation between species' intelligence and dickish behavior."
~ TheDesktopNinja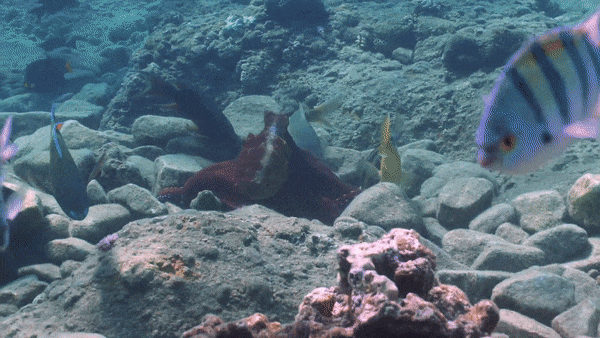 Giphy
Looks Are Deceiving
"Polar bear fur isn't white—it's translucent (for most frequencies of light). And they have black skin underneath."
"So polar bear fur lets all the light through to their black skin to warm them—except for a few visible frequencies to keep them camouflaged as white."
~ seedanrun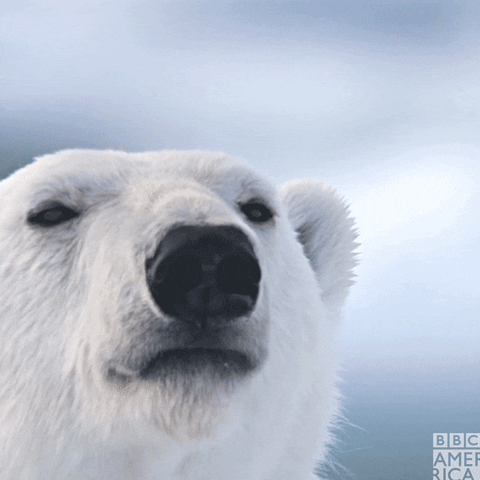 Giphy
Who's Going To Attack One‽‽
"Honey badgers can turn their a**holes inside out and use the smell to deter attackers."
"Not sure what exactly has the guts to attack a honey badger, but if they have the courage to do so, the badger sure as hell isn't gonna make it easy."
~ nonexistantauthor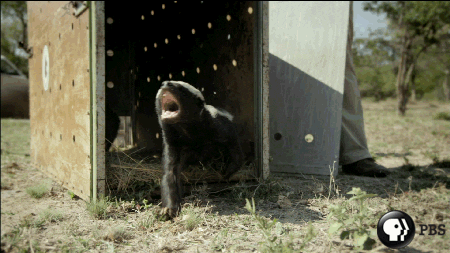 Giphy
Big Momma
"The Blanket Octopus exhibits the highest degree of sexual dimorphism known."
"Females: About 6 feet across."
"Males: About one inch."
~ Fabulous-Pause4154
High Times
"Dolphins will intentionally use puffer fish to get high."
~ altkaldra
"They upset blowfish so they inflate, and therefore emit poison. It gets the dolphins high. Then they pass it around, literally."
~ smack4u
"Not just the dolphins. I recently saw a video about 10 animals that like to get high. Very interesting."
~ s137leo__
"Lemurs do that with giant centipedes/millipedes too."
~ chubbyknuckles420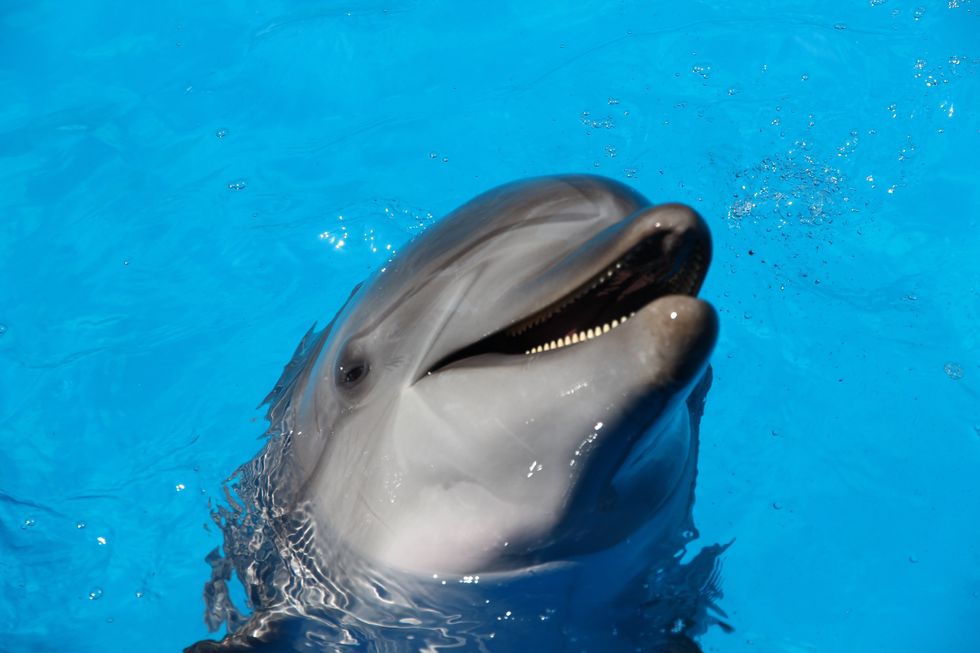 Fabrizio Frigeni on Unsplash
Better Than Bike Helmets
"Woodpeckers' tongues wrap around their brains to cushion them from the vibrations of slamming their face into trees all day."
~ we_made_yewww
"Their tongues also have barbs to grab bugs out of the holes."
"Their brains have additional cushioning because, you know, they spend their days smashing their face as hard as possible into trees."
~ RhynoD
Detachable Organs
"Argonauts [paper nautili] are small octopuses that are too lazy to have intercourse."
"They detach their penises and toss them into the open sea to mate with female argonauts."
"The detachable 'd*ck' is a tiny tentacle, complete with suckers and sperm, that develops in a cavity under the eye of a male argonaut [paper nautilus]."
"When it's time to mate, the tentacle explodes out of the cavity, instantly killing the male argonaut. The tentacle then swims towards a female argonaut to insert itself."
"Sexy, huh?"
~ Schwarzes__Loch
What's your favorite weird animal fact?
Reddit user CoreyMatthews asked: 'Pet owners of Reddit, what are some examples of your pet doing something that made your realize how intelligent they are?'
We all love our pets.
And be it a dog, cat, parrot, or turtle, we all like to think our pet is cuter and smarter than everyone else's.
Most of the time, that is purely owing to our unending love for them.
But every now and again, we might witness our pet do something truly extraordinary, leading us to believe that our pet truly is the smartest animal on earth.
Redditor CoreyMatthews was curious to hear about the times people were truly blown away by the intelligence of their pets, leading them to ask:
"Pet owners of Reddit, what are some examples of your pet doing something that made your realize how intelligent they are?"
Talk About Coordination!

"I watched both my cats sit in the hallway and roll a ball back and forth between them gently and on purpose."
"They both know how to open doors."- TurbulentStep4399
The Real Truth About Cats And Dogs
"I had a cat that learned to turn on my radio so I would think the alarm was going off and get up to feed him."
"He and my dog would also team up on me in various ways."
"The most memorable was when I had gotten a little water pistol to squirt the cat when he got on the kitchen counter."
"I always kept the water pistol in the very back corner of the kitchen counter."
"I got home one day, and the water pistol was chewed to pieces on the floor."
"It was too far back on the counter for the dog to have reached it by herself (and it's not the sort of thing she would normally have liked to chew on), so the only explanation is that the cat climbed onto the counter, pushed the water pistol across the counter until it fell on the floor, and then convinced the dog to chew it up."- TheBat3
More Than Most People Can Say About Their Children!
"My 6 month old kitten will alternate bringing his mylar ball to me or my husband to throw--taking turns."
"He plays fetch better than my dog did."
"He puts his toys away at bedtime."
"I have a small basket that we keep his toys in."
"At bedtime, I'll tell him, 'Let's pick up your toys' and he will get any toys that hasn't been eaten by the couch and drop them in his basket."
"No hard balls/toys as he can't pick those up with his mouth."
"I pick up those."- Danivelle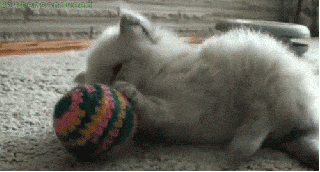 cat playing GIF
Giphy
The Female Of The Species...
"I had two Shelties and one large dog bed."
"The female Sheltie did not want to share the bed with her brother, so whenever he was lying on it she would go to the door and start barking like crazy at … nothing."
"He would leap up barking and race to the door to guard the house alongside her and as soon as he got out of the dog bed, she would run back and curl up in the middle of it."
"He never caught on."- NoNefariousness104
Always On The Lookout
"My dog greeted me at the garage door when I got home."
"He then had me follow him to my daughters room, then my sons room, then the front door."
"My mother in law had picked up the kids."
"He was telling me that 'this one and this one are gone and went that way'."
"Let's go get them!'"- YourFriendInSpokane
Asking Permission Never Goes Unnoticed
"I had a blue heeled mix that was crazy smart."
"Two of many examples:"
"He was occasionally allowed to eat table scraps off of a plate but was never allowed to beg."
"He had to wait until the plate was put on the floor."
"One day I was caught up working on my laptop and had put the scraps from my dinner on the couch on a plate next to me."
"An hour or so went by and I saw him pick up the plate off the couch and put it on the floor so he was allowed to eat it."
"He slept in my room and was getting up in years."
"One night after I was settled in bed he let me know he needed to go outside, thinking an older bladder, I got up to take him out."
"Instead he went to the kitchen and turned to look at me."
"Curious I followed him."
"Same thing , he went to the family room and waited for me."
"When I turned on the light, he went to an end table near the TV where one of my teenagers had left an uneaten piece of fried chicken."
"He stood and stared and it and then turned to me and I swear he asked if he could have it."
"I laughed and took the meat off the bones and put it in the floor for him, after which we both went back to bed."
"How he knew that chicken had been left there is beyond me!"
"I could share dozens of stories like this."
"He was as smart as most humans I know."
"I will miss him forever."- JCKligmann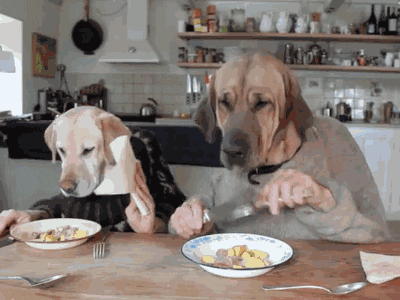 dog human eating GIF
Giphy
Peeing With Purpose

"My mom's cat had a urinary infection."
"So he peed a tiny bit in the bathroom sink and waited by it for my mom to see it."- HyliaSerket
Everyone Wants A Little Attention Every Now And Then...
"A small thing, but my cat will paw at my hand when he wants to be petted."
"The first couple times it happened, I didn't think anything of it, until I realized one day that he basically had me trained/conditioned to pet him whenever he nudged or pawed at my hand."- Square-Raspberry560
And You Thought All They Could Do Was Change Colors
"My chameleon will look me square with both eyes and make a chomping movement with his mouth when he's hungry."
"He'll also pat at the glass if he wants to come out."
"He'll hold a grudge, calculate ways to go or get what he wants."
"One of my Boas will only look at me when hungry."
"She had a go at caudal luring whilst doing it the other day."
"Like 'look, dude, I know you bring the food'."
"I'm hungry, look I'm even trying to lure you to give me some food'."
"It worked."- Ugglug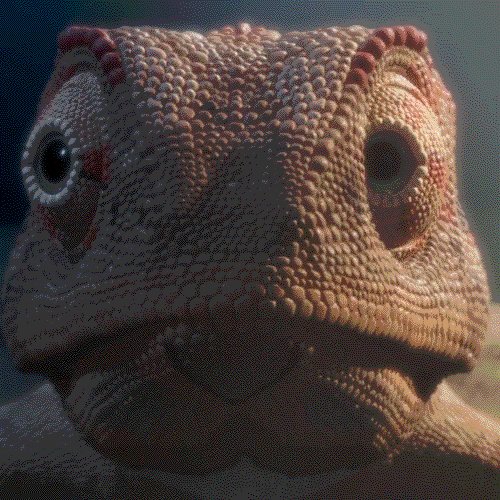 Giphy
A Kind Gesture Is Never Forgotten
"My brother's cat, Coconut."
"We live 2,600 miles apart."
"The first time I met her, I gave her a little pink fuzzy kitty toy."
"2-3 years later was the next time I was able to visit her again for the 2nd time ever."
"She immediately disappeared & came back with this filthy, dusty, brown toy that had obviously been hidden away somewhere."
"We dusted it off & it was the toy I had gifted her years before."
"She remembered me."
"My brother said he had never seen the toy again until that day."
"She's also very precious with her toys & will leave them outside his bedroom door as bribes."- emilyyancey
Innate Obedience
"When she was a baby I said, 'Go get your toy!' in the same pitch I always do."
"Never trained her with that phrase."
"She went a grabbed her toy and came back."
"I tested her again the next day and the next day."
"She went to her toy pile and brought back a toy each time."
"She picked up the phrase by herself."
"She's also the first dog I've had that looks at planes in the sky when they fly overhead and recognizes dogs on TV even on mute."- Spare-Bread8416
Get The Tissue Ready...
"I have two cats and a dog."
"A little backstory about my dog:"
" I don't know anything about dog training."
"I wasn't even thinking about adopting a dog but it seems like it was one of those things that 'meant to be'."
"My sister found him on the street at a winter night."
"We thought he was lost and there is an owner looking for him."
"Because where I live we have so many strays and you wouldn't see many 'specific breeds', they are just strays and specific breeds have an owner 99% of the time."
"So we took him home and start to search for the owner but it was obvious that poor dog went through some sh*t."
"And we learned about his story from an animal society; that he had a few owners but all of them left him to the streets because he was barking a lot (we haven't heard him barking even once during that time), he was peeing everywhere (he did it once and that was probably because he was nervous of being in a new environment and that was it), he wasn't listening at all (we had 3 cats at that time and I said no one time when he tried to run at them and that was it, never did it again)."
"And we learned that he has been in the shelter twice with big wounds."
"And I said I'm not going to let him go through more, he stays with us."
"He learned how to let me know he needs to go out all by himself."
"He learned to pee on the pads all by himself on the days that I can't take him for a walk."
"He learned to give me my slippers when I come home all by himself because I wear slippers when I get home."
" He learned how to clean his face by watching cats doing it."
" I still don't know how to train a dog other than a few basic stuff."
"He just learns."
"That's been a really long comment."
"So I'm going to leave that how I know my cats are clever for another time."
"Thank you for reading my sweet dogs story."
"I'm glad to have him and I don't know who was lucky about all those; me or him."- LittleBitOff2Day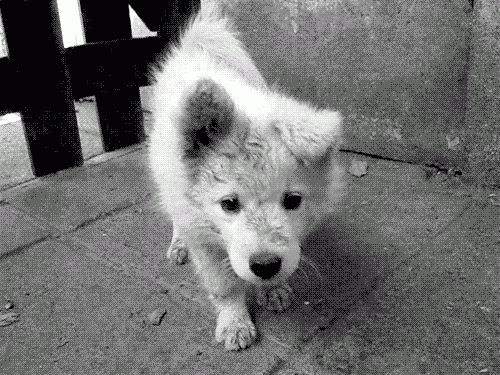 dog pies GIF
Giphy
Never underestimate your pets.
As sometimes you have no idea of the things they might see or notice.
Making it all the more important to give them the love and attention they deserve.
The Bible advises people to judge not, lest they be judged.
Which seems to have been lost in translation for too many purported adherents to its teachings.
On a secular level, we're told to not judge a book by its cover, but sometimes...
Sometimes it's hard not to get judgy.
Reddit user dolphinsR4evr asked:
"What is something you have a hard time not judging people about?"
Parents
"Being proud of being awful and absolute a**holes to their children."
~ YamAnxious
"I (female, 15) was on a train with my mother (female, 50) a couple years ago. We were enjoying our trip, laughing and playing together."
"We were sitting next to a man and his wife. They were about 60 years old."
"He started talking to us out of the blue and he said some things like 'a mother and her daughter shouldn't be friends', 'a daughter should hate her mother bc she's strict', and randomly bringing up his children."
"When we got off the train, we looked at each other and laughed about it, but I actually felt so bad about his kids."
~ justlookawaybruh
Give a Hoot
"Leaving trash in nature or anywhere really. I don't get it."
~ AbsoluteEva
"One of my pet peeves are people who throw their empty beer or energy drink cans off ski lifts."
"The lifties have to hike up the hill with trash bags picking up the litter. The people who do this have no respect for nature or the employees."
~ sretep66
Where Ya Headed?
"People who don't use their turn signals."
~ cutiecakepiecookie
"Even better, the ones who turn on the turn signal after they're already turning."
~ SomeKindoflove27
"At least in these instances, it might just be a last second 'oh f'k sorry I forgot'."
"The ones who never use it are entitled."
~ GeneralZaroff1
"They shall hence be known as after-turners."
~ bryfy77
"How about the ones that have their blinkers on to move Right but move Left?"
~ MealComprehensive865
"No" Is A Complete Sentence!
"People pressuring others to do something after the other person already said 'no'."
~ Orchid_wildflower
"As someone who just doesn't enjoy drinking, it's so tiring answering the same questions at every single function."
"'No. I don't want a drink. No. I'm not an alcoholic. Thank you for the concern. I just don't want to drink'."
"It's like it's unfathomable for someone not to enjoy drinking."
~ TheDarkKnightFell
"'You're just having a coke? Why‽‽'"
"Because it actually tastes good, it's half the price, I can drive home after and I can actually enjoy my day tomorrow."
~ Majestic-Marcus
"I AM an alcoholic and was amazed at how many people I considered to be friends tried this when I quit drinking."
"'Oh just a few won't hurt', 'you can't really have a problem if it was that easy to stop', 'don't worry', etc..."
~ yerbard
"5.5 years sober here."
"It. Is. Wild!"
"People will straight up try and bully you into drinking like, nah..."
~ jessieesmithreese519
"I gave up alcohol and marijuana last summer. I rarely socialize anymore with people outside my family."
"Seems like everyone in my age group needs some type of substance in order to relax and hang out. I'm especially put off by the wave of women calling wine 'mommy juice'."
~ Mammoth_Monk1793
"I hate how much of this culture's socialization is based around some type of substance use."
"So we can't just hang out and talk? We need to smoke, or drink, or some other bullsh*t??"

~ MrProdigal884
Special Place in Hell
"Poor treatment of pets."
~ Willing-Survey7448
"Buying a $3500 puppy for their kid at Christmas and dumping the dog at the pound a few months later when they realize how challenging raising a cute puppy can be. I will judge you."
"*glances down at purebred husky from pound sitting on couch snuggling with favorite toys….*"
~ lightpennies
"I see that often (I volunteer at our local shelter) and it really makes me angry seeing the people come in and just surrender the dog because they couldn't be bothered to put in the time and dedication."
"Dogs aren't a damn appliance. They are living, breathing beings with feelings."
"There honestly should be a database that those people get added to that prevents them from ever having a dog in the future if that's the reason why they are surrendering a dog (or any other animal)."
"And I get that there are legimate reasons for surrendering an animal (owner dies and surviving family cannot properly care for it, loss of housing and job, etc...)."
~ FirehawkLS1
"I once knew a woman who moved in with her boyfriend like people do. They both had dogs. Dogs did not get along."
"She'd had her dog 4 years and just went, ok I'll take it to the pound and give it up since they won't stop fighting. After only one month."
"Then complained about being sad for her lost dog (that went to one of those, if it doesn't get adopted, it'll get put down, places)."
"Her boyfriend just bought her a new dog to raise and train with his dog."
"I was so disgusted, I am not friends with them anymore."
~ TheMightyBluzah
Move Along
"Being oblivious of how much space they're taking up in public."
"I used to work in a building where you had to swipe your key card to enter through a turnstile, and the system was a bit slow. They were around 400 people working there, you can imagine how there was always a queue."
"Every day there was some d*ckhead having a conversation in front of the turnstiles, completely ignoring the people wanting to pass."
"Every day there was some dude getting to the front of the queue and only then realizing they needed their key card to get through."
"Everybody knew how annoying the process was, how can you care that little about other people?"
"Related: Placing your backpack on a seat in a crowded bus/train, blocking a supermarket aisle with your trolley."
~ thursday-anywhere
Use Your Indoor Voice
"Being extremely loud and bragging in a public place or restaurant."
~ anonnautilus
"I will never forget the time I rode a train late at night and one family took up half the car with their kids. They ran around making an absolute ruckus."
"One older lady politely asked if they could quiet down since 'everyone was tired'."
"The acting matriarch of the group yelled at her, 'Don't you dare tell my kids what to do! Hey, Kids! You can be AS LOUD AS YOU WANT!!!'."
"'Yaaaaay!'."
"I have to imagine they all grew up to be total a**holes."
~ PorkRoll2022
"And that's my neighbor. She encourages her kids to yell and scream, and joins in with them....encouraging them by yelling 'This is OUR HOUSE!'."
"She's actually the first adult I've ever met who had her kids on the lawn on July 4th, whooping and yelling 'USA! USA! Number ONE!!'."
"Yeah, I think we all judge her."
~ Francesca_N_Furter
Don't Be a Richard
"I hate people that feel the need to constantly bring others down and make them feel bad about things they enjoy."
"It's so sad to watch someone's enthusiasm about their hobby deflate because another person decided to be a d*ck about it."
~ ReporterOk4531
"Working with kids, it's something I try to nip in the bud. Unfortunately, there's way too many adults doing that to kids."
"My cousins' dreams were crushed as kids by the adults in my family. Talents went to waste because of that. Even as a child myself, I knew it was wrong."
~ mstrss9
STFU, Tom!
"Man I think of myself as a relatively tough person who generally dgaf what people think of me, but I'm 38 and overweight and I realized I wanted to try roller blading again (this was abt 8 mos after having my third child)."
"This one d*ckhead neighbor was out in his yard and made fun of me to my face as I skated up the road (legit first time roller blading in like 20 years) and I haven't put them back on since."
"I even said 'hey don't give me a hard time, I haven't done this in years!' And he rolled his eyes and said 'yeah I can tell'."
"He made me feel so small and stupid. I'm mad at myself for not being tougher than that idiot's stupid comments."
~ allegedlys3
"He's a bully. So sorry this happened. Can't wait for you to try again. I learned to do pull-ups very late in life. Took me months."
"Everyone at the gym was very encouraging. I would never have made it without the extra support. My family was not as supportive."
"This is me supporting you. Go get em! You got this!"
~ VelcroSea
"Just remind yourself that people who make fun of someone making an effort are the biggest losers on the planet."
"Losers hate to watch people on the path to success."
~ rm-rd
"Yeah--OP, he's the small and stupid one. And if you can manage it, re-rollerblading will be both fun on its own AND a major victory against your a-hole neighbor."
~ Cat_Prismatic
"I hope you put the blades back on and either give him the finger or wear a shirt that says 'shut the hell up Tom' whenever youre outside blading your troubles away."
~ sinverguenza
"To all you subcommenters, you are a lovely group of people and thank you so much for your encouragement! Yeah, f'k that guy."
"When I get the guts up to go try again (I'll prob wait a few weeks til it's not hotter than the devil's taint outside), I will think of y'all."
~ allegedlys3
Well, 💩
"Not cleaning up after their dog. Just get a doggy bag people."
~ jfg1435
"There's crap all over sidewalks in my neighborhood. I just can't fathom the mindset of these people that won't pick up after their dogs."
~ zrayburton
"It's even worse when there's trashcans next to free doggy bags on the neighborhood trail, and you still see dogsh*t all over the place. Zero f'king excuse at that point besides being a lazy pr*ck."
~ Pooonther
"Especially people who own large dogs. Like excuse me this is what you signed up for when you got your large a** dog."
"At my old apartment complex there was dog sh*t EVERYWHERE and it was always the human sized ones. So disgusting."
"If I ever see someone not picking it up I will absolutely yell at them."
~ AudreyFish
Excuse You
"People with no sense of self awareness, so they stop in the middle of walkways, entrances or crosswalks for no reason."
~ progressiveanarchy
"And grocery aisles. At least apologize if blocking the aisle."
~ weaselblackberry8
"Yeah people get way too absorbed in what they personally have going on, and are totally oblivious to their surroundings as a result."
~ zakku_88
"My husband was this person. Absolutely no awareness of the inconsiderate mess."
"When we first took a trip together and he stopped in the middle of the airport and put his bag down I was like… 'I Don't Know WHERE you learned this but you don't do this anymore'."
"And now he's learned."
~ BusinessClassBarbie
Abandon Ship
"A parent leaving and ignoring one family to get a new significant other and raise that persons children."
~ blyblotbloidberg
"Generally it is getting a new partner (who doesn't have kids) AND create a new batch of kids, forgetting the existing kids."
~ VeganMonkey
"This happened to a friend of mine. Thirty years ago his mother walked out, abandoning him and his sister."
"They were both under ten years old. She never contacted them again. She moved on and had more kids with someone else."
"Things like that always kind of surprise me because we've all been conditioned to expect mothers to always love and want to take care of their children. Mother love is supposed to be unconditional, right?"
"Sadly, not always. Sometimes there are extenuating circumstances, sometimes not. My friend does not really know why his mom left them."
"Nowadays he says he doesn't care because it's been so long that it feels to him like she died—but I think he still hurts. Everybody needs a mother sometimes."
"Sometimes people are just sh*tty for no good reason. It's hard to accept."
~ miniguinea
"Overheard a convo a mom was having with her pre/early teen daughter at a restaurant once. I was their server."
"Essentially daughter had to go live with her dad because they didn't have enough room in moms new family."
"The specific phrase 'I have a new family now' was used. I haven't mentioned it yet, but mom was preggo."
"Lots of tears and mom came across as a complete a**hole."
~ ElbisCochuelo1
Sometimes we as a society are too judgmental.
But there are times it's really difficult not to judge someone's words or actions.
What do you find hard not to judge?
Pets enrich our lives in countless ways. One of the best is the way they seem to always be able to make us laugh, and this power multiplies exponentially when you have more than one pet.
The drama really ramps up when your pets are different species; different body language and communication styles between animals, as well as very differnt personalities, leads to some pretty hilarious drama.
Redditor ServiceCall1986 asked:
"People with multiple pets, what is some drama going on between them right now?"
Bully Ducks
"My ducks are so dramatic about sharing their pools. I have three ducks and two pools, one green, one pink. All three have decided the pink pool is their favorite and fight over who gets to be in it. They all three can fit comfortably in one pool, but they chase each other out and 'fight' about who gets to be the only one in there. It's hilarious to watch. This spring, I'm buying new pools. Three all-pink ones lol."
"They also bully the wild birds and squirrels. And when they hear the neighborhood dogs start barking, they run to the back fence and start quacking really loud."
- lime-y
"Reminds me of when I got a cat bed for free because someone else's cat wouldn't touch it. Both my cats fought over it, so I bought an identical one. They fought over the new one for about a week, and then neither cat touched either bed ever again."
- kingofgreenapples
Chickens Are Scary
"i have a cat & chickens. one of my chickens chased my cat yesterday and now she's hiding in my room"
- Exotic_Storm6788
"Guess you actually only have chickens."
- DazeLost
"Lol chickens scare me too!! Funny, my tuxedo cat is named Chicken Butt."
- Leading_Funny5802
"The cat desperately wants to play with the dog. The dog, who played with our last cat like best friends, absolutely refuses to have anything to do with her. It makes me sad, I feel bad for both of them."
- askingxalice
"He's afraid to love again 💔"
- GRYFFIN_WH*RE
"Oh is that what we're doing today, feeling? I didn't sign up for this."
- UoFSlim
"Awh, I feel bad for the both of them. That sucks"
- Lanky-Major-2800
Sometimes Jealousy Is Helpful
"We have a new foster dog who is terrified of the world and everything in it. She's been cowering in the corner of the kitchen for days, but she's just now getting brave enough to start coming out to solicit attention. Our resident dog is jealous so she keeps coming over to try to steal the attention. The foster dog loves the resident dog, and seems to get braver when she's around, so that makes her more willing to come out. So resident dog's jealous is accidentally feeding the bravery and socialization of the foster. (She doesn't realize it, but that's exactly what we were hoping would happen.)"
- tah4349
"Task failed successfully!"
- VertebrateCrossing
That's Just Unfair
"Two cats and a hedgehog. The cats are in disbelief that the hedgehog not only eats dry cat food as her diet (the audacity!) but also that she gets a heat lamp and they don't. They are likely plotting a revolt."
- Smithssoni
"My cat used to get jealous of my hedgehog! Mom would go over to hedgie's cage to visit, and miss kitty would jump off my bed or chair to scamper over and meow at her!"
- lady-kl
Chonky Donkey Drama
"We have two donkeys, Geriatric donkey and Chonky donkey. Chonky has separation anxiety and freaks if she can't see Geriatric donkey. Geriatric donkey is too skinny and on a special high-protein diet. Chonky donkey is, well, chonky, and is on a diet, which she hates (but is looking much better).To keep Chonky donkey out of Geriatric donkeys food, I have to separate them. Now Chonky donkey is upset to be separated from Geriatric AND upset she can't steal Geriatric's much yummier food. Upset donkeys are LOUD."
- grainia99
Cats Are Definitely Instigators
​"My cat was near a vent and meowed when I picked her up. Now the neighbor's dog is going nuts and they scream at each other through it."
- Sylar299
"The neighbor: 'Why is my dog barking at a vent?'"
- Comprehensive-Ad3963
"That's amazing. My cat is such an a**hole, he would do that on purpose to wind up the neighbor's dog if he knew he could."
- bluevioletta
"I'm pretty sure this is what she's doing! She looks too smug while doing it"
- Sylar299
Vicky Doesn't Give A F***
"My flock of chickens is very dedicated to my rooster and obeys his every command—with the exception of one hen named Vicky. She doesn't give a f*ck about him and only wants to hang out with us humans. She follows us around and is just super friendly and cute and chatty, and of course, we spoil her with delicious treats all day. When I weed the garden she's right behind me, scratching up the soil like she's helping me lol and eating all the newly exposed bugs. She'll walk up to us, look up, and say 'hmm-hmm?' like she's asking, 'What's goin' on?' The other hens are always by the rooster's side, but she comes and goes as she pleases."
"Rooster can't stand it. He does everything he can to get her attention, like making the 'I found food' call and picking up a random pebble to pretend it's a treat he found. She figured out this ruse very quickly."
"If she starts to run toward us he'll run ahead of her, stand in her way, and stomp his little rooster feet. She just runs past him, lol."
"He gets especially mad when she's late coming back to the coop at the end of the day because she's hanging out with us, and he tries to herd her back over to it. She doesn't give a F*CK and just sits on the porch with us, and we all watch him run around screaming and having a fit because she doesn't want to go to bed yet. It's hilarious."
"Somehow she's still like #2 in the pecking order tho, she's an alpha chicken"
- toss_my_potatoes
Tortoise-Pigeon Tensions
"We have a Pigeon thats half blind and can't fly that started using our tortoise's terrarium as its house in winter."
"Problems began when we started letting our tortoises outside in summer since they would randomly meet inside of it and the pigeon would panic."
"Now he has learned that the tortoises are harmless so now they just chill"
- NoLoveWeebWeb
Cats Are Scary Too
"My blue heelers scared of my cat. My cat chills with the jack russell but hates the blue heeler. The blue heeler doesnt like to be away from the jack russell. Cue a terrified dog staring into the room just to be hissed at."
- Stunning_Guest_8685
"the Heeler probably tried to herd the cat once and will never be forgiven for trying to tell the cat what to do."
- PersistentPuma37
Pet drama is the spice of life.
Our pets are part of the family.
Any person who doesn't get that is not someone I can know.
They are there through it all.
They help with the good, the bad and the ugly.
So when it comes to choosing between a pet and a person... the answer can make things awkward.
Redditor sugar-soad wanted to know how everyone would choose between a lover and a fur baby, so they asked:
"People who were made to choose between your pet or your partner, how did your ex react when you chose your pet?"
One of my exes wanted me to return my dog to the pound.
Notice I said... EX?
The love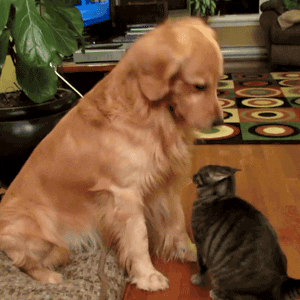 cat dog GIF
Giphy
"It really baffles me how some people don't understand how much a pet can mean to someone, I remember one of my dogs dying overnight before a school day at secondary school and my teacher mouthed off to the class about me taking a day off for a pet's death."
ff-at-15
The Kicker
"This was a long time ago but I just started dating this person and I was told they hated my dog, it was a bit of a shock but I was like no biggie just get to know my dog and you will fall in love with him."
"So the next time, we had a doggie date and HE TRIED TO KICK MY DOG. I literally grabbed my dog and turned around and walked away. And that was that!!!"
clarkyto
Screw This
"This is my favorite story from when I worked in a shelter. A guy came in to surrender his cat, with the reason that his girlfriend didn't like her. He starts filling out the paperwork, but partway through he just stops and says, 'Screw this. I'm just going to break up with her instead.' He picks up the cat and walks out the door, presumably to leave his GF. I hope he stuck to it and he and his cat got a happy ending."
hoomphree
Happy Ending
"Not directly relevant, but we once took in a dog, whose human was asked to make this choice. Beautiful weimaraner. The guy brought the dog out to our house (on a hill in the woods with acres to roam - dogs absolutely love it out here - and we spent some time walking around letting the dog get used to the place and meet our other furry residents."
"We could tell it was really hard on both of them when he left."
"The next day he kicked the woman out, and came back for the dog. Happy ending all around, I'd say."
Wildcatb
Momentos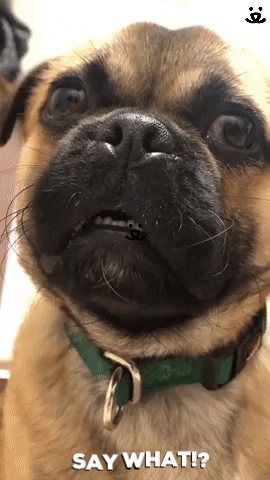 Dog What GIF by Best Friends Animal Society
Giphy
"Not my story but my friend. His GF forced him to choose between her or dog but that dog was remaining memento from his deceased mother and of course he instantly dumped his GF. His GF went from facefull with expectations to beet red full of shame and anger and smashed his house windows when she left his house."
Manfroo1
Never asked for someone to make choice between a person and a pet.
Living Longer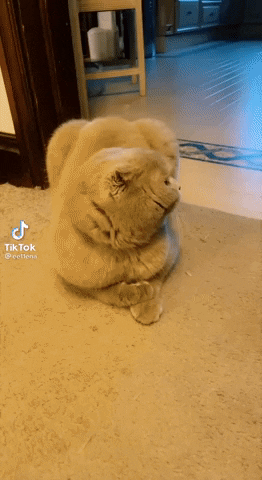 Cats Reaction GIF by TikTok MENA
Giphy
"I remember him saying my diabetic cat needed to go so he could get a dog. We weren't even living together. I looked him dead in the eyes and said. 'My cat will outlive this relationship' considering she was really sick at the time he said it was unlikely and stormed off. We broke up 6 years ago and my cat is still going strong."
buffalosansbuffalo
The Elderly
"I have an elderly rat (going on four years, which is quite the feat for a rat). I've raised him since he was a baby with his brother, who passed away two winters ago. When we moved in with my in-laws over the summer, they didn't want me to bring my rat. I straight up told my partner that I'll live somewhere else for awhile (we'd been living together for almost three years at that point) because my rat is my responsibility."
"He's very old, and that I was going to see him through to the end. They were a little upset and accused me of choosing the rat over them, but I explained that he's an animal that relies on us. It worked out, I convinced my in-laws to let me bring him, and we're all still kickin. He's on his last days and I'm glad I'm here with him. He'll be buried with his brother when it's time."
queerqunari
Meow First
"She acted like she'd never even considered I'd choose the cat over her. I don't think that thought had ever entered her mind. Then she went into a big spiel about how I'm a loser, I'm missing out, there's only one of her, etc etc. Yeah, I knew all that when I put my foot down over her idiotic jealousy of the cat liking me more than her."
"The cat is now 16 and still with me, happy in her senior years. There's been other women since her, ones that treated me a lot better than she did. It was a total win for both the cat and myself."
Fancy_Cassowary
"Dirty fleabag"
"Not me but my sister choose our cat over her boyfriend of 4 months. He was furious when she dumped him and called her an idiot for picking a 'dirty fleabag' over him. Cat was not a dirty fleabag, he just hated pets and wanted to try to control my sister. I was relieved when she dumped him. I never got good vibes from him."
Aurora_Jones
BYE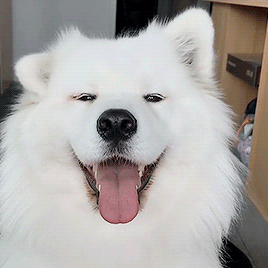 White Dog GIF
Giphy
"My ex asked me if she thought my dog liked me or her more and I said me. She got genuinely mad and told me I am supposed to just lie to her, didn't last long."
wumbology34
Pets will always win.
Have you ever had to make a similar choice? Let us know in the comments below.