Some people have to go.
We are in a place in life where calling out a person is the key.
People don't get to act a certain way just because.
We are withered to the bone with many types of personalities.
And it is time to free ourselves.
Satan be gone!!
Redditor moosesanddave wanted everyone to divulge truths about those that we are just about over having in our lives. They asked:
"Which types of people are you sick of?"
Letting go of people is hard. But the older I get, the better it feels.
Be Nice People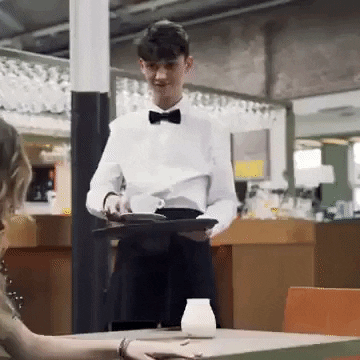 Fail Music Video GIF by FOURCE
Giphy
"People take their aggression out on service workers. They're cowards who pick fights with people they know can't stand up for themselves appropriately because it can unfairly lose them their job."
cannythinkofaname
A Punching Bag
"I don't know about the rest of you but for me 90% of the time it is people that use you as a punch bag in their life. They tell you all the stuff and expect some feedback/support back but you will never get anything similar back. They tend to explode at you for a matter that has nothing to do with you but they choose you because they think you are for granted AKA a punch bag."
ComplexTimekeeper
Let's call her Karen...
"I had a friend like this (let's call her Karen). Super mentally unstable, expected me to come over and listen to her crap at the drop of a hat. The time that truly stands out to me was when I was in the ER with my girlfriend because she'd had a fall and while I'm sitting in the ER, I get a text from Karen asking me to come over because she was needing to have a chat. I tell her I'm in the ER and obviously can't come and her exact words were "all I want is a friend here and you can't even do that for me?"
"I obviously don't reply because f**k that noise. An hour later she sends another text apologizing and saying how she's become "numb to the idea of being in the ER because she has been in there so many times". She eventually removed herself from my life. Good f**king riddance."
High_Valyrian_
Pot Issues
"People who gossip and stir the pot. People who loudly proclaim they hate drama and actually cause all the drama. Girls who put women empowering crap all over their social media but are happy to sleep with other girls boyfriends and gossip about them."
EdgeMiserable4381
Lessons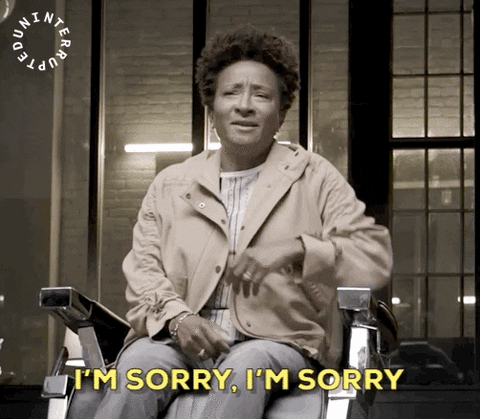 Sorry Lebron James GIF by Uninterrupted
Giphy
"People who can't say that they're sorry or learn from their mistakes, and instead lash out."
lobstahfingah
Sometimes it's just time to let go...
Critique...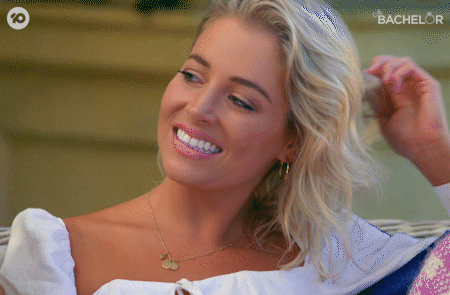 Eyeroll Ugh GIF by The Bachelor Australia
Giphy
"People who can't take criticism and try to blame it to someone or something else or entirely change the topic. Weak."
CaptCojones
Bad Vibes
"Toxic positive people."
Sadstudio99
"I had someone who was fully aware that 2020 was the absolute worst year of my life (and it was pretty sh*t for everyone in general). Despite that he couldn't understand why everyone hated it because he claimed that there were so many games released so it was a good year. Because somehow that was supposed to completely make up for everything that happened that year."
yeetgodmcnechass
Pass on By...
"People that gatekeep. Music in particular. Yea I'm a guy and i like madonna, I must be a wussy. Then I listen to cannibal corpse and similar death metal, so I must be edgy? I love to hear what others listen to. Almost everytime i ask someone what they like, i look up an album and end up discovering something new, but i try to focus on what I like about it. Music can be a very personal thing to people."
InviteDry3356
One Time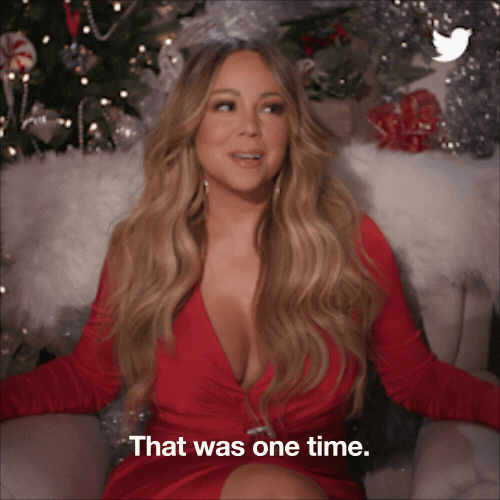 Mariah Carey Tweet GIF by Twitter
Giphy
"One uppers."
"'Dude, that's nothing! One time I...'"
_ImNoJedi_
Time to take out the trash. Bye....
Want to "know" more?
Sign up for the Knowable newsletter here.
Never miss another big, odd, funny or heartbreaking moment again.
Keep reading...
Show less
Eating with your mouth full, talking loudly on your phone in a public place, making a joke of everything, even if it's not remotely funny.
Some people have habits which tend to get on our nerves, if they don't drive us absolutely crazy.
Be they from a total stranger, or one of your closest friends, controlling one's temper in the presence of these habits is a challenge for even the most patient beings.
Redditor CheapCoffee1 was curious to learn which habits really made the skin of his fellow Reddit users crawl, leading them to ask:

"What is a cringy habit you can't stand?"
Just come out and say it!
"Vaguebooking."
"When someone posts that they're so distressed/upset/offended but won't refer to what exactly caused it."- urchisilver
"Passive aggressiveness."- SystemOnset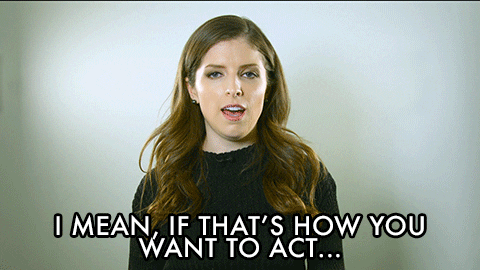 Stephen Colbert Whatever GIF by The Late Show With Stephen Colbert
Giphy
But enough about me, what do you think of me?
"People who have a complete inability to talk about anything but themselves."
"I have a friend I've known for decades who has gotten gradually worse about this over the years."
"At this point I know if I answer the phone, it is because he has a story to tell me and that's his only motivation for calling."
"In a recent call, I'd just had a death in the family, it was very obvious I was going through some stuff but he'd only called to talk about the fender bender he was just involved in."
"A half hour later, I ended the conversation and he still didn't know I'd lost someone. He just kept pivoting back to himself."-LogicBalm.
"Adults who shamelessly brag about themselves like they're 12 year olds on the playground."- DameDrunkenTheTall
Where's the off button?
"When you're in a conversation with someone and they literally give you no time to speak."
" I hate that sh*t."
"Happened to me at a local music store yesterday."
"Dude would say a sentence with a clear ending and before I even get a whole syllable out in response he starts talking again."- Additional-Demand740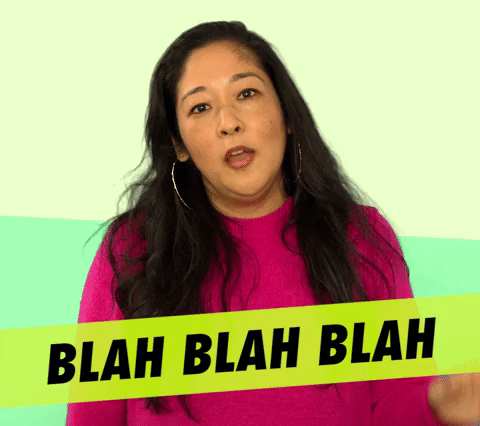 Stop Talking Blah Blah Blah GIF by GIPHY Studios Originals
Giphy
Who's really the child here?

"Adults pranking their kids and posting it online."
"You want to build resentment between you and your kids?"
"It's only a joke of both sides are laughing."
"Stop embarrassing them and then sharing it so the whole world points and laughs at them too."- Vegesaurus-Rex
Can you turn that down please?
"Playing music on phone without using earphone in public."- SuvenPan
I haven't got all day!

"Huffing and puffing while waiting in line because the cashier isn't going at supersonic speeds then proceeding to use 527 coupons and complaining to the manager about every single item."- Impressive-Orchid748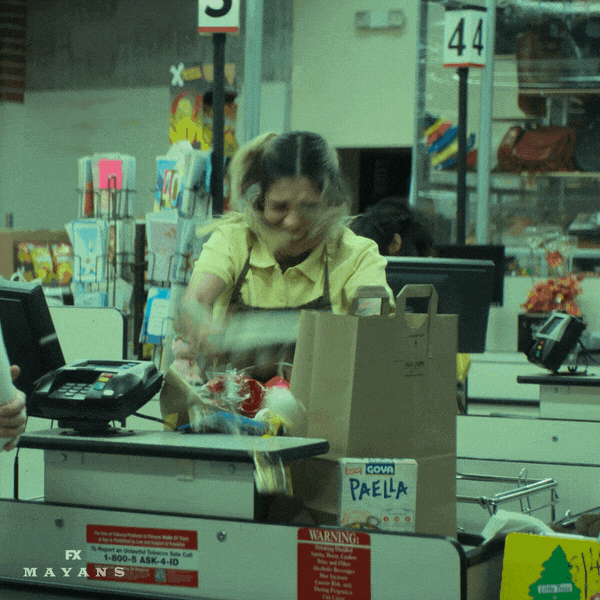 Angry Season 4 GIF by Mayans M.C.
Giphy
Aren't I the best? I can prove it!
"People who share the Facebook quizzes because the results are always an exact definition of their personality."
"My MIL is a narcissistic psychiatrist and she shared that she is a loyal queen that is brutally honest, loves you through every battle you face, and if she loves you, you are lucky."
"She cheated on her husband a few months ago, but hey, it was his fault."
"Asked my wife if she was pregnant."
"Wife said no, just gained some weight."
"MIL replied thank God, you don't need any more kids."- fishyfish55
How can it be that the people responsible for these infuriating habits aren't remotely aware of them?
Perhaps because they're thinking of themselves, and no one else.
Want to "know" more?
Sign up for the Knowable newsletter here.
Never miss another big, odd, funny, or heartbreaking moment again.
Keep reading...
Show less
When discussing statistics, people immediately become engaged.

Who doesn't want to know more?
And random facts are the best.
That is what gets you to 'Jeopardy.'
Redditor unelaboratedov wanted to discuss factual fascination. They asked:
"What is the most interesting statistic you know?"
I love facts and statistics. It's always good to know the popular averages.
How Much?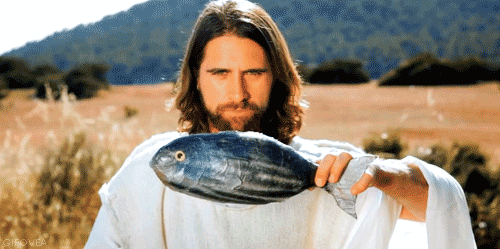 jesus GIF
Giphy
"If you earned $180,000 per day since Jesus was born, you still wouldn't have as much money as Jeff Bezos."
water_fountain_
Teeth
"Of the 335 million people living in the United States, approximately 23 million adults are completely edentulous (have no teeth)."
toothfixingfiend
"My guess is it's become quite common to get full dentures, including pulling out teeth for them. That's like 8 percent of the population, and I basically never ever see people with visibly no teeth. But I know several who have full dentures and probably see a lot more without realizing it."
Ok-Control-787
Speed Racer
"Racing car drivers in the 1950s, 1960s and even into the 1970s had a lower survival rate than WWII fighter pilots. Meaning those racing drivers were statistically more likely to die than those flying in battle. Crazy."
Haunebu52
"To add to this my interesting statistic is that there's still around 240k WWII vets still kicking. But 234 die on average every day."
thegrandpineapple
100 Trips
"I'm an Uber driver with around 750 trips, so statistically I've been alone in a car with around 7 or so psychopaths."
KeyParticular8086
"I did Uber a few years back, maybe did 100 trips. I often wonder what is the worst thing ever done by any of those passengers. Aside from the drunk girl who peed herself on St Patrick's day."
420buttbabies69
DUI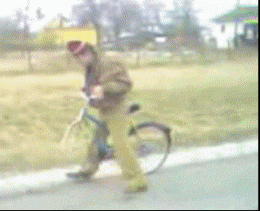 drunk drivers GIF
Giphy
"The average drunk driver drives under the influence more than 80 times before being arrested for the first time."
Sleepy_potato21
I feel 10X smarter already!!
"don't go there"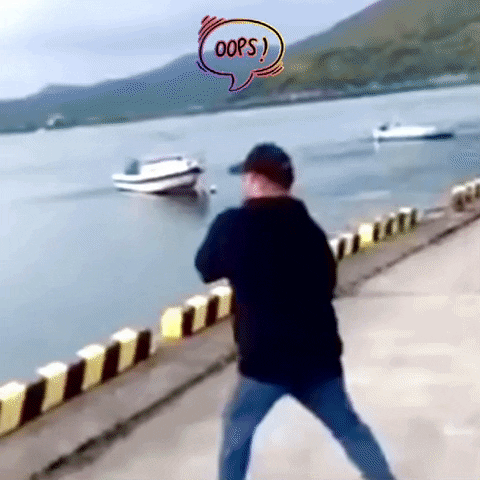 Fishing Fail GIF by Conesulfoz
Giphy
"Protected fishing zones in Europe are more overfished than unprotected zones. People hear 'don't go there' and then go there."
let-123
Right and Left
"My favorite statistic, as a left-handed person myself, is that southpaws die, on average, 13 years younger than right-handed people. I had always heard this attributed to the fact that power tools are generally designed for right-handed users, making many of them awkward and dangerous for left-handed people."
"But the real explanation is far more interesting. See, until the middle of the 20th century, being left-handed was heavily stigmatized, and often viewed as a sign of the devil. Teachers would not allow their left-handed students to actually use their dominant hand."
"This actually proved to be somewhat effective. So as left-handedness became more accepted, lefty children were no longer forced to use their right hand, but older people who were naturally left-handed but forced to use their right hand continued to identify as right-handed."
"Because of this, the average age of self-described left-handed people was significantly lower than it would be if not for the previous generation being forced into right-handedness. And when the average age of a group of people is lower, the average age of death tends to follow suit."
Daniaghju
1% to 27%
"Some EMS agencies in Arizona and Nevada have been using CCR (cardiocerebral resuscitation) instead of the standard CPR (cardiopulmonary resuscitation). Basically starting by doing 200 chest compression non stop instead of 30 with 2 rescue breaths."
"Within a year of implementing it, EMS providers reported that their save rate went from 1% to 27%. This last year that number has gone up to around 50%. Furthermore, the saves are no longer just getting a pulse/heartbeat back, the people are now more often neurologically intact."
poizunman206
On the Waves
"The most dangerous world record to attempt is the water speed record, with an 85% mortality rate. The reason being that at the speeds they reach (300+ mph), air resistance is so strong that if the boat tilts even slightly too far up, it will completely flip and crash into the water at insanely fast speeds. And as you can imagine, it's pretty easy to tilt too far up when you're constantly bouncing on waves."
AppleEnslaver
Drainage
"It would take 1.2 million mosquitoes, each sucking at once, to completely drain the average human of blood."
ofsquire
Facts are fun. Share with your friends.
Want to "know" more?
Sign up for the Knowable newsletter here.
Never miss another big, odd, funny or heartbreaking moment again.
Keep reading...
Show less
It's never attractive to gloat.
Nor does superiority ever come off as a particularly attractive attribute.
But, consciously or not, some people speak or behave in a way that immediately suggests that they think they deserve to be treated differently, i.e better than others.
Or that they believe they simply are better than other people.
A recent Redditor was curious what sort of behavior struck other people as elitist or arrogant behavior by asking:

"What screams "I am entitled"?"
Where's the fire?
"Impatience in situations where it should be just universally understood that you need patience".- c7hu1hu.
Positions of power.
"I will have you fired!"- Vergo27.
"Generally just leaving something for someone else to deal with."- Splatty_boi_420.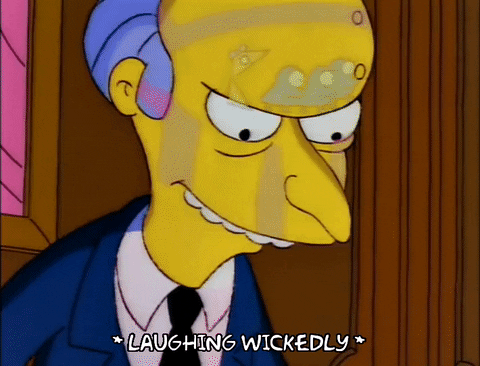 Season 3 Reaction GIF by The Simpsons
Giphy
Sorry, but I was here first.
"People who cut in line."- Chad_Farthousse.
​
"People who ignore lines and cut in the front, like their time is more important than every other person patiently queueing."- ofsquire.
Should I?

"Do you know who I am!?!"- ThoriumLad.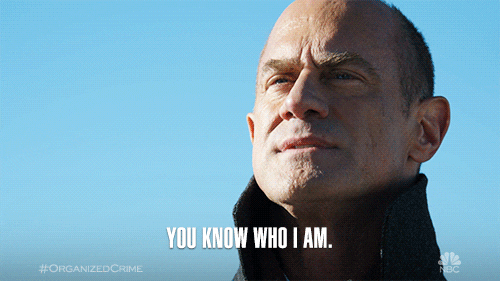 Organized Crime Nbc GIF by Law & Order
Giphy
No one loves a tattletale.
"I'll call my dad and tell him what you did!"- ROAM300.
Ever heard of quid pro quo?

"When they do something to you and think it's fine but when you do it in return and they freak out."- Silvero129.
Name your price.

"I work as a ticket seller for a ski resort."
"My favorite entitled person is the guy who, upon finding out that the kid's ski lesson was sold out, offered to pay extra if I would kick someone else's kid out so his kid could have a spot."- Floranagirl.
"People who brag about their parents' money."- SpecialExamination41.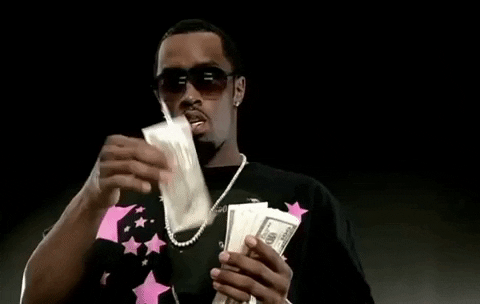 Hustling Music Video GIF
Giphy
Can't you see how sad I am?!?!
"People who think their personal feelings should be other people's top priority."- walebrush
I can do whatever I want, because of my car
"For me its people who have 'Rich' or 'Fast cars' and when there is traffic and they feel like they can go into turn lanes but go straight in front of everyone, or drive on the shoulder as THEY have to get where they are going and THEY are important, at that time."
"I feel like we should be able to record it to show they are doing things illegal and then we should be allowed to shoot their car with paintball guns."
"This way if you see a car shot up with paintballs you can go, okay there is a asshole so we need to watch out for him."- VivaLasVegasGuy
Rulebook slow down.
"Driving too close behind me and beeping when I'm going the limit."- MountainsRoar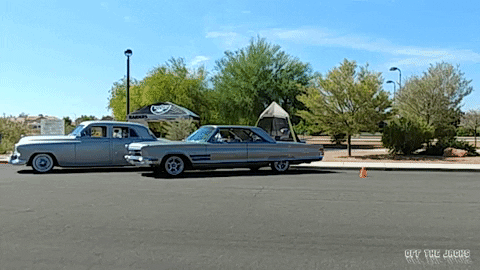 lowrider lowridermeatup GIF by Off The Jacks
Giphy
Making life a competition

"Do you know who you're talking to?"
"My ____ is sm better than yours"- Green-Train6846
Pushy parents

"My baby Deserves it."- Warsquid08
Flaunting wealth
"Saw a couple on TikTok honeymooning to all these different countries on a train."
"Bragging about how long their trip was and the cost."
"Wearing designer outfits to dinner and they weren't wearing a mask."
"Got a bougie breakfast delivered to their cabin."
"Idk, just looked so obnoxious and privileged."- auntfloss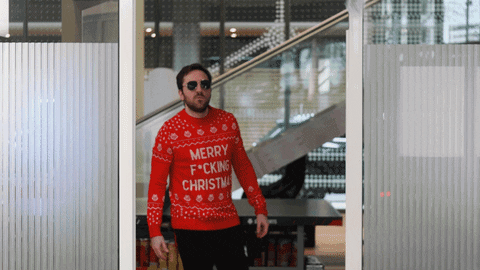 Money Raining GIF by G2 Esports
Giphy
Everyone deserves to be treated with respect
"Treating retail or fast food employees like sh*t and sh*tting on them for working in such a place."- PapaTwoToes
"Customer enters store 'ding'."
"Retail worker 'Hi, how are you today?'"
"Customer 'Um. Do I know you?'"
"Retail worker 'No, My name is Blah are you looking for something specific?'"
"Customer 'No' walks away."- AcanthaceaeVirtual
The hosts are there for a reason.
"People who seat themselves at restaurants."- peachmonroe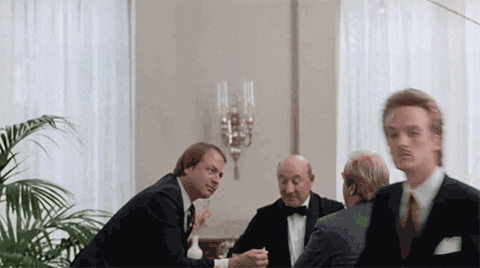 Suspicious Ferris Buellers Day Off GIF by MOODMAN
Giphy
There had to be a better way of handling it

"I am first one in the movie theater."
"Turns out to be a sell out and the last seat open is next to me."
"A married couple come in and they want my seat."
"I say no."
"I got there first to have that choice."
"Usher leaves and comes back with police."
"I never went back to that movie theater."
"Location, Union Station D.C."- Environmental_Pin95
Perhaps one of the most obvious ways to unwittingly show off your entitlement?
By being oblivious to how entitled you are.
Keep reading...
Show less
Adventurous people will tend to give almost anything a try at least once, just for the sake of it.
Others might only be willing to try certain things if there was an incentive to do so, such as money or an exciting prize.
But more often than not, there are many things that people will absolutely never do, no matter the circumstance, no matter the amount of money offered.
Redditor chezjvr was curious what things would be an unequivocal hard pass for the Reddit community, leading them to ask:

"What will you never ever do under any circumstances?"
Hey, you never know...

"Lottery."
"Working at a gas station watching people blow their whole paycheck and win $200 after spending $600."
"Then celebrating by buying more."
"'I won $200!'"
"B*tch you're in the hole by $400, this week." - Crystalbow.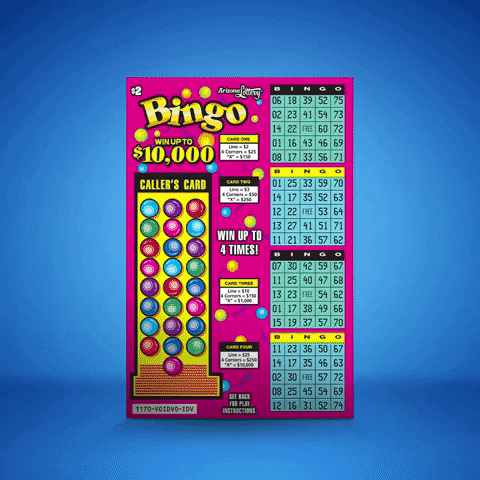 Giphy
The sun is good enough for me.
"Use a tanning bed." - darecountydramaqueen.
My Health Comes First.
"Smoke a cigarette."
"My parents have smoked since they were teenagers and I had a terrible cough the entire time I lived with them."
"Since I've moved out, the cough is gone."
"Also my mom has COPD from smoking and has yet to quit, even though her dad died of COPD from smoking."
"I know how my mom will die and I hate it. I'm never touching that garbage." - UrdnotChivay·.
"A tame one, but smoke tobacco."
"My dad has always smoked like a chimney and I've seen what it's done to his lungs, his teeth, the way he and his clothes smell."
"I love the man, but there was no greater deterrent to me smoking growing up than seeing what happens to someone after 40 years of near-constant smoking."
"It's just disgusting."
"I'm not the sort of person who has ever done drugs more than a couple of times, and I stopped drinking years ago, primarily because I'm an a**hole that I don't like when drunk and high, but I'd still rather do those than smoke cigarettes, and it's frankly baffling that cigarettes are still legal and everywhere." - Koras.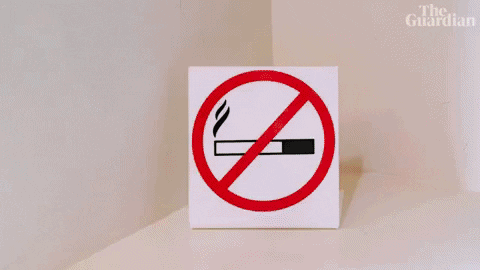 Mad Men Smoking GIF by guardian
Giphy
There's Only One For Me.
"Cheat on my significant other".- SuvenPan.
"I would never cheat on my wife."
"My personal belief is that there is no morally acceptable excuse for doing so." - irish2685.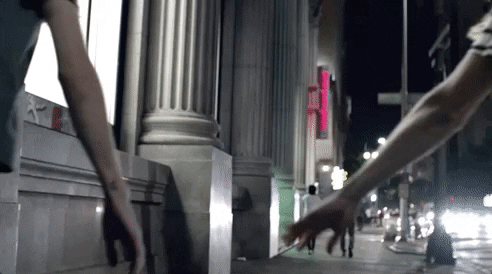 same old love hold hands GIF by Selena Gomez
Giphy
Very Important Rituals
"Go to bed without saying goodnight to my cat." - lewie2494.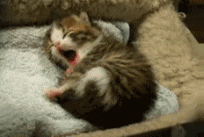 sleepy cat GIF
Giphy
I'd Rather Wait Till The Big Day
"Throwing a gender reveal party." - Bretters_METAL.
I Can Smell Your Lies
"Trust a fart."
"That's my #1 life rule. Never trust a fart."- leftofthenormal.
I Do... NOT
"I will never marry you."
"We can be friends though."
"I'm cool with that."- Constant_Fig_8648.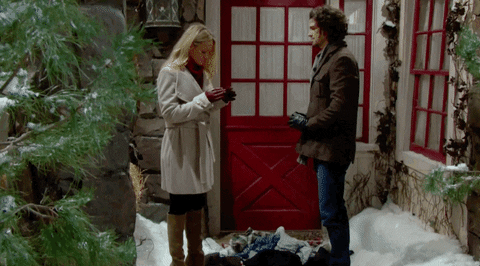 rejected the young and the restless GIF by CBS
Giphy
There are better ways to spend my money.
"Buy battlefield 2042."- SHAMEanBLAME
Make America Great Again... by never being my friend!
"Befriend a Republican."- ronmsmithjr
Too far and too dangerous!
"Travel to Australia."
"Everything that can kill you lives there."- violettleafu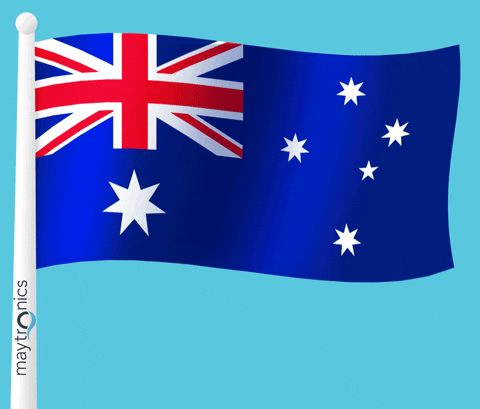 Flag Australia GIF by Maytronics
Giphy
Has anyone?

"Buy YouTube premium."- Firm_Ad5280
Some words are more harmful than weapons

"Say the N-word.'
'I don't care if the whole population of black people gave me the okay to say the other word and nobody would beat me for it."
"I would never say the N-word."
"My father was very racist person when I was a growing up as a little kid so I hurt him say it a lot and didn't realize until years later how racist that was." - SavageKitsune762·
That chapter is finished!
"Go back to my ex."
"Even if he is the last person on earth, f*ck him"
'Even if f*cking him is to keep me alive I would rather die."
"Seriously."
"I. Would. Chose. Death."- No-Front-673
I'll wait for you in the lodge...
"Don't want to go skiing or snowboarding."
"Sounds like a dumb way to die or get paralyzed."- DanSRedskins·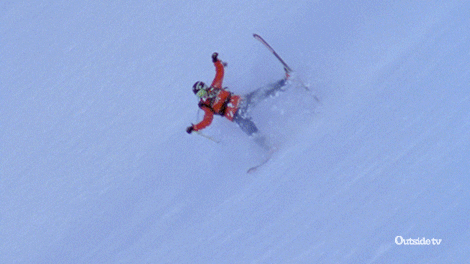 ski lol GIF by Outside TV
Giphy
Never let them forget

"End a call to my parents or friend without saying love you first."
"Also applies when i've seen them in person."- clmrsmn
What's in a name?
"Name my kid Asher."
"It's the worst name."
"I would say 'no offense people named Asher'.'"
"But you know what?"
"Some offense."
"Some. Offense."- Poptart102938
No way are you getting me up there!
"Skydive."
" Don't even care for the 'for a billion dollars you would'."
"Nope."
'I hate being in a plane let alone jumping out mid flight."- Maximum_Malone·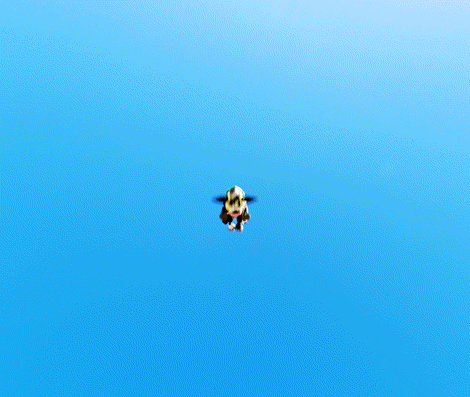 Cow Skydiving GIF by Pablo Lopez
Giphy
Whether it goes against your personal beliefs, makes you feel uncomfortable, or just plain doesn't interest you, it's always OK to say "no".
Keep reading...
Show less