When I was a junior in college and moved into my first apartment, the combination of thin walls and the overall loudness of the boys in the unit next door made me privy to every aspect of their lives.
I could hear them so clearly, I know what movie they were watching the night before, if one of them spilled something on the other's laptop, and even who was fighting with their girlfriend that week.
The fact is, there are a lot of apartment buildings with thin walls, meaning everyone can hear everything. Sometimes, this is just annoying: too much noise when all you want is some quiet.
However, every now and then, you overhear something interesting and funny. Redditors certainly have, and they are eager to share!
It all started when Redditor EskildDood asked:
"Redditors with thin walls, what have you heard in your apartment?"
How To Save A Life
"In college, I lived in a crappy apartment nearby the school, that was mostly populated by students. Halfway to class one day, I realized I forgot a book and had to rush back to my apartment to get it. As I was running up the stairs (which shared a wall with the stairs in the next door apartment, which mirrored my own) I could have sworn I heard someone yelling. I ignored it and ran to my room to grab my book. As I clambered downstairs, again I heard yelling, and I paused to listen. I heard some unintelligible moaning, and eventually heard the words "help me," weakly groaned from the stairs next door. I rushed out and tried their door, but it was locked. I totally forgot about my class and ran to the apartment management office, hoping that someone was there."
"A manager was, thank goodness, and after I explained the situation, she grabbed her master keys and we booked it back to my neighbor's place. She opened the door and the poor guy was laying in the stairwell (it was one of the ones that goes up halfway to the second floor, then turns 90 degrees for the rest of the way), clearly having fallen. I called 911 while the manager ran over to the guy. Ambulance came and picked him up, and I later learned that he had fallen down the stairs after passing into a brief diabetic coma. I guess he hadn't eaten in some time; I don't know too much about how diabetes works. Anyhow, to this day, I feel grateful that I forgot that book. That poor guy could have died, slumped halfway down the stairs with his face in the carpet."
"Edited to add: also, relevant to the thread, I was grateful for the thin walls. Just for that though. Thin walls suck."
– thatdanglion
I Know What You Did Last Workday
"my old neighbour was a cam girl and I could hear absolutely everything she said in every single session for a good 4 months. pretty much learned the names of her clients. I work from home and it was always a gamble whenever I had to meet with someone virtually."
– hausofelle
Roommate Woes
"I once heard a former roommate laughing with his then-girlfriend about how they're screwing me over on money. Turned out they were taking my utility portion and buying various games and alcohol."
"Instead of confronting them, I confirmed what they said with the utility company (they hadn't paid the bill in 2 months) and I moved all my stuff out that day while they were at work. For good measure, I took myself off the lease and told them about the GF that had been there 6 months."
– Azurko
Well, Duh!
"I once heard an argument that went a little like this:"
""Stop treating me like I'm stupid!""
""You asked if Seahorses were mammals, Jessica!""
""THEY GIVE LIVE BIRTH.""
– ApplepieButterfly
"I was at a bookstore once and a strange couple walked by. I wonder if it was them, because I overheard"
""Tinkerbelle is half fairy, half PIXIE, Jessica, geez!""
– toktobis
The Day The Music Died
"I actually manage an apartment complex where my office is surrounded by a one bedroom unit. The building is old and the walls are thin. The tenant that used to live in the unit was a quiet man but would frequently sing beautiful opera music. His voice was amazing and I loved it every time I heard him sing!"
"Then one time I saw him in the halls and made the mistake of asking if he was the one who sang these beautiful opera songs. His face turned red but he confirmed that it was him. I told him that I always enjoyed it when I heard him sing and that it would always brighten my day."
"Never should have said anything because I never heard him sing again."
– Deleted User
He Will Always Be Her Kid
""William! We do not hit!"""
"His mom was visiting. He was 30."
– HungryLikeTheWolf99
"Poor mom, I feel bad for laughing at this."
– Deleted User
Ain't That The Truth
""Yeah girl, you know you want this.""
"My college roommate. 3 kids later it's apparent she did, in fact, want it."
– stannndarsh
We Know Who Won That One
"Heard the couple next door arguing. The wife was furious because she realized he had been cheating on her after she found out she had chlamydia. He tried to convince her that she must have been the unfaithful one. She still lives there. He doesn't."
– thedesertnomad
I Know What You're Up To
"I moved from far away, so I have a different state license plate than everyone else at the apartment complex. A couple of days ago I head my upstairs neighbor drunkenly ranting to his wife about what he thinks I'm up to. He's convinced that I'm on the run from something. I'm just in grad school lmao."
– greatergood2019
"Grad school...for crime!"
– recumbent_mike
Oh My God!
""Gina, I love you! Gina no! Gina, dammit put the knife down!!" At this point, both the apartments adjoining to Gina's called the police. Gina's husband decided to spend the night elsewhere."
– oldmuttsysadmin
"Had this exact thing happen about 12 years ago when I was pregnant with my oldest. I was tired, so laid down for a nap, trying to ignore the action movie hubby was watching."
"After somehow falling asleep for a while, I end up waking up to a male voice going, "No, please, put down the knife! Can't we talk about this?" And then a dramatic outcry that sounded as if he'd been stabbed."
"Figured hubby was still watching the action movie, go out to the kitchen for a snack, see the TV is off. I freak out and tell him what I heard, and we call the police. We never heard anything about it after that though."
– Siferra84
Bullseye!
"I lived next to a couple some years ago and they came home after a night out and started fighting about who was better at darts. I thought they were joking but it got pretty heated. Doors were slammed."
"Edit: Since people are asking, they were playing darts at the bar earlier that night. From what I could tell they were playing as a team and the boyfriend wasn't pulling his weight and was super defensive about it (had an off night, allegedly). The girlfriend was mad he couldn't accept she was better. I'm no detective but think they had some relationship issues bigger than darts."
– Aromatic_Bird
The Alarm Worked...
"More what my neighbour heard...I'm a deep sleeper and was an even deeper sleeper as a teenager. My phone alarm was going off for 30 minutes and my neighbours could hear it through the walls, assumed it was a burglar alarm and called the police. Waking up to the police banging on my door was confusing."
– iMac_Hunt
Yikes!
""Everyone in my family thinks you're gay!""
""I am though?""
""Well we haven't told them yet, so tone it down a bit.""
– mollymuppet78
Spaghetti Policy
""F*ck you, man! If you don't like spaghetti, then you don't like me!""
– xaanthar
"Preach"
– LockoutFFA
I can't stop laughing at that last one!
Do you have any thin wall stories to share? Let us know in the comments below.
There are few better methods of getting out of doing something than pretending to be asleep.
Needless to say, your friends and loved ones will most likely wake you up in the case of a genuine emergency.
Other times, however, if you're just not quite ready to play with your children, answer a question that can wait, or simply talk to anyone, pretending to be asleep is a fairly surefire way of avoiding all those things.
However, as with any sneaky maneuver, it has some downsides.
Namely, that you might overhear something someone else didn't want you to hear.
But since you were "asleep", they thought they could get away with saying it.
Making the probability of actually falling asleep a very difficult endeavor.
Redditor Da_Bugo was curious to hear the things people overheard when they pretended to be asleep that they wish they didn't, leading them to ask:
"What is the worst thing you've overheard while pretending to be asleep?"
Absolutely Nothing About This Makes Any Sense
"When I was a kid, I used to be scared of monsters or something creeping up on me in my sleep, so I would always ask my dad to check on me before he went to bed."
"It made me feel more comfortable."
"One night, I was still awake when I heard him coming up the stairs, and I wasn't supposed to be awake and knew I would get in trouble if he saw me, so I pretended to be asleep."
"He came in to my room and just kinda stared at me for a few seconds, then came up close to my bed, lifted the blanket up, farted under it, turned around and left."
"It's been at least 15 years and I remember that night vividly."
"He vehemently denies it to this day but I know what happened."- YaBoiStego
No Matter When Or Where, It's Never News You Want to Hear
"I heard the news my dad passed away pretending to sleep."
"I was 12 at the time, woke up in the middle of the night to go to the bathroom."
"Headed to the kitchen to get some water after and saw my sister sitting on the couch."
"She asked if I could sleep out in the living room with her and I didn't think anything of it."
"Woke up the next morning and kept my eyes closed, I heard my mom telling my dad's best friend we lost him."
"I won't forget it."- weesstt
"I pretended to sleep through the doctor sitting at my kitchen table telling my dad he had stage 3 cancer."
"I was 9."
"He's totally fine now!"
"But it really sucked at the time."- slightlysarcastic75
Even If You Weren't Actually Asleep, Did He Not Worry About Waking Him Up?

"Freshman college roommate watching porn on his laptop wearing headphones, humping his mattress like there's no tomorrow."- underpar86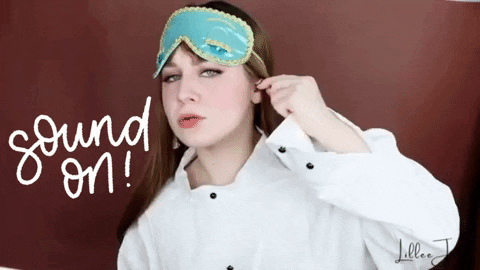 Volume Up What GIF by Lillee Jean
Giphy
Where On Earth Were The Parents?!?!
"Sleeping over at a friends house when I was 14, all of us on the floor in living room."
"Couldn't sleep."
"Two of my friends, guy and girl, directly next to me start doing freaky things to each other."
"I was extremely shy and a couple of years younger than them so I stayed quiet and hoped they'd stop."
"Had to listen to them for an hour while she made weird a** moaning squeaky noises and he was singing (in a weird slightly whispery singy voice) matchbox 20 songs to her while he did whatever he was doing."
"That was last time I slept over at a friends house."- ashananon
Medical Miracle?

"That I was dying with Meningitis but jokes on the doctors I'm still kicking."- FeedBean6
What Happens In Vegas...
"My grandparents won $10,000 at the casino, and they told all of their children, and presumably gave them some of that money, except my dad."
"My dad is a d*ck so I didn't tell him either."- 3-methylbutylacetate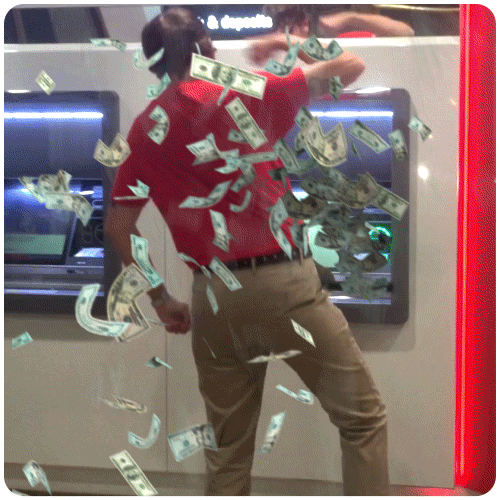 Make It Rain Loop GIF by Chris Timmons
Giphy
Some Friends They Are...

"My 'friends' talking about going into my wallet later and stealing my money, and then leave before I notice."
"I kicked them out."- bodymeat_112
Caught In The Act
"My mom and I were sharing a hotel room on a trip and unfortunately only had one bed so we had to share that too."
"As I was trying to fall asleep, I kept hearing the text tone from my mom's phone going off and her giggling."
"My parents hate each other so I knew it wasn't my dad she was texting with."
"Curious, I opened my eyes just a little bit to see that she was flirting with other men while on a trip with her family and I was in fact staring at a d*ck pic."
"I couldn't really go back to sleep after that."- MissMetalSix
Setting Such A Good Example...

"My older brother in the next room when he snuck a girl in."
"They had sex for about a minute and then I could hear him apologizing for about 20."
"May not be the worst ever, but it's definitely the funniest."- Sigurd93
Are They Really "Mates"?
"Probably the funniest was on a camping trip with the boys."
"I have sleep apnea and use a cpap machine."
"I overheard a couple of my mates talking about smoking a joint and hotboxing me through the air intake of my cpap machine."- anonymous_DoDoBeDoDo·
Never A Pleasant Sound
"Probably my dad's dementia screaming."
"Usually nothing is wrong, but he'll wake up at 4 or 5 in the morning to yell at God and grind his teeth."
"You never do get used to it."- PossibleStrength·
Seemed To Work Out For The Best?...
"Not me, but my wife heard her boyfriend having sex with her best friend."
"This was obviously long before we met."- TheDeadGunslinger
Mommie, Dearest...

"My mom and aunt talking, thinking 10-year-old me was asleep."
"Aunt, 'Little Runs_N_Goses is so cute'."
Mom: 'No, he's not very good-looking at all'."- Runs_N_Goses
Even if pretending you're asleep might save you from partaking in something you want to put off for as long as possible, for better or worse, it doesn't save you from hearing everything you are missing.
Which, in certain cases, might mean you have to face the music all over again.
Almost making you wish you were, in fact, asleep and it was all a dream.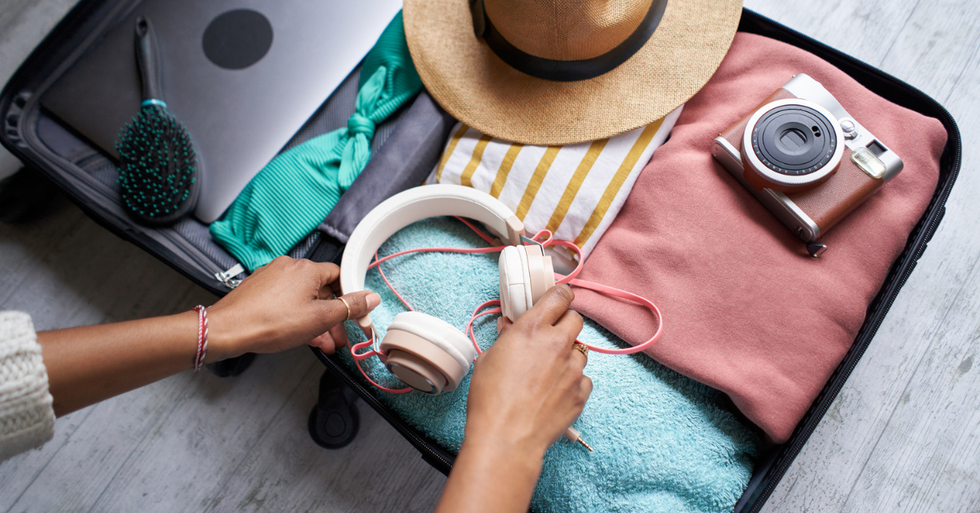 When getting married, people tend to view their in-laws as either an added bonus, or an unfortunate downside. Those who are lucky have as good or better a relationship with their in-laws as they do with their own families, and thus look forward to spending time with them at family gatherings or on vacations. Others, […]
More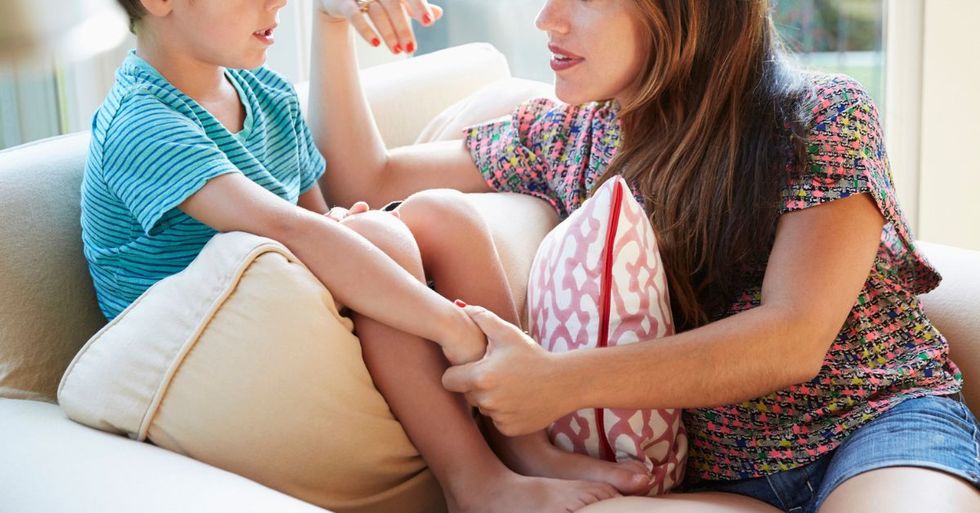 Kids are the most inquisitive humans. They absorb information constantly. For some parents that's part of the fun. But many parents may differ on how to dish out the knowledge. Case in point… Redditor FeelingFalcon7364 wanted to discuss her experience and get some feedback. So naturally, she came to visit the "Am I The A**hole" […]
More
Don't forget to hang up or turn off your phone.
It seems simple enough to remember.
But more and more people seem to forget this simple little step, and find themselves saying things which weren't meant to be heard by the person on the other end of the phone.
Or worse, if it's a FaceTime or Zoom chat, the person on the other end might see something that wasn't meant to be seen.
Redditor ScarTissue5 was curious to hear the many wild things people overheard when people thought they'd hung up, but didn't, leading them to ask:
"What's the craziest thing you've heard someone say after they thought the phone call had ended but they forgot to hang up?"
"A colleague of mine dialed into a meeting of 2-3 managers plus about 25 sales reps only for everyone to suddenly go quiet and for one person to tell him the meeting was cancelled and he could drop as they, the sales reps, were just chatting sales stuff."
"He pretended to hang up and stayed on the line."
"They were basically planning a mutiny because they didn't like that their regional manager was a woman."
"They had a whole strategy for how they were going to cause a massive f*ck up that would cost the company a ton of money and look like it was her fault so she would get fired."
"The dumbwads even did a little 'are we all in agreement' roll call at the end."
"We worked in a call center so his end of the call was recorded."
"Within a week every last one of them was fired and within a month they were replaced."- InternetWeakGuy.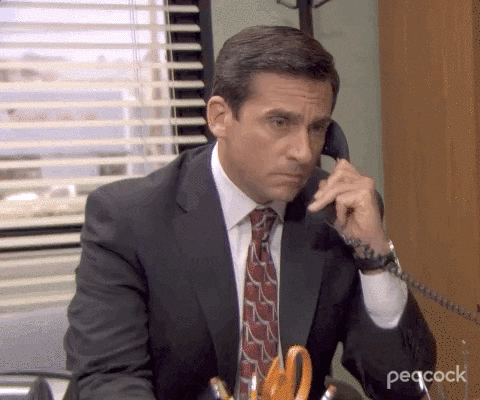 Season 6 Nbc GIF by The Office
Giphy
Walls are not always soundproof.

"I was looking for a place to rent."

"Met the property manager and she walked me to the unit."
"It wasn't the best neighborhood and my mind was already made up as I was walking around the property with her that I wasn't going to go through with it."
"But the lady was very nice and friendly and I figured I'd at least take a look inside the unit."
"It was small and dingy."
"I looked around and told her nicely that I'd think about it and then walked out."
"After the door closed, I could hear her screaming: 'No, you f*cking won't!'"
""F*ck!'"
" Oh, I'll think about it and let you know.'"
"'Ah! F*ck!!"'
"Certainly glad I did not rent."- SweetDee72.
Overheard at the office.

"I once worked as a secretary in an office that, for some reason, got butt-dialed a lot."
"During one such occasion I got to listen in while some gentleman from New York absolutely roasted one of his employees."
"'Well what the f*ck do you expect me to do?'"

"'Honestly, Tom, honestly, if it wasn't for the fact that I'm sleeping your sister, you would be out of here right now'."- BabySuperfreak.
"Here, kitty, kitty..."

"I left a client a voicemail and thought I hung up but in fact I proceeded to talk baby talk to my roommates cat for several minutes while it was recording."- Incontinento
"Another season, another reason..."

"I used to work at a call center that took orders for a lot of different things."
"I took a call from an old lady one day."
"She told me she was 89 and her husband was 92."
"She ordered a generic brand of 'the little blue pills'."
"As she was hanging up I heard:"
"Little old man: Did ya get'm?"
"Little old lady: I sure did."
"Little old man: HOT DAMN I'm gonna get some now!"
"Little old lady: *giggles*"- Shenaniganic.
You'll do this, or else...

"My mother-in-law [MIL] had a new boss who hated her."
"She was about three years from retirement, and she felt like he was trying to push her out early so she'd loose part of her pension etc."
"She asked me to check her answering machine while she was gone after her mother died and let her know if anything important came in, and to water her plants."
"The third day or so I'd been there, there was a message from this boss giving his condolences."
"Then you could hear the click where he thought he'd hung up but must have placed the receiver just wrong and was still on the line."
"He ruthlessly made fun of her with his wife for the next five minutes before saying 'Oh, sh*t!' and hanging up."
"She was at a really low point in her life, and I didn't have the heart to tell her or leave the message on the machine."
"It would have absolutely crushed her."
"But I did record it, and then I deleted it from her machine."
"Then I called that a**hole and told him what I had, why I wasn't telling her RIGHT NOW, but absolutely would if needed in the future, and told him I'd better hear nothing but how wonderful work was going for her and how well she was treated until she retired."
"I told him I didn't even understand what a piece of sh*t you had to be to talk about someone like that behind their back, and especially at such a time in their life."
"And that's exactly what happened."
"She had a wonderful last few years and figured that her mother dying had opened him up to treat her kindly and with respect."
"That was twenty years ago and I never told her and never will."
"I wouldn't want to ever take those last few years there away from her."- skbiglia.
"You talkin' to me?"

"Not a crazy story but I had just finished talking to a client over the phone, we say our goodbyes, then I hear her ask 'are you wearing pants today?'"
"I wasn't sure how to answer that but I figure she was jokingly asking because everyone just started working from home due to covid."
"I just replied 'Yes'."
"She then burst out laughing trying to explaining that she thought she had already hung up and she was actually asking her husband that question."
"We laughed about it for about 3 mins before we actually hung up."- lexisauce.
A dissatisfied customer.

"I worked in sales, inbound call, and had a pleasant conversation with a customer who politely declined the offer and told me she was going to look elsewhere."
"We said our goodbyes, nothing out of the ordinary."
"Really sweet lady, had called in with her husband."
"As soon as she thought she hung up, she slammed her phone down and starts yelling at her husband."
"'F*ck [company name], are you f*cking shitting me right now?'"
"'$350 a f*cking year?'"
"'I'm not paying that much for this g*ddamn piece of sh*t [product] how the f*ck could that b*tch pitch that with a straight f*cking face?'"
"I gave her the decency of hanging up myself after that but she was 100% in the right being pissed haha."
" Inbound means she called us to update, not the other way around for those confused."
"I said she was justified because the company sucks."
"It was exactly what she called in for, just with a price increase she wasn't expecting."- sh*ttysoprano.
Caught Red-handed.
"I called a service provider who was supposed to order certificates of good standing from a state and they were late in sending them over."
"They told me there was a delay at the state's office and gave me a new estimate."
"They forgot to hang up, and I heard them telling their coworker that they'd completely forgot to send in the time sensitive request in the first place."
"Never used them again."- a_little_wicked
"I had a job where I was in a position to write-off a substantial phone bill, which the customer said was because her mother was dying overseas and she had dementia and needed to hear things in her voice to believe anything, including doctor's instructions."
"She was heartbroken and sobbing about how if she had the kind of money to pay this phone bill, she would have just gone back to her country because the flight would have cost less."
"She was right about that."
"I wrote-off the entirety of the phone bill, she cried like a jilted lover in a rom-com and said people like me are angels from god etc."
"After I wished her a good evening and she thought the call was ended, she says to someone in a perfectly normal voice 'Well, that worked!'"- aardvarkyardwork.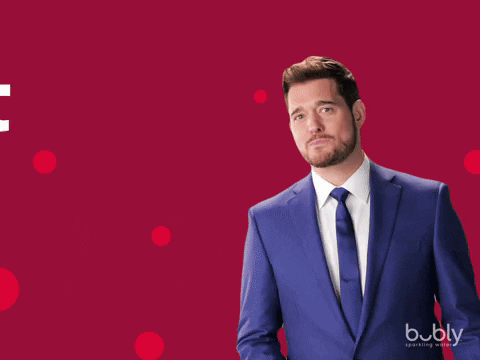 Michael Buble Gotcha GIF by bubly
Giphy
But seriously, who says no to free wine?

"I was a wine club manager."
"I got an incredibly irate call from a man whose daughter had signed him up for a wine club, demanding we cancel it because it was a waste of her money."
"It caught me off guard as he somehow got my work cell, not the main club line, and I was out on a work errand."
"I only answered it because I thought it was my boss."
"So I'm holding 2 heavy packages, with the phone on my shoulder, while he's screaming at me about how he can't believe we let his daughter, a 30-something-year-old woman, spend this money etc."
"He was having a full-on tantrum."
"She signed an agreement to receive a shipment from us."
"I explained to him that it was her account."
"SHE would have to talk about me about making any changes, and noted she could send the wine elsewhere if he didn't want to be the recipient."
"I was calm."
"He asked how long I'd been at the company."
"I told him about a year."
"He ended the conversation, but my hands were still full and he didn't hang up."
"He then proceeded to brag to whoever was in the room that the 'girl' he'd been on the phone with had only been at the company about 6 months and lied that he had me in tears."
"Daughter did not want to cancel, sent the wines to her sister, and told me he was ex-military and an opinionated guy."
"Nice way of saying misogynistic a**hole I guess."- doodleywootson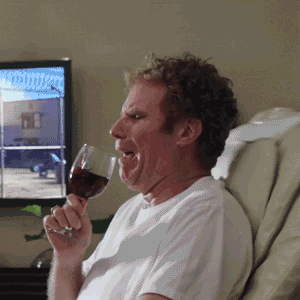 Happy Hour Reaction GIF
Giphy
Um.. I can hear you...
"Not hanging up, but my friend, several years older was asking my to cut vinyl names for jar candles for a friend."
"I was asking about the size she needed."
"She just kept saying 'the bath and body works candles'."
"I'm not sure what size they are."
"She then asks her friend about said candles."
"Friend's friend repeats 'oh they are the bath and body works candles'."
"They keep saying this like I'm supposed to magically know what size these jars are."
"You know how you move the phone to the side to talk with someone?"
"I get the impression this happens."
"My friend goes 'It's my friend [Used_Dragon fruit], she can't afford those, she won't know'."
"I tell her, that I actually I stopped using bath and body works products over 10 years ago because they give me migraines."
"We've barely spoken since."- Used_Dragonfruit_563
So glad to know you're there for me...
"I called one of my relatives and spoke to them about a certain issue that I was experiencing and 'after' the call they said 'Jesus Christ I don't have time for this'."- SeanConneryIsMaclean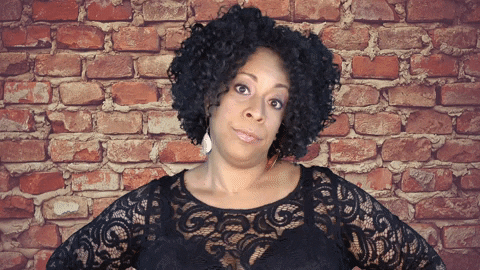 Giphy
Always wise to double check...

"It was more so muting/not muting and I was the person who forgot to do so in this case."
"So we were in a breakout room in one of my online classes last year, about 5 people including me."
"I remember being annoyed/stressed either with the group or the class or just school in general so I 'muted' myself and screamed."
"Not ear defeaning but definitely quite loudly."
"IDEK if i can imitate that yell now."
"Everyone in the breakout room was like wwhooo wassss thaattt?'"
"And I pretended that it wasn't me and I think it worked."
"But even if it didn't, no one accused me lol."
But is there more to the story?
"Very late to the party here, but I got a really weird butt dial about five days after the January 6th Insurrection."
"I have no idea who the person was, it didn't pop up on Caller ID, and the call had an area code that I didn't recognize."
"It was a five-minute 'message' in which I could hear several people talking at once, both men and women, and they were arguing about blowing up a bookstore in Portland, Oregon."
"They also spoke about 'hanging' some book author that they all disagreed with, and they mentioned the Proud Boys and other seditious things as well."
"The voices were sometimes muffled and they were hard to make out at times, but the conversion alarmed me enough that I called my local FBI office."
"I quickly received a call back from an FBI Agent, who asked me a bunch of questions about the call, the caller, etc."
"He then asked if I could send him a copy of the recording of the call, which I did."
"He called back the next day."
"It turns out that the call originated in Northern California, I forget where exactly, and he asked more pointed questions, and specifically asked if I knew anyone in Cali (no, I don't)."
"He then told me that the voices that I heard appeared to have come from a pod cast."
"Somehow the caller/listener had dialed my phone number and I received a full five minutes of the pod cast to which they were listening."
"The next day, a black SUV pulled into my driveway, and two FBI Agents came to my door."
"One was the Agent with whom I had been speaking."
"He wanted to see my phone, specifically the message itself."
"I had nothing to hide, so I let him dig around in my phone for a few minutes."
"They were really nice and we talked crap for a while, and then they left."
"Of course, I was told that the conversation I heard was part of a pod cast, but now I can't help but wonder."
"If it was such an innocuous conversation/pod cast, then why would two FBI Agents show up unannounced at my house just to look at my phone?"
"I don't know why, but I still have that Agent's number in my Contacts."
"How many people can say that they have the back line of an FBI Agent saved on their phone?"- Ghost_of_a_Black_Cat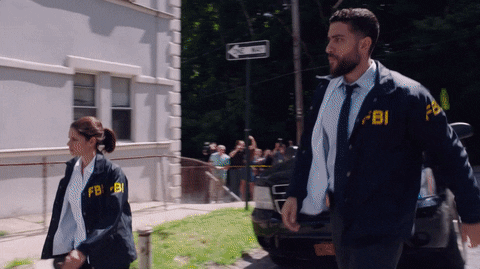 fbi fbifam GIF by CBS
Giphy
Never underestimate the importance of that little click or your phone returning to its home screen.
Neglecting to take note of those simple little things could land you in more trouble than you could possibly imagine.