Eavesdropping used to refer to the water dropping from literal eaves on a house. It later became a nickname, "eavesdropper," meaning someone who stood under the eaves to overhear a conversation.
Now, we have eavesdropping, meaning "to listen secretly to what is said in public," and Redditors have heard some pretty f*cked up things in public.
It's often something in passing that seems completely inappropriate even in the right context.
Redditor everlovingburns asked:

"What's the most f*cked up thing you've overheard someone say in public?"

Here are some of the best - or worst - comments depending on how you look at it.
Cussing out a 12-year-old.
"Heard a woman quietly cussing out her daughter at a train station, calling her a b*tch and a sl*t. Daughter couldn't have been older than 12. She was just taking it in. Staring straight ahead, completely silent."
- angelcakexx
"People wonder why their kids just leave them to die alone and never contact them again as soon as they can leave."
- Alzusand
"My mam has done something similar in a really busy train station and pushed me against the wall. No one helped. They just watched it happen and it's a moment that sits in my head rent free. There's plenty of other things she's done and she wonders why we aren't close."
- VeggieChickenWings
Jim pooped on her lawn.
"'Listen I know Jim is homeless but that doesn't mean he can sh*t on my lawn.'"
"'I'll talk to him.'"
- mrbojingle
"I'm not homeless, the world is my home! And your yard is my bathroom."
- PrisonIsOppression
Not the most scientifically accurate statement.
"I was on a Greyhound. A guy a few rows back was loudly talking on the phone about his cheating ex-girlfriend who said she was pregnant. He said that he knew she was lying because she has AIDS and everyone knows that when a person with AIDS gets pregnant, 'The AIDS eats the baby.'"
- Objective-Solid-4537
"Honestly greyhounds are absolutely wild for the stuff you'll overhear. Entertaining and traumatic in one cheap ticket."
- AMJ94
Admitted to killing the dog.
"Woman on her phone calmly telling her boyfriend that she was the one who gave his dogs antifreeze and that he was a wuss for crying over them dying."
- 46from1971
"I'm not saying she should've been hit by a car, I'm just saying I would understand if it happened."
- PotatoDispenser1
Wait...
"My daughter just had a baby, I must go over and visit.. and poison their dog."
- hyteck9
"Is that the lady from the anti freeze in the other comment?"
- AussieBelgian
"Think we solved a few mysteries here on Reddit today."
- 13Luthien4077
"'Well dear, I don't care what your thoughts are. I banged your cousin and she is a fire crotch.'"
"I'm not sure how that phone call ended, but I remember passing the guy leaving a restaurant and trying not to die laughing."
- WitchinIl
"Whatever happens, Christmas dinner with the family won't be boring this year."
- GoGoris
At the Cedar Rapids IHOP.
"IHOP, Cedar Rapids, Iowa. 'So the SECOND time I got stabbed...'"
- DrunkmeAmidala
"Man, in an IHOP? That sounds like a Waffle House conversation if I've ever heard one."
- userdeleted
A boy in hysterics.
"I was in line for a scary ride at a theme park. A little boy was in the row next to me, in hysterics about not wanting to get on. His father was visibly angry, telling him to 'man up.' It was the first time they had gone when the boy was tall enough to ride but it was clear he wasn't mature enough to actually enjoy it. When it came time for them to board, the man dragged the kid to his seat and buckled him in while the kid was screaming. Why they didn't remove them both I'll never understand."
- votedog
"Former ride operator. I would pull scared little kids off rides because 'I didn't want them to have a medical emergency.'"
"It usually worked. Sometimes they'd call for a supervisor and I'd get the a**hole who wouldn't back me up, but that was rare."
- insertcaffeine
Casual support of Hitler.
"'Hitler should've finished the job.' Russian student to his Polish professor in a Canadian college class."
- Cleaver2000
"If Hitler had finished the job there would be no Russian around lol."
- S1ashAxe
With seven billion people on the planet, we are bound to hear some pretty f*cked up conversations.
Even if you weren't trying to eavesdrop on someone's conversation, this might make you think twice next time you want to overhear someone's conversation.
Want to "know" more? Never miss another big, odd, funny, or heartbreaking moment again. Sign up for the Knowable newsletter here.

Keep reading...
Show less
Listen, we're not going to encourage listening in on people's conversations. It's rude.
But we're ALSO not about to pretend that some people aren't out here having whole conversations on speakerphone in quiet public places or that there aren't situations where the dropping of eaves turns up something well worth hearing.
Reddit user "Whatever12112" asked:
"What is the craziest thing you've heard while eavesdropping?"
To borrow a phrase from my 5-year-old nephew as shouted at the rest of his cousins: "YOU PEOPLE NEED THERAPY!"
Seriously. You do. All of us do. We live in a world with THIS.

We're gonna break this down into two categories - though I'm honestly not sure what to call them. Let's go with Messy and Messier - but this time in a mature audience kind of way.
We'll start with messy.
This Doesn't Bode Well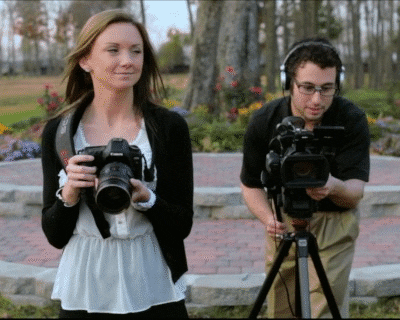 Giphy
"I overheard the photographer for the wedding I was at say 'I took 4 edibles before this and have no idea what I'm doing.' I have no idea how the pics turned out, but there was definitely cause for concern." - Ebony_Aardvark
The Camel Giraffe
"Ok, once in college I heard these morons at the next table:"
"1: I need cigarettes"
"2: what do you smoke?"
"1: I usually smoke Camels"
"2: oh you mean the ones with the giraffe on the box?"
"1: yup!"
"Yes. That was something I heard in undergrad. That was pretty much the whole convo."
"Dumbest thing I've ever heard in my life…." - AelizaW
That's Abuse - Not Romance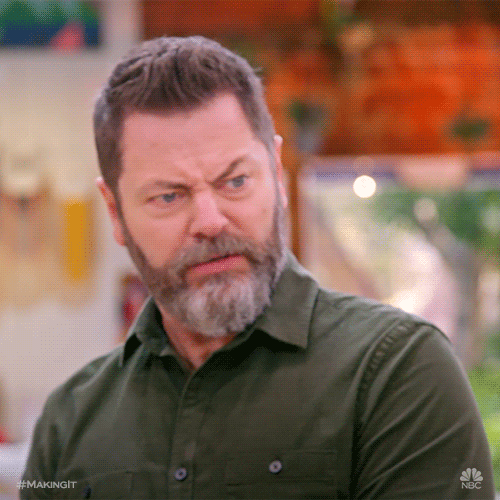 No Way What GIF by NBC
Giphy
"Cute young woman in the bus, a ballet dancer, to her friend:"
" 'Yeah so he got a restraining order against me. So unfair. Yeah I hit him with a bar, but you know, he should have fought back. I wouldn't have minded.' " - LaoBa
"Yeah, there's something wrong with that woman." - Cobrawine66
What Wouldn't Jesus Do?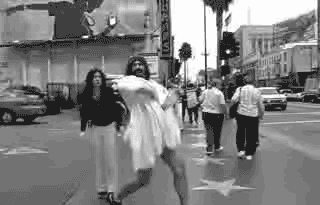 I Will Survive Jesus GIF by hoppip
Giphy
"Religious girl threatened to gut a guy because he threw away a bible she put in his backpack to make him 'gayn't'
"For those lucky enough not to know, 'gayn't' means someone who WAS gay who is now NOT gay. The homophobic hellspawn wanted the dude to change his sexual orientation to straight and then threatened to kill him when he threw away a book he never wanted." - Risu-Mies
The Rich Kids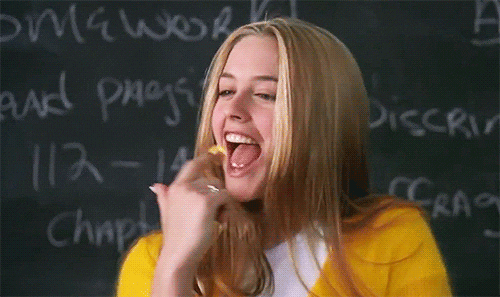 High School Flirt GIF by reactionseditor
Giphy
"I was in high school and kind of introverted and unpopular, and I pretty much became invisible to people if I sat and quietly read a book."
"So one time this happened while we were all sitting around during PE (I think maybe we were picking our next unit? Something that involved a lot of waiting in the bleachers, anyway.) A group of the school's wealthiest and most popular kids was sitting not far from me and just started telling wild sex and drug stories."
"And I realized that the rich kids weren't actually better behaved than the "burnout" crowd or the "bad" kids that were always in trouble--they just had more money to clean up their mistakes." - greeneyedwench
"HUGE mood. The wild sh*t I heard during senior year statistics..."
"The best one was probably 'No thanks, I quit smoking on Monday. I only do ecstasy now.' "
"Other tidbits from the same girl include, 'You don't know what it's like to get your stomach pumped' and 'I always know when someone is gay, I can smell it on them.' (the last while I sat directly beside her, attracting no notice despite presumably giving off some kind of gay pheromone.)"
"Honorary mention to the two guys who were trying to decide if putting alcohol up your butt made you gay or not, while one casually licked his fingers, dipped them into a baggie of protein powder, and ate it raw." - Briggsnotmyers
These Are The Worst Job Interviews Ever | George Takei's Oh Myyy
Alright, time to get physical. Let's move on to "Messier - but in a mature audience kind of way"
Just ... yeah...
Back In My Day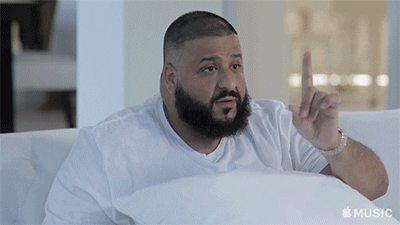 dj khaled sip GIF by Apple Music
Giphy
"I overheard some old guy say 'there was none of this vajayjay eating back in my day.' " - VaginaChina
"And that's why his wife's tennis lessons always seemed to run late..." - Orange_Kid
"DJ Khaled isn't that old." - monettegia
A Kinky Game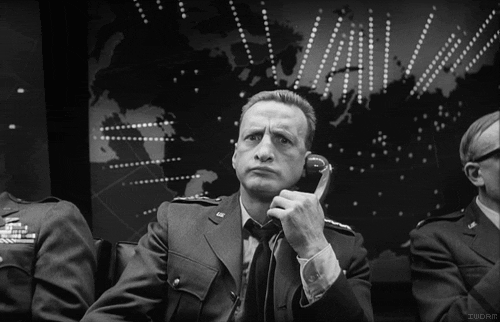 phone GIF
Giphy
"I wasn't purposely eavesdropping. On two occasions, I arrived at work to find intimate conversations between an independent contractor I employed and his wife as voicemail messages on my work phone."
"They were really graphic."
"If there had been only one of these, I might have considered it something akin to a butt dial. But I suspected they were playing some kind of kinky game with me."
"The guy has since died, so I'll never know." - DWright_5
So... now that we're all uncomfortable, let's get out there and have a great day, okay?? lol.
Keep reading...
Show less
Do y'all remember that one Vine where the girl is walking down the street on her phone, and ends her phrase with "and they were roommates"? And then an eavesdropper turns to the camera and says "oh my god, they were roommates"? It's really hard to explain a Vine with words, but I know some of y'all know what I'm talking about.
In this case, eavesdropping was funny. But that isn't always so. There are times when we eavesdrop and end up hearing something that makes us want to wash our ears out with Clorox (don't do this, please).
Here are some of those stories. Appropriate_Ad_8637 asked:
What's the most f*cked up thing you've heard eavesdropping?
Eavesdropping at the wrong time can end up changing your entire view of a person. And then it's all over.
​Valid question.
"Ex thought I was sleeping. She went out on the back patio which was under my master bedroom window that was open. I wasn't trying to eavesdrop, but overheard her talking to her friend about how they were both sleeping with an old man for money and pills."
"Were you the old man...?"
The 90's were wack.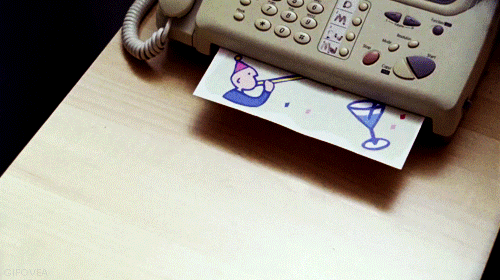 music video loop GIF
Giphy
"Back in the 90's you could pick up cordless phone calls with an ordinary scanner from Radio Shack. That's how I found out the guy living one floor below me was dealing meth.
Also routinely heard peoples' credit card numbers, sex chats, all that stuff. It was crazy."
​Some parents should not be parents.
"From an open window when I was 19, I overheard my Mom telling my Dad she raised a loser. That still hurts years later."
"My parents openly talked sh*t about me to family members even if I was around my whole life. Then they wonder why I never bring my son to visit for holidays or anything. I never want to see them again."
Oh, the things you learn about people through eavesdropping.
​I don't even know what to say to this one.
"I was in line behind two older women at a restaurant maybe 5-6 years ago.
One says "hey, did you hear about so-and-sos son?"
The other says "no, what happened?"
She replies "he ran off and joined ISIS"
What was crazy was they seemed so casual about it. Like that wasn't a crazy thing to hear about your friend's son."
​Honestly? Iconic.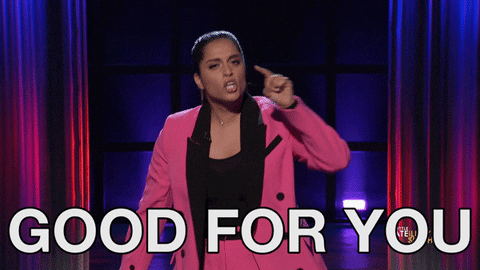 Oh My God Yes GIF by A Little Late With Lilly Singh
Giphy
"Was at a bar, went to the bathroom, and passed a woman talking into a pay phone. She said the greatest sentence I have ever heard. This was over two decades ago, and I still remember it, clear as day:
"Yeah, well every d*ck I suck puts your daughter through college."
I have seriously used that as an example of perfect characterization. You learn her whole life's story in one sentence. It's brilliant."
Yikes!!!
"Yeah, so a friend of mine got his aunt pregnant.
It went like:
Buddy: "Are you sure? I mean, mom is going to be pissed if she finds out. No no no, I'll go with you. For real, we can't see each other again? Wait, no, we can just go away...together, you know. No this it's not wrong. I love you. Please don't."
From what I can surmise is that his aunt was on her way to get an abortion or something and that she's going to leave."
People Who Made A Lot Of Money From Something Totally Random | George Takei's Oh Myyy
​Sounds like a very bad day.
"Years ago I walked by a dude on the street. Visibly frustrated, he was on his phone talking to either his boss, or a friend...who knows.
"...And then it got all caught in the gears, just torn apart, jesus christ blood and guts everywhere! Right in front of the kids! what a bad day to – no, I didn't clean it up! I was late for my dad's funeral!"
I can't even believe what I'm reading for some of these. Imagine how the people hearing this in real life felt.​
​I mean, she has a point.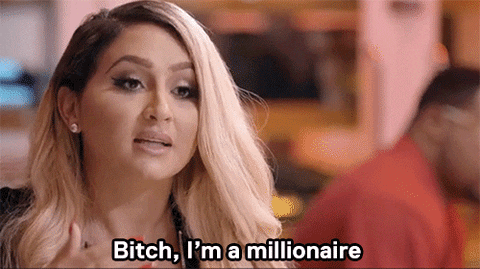 love & hip hop lhhmia GIF by VH1
Giphy
"I work nights right next to a bar. The conversation that's stuck with me the most was when someone's baby mama found them and started a one-sided shouting match outside the window.
She said something along the lines of, "you've got a million dollars in your bank account and still can't take care of your kids." Saw her running and screaming at him as he got in his car and drove off."
​Well, that's one way to do it.
"Overheard a doctor I worked for tell a patient to get a pack of Camels and chain smoke the entire thing. He was a pulmonologist (lung doctor) so I had to ask.
The patient he was talking to had a cough for six months, no treatment was helping. She called the next day, said she coughed up a giant ball of phlegm after all that smoking and her cough was gone. Serial chest X-rays showed no active disease. The doctor said he learned this "treatment method" in Canada back in the 60's."
​Poor guy.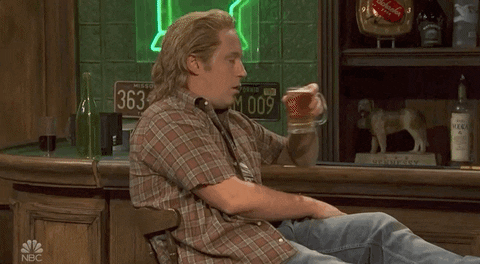 Beck Bennett Drinking GIF by Saturday Night Live
Giphy
"At a bar a few years ago outside on the covered patio with all the other smokers. One of those places that pumps the music on the patio so loud you can hardly speak to the person next to you. A couple on the other side of the patio were yelling to each other really animated, probably because they couldn't hear anything. When suddenly the beat drops and she yells at the top of her lungs "I just don't love you anymore" and the entire crowd turns to look at them shook.
I seen that poor guy the rest of the night sitting at that table in the corner where he got dumped and everyone heard."
Rude.
"So I had to rent a car the other month. Went to return it but they were closed on the weekends and no drop box or anything
So I call and explain that I could have returned the car sat morning and saved myself 100 bucks but them being closed stopped that.
The receptionist gets the manager and she okays the refund, great says goodbye and attempts to hang up the phone. But didn't.
She then starts talking to the receptionist about how she didn't want to refund me but didn't want to deal with the situation as I was probably an a**hole who would escalate it up the chain and complain to corporate and she didn't want the negativity."
Should've listened.
"​My uncle talking about burning down our family cabin and stabbing his wife…I told my parents and they thought it was just the words of a senile old man. He did in fact burn down the cabin, and he tried to kill his wife. He was at least unsuccessful at murder but he's now locked up somewhere. My family didn't tell anyone that it was him that burned it down so they could get the insurance, as he also owned part of the property."
​Doesn't work like that.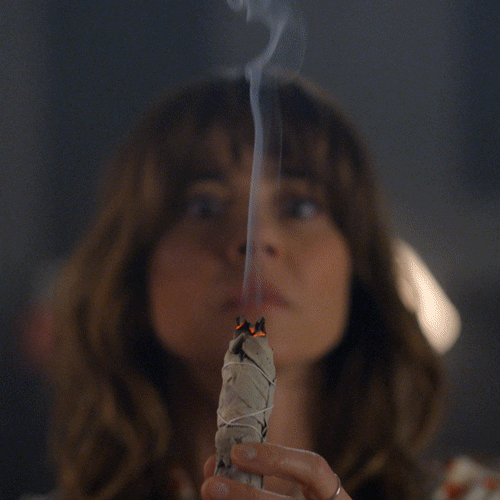 meditation aura GIF by NETFLIX
Giphy
"Two 20 something guys in a Dollar Tree were talking about a mutual friend and the one of them was saying how the guy said, "You can think yourself well from any illness, it's all in your head. You don't need medications." (Paraphrasing a bit but yeah, it really was a "think yourself healthy, don't use medications or see doctors" conversation.) I couldn't help muttering "What an idiot" as I walked past because, well, the dude's an idiot. They must've heard me because the second dude started praising their mutual friend as a genius. I just laughed.
Yeah, really try to think yourself well from cancer instead of doing chemo, boys, see how well that works out for you."
Awkward….
"I wasn't really eavesdropping as it was a loud conversation in an employee break room that I just wasn't apart of. Some elderly coworkers of mine were talking about ringtones and one said something along the lines of, "I don't really use a ringtone; I just keep my phone on vibrate. That way it feels nice if I'm sitting on it."
Maybe this should be a lesson to all of us- to mind our own d*mn business. Because we really don't need to overhear our roommates conversation about what her date smelled like (Mountain Dew and cigarettes). True story.
Also, watch what you say in public. You never know what'll end up on Reddit.
Keep reading...
Show less
People discuss things in private about another person – whether it is purely gossip, or how they really feel about them.
These conversations about a friend or family member usually take place behind their backs, so as not to upset anyone.
But some conversations about them take place with the person in the vicinity when they are asleep.
What follows is a good reminder that we should be careful of the things we say about people when we assume they are in deep sleep.
Curious to hear about strangers online, Redditor KingHanma asked:

"What's the Worst thing you've overheard while pretending to be asleep?"
Parents disclosed life-changing news in private. Or so they thought.
The Plan
"My parents deciding to get a divorce."
The Discovery
"That it was a mistake to adopt me."
"I didn't know i was adopted."
Matrimonial Miss
"I was 12 and my dad (Single Dad) telling his so called 'Friend' (Female) who was at the time living with us, 'Should we tell him that we are married?'"

"So this was my father's second wife and they really were married. I confronted my dad the next day and he had hid the fact from me for a month. I was super disturbed about what was happening around me. It did not work out between them and they ended up getting a divorce. So yayyyy."

"I was 15. I was at my sister's house babysitting my nephew and was asleep on the couch when she and her husband got home at about 2 am. The phone rang. It woke me but I lay there pretending to be asleep as I listened to her answer it. I heard her say, 'What!? Oh my god! Oh my god!'"
"She hung up and said to her husband, 'That was my dad. Diablo [my horse] got out of the pasture and went into the road. He got hit by a car and killed. How am I going to tell him?"
"I said, 'I already know.'"
"That was 45 years ago. It still hurts."
Alarms are better to wake up to than the following:
Hypocritical Parents​
"My anti-drug parents drunk as sh*t and on a drug binge. Got up to pee at like 6am when the noise finally stopped and there had to be $200 worth of drugs on my kitchen table."
"We lived in a small, one-story house. There's no way anyone could've slept through their BS."
"And my mom still cries when I talk about weed."
The Confirmation
"He's not asleep."
– AyamXII

"My mom once woke me up to tell me to go to sleep."
"I was asleep. She said my name and shook me, which woke me up, and then she told me to go to sleep."
How She Really Feels
"My step mom talking sh*t about me to my dad when I was a kid."
Best Excuses For Late Assignments That Were Actually True | George Takei's Oh Myyy
The Warning
"Roommate talking to another roommate about how he deserves to have sex with this girl that he's close friends with and how mad he was that she kept not sleeping with him so he planned on inviting her over soon and getting her wasted and taking advantage of her. I found the girl online and warned her."
Rude Awakening
"When I was a kid, a friend and I were both gymnasts, but at different studios."
"She invited me over for an Open Gym Sleepover, which is like when 30 kids all sleep over at the gym with very little supervision, running and jumping on equipment like trampolines, vaults, ropes, balance beams, and parallel bars. God bless the 90's, we had a blast."
"Now the guy who ran this gym, I had a weird feeling about. My parents once had me try out for a team at his gym, and he inspected my body with his hands. It was in full sight of everyone, including my mother, but it was just weird. My mother later told me she was too stunned to object in the moment. He kept touching my butt and telling me to tighten my 'butt' (glutes), which I didn't understand. He kept doing it repeatedly."
"Anyway, at the sleepover, I lay down next to my friend but stayed awake. I saw Coach Hands stepping quietly between the sleeping girls, taking flash photographs. When he came over to do it to me&my friend, I made eye contact with him during the flash. He quickly went away and stopped taking pictures."
"The next morning, he pulled me into his office with a female coach (his wife?) and explained to me that the photos were for promotional purposes. He even had a little poster board made up. I didn't really beleive him, but at that age (10) I didn't really understand how dangerous he could have been. I never talked to an adult about it, just my friends, and we were all🤷♀️🤷♀️🤷♀️"
I was never in a situation where I overheard someone talking smack about me, but I did have the misfortune of "sleeping" in a hotel suite with friends who hooked up in the bed next to me.
A group of about 20 of my college friends pooled money together to ring in the new year in a posh hotel. Of course, there was alcohol. Plenty of it.
I passed out early as I'm a lightweight, but then I woke up to moaning sounds next to me. I was paralyzed – torn between drawing attention to myself by high-tailing it out of the room or pretending to be asleep and enduring the sloppy sounds.
I decided to ring in the new year by choosing the latter, and I still regret my horrible decision. Happy new year to me.

Keep reading...
Show less
Why are people so dumb? Ok, maybe that's harsh. Maybe some of us just speak dumb.
I try to give everyone the benefit of the doubt when in conversation, but I'm consistently disappointed.
So I've come to three conclusions... people really don't think before they speak, brain farts are more frequent then we'd like to believe or... people are dumb. And maybe hearing isn't a gift, but a curse.
Thoughts?
Redditor u/Away_Television9221 wanted to discuss the things we've heard that made us want to stab our ears repeatedly by asking:
What's the stupidest thing you've ever heard someone say?
Want to "know" more? Never miss another big, odd, funny, or heartbreaking moment again. Sign up for the Knowable newsletter here.

Keep reading...
Show less