We love to make fun of people who get tattoos in other languages and manage to get it wrong.
I'm looking at you, Ariana.
But morse code seems safe, right?
Well, Orlando Bloom found that in such an intricate graphic language, mistakes are readily possible.

Bloom hoped to dedicate his new tattoo to his son, Flynn.
Bloom said that the morse code inked on his arm spelled out Flynn's name, and that the numbers were the date (01/06/2011) and time (09:03) of his birth.
But there is one snag...
The morse code spells out "Frynn."
In Morse Code, "Flynn" would read:
. . _ . . _ . . _ . _ _ _ . _ .
Bloom's tattoo reads:
. . _ . . _ . _ . _ _ _ . _ .
It's the difference of a single dot.
Bloom has yet to comment on the misspelled tattoo.
But why get something imprinted on your skin if you haven't double checked?
In 2020, let's all resolve to double check the permanent ink before it goes on our skin, shall we?
Keep reading...
Show less
Orlando Bloom and Katy Perry officially announced their engagement earlier this month, and the actual proposal sounds like it was a doozy.
Perry stopped by the set of Jimmy Kimmel Live to dish on what it was like to be proposed to by Legolas himself.
Perry said the two went to dinner––and that she expected they'd head to an art show.
"But we pulled up to a helicopter," she said. She and Bloom boarded: There was champagne on hand for a toast.
"The box was in his pocket and he had written down everything he wanted to say in a note to divert -- he was gonna pull it out while I was reading it," she said.
Things went awry after Bloom tried to pull the tiny engagement ring box out of the even tinier pocket of his jacket. His elbow hit the champagne bottle in the process. It fell to the floor of the helicopter and shattered, sending shards of glass everywhere.
"And I'm like, 'No, I'm just reading the note. I know you're not doing anything,'" she said, saying that she was able to dismount from the helicopter and meet family members once they'd landed on a rooftop without further incident.
"My whole family was there, and all my friends... he did so well," she said lovingly.
You can watch Perry recall the memory below.
Katy Perry on Orlando Bloom Engagement www.youtube.com
Take a look at that ring, by the way.
That story's adorable... and it's a pretty cute disaster. But love is love as they say.

The story she tells of how Orlando proposed to her is so adorable 😭❤️ https://t.co/cCObGsuRrt

— Leigh Michael (@Leigh Michael)1551182220.0
True love exists ❤️🍔 https://t.co/3l71WFJ7XO

— POPSUGAR (@POPSUGAR)1551192427.0
@enews Laughing. So cute!

— Ivi Jayde (@Ivi Jayde)1551222094.0
@enews Happy for the new couple!

— Ivi Jayde (@Ivi Jayde)1551221761.0
Perry recalled that she and Bloom first fell in love after they bonded over an In-N-Out Burger at the Golden Globe Awards a few years ago.

"He stole one off of my table. I was sitting with Denzel Washington and he took it and I was like, 'Who...oh, you're so hot. Fine, take it,'" she said. "Then I saw him at a party and I was like, 'How are those onions resting on your molars?' He was like, 'I like you.' Then, you know, cut to!"
You never know, ladies and gents. The love of your life could be a burger snatcher. Get off Tinder right now and head to your nearest fast food restaurant.
Keep reading...
Show less
DOUG MILLS-POOL/GETTY IMAGES (left); Lester Cohen/Daniele Venturelli/Getty Images (right); Twitter: @perryroom
Nancy Pelosi... social media star?
That's pretty much the status Pelosi attained after her sarcastic clapping during President Donald Trump's State of the Union address became an instant meme.
Here it is again, just in case you've been living under a rock for the last week.
Pelosi gives Trump a standing ovation and nod of approval for his call to end "revenge politics." #SOTU… https://t.co/1VplHYDcnS

— Daniel Lewis (@Daniel Lewis)1549422488.0
For context, here's where Pelosi delivered that clap #SOTU https://t.co/vxnCdtcEeI

— Brian Koerber (@Brian Koerber)1549426465.0
The internet obsessed over the clap, giving rise to a slew of memes like this one...
https://t.co/P9BdZ6U8sF

— Desus Nice (@Desus Nice)1549423546.0
...and it looks like "the clap heard around the world" has found fans in the likes of singer Katy Perry (Teenage Dream) and actor Orlando Bloom (The Lord of the Rings trilogy), who met Pelosi at the MusiCares Person of the Year ceremony honoring country music legend Dolly Parton at the Los Angeles Convention Center.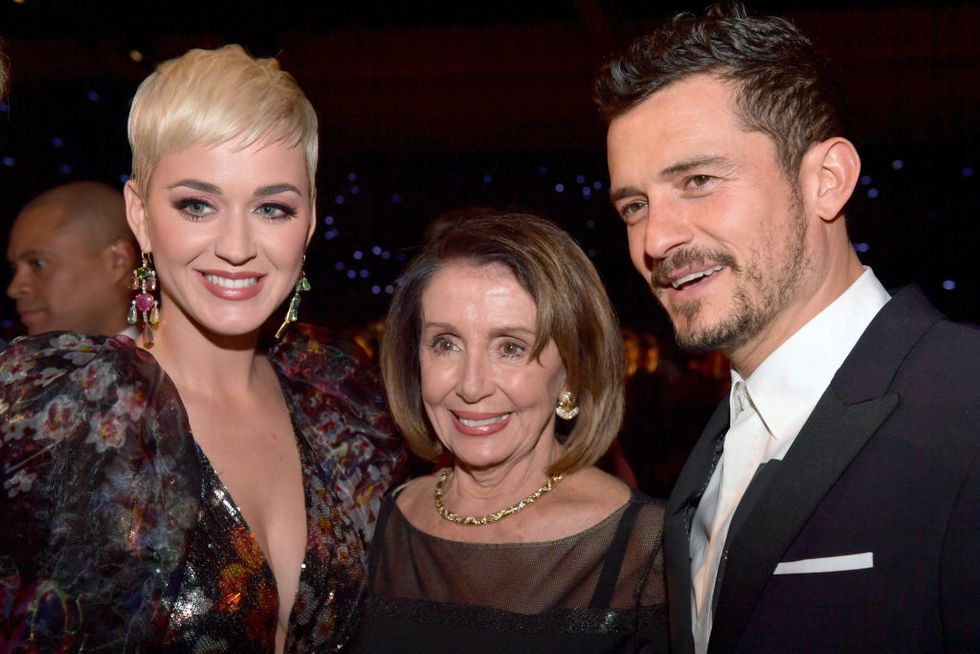 Lester Cohen/Getty Images for The Recording Academy
Did we mention the three of them took the opportunity to recreate Pelosi's State of the Union clap?
The internet ate this up.
@perryroom @evrenperry the sassiness that she has! is a gem for kp5

— 👁 365 (@👁 365)1549778064.0
@perryroom @AngelinaSnow007 Needs more flair..and shade.

— 💖🐥🐼Tami🐼🌊 (@💖🐥🐼Tami🐼🌊)1549733845.0
Even Pelosi's daughter, writer Christine Pelosi, weighed in.
#MadamSpeaker living her best life ... Katy Perry and Nancy Pelosi recreate the #SOTU 👏🏽👏🏽 or is it now the left… https://t.co/CAjENO4mBC

— Christine Pelosi (@Christine Pelosi)1549758565.0
It's pretty clear where Christine gets her own sense of humor.
@sfpelosi I'm so grateful your Mom is Speaker. We have hope.

— PXB (@PXB)1549762538.0
@sfpelosi @sfpelosi, You had a very cool, very intelligent, beautiful mom ! I know you have to be SO proud 🌹 👏🏼 🇺🇸

— Linda S C (@Linda S C)1549759452.0
@sfpelosi @bjcreigh Awesome. Just awesome

— Patti Capello (@Patti Capello)1549812647.0
Last week, Christine Pelosi said that memeable clap brought her "back to the teen years."
"Oh yes that clap took me back to the teen years. She knows. And she knows that you know. And frankly she's disappointed that you thought this would work. But here's a clap," wrote Christine on Twitter.
#waybackwednesday - oh yes that clap took me back to the teen years. She knows. And she knows that you know. And fr… https://t.co/IXplF6s4uS

— Christine Pelosi (@Christine Pelosi)1549469103.0
Pelosi will never be able to live this down!
Keep reading...
Show less