People say age is nothing but a number, or maybe it's a state of mind.
In my case, it's mostly a state of bladder.
In all fairness to my bladder, I'm not even 5 feet tall so it would be weird if I had some enormous elephantine organ.
I've always had to pee a lot ... but now I'm almost 40 and have a few pregnancies under my belt and honestly it's easier for me to just announce when I DON'T have to pee.
It's never. The answer is never.
Don't even ask me.
Yes, I have to pee.
And I'm not the only one.
Reddit user NordicModro asked:

"What is a clear sign of you getting older?"
Before Leaving
"You don't dare leave the house without peeing."
- GrimmRetails
"Especially in the winter."
"One of my biggest fears is getting into a car accident and pissing my pants, laying in the snow in wet pants waiting for the EMTS, ambulance, freezing my ass and Vjay off."
"I HATE being cold, but wet cold is hell."
- gerrywasi
"Oh yeah, and before you sleep, and when we wake up in the middle of the night and then the second time."
- docsav0103
"Whenever I see large sport championship parades or events like NYE in Times Square the first thing I think is: Where do they pee? I also will not go anywhere without knowing beforehand there will be enough facilities LOL."
- Capital_Pea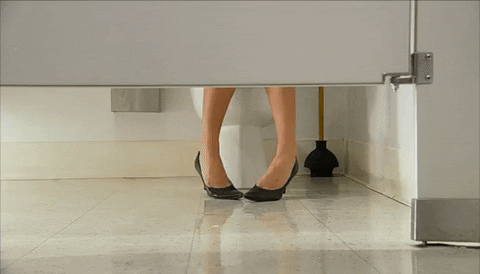 Giphy
The Elder Scrolls
"When you are asked your birthday online and you realize how much you have to scroll to get to your birth year."
- ManicPrincessofKink
"It feels like I'm spinning the wheel on The Price is Right."
- Bubbly-Explanation
"The Elder Scrolls"
- NearbyBreakfast
"I had to travel in the early days of covid and my state required an online travel declaration before arrival."
"The web page only let you enter your birthdate through a calendar widget. I had to manually scroll back 598 months."
- needlenozened
"I was setting up my online bank account and they wanted my birthday. To get to it you had to click the calendar back month by month."
"I was born in 1964. That's over 680 clicks to get to my birthdate."
"That system was designed by a blithering idiot. Probably a teenaged blithering idiot."
- PaperPlaythings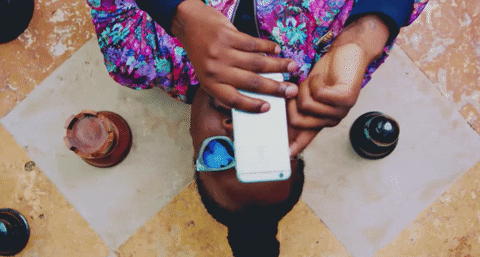 Giphy
Until...
"I saw this somewhere yesterday, you live your 30's just like your 20's until 'the injury' or 'the diagnosis.' "
- -Words-Words-Words-
"This is me."
"No injury, but life-changing (not life-ending) diagnosis -and the following ramifications- at 33 signaled the end of the good times, and forced me to come to terms with my mortality."
"Now my Friday/Saturday nights consist of couch, Cooper's Hawk (home by 10), or DnD. Youth, and life, is precious ya'll. Don't waste it."
- deltavictory
"I feel attacked."
"Ate sh*t on a snowboard last year and dislocated my shoulder to the point it needed surgery. Now I walk like an old man on slippery surfaces for fear that something else is gonna fall apart on me if I go down."
- Puzzled_Reply_4618
"Yup. I strained the hell out of my back when I was 35 and In good shape - sitting on the ground pulling a weed. Could not move on my own. Needed to go to the ER for meds! That was like smacking into a wall"
- JohnExcrement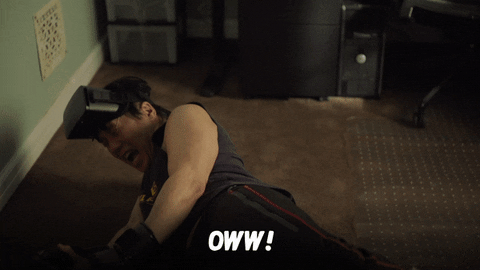 Giphy
Sneaking Out
"I used to sneak out of home to go to parties."
"Now I sneak out of parties to go home."
- TheYoungWan
"Your next stage of old is not going to parties in the first place."
- YouveGotItMister
"I hate you and feel attacked by this comment. This is amazing. And hurts."
- Phoenixapartment

"Fact! My husband and I have a code word for when it's time to go."
- Notjustapornacct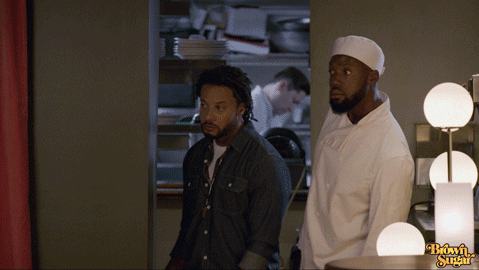 Giphy
Action Movies
" 'Ooh I like their cabinetry' while watching an exciting action movie."
-SpatulaJamtown
" 'Who is going to pay for all this?' after an explosion"
- AtmospherePerfect532
" 'As if they'd furnish a million dollar penthouse with Ikea furniture. How unrealistic' - Me watching Hawkeye"
- BCS24
"Haha, I've been telling my husband about the cabinetry in the second season of the Punisher for two years now!"
- CallieCatsup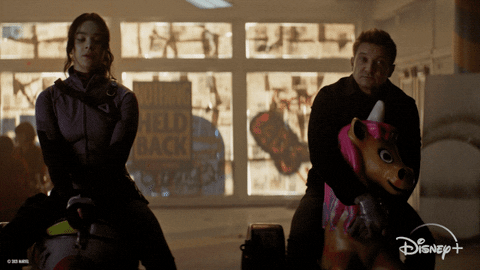 Giphy
Legitimate Comfort
"You don't feel as compelled to engage as much. For better or for worse I suppose."
"I'm in my early 40's. And at this point I've learned to be ok with people being wrong. Used to feel like some sort of crusade to make sure everyone had the right information. Like many things in life, you always have to ask yourself if the juice is worth the squeeze."
"End of a game of Overwatch, had a bad game? Some random says 'Wow thanks for throwing, you were trash' My response? 'gg' "

"Someone cuts me off? Give them room."
"I just leave people the fuck alone as I want left alone. It's kind of become my life's mission. Fuck all that bs about pushing yourself."
"Seek some goddamn legitimate comfort because life will never stop throwing you bs to maintain that hobby of dealing with challenges. But what life will never offer you without you making it for yourself is comfort."

"And I find comfort in ignoring almost everyone. Most of the time. Not from a lack of compassion. Just don't like the volume that loud you know?"
-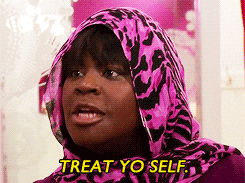 Giphy
No Longer Static
"The biggest one for me is realizing and recognizing that my parents are getting older."
"For my childhood, they were these static, never changing figures. But now, they're older and I can see that. It's definitely pretty saddening and worrying."
- Kaidsburg100
"I had this realization last year."
"My dad is almost 60. I've always had young parents but the years are finally starting to show and it freaked me out. Like a glass shattered moment. '
'I hate it."
- PirateQueenDani
"Had this realization last week when my dad turned 70, it just made me sad."
- stevio87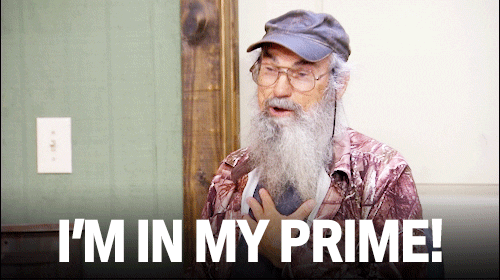 Giphy
Zombies
"After sitting still for a long period of time, standing and walking involves shambling about like a zombie."
"You're fine after a seconds of movement, but initially nothing works right."
"To be honest, it can be solved by more movement in our lives."
"Daily walks, stretching exercises, yoga, that sort of thing. Aerobics would be great, but nothing high impact."
"The older you get, the worse being sedentary is for you; sitting down without moving or stretching for long periods (over a few hours) is fine when you're 20. When you're 40, it means your joints lock up, your muscles fall asleep, and you get cramps."
"If we moved every hour or so (even just standing up and doing a few stretches), it would likely go away."
- Kiyohara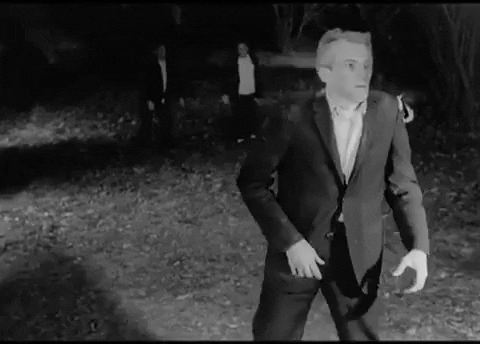 Giphy
Earlier
"I schedule plans with friends earlier and earlier every passing year."
"There's just something so satisfying about getting dinner and drinks at 6p and being back at home wearing my comfy fit binging the show du jour by 9p."
- cheerioguvna
"Yep. I'm 34 and now limit evening activities as much as possible."
"Just can't be bothered anymore."
"It's wet, cold, dark, you have to drag yourself out when you really don't want to then have the effort of getting home again afterwards."
"Screw that. I'd rather do stuff during the day and just have a quiet evening in to myself."

- _spookyvision_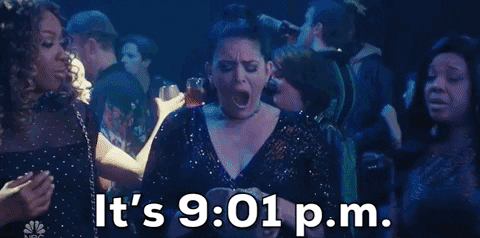 Giphy
The Grumpy Neighbor
"You know that movie trope where some kids play baseball or something and break an old guy's windows?"
"As a kid I thought that guy was a grump. Now I just think about what a pain it would be to have your windows replaced."
"So yeah, that's my sign I'm getting old."
- KickedInTheDonuts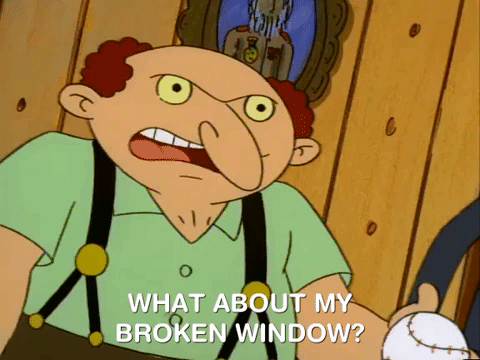 Giphy
Welp ... after having read all of this I am now more convinced than ever I'm really, really, old—and maybe I always have been.
Time for a nap.
Want to "know" more?
Sign up for the Knowable newsletter here.

Never miss another big, odd, funny or heartbreaking moment again.
Keep reading...
Show less
Some people love to ascribe time limits to when they can and can't do things.
There are sayings out there such as "LA is for your 30s," or "I could only do that in my 20s," or "I feel like I'm in my 80s," when you are doing something like eating peanuts and watching Designing Women.
The truth is, we can do these things whenever. Though it's fun to ascribe ourself these limitations, they aren't necessarily accurate. but sometimes, people make the choice to leave things for later.
With life both being "no day but today" and an incomprehensible stretch of time among us, it's natural to reserve some things for later.
A Redditor asked:
"What is something you are holding off doing until you are much older?"
Here were some of those answers.

Opiods Or Amphetamines? Choose
"Meth. If I'm like 97 and not cryopreserved or if I get a terminal diagnosis, I'm not going out like a b*tch."-tex_da_PHOX
"I dig the sentiment but I feel like you can definitely choose a better drug than meth for your going away party. Like it just seems rather horrible at 97 years old when your body isn't even physically up to that anymore".
"Heroin or something like that seems like it'd be more pleasurable at that point."-Addictive_System
Bébés
"Having kids.. I can appreciate both sides. Yes, waiting until that age means you'll be more financially stable, more mature and probably more patient."
"But, having them young means that you can enjoy your middle age more, because you're not parenting littles at the same time. You have more energy to play with them too."
"And when you're retired your kids are already quite settled adults and don't need you financially for extra support as much, so you can afford to do the travelling you've promised yourself since you were younger."
"There's no right time or age to have kids, do it when you want and not a second before!"-Filhopastry79
Cover Them All
"Getting a tattoo to cover my old self harm scars. I'm ashamed and embarrassed by them. I wish I could cover them now."
"But I cannot afford a tattoo, and I'd prefer to wait until my father passes away to avoid dealing with him being snarky. I love him, but he can be judgemental and a little too uptight."-occultatum-nomen
See anything up here that you are also saving for later?
Streaking To The South Pole
"Going to Antarctica to join the 300 club. Why? Because its expensive. Basically you go to the South pole, wait till its 100 below outside and then go to the sauna and crank it up to 200 degrees."
"And then (usually with aid of alcohol) you run out butt naked except for your feet, take a picture by the south pole flag as by the time you get to it, your body will be covered in thick frost that makes you look like the abominable snowman."
"And then run back to the sauna and subjecting your body to a 300 degree temperature difference... hence the 300 Club."-Youpunyhumans
Teaching The Youths
"Become a high school teacher. I want to have an accomplished career before doing this (probably in my 50's when I'll be close to retiring)."
"I'd like to teach mathematics and on the way also be a positive figure in children's lives, give them the kind of care that I wish that I had when I was their age."
"It's something I'm thinking about a lot because my upbringing was extremely rough personally. I was never a driven student, and teachers wrote me off as someone who 'should be a plumber' (also, nothing wrong with being a plumber, but the teacher that told that to my parents was most likely trying to put me down)."
"I am now a professional Economist working towards an MSc. It took me a while to get there (graduated at 26, moving from a 0.8 GPA to 3.4), but it is what it is."
"No one deserves to be shot down by figures that are supposed to mould the next generation, and I will do my best to be someone my students will remember all the way through College and beyond!"-Sperabo
Might As Well Have Fun With It
"I (M[ale]60) have a terminal bucket list. These are things I'll tap if I get a terminal diagnosis -- mostly, things that I are dangerous enough (or I perceive them to be dangerous enough) that don't want to risk them if things are going OK."
"Things like certain drugs, skydiving, or going back to scuba diving (I got bent badly enough that my diving doctor told me that diving again would most likely kill me)."
"Skydiving is something I'm saving for a dementia diagnosis -- as soon as I forget what that red handle is for, problem solved."-1tacoshort
These Low Effort Jobs Have Surprisingly High Salaries | George Takei's Oh Myyy
Have you ever worked one of those jobs that paid you to kinda sit there? If you have, you know the joy that comes with watching the entirety of Breaking Bad ...
I Won't Grow Up
"Maturing, in the sense where I get boring and cranky, and only care about work. If its bound to happen to everybody, I will run away in the opposite direction from it as long as I possibly can."-thatonemanss
How about things you think are better NOT put off? Anything you disagree with?
Drugs Drugs Drugs
"In my personal opinion I believe somebody should do something at least once in their life. That includes drugs."
"If you ever do it, be in a safe environment, I have friends who are not druggies, who will watch over you and help you not gain an addiction. I know this might seem terrible but it's just my opinion, nobody answer agree with it."-IConsumeLead
Interesting Times Are A Curse
"Traveling, I would like to travel the world and see all the beautiful places it has to offer, but given the ever rising tensions and violence it seems the time will never be right...."-Badjib
Teeth And America's Sad Reality
"Going to the Dentist. I'm holding off until dental becomes included in healthcare and gets offered better benefits. How dental is not treated as seriously is insane."-xaviticus
"My teeth are essentially chalk, but I'm trying my hardest to avoid getting dentures as long as I can."
"I like having my own teeth, even if occasionally they explode when biting into food."-ManifestSaviour
These are things people are putting off out of some kind of necessity. Whether or not you agree with it, or recommend it as an expert, these are things people are making choices to do so as to not interfere with their lives.
Even if it seems important—necessity trumps all.
Want to "know" more?
Sign up for the Knowable newsletter here.
Never miss another big, odd, funny, or heartbreaking moment again.
Keep reading...
Show less
The big 3-0. For some reason, turning 30 years old has become a very scary thing.
The past two years in particular have been very strange one's to turn the milestone age. Cosmopolitan interviewed a few people who turned 30 turning the pandemic.
One person said:
"Turning 30 is the point at which we're pressured to feel it 'all coming together.'"
Because no one had anything to do on their birthdays, and their once vibrant lives were on pause, that quarter-life crisis feeling wasn't as heavy. They were able to let go of the things they thought they needed in their 20s.
We went to Ask Reddit to learn more about what those things were that needed to change once you hit that magic number.
Keep reading...
Show less
The cruel reality of life is our looming expiration dates as we age like fine wine.

The things we used to put up with now test our patience. Sure, it's a depressing thought.
But now that we've acknowledged a hopefully much-delayed inevitable, it's easy to make the most of our time on this planet and fill it with joy and as much gut-busting fits of laughter.
That meanas not dwelling on the little things that drive us crazy. Because ultimately, are they ever really that bad?
Probably not. We don't have time for that.

Curious to hear about the annoyances in life people don't put with anymore, Redditor dangnabbitdamnit asked:
"What sh*t are you getting too old for?"
These Redditors talk about protecting their physical temple, since it's the only one we've got.
Blocking Harmful Rays
"Not wearing sunscreen. Just had my 1st melanoma cut out of my arm. Wear sunscreen kids."
Catching More Zzz's
"Staying up past my bedtime."
"Agreed. I'm currently up past my bedtime and I know I'm gonna regret it.. yet here I am."
Joint Discomfort
"My knees."
"I hear you. Fractured patella and arthritis don't mix well."
– rek57

These people have become less concerned about nonsense behaviors.
You Do You
"I'm too old to give a damn whether people think my pastimes are ridiculous."
Making Excuses
"BS excuses. Stop trying to make up elaborate, unbelievable stories. Just tell me you forgot, or you overslept, or whatever. It's fine. I get it. But don't expect me to believe your convoluted, half-@ss ramblings. Grow up and own your shortcomings."
Owning The Inner Nerd
"I love that the older I get, the deeper I steep into this pool of 'self.' I used to be deeply secretive of everything I was interested in because it could be seen as 'nerdy' and didn't jive with my 'outer persona'...but now at 31 with a kid of my own, I'm like who gives a f'k? If someone actually cares and thinks I'm a nerd for studying history in my spare time, then bye..? My opinion of you plummeted and I no longer want you in my vicinity."
"I really wish I could instill this in my daughter too, but I know it's not something you can really teach. You have to live through it and come to the conclusion yourself...whenever that may be."
Getting Territorial
"These kids on my damn lawn!"
"OMG spot on. I just moved into a new home a month ago. My lawn is dead because the previous owners had moved out months prior and no one watered, so the lawn looks terrible"
"Three neighborhood kids come running down the street playing a game, running through lawns and all, innocent, not destroying anything - and I about lost my shit. 'GET OFF MY LAWN' I yelled out the window. Then immediately felt guilty and old LOL"
"I'm only 40 btw."
A person wasting time beating around the bush to convey their thoughts was considered a huge time suck.
Saying What You Mean To Say
"Playing 'interpret the text message' with people I am dating. I am going to accept what you are saying at face value, and if your actions don't match, I will likely call you on it and flat out ask what's up. We're not teenagers anymore, and I left teenage angst behind long ago!"
Mature Enough To Handle Rejection
"Best part of being an adult. You can cut the bullsh*t."
"With the last girl I dated before I met my wife, I had a sense that her heart really wasn't in it. So I just straight up asked her if that was the case."
'Are you invested in this relationship at all? I won't be angry with your answer, I just need to know if I'm gonna keep making an effort.'
'Honestly, no. You're a great guy but I'm just not feeling it.'
'Good to know. It's been fun, thanks for being honest.'
"Life's too f'king short to jerk people around, or allow it to happen to you."
No Time For Decoding Texts
"When my wife and I first got together I had to explain it to her I have no interest in deciphering anything, just tell me exactly what you want and we'll be good. One of the reasons my ex and I are not together was that I got real tired of 'I know I sent you these exact words, but what I REALLY meant was (something different entirely) AND YOU SHOULD HAVE KNOWN THAT!'"
Throughout my early adulthood, I've always avoided confrontation.
I've hated it. I always thought if something bothered me enough, the annoyance over something or beef I have with someone would dissipate. But it doesn't. Not for me anyway.
My pent-up resentment was crippling and I've blown up at inappropriate moments when I could've addressed my issues earlier when the collateral damage would've been more minimal.
I speak up more now, and it's no longer something I cower over. The results have been more positive than I ever imagined.

Keep reading...
Show less
Growing up, I was pretty positive that my dad was a lunatic who was triggered by lights and ceiling fans. Then I started paying the electric bill ; hey turns out that particular bit of "lunacy" might just be genetic. So is the one that makes you really excited about a good air fryer.
He always told me I would get it when I was older. He was right - crispy fried pork chunks whenever I want them IS awesome. We DO have food at home. It can be better than what we would get at a drive-through.
I just have to do it myself. Bummer.
One Reddit user asked:
What is the single most "you'll understand it when you're older" thing?
... looks like I'm not the only one out here "growing up." Other Reddit users are out here coming to all kinds of adult realizations, and honestly they aren't all thrilled about it, either.
Keep reading...
Show less