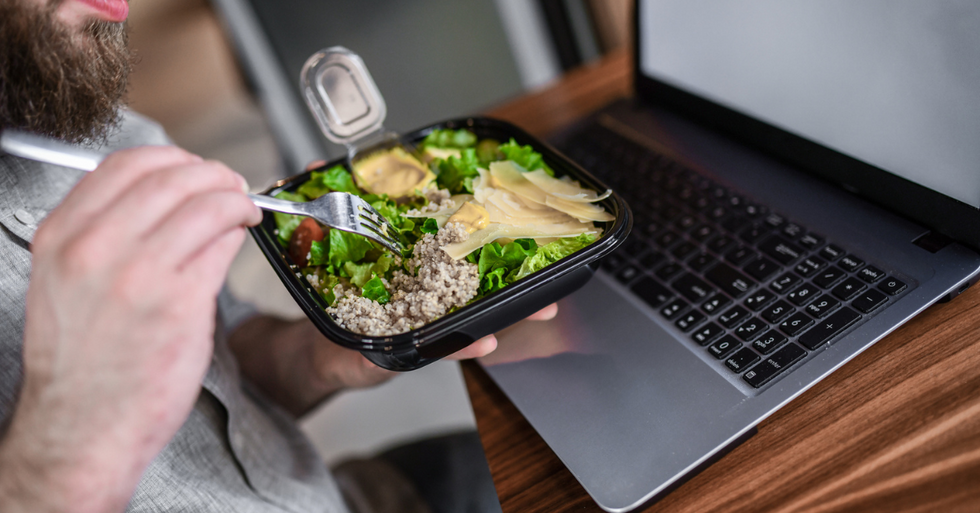 People have all sorts of sensitivies. Light, sound, even certain smells or textures can be very difficult for some people to tolerate. So what happens when some else decides to make their sensitivities your concern? That was the issue facing Redditor and Original Poster (OP) throwaway29383820 when he came to the  "Am I the A**hole" […]
More
Never dip your pen in the company ink.
An age-old saying warning you not to seek out love within your workplace.
In most cases, this is just a word of caution. In others, dating your colleagues is still against company policies or can only be done after a mountain load of paperwork is completed.
While some might find this ridiculous, many find it understandable and adhere very closely to these rules.
After all, what could be more awkward than your ex or an ill-advised one-night stand sitting in the next cubicle over?
Even so, when you think you feel sexual tension with a colleague or co-worker, it can be hard not to act on that impulse.
Because really, what's the worst that could happen?
Redditor stupidbrokenreddit was eager from people who couldn't resist their office temptations and what happened afterward, leading them to ask:
"Coworkers that couldn't handle the sexual tension anymore and went for it. How'd it turn out?"
A Very Costly Mistake
"Really poorly tbh."
"Extremely drunk sex and ended up losing our friendship."
"We were 24 and worked at a bank together, we used to be best friends."
"But now we haven't talked in years."- sarruhgirl·
Nope

"I have been rejected respectfully each time."- kingspooky93·
There Can Be Too Much Of A Good Thing
"Not great."
"Dated for just over a year (on and off), but now that we're not together, it sucks having to see her almost every day."-StellarSandDweller·
It Happened...
"After years of sexual tension we did it."
"It wasn't anything close of what we expected, never talked about it again and we went back to just being friends."-dimensionsanalyst
Lucky For Him, Less So For Her...

"She's been suffering my snoring for 20 years now."- get_off_my_lawn_n0w
Didn't Go Unnoticed

"HR all of a sudden wanted a 'friendly chat'."- DiggingUpTheCorpses
Ups And Downs...

"Made out in the walk-in fridge."
"Went out for a while, got engaged, moved in together, got married, started drifting apart, realized we were growing into different people with very different long term goals, got divorced, haven't really spoken since."
"Together for close to 11 years total."
"Main issue was kids."
"We both wanted them at first, then she no longer did."
"We cared enough for each other to not want to see the other unhappy long term, and we had an amicable split."
"We did not get married in the walk-in, nor spend a tremendous amount of time in it."
"We DID have an ice sculpture at the wedding however."
"It was not a Netflix & Chill deal, it was years and years ago, so more like Blockbuster & Chill."
"I'm good now, thanks."- gn0xious
No Issue Here...

"I run a sole proprietorship, so I 'go for it' about twice a day."
"Don't think it will last, though; I'm not really my type."- MyNSFWside
Got Out When The Getting Was Good
"It was great."
"Good sex, and then I left the job before it got weird."- TIMBURWOLF·
No Regrets Whatsoever

"It was the hottest sex I ever had."
"We are still in touch, but we are continents apart."
"I haven't met him since 2013."
"Pretty sure if we meet again, we will not waste time talking."- SingingBull
"Had sex with him two months into my employment there."
"Nineteen years later we have a mortgage in the suburbs and two children."- Extra-Simple9711·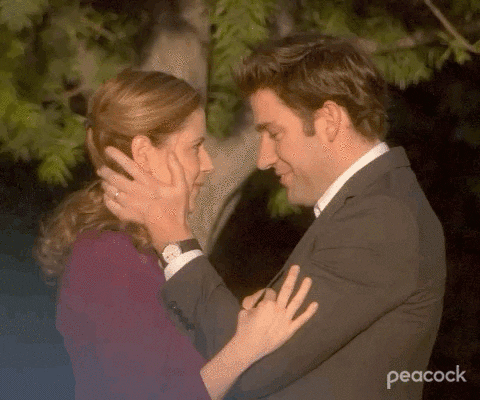 I Love You Episode 20 GIF by The Office
Giphy
Nothing But Regrets

"Terrible."
"'Don't f**k your boss."- oyofmidmidworld
A Bit Of Good Luck?

"Been together for 5 years now and still working in the same company (different departments)."
"Both of us had multiple promotions since we got together."
"Great sex and great on saving gas and food expense as we live together now lol."- crapuccino4
You Can't Make This Stuff Up

"Not great."
"He would flirt with me and come over to hang out."
"Told how he was trying to evict his ex girlfriend from the apartment because she wouldn't leave before the lease was up (which was true btw she confirmed that)."
"He told me he liked me alot and wanted to get to know me."
"Then he decided that He wanted to convert to Mormonism."
"He became panicked about going to hell and after we would hang out (nothing sexual) he would sob."
"Full on sob."
"Begging God to forgive him."
"He and the rest of the people I worked with were tight and he would go through these depressive episodes and crash at their houses."
"I started getting bullied and harassed HARD at work."
"One day he invites me to his house to watch a movie."
"We watch the movie."
"He tries to kiss me but not really."
"I am confused as f*ck at this point and ask him to take me home."
"On the way he asks me if I like him, I said yes I really liked him."
"He asked me if I would consider dating him and maybe have a sexual relationship with him."
"I said yes because I really liked him."
"HE LAUGHED AND SAID I WAS NOTHING BUT A NYMPHO WH*RE BROUGHT TO HIM BY SATAN TO MAKE HIM STUBLE IN HIS WALK WITH GOD!"
"He said there was no way he would ever consider me because I was not A Good Mormon Girl."
"He dropped me at my car after bursting into sobs AGAIN and yelled he has to pray for his soul I sh*t you not."
"Turns out he was telling EVERYONE that I was 'forcing myself onto him' and he was uncomfortable with me."
"The bullying got worse."
"I quit with no notice."
"I WAS ONLY THERE FOR 45 DAYS."- PwrtopUltimate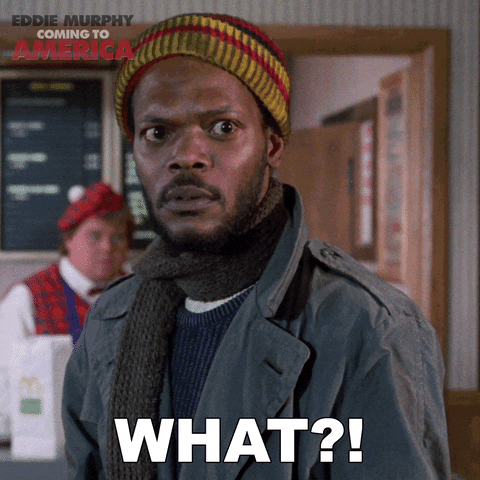 Samuel L Jackson Reaction GIF by Coming to America
Giphy
You never know when love might hit you, and sometimes it might be on an elevator to your office.
Even so, always proceed with caution.
After all, think about how awkward it is to run into an ex or a one-night stand on the street, then think about what that would be like 8 hours a day, five days a week...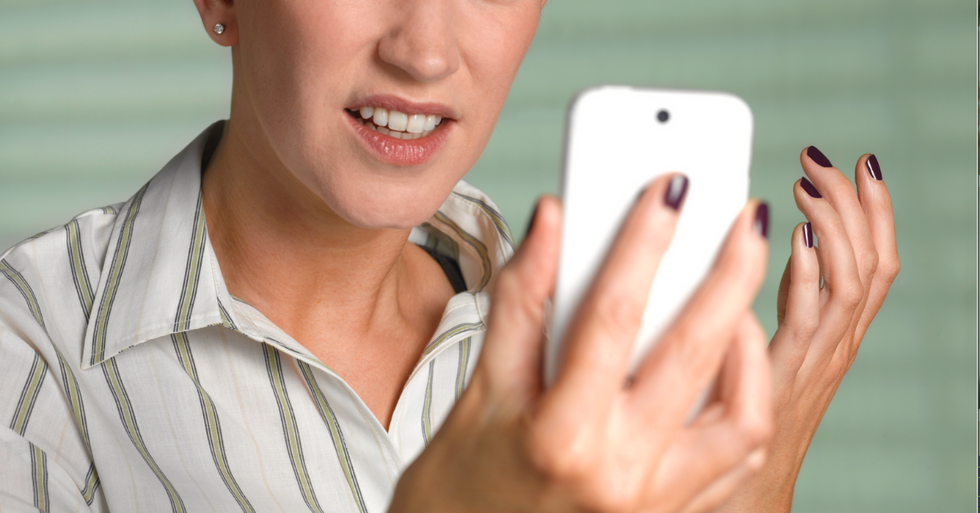 No matter the profession, maintaining a healthy working relationship with one's colleagues is essential. Even if you will never become friends with these people outside of work, remaining cordial and professional will always ensure that work will get done efficiently and on time. Putting yourself at odds with a colleague might not only affect your […]
More
Flirting is always a delicate balance.
While an obvious way to get someone's attention, and let them know they find them attractive and (hopefully), are interested in dating them, it's not always appreciated.
As some people find flirting to be little more than thinly veiled sexual harassment, particularly when intentions are less than honorable.
Flirting is an even more dangerous game when in the office.
While some people flirt with colleagues for little more than harmless fun, others take flirting in the workspace much more seriously.
Whether they're the ones doing the flirting, or the ones being flirted to.
Redditor sunnyhappysky was eager to hear people's honest feelings about flirting in the workspace, leading them to ask:
"What's your opinion on flirting with / hitting on co-workers at work?"
Avoid In Office... Free Reign Outside
"I dated a coworker."
"We were not flirty or anything at work (it was a very professional/corporate place) but we went out to lunch together most days."
"We actually started off working in separate offices across the country but went to business events almost monthly and hung out."
"We only worked together a few years but have been married going on 28 years."- ncconch
Just Remember, No Means No...

If you socialize with them outside of work, that's the right time to flirt. And if they tell you no, then make sure you forget all about them before you come in to work the next day.- Metal-Dog
Just Don't

"That can go south quickly and cause a lot of issues."- Material_Joke1324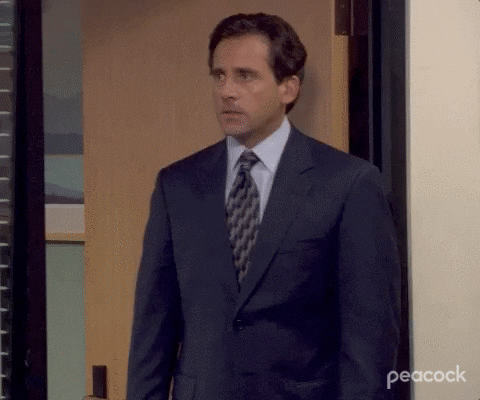 Season 3 Flirting GIF by The Office
Giphy
As long As It's Done With Care And Good Intentions
"20% of married couples meet at work."
"Can't really get away from that."
"That's why most companies train to distinguish between sexual harassment and flirting, which is totally allowed if it is done in a non-harassing way."
"I dated a coworker."
'I'm female and he's male."
"Same department, same titles."
"I started flirting on messenger first."
"We dated for 3 years and were always professional at work."
"We 'came out' after one year, shocking everyone."
"Coworkers were very supportive."
"After 3 years we broke up amicably and worked together with no drama or issues."
'I understand that this is probably an outlier but it does happen."- typical_friday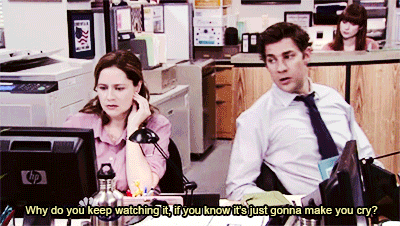 season 8 jim and pam GIF
Giphy
Just Be Open To All Possibilities
"I admitted to a co-worker I had a huge crush on that I liked her on a staff night out."
"She didn't reciprocate those feelings."
"She dealt with it really well at work but it absolutely ripped my heart out and made seeing her every day very difficult."
"It's a real gamble, could work out for you as it has a few people in this thread but I'd never do it again."- knopparp
"Anything that could lead to you f*cking your coworkers is a risky move."
"Source: spent several years as a 'f*cks her coworkers' girlie."- glittertits09
What You Do On Your Own Time...
"F*ck it! "
"Do it on the boss's desk."
"Leave a souvenir."- justimus_maximus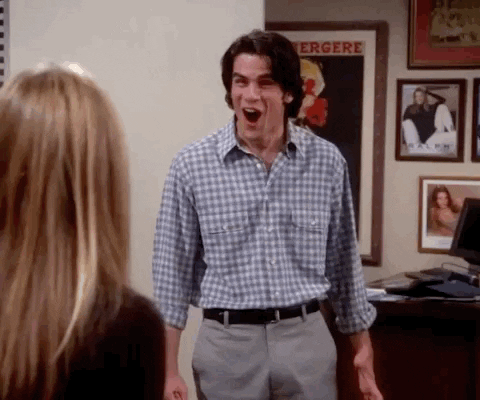 excited episode 4 GIF
Giphy
Too Big A Risk To Be Worth It...
"You're playing with firecrackers, while checking the gas line."
"Because, you're not sure your oven is working."- K_Odena
As The Saying Goes...
"Don't dip your pen in the company ink."- Agreeable_Stick_6484
"Never dip your pen in the company ink, as they say."
"If things go south, it can cause a lot of problems in the workplace."
"You don't want to be working with a vindictive ex, or have any kinds of personal issues with someone you have to work with regularly that might affect your work output."
"Plus, you run a very serious risk of losing your job due to sexual harassment, or fraternization rules."- SweetCosmicPope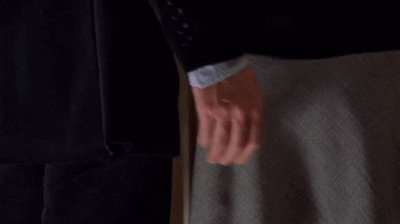 renee zellweger comedy GIF by Bridget Jones
Giphy
What Will Other's Say?
"It's fun, but I've been getting weird looks at the family business."- GroundbreakingFox833
Stay Away From Prying Eyes...

"If it's reciprocal, go for it."
"Just probably don't do it with other people around."
"Some people here are overreacting."- AReformedHuman
Just Be Careful, And Know Your Place
"Everyone here is overreacting."
"Don't be a creep or a weirdo and also don't presume to know somebody just because you work at the same place."
"The same rules that apply everywhere."
"But also don't try and get with inferiors or superiors."
"Other than that go for it."- Pepsplayed
When at work, it's a generally acknowledged rule of thumb to always be on your best behavior.
So if you think flirting might get you into trouble, probably best to avoid it.
Much as we might try to deny it, who hasn't found themselves dealing with one of "those colleagues" at work?
The sort of colleague where work gets done in spite of them, who doesn't seem to possess any of the basic qualifications their position requires, who uses up all their paid sick days at the very beginning of the calendar year.
The kind of employee where we're often left wondering, "how did they get that job?"
Then, when we actually do a little digging, we might learn the answer to that very question.
Often resulting in our making a surprising, if not downright humbling, discovery.
Redditor LetFreedomRing- was eager to hear stories of why people's seemingly incompetent colleagues hadn't yet lost their jobs, leading them to ask:
"Why hasn't that "one guy" at your job been fired yet?"
Unfortunate Timing
"He ended up leaving work the day management was going to talk to him about his behavior and got into a severe motorcycle accident."- eatsbrainz
Just Not Possible
"Cuz he's the boss."- Hotline-Furi
A Little Manipulation Goes A Long Way
"Because his supervisor is in love with him."
"He's 'charming, charismatic, and everyone loves him'."
"He's really close to the manager and his mom used to work for the company as well."
"She left a path for him to walk on."
"As my co worker once said, 'he harasses us but gets rewards'."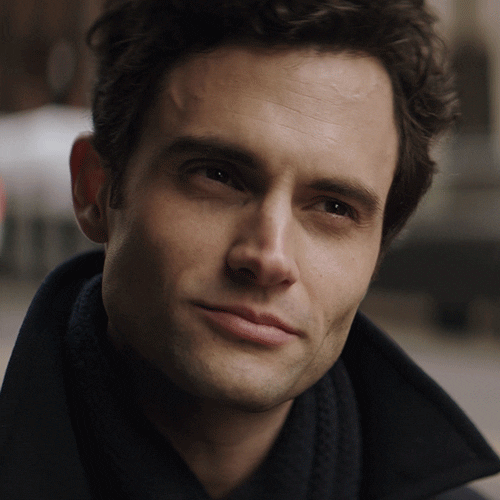 Happy Penn Badgley GIF by Lifetime
Giphy
"If you were ever to meet him, he makes you feel like you're the king of the world but he's really scummy."
"He'll make you believe you're incredible and valuable but will talk sh*t about you to other people."
"It's a shame because he's taken advantage of a lot people and a lot of things at work."
"I thought he was the coolest guy around until I started observe him and his demeanor around others."- Low_Excitement_5339·
A Sign Of The Times
"We are so short-staffed and ratios need to be met in classrooms."
"A body is better than no body, in the eyes of admin at least."
"Some days I'd rather work short-handed than work around a useless/annoying person."
"I end up doing their job anyway."- quietly_anxious
Just The Way Things Are...

'Office politics."- defensiveminded2020
Bored Season 3 GIF by The Office
Giphy
...Rather Not Answer...

"What if that one guy is you?"- dizzyrazor
Nepotism
"Because he goes to my boss's church."
"My boss has somehow hired at least 8 people from his church."- SparklesLuvsScotch
"She's the boss's daughter."
"In the past 6 months, they have hired over 100 people, 3 of them are still working there."
"Every one of them quit because of her and very outwardly expressed that but no one will fire her."- Reddit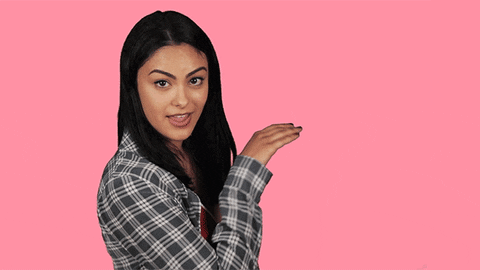 Veronica Lodge Daddy GIF by Camila Mendes
Giphy
Do We Really Want Them To Get Fired?
"The one guy at my job just got fired 3 days ago, after years of doing nothing."
"Now I can't use his continued employment as my assurance of job security."- i_make_potholes
Who Knows?
"I legitimately don't know."
"I've been sending my bosses emails about her dropping the ball on many things and even causing several catastrophic failures for our customers."
"They promise me they are documenting everything and to be patient but my boss has his head in the sand and is not really doing anything."
"I think it's catching up to him though because corporate is starting to look at this office more closely."- CamStorm
"IDK, he sits and f*cking texts WHEN PEOPLE ARE IN LINE FOR THE REGISTER."
"Pisses me off."- Public_Living_3344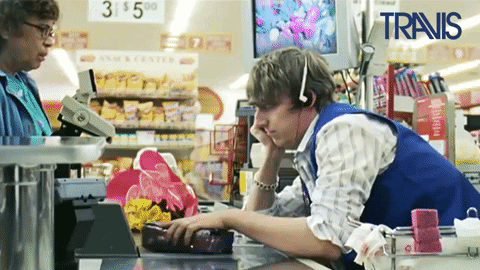 Bored Grocery Store GIF by Travis
Giphy
Charisma Overshadows Many Flaws
"He's 'nice' and chatty and gets along really well with our customers."
"He will go into an office, not do anything or make something worse than it was before the repair, bill them hundreds of dollars, someone else will have to go in and fix it right and bill them more, and they'll still request him."
"They're actually more likely to complain about the guy who went in and fixed it correctly and would have billed them half as much and been done in trip had they started the job."- makenzie71
Fear Of Feelings Getting Hurt
"Because his boss avoids conflict."
"So we get to deal with the sh*t for brains creeper instead of him being thrown out on his a**."- No-Patient1365
Hopefully, Just A Matter Of Time...
"You don't get fired for being bad at your job, you get fired for making a scene."- sleekandspicy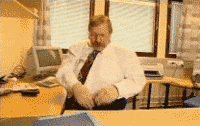 Fed Up Reaction GIF
Giphy
Everyone deserves a second chance.
But if people are incapable, or worse unwilling, to learn, is there really any chance their work will improve?
When "that employee" is your boss, then the question is ultimately irrelevant.