Are you like me and the 1990s were only 10 years ago?
Yes, I can do the math, but 1990 being 32 years ago still seems unreal.
Why is that?
Maybe it's the fact it marked the end of the 20th century and beginning of the 21st.
Either way, it just doesn't seem that long ago and the nostalgia for the trappings of the 1990s is strong.
Redditor PrimaryYam9432 asked:
"What is something outdated from the 90s you want back?"
Affordable Housing
"I lived in a one bedroom apartment in San Diego in the nineties to the tune of $400 a month. I'd like that back, please."
"I looked up the specific place I lived. That one bedroom runs $1,650 now."
– stupidlyugly
Cheesy Video Games
"Westwood Studio's real time strategy games featuring cheesy live action videos between the levels. I'm fine without the dial-up multiplayer though."
– 3Bonhomme7h
Subscribe, Subscribe, Subscribe
"Software that you buy one time and own. Looking at you Adobe."
– mtsai
"Being able to own things without having to take out a subscriptions."
– qzcl
"This is exactly what I was going to say. Being able to buy something and be done. Now everything has a subscription attached to it."
"Software is one of the worst examples but even the auto industry is trying to get in on the subscription money by requiring additional monthly plans to access features of your car that you already paid for."
"A local HVAC company is attaching a subscription to their work. So you pay them to install it all and then a monthly fee for them to be on-call in the event it needs maintenance."
"At work our IT support company stopped doing ad hoc service calls unless you subscribe to their monthly service plan. So the company is paying triple the price and getting basically the same thing except in theory the amount of service call they can request is 'unlimited'."
– sullivan80
Your Local Video Store
"I miss going to video stores and browsing."
– sonic_tower
"I do too. That was a fun Friday night as a kid. Going to Blockbuster to pick out a new movie to watch."
"It's not the same getting on Netflix and spending an hour looking for something to watch to only wind up watching something you've already seen."
– brokendowndryer
"Yep! As a kid my dad would come home from work on Friday evening and take us to Hollywood video."
"We'd pick out a movie and get a pizza on the way home. Good times."
– Its_Juice
Commercial Breaks
"Reasonable commercial lengths."
"Now ESPN has 5 minute commercial breaks..."
– coreynj2461
"My least favorite trend is a commercial break, then they come back for 1-2 minutes with some tiny snippet of 'coming up next!' then go to another commercial break."
– thishasntbeeneasy
"Or they smash the credits into a tiny window, while running ads on full screen. Can't even read the credits if you wanted to."
– reddit_bandito
Accountability
"Not having to make an account for EVERYF'KINGTHING!"
– Dapper-Discipline-54
"And lately every time I sign up for something, they send me texts now too in addition to emails that I don't want. Leave me alone!!"
– Sefira23
"I'm so over this. Especially when you're supposed to make a different password for every account you have. My brain only has so much memory for passwords anymore."
– McUberForDays
Social Media
"This is probably more late 90s/early 00s than the 90s as a whole, but a social media-less internet."
"It felt like an escape from real life, as opposed to an extension of it."
– Spooginho
"Remember when they told us to never identify yourself on the internet? And now they put their whole life on it."
"I miss web 1.0 where anonymity was the point."
– duffman13jws
"Remember when our parents told us not to trust anyone on the internet, but now believe everything they see online and lecture us about it?"
– Harsimaja
"My mom when I was 16 and got my first PC: 'Don't put your pictures online!'"
"My mom now: 'Send me grandson pics nowww! Need new profile pic and header!!'"
– Myrmele
RIP Geocities
"Geocities web pages, made with heart, not for money."
– RaminGold
"I do miss Geocities. It was sh*t, but atleast anyone could have a web site for free hosted on a server that was relatively fast and reliable."
"Nowadays, good luck to find a good free web hosting..."
– thephantom1492
"Oh my god, my bff would purposely go to my crappy Geocities site and sign the guestbook as ridiculously over the top characters like 'Madame Consuela de Soliz-Camacho-Dubois St Bernard,' and she'd write their comments in Spanish, German, French, whatever she felt like that day."
"It was so stupid but for idiot teenagers back in the 90's, it was the height of hilarity that she could prank me without being in the same room. Good times."
– avoidance_behavior
Why Is This Phone Smart?
"Not being able to be reached 24/7."
"Remember when the only people who had cell phones or pagers were doctors and high end business professionals that NEEDED to be reached at a moments notice."
"Now, everyone is expected to be available at any time. And if you elect to stand your ground and establish a separation between work/personal life you're considered 'rude' or 'difficult to communicate with'."
– Luke5119
"Yeah, remember when you let the house phone ring during dinner?
"I remember my dad grumbling if the phone ever rang: 'It's dinner time, nobody should be calling now. Who calls during dinner?!'"
"You didn't call people's house after about 8pm either unless you knew it was okay. It was rude—that was private, home time."
– what_the_a
Buttons & Knobs & Dials
"Technology with buttons and knobs."
– Ashtar-the-Squid
"Agreed! Some things I just don't want a touch screen for."
– Knightly-Bird
"I hate touchscreens in cars because 1) you just know they'll wear out and be expensive to replace and 2) I can't use it by feel and have to take my eyes off the road to adjust anything."
– Msktb
"Agreed! Why does my Microwave need to have touchscreen? I don't want to touch the panel with my fat butter and chips fingers. I want use the back of my hand."
– MedonSirius
"All my touchscreen appliances start to fizzle and fail pretty quickly. All the analog or mechanical ones still work from decades ago, or I can at least open them and clean some contacts."
– F*kM0reFromR
Nostalgia is a funny thing—we tend to romanticize our past.
If we truly went back, we'd probably discover all the things we'd miss from our future.
But we still miss a lot from the 1990s.
Want to "know" more?
Sign up for the Knowable newsletter here.

Never miss another big, odd, funny or heartbreaking moment again.
Keep reading...
Show less
If you were around in the 90s, you probably remember the Y2k Bug. Everyone thought that the end of the world was coming because many of our computer programs were set to read the year date with only the last two digits.
People really believe that there would be huge system failures if our software and hardware read the date 00 as 1900 instead of 2000.
Kids born after the year 2000 can't even imagine what the world was like before smart phones became computers in our pockets.
Since there's a whole generation who doesn't remember much of the early 2000s, we thought we might take a trip down memory lane and school these kids on what it was really like. Some aesthetics from the 90s were carried over, some technology never made it past 2003.
Redditor BtownBrelooms asked:
"What is something that was used heavily in the year 2000, but it's almost never used today?"
Here's a great dose of Y2k nostalgia for you.
Devices just for music.
"Any sort of dedicated music-playing device, before that just became a part of your phone."
- Confusionator5000
"RIP my mini disk player."
- Mikebot3000
"RIP Zune."
- Redditor
"RIP Creative Zen Touch. You were a wonderful green brick."
- HELLOhappyshop
"I kinda miss my iPod shuffle. The small thin brick one that literally had no buttons."
- Peng_win
"For me, that was portable CD players which replaced portable cassette players (mainly, the Sony Walkman). MP3 players came almost immediately afterward."
- CriminalSpiritX
The file sharing, social networking software.
"LimeWire."
- FRB2992
"Giving me flashbacks of desperately trying to hear the preview of the song while it downloaded to make sure it was the actual song and not 'my fellow Americans.'"
- Legitimate-mistak3
"Or the Dj yelling in the background."
- Vapirate04
Re-writable CDs.
"Re-writable CDs. I used to burn so many mix CDs after downloading from Napster, BearShare, LimeWire, FrostWire. Then my mother would call, disconnecting the internet and I would have to start the download all over again. Except one file wasn't an mp3, but a virus. I would just reinstall windows before my mom got home as we saved every picture and document on a zip drive.....then those fancy Jaz drives."
"Also Adobe without a subscription."
- Sh*ttinwithmykitten
"And the praying to the 'buffer overrun' gods during every burn..."
- iguana-pr
"I would borrow CDs from my Library and then burn a copy to keep."
- tootsie404
Long processing times for downloads.
"Download Managers."
"Start the download right after Mom goes to bed, wake up before her to pause the download and disconnect the dial-up connection, resume tomorrow night. Repeat..."
"A week later, you're playing Counter-Strike."
- Laserwulf
"And now you can download the torrent in like 2 min."
- ZarafFaraz
"The perspective is staggering. A 1080p 30fps video using old 2000 codecs like MPEG-1 at high quality is like 40mbps instead of modern h.264/265 being like 8."
"A YouTube video of that quality takes like 2 minutes today at that quality. In 2000 on dial up using contemporary codecs would have require 165 hours."
- Shandlar
Spiker Colorz.
"Colored spikey hair gel."
- AdamoclesYT
"Bro, I am still waiting for the day frosted tips make a comeback."
- ShowMeYourTorts
"Honestly man the kids these days look straight outta the 90's, though most of them seem to think it's original. Wouldn't surprise me if frosted tips are next."
- thricetheory
AIM messenger.
"AIM and msn messenger."
"Bringing back even more memories of the late 90's early 2000's rushing home to fire up the dial up and start chatting with the same friends I'd already spent hours talking to that day."
- Boodagga
"'Wanna Cyber?' God. We were awful."
- icanbeafrick
"A/s/l."
- levi_verzyden
And ICQ.
"ICQ."
- DamnedMonkey
"Couple of years ago, I had a number come into my head. Recognized it but didn't know where from. For over a year it kept bugging me. Was it my college enrolment/password? Number for someone I worked with when I worked overseas? Not a clue for the longest time."
"Random convo with a friend about old memes and things we miss about the early internet days, and I just blurted out "its my f*cking ICQ number!" with no context…"
- Squallypie
Giant, rear projection TV.
"If you had a big screen TV it was probably a ridiculously thick rear projection TV."
- ParoxysmAttack
"My parents can't get it out of the house."
- CristyTango
"My Dad Busted it apart to get it out of the house."
- And1mistaketour
The sound of Dial-Up.
"Dial-Up."
"weeeeeeeee WOOOOOO_OOOOOO_"
E E E E E E E EEEEEeeeeee
"eee"
"eee URRRRRRRRR"
"BEDULUDOLEDULUDOLEEPEEPEEP"
"R R R R R R R R R R R R RUMMMMMMMMMMMM"
- Martini_Man_
"Is it sad that I miss this sound? Reminds me of logging on age 15. Midnight till 6am was my ISPs off-peak and was the only time I could get my internet fix."
- trev2600
Websites had a specific aesthetic.
"Spinning under construction gifs on websites."
- starkiller_bass
"Remember when most websites had a hit counter on them?"
- starkiller_bass
- emtag
These Low Effort Jobs Have Surprisingly High Salaries | George Takei's Oh Myyy
Have you ever worked one of those jobs that paid you to kinda sit there? If you have, you know the joy that comes with watching the entirety of Breaking Bad ...
Computer mice with a ball.
"Computer mice with a ball:"
"My friend had one of the first Microsoft IntelliMouse , which did not use a ball."
"As I recall, it was the first laser mouse without a ball that was commercialized in a popular way. It was released in October 1999. So in 2000, most mice were with a ball, and slowly faded away."
- fmaz008
"Remember having to clean the ball? Who even knows how that much gunk got in there in a relatively short time."
- FloydEGag
Oh, Blockbuster. How we miss you.
"Blockbuster card."
- larrythetarry
"I live a half-hour away from one. Granted, it's the last one, but still..."
- zippyslug31
"It's surreal walking around that store. Closest thing to time traveling I'll ever get to do."
- pegleg_1979
"Damn. I miss blockbuster."
- NOTZawp
Geocities.
"Geocities, neopets, livejournal, kazaa."
- papaweir
"Geocities was so powerful for the time. I used to build my website there, steal the html and use it for my own domain. This was pre-social media. If you wanted to share your weird goth poetry and fuzzy webcam selfies, you had to have your own website. Using the steeling html method for years eventually taught me how to write it."
"Also, for a cross over episode, I stole the html from the pet 'painting' page from Neopets, uploaded it on my geocities, tinkered with the code and was able to log in and paint all my pets for free. Baby h4x0r. Those were the days."
- j-u-n-i
"For those of you who miss the old days, neocities is a free hosting service where you can put up simple websites. Nothing fancy, but still very awesome."
- MarqueeSmyth
And Neopets.
"Neopets don't die though, I logged in after a long time and my Neopet was starving, so I fed it a piece of the omelette and he said 'yuck I don't like omelettes' so I logged off and let the sassy little bat starve for another 10 years."
- goblinsexologist
"Neopets was the reason my dad buckled and got us DSL internet... because I once spent the entire Saturday on Neopets and he wasn't happy with the phone bill that month."
- GingerBeardicus86
Blue eye shadow was in.
"Blue eyeshadow. You could always tell when a junior high school aged girl finally got the okay from her parents to start wearing makeup. She'd show up at school everyday for the next month looking like a blue panda."
- blickyjayy
"Butterfly hair clips and I believe the white eyeliner were huge then too."
- HotIronCakes
"Kids today with thousands of YouTube make up tutorials at their disposal don't know how we suffered."
- 44morejumperspls
Smoking inside.
"Indoor smoking. My young-ish kids marvel at the fact that people used to sit in restaurants and smoke."
- TurdFergDSF
"I remember gold foil disposable ashtrays at burger king."
- J_Hitler_Christ
"I remember going to friendly's as a kid for breakfast or dinner and they asked if we wanted smoking or non-smoking with ceiling fans blowing everything everywhere."
- soline
VHS tapes.
"VCRs."
- Murtamatt
"Tape rewinders!!"
"BE KIND, REWIND!"
"I liked the ones that had the form of a sports car."
- xtracto
There was no GPS.
"Maps or Mapquest."
- Ocean927
"My wife calls Google maps MapQuest if we need directions she'll tell me to MapQuest it on my phone."
- deadlymoogle
"Printed Mapquest instructions!"
- surlycanon
"World Wide Web."
"The term 'World Wide Web.'"
- No-Sheepherder-2896
"'Visit us at h t t p colon slash slash w w w dot p b s dot o r g.'"

- Bilbo_nubbins
"Information Superhighway."
- wagu666
Generation Z will probably never fully understand the struggles and joys of the budding technology and wacky fashion of that time.
Though, before you know it, these kids are going to be saying the same thing about the next generation.
And the cycle continues.
Want to "know" more?
Sign up for the Knowable newsletter here.
Never miss another big, odd, funny, or heartbreaking moment again.
The 80s and the 90s are the ultimate decades of nostalgia for millennials. We were born between 1981 and 1996 and as such grew up in some of the most formative decades for the contemporary American landscape.
The 80s and the 90s also marked the last periods of time before technology would completely take over the world--those of us who were children in the 90s remember a childhood both before and after technology entered it.
As such that creates a lot of nostalgia for a time that truly seems as if it will never come back.
Redditor majorchamp asked:
"80s and 90s redditors, what do you wish would come back even for a limited time?"
Here were some of those answers.
Mall America
"Experiencing my childhood mall in its prime. It seemingly had everything, KB toys, cool RadioShack, a puzzle store, a store that sold chocolate, 2 different book stores, an arcade, etc..."
"Today it's a shell of its former self, there's a few sparks of life, but it's dying a slow and painful death. 3/5 of it's anchor stores are gone and another is on life support."
"Part of the problem is that the owners keep raising the rent to make up for the empty storefronts."-Sandman1031
What Games Used To Be
"Goldeneye 64. For those who didn't grow up with it, there's no way you could convince them that this was a game that people thought was the f**kin pinnacle of FPS games (at the time)."
"Imagine playing a FPS, but with a controller, but with aim/movement speeds calibrated to make you feel like you're moving through water, with the resolution of a flip-phone. That's Goldeneye."
"We had fun with it despite those things."-Antnee83
KentuckyfriedchickenandaPizzaHut
"The quality of of the food at Pizza Hut before all the cost cutting changes."
"Their pizza in the 80's and 90's served in the black deep dish pans was my favorite growing up and was legitimately delicious pizza, but unfortunately the quality of their food has gone down significantly."-spotrevdis
It was most definitely a simpler time than the internet-saturated one we live in now.
Just How It Was
"The post cold war - pre war on terror period was golden. Such progress on tech - everyone getting computers, mobile phones and the internet bringing us to a new peaceful era and new millennium at hand, sure we can solve it all..."
"It has not been like that since. You can see it in the attitudes of the younger gens, there is a difference if you've never lived such optimism."-MindTheFuture
The 90s Were Solid For Music
"Nights with your best friend or two riding around literally all night listening to the radio and talking. Maybe you stop at the park and swing awhile under the stars."
"Then get back in the car and drive so more till the sun starts coming up. Just feeling invincible and secure cause even if you're feeling sad that song is gonna come on the radio that you live to belt out together."
"And by the last note you're feeling better cause things as complicated as they seemed then were really not that bad for most of us. I'd give anything to have a night like that again. Just one."-Psychological_Tap187
Hopscotch Also Gave You Social Skills
"Children spending more time with each other socially. You developed social skills and confidence in ways that you just can't when you are communicating in text, or spending so much time isolated."
"Socialising on the internet or gaming is not the same thing at all. We used to spend the majority of time outside of school with friends, or bonding by playing games in the street."

"It's no wonder anxiety and lack of social confidence is so widespread amongst young people in the modern era."-Scallywagstv2
A Rare Gen X View
"Not be a walking advertisement for clothing brands. It is hard to explain to millennials and Gen Z just what an explosive culture shift Nirvana was."
"Imagine a relatively unknown artist coming out with a music video that was so counter culture, everyone was walking around with question marks over their heads."
"A month later, everyone tore any brand markers off their clothes. Jean patches ripped off, you were adorned with buttons and patches that matched your ideology, not some anime you like."
"And the point it, whether you paid $100 for a pair of jeans or got them at a thrift store, you didn't know, and that was the point."
"We had a rock revolution, which Mins and Gen Z seriously need. If you watch the famous Nirvana MTV live show, you will notice Cobain is wearing clothes with holes in them, despite being worth millions."
"Great video on what a huge societal and monumental shift Nirvana was for all kinds of reasons including talking about mental health, feminism, and topics previously avoided"
"People also didn't go out in public looking like slobs. I would never dream of going to school or the grocery store in pajamas."-beckoning_cat
But then, to everyone, their generation was, of COURSE, the best generation. There is no beating it.
Groupie Life
"Going on tour with your favorite band. You used to be able to do it, easily. Sling beer or t-shirts in the parking lot before a show, camp in the lot overnight before leaving for the next one, repeat until the end of summer."
"Nowadays... I don't think bands even go on tours that are followable, much less affordable just by selling spare beer and t-shirts in the lot."
"Furthermore, you can count the number of venues that allow you to camp for free in the parking lot (or nearby) on one hand."-Chubby-Tumbles
Razzles
"Candy use to taste better, like there was some called tuti-fruity, came in small squares in wax paper, like tiny, of a 20p piece, they use to taste amazing and i would buy them all the time as a kid."
"Then the company that made them changed out the recipe and said 'Nah, its all in your head, its fine, havent changed a thing...' but they now taste like small bits of plastic with minimal flavourings..."
"I wish we had the candy we had from the 80's and 90's."-Empty-Refrigerator
Old Timey Serving
"I remember drive in dining at A&W and it was nice! I was a kid during the 80's and the last A&W closed it's outdoor car side dining back in '89 and had a blow out event with classic cars from the 40's and 50's with waitresses wearing period clothes on rollerblades."
"I lived close by to this event and sat there for hours wondering around looking at the cars and talking to adults dressed up in 40's and 50's clothes driving cars that were in mint condition all getting food. There was a huge crowd of people. It was very memorable!"-ne0rmatrix
Nostalgia has it out for all of us. No matter what comforts are available to us in our given day, the past will come up and bring a fond tear to our eyes just because we can.
Want to "know" more?
Sign up for the Knowable newsletter here.
Never miss another big, odd, funny or heartbreaking moment again.
Keep reading...
Show less
"We're gonna have a party like it's 1999!"
And the 90s certainly didn't disappoint. It was quite a decade.
It was a decade that molded the future of the world, and yet it never seems to get its due. It gets lost in the decade shuffle.
Let's take a stroll down memory lane. Generation X had a ton to say.
Redditor Youcancallmesizzles wanted to reminisce about a decade long debated as one of the most controversial and underrated, they asked:
"What do you miss about the 90's?"
The music. The music and movies do it for me. "Titanic, Scream, American Beauty, Seven," those are just some of the classics. And who doesn't remember the first time they heard Nirvana?
The Edge
"My Super Nintendo being cutting edge technology." ~ detectivebabylegz
IRC
"I honestly miss the internet from the 90s. I spent so many hours exploring, reading things. Every webpage felt like I was visiting someone's house, they were so personal as design standards did not exist yet. I enjoyed my netscape navigator. And I LOVED my IRC chat rooms. Keep in mind I was like 9 and 10. lol, so I mostly spent time in Pokemon Chat rooms that had bots. Discord is not the same as the IRC days." ~ UnusualSoup
Fridays
"Blockbuster/Pizza Hut on Friday nights." ~ EdwardPackard
"My parents would always rent a movie and they'd let me rent a game. We'd walk to pizza hut, place our order, then walk to the brand new blockbuster and browse. It was amazing as a kid."
"I remember they had an N64 kiosk in the middle, and I actually begged my parents to let me stay and play Starfox 64. Got it for Christmas that year and played it all night into the morning. I fell asleep at my grandma's house at the table during Christmas dinner that night haha. Good freaking times man." ~ Hammose
Go outside. That was it.
"That Friday afternoon after school feeling, when you knew you had two glorious days before you had any responsibility again, so you'd call your friends on the land line and hope their parents didn't pick up so it wouldn't be awkward, and you'd get together and just. Go outside. That was it. There was no plan, but maybe somebody would bring a football, and you'd have a pickup game at the park." ~ Surewhynot62189
MUSIC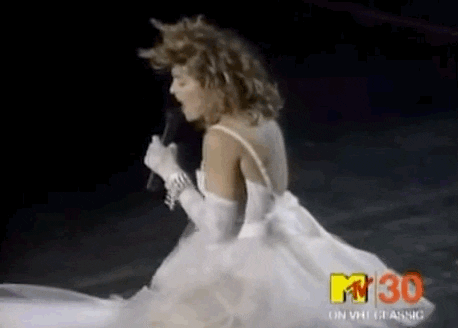 Performing Mtv GIF
Giphy
"Music, MTV, and listening to my huge 5 disc CD changer boom box." ~ jasdq
Too Much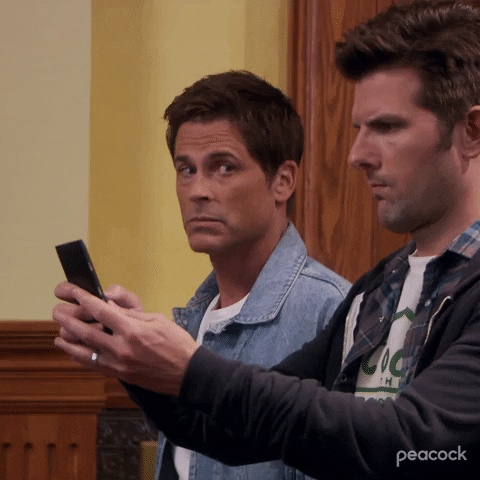 Season 6 Chris GIF by Parks and Recreation
Giphy
"The quietness before every freaking idiot in the world had access to the internet and a camera phone." ~ -RUNPMT-
Everything
"Building cubby houses, playing in the creek, rollerblading, then coming home and playing Sega/Nintendo. I miss taping stuff off the tv 🤷🏻♀️ hanging out in my room, still playing with toys, reading cool magazines, going through my card collections. The hype of the cinema back in the 90's. Not being a slave to technology, but still having wicked gadgets like Walkmans." ~ Ultimatelee
Trajectory
"Watching grunge music videos on MTV and Keebler chips." ~ kittenya
"MTV has had such a weird trajectory over the past 25 years. First into just not playing music anymore by the mid-2000's, and now it is literally just Ridiculousness 24/7 with an occasional 16 and pregnant thrown in. I don't even know what demographic they are going after. Who the hell is wanting to watch a middle aged bro comment on YouTube videos so much?" ~ TogarSucks
Like it's 1999!
"Think about some of the biggest hits of '99. The Matrix, American Beauty, Fight Club, Being John Malkovich. These movies (and a few more around this time) all had a unifying theme of the general ennui of living in a time without strife. They were about people making problems for themselves because they didn't have enough real ones."
The Good Ole Days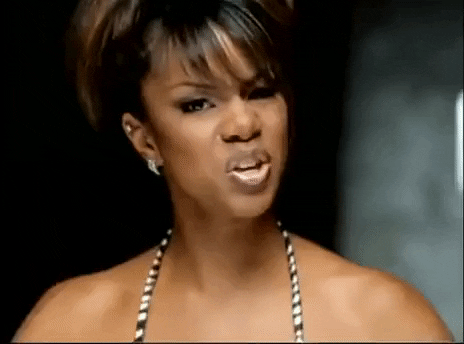 Music Video Dancing GIF
Giphy
"Going to the mall, and hanging out with friends. Malls were awesome, and I hate that the strip mall style has taken over."
"Especially up in Canada, where it gets to -40 in the winter. Back in the day you could legitimately spend hours wandering the mall, indoors and warm. Now it is depressing. Maybe the big malls like Mall of America or West Edmonton Mall are still okay, but the ones in my city are crap." ~ Lexi_Banner
These Low Effort Jobs Have Surprisingly High Salaries | George Takei's Oh Myyy
Have you ever worked one of those jobs that paid you to kinda sit there? If you have, you know the joy that comes with watching the entirety of Breaking Bad ...
Looking Back...
"I found my mom's Geocities page from 1996 using some super specific keywords and lots of digging. Seeing her guestbook with her friend's little messages to her, then lurking around their pages and seeing her's to them, it was surreal to see that the way she typed back then was the same as the way she'd send text messages to me in modern days. "
"She died in 2016 from cancer. She was a very private person in general with no modern social media presence at all so being able to go and visit those little time capsules is very special to me." ~ yoobikwedes
The Calm
"The 80's was Cold war paranoia, and the 00's was Terrorist paranoia after 9-11. The 90's was this oasis of calm in between two paranoid decades." ~ Scallywagstv2
"Yeah. I grew up in that chill period which actually lasted into the late 2000s outside the USA and Iraq and now I find myself in a Transformers setting of robots, autonomous cars, disasters, and government/oligarch misconduct that I have no precedent for...as I grew up almost entirely in a desert for Transformers media." ~ NineteenSkylines
Hollywood New...
"Think about some of the biggest hits of '99. The Matrix, American Beauty, Fight Club, Being John Malkovich. These movies (and a few more around this time) all had a unifying theme of the general ennui of living in a time without strife. They were about people making problems for themselves because they didn't have enough real ones. "
"I'd love if the world were going so well that the escapism was about nitpicking how pleasant the world is. The Onion had it right in 2001. Our Long National Nightmare of Peace and Prosperity is Finally Over." ~ GavinBelsonsAlexa
Back when...
"Before we had mobile phones, my wife and I would plan to meet at a certain street corner at a certain time after work. We sometimes had to wait for the other person to show up, but we knew they would." ~ i-will-be-dead
From a Distance
"In 1998, I was flying to California from Florida, with a stop in Atlanta. My boyfriend lived there; he was flying back to California the following day. While I was on my layover, I went to the customer service desk and asked if I could just stay overnight in ATL and fly out the next day, on his flight."
"The lady said, 'Sure,' and booked us seats together on his flight, no charge. I just took my carry-on and went to his house for the night. When we got to LA my bag was waiting. Try that now, it would cost $2,000." ~ ObjectSmall
And so it began...
"We didn't live online yet. The internet was in it's infancy and was a fun way to pass the time, but it hadn't consumed us. Business was still being done in brick and mortar stores, our social lives were offline, etc. There was almost nothing to be purchased online, other than the online bookstore called Amazon. Pretty cool because they had a bigger inventory than you could fit in a building. And so it began." ~ Scrappy_Larue
Leave Me Alone
"The privacy. I was just a kid/young teenager but I only knew my best friends intimately. The rest of my class I didn't know or care. Now it's like all your followers are in your bedroom/home when you post to social media. Anyway." ~ Phishstyxnkorn
"I can tell give you the details of the lives of people who I haven't spoken one word to in 17 years, simply because they friended me on Facebook back in 2005. I've started to realize that the best sign of a happy relationship is there being barely any mention of it on social media." ~ Dahhhkness
The Fun!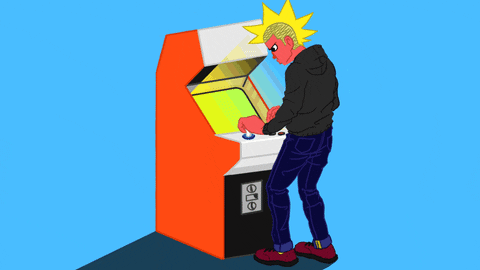 Frustrated Video Games GIF by Furryhead
Giphy
"Arcades. Music stores everywhere. Music TV. People buying music." ~ nohumanape
What's on the newsstand?
"Something my wife just brought up while talking about this post... Magazines man! Everyone had their favorites for what ever hobby or interest you had. For me it was Guitar World, picking up the issues with bands I loved and plinking along to the Tab on my crappy electric guitar! For my wife it was 17, checking out the most recent trends! Or Thrasher when it was just a skate magazine and not a clothing brand."
"Even Rolling Stone was a big deal for mainstream artists. Then those of us into an alterna crowd there were tattoo mags like Savage. Me and my wife used to scour our local 7-11's waiting for the new issue of Savage to show up! I get that you can find blogs, etc online with the same info and most of these mags still exist but it's just not the same!" ~ jackfairy80
Painful
"Not for myself but I feel bad for kids who have to experience bullying 24/7. When I was a kid in the 90s I went to school and these kids made fun of me but then I went home and it stopped. Now, with social media, the bullying can invade kid's lives outside of school." ~ METAL_AS_F*CK
The 90s were a special era. And we learn just how special by each passing year. Let's keep digging, because there is still much to discuss.
Want to "know" more?
Sign up for the Knowable newsletter here.

Never miss another big, odd, funny or heartbreaking moment again.
Keep reading...
Show less
What have we lived through? Millennials, one of the most controversial generations coming of age in the early part of the 2000s, have been through quite a bit. Two major financial crises, a pandemic, a race war, among several other major traumatic events have defined the lifetimes of the first 21st-century generation.
Every generation, though, lives through its traumas and its times for celebration. These things fully shape and define the generation, as they take the scars and the resources given to them by the times.
It becomes a part of their story personally, as well as on the world stage.
Redditor incrementaler asked:
"What is something your generation got to experience that no other generation will be able to experience?"
Here were some of those answers.
The Time Before Flight Danger
"Going up in the cockpit to meet the pilots. Thanks terrorist, ruined it for everyone." -faceeatingleopard
"When I was a child, I got to see the cockpit and meet the pilot. I inadvertently left my stuffed toy there. He got to go on a world tour in the cockpit before coming back here and being mailed back to us."
"I still have this world-travelled toy today, in a closet somewhere. It was such a different time..." -Astillius
Hiding In The Age Of Public Life
"I volunteered with the detectives at a police substation around the beginning of 2011 when many people still had public profiles and checking in to locations was still pretty new."

"I was able to find a number of suspects they had been searching for when those individuals checked in to different places."
"I get that criminals are dumb, but 'Hey everyone, I'm here,' was a special kind of dumb."- Xannin
We've Become Afraid
"80s kid here. Leaving the house at sunrise to wander around aimlessly wherever I pleased coming back for lunch, and then doing the same thing until it gets dark."
"That will never happen again in the United States, not on any large scale at least." -humorous_anecdote
"I'm really, really jealous of this. I wasn't allowed to wander at all growing up. I didn't learn to ride a bike till about 17. I'm confused about this though - is it truly that much more dangerous these days, or did people not shelter children as much?"
"As it is, I was pretty much raised on the internet (born early 2000s). I'm sad I never got to experience a time without social media and mobile phones and the expectation of being always contactable." -Ginngerly
It was a time that we will probably never see again--at least, not in the same ways.
90s Kids Only
"Growing up along with the internet evolving. When I was a kid there was no social media and basically no internet. Around my late middle school/early high school years AOL became a thing."
"So we experienced the anonymous internet. Everything was through user names. You connected with people on themed message boards."
"Then came the personal but still a little anonymous part. Programs that let you connect with people you know but still in a semi private way. Things like ICQ, AIM, Xanga, LiveJournal, etc."
"About halfway through high school came the first modern social media: MySpace. Learned a lot about connecting with people, music, etc. It was opening the door to the internet that was connected to your actual person. And all the top 8 drama that went with it."
"When I went to college my first semester I couldn't get on Facebook because my college had not registered with them yet. Spring semester they had. It was a great way to connect with others in my college and stay in touch with friends at other schools."
"Then we got to watch it all grow and become more sinister and become the influencer culture with Instagram and TikTok. Also all the data collection and lack of privacy that seems unimaginable when I think of the early days of anonymity."
"It seriously feels like I grew up along with the internet and got to go through all its phases too. It's been a unique perspective being on both sides of the internet revolution." -dont_blink_angels
Young & Carefree
"Coordinating whose house to hang out at after school over our short time at lunch, defining where you'll meet, how you'll let your parents know, and hoping they wait long enough for you when you get stuck doing something right after your last class."
"Also, living just far away enough from school that walking isn't feasible, yet your parents forgot to get you after your after school activity, but you don't want to head over to your friend's house in case your parent shows up in between the time you head out and when you're able to call."
"So you wait for 2 1/2 hours and then dad shows up and says, 'sorry, forgot.' That's how I got my first cell phone." -FlappyCervix
A Time Before Contact
"Having to schedule things with your friends that either A, was well planned out in advance with very agreed-upon meeting times, or B, waiting around the house to get a phone to call to set up the aforementioned plans."
"Also knowing all of your friends and family phone numbers in your head so you could call from payphones."--febreeze_it_away
Skin Mags At Random
"We were on a weekend Scouting trip and were hiking uphill on a paved road. We were fortunate that the Scoutmaster was up ahead and out of sight because I spotted something over the hill behind a tree."
"We went down to check it out and discovered porn and pints of Iron City beer. Some of us ended up having an especially fun time that weekend. I suppose that we violated several tenants of The Scout Law." -NagromTrebloc
Even though those times in our generation might be over, there are so many exciting new prospects on the horizon.
Odd & Disturbing Moments
"Being left to our own devices as kids. Generation x was weird. Previously there were stay-at-home moms and people in the neighborhood looking out for each other after it was helicopter parenting and play dates."
"For gen x it was like 'good luck doesn't die.' My ex came home when she was 7 and they'd been robbed, she called her mom at work to ask 'where the TV went.'" -friendlessboob
Fascinating To Watch
"Hi, I'm one of the first of Generation Z. I downloaded Minecraft before you could put torches on fences after I played the alpha-version browser demo."
"I was there when YouTube started gaining traction, watching the first viral videos go from a few thousand views to hundreds of thousands around 2009-2012."
"I was a sad kid, developing parasocial relationships to fill the void as I watched my favorite YouTubers go from Machinima to independent content creation."
"I got to see the rise of YouTube legends like Nigahiga, Markiplier, the Yogscast, TotalBiscuit, Jacksepticeye, Captain Sparklez, and SkyDoesMinecraft in real-time." -VergeThySinus
When You Aren't Straight This Never Happens
"Learning about what excites you sexually from books, movies, and actual face-to-face encounters rather than porn and social media."
"The fact that when people have sex now they immediately go to reenacting some emotionally detached pleasure-driven act witnessed in porn rather than exploring each other's bodies and minds and getting to know their sexual identities organically, without the influence of blatant perversion."
"The lack of connection between sexual partners now is sickening, people just use each other and brag about it. Romance died while the perverse thrived and it breaks my heart." -Alternative_Being255
Little relics of time gone by, all captured in the words of people who lived through them. Do you remember any of these times for yourself, or are you of a different generation completely?
On the other side of this, some things have changed for the better. Technology keeps us all connected more often these days, despite the negative side effects. We have a lot more resources at our disposal to keep ourselves and each other safe.
And though the future seems a little freaky, we will get through it together.
Want to "know" more?

Sign up for the Knowable newsletter here.
Never miss another big, odd, funny, or heartbreaking moment again.
Keep reading...
Show less