Some one night stands are unforgettable.
Keep reading...
Show less
*CONTENT WARNING: Contains descriptions of violence against animals*
Angelina Bouros is a trans woman living in Rosendale, NY.
The community is finding itself in the spotlight after it came together to send a message to the anonymous neighbor who mutilated and killed Angelina's cat after sending hateful transphobic messages.
They don't know who it is, so they can't handle things through the legal system. Instead, they decided to be perfectly petty and we're here for it.
They knew the cat murderer hated rainbow flags, so Angelina and her community came together and painted her entire house in bright rainbow colors.
Angelina says the harassment began in 2017 when she received the first of several threatening letters. She had recently put a pride flag up under her American flag and the letter writer was not a fan.
That letter was just the beginning. Angelina called the harassment "unrelenting" over the years, but could never have predicted how far the neighbor would go. She found out just what they were capable of in a horrifying way.
While in her garden one day she discovered the remains of her beloved cat, Rambo. To be more specific, Angelina discovered some of Rambo's remains.
The neighbor had murdered him, chopped him in half, and placed the back half of his body in her garden. If there had been any doubt about who did it, the transphobe took credit for the cruel murder.
RIP Rambo.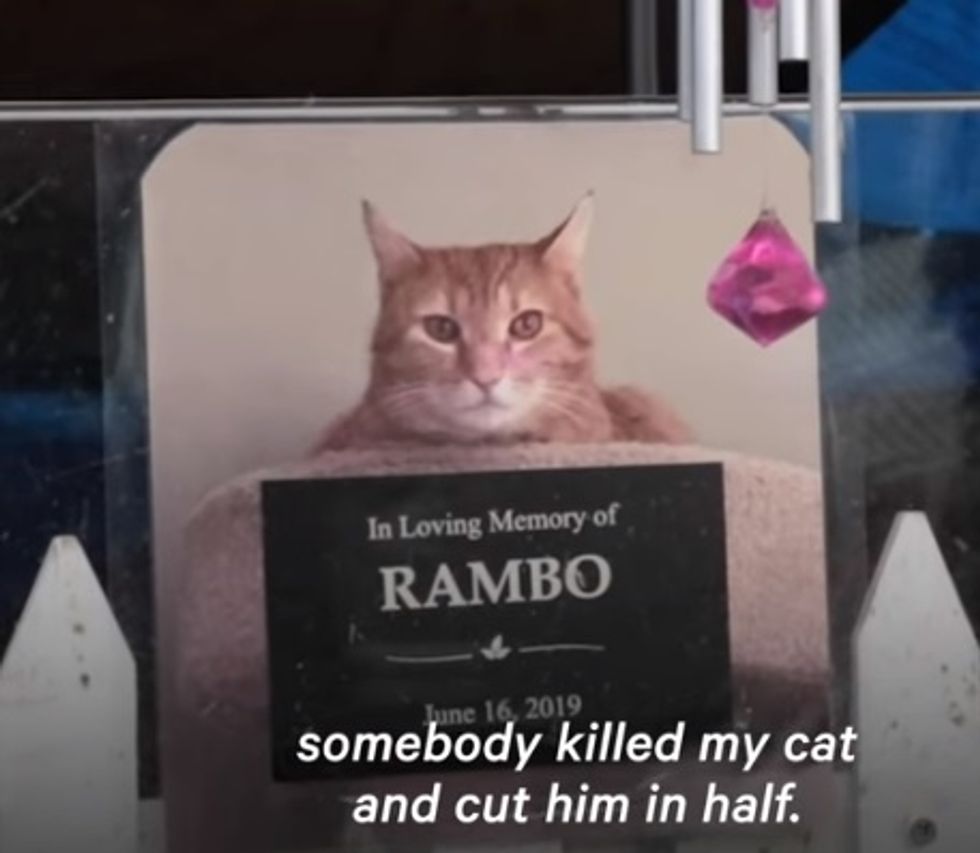 Now This / Youtube Screenshot
Police were contacted and Angelina has been working with them by reporting each incident and providing all the evidence she can. Mail has been taken for tracing, Rambo's body was examined, etc.
Rambo was murdered in the summer of 2019, but authorities have not been able to make any arrests.

Angelina took her time grieving, but it wasn't long before she decided she needed to fight back somehow. She didn't like feeling helpless and the police were handling things on their end.
She had already taken steps to make sure she was safe, but she also wanted this neighbor to know she wasn't afraid or ashamed. Angelina needed to send a message.
But how?
It was a rainbow flag that initially irritated the neighbor enough to start sending the letters. So she decided to just turn the rainbow up to full blast.
"You hate rainbows, transphobe? You're gonna get ALL the rainbow!" ~ Angelina, probably.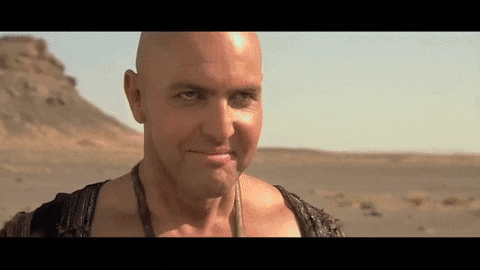 Giphy
Angelina didn't want to just make a statement for herself, though. She wanted to speak as a community, so she invited neighbors to paint the house with her.
We don't just mean her next door neighbors.

We mean Angelina invited basically the whole neighborhood. If you're going to make a statement like this, you go big.
She created a Facebook event and put flyers up around town to let people know what she was doing and why. Painting the biggest, brightest rainbow possible was a peaceful solution that's also just a smidge petty.
So obviously people LOVED THIS IDEA.
A local hardware store got wind of the event and donated all of the paint Angelina would need to paint not just the house, but also the fence and pretty much anything else she wanted to cover in color. On the day of the event, she expected maybe 50 people counting herself and her friends.
That's not what happened.
Instead, hundreds of people showed up. They brought out grills, chairs, music and more.
The community turned it into a painting picnic party to show support for Angelina. At the end of the day, they had the house covered in color.
This has to be the prettiest proverbial "eff off" ever.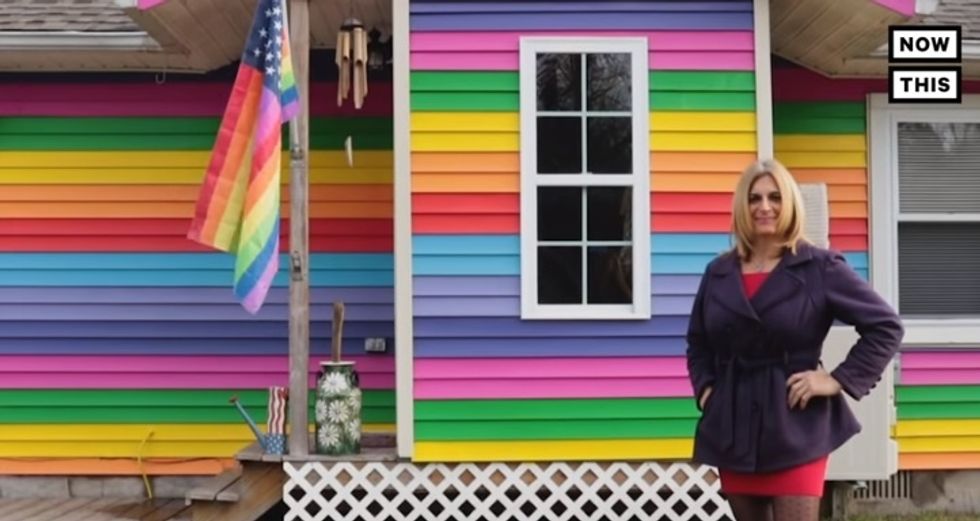 Now This / YouTube Screenshot
Check out this YouTube video about it.

Angelina's story started making the rounds on Twitter.

A neighbor sent her anonymous threatening letters for 3 years and then murdered her cat by chopping it in half. And… https://t.co/ZnZeuyFVQ5

— Katelyn Burns (@Katelyn Burns) 1580306143.0
@nowthisnews If someone tortures and kills an animal, their issues go far, far, far deeper than bigotry, transphobi… https://t.co/s0aYxDF6Ra

— ClickitCricketHarley (@ClickitCricketHarley) 1579819134.0
@LilithLovett Some sick people just need an "excuse" to do horrific things to pets.

— Tyler Paul (@Tyler Paul) 1580330350.0
@maagdalene17 @nowthisnews I have ZERO fear. If they killed me they'd only make my voice stronger and louder.

— Angelina V. Bouros #Resist #JusticeForRambo (@Angelina V. Bouros #Resist #JusticeForRambo) 1579854442.0
@DCHomos I'm glad she's got a good neighbor but I think the more important thing to discuss here is the fact that T… https://t.co/eqJIfWvtp8

— ꧁𝐏𝐫𝐨𝐥𝐢𝐱 𝐖𝐫𝐢𝐭𝐫𝐢𝐱꧂ (@꧁𝐏𝐫𝐨𝐥𝐢𝐱 𝐖𝐫𝐢𝐭𝐫𝐢𝐱꧂) 1580309585.0
Angelina and her community are determined not to let hate win.
If you or someone you know is experiencing harassment, please take the proper steps to make sure everyone is safe before creating any fabulous response.
Keep reading...
Show less
Evil changed the world as we knew it on September 11th, 2001.
After the terror attacks against the United States, the experience of traveling changed around the world. More people were anxious about riding on air planes, but life wasn't going to stop because of the actions of evil men. Though the effectiveness of the TSA and other airport security is debatable, many countries around the world opted to have stricter guidelines at airports to at least make passengers feel safer.
Redditor u/omfghewontfkndie asked people who remembered traveling before 9/11 what it was like, and people discussed how it was overall more enjoyable to go on planes.
Keep reading...
Show less
Many will argue that Time Square is the most overrated tourist spot in New York City, but I have to disagree.
Sure it's dirty and crowded, but at least there's stuff to do. Having lived and worked in New York, I would say the most overrated tourist spot is Grand Central Terminal. The ceiling is pretty, but it's really just a building filled with angry people rushing to get somewhere.

Redditor u/EggsAndBeerKegs asked, "What's the most overrated tourist destination?" and people gave their opinions on the most overrated tourist spots they've been to.
Keep reading...
Show less
On Saturday, a good portion of Manhattan experienced a blackout at 6:47 p.m., with affected areas including "West 72nd Street on the north, West 30th Street on the south, the Hudson River on the west and 5th Avenue on the east," according to Con Edison.
Power was restored by midnight and Con Ed is still investing the cause of a transformer explosion that scared many tourists and New Yorkers.
Commuters were stuck underground in the darkness on subways and drivers above ground were left to their own devices with blinking traffic lights and scrambling pedestrians.
And although the lights were out in Times Square, with most shows being forced to cancel performances, Broadway did not exactly go dark.
Cast members from shows such as Waitress and Hadestown took to the streets and entertained ticket holders who were waiting for announcements on the status of the evening's performances.
The Best Musical winner of 2019, Hadestown, regrettably canceled the show and made their announcement on Twitter.
However, Tony winner André De Shields performed an impromptu performance with cast in tow outside the theater and riffed on the blackout by changing the lyrics to the show's opening number, "Road to Hell."

Hadestown cast member and Broadway Serves co-founder, Kimberly Marable, chronicled the rousing performance.
Leave it to New Yorkers to turn a momentary crisis into a positive and memorable experience.

Come From Away, which won the Tony for Best Musical in 2017, embraced the situation and also performed for patrons outside the stage door.
The show's star Chad Kimball led the cast singing "Welcome to the Rock."

The cast of Waitress served up a slice of joy with their acoustic set that included a rendition of "Lean on Me."

According to Playbill, the following shows were able to resume with their scheduled performances:
Beautiful: The Carole King Musical
Beetlejuice
Be More Chill
Broadway Bounty Hunter (Off-Broadway)
Burn This
Fiddler on the Roof (Off-Broadway)
But a vast majority of shows, including Tony winner Hamilton, were not as fortunate.
The cast from Ain't Too Proud sang out from the windows of their respective dressing rooms from inside the Imperial Theater.

One enthusiastic Twitter user captured the performance and misidentified the cast with that of Hamilton, who resides next door at the Richard Rogers Theater.

The largest crowd assembled outside Carnegie Hall, where the Millennial Choirs and Orchestra gave a performance after their canceled concert.
There were no deaths or injuries reported during the blackout that affected over 73,000 homes and businesses.
John McAvoy, chief executive of utility Con Edison said "it does not appear related to excessive load."

New York endured significant power outrages before, including one following Hurricane Sandy in 2012 and the Northeast blackout that lasted an entire day in 2003.
Ticket holders may have been inconvenienced for the time being with canceled shows, but they witnessed intimate and once-in-a-lifetime experiences with these impromptu performances.

New Yorkers know how to handle chaos in the city. And for that, they should take a bow.

Keep reading...
Show less