We all make mistakes.
It's simply human nature.
But that doesn't mean we don't often find ourselves frustrated when other people make mistakes.
Particularly if these other people are our colleagues, resulting in having to clean up the mess they created.
Redditor xk543x was curious to hear about some of the worst, or most inane mistakes made by unreliable co-workers, leading them to ask:
"What's the dumbest mistake you've seen an incompetent co worker make?"
There's a reason we keep the boys away from the girls
"At a Petco all the Guinea pigs were in a big plexiglass enclosure with a center divider."
"Boys on one side and girls on the other."
"An employee decided that all the long haired Guinea pigs should be on one side and short haired on the other."
"It took forever to sort them out and all the females were pregnant."- PumpkinsDad
Dangerously negligent

"Social worker here."
"We're supposed to see clients who live with families once a year."
"A mom of a kid kept calling her worker but got no answer."
"Mom called the on call worker who discovered the assigned worker had logged the visits in and made thorough notes."
"The mom said she never saw her in two years."
"This led to her whole caseload being audited and then they found she had logged a visit with a client who'd been dead for months."
"While being audited, her supervisor decided to do a surprise visit to the client she was supposed to see."
"She never showed up and logged in the visit the next day."- ShiroHachiRoku
Slow and steady... gets you fired
"Had a guy take a cover off the base of a radar unit which had like 40 bolts holding it on."
"Gave him a ratchet wrench to do it."
"Half hour later I go check on him, only had about 10 off. "
"Watched him a bit."
"He would take it off each time to move it for the next turn!
"Showed him how a ratchet works."
"Never assume people know stuff." - User Deleted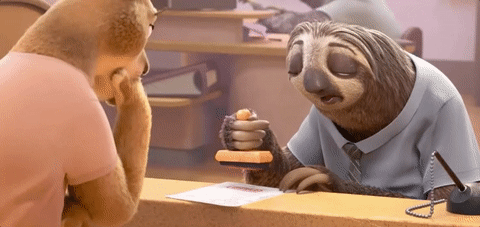 Sloth Dmv GIF
Giphy
Old Faithful!

"Tried to cool down hot oil, in a chute, all ready to be emptied, with a nice big bucket of water."
"I heard 'THOMAS NO' only to turn around and see a GEYSER of hot oil shooting towards the ceiling before it hit and splashed down around him."
"Nobody was hurt some f*cking how."
"The chute that the oil was in was on wheels and had a wooden handle, it absolutely didn't need to be cooled lol."- Ohiolongboard
How to make a bad situation even worse

"I worked on a golf course during the summer."
"Area with lots of poison ivy."
"Two of my coworkers were instructed to weedy a river edge area."
"If we encounter poison ivy, we either stop what we are doing or go get full suit protection with respirators."
"These dumba**es were weed whacking in the thickest poison ivy I had ever seen."
"No protective suit or glasses or respirator."
"I roll up and notice what the hell they're doing and point out all the poison ivy everywhere."
"They were aerosolizing the oil."
"They both ended up in the hospital on steroid to prevent their death because of the oils they inhaled."- Onwisconsin42
"30 days has September..."
"The designer, creative director and head of production all missed that there was an eight day week on a calendar."
"We sent 10000 copies of a useless calendar to a client."
"Rightly so, they refused to pay for it."- atot806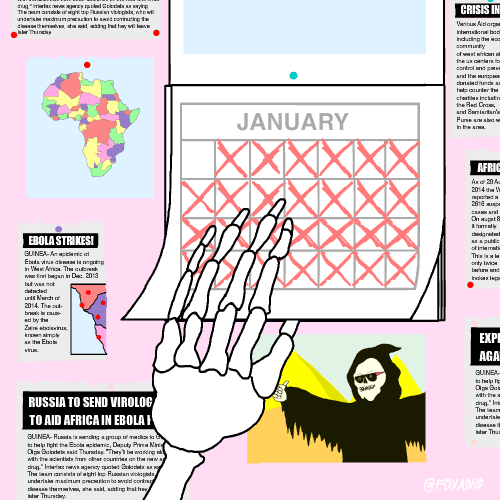 animation domination calendar GIF by gifnews
Giphy
Isn't that why they call it long division?

"Not a mistake necessarily, but I once witnessed our chief accounting officer, and our only accountant; it was a small company, type in values into two Excel cells, pull out a calculator, add the two numbers together in the calculator, and then type the answer in a third cell."
"She had apparently been doing this for years, with sheets consisting of thousands of rows."
"I explained how to use formulas and copy them but she apparently forgot because I saw her doing the same thing again months later."- zachm26
Isn't that what these pockets are for?
"When I worked construction, there was a guy who showed up with nothing in his tool belt except a small bag of peanuts in one pocket."
"He didn't stay around too long."- Incredible_mango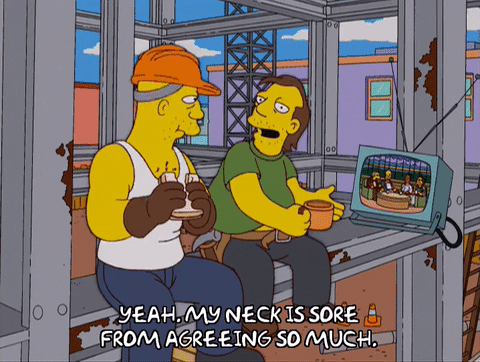 eat season 15 GIF
Giphy
Maybe a little guidance and help was all it took to put these colleagues on a better path forward.
But one imagines the only path these less-than-star employees found themselves on was right out the door.
Keep reading...
Show less
There's nothing more embarrassing than laughing at a story someone just told, or a question someone just asked, under the assumption that they were joking.
Only to realize a few seconds later that they weren't joking.
It happens to the best of us.
In some cases, these can be bizarre stories which we might laugh about months or years down the road.
Though more often than not, we immediately feel a foot slamming into our mouth with a vengeance.
Redditor tatemalia was eager to hear the wildest, most embarrassing of these unfortunate moments, leading them to ask:

"What's your 'Oh..You're not joking' moment?"
Oh, bless your heart.

"Had an old lady ask me when her dog would grow its leg back after an amputation."- Moctor_Drignall
Don't mind if I do
"I was eating ice cream and an old guy walking into the ice cream parlor said, 'Oh, that looks good! I'm gonna get a spoon'."
"I smiled and laughed awkwardly, until his damn spoon was in my ice cream."- KnittingTrekkie
Feedback is greatly appreciated
"It was when I met up with an online friend for the first time."
"It was surprisingly more fun than I thought it would be."
"By the end of the night, as we were waiting to get served at a restaurant, she looked at me and asked how I thought our outing went."
"I told her that I had a great time."
"But that didn't seem to do it for her."
"She proceeded to tell me about how she does this thing, at the end of every outing with her friends, where she rates and gives feedback on how well it went, what didn't go so well, and what could do with some improvement for next time."
"I laughed it off, thinking she was joking."
"It all felt too robotic and school-like for me to take seriously."
"But she definitely was serious."
"I told her to go first so I could get an idea of what she wanted and, I kid you not, she whipped out her phone and started drafting up multiple paragraphs for about 7 minutes or so."
"I felt so awkward because it was also 7 minutes of pure silence and deep concentration."
"Thankfully, I had to leave mid-way because I was needed elsewhere."
"I told her to just text me her thoughts when she was done but she insisted that that wasn't the way to do it, and it HAD to be done in person."
"I still can't believe this is something her and her friends regularly do."- reigndrops17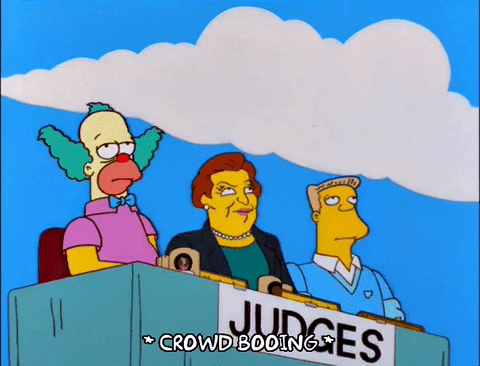 season 10 episode 22 GIF
Giphy
We'll take the house, no need for a bag.

​"Working in a catalog store in the UK."
"You pick from the catalog, we bring it out from the warehouse."
"Lady comes in and orders the single largest thing we keep in store."
"A shed. "
"Not a particularly big shed as sheds go, but still a shed."
"'Ok madam if you give me your vehicle's registration number I'll tell the security guys to let you round the back of the store'."
"'Park in bay five and we'll load it for you'."
"'What are you talking about?'"
"'You have to park around back so we can load it into your vehicle'."
"'I don't have a vehicle'."
"'Oh, well, we have the numbers for some white van men and taxi services if you'd like to...'"
"'No just bring it up, Keith can carry it'."
"She indicates a portly man of around 50 across the room'."
"We got it into the lift diagonally, though it trapped a man behind it, and when it came up she said 'what on earth is that?'"
"'That's your shed, madam'."
"'My Keith can't carry that!'"
"'Yeah no sh*t, would you like me to call a van service for you?'"
"She actually just got a refund and left."- reverendmalerik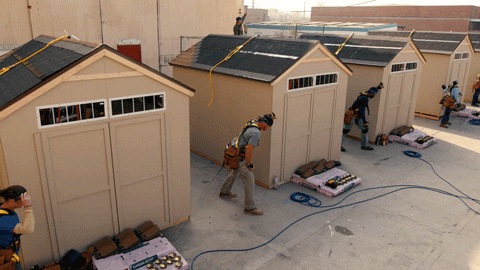 Race Shed GIF by CBS
Giphy
That's not yours, its mine!

"I work at a hotel."
"We have this regular who comes, but usually makes reservations ahead of time, and she has her 'favorite' room she tries to get."
"Well one day she walked in, asking for a room."
"I had rooms available, but not the one she wanted, and she replied 'oh, call the guests in that room and tell them to move out so I can have it'."
"I seriously thought that was a joke and I played along, saying 'I'll get right on that,' as I was getting her info in the computer."
"All of a sudden she said, 'aren't you going to call them?'"
"'Call who?'"
"'Those guests in that room so I can have it'."
"'Oh, you really weren't joking'."
"I told her that we don't do that, if she wanted that room she needed to call ahead."
"'I have a room, I know it's not your preferred room but it's all I've got, and you can take it or leave it, but I'm not moving a guest out'."
"She seemed almost taken aback by that, but I told her that if she didn't take the room I had she wouldn't get anything."
"She calls ahead now, but I was mortified and shocked she actually tried this stunt, and actually meant it."- llcucf80
What is the meaning of this?!
"Used to work at a big bank that bought out another, somewhat smaller but still pretty big bank about 10 years ago."
"Some guy came in all pissed off because we didn't send him a new debit card with the new bank's logo on it."
"They intentionally made it so the old ones would continue working until they were originally set to expire."
Said it was "'embarrassing'."
"'I can't be the only person who's gotten upset over this, right?'"
"Yeah homie, you were."- giantgoose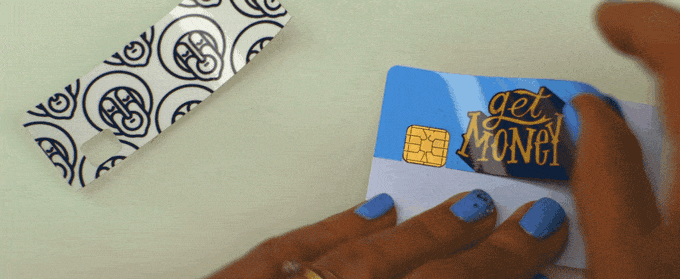 Giphy
It's easy to understand how these poor people thought what they had just heard was a joke.
One imagines, going forward, they might wait to laugh until after the people they were talking to start laughing.
Keep reading...
Show less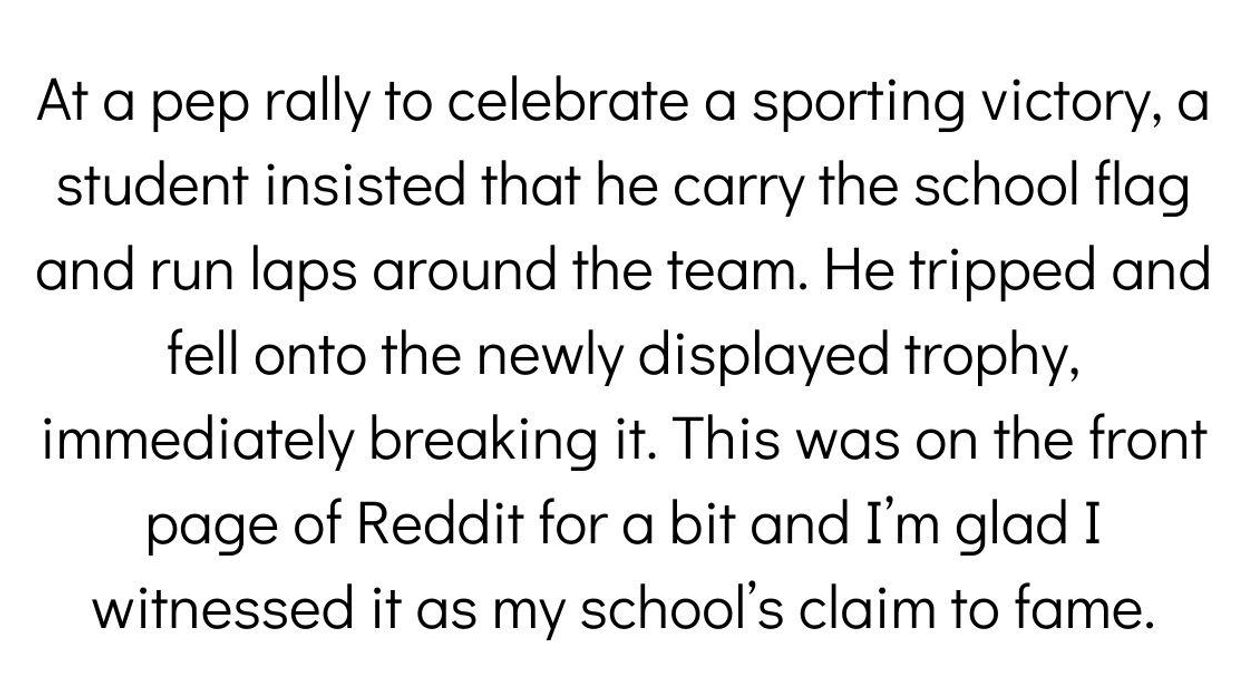 It's all our deepest fear to fall flat on our faces when there's a bunch of people around. No one wants to look the fool, and no one wants to look the fool especially when it happens before a group of people you're going to see every day for the forseeable future.
Embarrassing moments can come out of nowhere, but how you handle yourself in the aftermath is what matters. Laugh it off, shake it off, go with the chuckles, and let the people know you can't be hurt by it.
Well, unless you're any of the people in the stories below. Then I'd consider getting a new address and name.

Reddit user, Konke420xd, wanted to know when the shame was too much to handle when they asked:
"What is the most embarrassing thing you've ever witnessed?"
School seems like a good place to slip up and make a fool of yourself. Surely, everyone will treat it with care and kindness right?
Right?
"Oral," Not "Oral"
"I was a sophomore in HS (so around 16) taking the last leg of my county's sex ed class. It was a co-ed day, so our full gym class of about 30 kids was in the room. Topic was STD's. The teacher mentioned oral sex a few times and I guess which diseases can be spread through it. One guy who was always pretty quiet and shy raised his hand and said "I just don't really understand how you can get an STD from talking about sex..."
"It took everyone, including the teacher, a few seconds to understand, but some quiet laughter came from a few students. the teacher then of course had to explain as simply as she could that oral sex did not in fact mean talking about sex (I think the stupid bylaws of the program in our county didn't allow her to fully disclose what it was)."
"Anyway, we thought he was joking but as he heard the laughter from everyone after getting this explained to him, he slowly put his head down and covered his face for the next few minutes. Poor guy. I felt bad, but it was hard not to laugh. At least no one directly gave him sh-t for it afterward"
shlumpy_dumpyyyyy
Keep Your Preferences At Home
"Community college in Tampa, 2009. Spanish class. Shy goth girl walks to the front of the class and plugs in her USB drive to boot up her PPT and begin her presentation like the rest of us did. Except when she pluged it in, a file opened up and the most vile anime porn started playing. Everyone was mortified for her. It took her maybe 3-4 seconds to turn it off but the moment felt like forever. She said, "THIS IS MY BOYFRIEND'S DRIVE!" and ran out of the room crying. The teacher just moved on. The girl didn't show her face for a week. Just an absolutely insane moment."
grandpasmoochie
Triumph, Glory, Embarrassment
"At a pep rally to celebrate a sporting victory, a student insisted that he carry the school flag and run laps around the team. He tripped and fell onto the newly displayed trophy, immediately breaking it. This was on the front page of Reddit for a bit and I'm glad I witnessed it as my school's claim to fame."
NathanialH0rnblower
When You Want To Stand Up To A Bully But Fail
"There was this kid in my high school that was taking karate classes. He decided he wanted to fight a kid that was bullying him after school in the town park. A sh-t ton of people went. He got all pumped up before the fight. Instantly, once the fight started, he began doing karate moves at the air. Once he reached the bully, the first thing he decided to do was a very flashy "spinning backhand"(?). He missed by a mile and was knocked out immediately. I felt really bad for him. He was always known for not being able to read situations very well and that, being his first normal fight, was just the absolute worst time to try that move out. Bullies suck. It was embarrassing for both of them."
meetmeinthebthrm
Public places seem like the perfect spot to get into all sorts of chicanery. After all, nobody is going to judge you for it on the internet.
Except, of course, that's exactly what we'll do.
To Be Fair, He Made The Right Call About His Idiocy

"Alright, so my husband and I were driving around the city and it was pouring outside. Absolutely pouring. We were about to pass the lightrail train tracks (going in both directions) when the crossing gates came down because the lightrail was approaching."
"One idiot in a van decided he could make it across before the gates came all the way down. He kept on driving, but he did not make it. Instead, his vehicle was now trapped between the gates."
"We could see from our car that this person was PANICKING. His life was flashing before his eyes. In his movie mind, the lightrail was about to crash into the van and drag it for dozens of yards before finally stopping... so he did what anyone would do. He violently pushed the door open and RAN in the pouring rain for his life."
"He was halfway down the street before he stopped, turned around, and noticed that the lightrail was patiently waiting for him to move the vehicle. The door was still open. My husband and I just about pissed ourselves laughing."
JoyceReardon
Keep Your Passions At Home
"I was watching a symphony orchestra concert at the Sydney Opera House one evening. The concert hall foyer has these huge glass windows beneath the sails that overlook the harbourside. The sun hadn't quite set yet, and every audience member that was exiting the hall could see this incredibly drunk middle aged couple having sex on a bench outside the hall."
cowbelljazz
When It's Not Just A Towel

"Was in a pool at a Euro beach resort. We'd been chatting with an old brit tourist, he got out of the pool and went to get changed poolside, using his towel to do the discrete swimming tog shuffle."
"Suddenly up steps an angry Frenchmam wanting HIS towel back..."
"Turns out our poor retired gent had grabbed the wrong towel. There ensued a desperate tug-of-towel as a very stroppy Frenchman attempted to rip his towel from this poor old guy who was butt naked and frantically trying to save his modesty."
"The old guy's grandson saved the day, with an emergency towel transfer, but not before the whole pool complex had seen way too much hairy old British grandpa scrote."
Bigfoothobbit
We're Not As Cool As We Think
"I was at a food court and I got the brilliant idea to jump over a row of those plastic chairs and tables.. You know, the ones that are fixed to the floor."
"Foot got caught and I fell flat on my face. I stood up to 30 people clapping. One guy yelled asking for my autograph."
Niteryder007
Perhaps the lesson best learned from these following stories is to make sure you use the bathroom before you leave the house.
Otherwise, well...
Take It To The Dance Floor?

"I was on a high end cruise line at dinner. An older lady got up to go to the bathroom but missed and pooped herself in the dining room entrance. She left her panties there and continued on to the bathroom."
SimbaOne1988
Maybe We Should All Only Poop At Home...

"I used to work in nightclubs. I once witnessed a girl leaning against a wall, casually flirting with a guy and as she laughed she actually sh-t herself. She was wearing a white dress and there was no hiding what had happened. The smell actually cleared the whole level of the club. She ran out crying. We had to clean poo off the floor where she had been standing. I often wonder what she is doing now..."
Vaiken_Vox
I think the lesson we can take from all of these is anything you would normally do in private that, in the moment, feels right to do in public, don't. Just, don't.
Have you ever seen something so embarrassing you felt bad from the person? Tell us about it in the comments.

Want to "know" more?
Sign up for the Knowable newsletter here.
Never miss another big, odd, funny, or heartbreaking moment again.
Keep reading...
Show less
Yes, doctors are miracle workers, a lot of the time.
But doctors and, all medical personal for that matter, are only human.
They make mistakes. Sometimes their mistakes lead to death or irreparable physical damage to a patient.
Beyond mistakes though, just like any other job or career field, you do have those people that make everyone wonder... "How the HELL did you get this job?"
That shouldn't be a question for a doctor.
Redditor PeaAdministrative874 wanted to hear about how participants in the medical field have made a few mistakes too many, by asking:
"[serious] What is the worst case of malpractice you've ever seen?"
One of my best friends lost her life due to a litany of crappy doctors (thank you Medicaid). Waiting for a kidney can kill you, literally, and so can the doctors helping you look for one.
"McBurney's spot"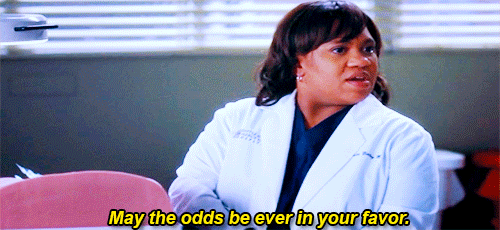 head feels GIF
Giphy
"Had a doc misdiagnose my ruptured appendix. Said it was likely just an upset stomach from an antibiotic. I wasn't really pissed until I learned how simple it is to screen for. Just poke me in the stomach. 'McBurney's spot.'" ~ cmoellering
Quack
"I had a doctor mis-diagnose me with nothing more than a post surgical infection. He was the doctor I saw locally close to my home after my trauma surgery that took place in another city. All he would ever do is double the dose of the anti-biotics I was prescribed."
"Turned out I had a hole in my diaphragm that was allowing my lacerated liver to flood my chest cavity with bile. They drained a liter and half from my chest in the ER. I still remember the sound of the doctor screaming in the ER about "What kind of a quack would release a person in this condition?" ~ Stephenburnett98
"growing pains"
"My doctor told my mother that the pains in my side were just "growing pains." For years, he said this. Well, after sixteen years, my kidney finally gave out. It turns out, the pediatrician who had taken care of me for years had missed a kidney birth defect that should have been found when I was born."
"I spent the first 16 years of my life having pains that were similar to having kidney stones--all the time. I have a rib cage that is deformed because my kidney was so swollen during its formation. If he had even felt my ribcage he would have known this."
"My mom believed him because he was a doctor. None of this was found until I was 16 when the damage was already done. They tried to fix it, but it didn't work. Unfortunately, by the time any of this was realized, my doctor had died, so I didn't have a chance to sue him." ~ Lostyouruckinminds
It really sucked
"My mom had a kidney defect that was never caught because she was born before they were able to detect those things in the womb. her kidney was so messed up that it barely functioned, and paired with a history of alcoholism, the defect wasn't found until she was in the hospital with multi-organ failure from the build up of toxins created by her other kidney failing to do the work of both."
"I was 14 when that happened and she was early 50s. She ended up in end stage renal failure and was dependent on dialysis for the rest of her life because her kidney function was never able to be restored. If the defective kidney had been found earlier they might've been able to save the other. It really sucked." ~ immapizza
Dr. Chris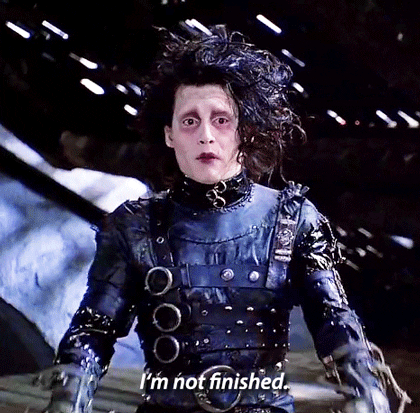 johnny depp edward GIF
Giphy
"Dr. Christopher Duntsch is known as Dr. Death. He used to go on days-long Coke benders, stay up for days, do lines, and cut people open. If you can handle it, look at an X-Ray of his work... looks like Steampunk meets Edwards Scissorhands in terms of surgical quality." ~ -_-_-----_-___
Doctors and medical people in general really should be taking daily field sobriety tests. And mental health checks. We need to know they're performing at their best.
Fallen
"I fell down a flight of stairs after pinching a disc in my lower back which caused me to black out. I had to call my uncle to come help me off the floor & take me to the local urgent care clinic. The doc told me to bend over & touch my toes which I couldn't of course & then diagnosed me as fat."
"I was like "I've been this weight for a while. My body didn't just suddenly decide I was overweight & to stop functioning. I felt a pop in my back which caused me to black out." Nope according to him I just needed to lose weight. I yelled at him all the way back to the waiting room full of patients for being a jerk."
"One of his nurses noticed the bruising on my arm was indicative of a broken arm & suddenly he was taking me seriously. Apparently not noticing your arm is broken because your back pain is overwhelming any other feeling is the indicator that you're actually seriously injured."
"I had my uncle take me to the ER instead where I was diagnosed & treated. Just the arm though, the back took about a year of physical therapy. And all my paperwork had to go back to that doctor since he was the initial treator. I included a lovely drawing to be faxed over with my papers (🖕) as well as message that called him a freaking idiot which made the ER doc laugh." ~ Stefie25
The Hen's teeth
"I went in for a simple hernia repair. The surgeon perforated my bowel in 9 places and sewed me back up. By the morning I was in full septic shock. My kidneys failed, I got piped and a hole opened in my side that connected my bowel to my skin allowing crap to flow out of my body. I spent 10 months in the hospital, mostly NPO with nothing by mouth."
"I lost over 120 pounds. I had multiple surgeries. I had to go to rehab to learn how to walk again. I told the surgeon about my prior bowel resections for Crohn's disease and the internal scaring I had. His exact words, "Complications are as rare as hen's teeth." Oh, and I told him I was on drugs that depressed my immune system. So when the septic shock hit, I didn't respond to antibiotics."
"I got a settlement of $1,000,000. My lawyers took $450,000. My health insurer took $350,000. My ex-wife took the rest. I got run from my job as a senior director after missing that much time and actually got more from the wrongful termination suit than the malpractice suit." ~ Howabouthatnow
Med Mal
"I worked for attorneys. They handled a lot of Med Mal cases. We had one where the doctor just lopped off a leg of a man who was there for a minor kidney stone procedure. Something about medical charts being switched. Guy received a lot of money as you would imagine. There was also one where a doctor left a dirty sponge inside the patient while he sewed her up causing massive infections, which led to death." ~ Reddit
Get the $$$
"A family friend had a minor surgery in the abdomen area, but the cut into his lower intestine and it seeped for way too long. Poor guy almost died. They cleaned it up but they had to remove most of the lower intestine and bowel.
The doctors/surgeons were sued and I hope they got a lot of money from it." ~ ktarzwell
That was the 70s...
"It wasn't considered malpractice at the time, and nothing bad happened afterwards, but: When my mother went in for a tubal ligation, the surgeon decided to remove her perfectly healthy appendix as well, since he was in the area. She was furious, but didn't file a complaint as he was a family friend. This was in the early 70's. Imagine this happening now!" ~ blitzen_13
Oh Lord, please keep me safe and healthy. After reading this, I'm most scared of the doctors than any medical issues.
Want to "know" more?
Sign up for the Knowable newsletter here.
Never miss another big, odd, funny or heartbreaking moment again.

Keep reading...
Show less
No good deed goes unpunished. And many good deeds are not a great idea. We all harbor a God/Hero complex whether we acknowledge it or not. Over the course of life we think we have the right to step and save another from and all situations, because we know better, at the time.
But we really need to take a few steps back more often than not, because six times out of ten we seem to just cause more chaos. And "whoops, I'm sorry" doesn't make anybody feel better.
Even with the best of intentions we need to be sure of what we're doing. Is this surprise what they really need? Or want? Is this a momentary good idea? Just some thoughts.
Redditor u/MhmmmMoist wanted to discuss the times everyone's heart was in the right place but their brain was not to be found, by asking:
What's the worst thing someone has done for you with 'good intentions'?
Want to "know" more? Never miss another big, odd, funny, or heartbreaking moment again. Sign up for the Knowable newsletter here.

Keep reading...
Show less