There is a clear reason why the insanely unhealthy--and inhumane--food of McDonald's continues to draw long lines at the drive-thru and entire sports teams on the bus ride home from a game: MARKETING.
The McDonald's brand is synonymous with comfort, consistency, and even family.
Nowhere is that core essence reflected better than in the "Happy Meal."
Introduced in the mid-70s, the "Happy Meal" was conceived as a way to drive business in one of the most effective ways imaginable, by making kids love McDonald's so much that they scream at their parents about it from the back seat of a car.
A complete fast food meal with a little toy thrown in, all served in a fun cardboard box that looks like a little smiling face, the "Happy Meal" has stood the test of time, albeit with some healthier changes in the recent years.
But a recent Reddit thread ran a thought experiment. They imagined a 180: a "Sad Meal." People from far and wide offered interpretations of the very opposite of fun, family, and delicious.
lukeamotion asked, "If McDonald's sold a 'Sad Meal,' what would be in it?"
Some people offered up ideas that still had a foot in the McDonald's universe.
They imagined what shocking preparation faux pas might be at hand, or they modified existing meal choices to be only composed of their very worst elements.
Bad Toys and Worse Food 
"Cold fries, an apple pie that's been under the heat lamp so long the filling has dried out, and a warm flat coke. The toy is a used game pass code." -- score_
"Same stuff just the stuff that's been sitting a couple hours under a hot lamp, with a broken Jar Jar Binks toy." -- adanipse
"Nuggets are burnt, fries are cold, unsalted, and the bag is only half-filled. Soda has too much ice and the toy is just a note that says :(" -- Avicii_DrWho
All About the Buns 
"Two buns that hold nothing but a fat slop of mayo" -- turquoisepurplepink
"Just the weird middle bun from a Big Mac" -- octupleunderscore
"and the juice from a mc rib lol"
"I'll take one to go. But idk if I want it stale or still frozen, or maybe just untoasted. and a moldy frape for the drink" -- Idabro
Repulsive Imagery
"A large container crammed with french fries and chicken nuggets that are lathered in ketchup."
"It doesn't come with any utensils - you'll have to place the container on the floor, get on your knees and eat it like a dog."
Other entries left the boundaries of the McDonald's food world. They imagined other foods that kids--and even plenty of adults--would hate to receive at a fast food joint.
Brace yourself for healthy boredom and truck stop favorites.
Quinoa Quips 
"A container of plain quinoa, and a cup of heavily chlorinated, room temperature water" -- D3vilUkn0w
"'Ever snorted up a big loogie that had some weird hard bits in it? Quinoa is pretty close' -original quinoa marketing campaign" -- loptopandbingo
All Enjoyed While Cruising Down the Highway 
"A cup of water served at room temperature, fruit slices, onion nuggets, and a mislabeled sauce packet." -- ReadingReddit66
"Natty Ice and a slim jim" -- tmcg6
And then there were the entries that took a broader approach.
These Redditors put the "Sad" in "Sad Meal." But for them, sadness relied on an extensive context surrounding the meal. They developed character sketches and relied on tropes of middle age apathy.
The Decisions That Led There 
"Exactly what's in a Happy Meal but you're 36, divorced, and ordered it by accident when you forgot that you don't have the kids this weekend." -- wanderweather
"Hey, what's wrong with someone in their 30s wanting a collectible kid's toy? ;)" -- Some_Random_Android
"I was gunna comment something but yours blows mine out of the water" -- I_Nocebo
Bombshell To Go 
"A 23andMe report showing your real dad never loved you." -- wheniwascake
"How does McDonald's know this?" -- strangehitman22
"The fact you're in McDonalds is proof enough." -- wheniwascake
Earning Your Meal 
"The cashier would ask you what happened and caused you to buy it."
"And then gives you a note inside the sad meal box that roasts you about the problem that you told the cashier that caused you to buy it."
-- Arvindjor
We're happy to report that you don't have to worry about receiving anything quite like this the next time you swing by the McDonald's drive-thru.
Perhaps it might make you feel a touch more grateful to have that 1000 calorie beast in a bag.
Want to "know" more? Never miss another big, odd, funny, or heartbreaking moment again. Sign up for the Knowable newsletter here.

Keep reading...
Show less
PSA: the drive-thru microphone hears EVERYTHING, ALL THE TIME.
The drive-thru at a fast food restaurant is a one-of-a-kind social experience. Just about every step is a weird form of human interaction that occurs literally nowhere else.
And, oh yes, there are robot speakers that look alarmingly like sci fi trash cans.
Want to "know" more? Never miss another big, odd, funny, or heartbreaking moment again. Sign up for the Knowable newsletter here.
Keep reading...
Show less
It can be lots of fun to speculate about what the future could hold, and Reddit users had a blast trying to decide what would be in an "Angry Meal" from McDonalds.
Would it just be super spicy food, toys designed to infuriate their user (or their parents), or something else entirely?
Keep reading...
Show less
A woman posted a picture of a homeless man sleeping inside a McDonald's and posted it on Facebook as a shaming attempt.
Little did she know her scheme would backfire.
The young man in the photo taking a nap on a bench in the dining area of the restaurant was 21-year-old Simon Childs.
Childs is an employee at the fast-food chain and was working a shift at the Fayette County location.
The female customer snapped the photo while he was sleeping on his break and posted it to a group page on Facebook.
According to WSB-TV, she wrote:

"Just another reason for me to leave Fayetteville. I was in the McDonald's in the middle of town and I saw this guy sleeping in the booth."

"I go and tell an employee that someone is asleep in their booth and her response was 'oh yeah, we know hee hee, it's ok' and I said 'not really but whatever'."
The unnamed woman had no idea that Childs had his fair share of hardships. He had been grieving over the loss of his mother and was working overnight shifts in order to help raise his baby son.
He told WSB's Matt Johnson:

"I've been going through a hard time with my mom passing. Everything I do, I want to work for it."
You can watch the full report on Childs' story here.

Woman taunts McDonald's employee for sleeping at work; turns out there's more to story www.youtube.com
After the interview, Johnson took to social media and updated WSB viewers.

A woman took a picture of a man asleep at a McDonalds and complained on Facebook, and how the community responded c… https://t.co/wsapQAPSOA

— Matt Johnson (@Matt Johnson)1561420550.0
Childs was hurt upon discovering that his photo was circulating around the internet.
"It kind of hurt to see my picture up there, you know? I thought it was something negative and nobody would care about it."
But then, the unexpected happened. Instead of facing perpetual embarrassment for the photo, it elicited empathy from WSB viewers who reached out to the news station and offered support.

Childs returned to work and was pleased to find that a community in Georgia left boxes of clean clothes and fresh diapers for the young father.
"They changed my life in a couple of days."
Since his story aired on the news, things began looking up. Childs updated Johnson, telling him that he got a free haircut and acquired another job opportunity.
He also shared news that he secured a permanent place for him and his son to live.

Since our story aired last night, Simon received a free haircut from a local barber. He has a new job opportunity t… https://t.co/nj5IeWwVCX

— Matt Johnson (@Matt Johnson)1561505040.0
Childs wasn't the only one moved by the kind gesture.
Chefs Xavier and Theo Thomas who own and operate Fusion Chefs Eatery down the street on Glynn Street South were also touched by Childs' story. They offered to lend him a car for job interviews.
Also...he has a car! The owners of The Fusion Chefs Eatery in Fayetteville have let Simon borrow a car as he works… https://t.co/FWEHPvlbeC

— Matt Johnson (@Matt Johnson)1561505051.0
Xavier Thomas told the news station:
"It just touched our heart."
Theo Thomas also weighed, saying:
"It definitely will help him get around and give him a better opportunity."
Twitter shared their thoughts on his story.

@MattWSB Such an awesome positive turn to this story. Humanity isn't as doomed as we sometimes think lately,

— lebeau32 (@lebeau32)1561513286.0
@MattWSB Love seeing such good people coming together to help out this young man and his baby. Maybe the woman who… https://t.co/QIuYSSFPPJ

— JenGirl (@JenGirl)1561518246.0
@MattWSB @rolandsmartin What the enemy meant for his bad, God had it for his good...#GodIsGreat

— Allie the Great (@Allie the Great)1561497153.0
@MattWSB I was JUST at that McDonalds last night. Had I known, I would have dropped off a donation. I have lived in… https://t.co/PtfXcDf29F

— S. Marlene Wimberly (@S. Marlene Wimberly)1561467019.0
@MattWSB There are no chance encounters when blessings & mercy flow! She is the reason he is being elevated! We can… https://t.co/OKtjT03vmb

— Burton55r@yahoo.com (@Burton55r@yahoo.com)1561514530.0
People asked how to contact Childs to offer additional assistance.

@2BGMEDIA @MattWSB Do you think I can call that McDonalds and make a donation over the phone? If so, could you plea… https://t.co/JCT2E8lJCb

— Patriots #1 Fan (@Patriots #1 Fan)1561510237.0
@2Squirly @MattWSB Sure. The young man's name is Simon Childs and he works the overnight shift. This will be his la… https://t.co/vZGZFPa5JM

— S. Marlene Wimberly (@S. Marlene Wimberly)1561510694.0
As for the woman who tried to embarrass him on social media, Childs holds no ill will.
In fact, he is choosing to stay positive.
"I'm not homeless, not now, thanks to her."
According to the woman, she told WSB off-camera that she meant no harm by targeting Childs specifically in her Facebook post.
@MattWSB I have a good feeling that she learned a valuable lesson and is a better person for making a mistake. But,… https://t.co/rwKUjs1TdB

— Laura B Touchstone (@Laura B Touchstone)1561436290.0
@MattWSB She's going to regret this. It's not cool to shame someone who has been through so much in life. She want… https://t.co/7p1Y4Cs83w

— Susan W. Graham 🌊 (@Susan W. Graham 🌊)1561504091.0
Childs remains grateful for his recent change in fortune.

"I didn't think the community would even care enough to do that, but they care."
Everyone goes through a rough period in life, and Childs' story is a good reminder that we should show more compassion towards those who are down on their luck.
Besides, Facebook stories should focus on our own experiences, not that of strangers.

If you are interested in helping Simon Childs, you can make a donation on his GoFundMe page, HERE.

Declare your intentions in this shirt promoting kindness available here in a variety of colors and in men's, women's and children's sizes.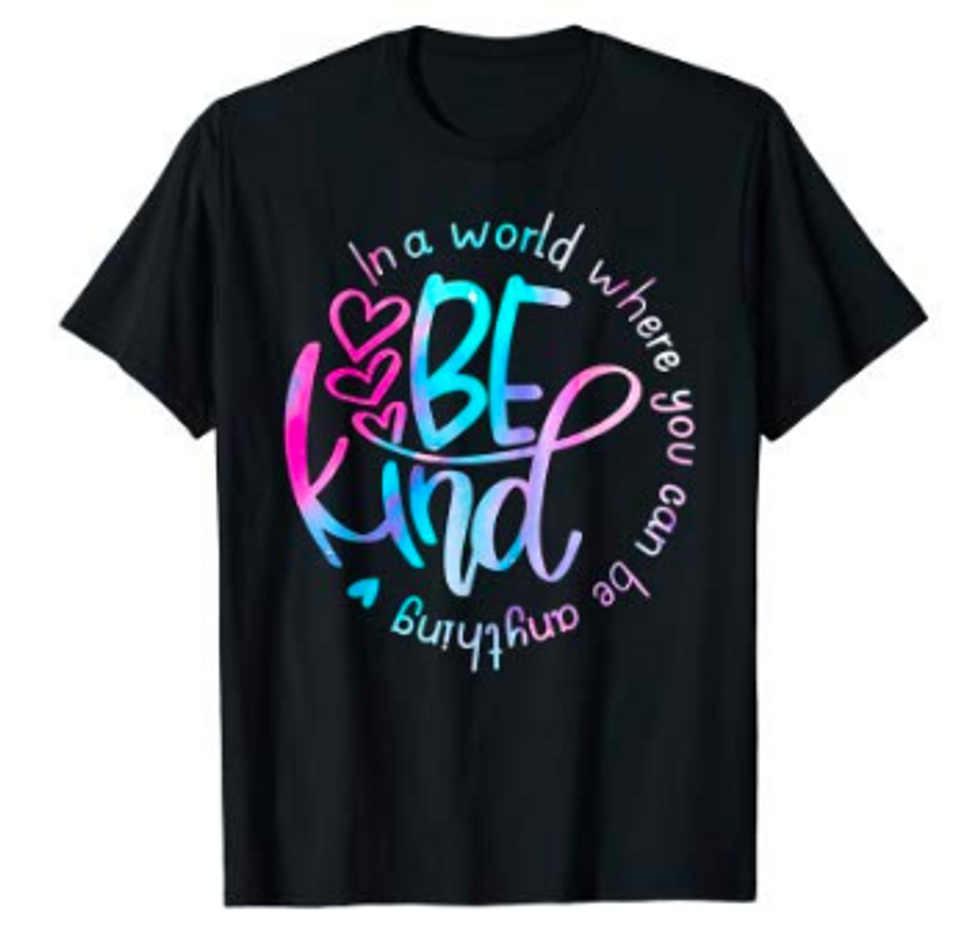 Amazon
Keep reading...
Show less
And they say there's no such thing as a free lunch!
A group of Australian friends uploaded a video of themselves getting just that, though: They figured out how to trick a McDonald's self-service machine into giving them a free burger.
A video the friends uploaded to YouTube shows that they selected the $1 hamburger option from the menu and asked for 10 of them.
"We'll have ten of these and we'll customize them so we don't want a regular beef patty so that takes $1.10 off our order, off our dollar hamburger," said a voice behind the camera.
The group then added one regular hamburger to the order.
"10 pattyless burgers, one regular hamburger, oh we get our discounts, that's pretty good," the voice says.
Removing the the hamburger patty from each sandwich discounts $1.10 from each burger. Because the hamburgers themselves only cost $1, this gives them a 10 cents credit for each burger. Do this 10 times, and they get a $1 credit on their order.
The group's cameraman selects a $1 hamburger with the patty and adds that to his cart, a move that leaves him with one free burger.
The group shows off their bounty at the end of the video.
Free Food from Maccas www.youtube.com
A genius move? Or too much work? It's certainly gotten people intrigued, that's for sure.
Ninja coulda ate free McDonald's forever BUT he HADDDDDD to go viral. Sometimes you just gotta stfu and take the wi… https://t.co/6dzXv6Wl2K

— MaliQue (@MaliQue)1554781342.0
fallout: hacking skill https://t.co/kaay9Jrtd0

— EL (@EL)1554781533.0
Now THAT'S McValue! Friends score a free McDonald's burger by tricking the self-serve computer using a little-known… https://t.co/5OIu85vO7N

— The Glove (@The Glove)1554715086.0
Others were just bummed that this only works in Australia.

@TheSun I'll just buy a ticket to Australia so I can get a free burger then, you tw@s

— Lillybeck Rachel (@Lillybeck Rachel)1554781843.0
Still others felt that McDonald's should pay them for the free QA they had just provided.

@mashable In the same way security experts should be consulted when they discover flaws, McD's should reward these… https://t.co/kBOYQ2Gu5s

— Ruby and Riesling (@Ruby and Riesling)1554733989.0
Two legends https://t.co/Ys86xdCFIx

— Victor Muisyo (@Victor Muisyo)1554731670.0
Sounds about right.


YouTube
Too late!


YouTube
They're lovin' it.

YouTube
So THAT's what it was all about.

YouTube
The future is now.
Keep reading...
Show less