Whether or not to bring children into the world is a very personal decision.
While there are many arguments as to why anyone should, or shouldn't have children, it's not a decision for other people to make for you.
Some people dream of being a parent since they were children themselves, and can't wait to shower their own children with love.
While others always dreamed of having children, but for one reason or another, it simply never worked out.
Then there are those who never saw children as part of their life plan and don't feel any kind of void without having children in their lives.
Redditor ilovenosycats was curious to hear why people chose not to, or don't plan on having children leading them to ask:
"Why don't you have kids and/or do not plan on having kids?"
Don't Want Them Enough

"I just don't feel like I want it badly enough, and one should really want to have a child in order to be able to give their 100% as a parent, every child deserves that."- SignificantFunny1523
Prefer A Good Night's Sleep

"Sleep."
"I love sleep."
"I get up when I'm being paid to get up but otherwise my great and immediate joy is sleeping until I don't feel like sleeping anymore."
"I much prefer sleep to children."- DamnIGottaJustSay
How Long Have You Got?
"Why do I plan not to have children?"
"Well..."
"'unrolls a list that's miles long...'"- HagBasket
Superstition
"This curse ends with me."- DaveTheRoper
Too Short A Fuse...
"Don't have the patience for kids."- Leoimirmir
When Weighing The Pros And Cons...
"I don't see the upsides."- igna92ts
Plain And Simple

"I don't want to be a parent."
"That's a perfectly valid reason."- AllyriaCelene
Priorities
"Kids are great if you don't like money or sleep."- ComplicationOnRS
"Clean house, financial comfort, ability to travel/leave the house whenever we want to."- Dear-Cockroach4589
Knowing What's Best For Yourself
"The whole process seems incredibly painful and difficult."
"I'd f*ck my kids up."
"I have a fearful-avoidant attachment style as a result of my toxic parents."
"I wouldn't be able to properly parent."
"I'm incredibly inpatient and would change my mind 3 months in, if I even made it through the whole pregnancy.'
"I want freedom."
"Having kids means being available and responsible."
"I am not and will not be these things."
"I wanna live for me, live to enjoy life, and I most definitely won't enjoy having kids."
"The world is overpopulated and f*cked."
"I don't see any point in bringing more people to this world."

"I have more reasons but these are my top 5."- mayo_nnais3
Fear
"Because I am scared of being a bad parent."
"I can't bring a life in this world just to screw it."
"Thanks for f*cking me up Narc dad."- WaywardRoads
Too Expensive

"To quote Homer Simpson 'aww I have 3 kids and no money. I wish I had 3 money and no kids'."

"I like my lifestyle."
"I am starting a 'college fund", but instead of paying for a 3-year degree I'm going to blow it on a looooonnngggg vacation."- timberwolf0122
"Cost of raising a kid, and the lifelong stress of raising a kid."- Typical_Conclusion_5
There are those who might call people selfish for not wanting children for the reasons listed above.
Perhaps these reasons are selfish, but on the other hand, they know they would not be able to give a child the attention, love, and support they would need.
It's the people who know this and have children anyway who might be considered the selfish ones.
No two people had the same high school experience.
Some of us just can't wait to put the years of popularity cliques, varsity jocks, and drama club nepotism behind them, and find themselves flourishing in their college and professional careers.
For others, high school was the greatest time of their lives, and they remain BFFs with their high school friends and would give anything to spend their afternoons chilling at their local hangout, getting drunk under the bleachers, and reliving their senior prom.
With some exceptions, these are the people who have trouble adjusting to life in college, even professionally.
Some might even say, these are the ones who "peaked" in high school.
Redditor realHDNA was curious to hear what people thought were the telltale signs of people who belonged to this less-than-distinguished club, leading them to ask:
"What screams "this person peaked in high school" to you?"
Let's Be, Like, Entreprenurial!
"Hey girl hey!"
"'Do you wanna be your own boss babe while working from home?!'"
"And its just a pyramid scheme."- Tyler_origami94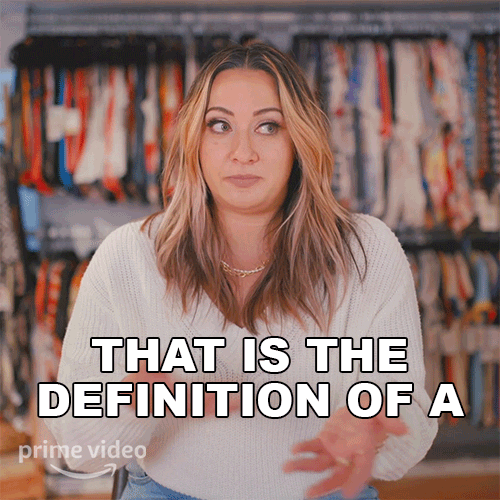 Scam Pyramid Scheme GIF by Amazon Prime Video
Giphy
Dude, Get Over It!
"I had a conversation in a bar with a drinking buddy years ago."
"The guy kept going on about 'the one that got away'."
"How perfect she was and their chemistry together, how natural it was, how he hasn't felt that way about any girl since, yadda yadda."
"He was feeling pretty sorry for himself and uninterested in meeting anyone else because they could never compare."
"When I asked how long ago it was that she moved away, he said "8th grade."
"LMFAO."- d*ckbaggery
Reliving The Glory Days

"I graduated in 05."
"I was sitting at a tire shop waiting for my truck to get done and an employee slightly older than me walks up to me and asks me, with no previous interaction, if I played football in high school."
"Wondering where this was going, I responded that I did, but I wasn't great at it."
"He asked what school I went to, and I told him."
"Then he starts talking about himself."
"How he was 'all conference' and walking me through all of his high school accolades."
"I never asked for this conversation."
"I just sat there wondering why this nearly 40 year old, wildly out of shape, tire shop supervisor was telling me all of this."
"Then just as soon as it started he bid me good day and walked off."
"It was bizarre."
"The best comparison I could make was that he was like the manager 'Dan' from the movie waiting."
"That was his vibe."
"That's how I knew he peaked in high school."- aznuke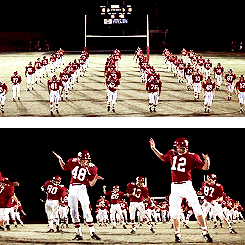 denzel washington football GIF
Giphy
Still Thinking Mean And Cool Are The Same Thing
"Still acting like a typical 'Mean Girl' when they're damn near (or past) 30."- cpsg1995
"Anyone who bullies other adults as if they were still in High School."- pkeit32
Not Something To Brag About...
"Bragging about high-school hookups in their thirties."- SuvenPan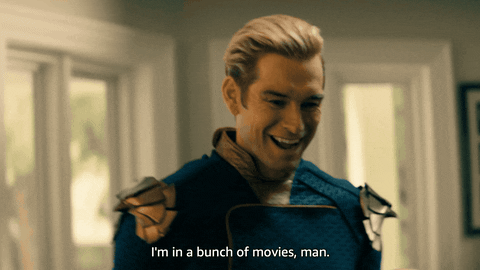 Bragging Season 2 GIF by The Boys
Giphy
Ready, Okay!
"My ex stepmother constantly bragged about being a cheerleader in high school and winning a beauty walk (in a town of like 500 people)."
"She was still bragging about these the last time I saw her."
"She was in her mid 40s."- jewelsforfools
In Case Anyone Needed Reminding...
"One guy I knew literally got our school emblem and mascot in a huge 'CLASS OF 2010' tattooed on his shoulder."- Empowered_Jackfruit
Same Old, Same Old...
"Regularly reposting the same picture of the one notable moment that they had in high school."- MissingDarts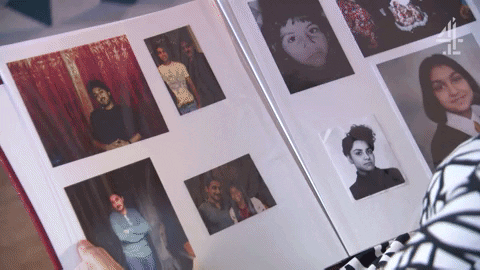 Sad Book GIF by Hollyoaks
Giphy
Taking Others Down To Pick Yourself Up...

"Ridiculing the hobbies of others to make yourself look good."- littlebubulle
But Are They?

"'These are the best years of your life' on repeat."- Spirited_Tadpole_508
When Life Is Still A Popularity Contest
"Almost 10 years after high school a guy asked me if one of my friends 'was popular in high school'."- satirevaitneics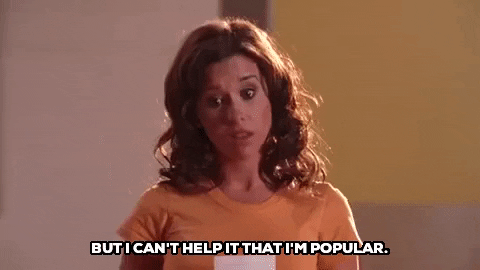 But I Cant Help It That Im Popular Mean Girls GIF by filmeditor
Giphy
"The people that ask you to join those MLM schemes selling body wraps or the like."
"Anyone that has a 'salt life' decal on their car when they live nowhere near the ocean or even a salt mine."- Static_Discord
There's nothing wrong with holding on to special memories of days gone by.
But growing up is part of life, and people who choose to keep living in the past are missing out on so many wonderful new discoveries life has to offer.
As teenagers, most ambitious pre-adolescents looked forward to life beyond high school where the freedom for them to live their lives without the supervision of parents or guardians awaited them.
But when they barreled through phases of teen angst, obtaining driver's licenses, and finally being able to see an R-rated movie without sneaking into one, nothing could really prepare them for adulting.
Being told how to be an adult is one thing. Navigating through adulthood on your own, however, can be a very sobering experience.

Curious to hear of the trials and tribulations from strangers online, Redditor bathtub_seizure asked:

"What is an adult problem you were not prepared for?"
First, there are the responsibilities.
Finding Work
"The utter soul crushing search for a job."
– MaxTheSoccerDog

Series Of Unfortunate Events

"Same. I was out of work for years due to severe illness, then spent 8 months looking for any job possible but getting rejected everytime. I finally got 2 interviews lined up in April then coronavirus hit and they got cancelled! I cannot catch a break..."
– tickleapicl
Better Than The Alternative
"Not being able to leave a job you hate because you might just become homeless without it."
– Go_J

Then comes the pain and suffering.
People Come And Go
"Losing people. Loved ones passing away is the hardest. Then there's the nasty breakdown of personal relationships, family relationships and friendships. Then there's the sad drifting apart that happens when life takes you on a different path to a person you were once really close to."
– BlackCaaaaat
You're On Your Own, Kid
"Realizing that not even your parents have all the answers. And finally understanding that they were just figuring it out as they went just like we are."
"Not having an all knowing figure to give you the answers to all your problems is the pits and I hate it."
"Edit: just wanted to add that I agree figuring stuff out for yourself is rewarding and fun, but some things you really dont want to figure out for yourself, or cant figure out. And for those things it's nice to have someone to point you in the right direction."
– Snow_Da_92
The Physical Limitations Set In
"Pain."
"Arthritis is f'king horrible and early onset autoimmune arthritis is worse than just having an ache in one or two joints. I hurt all the time, everywhere, and everyone just assumes you're faking it or you're a pill popper. I am not going to live another 20 years with this pain like my dad did."
– porcelina99

Pain Doesn't Discriminate
"I don't have arthritis but I do have other issues that I end up having to use a cane for sometimes at 28 years old and I get the "you're too young for that" a lot, it drives me up a wall. Like, thanks, you've cured me, I hadn't considered I may be too young for this! If only I'd known it was that easy!"
– tarotwitchneona

Sleepless Nights
"Not being able to sleep due to stress. Yet here I lay, exhausted but wide awake."
"When I was younger I could sleep anytime, anywhere."
– JonnyWax

There are a slew of responsibilities these Redditors never saw coming.
Basic Adulting
"Being able to not cook the same meal everyday while balancing hundreds of other tasks. I will always admire my mom for how she was able to cook, have a clean house, work 43 hours and help her children do homework all while taking time to work out at the end of everyday."
"I could mention other common problems like money management and common tasks that I haven't mastered, but what really hit me like a train was the actual transition of adulthood. Im talking about having to make my own appointments and having to keep tabs on myself instead of handing every single document to my mom. I realized how unorganized I was when I found my birth certificate in the same drawer where i have junk receipts."
– IrisNalvo

Role Reversal
"Dealing with your parents acting like children."
– rchaw

Being The Host
"Having a presentable place, and debating myself on why it matters. It always frustrated me when my parents had a guest over and we had to deep clean the whole house. Like if it's my close friend of 8 years visiting, why do I care what they care about my cleanliness? And yet, every time people are over I find myself cleaning the apartment up for some reason."
– slothbarns7

Didn't we all feel invincible as youngsters?
I was rambunctious, physically active, and I hardly ever felt like I was going to run out of steam.
Yet, here we are. I can barely get up out of bed without hearing a snap, crackle, and pop from all of my joints.
I was cognizant of the eventual physical breakdown of my body taunting me from the distant horizon. But nothing could prepare me for the velocity at which this phase of my life would arrive and slap me hard in the face.
Life can be so cruel.

Being an adult is more about people presenting themselves a certain way.
It's about taking responsibility, being held accountable for indiscretions, taking risks, and a slew of other things that require hard work.
Adulting is so easy, said no one ever. There are people who think they're playing the part convincingly but they're fooling nobody but themselves.

Curious to hear from strangers who can see through a person's deceit, Redditor CrispP_bacon asked:

"What is falsely seen as a sign of maturity?"
Redditors break down certain behaviors that actually reveal their immaturity.
Tapping Into The Inner Kid Inside
"Not acting childish. Sounds so strange but the most mature people usually have no problem tapping into their childish or silly sides. Immature people overdo it trying to be 'cool.'"
– well_actuallE

Unfairly Targeted
"Conversely, telling someone they're a stick in the mud because they aren't comfortable acting a certain way. I'm a naturally reserved person. I like quiet music, peaceful settings, and spend a lot of time in quiet contemplation. It doesn't mean there is something wrong with me."
"Not feeling required to 'be a certain way' is probably the best all around for this."
– chaotic----neutral

Confidence In Their Passion

'When I was ten, I read fairy tales in secret and would have been ashamed if I had been found doing so. Now that I am fifty, I read them openly. When I became a man I put away childish things, including the fear of childishness and the desire to be very grown up.' - C S Lewis
"True adults are secure in their love for whatever they love - be it action figures , fairy tales , video games .Those who ridicule these people for their interests are actually the childish ones."
– chriscrossnathaniel

Mom Set The Standard
"According to my mom, the rule is that if you haven't grown up by the time you're 50, you no longer have to. I am this 🤏 close."
– LonePaladin

No Shaming, Please
"I was dating a girl recently, and I showed her my PSP. I have it since 2007, original battery and everything, and I play PSX games from time to time. When I showed it to her she said 'What are you, 12?'"
"I felt very small and childish. But maybe I shouldn't have. Thank fully we are not dating anymore."
– gin-o-cide

Life Is Too Short
"Ridiculing others' interests is the real childishness."
"Love what you love, life's too short for this sh*t."
– kerenski667

Working oneself to death is not necessarily a characteristic of maturity.
Adulting List
"Being in a relationship."
"Having kids."
"Working 60+ hours a week"
– metzgermeister87

Working To Live
"I need folk to understand working 60+ hours, and being proud isn't the flex they think it is…"
– The_Reborn_Forge
Life Is Not All Fun & Games For Grownups
"STOP ENJOYING!"
– themoodyphilospher
Happiness = Bad
"My dad in a nutshell. 'Stop being happy with your steady job that pays enough so you can afford whatever you want and leaves you with tons of free time, life and work need to be a grind and a fight or you're not doing it right!.' I guess that's my gift to him, so he can have something to be angry about, the only thing that makes him happy."
– ssatyd

No Free Time For You
"Protestant work ethic and its idea that you need to be constantly working, even in your free time, has always been a huge mystery to me, specifically why a lot of people are so stuck up with it."
– h3X_T
Not everyone is equipped to be a parent, and therefore, not mature enough to take care of and raise another human being. To acknowledge this shouldn't be seen as being neglectful.
Family Status
"Having a spouse and kids."
– johansugarev

Sign Of Manhood
"My family thinks I am skirting responsibility by not having kids. I know a lot of people who had them thinking they were obligated to, and neglect them."
"I remember telling somebody I know from college I don't want them ever, and she said, 'My boyfriend's not afraid to take responsibility and have kids,' as if I wasn't a real man for not having them lol."
"For some, it's a sign of virility and maturity."
– lazarus870

Adults Can Admit To This
"It's more responsible to choose not to take on a responsibility that you don't want."
– Lifeboatb

Owning Your Priorities In Life
"afraid" is a terrible word for it that has been said to me as well.
"I'm not afraid of having kids, I would just prefer to do literally anything, including nothing at all than have kids."
"I would rather sleep all day every day."
– mantits- ·
The Stigma
"my family thinks its a travesty that I don't ever want children, my mom always thought I was just being young and angsty and would change my mind. Now that im in my 30s shes given up on that. I truly don't understand how most people can even afford to have children anymore and provide them anything else except the bare a** minimum to sustain life. Everything is sooooo much more expensive than it was when I was a kid, and the wages are about the same. Money just doesn't go as far as it used too, and its getting harder and harder to build up and acquire credit to actually own a house or anything like that."
– smurfasaur
You can be a kid at heart and still be an adult.
Don't let anyone take that away from you.

Let's face it. There is nothing sexy about a significant other who has a lot of growing up to do.

But as people scroll past profiles on dating apps in search of the perfect romantic partner, they will have a lot to learn beyond just a pretty face.
That's what dating is for, and unfortunately, the process isn't always peachy keen. People might show their true colors well past the period where you've invested in the relationship, and by that time, it's too late not to expect eventual heartbreak.
One example of a person's true colors could be their immaturity.

So Redditor _Hellosh helped us identify signs of people, women, in particular, who may not be the right dating material.

The Redditor asked:

"What are signs a woman hasn't matured?"
Some believed that in relationships, women who avoid having an adult conversation do not make them adults.
Turning To Social Media
"when instead of communicating she makes a status about you or tweet 🚩 immediately cut off."
– pingponggawd

Can We Talk?
"Not communicating when you do or don't want something and then holding resentments about it later."
"Edit: to people lamenting that they are like this, I've been through this journey myself and know how deep rooted this behavior is. Still working on it myself but feel free to DM to chat about some tips and strategies."
– youneedsomemilk23

Blame Game
"And any relationship failure isn't her fault and blames the other party. 'If a man knows your worth, he will treat you right' kind of Instagram stories."
– king_booker

Let's Discuss This
"Lack of empathy and listening skills. Thinking you are 'less of a man' for being emotionally vulnerable and expressing your feelings, and later weaponizing these insecurities."
– velvet_thunder999

The Soon-To-Be-Ex
"Was looking for this one. Me and my lady, well probably ex by now, just had a BIG fight and she did this exact thing. Using the things that I'm most susceptible to be hurt by to cause true damage. You just don't do that. Wish I could upvote this to the highest cloud on the Internet."
– Wrong-Row9404

Redditors suggested drama breeds more drama.
Pot Calling Kettle
"She's always going on about cutting out all the drama and toxicity from her life. Hint: She's the drama and toxicity."
– an_ineffable_plan

Petty's Not Pretty
"If she still gets into petty drama as an adult."
– DrunkTomte
One Big Competition
"Many of my mom friends compete with their own daughters. Talent, success, male affection. It's all f'ing disgusting."
– dr_uggist

Forever Plastics
"Making unneccessary drama and stating you don't like drama. Then, you're probably toxic and your entire group of friends are just like you. You never left high school mentally."
– TheNothingAtoll
No Time For Games
"When they do constant 'tests' to see how you will react."
– Nicodemu5

Manipulative Sister-In-Law
"My sister-in-law is exactly like this. She's pushing 40 and she's all drama. 🙄"
"We don't talk to her anymore because we don't need her toxic bullshit in our lives. Her and my husband's father passed away several years ago and she stole a ton of money from his estate. My husband got nothing and she walked away with a huge down payment for a house. It's a long story but she forged documents and straight up stole all the money from the estate."
"My husband hired a lawyer to get the money back and instead of working with him, she went and turned their entire extended family against him. She also tried to talk to my husband's friends to turn them against him but they wouldn't have any of it. We live several states away from the rest of the family so we're not there to defend ourselves."
"It has been peaceful without her drama and toxic bullsh*t in our lives but it sucks that my husband's family doesn't talk to him anymore just because they bought into her lies and drama.
– lonedandelion

A Friend's Advice
"For anyone reading this. I was advised to get legal representation by an old friend as soon as as the situation presented itself. Meaning before anything had gone through probate. I thought about it and went ahead and did it. It's on the pricey side but I guess it's a bit like insurance - you pay hoping it won't be needed. Plus it lets all parties concerned know that you are watching what is going on. These sorts of things happen but it's possible to influence the situation in your favor."
– drevilseviltwin

Women who elevate themselves in this way were seen as undesirable.
Rotten Way Up
"When the only way she can get ahead is by bringing you down."
– Wrexis
"Last woman I dated was like this. She would constantly talk down to me and call me stupid. I was in college for a bachelors in Aviation Management and she was getting her Masters in Organic Chemistry."
"I would ask about her studies as I found green chemistry interesting, but she'd answer me in a really degrading manner every time. Took time to piece it together, but I got out of that mess before it took off."
– Thewombocombo91

Judgy
"Putting others down for fun."
"One of my friends started dating a girl and he brought her to dinner with us. She attached herself to me because I was the only girl in the group. She spent the entire night commenting negatively on the clothes and appearance of every single person we passed and thinking she was so clever for it. Sorry, but I'm in my thirties and don't feel like hanging out with someone who has the mentality of a middle schooler."
– MadameBurner

Proving A Point
"Shout out to that girl who blew my friend after 3 days together to prove I wanted her monogamously."
– AEWPackers
A person wanting to be in a healthy relationship should keep the above tips in mind.
Not only should the person, male or female, keep an eye out for red flags indicating immaturity, they should also check themselves before analyzing the egregious behavior others.

Want to "know" more?
Sign up for the Knowable newsletter here.

Never miss another big, odd, funny or heartbreaking moment again.