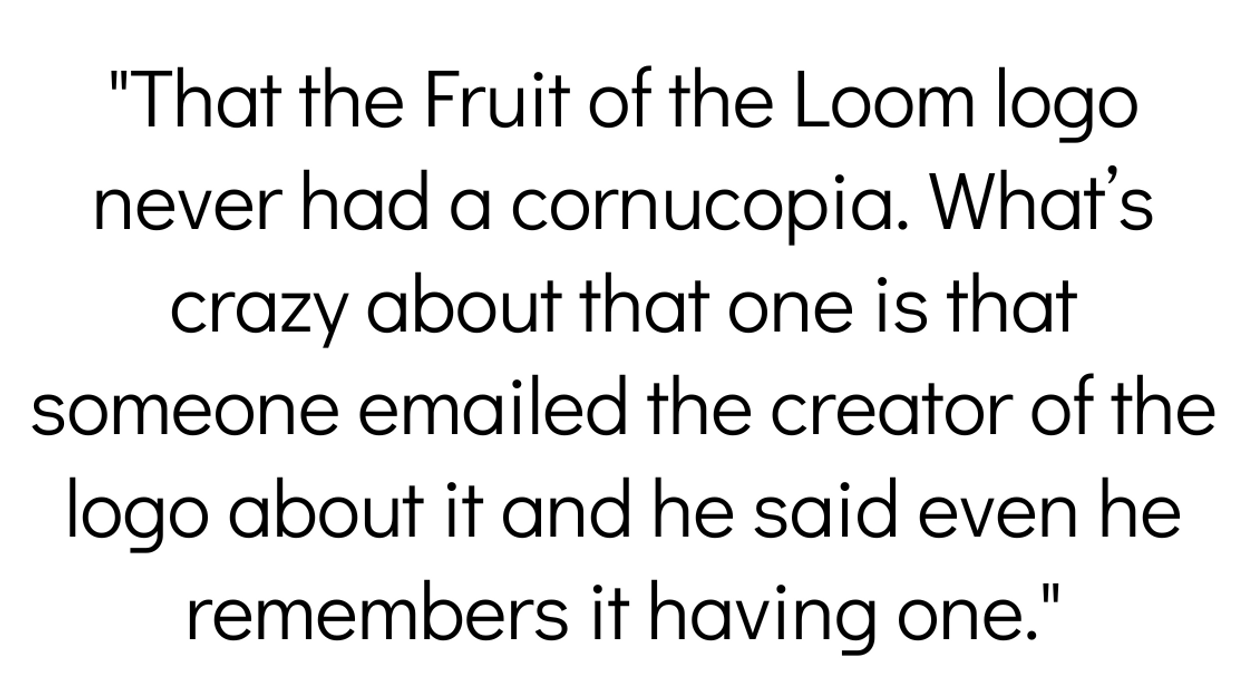 The Mandela effect is when multiple people share the same, incorrect memory.
Its name stems from when paranormal researcher Fiona Broome falsely believed that the future president of South Africa, Nelson Mandela, died in prison in the 1980s.
A false memory she shared with a number of others.
Our memories have been known to deceive us, as we might frequently forget someone's name or one of our numerous online passwords.
But when we share a memory that turns out to be false with many others, convincing ourselves it wasn't the truth can be a very difficult ordeal indeed.
Redditor Mysterious_Boat_1701 was curious to hear people's most unsettling experiences with the Mandela Effect, leading them to ask:
"Which Mandela effect freaks you out the most and why?"
A mysterious gym
"Just had one personally."
"Went to a mall where there was supposedly a gym, asked around and nobody that worked at the mall knew what I was talking about."
"Looked around and couldn't find it."
"Come back a few months later and it's right there in front of my face, you'd have to be strung out to not notice it."
"idk how or when it just appeared but it freaked me out."- prex320278
A "fruit"ful logo.
"That the fruit of the loom logo never had a cornucopia."
"What's crazy about that one is that someone emailed the creator of the logo about it and he said even he remembers it having one."- mrcock2·
Less well intentioned than they thought.
"I Mandela effected my whole family once."
"Years ago there was a football player on a rival team that always did a dumb celebration after he got a sack and my family and I always hated it."
"One night after he did it my family started trashing the celebration and I said as a joke 'we are all going to feel terrible when we find out he is doing that celebration as a request from a make-a-wish kid'."
"Fast forward to years later and our team is playing that team again."
"The player got a sack and did the celebration."
"I rolled my eyes and said 'I hate that celebration so much' my mom instantly turned and said 'don't say that, he is doing it for a sick kid'."
"'I actually like it."
"So I was like 'what?'"
"'No there is no sick kid', my whole family then proceeded to argue with me'."
"They all vividly remembered reading articles about it, seeing special report segments before games about it, and other information."
"Some of them even thought they knew the disease the kid had and even extra details about why the kid chose that specific celebration."
"They all had these shared memories that they were sure were true."
"I was floored by all this and insisted none of that was true."
"So we looked it up.'
"Not true."
'No kid like that ever existed.'
"They still have trouble wrapping their heads around this one."
"Turned out human memory is not near as reliable as we think"
"It was American Football and the player was Jared Allen of the Minnesota Vikings and his cattle roping sack celebration."
"This was maybe 10 years ago."- AUSpartan37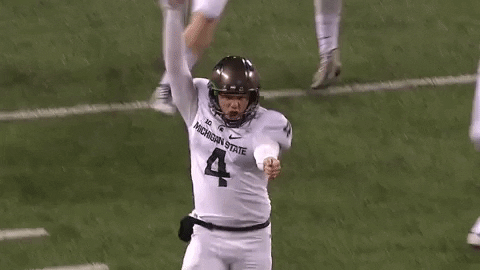 College Football Win GIF by Michigan State Football
Giphy
His eyesight was better than we thought.
"Mr. Monopoly's monocle."- Additional_Day9903
It's not easy being green.
"I have a personal one that to this day a decade later still destroys my mind."
"I had an old(ish) 2001 dodge neon."
"With BLACK SEATS.'
"I drove this car for years and years, like 80,000 miles.'
'All through college."
"I took work breaks in my car, commuted hours every day total, to college and then the opposite direction to work and back."
"I even lived out of this thing on several occasions.'
'The day I go and trade it in, I'm pulling misc things out of the car at the dealer."
'And the seats are GREEN."
"Not even a little."
'Like very unmistakably GREEN."
"In my black Neon, with black interior, that ALWAYS HAD BLACK SEATS."
"My girlfriend then, wife now, goes oh they've always been green."
"EXCEPT THEY F*CKING WEREN'T DON'T LIE TO ME."
"This is still upsetting to this day..... life is a lie and nothing is real."- ZakuLegion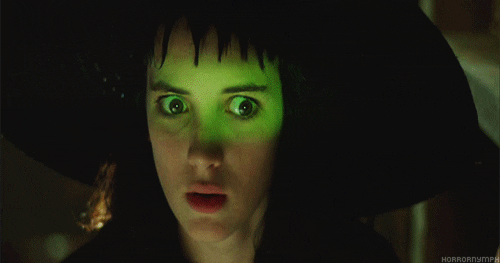 Winona Ryder Omg GIF
Giphy
An urban legend was born.
"Not a global one, just a family thing."
"Back in 2002 my grandma had her 60th birthday, my father took us home at 10.00pm, ready for bed."
"We, me and brother, were 12 and 14 at this time."
'All went well."
"Over the years, a story was made up that we went missing after visiting the local playground after dinner at said grandma's birthday party."
"Some neighbors help to search us, the whole train of 'missing children in a smal village'-thing."
"Fun fact: we never went missing."
"Dad brought us home, put on 'Toy Story' on tv and left."
"My brother and I heard first about this in 2015.'
"From different people on different occasions."
"'Ah your one of the missing boys'."
"I first thought they were mocking me for a different event.'
"I got lost, but it was 2013, alcohol inflicted, different story."
"But then they ALL tell us the same story about us going missing."
'And the stories are damn close to 'true' in every story my mum is driving around the same neighbors to different locations to search, old wine yard, old mill etc."
"Sometimes I think I got lost on the most brutal way."
"I was lost and changed this plane of existence with another one."
"It sometimes made me think about my whole life."- tjorben123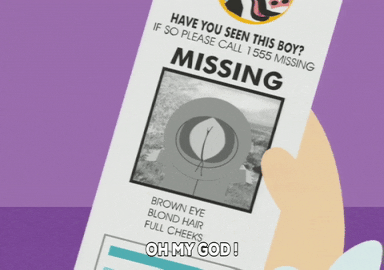 missing kenny mccormick GIF by South Park
Giphy
Memories are a fascinating thing.
They can be changed or altered with even the tiniest suggestion.
And making the truth seem less believable than lies.
Keep reading...
Show less
The Mandela Effect is, according to Healthline, "when a large group of people believe an event occurred when it did not."
Basically, somehow, someway, we all remember something happened or looked a certain way when it really didn't.
This can happen through a few methods, with confabulation being the most accepted reasoning. We create false memories to fill in the gaps of what we're missing when we try to recall something through our fallible memories.
That spreads, in discussion, through the internet, and suddenly, we have an accepted "truth" which turns out to be not at all.

Reddit user, Ola8o, wanted to know what we all misremembered when they asked:
"Which Mandela effect messed your head up the most ?"
You think you know how a logo you see every time you visit the grocery story is spelled, don't you? Until you look more closely and realize you've never understood what it's saying at all.

Find A Bottle And Check
"It's spelled Febreze, not Febreeze"
poecilio
"For a long time, I thought it was Fabreeze."
"As in fabric breeze."
babybambam
Come to think of it, we get why you thought that!
When Even You're Search Doesn't Give You The Right Results

""Froot loops" became "fruit loops" then "froot loops" again"
playstation_4_contrl
"They launched as "Fruit Loops" in '59, then rebranded to "Froot Loops" in '63"
"Edit: I'm aware I have been misled, we don't even have Froot Loops in my country"
ColgateSensifoam
I can't remember the last time I had Froot Loops (or shall I say Fruit Loops) but now I have a terrible craving.
We've All Taken The Red Pill? Or Is It The Blue One?
"Stouffer's stove top stuffing has apparently never existed."
Clear_Flower_4552
"Wow, I just had to look that one up. Apparently it's always been made by Kraft and we are all just crazy."
Coconut-bird
"Is this even the real world or are we in a simulation?!?!?!"
Potential-Leave3489
It's one thing to hear about an ME when it happened to someone else, or perhaps you read about it online (like what's happening here today), but what do you do when the Mandela Effect has you firmly in its grasp, standing in the center of its changing vortex?
How Do You Convince An Entire Country?
"Ok ok hear me out."
"First of all: in Brazil you tipically don't go to school (middle school or high school, doesn't matter) for the whole day. You are in school either in the morning (usually 7.30 am to noon) or in the afternoon (usually 1pm to 5.30pm)."
"Every single person who was a kid in Brazil (and was not in school in the mornings) when 9/11 happened remembers watching Dragon Ball Z and having it be interrupted for the breaking news of the attacks. And I mean EVERYONE. It comes up every time someone asks "what were you doing when 9/11 happened"."
"Except DBZ wasn't on at that time. Someone checked the airing times and compared to the time when the attacks happened. Definitely not on."
"Still, a whole generation of kids is 100% sure they were watching DBZ when the news broke out."
rest_explorer
Who knows when this started and how everyone became convinced of something that could so easily be disproven?
No Longer A Tree
"The one that always gets me is particular to my friends and I from when we were kids. There was a creek that ran under the street in the neighborhood and we would sometimes hang out in the banks on either side of the road. There was this big rock that we would sit on all the time."
"Except one day we were walking by and it wasn't a rock. It was a small tree. Fully rooted in and established and the rock was no where to be seen. Mind you, it was an extremely heavy boulder. We passed that spot all the time and all of us remember that rock. We call it the shapeshifting rock."
The-one-true-hobbit
This is odd! Are you sure you were in the right place? Sounds like a glitch in the simulation.
We All Saw It, Didn't We?
"The one I'm part of."
"My National Guard unit (from the deserts of the American SW) was in Afghanistan for the winter of 09-10."
"During that time, our home town had one of its very rare snowfalls, rare enough that we all watched it on Armed Forces TV because it made national news."
"The Mandela effect? The records all show that snowfall was the winter of 08-09 when we were home. But none of us remember it happening while we were home; it happened during our deployment."
AnAmericanRonin
And then there's these, situations where you don't even know what's up and what's down, what's black and what's white, or how a song actually sounded even though you've sung it in your mind four-hundred thousands times since you were a child.
It Was Never There To Begin With
"Fruit of the Loom logo with a cornucopia"
dontdrinkdecaf
"What the everloving f-ck."
"This is not Mandela effect. This is goddamn wizardry."
"That logo has always had a goddamn cornucopia until I looked it up after reading this comment."
"I asked my wife. She goes "yea the cornucopia on their stuff is how I learned the word as a kid". I showed her the logo. She goes 'no, I mean the old one with the cornucopia I guess.'"
"There wasn't one?!?!"
"Bull f-cking sh-t."
"F-ck this dark timeline."
TexasVulvaAficionado
Do Not Pass 'GO'

"The monopoly guy not having a monocle"
FamousDnail101
"I remember this like it was yesterday. When I grew up my family was kind of poor and I always wanted a monopoly set. One day I broke my foot and after 3-4 days my mom bought me one to help me feel better."
"I didn't have my friends to visit because they were 'busy' or didn't want to spend their day at a bed when they could be outside. The day I got it I have spent most of it with the game, reading everything on the cards the rules and even playing alone. The guy on it always had a f-cking monocle."

"In the middle of the board or on the box the guy was looking at you and he was holding his monocle. Even on one of the cards the guy was either pulled by a cop to go to jail or he was on the train but one particular thing cought my attention, I remember it like it was yesterday and as a kid I found it very amusing. The guy lost the monocle and it was behind him falling because he was moved fast."
"This fact still haunts me today and gives me the chills because I know how much time I spent in that month in bed with that f-cking game."
Charge420
Stein. Wait, No, Stain?
"Tbh the Berenstain Bears still makes me uncomfortable."
MartyrMcFly
"I still do the double-take when I see anything BB at thrift stores. Like, if I look fast enough I'll see the correct spelling."
spencermiddleton
And It Goes On And On My Friend...
""The Song that Never Ends" from Lamb Chops is actually The Song that DOESN'T End"

NuttyMcSh-thead
"I grew up watching that show EVERY DAY. i have sang that song since my childhood. I don't screw up lyrics to power Rangers, and that's more complicated. I refuse to believe I mixed this up, that long ago, while watching the show."
onewilybobkat
Life is strange. Sometimes it's best to accept that perhaps we don't know or remember as much as we like to think we do.
Want to "know" more?
Sign up for the Knowable newsletter here.
Never miss another big, odd, funny, or heartbreaking moment again.
Keep reading...
Show less
If you ever had a vivid memory about something that never happened, you are in the majority.

The phenomenon of the Mandela Effect – in which a person recalls an event differently from what actually happened or did not happen at all – is common.
Nelson Mandela, after whom the theory was named, died in 2013. However, many people allegedly were convinced the former South African president and anti-apartheid revolutionist died in a prison during the 80s.
Another example is a famous line from Star Wars Episode V: The Empire Strikes Back. Do you know how Darth Vader revealed his true identity of his relation to Luke Skywalker?

If you think the iconic villain said, "Luke, I am your father," you are incorrect. The actual line was, "No, I am your father."
But many filmgoers were convinced of the opposite.

Also, there is no "Jiffy" peanut butter. But there's "Jif."
That's the Mandela Effect for you.

Curious to hear from strangers on the internet, Redditor Applescause27 asked:

"What is your favorite example of the Mandela Effect?"
The Song
"My cousin died in a car accident in 1994. His high school band recorded the song 'Time of your Life' by Green Day to have it played at his funeral."
"My entire family, including his brothers and his parents, remember that song being played because it was his favorite song, and Green Day his favorite band. They even remember having a family discussion before the funeral about whether to let it be played because of its actual name (Good Riddance)."
"That song came out in 1997, there is no way it could be the same song."
– chogram

During 9/11
"I live in New Zealand. I have very vivid memories of walking into the lounge in the morning that 9/11 happened and watching it unfold on TV before I went to school. It was in the 2nd or 3rd house we lived in after my mum and dad broke up. I've always had this vivid memory of being in that house when it happened and watching it unfold."
"A few years ago I realised that I was 7 in 2001 when it happened and my parents hadn't broken up them meaning we were still living in our first family home that my parents owned."
"I asked my mum what house we were living in when 9/11 happened, she said the same house that I have the memories of but it can't have been that house."
"Sh*t's f'ked, it's been f'king me up for a few years now."
Spell It
"Always remember it being spelled 'Chik-fil-A' without the second c."
"I also remember it being 'Febreeze' not 'Febreze.'"
Oceans Debate
"I was taught in school that there's 4 major oceans. Atlantic, Pacific, Indian and Arctic. Where the f'k did this 5th ocean suddenly appear from? I never heard of the Southern Ocean in my life until a handful of years ago."
The Fairest Of Them All
"The Evil Queen from Snow White never says 'Mirror Mirror on the Wall...'"
"She says 'Magic Mirror on the wall...'"
"As a kid, I could've sworn she said the first line."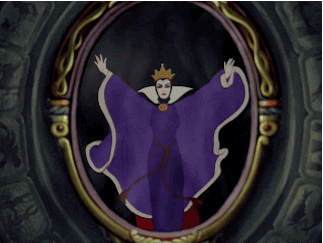 evil queen animation GIF by Disney
Giphy
Um, It's BerenSTAIN Bears
"The Berenstein Bears. Always was, always will be.."
The Teeth
"At the end of one of the James Bond movies (Moonraker?) the villain Jaws falls for a petite woman."
"He smiles his metal-teeth smile at her, and she smiles back with braces on her teeth. It's a cute moment."
"I distinctly remember laughing loudly at this as a child, as did the rest of the theater."
"Today, she has no braces. Just perfect teeth. Ruins a wonderful joke..."
Genie Movie
"The Sinbad genie movie called Shazam. He claims he never made it, that it doesn't exist, I can't find it anywhere, but I had it on VHS as a kid."
Song Or Cartoon?
"Recently I noticed it's not 'Looney Toons' but Looney Tunes. Now the whole thing makes no sense anymore."
– V02D

She Needs A Hug
"Anytime my mom remembers anything."
Parallel 
Used to be, almost no one believed in inane internet bullshit about 'parallel universes.'
Then sometime around November 2016 I woke up in one where people did.
I remember being in a hotel watching the fireworks over the statue of liberty on television, celebrating the bicentennial. I was born a year later.
I also remember seeing cigarette ads on American television. They were banned in 1971 and I was born in 1977.
Loom of fate

The Fruit of the Loom logo. Why do I, and so many people remember it with a cornucopia???? Like, why wouldn't some people remember a basket or bowl or something else? Why a cornucopia?? It's such a rare and specific image. When my friend tested me on the Mandela effect the first time he heard about it, he asked me to describe the fruit of the Loom logo from when I was a kid. I described the apple and grapes ect. coming out of the cornucopia.
When he told me the cornucopia has never existed, I was entirely shooketh and still am. I am a man of science. I understand misremembering the spelling of Berenstain bears, or adding a monocle to the monopoly man because it fits with stereotypes and esthetic.... But a cornucopia is so specific. The only time I ever see cornucopias are at thanksgiving, and they are only ever filled with vegetables in those representations, never fruit. It's such a weird thing for so many people to add to a bunch of fruit in their collective memories, including myself. I have no explanation for it
Keep reading...
Show less