Most inventions were made with the idea to bring progress to humanity, not to harm it. However, that is not always how things turn out. A prime -and sad- example of this can be found in the life of Alfred Nobel. Most people know his name as the creator of the Nobel Peace prize without a second thought as to what drove him to make such an award.

The tragic truth is that Alfred Nobel invented dynamite with the intent to help with industrial uses. After seeing the horrendous usage of his invention to kill so many people so easily he lived the rest of his life under the weight of an all-consuming regret. That led him to use his fortune to create an award for those who have done incredible things for humanity and peace.
Redditor IndependentHungry840 wanted to know other inventions that met a harmful ending and asked:
"What invention has done more harm than good?"
Keep reading...
Show less
What is a great modern invention? Well, if you ask me what is one of the most impactful inventions made on the last century the first thing that comes to mind is accessible birth control. The ripple effect of women having a say over their bodies has led to vastly increased rates of higher education, workforce development, increased wages, and lower rates of poverty.
In fact, places that have greater access to birth control have less of a wage gap and allowed for long-term career investments. Something we take for granted has allowed families to plan within their means and women to have control over their futures.
Keep reading...
Show less
The phenomenon that is the human brain is one of the most incredible things on this planet. We are the only species that has been able to create amazing feats, like transportation, technology, arts and entertainment. Humanity has the potential for so many amazing inventions.
Humans also have the ability to create things of our own destruction or demise. As brilliant as cars can be, they have been known to cause a few accidents. Smartphones and television has given us access to infinite information and entertainment at the touch of a button. Over time, these devices have been known to cause some serious health problems.

We went to Ask Reddit to find out what inventions we are just simply better off without.
Redditor numbnerve asked:
"What is one invention that we'd be better off without?"
Let's try not to get too worried over this list of terrible inventions.
Landmines shouldn't be used anymore.
"Landmines. I'll tell you why:"
"They render large tracts of land completely unusable."
"They are expensive and difficult to remove safely because there is seldom documentation of where they are placed."
"They are cheap, plentiful, easy to place, and deadly."
"They kill/maim livestock and wild animals."
"They kill/maim innocent people decades after conflicts have ended. Many times the victims are children because they can't read or don't understand warning signs."
"This is a great answer. They really are truly horrible, and hurt people long after whatever stupid war has gone down."
"I was going to say Twitter but I have to admit this is worse."
- Jeheh
"You're not wrong. Twitter is the landmine of the internet. You said something stupid when you were younger but as you grew older, you realized your stupidity and changed for the better. Great right? Then bam, your tweet from years passed gets used against you. And you have people freaking the f*ck out like they never did or said stupid sh*t before."
"But landmines really do suck. There's actually a country in Africa that has rats that detect land mines. They're friggin adorable."
We all love to hate 'em.
"Robocalls."
- c_fritz
"You mean, autodialer services that scammers use. Companies exist to provide autodialing phone services. F*ck them."
"A smaller but related issue is calling different businesses and hearing a robot on the end. To navigate through all their hoops, especially when it's a voice response system, and only find that you landed in the wrong section and have to do the whole thing over, is extremely frustrating."
"For questions about your account, press 1. Oh your question was about billing, you should have pressed 2 for billing. Oh, your question about billing is why you were billed twice, you should have pressed 3 for dispute resolution. Oh your dispute was due to a processing error, you should have pressed 4 for bookkeeping. Oh bookkeeping only has access to your account for records and inquiries so we can tell you your payment history and the like, so if you want to know why you were billed twice... you should have pressed 1 for questions about your account."
- atigges
"Then once you finally get to a person they send you to someone else who then puts you on hold."
"And then your call just magically loses connection."
​A lie detector test is so inaccurate.
"YES! There is no device that can "detect lies". Having a device monitor your pulse and heart rate is not a lie detector test, it is a device that monitors your pulse and heart rate."

"Or a printer. One of my favorite scenes in The Wire."
A truly unsustainable practice.
"Seafloor trawling..."
"It destroys the habitant of fish just so we can squeeze every bit of a fish from an area..."
"That seems counter productive."
- Dewahll
"Sometimes fisherman will just toss bad nets into the ocean. If they're in an area with a strong current they'll move on their own and become whirling nets of death. They'll catch anything they come into contact with and kill it. Divers have reported seeing these nets with the skeletons of thousands of sea life still stuck."
"Commercial fishing nets make up 50% of ocean plastics. And yet the industry got everyone focused on drinking straws instead..."
"I'm pretty sure it's all because of that video with a straw stuck up the turtles nose. There are a thousand better things to cut back on but straws it is!"
So many people suffered... for a specific kind of ceiling?
"Asbestos in popcorn ceiling."
- tessamp
"Asbestos in general too many people (including myself) have lost grand parents or parents to mesothelioma."
"Fun fact (actually not fun at all fact): you are more likely to get other lung cancers than mesothelioma from asbestos exposure. Mesothelioma just is a slam dunk for lawyers since you basically can only get it from asbestos exposure."
"Technically, mesothelioma isn't a lung cancer, although it typically develops in the tissue that holds the lungs in place. But you're not wrong, it's almost guaranteed that the cause was asbestos exposure, and there's a good chance that exposure was due to or precipitated by some degree of corporate negligence or dishonesty. Sadly, due to the various types of asbestos that were predominantly used, and the diverse range of exposure sources, a lot of mesothelioma restitution ends up with corporations fighting it out over how much each of them should be liable…and often, after confirmed diagnosis, the plaintiff has at most a very gross and painful year or two left and in my experience seldom lives to see a decision made in their favour."
"The problem is, the corporations aren't necessarily wrong to dispute their varying degrees of culpability, and often it's like they're saying 'yeah ok we were all beating on this guy but you were the one who got all crazy and brought out the lead pipe, and I think that's when you killed him'. And when you factor in splitting hairs over which cancer is the main boss-cancer, it gets even hairier."
"Mesothelioma tort law was the saddest thing I've worked with I think, and it's why I abandoned pursuing a career in law."
Subscriptions for products you pay for already.
"Any product that you pay for, and then have to pay a subscription to use."
"Subscriptions for any service that absolutely does not need to be a subscription. And by that I mean Microsoft Office."
"Adobe is fully subscription. You don't pay an initial fee for the software. That said, f*ck Adobe and subscription models."
- cat-meg
Though some of these inventions are minor inconveniences, some of them have serious consequences or are actually life threatening.
Over time, humans will continue to evolve and reinvent what we know the world to be like today. The question remains though: Do we actually need any of this? Just because it makes our lives more convenient, doesn't mean we need to have it.
Want to "know" more? Never miss another big, odd, funny, or heartbreaking moment again. Sign up for the Knowable newsletter here.
Keep reading...
Show less
Not all inventions vastly improve our lives.
They can complicate things. Technological advances, for example, have increased rapidly and made our lives so much easier.

The internet and smartphones are incredible inventions, and we can't imagine life without them. But they do come with complications.
When we rely so much on virtual transactions and something goes wrong, I always lament about how interacting and communicating with a person is more reliable for finding solutions.
Advanced tech – sometimes we can't live with them, but we definitely can't live without them.
But there are other inventions that have raised concerns. To find out more Redditor idc_aboutusernames asked:

"What invention has done more harm than good?"
Whoever thought these enhancements in life were a good idea were very shortsighted.
It's Over Our Heads
"Popcorn ceiling"
"Some of the older ones have asbestos in it too! So keep that in mind if you have a roof leak or ceiling damage."
Economy Flush
"Those low flow toilets that result in you wasting more water because you have to flush it multiple times to get it to take a log down."
"Best solution I've seen is a toilet with two buttons, one for a half flush, and one for a full flush."
Perpetual News
"The 24-hour news cycle."
– BSH72
"At a certain point reporting facts stopped being the primary goal of such channels, instead they report whatever will keep viewers watching."
"Works ok for a 30min news segment, but with 24 hrs that ends up over sensationalizing every little story."
– kdeff

These inventions proved to be more harmful than benefiting society.
"Frankenstein's Monster"
"Polygraph test. Even its inventor, John Larson, regrets his invention upon realizing how law enforcement would exploit the average citizen with it."
Tap Tap Tap
"Lobotomy. Worst Nobel Prize winner ever."
– Maaniker
"It's such a f'ked up thing that so many people AT THE TIME knew was f'ked up."
"I mean, it was essentially a way to make people with diseases easier to take care of by rendering them half dead. There was barely a pretense of it *actually* treating an illness. Monstrous."
– jebedia

Toxic
"Leaded fuel, CFC... uhm basically anything Thomas Midgley was involved with."
– Satures

"Agreed, lead poisoning was a well known thing at the time. CFC's punching holes in the ozone layer would be an understandable miss."
These inventions are just obstacles preventing us from getting the things we see but can't get.
Not A Toy
"Those plastic containers that are like crimp plastic stitch welded around the entire edge and it's super thick plastic that will slice your sh*t open."
"Wrap rage, also called package rage, is the common name for heightened levels of anger and frustration resulting from the inability to open packaging, particularly some heat-sealed plastic blister packs and clamshells."
The Claw
"Rigged claw machines. Like seriously, f'k you i just want my squidward plush."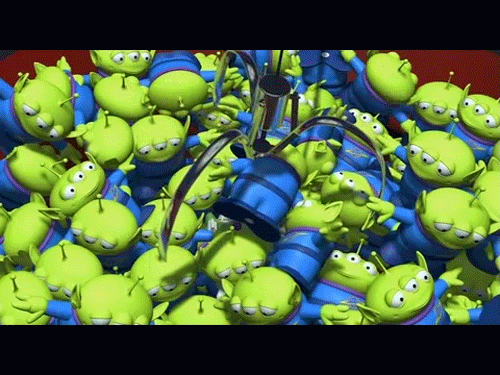 claw machine GIF
Giphy
While they are convenient, I think Keurig machines cluttering offices are not necessary for the home. Besides, K-cups are harmful to the environment as they wind up in landfills due to their difficulty of being recycled.
I much prefer taking the time to grind coffee beans and brew my coffee with my Cuisinart coffee maker.
Not only is a fresh pot of coffee noticeably more bold and delicious, making your own potted coffee is a lot cheaper than spending loads on replenishing your K-cup supply.

I'd much rather save my money and the environment.

Keep reading...
Show less
As seen on TV. That line reverberates through all of our minds. Right? I haven't fallen for the, call me know and order group, thankfully. But I have enjoyed their commercials. And I have been duped by the other mediums. I'm still waiting on some things I ordered off of Facebook. And who doesn't owe money to the... buy 9 CDs for a cent group? But once and awhile the product is real and the "scam" is a deal.
Redditor
u/drichm2599
wanted to know what items we need to start buying by asking...
What "as-seen-on-TV" product really works as advertised?
A lot of the Shark Tank folks have made their way to tv to hock items, and it worked, and people are happy! So there has to be some truth to a few things. Let's see what items we should all look for...
The Cleanse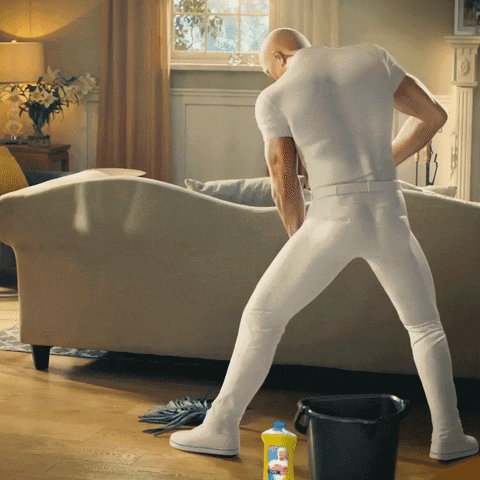 cleaning up mr clean GIF by ADWEEK
Giphy
Oxy-Clean is pretty amazing.
I no longer consider Oxy-Clean an ASOTV product. It is a part of everyday life.
I mean, when name brands are bragging that they have the cleaning power of Oxy-Clean, it has made it to the big time.
FLEX
Flex tape.
I work for an HVAC supplier and our delivery box truck struck the awning of a restaurant and put a 6"x6" hole in the 'box' part. Threw some flex tape on that witch and it's been sealed for over eight months so far, including a rough winter.
Gutted
That leaf filter thing for your gutters. Haven't worried about them in awhile and even set up my parents house with them so they didn't try to climb a ladder.
These have been around in various forms for years, but in my experience they pop out, animals get in them, crapt gets under/through them, and within a couple of years they're just a crooked eyesore that make gutter cleaning that much harder. Are these newest ones actually better? Have you checked under them since installing? No gunk? How do you clean roofing gravel out, or does it really not accumulate?
For the Pets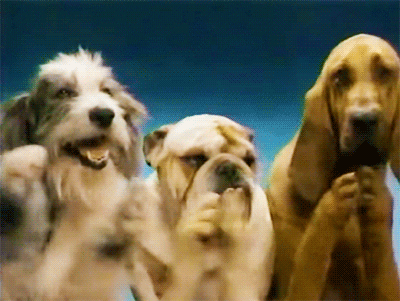 Well Done Applause GIF by MOODMAN
Giphy
Those gloves that you pet your dog with and it desheds them. They really do work, and true to the commercial the hair also comes off in one clean pull. My dogs love them too.
Spun Up
I was given a Hurricane Spin Mop. I really liked it. That was years ago. I considered buying another one, but damn, $30 for a mop is a lot. They do work nicely though.
Mops take a lot of abuse, if you buy cheap ones you'll have broken/shredded mops pretty fast. $30 for a mop wouldn't kill me if it lasted multiple years.
Actually that brings me to mine, which isn't infomercial level, but the Swiffer Wetjet is pretty awesome because I don't have to mop anymore at all. My whole house is 120-year-old hardwood. I used to do Murphy's or white vinegar, but dragging a mop bucket up and down stairs every week sucks hardcore. Wetjet gets the floors truly clean, dries super fast, and doesn't involve buckets. I wish they'd make a Murphy's scented Wetjet but that's probably just me.
I'm getting that dog shedder thing. And well... Oxy Clean is a miracle. But that is old news. Maybe I need to be watching more TV at 3am. Or at least set the DVR for the sales. What else is being missed?
Hugs...
So Excited Dancing GIF
Giphy
The Snuggie was a freaking damned miracle. You can argue that it's just wearing a robe backwards but have you tried that? the arm holes are all wrong.
Damn. I had a Snuggie when I was a teen. I'm 60+. I need to look out for one. It was great for relaxing with a book.
Clogger
Green Gobbler. My bathroom sink was all clogged up and I remembered laughing my butt off to Penguinz0 dubbing over the Green Gobbler commercial. So I figured why not buy some at Home Depot and try it out.
That stuff unclogged my barely functioning sink like nobody's business, my God.
For the Girls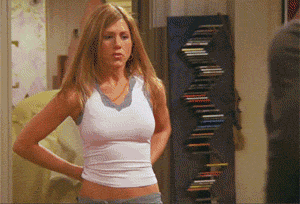 cancer bras GIF
Giphy
Those little circle things you can use to turn your regular bra into a racer back bra. They're amazing.
Slank Me
I have a Slanket (same concept, different brand) and use it every winter. During the pandemic, I was working from home in a room that gets very cold. I could run a heater, but that tends to just make the room too warm and gives me headaches. I tried a blanket, but couldn't use my hands on the keyboard without opening myself to the cold air.
So I grabbed the Slanket and used that. It kept me warm while I typed away without giving me headaches. If I had a meeting that required video, I simply took out my arms and pulled the Slanket below the camera view.
Of course, now it's getting warm so it's time to put the Slanket away until the cool air returns.
Mince Me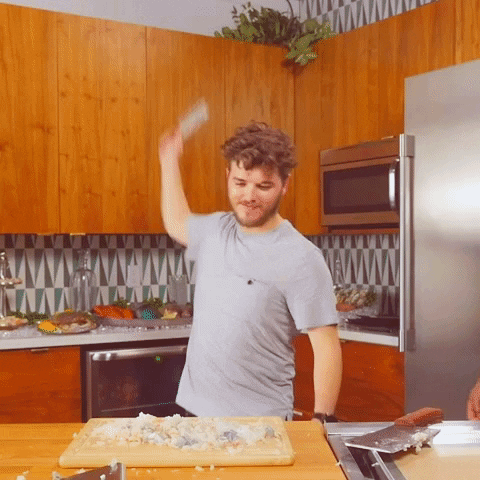 Giphy
The slap chop. Admittedly, I don't own THE slap chop, I have the pampered chef version, but for mincing garlic or onions it saves a ton of time.
The Snuggie saved my life. I lost it and now I have to re-order as soon as I finish this piece. Trust me, if you haven't Snuggied, you haven't lived. Looks like product sales have stepped it up a bit. I'm watching.
Want to "know" more? Never miss another big, odd, funny, or heartbreaking moment again. Sign up for the Knowable newsletter here.

Keep reading...
Show less