It's a sad truth that just about all women find their bodies objectified or, for better or worse, the unwanted subject of conversation.
One of the many reasons why too many women are self-conscious about their bodies and suffer from sometimes crippling body image issues.
More often than not, women often find themselves most self-conscious about a part of their body or appearance most people will never notice, or even see.
But much to their surprise, sometimes it is that very thing they hate most about themselves that others might find most beautiful about them.
Redditor Covenant9er4653 was curious to hear which parts of a woman's body men loved the most, which women tend to hate, leading them to ask:
"Men of Reddit, what is something women hate about their bodies that you actually love?"
Aging Gracefully

"Everything that has to do with getting older."
"When my wife and I got married, we were obviously younger and in our 20s."
"Although never thin, I was more slender."
"My wife, 5'9 and legs for days and just banging body."
"Now? "
"I'm not as thin (same as her) we have two kids, and I find her sexier now more than ever."
"In our almost decade together, we have slept on a floor, used change for gas and had our electricity turned off 3-4 times for non payment."
"She's my Ride or Die."
"She has more of a tummy now, bigger boobs, maybe doesn't shave like she used to or wear skimpy lingerie outfits randomly."
"BUT."
"I wouldn't trade it for the world."
"We have grown older together and I honestly couldn't find anything in this world that still turns me on as the certain way my wife runs her fingers down my back or how she looks naked."
"And it's because she's mine."
"Not in a possessive sexist way."
"But in a, I'm the luckiest guy in the world that this beautiful human wants to spend the rest of their life with me (and have sex with me)."
"Hopefully this isn't too long winded."
"Long story short…..girls spend tons of time worrying about getting older."
"Age isn't always a detractor."- Ok_Animator_9218
Sometimes being "cheeky' pays off.
"My ex-girlfriend always complained about the size of her cheeks and how she looked like Quico (a character from an old Mexican TV series)."
"For me she looked gorgeous, I loved to kiss and caress her cute round face."- Raul_H2000
Presumably, He's Also One Of The Only People Who Sees Them
"My wife was very self-conscious about her inverted nipples, but I adore them."- nsfbc
Beauty Truly Does Come From Within

"A bit longer than others, but I have a full story to tell which might help someone."
"A few years ago, my lady got a breast cancer."
"We live in a country with high level medical facilities, and the doctor told us at the very first meeting that we were here to heal, no reason to think otherwise."
"But her cancer is genetic."
"It means if she kept her breasts, her risk of having a new cancer would be very high."
"So it's clear for both of us, she got a mastectomy."
"She now has no breast anymore."
"She just has two big scars on the chest."
"On her side, she f*cking hates her body."
"She is scared as hell to wear anything that could reveal her scars."
"She also got some weight during the treatment, and she is pissed at that too."
"But I f*cking love her."
"I choose to love with this woman, and it does not matter if she had lost her breasts, her legs or her face, I will still love her."
"I will fricking love those scars until my dying breath, because, to me, it means she survived."- Vitrebreaker
Glorious Imperfections

"Uneven breasts."
"Adds character and makes paying attention to each one a separate adventure."- Inevitable_Shift1365
"Probably a lot of stuff but something in particular is like minor 'imperfections' or whatever you would call them."
"A woman I used to work with had a thing where it was like her teeth didn't quite line up like normal (I think maybe a mild crossbite) and I found it weirdly attractive."- tasteful_tomfoolery
They're Easier To Appreciate When You Don't Have To Deal With Them Yourself...

"My wife's boobs."
"She hates them with a passion and I cannot figure out why."
"They are perfect."- Reddit
Androgyny Is A Wonderful Thing

"I love sleepy, set-back bedroom eyes."
"And I love boyish clothes on girls."
"So hot."
"I also like when a woman has a deeper voice."
"God it's hot."- Slurpydurpy711
You Never Know What Turns Them On...

"I was always very insecure about my hip dips until my boyfriend told me he loved them."
"I was standing in front of him one day and he just said 'I love the way your hips go in a little there, it makes your butt so cute, it's my favorite' and I was shocked, honestly."
"I used to spend hours watching videos about how to exercise them away, creams that would fill them in, and other ridiculous horsesh*t that would never work."
"He's somehow found every insecurity I have and told me how attractive it is before he ever even knew I was insecure."- trash_bin_84
Getting A Little Scientific
"Maybe a little too clinical or intimate for this thread but I really appreciate unique labia and I find it absolutely heartbreaking that there is so much widespread insecurity about this that there are cosmetic surgeries to 'fix' 'imperfect' labia."
"Past girlfriends and flings who had more prominent or 'unconventional' labia were dreadfully insecure about it and some went as far as to be absolutely astounded that I'd compliment them during/after sex because a past partner hated it or was very cruel and callous about it."
"Absolutely gorgeous."
"One of the most pernicious and evil beauty/porn standards out there."
"As long as hygiene is well-accounted for, there's no such thing as a labia and vulva that are better or worse than any others."
"It's not ever crossed my mind to compare or critique what's down there and I always speak out about this when my friends say some stupid or insensitive sh*t."- e-co-terrorist
And Always Handle Them With Love...
"They're called love handles for a reason."- devilthedankdawg
It's very easy to think ill of ourselves, particularly in the judging eyes of others.
But we were given our bodies and appearance for a reason.
And if we embrace all that is unique about us, chances are all others will find that beautiful.
Everyone has insecurities.
Be it speaking in public, wearing beach attire, or even one's profession, very few people don't have at least one topic of conversation that is bound to make them red in the face.
Some people are pretty adept at hiding their discomfort and can manage to persevere through their phobias with their dignity intact.
Others are not so lucky and often go to great lengths to hide their insecurities, only to make them even more apparent.
Redditor Dear_Coyote_ was eager to learn the tell-tale signs of someone's insecurities, leading them to ask:
"What screams 'I'm insecure'?"
The Wisest People Are Those Always Willing To Learn
"When people are unable to admit that they don't know something."- slimytoads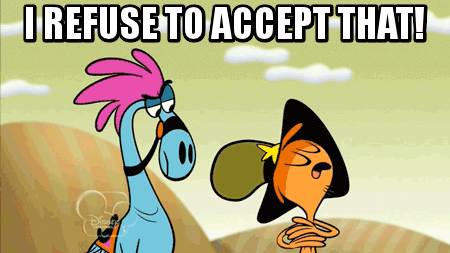 not listening no way GIF
Giphy
Other People's Success Are Not Your Failures
"Mocking someone else's achievement."- SuvenPan
Never Pick Yourself Up By Taking Others Down
"Belittling others."- Term-Haunting
"Always talking badly about others and trying to make them look weak/bad."- Pildith
The Simpsons GIF by MOODMAN
Giphy
Maybe Honesty Isn't Always The Best Policy...

"When you're quick to be 'brutally honest' with others, but have a meltdown when someone does it back to you."-eF240uKX52hp
Not As Funny As They Think...
"People who tear other people down as a joke but then get mad when they get it handed back to them."
"Clearly they either aren't joking or are too sensitive to be dishing out sh*t."- babythrottlepop
Being On Top Adds More Possibilities Of Falling Down...
"Trying to one-up people in every conversation."- Flanky_Bwai
"One upping people in conversation."
"If I tell you I had a great trip to X place, I don't need to hear about your better trip to someplace else that's ostensibly 'better'."- I_Am_The_Grapevine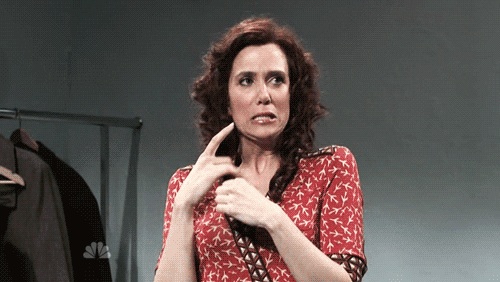 kristen wiig television GIF by Saturday Night Live
Giphy
Some Things Speak For Themselves...

"Constantly saying what kind of person you are."
"If you were, you wouldn't have to tell us."- ubereddit
A Little Contrition Goes A Long Way...
"Never apologizing."
"Making excuses and even twisting the facts but never apologize."- SuvenPan
But Enough About Me, What Do You Think Of Me?
"Constant projection and self-serving compliments."- nhabz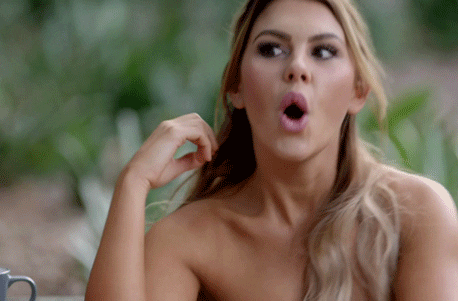 Look At Me Kiki GIF by The Bachelor Australia
Giphy
What Are They Even Trying To Prove?
"Revving your vehicle loudly every time you pass another person."- msnmck
Superior By Association
"'You will address me by my husband's rank!'"- Psychological-Stay16
PDA Much?
"Elaborate Instagram and Facebook posts declaring love for one's significant other over and over and over."- jbmaun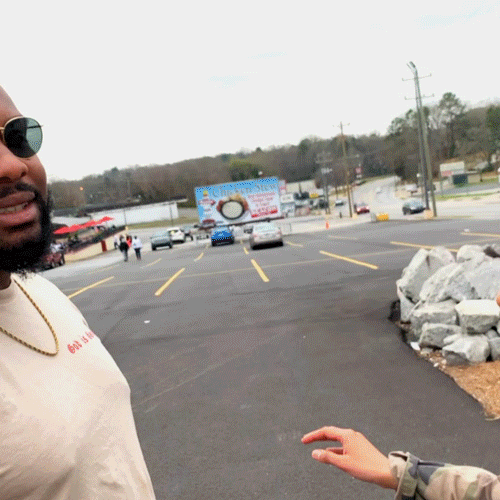 Happy Married At First Sight GIF by Lifetime
Giphy
Always Needing Validation
"People who can't think or feel anything without being told that it's okay to do so."- Diesel07012012
It's sad that so many people think the only way to overcome something which makes them embarrassed or afraid is by embarrassing or demeaning others.
When being open and honest about your insecurities might, instead, result in your finding common ground with others.
And making new, lifelong friends in the process.
Pretty people have problems, too.
But when you get to look like you've stepped off the cover of Vogue and you've never once bought your own drinks, feeling sympathy is hard to summon.
But being attractive is not everything. Physical attributes still don't make life perfect. Which is why I'm skipping the gym today.
It is good to know though, that even people gifted with physical perfection can still be as unsure about life, just like the rest of us average looking gnomes.
Redditoru/pauseitron_wanted to know how life can be not so perfect for those picture perfect types, by asking:
People who're considered physically attractive, what are some of the things that you feel insecure about?
Insecurity is a horrible affliction. It holds us all back from fulfilling our greatest potentials and nobody is immune. We often feel like we're the only ones walking about with these issues but we're not.
if only...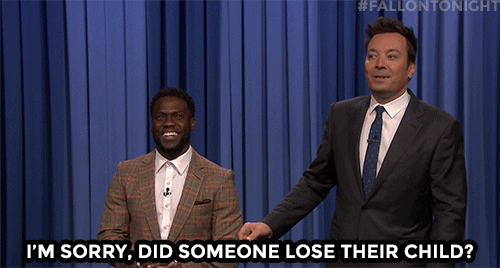 Jimmy Fallon Lol GIF by The Tonight Show Starring Jimmy Fallon
Giphy
"I'm short. As a 5'5 male compliments are nearly always followed up with something along the lines of "if only you were taller."
"status"
"My job and income. (I'm a receptionist)."
"You're not alone. I wouldn't consider myself really attractive, pretty average. However, I have trouble feeling confident with people I believe are in the same attractiveness range as me because so many of my peers have achieved "status" and I'm still not there."
It all Matters
"Whether I mean as much to the people who mean so much to me. I took a friend out for dinner for his birthday recently and he said something that made me realize he was having as good a time as I was. It made me tear up for a second, remembering that the people I love also love me."
"They want to be included by me as much as I do by them. Sometimes this thought process has led me to treat people I love as an afterthought because I didn't think it would matter to them. But it did. I do."
Face It
"I'm considered "physically attractive" from the neck down, which is fair, I agree. So, my face is what I'm insecure about."
"Bruh some guy once came up to me and said "me and 'guy group' rated all girls in our year from 0-10 (yes they actually gave someone a zero), wanna know your score?" after unpolitely declining he went ahead anyway and said "your body is an 8 but your face is pulling you down"... Well... Tf am I supposed to say to that?"
- Nylnin
Anxiety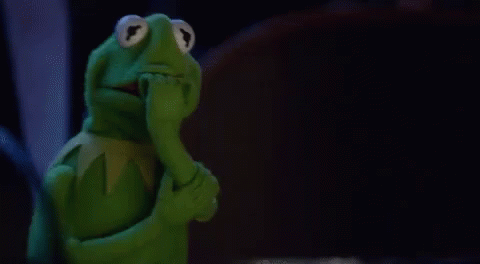 kermit worry GIF
Giphy
"I worry about how I look without clothes, my personality flaws, and my income (guy btw)."
How can the flawless feel so many flaws? I wonder how many are in therapy. I worry about all of those things every day.
"get someone better"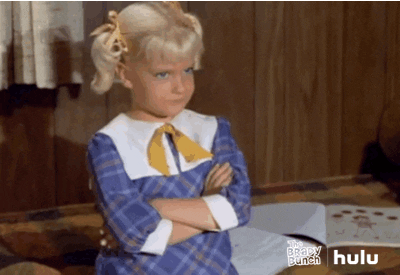 GIF by HULU
Giphy
"When I was thin and hot, my boyfriend told me he was scared I'd cheat on him because I could "get someone better." He ended up cheating on me, saying he couldn't take the pressure. I worry about that still. Even though I'm single I have a hard time trusting someone's loyalty."
is it me?
"I was considered quite attractive in my 20s and never had much trouble meeting guys. But I had real trouble keeping boyfriends. I was told more than once that I was boring. I'm quiet and a huge introvert and am perfectly happy spending a day reading or watching movies. But I guess that wasn't fun for the men I liked. So as a result I was, and still am quite insecure about my personality."
Never Enough
"Never feel good enough."
- USMCseth
"This. No matter how attractive you are there is always someone that looks better. The grass is always greener. I get told I'm attractive and I'll agree to an extent that I'm not ugly but I will never be perfect. I will constantly pick at my flaws no matter how small they are."
"My hips are too square, my teeth are yellow and crooked, my boobs aren't perky enough, my butt isn't fat enough, my lips aren't big enough, my eyes aren't perfectly equal... that's just scraping the surface. People I love and want to have loved me will tell me they think I'm beautiful and I won't believe them. Like it's a lie. I'll get mad sometimes when my boyfriend tells me I'm the most beautiful woman in the world."
"He might believe it but it's not true, and it's too much pressure to keep that up. I have wide hips a small waist and big boobs. I'm symmetrical and proportionate but there is no way I can ever compete with the thousands and thousands of Instagram models or pornstars or even beautiful strangers that my partner will be exposed to every day. Why even bother with me?"
Bad Partners
"My partner not really loving me."
"Oh that hit home. I have this but I am female, guys will date me for months saying all the things I want to hear and sleep with me, only to then tell me they've found someone else and they're together. I have been told numerous times I was used as an ego boost by guys I generally liked, I'm actually still friends with one. Now I have been single for 7 years (I've had some dates) with huge trust issues, knowing the older I get as a woman the less attractive I become and it's a never-ending cycle."
Being Blah...
"How cool I actually am. I'm a good looking guy but I've had a boring life in some capacities."
"When the world shut down last year I found out other people had to give up a lot more fun and exciting plans than I did. That really hit home and I'm working to change it."
No matter who you are, or what you're feeling, you're not alone. There is a life lesson we seem to cross paths with everyday. And now we know those we envy are in the same boat, they're just in a prettier one.
Want to "know" more? Never miss another big, odd, funny, or heartbreaking moment again. Sign up for the Knowable newsletter here.
Social insecurity, a largely silent and internal weight, can't help but rear its head for the external world every so often.
Or for some, it comes out pretty regularly.
And that makes for a vicious cycle.
The socially anxious person, already struggling with low self-esteem, performs some subtle--yet very noticeable--behavior that only causes them to dig further into that hole.
Just how obvious are those warning signs?
A recent Reddit thread made that pretty clear.
dudeARama2 asked, "What screams 'I have low self esteem?' "
For some people, the insecurity came out because it'd been dominating their entire, internal worldview for so long that it colored their reality.
A thing said, a passing feeling, or the nonchalant action of a friend were all enough to throw them off.
A Sudden Interrogation
"What do you mean? Why are you asking? Has anyone said something about me? Is it because I gained weight?" -- DocTymc
"My favorite, 'I lost weight recently can't you tell? My friends said I looked thinner in my face.' "
"Me: 'Damn Kris can I get a hello first.' " -- bigblueberryboobies
Center of it All
"Thinking that every time someone laughs it's because they're laughing at you or making fun of you" -- Massive_Corgi5532
"My worst nightmare. Walking past a group of teens and they start laughing." -- SnR_Remito
"The real doozy is when someone is looking even vaguely in your direction when laughing and your brain immediately goes into the fun world of paranoia" -- HuanTheMango
Selective Listening
"Thinking that everything bad someone tells you is true, but the second someone complements you, you just can't seem to accept it." -- PansPersonCrazy
"Wait, somebody actually likes me AND thinks I'm attractive? Okay but, what's wrong with them?" -- Lanko
A Daily Obsession
"Being excessively concerned with how others perceive you." -- fermat1432
" 'We all love ourselves more than other people, but care more about their opinion than our own.' -Marcus Aurelius" -- mysterybiscuit
Other people talked about the not-so-subtle behaviors of people with low self-esteem. The coping mechanisms are more obvious than we'd like to think.
Presumed Guilty
"Somebody who apologizes frequently, even for things that aren't their fault. I've apologized to inanimate objects before." -- Ermaquillz
"Apologizing for talking. Apologizing for not talking. Apologizing for apologizing. Apologizing for being alive." -- Ectophylla_alba
"Well l, I'm sorry but that's totally me." -- Captainspazzma
Beat Them to the Punch
"Someone who talks themselves down a lot. It's a way for them to protect themselves from the insults of others" -- aardbei123
"Self-effacing humor is fun in small amounts, but if people are constantly making "jokes" about their own flaws, they're probably actually internalizing a lot of it." -- Notmiefault
Avoid, Avoid, Avoid
"Not being able to speak looking at other people face or eyes, something I say by experience, you just start to think they may judge you, or may notice that pimple, or how bad u have your hair in that moment, or your nose form. It's like if I don't see their faces they won't see my defects."
"I don't know if I explained my self well." -- Coque379
Some, however, went on the offense.
Their insecurities pushed them to fire the first shot across the bow, if you will. Unfortunately, nobody was buying the performance.
Down to their Level
"Putting down other's hobbies because you are insecure about yours/don't have any" -- FROGS_and_PLANTS
"I cross stitch, and some of my pieces are very intricate and take a long time. I am really proud of them, and the focus it takes to complete them."
"I had a date tell me that cross stitch was the most useless hobby he had every heard of, and I was just flabbergasted. First off, why do hobbies have to be 'useful'? Secondly, it provides me with entertainment for a long time, and it then serves as decoration! But even without all that, if I enjoy it, why try and take that away from me?"
Painting a Picture
"People who brag about themselves all the time. So damn insecure and trying to tell people how to see them" -- Kir-ius
"I know someone like this. She's always bragging about how everyone loves her, but the second I get a compliment she's quick to get all eyes and ears on her again. I'm just now realizing this too, I used to look up to her a lot. But now I just feel bad for her bc she needs so much validation." -- msbeliever8
Fantasies
"Lying about their lives. There is nothing more sad than catching a person lying about their life (finances, romantic relationships etc.) just to get attention and validation." -- o_oana
"I went to school with a girl who told various lies. She was homeless and captured pigeons for dinner, she was a trained clown, her mom was paraplegic and wheelchair bound among others, but then graduation rolls around and guess who shows up? Mom, and she is not in a wheelchair. Someone in class declares 'it's a miracle!!' "
"But wasn't my face red a few years later when I went to a Busking Festival and I saw Lying Girl painted up as a clown. She was pretty good, excellent balloon animals." -- NewToSociety
It's the perfect storm: being seen in a bad light is the worst nightmare of a person with low-self esteem. And yet, the coping mechanisms broadcast it loud and clear.
Want to "know" more? Never miss another big, odd, funny, or heartbreaking moment again. Sign up for the Knowable newsletter here.
We all have our vulnerable moments we try our best to keep hidden.
They say, "Never let see you sweat," but sometimes that is easier said than done.

Visible anxiety is common during, say, a job interview or a first date. The commonality is the need to win someone over, and there is something endearing about that.
However, some people would rather hide their uncertainties in negative ways that can be annoying as all heck.

Curious to hear what strangers on the internet had to say, Redditor confuciusly asked:

"What screams 'I'm insecure?'"
Taking Others Down With Them
Perhaps one of the biggest indicators of someone being insecure is the need to make others feel the same by pointing out their flaws.
Can people who do this sleep at night?
Hurtful Tactic
"putting someone down in a group conversation to make themselves seem better."
"In my engineering class last semester I was basically put in a group to give a few solutions to a problem. I made a suggestion and one person in my group was like, 'wow that's a bad idea' and I basically just shut up for the rest of the thing. Then when all the groups presented their solutions, ofc they all had variations of my 'bad idea' and I internally face-palmed so F'ING hard.
And to clarify, yes the professor thought it was a great solution."
Sharing In Others' Joys
"The inability to be genuinely happy for others."
"If other people's success or happiness feels threatening or uncomfortable, that is usually due to insecurity. If you're confident, you can separate their life from yours, not compare and focus on your own lane and you can be happy for others for succeeding in theirs. Understanding that your value isn't diminished by the fortune of others."
– poozu

Bad Gossip
"When somebody can't stop badmouthing others."
Pitying The Unfortunate
"Pointing out someone's flaws as a 'joke' or a way to look cool."
A Pat On The Back
Some people are not content in just knowing they have done well.
They need approval from others by listing their accomplishments to elicit a reaction. What they end up getting, however, is one big eye-roll.

Seeking Validation
"Fishing for compliments. Nothing annoys me more."
"When my wife and I moved into our house I got approached by the neighbor across the street. He introduced himself, said he was retired from the military and said he makes a ton of money from disability. I think during our 10 minute or so conversation the topic of money was brought up at least 5 times and it all circled back to how well off he was. And then he started talking sh!t about the neighbor that lives next door to us."
"I could tell he really wanted people to be impressed and like him."
– Edge80

I'm So Incredibly Smart
'People never shutting up about their IQ."
Intellectual Prefix
A parent of a child I teach is in Mensa and she's convinced that means she can teach him better than us. 'I'm in Mensa and I think-' is a prefix to everything she says when we try to put anything in place for him. Why should his less than 50% attendance be a problem? His mother's in Mensa! That means he'll learn more at home (never mind that he's 10 and can't count or read)."
A Dose Of Sarcasm
"Yeah, I have a distaste for that too. Fortunately i'm much more acute than a lot of other Homosapiens who just aren't as fortunate as I to develop such a well perceptive disposition. Inconceivable that such incomprehension could draw breath in this world but not surprising that I consider them so simple minded. I mean I am very apt so it's no surprise that they couldn't reach my level knowledge. Yeah honestly i'm even sometimes surprised by my own intelligence and learning ability."
Keeping Appearances
There is nothing wrong with expressing gratitude for the good things happening in a person's life – whether it's a good job or a wonderful marriage.
But there should be a statute of limitations before it gets into bragging territory.

Look At Meee
"Posting 15 times a day about your life on social media. Secure people don't need to seek validation for everything they do."
Soul Mates
"Constantly having to post how amazing your relationship is."
Aftermath Of A Breakup
"My sister in law does this, and then boom she broke up with who-ever-the-hell-cares and proceeds to post a bunch of those 'inspirational' quotes about how the most caring, soft hearted people get taken advantage of and then they turn into the coldest, hardest person you know."
Feigning Busyness
"Acting like you're so much busier than everyone else. I have a coworker who pretends to talk on the phone with people, always emails everybody at 10:00 pm to make it look like he's 'working late,' constantly complains about how much is on his plate, etc. He feels the need to constantly be validating his worth to everyone."
The subReddit went viral because the scenario of people having all the obvious signs of insecurity was relatable.
They have most likely been vulnerable themselves enough to recognize the telltale signs.
So how do we avoid engaging with these annoying individuals – especially a friend?

While giving in to ridiculing someone who hides their insecurities with a veneer of immodesty, there might be an opportunity there to open up a conversation and lend a sympathetic ear.
It's not a one-size-fits-all solution, but sometimes, we all just want to be heard.