Wendy Williams shed a single tear after apologizing for a homophobic remark she made on air on Thursday, February 13th.
The incident in question showed up when Williams was talking about "Galentine's Day," a fictional holiday on February 13th created by Parks & Recreation.
A man in the audience was clapping along with the women in celebration of Galentine's Day, which caused Williams to respond:

"If you're a man and you're clapping, you're not even a part of this. I don't care if you're gay."
"You don't get a [menstrual period] every 28 days. You can do a lot that we do, but I get offended by the idea that we go through something you will never go through."
"Stop wearing our skirts and our heels. Girls, what do we have for ourselves? You'll never be the woman that we are, no matter how gay!""
Folks were quick to call out the incident as both homophobic and transphobic.
Wendy Williams is a gender essentialist w/ conservative binary views on gender expression & sexuality. This has bee… https://t.co/sAXPJUmjln

— John Pierre (he/they) (@John Pierre (he/they))1581687841.0
You don't battle transphobia with more transphobia. #WendyWilliams

— ✨ (@✨)1581840422.0
#WendyWilliams saying it offends her that gay men will never experience something that women go through. I would wa… https://t.co/XRIzcOJfNR

— Bitchin liz (@Bitchin liz)1581671688.0
Girls maybe we should stop using Wendy Williams memes and reaction images. You know, because of the transphobia and homophobia

— Mary Tyler Moore Tyler Moore Moore Moore (@Mary Tyler Moore Tyler Moore Moore Moore)1581871426.0
Williams said once she returned home and watched the episode, she realized the damage that had been done.
She released a single-tear-streaked apology on YouTube.
Williams said that her off-color remarks:
"maybe sounded like your auntie, your mother, your big sister or somebody out of touch".

"I'm not out of touch. Except for perhaps yesterday by saying what I said...I deeply apologize and I deeply appreciate the support that I get from the community. I will do better."
Folks were not so easily convinced that the apology was genuine.
Wendy Williams on her way to post a fake apology for being homophobic and transphobic https://t.co/ejDPqXlIc9

— Danis (@Danis)1581698173.0
@WendyWilliams WRONG!!! You're words were very strong and pointed!! Shame on you! #you have a platform and should b… https://t.co/LLaPR4zo2W

— Chi Chi LaRue (@Chi Chi LaRue)1581694163.0
@WendyWilliams I wish you'd gone a bit deeper with this. The apology is one thing but an explanation of how and why… https://t.co/rcMmJwo4oP

— Crystal (@Crystal)1581711969.0
@WendyWilliams Nah. Just stand up in your bigotry and go b/c you meant what you said. Being trash is part of your b… https://t.co/565ebClmEN

— Hakuna Truvada (@Hakuna Truvada)1581705506.0
People are pointing out the inconsistencies of Wendy's attitude toward the LGBTQ+ community over the years.
@WendyWilliams You almost got me, but: The years it took you to say LGBTQ The tears without tears The you never d… https://t.co/updqzfc2KU

— Andrew Roby (@Andrew Roby)1581694116.0
@WendyWilliams "I deeply apologize for showing you who I really am."

— tom tomlinson (@tom tomlinson)1581691285.0
@WendyWilliams It would have been more useful to know what made you say what you said in the way you said. You.must… https://t.co/QMJ0ZlBhG4

— Divina De Campo (@Divina De Campo)1581754318.0
@WendyWilliams Though I appreciate the apology, what Wendy said yesterday was super hurtful, ESPECIALLY coming from… https://t.co/7npRMY3PWA

— mami(ta) (@mami(ta))1581751247.0
@WendyWilliams You said men never experience menstruation, but many trans men do. Many trans masc and non-binary fo… https://t.co/o7zzzODV5I

— Dominick Evans (@Dominick Evans)1581724652.0
Wendy has not commented again or addressed the depth of her apology any further, but the LGBTQ+ community continues to set a standard of care and not apologize for being upset when someone violates it.
Let's all #DoBetter.
Keep reading...
Show less
Talk show host Wendy Williams is being accused of a wide range of intolerant behaviors after a rant on her show in which she told gay men to "stop wearing our skirts and our heels."
Williams was talking about the holiday "Galentine's Day," created by the TV show Parks & Recreation, which celebrates female friendships the day before Valentine's Day.
When she saw men clapping along with the women after a joke, she commented:
"If you're a man and you're clapping, you're not even a part of this. I don't care if you're gay. You don't get a [menstrual period] every 28 days. You can do a lot that we do, but I get offended by the idea that we go through something you will never go through."
Williams then went on to say to gay men:
"Stop wearing our skirts and our heels. Girls, what do we have for ourselves? You'll never be the woman that we are, no matter how gay!"
. @WendyWilliams to LGBT community. "I get offended at the idea that we go through something you will NEVER go thro… https://t.co/lgBnEfyu60

— Ent. Discussion (@Ent. Discussion)1581620106.0
Internet users everywhere denounced Williams's comments as homophobic and transphobic.
Oh, Wendy. Your homophobia is showing: Wendy Williams to Gay Men: 'Stop Wearing Our Skirts and Our Heels' https://t.co/qFVwhUsrtv

— Jeffrey Luscombe (@Jeffrey Luscombe)1581626159.0
@WendyWilliams i love you, i really do but if you're telling us to stop wearing "y'all skirts and heels", then give… https://t.co/RZe9Szi6JH

— Bruce williams 🤴🏽 (@Bruce williams 🤴🏽)1581637109.0
.@WendyWilliams, some friendly reminders: 1. Many cis women would be offended by having their womanhood reduced to… https://t.co/yuGEDTaFv1

— Charlotte Clymer 🏳️‍🌈 (@Charlotte Clymer 🏳️‍🌈)1581633607.0
Wendy Williams seems to have some trouble avoiding controversy.
Earlier this year, she had to issue an apology after making fun of a scar on Joaquin Phoenix's lip.
In 2018, she said she was "sick" of the #MeToo movement.
Y'all remember when Wendy Williams got coin to do that awful Drag Race commentary during the commercial breaks? 😅 N… https://t.co/bT8xQMQDQ7

— Kelly Mantle (@Kelly Mantle)1581636903.0
Gays obsessed with @WendyWilliams is on our team: SHE. IS. NOT. Drop her. She's toxic. https://t.co/iX7hS6gmfX

— Boy Culture Blog (@Boy Culture Blog)1581624196.0
Many pointed out notable LGBTQ celebrities who wear high heels and skirts.
Black gheys: Billy Porter look a mess at the Oscars in those heels and skirt. *Wendy Williams says she's tired of… https://t.co/lRaREnTXNc

— Carlos (@Carlos)1581637921.0
#WendyWilliams @WendyWilliams life long watcher but no more! You are a transphobic / homophobic woman who doesn't g… https://t.co/sNavVdme8Q

— Paul Schmidt (@Paul Schmidt)1581637933.0
Transphobia is no laughing matter.

@jessnatale/Twitter
Before long, Williams had issued an apology to her fans.

RT @pinknews: Wendy Williams makes tearful apology after saying gay men shouldn't wear skirts and heels… https://t.co/rl4EzYJO7Q

— ๒ รคץร Ŧยςк Շгย๓ק (@๒ รคץร Ŧยςк Շгย๓ק)1581700172.0
But for many, the damage had been done.
Did wendy williams just say to gay men not to wear our skirts and heels?? I cannot stand this woman. 😒 https://t.co/MDU8xTidmT

— NeeNee (@NeeNee)1581699802.0
I'm a woman and I dont want to be the kind of woman she is. Women don't own the right to solely wear skirts and hee… https://t.co/rJM0dqO3I6

— Maggie Rogers (@Maggie Rogers)1581699025.0
Wendy Williams will have to be more careful in the future—there's a fine but important line between speaking frankly about gender and being ignorant and intolerant.
Keep reading...
Show less
A clip from the Iowa caucuses went viral several days ago on Twitter when an Iowa voter who signed a card to support Pete Buttigieg found out for the first time that he is gay and tried to withdraw her support.
Buttigieg recently went on The View, where he responded to the clip in an inspiring way.
hoooo boy this is a fun 2 minutes https://t.co/EGL61nI0NL

— Robbie Couch (@Robbie Couch)1580841761.0
Many online condemned the women in the clip for her closed-mindedness.
Good God. So ignorant and homophobic. Caucus voter finds out Buttigieg is gay, wants to withdraw her vote for him… https://t.co/UtQYKpfVkx

— Siamak Kordestani (@Siamak Kordestani)1580832940.0
This woman's vote counts just the same as your or mine even if she's an uninformed bigot. So that's nice. https://t.co/hryGrISa2a

— Chris J. Nelson (@Chris J. Nelson)1580844994.0
But not long after, Buttigieg appeared on The View and responded to the woman's withdrawal of support.
Buttigieg told The View's cohosts:
"Well, what I want her to know is that I'm running to be her president too...Of course, I wish she was able to see that my love is the same as her love for those that she cares about, that my marriage means as much to me as hers if she's married."
Buttigieg continued:
"But if she can't see that, and even if because she can't see that, she won't vote for me, I am still, if I am elected president, going to get up in the morning and try to make the best decisions for her and the people that she loves as I will work to serve every American, whether they supported me or not."
@TheView @PeteButtigieg This clip gave me chills. I could watch it over and over and I'm a Canadian!

— Beesting (@Beesting)1581011030.0
On Twitter, many were inspired by Buttigieg's conciliatory tone.
@TheView @PeteButtigieg great interview, with the future President!!!!!

— paul seguin (@paul seguin)1581015208.0
Asked about the Iowa caucus goer who withdrew her support for @PeteButtigieg after she found out he's gay, Buttigie… https://t.co/aUQpXrZAgN

— Maureen Groppe (@Maureen Groppe)1581006189.0
Bernie Sanders and Buttigieg emerged from Iowa with an almost perfect tie.
Sanders had an edge over Buttigieg in the popular vote, and after many Biden and Klobuchar voters realigned to Pete, Buttigieg took a small lead in pledged delegates.
Pete Buttigieg tells The View's Meghan McCain that if a woman has to make the decision to terminate a pregnancy, "I… https://t.co/lHRamnDT3q

— DJ Judd (@DJ Judd)1581008784.0
.@PeteButtigieg was on The View today and was asked about the Iowa voter who rejected him because he's gay. Watch P… https://t.co/mIuJzUCKda

— Jordan Gill (@Jordan Gill)1581022575.0
Many people who haven't supported Pete were impressed by his words.
Buttigieg on The View. Mayor Pete's *response* is worth watching and that voter can go take several seats. Mayor… https://t.co/ApqppKKY9f

— @JIMOSMAN (@@JIMOSMAN)1581017100.0
A voter asked what Buttigieg told the protestor when he leaned in, he said, "I told him that I respected him & that… https://t.co/4G633Qzte9

— Priscilla Thompson (@Priscilla Thompson)1578882504.0
With Pete Buttigieg one of the frontrunners coming out of Iowa, his words matter now more than ever.
And he's used this opportunity to bring our country together rather than split it apart as a certain President might.
Keep reading...
Show less
Cheers is one of the most beloved sitcoms today. Its characters feel like friends to many, as the show has been successfully syndicated worldwide since its finale in 1993.
Because of its fame, it might be difficult to imagine that it was on the verge of cancellation due to low ratings.
This was the case in the first season, however, as the show was ranked 77 out of 100 shows that debuted around the same time.
So you might be surprised to find out Cheers decided to air an LGBT positive episode in the early '80s, despite the ratings risk that would imply.
Matt Baume, writer and producer of fun internet projects, breaks down the episode on his "Culture Cruise" series. In that series, Baume gives in-depth looks at LGBTQ themes in television, movies, and other forms of entertainment.

As he goes through the episode recap, Baume takes some asides to provide information and context to different parts, including my favorite fact, "All high-fives are gay."
It's just a great YouTube video.
Remember the time Cheers almost became a gay bar -- and how that may have saved the show from being cancelled? All… https://t.co/pMk5e3UDQR

— Matt Baume (@Matt Baume)1580853433.0
Another great episode from the amazing @MattBaume !!! https://t.co/62EnfxKp61

— Tom🏳️‍🌈🏴󠁧󠁢󠁷󠁬󠁳󠁿 (@Tom🏳️‍🌈🏴󠁧󠁢󠁷󠁬󠁳󠁿)1580853791.0
Ahoy! ⚓🌈 https://t.co/96NNDCxk9W

— ϻoxie ϻcϻurder💀 (@ϻoxie ϻcϻurder💀)1581005204.0
@kasekaiserina Go to the episode (1st season) where the patrons fear that the bar will *turn gay* when a few patron… https://t.co/u9LkQSebXa

— Simon Thibault (@Simon Thibault)1580999299.0
There is a critique to be had of the Cheers' handling of homophobia. Of note, the bar regulars espousing homophobic beliefs, the ones you see in the rest of the series, don't actually have their minds changed by the end of the episode.

However, the message of acceptance, especially at the time of the episode's release, is pretty brave. This was the early '80s, around the start of the AIDS crisis.
In the video, Baume points out there is actually an important aspect to the discussion of turning Cheers into a gay bar. Gay bars were a place of safety and comfort for many who would be otherwise discriminated against elsewhere.
The analysis is very well done.
not only is this episode great bc i found out that the high five is gay, but it also touched on why gay bars are so… https://t.co/ZmiyQ5hcDD

— Eggy 🍳 Boy (@Eggy 🍳 Boy)1580962826.0
anyway, if you've ever thought that argument was dumb, or you were/are on the side of it, please watch this great e… https://t.co/Aeapam7Co0

— Eggy 🍳 Boy (@Eggy 🍳 Boy)1580962827.0
Thank you for this amazing walk down memory lane. I was very young at the time, but I remember the episode well. Re… https://t.co/13n1MDSkyM

— Cliff (@Cliff)1580864699.0
Funny enough, today's gay bars face the opposite problem. Now, gay bars are trying to figure out how to deal with too many straight people invading gay spaces.

In an interview with HuffPost, Baume says:
"The difference, of course, is that straight people have a long track record of bad behavior when it comes to gay bars. That's why the LGBTQ community has needed to maintain hangouts where we can escape from heteronormative society."
While the theme song to the show emphasizes that Cheers is a place where you can go when things aren't going all right, or where everyone is accepted, it's this episode that solidifies it.
Matt Baume has several ongoing projects in addition to Culture Cruise. He also has a podcast and live show featuring drag queens playing Dungeons and Dragons, along with YouTube and podcast series about LGBTQ news.
Keep reading...
Show less
Lil Nas X has no time for your homophobic nonsense in 2020.
Lil Nas X, who came out last summer, showed up to the Grammy Awards ceremony in a pink cowboy outfit, containing elements of the leather scene.
His country crossover hit "Old Town Road" was one of the nights live performances.
The artist was also nominated for several awards.
Lil Nas X is a stand user, change my mind https://t.co/yBL5h4M3JD

— Heavenly 🍑 @Katsucon (@Heavenly 🍑 @Katsucon)1580369310.0
every time lil nas x effortlessly pulls off an objectively complex outfit like this it's revenge for the 3 weeks of… https://t.co/I94tYm1Mgk

— worm (@worm)1580125387.0
I really really like when people draw Mao Mao as a Rootin Tootin Cowboy Sheriff,,, but I'm just saying some Lil Nas… https://t.co/nXsbpHMuWr

— oof 300 (@oof 300)1580134819.0
This outfit unfortunately caught the attention of Pastor Troy, a fellow Atlanta rapper, who took it upon himself to share Nas' outfit on Instagram in a post that has since been deleted.
Pastor Troy went on a long, homophobic rant & somehow convinced himself that it's the reason why he doesn't have a… https://t.co/PWjKNWdhC8

— Ronald Isley (@Ronald Isley)1580315861.0
The rant, laced with homophobia, goes into detail that Pastor Troy thinks Nas doesn't deserve a Grammy award because he's gay.
Pastor Troy also described an encounter at an Applebees where he and his son were openly homophobic to a gay couple who were "kissing" and "eating mozzarella sticks."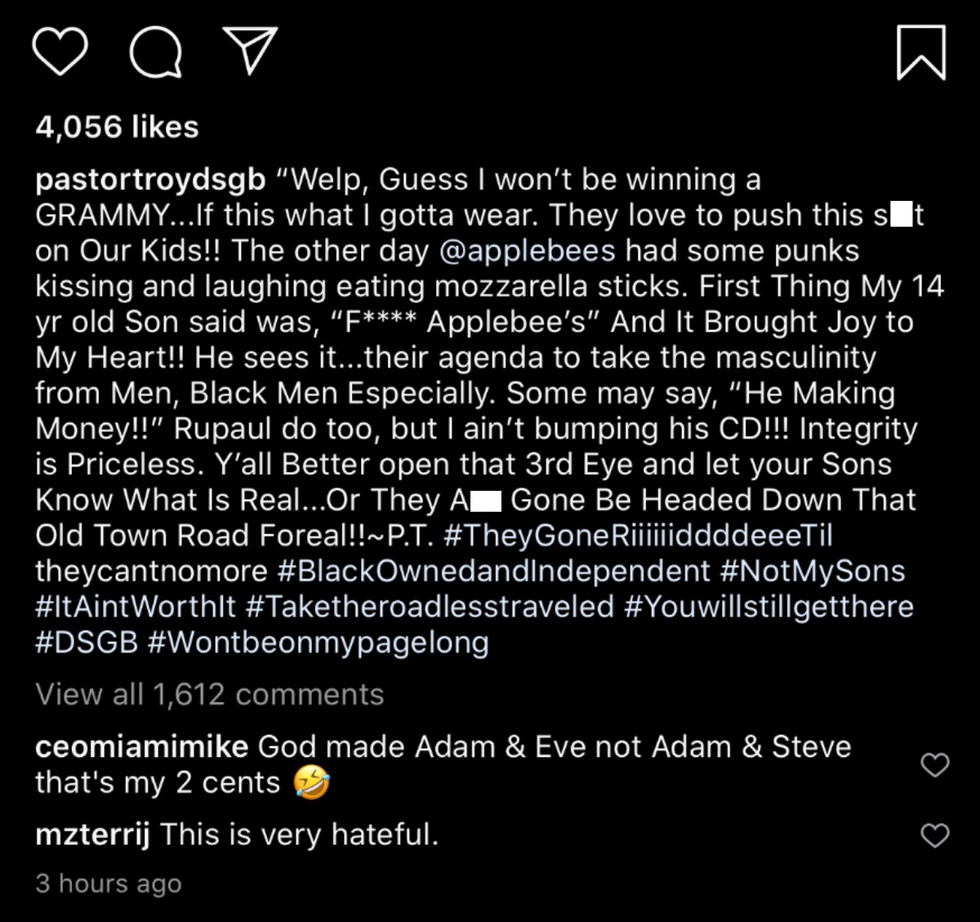 @pastortroydsgb/Instagram
Nas caught wind of the hateful rant.
The 20 year-old star had the most simple, perfect response.

damn i look good in that pic on god https://t.co/dIIKzTFa6X

— nope (@nope)1580318828.0
But Nas' fans didn't let Pastor Troy get away so easily.
@LilNasX No worries I let him know what was up! https://t.co/BwbJVYyeFt

— Jada (@Jada)1580319881.0
@LilNasX The 1st sentence is already insane. Lol, as if he could pull it off 🙄

— Garrett Watts (@Garrett Watts)1580324593.0
@LilNasX So... according to pastor troy being a man means *squints at text* being scared of winning a Grammy and *s… https://t.co/ZURCiTip4W

— Kristin 'Tilly' Bender (@Kristin 'Tilly' Bender)1580322653.0
@LilNasX bruh who tf is Pastor Troy

— sparklesparkle (@sparklesparkle)1580344377.0
And Pastor Troy continues to get roasted across the internet.

this should get a grammy before pastor troy https://t.co/kNLS5s2Fnx

— sage 🤝 (@sage 🤝)1580408199.0
Pastor Troy attempting to come for lil Nas and falling flat on his face in the process is gold. Bruh, none of thes… https://t.co/B78lrNTNOZ

— Doreen 🌴✨ (@Doreen 🌴✨)1580395803.0
nobody: pastor troy when he sees men eating mozerella sticks: https://t.co/3touJESGcI

— sailorstevie (@sailorstevie)1580403768.0
What @PastorTroyDSGB looked like later that night thinking about those gay dudes eating cheese sticks at Applebee's… https://t.co/iKsRbHGFh3

— Justin Trout (@Justin Trout)1580406515.0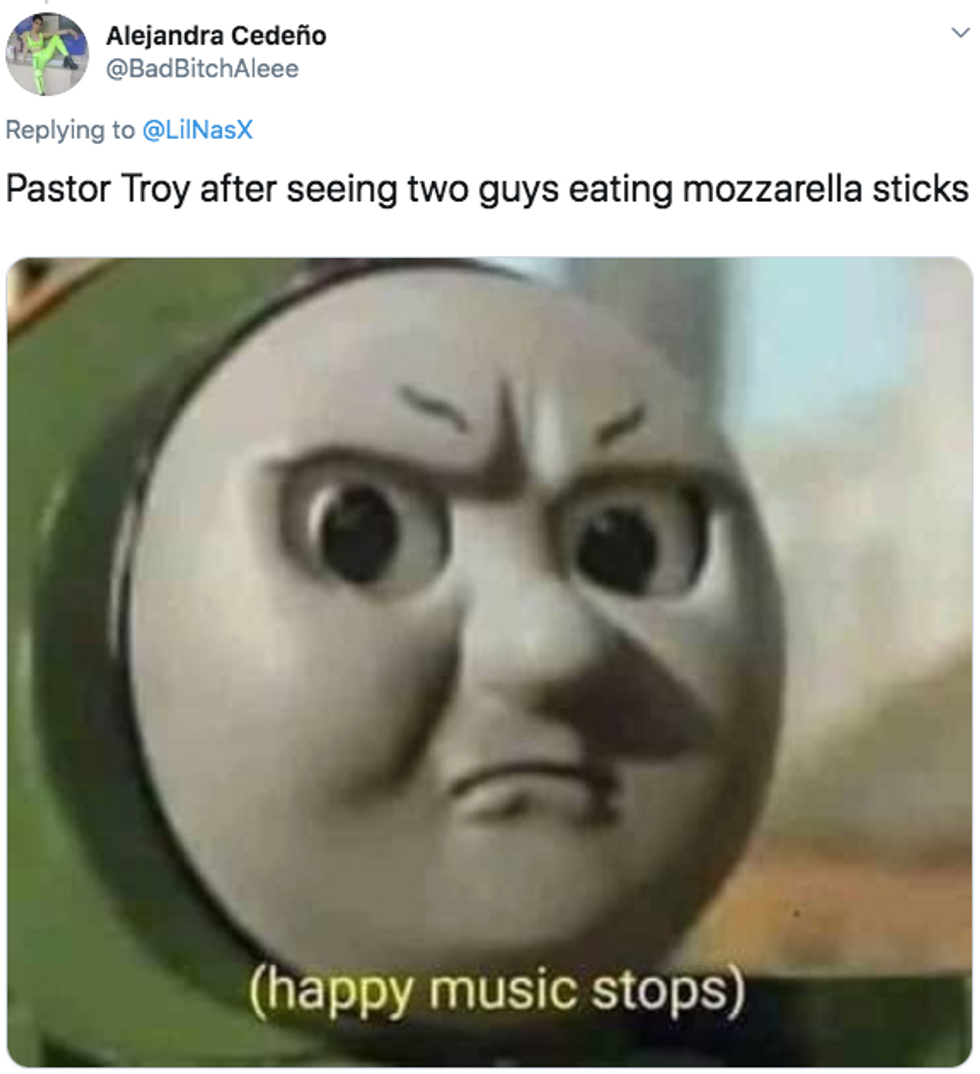 @BadBitchAlee/Twitter
Meanwhile, Nas has more important things to worry about.

Two, in fact.
@LilNasX You have a call from God Sir⬇️🏆🏆💗💕💗💕💗💕💗💕💗💕💗💕💗 https://t.co/F5qh3ArETi

— FoxyLoxyRedHead (@FoxyLoxyRedHead)1580319484.0
And Pastor Troy, 42, is gonna continue getting worked up over mozzarella sticks and his zero Grammys.
Keep reading...
Show less