Some things are deceptively simple.
Oh, skydiving? That's easy.

Love yourself? Simple.
Who can't open a can of pickles?
ME! ME! That's who. I can't do any of the above simply.
It's all hard. And you know it too.
It's just designed to" look" easy only to bamboozle us.
Approach everything as a burden and live by a motto...
Redditor pterv2112 wanted to hear about the things that are truthfully not so simple.
"What looks easy peasy lemon squeezy but is actually difficult difficult lemon difficult?"
Monopoly. For the life of me, I can't get the hang of that game. I don't care anymore.
Play it...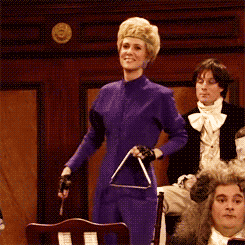 Saturday Night Live Happy Dance GIF
Giphy
"Playing the triangle. A lot of my non-musician friends joke about how easy it is to play it. Then they actually hold the damn thing and look stupid."
phamtasticgamer
It's A Lot!
"Work. I'm a lawyer and had a client call saying she needs a help with a merger, but 'don't worry, it's super easy peasy lemon squeezy.' That project took 6 months and I almost had a breakdown. She didn't understand why the bill was so high since it was SO easy."
moekay
"Gotta love how the layman lumps all lawyers together as the sleazy snakeoil salesman type without realizing or appreciating the sheer complexity of the legal work involved."
cotidie_abide
Body Moves
"Dancing. I wouldn't say it looks 'easy,' but when I see people do it, they're so good at it and it flows so well it looks easy. But damn, I just CANNOT get my body to do anything more than a bop and maybe some stupid arm moves. I'm 25 and dance like a 50 year old at a reunion. Dancers are so delicate and make it look so easy, it's honestly amazing. It's just hilarious when I try to do literally anything and fail horribly."
MiloAlbertsky
Fingered
"Whistling with your fingers."
SimplySolstice
"My cousin taught me when we were in our tweens. It's come in very helpful whistling for the dogs and horses at feeding time."
"What I always wanted to learn was how my grandpa whistled without having to stick dirty fingers in my mouth. Nothing like cleaning stalls, then trying to whistle for horses with sh*t-covered hands. Washing them in near-freezing buckets of water wasn't a first choice either."
flecksable_flyer
It's a...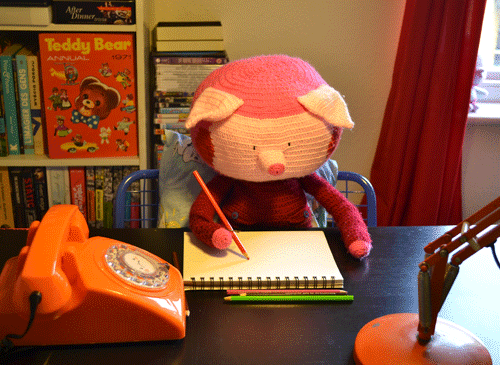 Studying Hand-Made GIF by Philippa Rice
Giphy
"Drawing something from memory. Like a bird or something. In mind - yep that's a bird On paper - that's... a bird?"
KayGlo
Drawing birds is impossible; mine look like mules.
Go Deep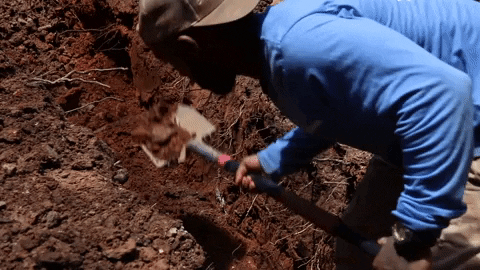 Digging Blue Collar GIF by JC Property Professionals
Giphy
"Digging. Anytime it's shown in movies or TV it looks easy AF but the second you have to grab a shovel and break dirt... bleh."
justaboredfarmer
Hello Doc
"A basic physical exam at the doctor. Looks like a simple 'look at the throat' - 'listen to the chest' - 'yup they have a heart all right.' When in actuality Doctors spend thousands of hours practicing it so that when you come in with a murmur or 'Funny-looking-kid-syndrome' they can recognize it immediately."
"And yes, there are entire class sections on how to respectfully ask your patient to turn their head and cough as you push on their testicles (they're looking for hernias)."
RobheadOW
Variations
"Street names. Everyone thinks it's great fun and likes to offer suggestions but every tree, lake, and other natural feature has at least a dozen variations which you can't repeat for emergency service reasons. That and you get cities which want a street name change anytime the road changes direction regardless of a logical break point like an intersection."
blue_fox_13
Being Regular
"'Natural' makeup. More work than 'regular' makeup."
Lockshala
"To be honest this reminds me of a video I watched of a visual effects artist explaining his job, If no one notices your work on the footage you've done your job well, its only when you mess up do people notice."
EON199
"This is painfully true for a lot of jobs. When nobody notices, it means you did an excellent job but no one will give you credit because they aren't even aware there is credit due. But the moment you slightly f**k up, you're the worst person in your profession."
BreakfastCheesecake
The Squeeze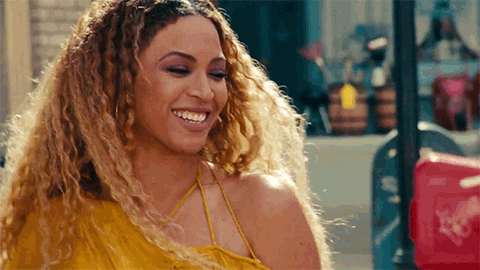 As If Lol GIF by MOODMAN
Giphy
"Making lemonade. Sure squeezing one lemon is easy peasy, but do you know how much juice that makes? Not a lot."
PrimaryOstrich
I love Lemonade... the drink and the album... but I have no patience to make it.
Keep reading...
Show less
What one does in their downtime is no one else's business.
But we can look and wonder... "Why?"
It's fascinating to understand what makes people feel fun.
But to each their own.
Redditor cowbelljazz wanted to discuss everyone's humdrum ideas of fun.
"What is the most boring hobby a person can have?"
I like to watch "Buffy the Vampire Slayer... the tv show" and study it as a hobby. And I have no shame.
Farewell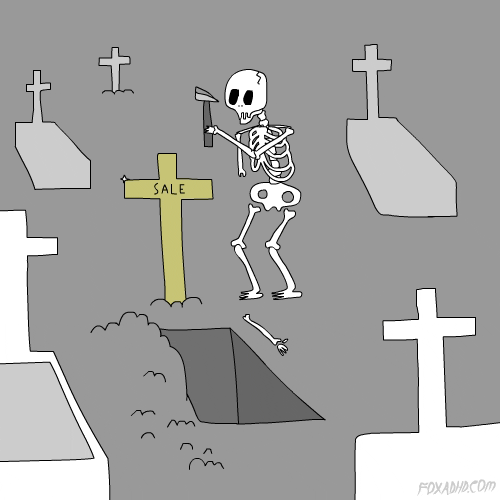 Fox Death GIF by Animation Domination High-Def
Giphy
"Reading obituaries in order to cross out the names in the phone book."
bowmhoust
Cleaning
"Using magic erasers to clean grunge and dirt off of anything and everything. Hand me a pack of them and I will have the entire house looking like it was just built. I literally don't stop until either I run out of erasers, or if I'm told to take a break. My boyfriend said he watched me for hours straight scrub our railing on our stairs and couldn't understand how I wasn't bored by ten minutes in. I didn't even know that much time had passed."
hoppertee
Collections
"Involuntary collections. My grandmother had a bunch of white porcelain cats when I grew up, later I found out the only reason she had them was because people kept giving them to her thinking she collected them. She just didn't want to be rude."
MurderDoneRight
"I've learned that even if you do collect something, never tell anyone because that's all you'll get for the rest of your life."
ZimzamMcFlimflam
Dumb
"Having no hobbies is the worst. Hobbies make people interesting."
carnodingo
"I'll never forget a girl I worked with was upset because her boyfriend broke up with her and she said how she's always bored because she didn't really have any hobbies."
"Then she asked me what my hobbies were and I listed them, she's replied with, 'those are all dumb hobbies.' I just replied with, 'those are some big words for someone who doesn't have a hobby.' She pretty much immediately realized it was a dumb thing for her to say."
Frankie__Spankie
Sitting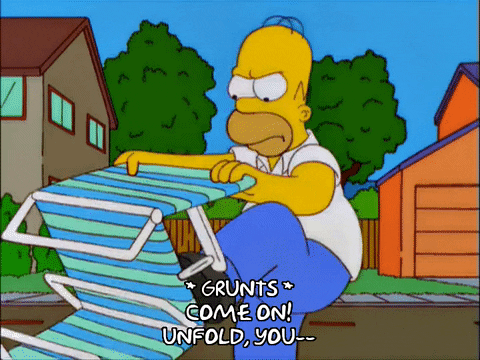 angry homer simpson GIF
Giphy
"My dad likes to sit in the garage for hours on end in a lawn chair, drink beer and watch traffic go by. Boring as hell but he's zen as f**k."
watermelon-bubblies
I like to sit. If I can count it as a hobby... I'm in.
Eye to Eye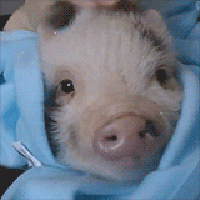 piglets baby pigs GIFGiphy
"Sometimes I stare at my guinea pig and attempt to predict when she will yawn. Audiences are profoundly bored by this."
Sliderisk
Discuss
"My parents both read the newspaper 4 -5 hours a day. And then discuss the articles they've read with each other. They're very happy doing this, and I'm glad they have this common interest. But for me, phew, that'd be a tough one to get into!"
Zalinia
"Yeah, super weird. Anyway I'm gonna browse reddit for the next 6 hours and send links to my sibling chat for discussion."
EastwoodBrews
"Hi"
"Calling the police repeatedly for no good reason. There is someone in the neighborhood who absolutely enjoys calling the police for no reason."
Feisty_Affect_7487
"I can already see him in his pajamas, lying in bed on his stomach, feet dangling in the air behind him and rolling the curly wire from the phone as he calls the cops, facemask on and towel on head, going; 'Hi' and they respond with whatever the police responds with, and he's going 'Nothing, I just wanted to talk... What'cha doing?'"
LuchadorBeachmaster

Subjective
"Every hobby is subjective. To billions of people watching another human being kick or throw a ball is practically a religion. If you've not part of that religion though it seems utterly absurd and a complete waste of a life. Same is true of Stamp Collecting or Kite Flying or whatever hobby is that is fascinating to some but utterly pointless to others. What's interesting is how diverse human beings are in terms of what they can become passionate about."
Crafty_Letter_1719
Paper Fun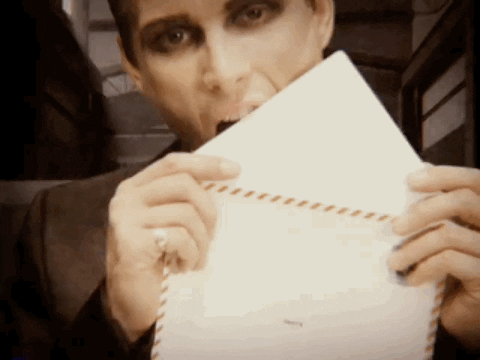 franz ferdinand mail GIF by Domino Recording Co.
Giphy
"Envelope collecting. Not Stamps, just blank envelopes."
RoboNinjaPirate
"Imagine the love story between a stamp collector and an envelope collector and the debauchery that would go on behind closed doors between those two."
AnalStaircase33
Well how people have their "fun" is their business.
Keep reading...
Show less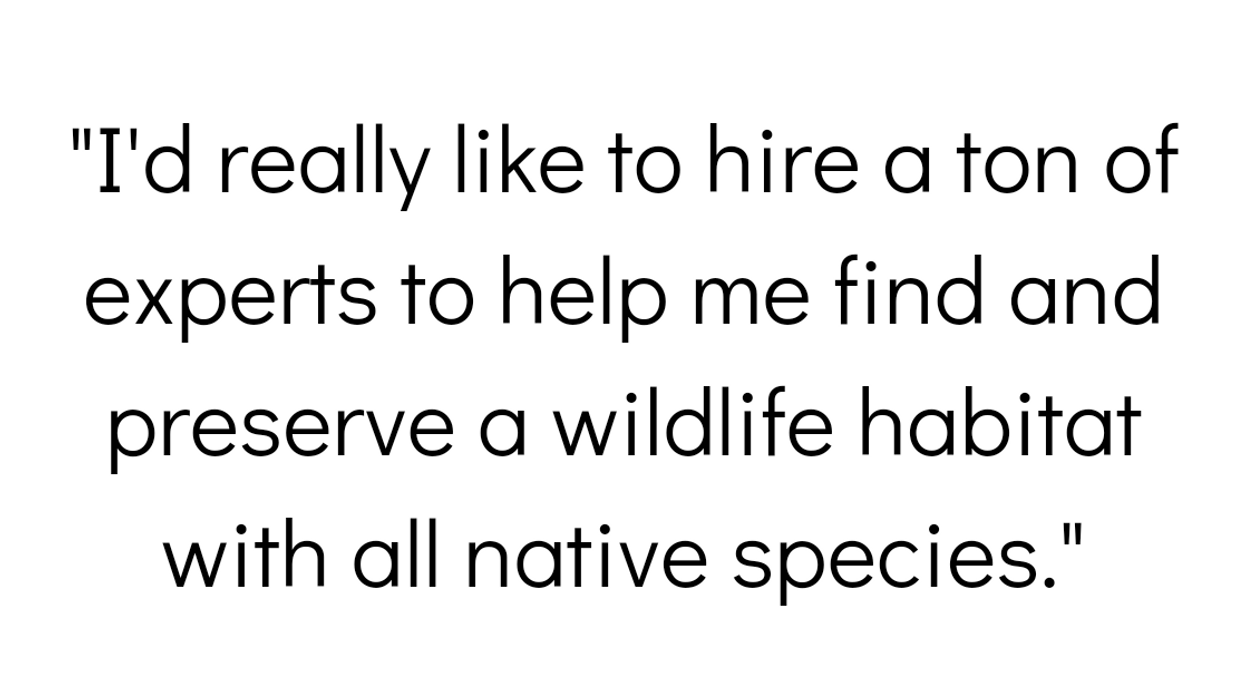 We've all played the "What I would do if I was rich" game.
Admit it.
You've imagined a trillion scenarios for what you would do (after you paid off your debt, of course) with wads of cash. In your imagination, you've given money to friends, started charities or businesses, and probably bought your fair share of imaginary real estate.
And that's all just the basics. We haven't even gotten into all the rich-people hobbies you could take up like SCUBA golfing, sailboat customization, or learning how to melt down antique jewelry to make gem-encrusted bongs for yoga Wednesdays at the gym-slash-coffeehaus.
Reddit user BabySuperfreak asked:
"What's your fantasy 'rich person hobby'?"
Reddit is absolutely right there with you, folks.
Carpentry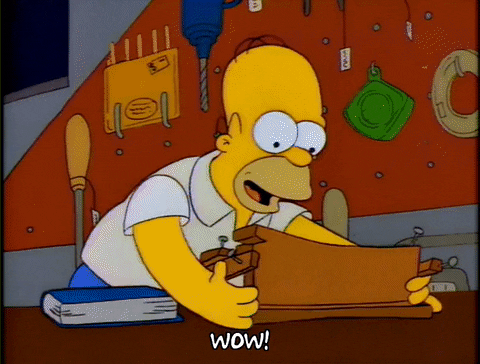 Season 4 Wow GIF by The Simpsons
Giphy
"Woodworking, which I already enjoy. But I'd have a huge workshop with all of the expensive tools."
- AMeatPopsicleIAm
"It's fun to figure out how you could spend increasingly large amounts of money on a hobby."
"$10k? Sweet garage shop."
"$100k? Build a huge shop and tweak it out. Loan it out to people who don't have access to shops."
"$1M? I have no idea. Train under the best woodworkers in the world? Visit exotic locales to see how materials/supplies are produced?"
- RedSpikeyThing
"I just want my own bandsaw and I'll be happy, but yeah it's my dream to have my own little shop in a quaint little building in my backyard. It would be the cutest girliest little grandma-core workshop out of a fairytale picture book."
"I'd have little organized stations for everything and it would be so satisfying!"
- BetterRemember
"I've built a pretty decent 'shop' through marketplace and estate sales. Taken a while but I have most of the major tools I need. Affording wood is another story"
- allf8ed
Want To Grab Lunch?
"I want to be a 'lady who lunches'."
- suzy7517
"You could even step up your game and do 'Brunch' on Sunday! They would say 'wow she is so rich'."
- Ok-Suggestion-7965
"Word. Except I think I would hate those people and just lunch w people who are self-employed artists and/or homeless."
- MidLifeHalfHouse
"Those are the only two groups you'd eat lunch with?"
- wandering_ones
​Miniatures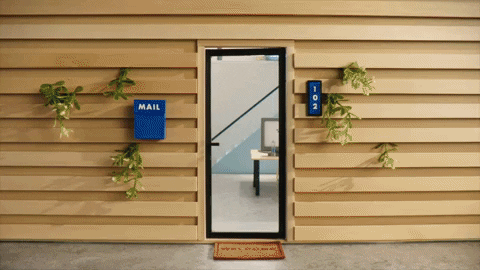 Startup Miniatures GIF by Mighty Oak
Giphy
"I love building miniatures. I helped my dad build a few models as a kid. Then I stumbled onto those miniature rooms you can buy on Amazon. Surprisingly cheap for the decent quality. I've done about 10 of them and have another 20 on my wishlist."
"I went to a hobby store the other day in search of a material for a custom mini, and my friend brought to me a giant box of a model of the Enterprise. For $1200. 3 months' rent."
"I know my first stop after winning the lottery"
- samtheflamingo
"As a gamesworkshop fan I feel you. I've got a wishlist too."
- LordHamu
"Being rich, you could build 1:1 scale miniatures."
- d!ck_schidt
Sailing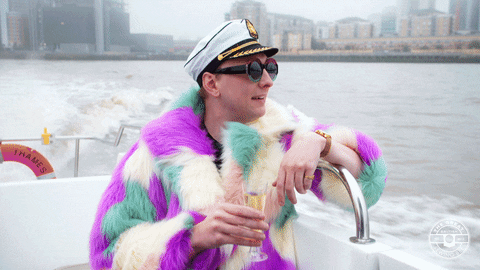 Sewing Bee Hello GIF by The Great British Sewing Bee
Giphy
"Sailing sounds fun as hell"
- WorkingContext
"Sailing is fun as hell. I've been crewing now for about 7 years."
"Sailing is cheap. It is owning a boat that's expensive. I pay $350 a year for access to my local club's boats if I do want to go take a boat out myself."
"Boat owners frequently spend $350 on parts for a single event, and people always need dependable and reliable crew."
"I've even gotten flown out to tropical places and had my accommodations paid for at bigger events! I don't even own a boat, just pull lines!"
"If you live near a racing community, you can get into sailing at the cost of maybe some sandwiches for the team, or occasionally replacing sunglasses you drop in the drink, you just need the right attitude."
- lifeinexile42069
"I agree, but only during the day as the ocean according to videos seems pretty terrifying looking at night"
- 2020-RedditUser
"Sailing is it for me too, particularly cruising. I'd like a nice, 45 ft catamaran that I could cruise around on with the family."
"I have more immediate ambitions to get a little beach cat (Hobie cat, etc) or a dinghy and improve my sailing skills."
"My local 'yacht club' has a learn to sail class that's pretty affordable for a two day introductory class and going out sailing twice (~$100). I did it last year, but I'm considering doing it again as I didn't exactly consolidate my skillet with practice in between."
- TryingSquirrel
Traveling
"Traveling. I know it isn't much of a hobby, but traveling can be very expensive, and I've always wanted to travel the world."
- Im_a_noodle_101
"Beside the cost, getting time off from your full time job can be very hard. I want to spend the summer traveling in XYZ, not fly in, have a couple of days looking around then fly back to work. There's no time to really relax and enjoy the experience"
- PecanSama
"Be one of those people perpetually on vacation."
- wazzle13
"I'm with you on that. I see all the wonderful places to travel and will never be able to go to them. At least many are on streaming channels now."
- Laura9624
"Traveling without budget or ANY money worries. I'd like that. No more sh*tty third-grade hotels and public transportation *joys* and just enjoying the trip."
- Khalae
"I'd travel the world till I physically can't lol that sounds fun"
- Several-Orchid9640
​Esthetic Farming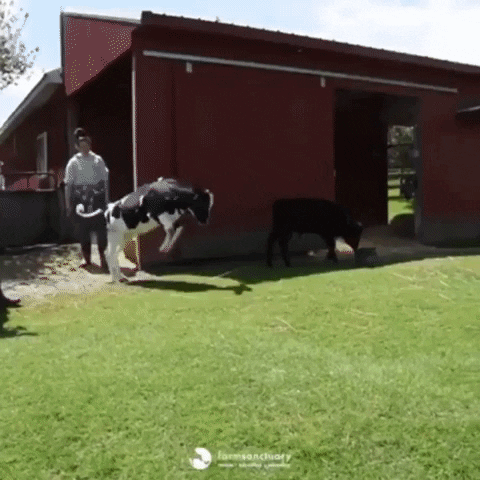 calfs GIF
Giphy
"Owning a hobby farm/garden with *small breeds of farm animals (mini cheviot sheep, serama chickens, bantam call ducks, miniature jersey cows) *lush vegetation (english garden/new cottage style landscaping) *an orchard with a huge range of different kinds of each fruit and climate controlled greenhouses for plants that wouldn't grow in my region"
- RK_Killer
"Would they be miniature fruit trees? I want the small animals walking amongst the small trees with small fruit."
- phobosmarsdeimos
"I would love it to have ducks, cats, dogs, rabbits anything to be honest and just watch them enjoy their time and play around. A small pond for the animals to cool down, big trees for nice cool shadows and also some fruits that drop for them etc."
- Bfnti
Prehistoric Collection
"I'd like to have a large collection of really cool fossils. The really neat ones are expensive."
- revtim
"Oooh, good thought. You know there's a tech billionaire somewhere (I'm blanking on which one) that got really into collecting gemstones after he got swindled into buying some fakes."
"He found the geology of them fascinating and now he has the biggest jewel collection outside of a royal family and was in a documentary talking about them."
"I think pure geekery unfettered by financial restraints may my favorite use of a large fortune."
- gonegonegoneaway211
"Like a complete T-Rex skeleton and a complete Triceratops skeleton and make them fight like action figures... I'm not going to judge."
- phobosmarsdeimos
Preservation Of Wildlife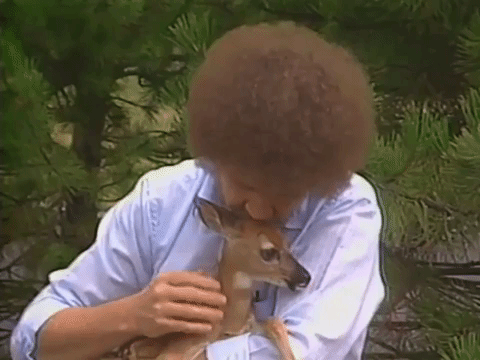 Happy Feel Good GIF
Giphy
"I'd really like to hire a ton of experts to help me find and preserve a wildlife habitat with all native species."
"Get rid of all the invasive plants and whatnot and make it how it was before we got here. I'd be the anti gardener."
- AmericanGoose23
"Same goals club! I've got a good 100 acres chugging away just woods. Have had several offers to buy it but they're gonna have to wait til I'm dead."
"Last guy asked me why I wouldn't sell. 'Because somebody already lives there sir.' Him-' but your house is way up there.' Me- 'yea but the birds and bugs live here.' Also learned that old people get pissed off when young people own land and don't develop it into housing editions. 'People could live here!' People could live somewhere else too."
- Abrahamlinkenssphere
"Mine is similar: I want to make a huge bee sanctuary filled with all sorts of wildflowers and plants, with an absolute ton of pollinators like bees, butterflies and moths."
"Also all sorts of other interesting plants like oak trees and wild grass."
- -Reddit_Account-
"Yours is my favorite I think :)"
- gonegonegoneaway211
​'Paying' It Forward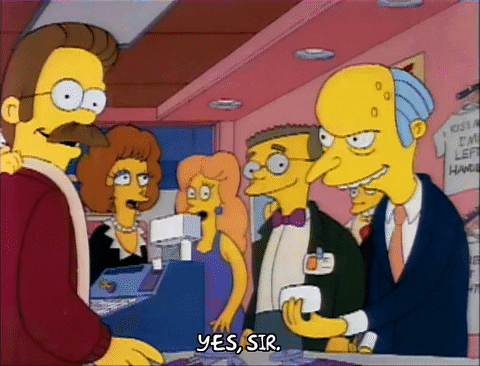 Talking Season 3 GIF by The Simpsons
Giphy
"Anonymously paying debts or giving things to people in need."
- DarkleCCMan
"Robin Hood, that you?"
- Numerous-Rough-827
"I'd help with that if I could!"
- Several-Orchid9640
"I think it would feel pretty amazing to sit in a bankruptcy court and pay off a defendant's judgment. Idk how it works, though, like whether you can make a payment anonymously on someone else's behalf."
- LevelPerception4
"I wouldn't pay off debts (other than to immediate family members), but I like the idea of randomly paying for groceries or gas for strangers."
"Especially at the last week or so of each month. Have some type of set up so I could have an arrangement with a store's manager to call down to the cashier to just tell the customer after they scan everything, 'It's your lucky day! You don't have to pay!'."
- OhiobornCAraised
Community Spaces
"Operating a maker space that enriches the community and enables everyone to have access to tools and space to create anything they need / want."
- Ximidar
"oh yeah my husband and I have talked about doing this"
- seven_seacat
"I'd love to have this for music. Like a rehearsal complex for certain younger artists I see potential in."
"Also have a recording studio nearby as well. Just try to develop some sort of niche community of musicians that focus on certain aspects of music"
"Have all the stuff like drumkits, guitar amps, all that in each room already (kind of like a normal rehearsal space you pay for). Maybe even some cheaper guitars so that even if you don't have money you can use them"
"Maybe do some community events with all the people, and who knows. Maybe some amazing bands or groups could come from it."
- appleparkfive
Alright bougie broke friends, it's your turn at the mic.
We know what Reddit would do for hobbies if they got rich, but what about you?
Anybody suddenly feel like funding a documentary into Tevin Campbell's life, music, and how homophobia robbed him of a bigger career and the community of a cornerstone personality?
No? Just me and my love for Mr. Campbell acting up again?
Keep reading...
Show less
Many people value solitude, and having time to themselves.
For others though, loneliness can be a crippling feeling.
Having no one to talk to or spend time with can get wearying after an extended amount of time.
Something many people know more than ever after the global pandemic hit in spring of 2020.
But while some people simply succumb to being lonely, others will find ways to help them cope with, if not completely forget, being all alone.
Redditor No_Blackberry_6286 was curious to hear the different ways people have of coping with their loneliness, leading them to ask:

"Reddit, how do you cope with loneliness?"
Make the most with what makes you happy
"I've learned to enjoy my own company and focus on my hobbies."
"Funny enough, this gives me stuff to talk about when I am around people."
Voices in the background

"Listening to people talk on YouTube so I feel less alone in my house."
Millions of friends, just one click away.
"Chat with random people on Reddit."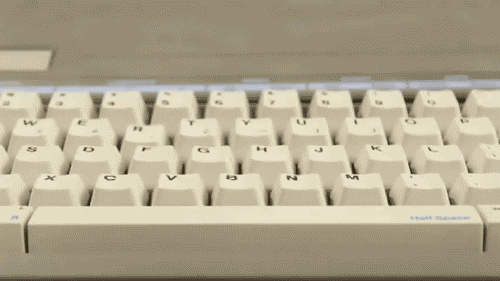 internet computer GIF
Giphy
Still figuring it out

"I don't I'm f*cking miserable."- Savathunh
"I don't :("- __MashedPotatoes__·
Get my body movin'
"Working out."
"It makes me feel better about myself and I have something to do alone."- DerpBread69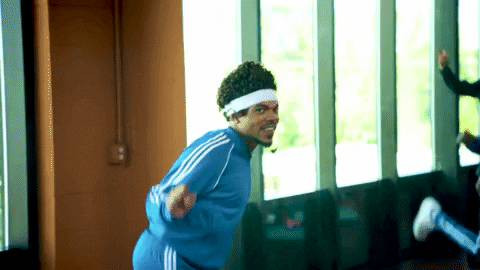 Gym Working Out GIF by Chance The Rapper
Giphy
Who says I need to?
"I love solitude."- Befuddled_GenXer
"I become one with loneliness."- thenewyorkoffice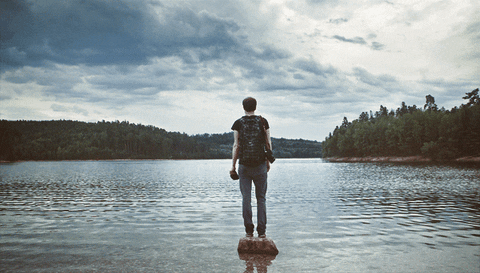 solitude GIF
Giphy
Hit the snooze button

"Sleep 12+ hours a day."- RockandRoll682
Instant tension and relief

"Lots of arguing online about sh*t I don't care about at all, just to have some form of social interaction, and get off at least 3 times a day."-
There are very few worse feelings than that of being alone.
But it's also quite remarkable how much doing something that makes you happy, be it ever so simple, can elevate your feelings.
Keep reading...
Show less
Despite the advancement of technology rendering people left to their own devices–literally–to entertain them, there are some leisurely activities that will never go out of style.
Or so you would think.
Do people still knit to pass the time? Are people actively collecting stamps?
It depends on who's asking.

Curious to hear about hobby trends, Redditor gizehgizeh asked:

"What are once popular hobbies that are slowly dying these days?"
Before we've become conditioned to living on our phones, these activities used to keep people occupied.
Before Texting, There Was This
"Letter writing."
– littlekingMT

Literal And Tangible Joy
"Well the internet killed pen pals for sure. I do remember I had a Japanese girl for a penpal maybe back in 2007 or so. I honestly don't remember how it started, pretty sure some website, but that was a fun experience. But now I can just straight up talk to foreign people real time, lol. But yea getting a physical letter that someone took the time to write and mail still is hard to beat feelings wise."
– skyburnsred

Model Trains
"When I was growing up, every town had a model train store in it. Now I have one in region and everything else has to be bought online."
– Hairy_Effective1172
It Ran Out Of Steam
"My grandpa used to make model trains from scratch with decals and everything, been doing it for probably 30 years. We recently opened a hobby shop with some of his models on display and people are always fascinated by them. There's also a few model train clubs in the area and they've been excited about a shop opening up to get stuff."
– AshesandCinder

Pretty Rocks
"Don't see anyone playing marbles anymore, I had an awesome collection in school."
– sheeple85
"I had some marbles as a kid in the 90s. My grandma got them for me and I had no idea what I was supposed to do with them. I always imagined them as a thing kids in the 40s played with."
– Ryoukugan

Human Canvases
"Paintball has been dying a slow death since 2006. Sad, really."
– hobo_recycler

How Tuneful
"Organ playing. Such an underrated instrument."
– Daaemong

Before the general population began hating clutter, collecting was once a "thing."
Precious Coins
"Coin collecting... I'm a silver/gold nut and I'm always hunting for precious metal coins. whenever I go into a shop they get all excited because 'no one under 70 collects coins anymore.'"
– ThatFishySmell99

A Good Deed
"I was given a jar of coins when I was about 18 from an old bloke. He couldn't afford to pay my boss for the job (upgrading his TV reception so he had a outlet in the bedroom for his bedridden wife to watch shows) so I went back over the weekend to do it free as I felt guilty my boss wanted to overcharge them took me 3 hours from my day and about $30 worth of cable etc (quoted something like $200) and as I was leaving he gave it to me as a thank you. mostly British coins and I think one is worth like $10 now​."
– Haunting-You7898
Post It
"Stamp collecting."
– spooky_scully_mulder
"Collecting in general, really. Of course there are still prominent collectors but it's slipped more into enthusiast and niche territory than being a popular hobby that you might expect anyone to have."
– iuytrefdgh436yujhe2

Novelty Messaging
"At the beginning of the year I got a box of 100 postcards and a book of stamps. Any time anything good happens to my friends I pop a postcard in the mail to let them know I'm happy for them. It's the best!"
"I know it's not quite letter writing, but inspired by it!"
– AudreyLocke

What A Gem
"Rockhounding was immensely popular back in the 1950's and 1960's. Personally, I think it's a fascinating and fulfilling hobby, but when I go to a meeting at a rock and gem club, I'm usually the youngest one in the room by several decades."
– filthy_lucre

People once enjoyed making things.
Admiring The View

"Stained glass. I learned how to make it from my old man, and my junior high art class teacher also taught it. Very few artisans are still around."
– brobeanzhitler

Metal Vocation

"Black smithing."
– kenworth117
"I bought a forge to try. It's insanely hard work, and crazy expensive. I still haven't finished a piece."
– DSentvalue

Scrapbooking
"Yeah. I'm watching the arts and crafts stores around me completely uninstalling their racks for specialty paper. Now the only thing they have is mega packs of repeating colors/images. To boot all the inclusions like papercraft/die-cut things, washi tape, scissors, stickers, etc have gotten so expensive I would rather go buy $5 bags at value village to get an assortment of things versus buying anything new. I really, really miss yard sales for the same reasons."
– Phantasmai

Perpetually Lost At Sea
"Building miniature models of ships inside bottles."
– dee615
I envy people who have jobs that are basically their hobbies.
Not everyone gets paid doing what they actually enjoy and have a profound level of passion for.
If they do, kudos to them.
Want to "know" more?
Sign up for the Knowable newsletter here.

Never miss another big, odd, funny or heartbreaking moment again.
Keep reading...
Show less