Relationships are hard, and maintaining one long-term can be even harder. The vibe will change over time and if you and your partner(s) aren't still putting in the work to maintain good communication and fostering the relationship, it can crumble.
Redditor pobodysnerfect563 asked the folks at. AskReddit for some advice:

"Redditors in 10+ year relationships, what's your secret?"
Be Friends
It's no secret. Be friends as well as lovers. And be committed to the relationship itself. You both invest in the relationship then you're good.
Don't worry if you fight some in early relationship. You're finding out about each other then. Just make up and move forward. Before you know it many years will have passed and you're a solid couple.
Grow Together
We try to grow together. I don't mean that we have all the same hobbies, interests, or friends, but we invite each other into the things we care about and the plans that are preoccupying us at the moment. Couples that don't talk to each other don't stay together, and couples that only talk about day-to-day logistics and what Brian did at work can struggle too. You have to think your partner is interesting — not every second of every day, but they should be someone whose opinion you actively want to hear on most occasions.
Taking weekly date night seriously helps too — put on some nice clothes and plan something intellectually stimulating, really pleasurable, or novel.
My wife is really into British Crime shows and now I am too. We often watch one of the million episodes of Midsomer Murders once a week. As for date night we decided to do this....right when the pandemic started lol. Anyway, you're spot on about growing together. Finding common interest and trying to enjoy something your partner enjoys will always keep things fresh as you now have one more thing to talk about. My wife is finally getting interested in (American) football and since she knows pretty much nothing about the game and is from a different country her commentary and thoughts on the game and the culture around it is actually really interesting.
If It's Hers, It's Hers
20yrs and counting. Don't eat her restaurant food leftovers.
I ate the last rice cake in the package once in 2006 and she still brings it up occasionally.
Be Your Own Person
The person you're with is not responsible for entertaining you or making/keeping you happy. You are also not responsible for doing this for them.
Have your own friends and your own hobbies and get your fulfillment from your own decisions. Enjoy the time and energy that your partner is willing to give, and don't badger them to give you more than they want to. Nor should you let them badger you into giving more.

Otherwise, you'll exhaust each other emotionally and you'll fight constantly about how the other is not doing enough for you. If you aren't happy, take responsibility and make yourself happy.

Edit: bonus tips—learn how to cook their favorite foods, don't require apologies, if there's a problem discuss it, if the problem isn't cheating/abuse/murder then you shouldn't let yourself get too angry about it—always ask yourself if you'll even remember the issue/incident in a year, go on adventures together
The person you're with is not responsible for entertaining you or making/keeping you happy. You are also not responsible for doing this for them.
Will be married for 16 years next week - the above is KEY. You need to be happy/comfortable with yourself before you can be happy/comfortable with someone else. I've seen too many people in love with love or looking for someone to "complete" them. That's not how it works. Successful relationships are partnerships.

You Don't Always Have To Fix It
Listen to each other, don't always try to "fix" the problem.
Practice forgiveness, for yourself and your partner.

Try new things and fun things together.
Don't drag family / friends into your relationship issues.
Redditors Recount The Wedding Objections They Witnessed | George Takei's Oh Myyy
Weddings are supposed to be all about love and celebration, right? But let's be honest, weddings are stressful. According to a recent Zola survey of 500 enga...
Enjoy Your Time Together
Twelve years next month. Lived together for eight, married a year this Sunday.
People want to make it complicated, but it isn't. Communicate everything, all the time. Enjoy your time together, enjoy your time apart.
Show them things you care about. Indulge their love language. Care about their physical, emotional, and sexual well being. All of this goes both ways of course.
And most importantly, whoop their a** at Super Smash Bros on a regular basis.
Enjoy Your Time Apart
Enjoy your time apart. SOOO underrated. I looooooooooove my wife. but I don't need my wife. I'm a whole human without her and so is she. We're together because we complement each other not complete each other.
I hate the romantic notion of completing each other. I feel like if you're looking for someone to complete you, maybe you should complete yourself first.

Resentment Is Poison
15 years now.
Resentment is poison, talk through issues and be unwilling to allow them to fester.
Treat each other like they're more important than yourselves (only works if it goes both ways).
Remember that shared interests are far less important than shared values.
A Sense Of Humor Is Priceless
Have a sense of humour, and separate friends and hobbies.
Counseling Isn't a only For Problems
Couples counseling. We have a really great relationship, but we still go to counseling on a weekly basis to keep it great. You wouldn't wait until your car engine was on fire to take it to a mechanic. You get regular maintenance on your car so that it continues to run smoothly. Treat your relationship the same way.
Relationships take work, from everyone involved. There's no magic secret to a great relationship, but hopefully some of these tips will put you on the right path.
Keep reading...
Show less
Hobbies are great, but they can get awfully expensive very quickly. Not every hobby is going to cost you an arm and a leg, though; some are even completely free!
Reddit user Maximus100BC asked:

"What is a hobby that is 100% free?"
Cleaner Neighborhood And Relaxed Mind
I've been litter-picking and I find it more engaging than just walking and super soothing to help my community look tidier.
I've been doing around some trails near my house and the road along my street with my son. Sometimes my mom joins as well. It really does make you feel good until two weeks later when there is litter everywhere again. If there were not parks with garbage cans nearby I don't think I could keep up with it.
Libraries Rock!
Reading (public libraries)
Public libraries also offer free services in borrowing all sorts of media from other libraries. I watched all of the studio ghibli films by borrowing from public libraries
Observation Is Key
​People watching
Sometimes I like to imagine short histories about people I don't know based on the interaction I'm watching
This. I hate airports but I make it tolerable by making up narrations about other airport goers.
You Could Become A Grandmaster...Or Not
Chess. Online chess is totally free and materials to learn are all over the place.
Readers beware, chess can either be the best game in the world, or the most frustrating game in the world (due to the fact that you're not getting better at all).
Or both.
Put It On Paper
Writing
My husband and I are working on better recreational habits and one of the things we started doing is working on a sci-fi book together. HUGE bonding activity.
Don't Take Them All Home, Though
Volunteering at a local dog shelter.
The 12 dogs you end up adopting are definitely not free….
Rocks Are Cool
You could collect rocks. You can start that in your own backyard even.
I play DnD; I collect (math)rocks aka dice.
You'll Always Have Your Instrument With You
Singing
Straight up my favorite hobby. And you can enjoy it anywhere! Doing the dishes? Driving the car? Just sing!
Also: maybe it's just me but singing is so cathartic I can use it to calm down when really angry or upset. So that's a win too!
I love singing, but doing it on front of anyone is really difficult. I'm even somewhat confident that my singing is at least not unbearable to listen to as well, but singing in front of someone is just a crazy amount of anxiety. So basically the only time I ever do is in the car.
Trains!
Train spotting
If you assume you have internet and don't use it just to watch rail cams, that's free. Virtual Railfan is great and you may get to see a shooting like the one in Arizona this week. Also go to a railroad crossing or even a park that is adjacent to some tracks and just watch.
Give Your Time, And Get Something In Return
Volunteering. You can meet great people, help others and learn something for life.
I used to volunteer in the hospital, that is how I decided to go into medicine as a career. Meet some really nice people, too.
Hobbies don't have to cost you hundreds of dollars to be rewarding.
Keep reading...
Show less
It's always best to keep trying new things, or so I'm told. Knowledge is power and we're here to constantly be learning. We're all students of the universe and every second is a new class and blah blah blah.
Ok, yes there is truth a lot of truth there. And I do like to learn new things, but it can become overwhelming. I hate starting something new because I loathe beginning stages. I always want to be great from the start. Some people are geniuses that way, alas, I, am not.
I feel you can always tell when someone is starting something new. And thanks to what we're about to read, I'm right. Everybody is always watching.
Learning requires a lot of patience from several parties. So let's begin...
Redditor u/danielstover wanted to discuss all the ways one often screams "newbie" to everyone, by asking:
What is a sure sign that someone is new to your hobby?
Want to "know" more? Never miss another big, odd, funny, or heartbreaking moment again. Sign up for the Knowable newsletter here.

Keep reading...
Show less
The hobbies people have are just as diverse as society itself. Some border on the creepy, bizarre, or dangerous side, however. Growing up as a girl through the '90s this writer succumbed to the porcelain doll trend. My mother loved them so I was happy to collect them too.
Except, the shelves lined three walls of my bedroom so all the dolls--a good portion porcelain clowns--were all facing my bed. In the shadows of the night, I swear they were staring right at you. I ended up hiding some of them in my closet at night as their smiling, unblinking faces became a bit too much. My mom couldn't figure out why I had insomnia at a young age...
Really though these are just some of them, excuse my 1994 home haircut while I'm surrounded by the demon dolls.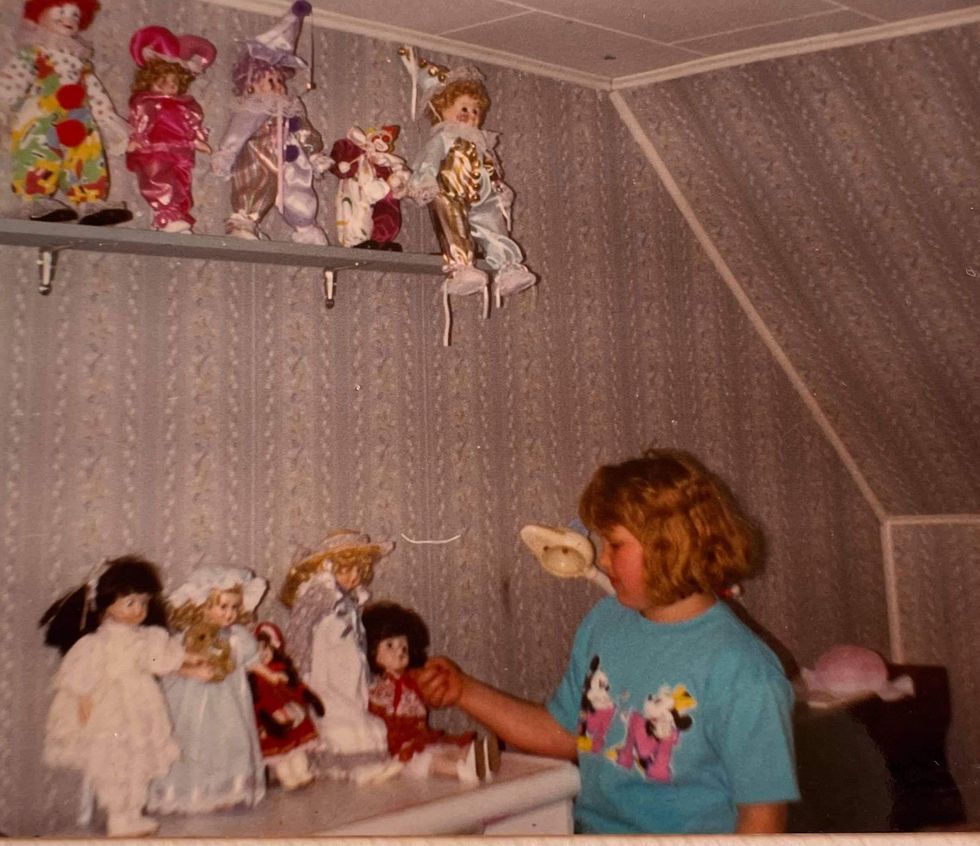 Wanting to hear what other hobbies people just don't get Redditor CanadianW asked:
"What hobby will you never understand?"
Keep reading...
Show less
It's been an exhaustive year of trying to find what to do in quarantine. There have been puzzles galore, Netflix show after Netflix show, and an enormous amount of podcasts listened to on neighborhood walks.
It might be time to start looking at some new hobbies. If you're running out of things to do, interested in trying something new, or just plain bored, this is going to be the list for you.
But what's out there? Well, we went to Reddit to find out what are some hobbies or interests that are actually fairly easy to get into that maybe we haven't though of yet.
Redditor The_Pieces_Fit asked:
"What are some ridiculously easy and interesting hobbies that no one knows about?"
Reddit had some excellent answers, and a lot of these aren't expensive hobbies either. Let's see which one becomes your next creative adventure.

Want to "know" more? Never miss another big, odd, funny, or heartbreaking moment again. Sign up for the Knowable newsletter here.

Keep reading...
Show less