There are over 190 countries around the world today and each one has its own fascinating history. Many people love to travel to far off lands to learn more about these places. But are they always getting the full picture, especially if that country has a sordid past?
Many of us know about the genocide that took place in Rwanda nearly 30 years ago just as we know about the way that Chile's leader, Pinochet, would disappear his opponents. But that's just scratching the surface.
People told us some creepy facts about their countries after Redditor Dantehasabig_ asked the online community,
"What are creepy facts about your country that most foreigners wouldn't know?"
Portugal
"Portugal basically started the transatlantic slave trade and sold and enslaved millions of African people. There were far more slaves in Portuguese Brazil than there ever were in the USA, but people only talk about the Americans being the slave monsters."
No_Brilliant5576
Portugal was also the first European country to attack Japan. It enslaved so many Japanese people that the Emperor of Japan threatened to declare war against Portugal.
History is wild.
Spain
"When Spain abolished slavery, instead of freeing the slaves they sold them to Morocco. It's disgusting."
UnbearableHuman
The history of human beings being sold for profit is horrifying, as it should be.
Australia
"In Australia, we had a Prime Minister who went swimming and just never came back. To this day no one knows what happened to him."
YUNGBLOOD5897aus
Ah, yes, that would be Harold Holt. He is now remembered more for the circumstances of his death than for his political achievements.
United States
"Nearly 100 workers died during the construction of the Hoover Dam. This has caused some urban legends about people still being entombed in the concrete, which is false, but there were in fact cases where people got buried by concrete and they had to extract the bodies because human bodies would compromise the structural integrity."
DawgCheck2
I love that the reason wasn't humane, but structural.
Mexico
"In my country we have a place where there are many creepy and authentic dolls everywhere you go. Up in the trees, down staring at you. Possibly one you are going to step on…."
MotherofCreepypasta
Yes, this is a definitely a place I have no interest in visiting. I've seen enough movies about creepy dolls to last me a lifetime.
South Korea
"This isn't creepy, but in the most militarized border in the world, the DMZ, wildlife has actually been flourishing there. Untouched and unvisited by people for several decades."
TheDashingPigeon
I'd say the circumstances of life beyond that border (and everything that led up to the creation of that border) is definitely creepy.
Belgium
"On top of subjugating and plundering the Congo, Belgium also sold the chains and shackles to slave traders in West Africa, shipped African people to America as slaves, and returned with butt loads of money back to Ostend. What one would call the original Devil's Triangle."
rjalxldr
In case any of you were wondering, King Leopold II of Belgium was a horrible person.
Ireland
"Ireland. We used to have "mother and baby homes" run by nuns where unmarried women were forced to go and work in commercial laundries to pay for their upkeep because having a baby out of wedlock was so unacceptable. This was done with the full support of the state. The last one only closed in 1998."
TheGratedCornholio
Anyone who reads about the Magdalene Laundries is in for some some depressing reading.
Canada
"Indigenous Canadian children were sent to residential schools to be abused and killed. This was approved and funded by the Canadian government and we still don't know how many kids actually died."
EddTheMetalHead
The details to come out of Canada in the last year are horrifying, but learning about these things and acknowleding them is hopefully the first step to reparations.
Algeria
"Remember the thing Pinochet did to political opponents? You know, throwing them out off helicopters into the ocean? Yeah, we did that too during our war in Algeria. When they noticed that bodies would resurface, they'd attach concrete blocks to the victims' feet."
O-Alexis
Nooope. Talk about horrifying.
Every country out there has some skeletons in its closet, and some of those are more well known than others.
Have some stories of your own? Feel free to tell us more in the comments below!
Want to "know" more?

Sign up for the Knowable newsletter here.
Never miss another big, odd, funny, or heartbreaking moment again.
Keep reading...
Show less
The number of people killed during World War II is staggering... about 70 million for those of you who don't know.
For comparison there are only 19 countries today whose current population is bigger than amount of people that died in six years of war.
Crazy, huh? Don't underestimate the impact of this event! History is fascinating.
People shared more information after Redditor alfawolfvii asked the online community,
"What are some crazy WWII facts you know?"
"Albert would actually use the fact..."
"The story of the Göring brothers is mind blowing. I can't believe Hollywood hasn't made a movie about it."
"Hermann Göring was a high ranking Nazi party member. He was head of the Luftwaffe and he was designated to be Hitler's successor after the world was conquered and Hitler eventually died."
"His brother was Albert Göring. Albert was staunchly Anti-Nazi. Albert saw the regime for what it was, brutal, horrible, murdering racists. He especially objected to the treatment of the Jewish people."
"Albert would actually use the fact of who his brother was to get out of trouble for helping Jews escape. He would do things like drive a transport truck to the camps or ghettos where they were held, and demand to be given multiple people for work, or whatever excuse he would give."
"When he got resistance, he would drag out "Do you know who my brother is? NOW BRING THEM TO ME!" He would then drive them to safety and release them."
"He once saw a bunch of Jewish women being forced to scrub a street, so he hopped down on his knees and joined them. When the Nazi officer realized who he was, the scrubbing stopped."
"He did many things like this. Saving Jews from almost certain death. Defying the party. Defying his brother. Again, using his brothers political clout to derail Nazi objectives."
It's wild."
"AND THEN..."
"He gets captured, at the end of the war, and is going to be killed with the other captives, because OF COURSE Göring's brother must be Nazi scum. By sheer dumb luck, a person in charge of processing his termination paperwork was a Jew he saved! That person spoke up, and many others did, and he was set free."
OregonMrBear
This is quite the story! Yes, Hollywood, get on this! What are you waiting for?
"Not only..."
"Jumping Joe Beyrle of the 101st Airborne."
"Not only was he enough of a bad@ss to earn that nickname among people who jump out of planes for a living, but he also escaped a POW camp to the Soviet line and became the only known person to fight for both the USA and Red Army in the war."
jah05r
This is the guy at the bar with the wild and crazy life that you don't want to stop listening to. How could you?
"He then returned to his job..."
"Tsutomu Yamaguchi was on a work trip to Hiroshima when the atom bomb went off. He then returned to his job/home in Nagasaki and was describing the blast to his unbelieving boss when the Nagasaki bomb went off. He survived both atom bombs."
[deleted]
He has been dubbed as one of the most unlucky people in history. But he survived, sooo...
"He got demoted..."
"A Belgian pilot flying for the RAF found out the Nazis had executed his father in occupied Belgium. So after an escort mission he took a side trip and did a solo attack on the Gestapo headquarters in Brussels, dropping down to ground level in front of the building and machine-gunning the f*ck out of it."
"He killed the local Gestapo commander along with some SS officer and the AA crew on the roof. Then he did a victory lap tossing little Belgian flags out the window. Oh, and he swung by his niece's place and dropped a big flag."
"Then he went home. He got demoted for violating his orders and a medal for what he did while he was violating his orders."
dieinafirenazi
Now that's a true legend. I need to brush up on more of my World War 2 history because there are so many cool stories like this.
"The rest..."
"Only about 4% of Londoners used the Tube stations for bomb shelters in the Blitz. About 40% used Anderson shelters under their back gardens or cage-like shelters in their homes. The rest stayed in their usual bedrooms and hoped for the best."
ThisQuietLife
Very British. "We'll deal with it, stiff upper lift and all."
"I read somewhere..."
"I read somewhere that Russia's losses were so great in the war that the population declines of the 60s and 90s were a direct result of the dead soldiers because their children that were meant to be born during these periods never were."
ButtonJensen
80% of Russian men born in 1923 did not live to see the end of WWII. About 40% died during the war, the rest died before it due to infant mortality and starvation.
"The United States..."
"The United States produced 150% more planes in 1944 alone than Japan did in the whole war."
sonofabutch
The Japanese hand built their Zeros in a factory that was 50 miles from the nearest runway and used OXEN to carry them one by one to the runway for takeoff!
"Operation Aphrodite..."
"Joseph Kennedy, Jr, the eldest brother of President John Kennedy was killed in WW2 as part of Operation Aphrodite. Operation Aphrodite involved flying unmanned bombers into targets. Kennedy was killed after arming the explosives in an unmanned bomber but before the crew bailed out."
"Joe Kennedy, Jr died working on the precursor to the modern day drone."
slider728
And Joe Jr. was the son that Joe Sr. wanted to be President. Apparently he was the favorite son, and John was seen as rebellious and sickly.
"Winston Churchill had an oxygen mask for flying in airplanes specially made for him that would allow him to smoke cigars while he had the mask on."
ProbablyaDrugDealer
Ummm... I can't imagine that was safe.
Doesn't this make you want to pick up a history book and find out more? You should! With everyone worrying about the possibility of a third world war on the horizon, it is absolutely worth learning about the past and taking notes.
Know some more cool facts? Feel free to tell us more in the comments below!
Want to "know" more?

Sign up for the Knowable newsletter here.
Never miss another big, odd, funny, or heartbreaking moment again.
Keep reading...
Show less
With a few thousand years of existence under our belts, human beings have endured plenty of crazy stuff by now. Truly, we've had the good, the bad, and the ugly.
Today, we talk about the ugly.
We're all familiar with the big wars, despots, and ideological movements throughout our time. Wikipedia power users may even have some military history or archaeological know-how under their belts.
But a recent Reddit thread gathered people to share some very niche events and incidents from a time.
The kicker? People were prompted to share the most devastating, often unmentioned moments of our time. Strap in for a close look at us at our worst.
Barfy_Bag asked, "Historians of Reddit, what's a devastating event that no one talks about?"
The worst thing? There are probably countless examples out there that weren't even mentioned in this list. Perhaps you even know a few.
Want to "know" more? Never miss another big, odd, funny, or heartbreaking moment again. Sign up for the Knowable newsletter here.
Keep reading...
Show less
What our history teachers tell us isn't always accurate. For example, I remember being told that Henry VIII executed all of his wives. Now, I've seen Six the Musical and know better, and while that show SLAPS, it's sad when I learn more from Broadway musicals than I did in history class. Looking at you, Hamilton.
Whether by pop culture, the media, or just our own research, sometimes we learn that our school curriculum was kind of BS. Here are some tales from history class.
U/info_cellar asked: What did you learn about history that turned out to be a complete lie?

​Let's start out with some more weird ones, shall we?
That was a good Simpsons episode.
That Edison was a brilliant inventor.
Edison was a cheat, a thief and a con and TESLA DESERVES JUSTICE.
And took credit for Homer Simpson's automated hammer.
Australia is wack, man.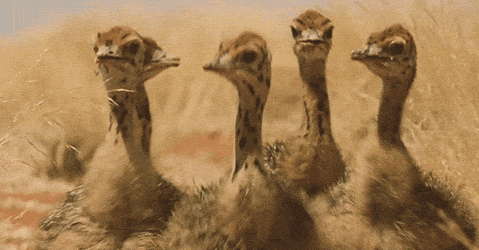 emus GIF
Giphy
The Great Emu War wasn't the only war that Australia lost to the Emus.
They also lost the Second Great Emu War.
​Ok, now that we got our token ​Simpsons ​reference out of the way, let's get angry.
That does get played down a lot.
That "The Japanese mistreatment of POWs was exaggerated, what it is that they fed them the same ration their own soldiers got and that was not an adequate diet for the larger Americans."
I had a teacher in highschool who actually said that! Tell that to the guys who somehow survived captivity by the Japanese! The guys marched for hours in sweltering heat and marched right past wells that they were forbidden to drink from and were beheaded on the spot if they drank from them anyway.
BTW, they did not feed the POWs the same ration their own men got, not even close!
Sooo many kids were misinformed.
That Christopher Columbus discovered America. How the hell do you "discover" a place that already has over six million people living there?
I'm not sure if the lie about Columbus "discovering" America is worse or is it the sanitization of Columbus' monstrosity. We start our children out with these lies and complete fabrications around the first Thanksgiving and Columbus and it makes it easier for them to fall for lies about slavery, American empire, the purpose behind wars, ongoing racial issues, etc..
My teachers definitely said this.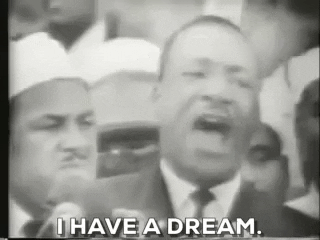 Martin Luther King Jr Mlk GIF by Identity
Giphy
That Martin Luther King ended racism in America.
"Once upon a time white people were awful to black people for hundreds of years, and then one day MLK gave his 'I Have a Dream' speech and was shot, and then there was no more racism.
Nope.
The freed slaves in America were given 40 acres of land and a mule. No, they did not. But it's still talked about as if it happened...
Those were white freed slaves in states with a charter. Virginia and Pennsylvania are two of them. The slaves were transported criminals and indentured servants who were sold to colonists for a fixed period of time. When that time was up they were granted "40 acres and a mule".

That charter did not extend to black slaves.
No, we definitely existed.
LGBT+ people are a new thing and didn't exist in history. (they absolutely did exist, but homophobic/transphobic historians do all in their power to cover it up).
I remember watching a documentary on Pompeii. If I remember correctly, the queen had these bath house things where massive bisexual orgies would take place.
"Homosexuality is a modern 'issue'". Tell that to a kinky queen who lived almost 2,000 years ago.
​A lot of these cases, however, are just plain misinformed.
You mean Hamilton lied to me?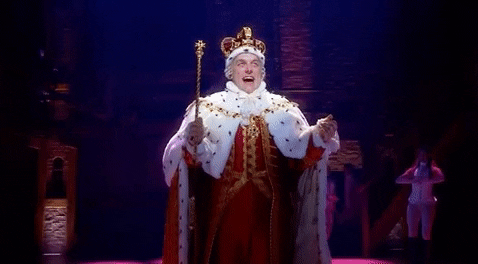 King George Broadway GIF by Hamilton: An American Musical
Giphy
This is a fact that a lot of us Americans like to deny, King George didn't tax us just to be an a**hole. We technically were at least one of the reasons the French and Indian war and by extension at least part of the 7 years war happened. King George put taxes on us because he wanted the people who caused the war to pay their debts.
Also George Washington's army was not completely made up of white people, native americans and free black men were a part of the army too and the guy who turned George Washington's ragtag group into an effective fighting force was a gay man. Also only 1/3rd of the colonists actually wanted independence, the rest were either loyalists or didn't care. Also we would not have won the war without help from the French and the Spanish.
Very similar to recent events.
Ronald Reagan.
Although I consider myself a liberal I actually grew up in a conservative family and I was taught growing up that Reagan was one of the greatest presidents America ever had. As I grew older and did more research on him I came to realize how destructive his policies were and how much damage he did to liberal ideology. He pushed the Republicans to the far right and the Democrats pushed themselves further right as a result.
He also had the most corrupt administration in US History. 138 people were either indicted, convicted or had to resign due to involvement in one of the many scandals his administration had. That's right his administration was more corrupt than the GW Bush or Trump administration.
All notable tidbits.
Native people couldn't build boats, and the underestimation of the trade network between them. If they were just like us who says that they couldn't do those things? Polynesian artifacts have been found in California.
And this isn't a lie but there was a Chinese voyage that basically described the coast of California and the local flora and fauna. There's also those Japsnese people that sailed to South America after a volcano erupted, seriously, there's genetic evidence.
And speaking of Asian people, Asians were present in the west when it was a Mexican territory. There was a Filipino presence as well. They all just didn't show up when we needed people to build the railroad.
There is, or there was, I don't know if they're still there, a noticable Jewish population in Charleston. The oldest synagogue in America is there I think. I don't know why they chose Charleston though, but hey.
​It's amazing how much actual history is neglected in history class.
Not how that works.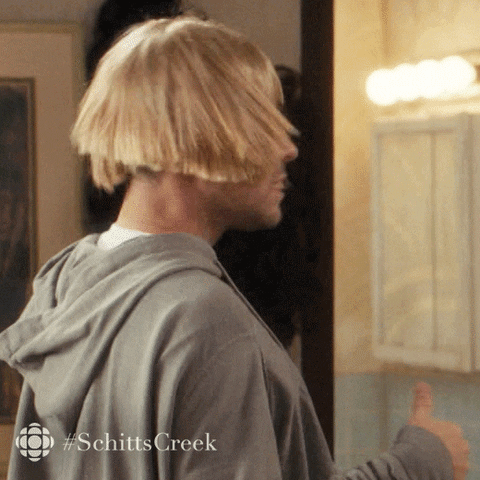 Oh My God Omg GIF by CBC
Giphy
That lack of sunlight is why humans in Europe developed white skin, blonde hair and blue eyes.
One, all those things developed at different time periods for different reasons
Two, sunlight or lack thereof had nothing to do with skins turning white. Europeans were still mostly black / dark skinned in 10,000 B.C....this is after they had already been living in Europe and its lower sunlight levels for 35,000 years.
Interesting.
That the parties in the USA switched.
People portray it as the Republicans becoming evil and the Democrats becoming the good guys, but it was more of a relative switch. The Republican positions basically stayed consistent in absolute terms and the Democrats finally got over the Civil War and went really far to leave their past behind. It's an unpopular opinion, but just look at the platforms now vs. today. Some examples:
Republicans back then: free trade, small government, and cut taxes (Coolidge), segregation is bad, women and minorities should vote, buy American (Mckinley's protectionist tariffs), National Parks & strong military (Teddy Roosevelt). Those are all still pillars of the Republican party today.

Democrats back then: segregation is good, states rights from federal power, and the KKK. Compared to the nowadays Democratic party that favors a bigger federal government over state powers, seeks out voter suppression like a hawk, and is largely supported by minorities.
I'm no Republican, but you'd have to be trying not to notice that one party was more consistent while the other just changed a lot from it's awful past. This isn't to mention issues that both parties moved on like prohibition and gay marriage, for example.
Yikes.
Not sure if this counts because I already knew the correct version of history when she tried it, but my 10th grade world history teacher gave a long winded presentation about how the Germans bombed Pearl Harbor.
It was about how no matter what it looked like, it was actually the Germans who were 100% to blame for the tragedy. It was a confusing week for my entire graduating class.
Regrettably a few of them weren't quite as capable of agency as others and took her misgivings for facts and the rest is small mid-west town history.
Ummm who is teaching this?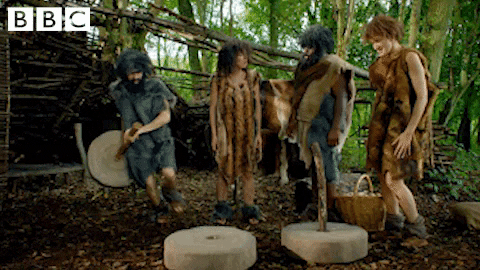 horrible histories gym GIF by CBBC
Giphy
Cavemen had to fight dinosaurs.
I was 10 when I found out dinosaurs were long gone when the cavemen arrived.
Well, I hope you all learned something today. And hopefully in the future we won't get all of our historical facts from Hamilton.
Goes to show that a lot of school curriculums are really misguided, and hopefully with future generations of teachers, that will be fixed.
When you're at a team-building event, it's best to come in locked and loaded with a great fact. Let's face it, some ice breaker is going to come along and you're gonna need something juicy.
But you--and everybody else suddenly thrown into their 11th icebreaker activity that year--have likely had enough of the usual interesting scientific facts.
You're trying to turn heads.
For a little help, look no further than a recent Reddit thread.
Redditors gathered to swap the most horrifying facts they've ever heard. These are the unnerving truths we'd rather never have discovered, but now that we did, we cannot stop thinking about them.
Commit a few to memory. You may be the star or the weirdo at the next team-builder, but at the very least you'll be memorable.
DaKoolAidMAN422 asked, "What is a scary or horrifying fact that shouldn't be true, but is?"
So jot these down, put them in your phone, or memorize them in your head if you have to. You never know when you'll want to whip one of these suckers out to freak a circle of people out.
Want to "know" more? Never miss another big, odd, funny, or heartbreaking moment again. Sign up for the Knowable newsletter here.
Keep reading...
Show less